News articles on julie larsen maher

---
Mongabay.com news articles on julie larsen maher in blog format. Updated regularly.





Harbor seals return to New York

(03/26/2009) More than a hundred years passed, and the Hudson River and Atlantic Ocean estuary was cleaned up—enough to support the comeback of the harbor seal. In spring of 2006, kayakers and recreational boaters who frequent the waters around the Verrazano Bridge, took note of what appeared to be marine mammals that had not been there before. Were there harbor seals, again in this urban estuary? The boaters notified the Kingsborough Community College for Maritime Studies and the New York Aquarium, who teamed up to investigate, and thus, began the first annual harbor seal survey.


Camera trap photos reveal bushmeat hunting threat to jaguars in Ecuador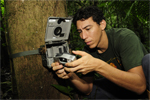 (01/27/2009) Jaguars are the largest cats of the Americas and third largest cats in the world. The primary rainforest in the Amazon region of Ecuador is among their last remaining strongholds. Jaguars are listed as "vulnerable" in Ecuador, and Santiago Espinosa, Wildlife Conservation Society (WCS) fellow, PhD candidate from University of Florida/Gainesville, and WWF fellow, wants to know just how many jaguars are left in his home country. He is developing strategies to protect them by determining their numbers and the factors that threaten them through a unique method of non-invasive photography.


Moose Mission in New York's Adirondacks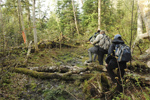 (09/05/2008) Bushwhacking our way through nearly impenetrable bogs and blow down in the central woods of the Adirondacks in northern New York, I am wondering…how can a MOOSE move through this stuff? Weighing nearly 1400 pounds and standing six to seven feet tall, moose favor the dense mixed forests that surround the lakes and ponds of the Adirondacks, the largest publicly protected area in the contiguous United States. About 6 million acres of boreal forests, mountains, and lakes in northern New York are within the boundaries of the Adirondacks, half of which are public lands, the other half are private. The relatively cool climate and available plants on the many riparian banks of the area make for a moose mecca.


Photo: Palawan peacock pheasant

(02/04/2008) NYC's Fashion Week extravaganza has nothing on some amazing colors that are on the "runway" models at the Wildlife conservation Society's Bronx Zoo headquarters. "Palooka", the Bronx Zoo's male Palawan peacock pheasant is showing off his most brilliant blue feathers this season - a sure ringer for the forecasted fall color line-up.


Male lion licking a female's head

(01/08/2008) Bronx Zoo's newest lions, male M'wasi and female Sukari, have recently been introduced on the Zoo's Africa Plains. A typical lion greeting is quick, lasting less than a minute, and includes touching heads.


Photos: Hippos threatened in Africa

(01/07/2008) As the sun sets on the Luangwa River in Zambia, a male hippo throws its mouth open in a yawn as wide as a canyon. Night is falling as the hippo herds break to the banks to follow their regular paths to their feeding grounds. Their huge, round hooves made muddy imprints during the rainy season, and have dried to concrete craters along a trail the hippos follow to graze in grassy glades.


Photo: Pygmy marmoset twins born at the Bronx Zoo

(01/03/2008) Twin pygmy marmosets born to three-year-old mom, Squirt, and seven-year-old dad, King at the Bronx Zoo on November 11 are doing well, according to zoo officials.