News articles on jeremy hance

---
Mongabay.com news articles on jeremy hance in blog format. Updated regularly.






The remarkable story of how a bat scientist took on Russia's most powerful...and won
(04/28/2014) In a country increasingly known for its authoritarian-style crackdown on activists and dissidents, a bat scientist has won a number of impressive victories to protect the dwindling forests of the Western Caucasus. For his efforts, Gazaryan was awarded today with the Goldman Environmental Prize, often called the Nobel Prize for the environment, along with five other winners around the world.
The beef with beef: how 12 strategies could drastically cut agricultural emissions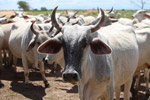 (04/25/2014) Eating less beef, cutting food waste, and utilizing farm landscapes to sequester carbon are three ways a new report suggests the world could rapidly tackle agricultural emissions. Currently, global agriculture accounts for nearly a fifth of the world's greenhouse gas emissions when agriculturally-linked deforestation is included.
Earth has fourth warmest March on record as forecasters see possible El Nino rising

(04/23/2014) Last March was the fourth warmest on record, according to new data from the National Oceanic and Atmospheric Administration (NOAA). Overall, temperatures were 0.71 degrees Celsius (1.28 degrees Fahrenheit) above the 20th century average during March. Looking at the first three months of 2014, this year is the seventh warmest on record to date.
Illegal logging makes up 70 percent of Papua New Guinea's timber industry
(04/22/2014) Corruption, weak governance, and powerful timber barons are illegally stripping the forests of Papua New Guinea, according to a new report from the Chatham House. The policy institute finds that 70 percent of logging in Papua New Guinea is currently illegal, despite the fact that 99 percent of land is owned by local indigenous communities.
Okapi-killing warlord shot dead in the Democratic Republic of the Congo
(04/17/2014) The head of an informal militia and poaching group, Paul Sadala a.k.a. 'Morgan,' was killed on Monday after surrendering himself to the army in the Democratic Republic of the Congo (DRC). A well-known elephant poacher and terrorist, Morgan became most famous for leading an attack on the Okapi Wildlife Reserve station in 2012.
Nearly a thousand environmental activists murdered since 2002
(04/15/2014) At least 908 people were murdered for taking a stand to defend the environment between 2002 and 2013, according to a new report today from Global Witness, which shows a dramatic uptick in the murder rate during the past four years. Notably, the report appears on the same day that another NGO, Survival International, released a video of a gunman terrorizing a Guarani indigenous community in Brazil.
Malaysia imperils forest reserves and sea turtle nesting ground for industrial site (photos)
(04/15/2014) Plans for an industrial site threaten one of Malaysia's only marine turtle nesting beaches and a forest home to rare trees and mammals, according to local activists. Recently, the state government of Perak approved two industrial project inside Tanjung Hantu Permanent Forest Reserve. But activists say these will not only cut into the reserve, but also scare away nesting turtles from Pasir Panjang.
Climate change solution? UN touts ambitious (but cheap) investment in renewable energy
(04/14/2014) The world is warming rapidly due to greenhouse gas emissions, threatening everything from our food supply to our ecosystems, but the solution may be surprisingly cheap, according to the third and final report from the Intergovernmental Panel on Climate Change (IPCC). The report recommends a rapid and aggressive switch from fossil fuel-based energy to renewables.
Riddled with tumors: another blow to the Sumatran rhino species
(04/14/2014) Conservation for Sumatran rhinos suffered another blow last week, only days after Suci—one of only ten rhinos in captive breeding efforts—died at Cincinnati Zoo. Scientists in the Malaysian state of Sabah revealed that a newly captured female, Iman, suffers from an assortment of tumors in her uterus, hugely complicating reproduction efforts.
Giant ibis, little dodo, and the kakapo: meet the 100 weirdest and most endangered birds
(04/10/2014) The comic dodo, the stately great auk, the passenger pigeon blotting out the skies: human kind has wiped out nearly 200 species of birds in the last five hundred years. Now, if we don't act soon we'll add many new ones to the list: birds such as the giant ibis, the plains-wanderer, and the crow honeyeater. And these are just a few of the species that appear today on the long-awaited EDGE list.
Nearly 90 percent of logging in the DRC is illegal
(04/08/2014) The forestry sector in the Democratic Republic of Congo (DRC) is completely out of control, according to a new eye-opening report. Put together by the Chatham House, the report estimates that at least 87 percent of logging in the DRC was illegal in 2011, making the DRC possibly the most high-risk country in the world for purchasing legal wood products.
Australia proposes banning environmental boycotts

(04/07/2014) What do you do when a company is repeatedly caught trashing the environment and refuses to change its ways? Boycott! Activists and campaigners often use boycotting a company's products when other methods have failed, yet in Australia such boycotts could soon become illegal.
Featured video: celebrities speak out for Yasuni

(04/02/2014) A group of celebrities, including recent Academy Award winner Jared Leto, Law and Order's Benjamin Bratt, and Kill Bill's Daryl Hannah, have lent their voices to a new Public Service Announcement to raise signatures to protect Ecuador's Yasuni National Park from oil drilling.
How locals and conservationists saved the elephants of Mali amidst conflict and poverty
(04/02/2014) At a time when Africa's elephants are facing a relentless poaching crisis, one community has managed to safeguard their elephants in the most unlikely of places: Mali. In a country that has suffered from widespread poverty, environmental degradation, and, most recently, warfare, a collaboration between conservationists and the local community has kept Mali's elephants from extinction.
Apocalypse now? Climate change already damaging agriculture, acidifying seas, and worsening extreme weather
(03/31/2014) It's not just melting glaciers and bizarrely-early Springs anymore; climate change is impacting every facet of human civilization from our ability to grow enough crops to our ability to get along with each other, according to a new 2,300-page report from the Intergovernmental Panel on Climate Change (IPCC). The massive report states definitively that climate change is already affecting human societies on every continent.
Just how bad is the logging crisis in Myanmar? 72 percent of exports illegal
(03/26/2014) Just days before Myanmar, also known as Burma, implements a ban on exporting raw logs, the Environmental Investigative Agency (EIA) has released a new report that captures the sheer scale of the country's illegal logging crisis. According to the EIA, new data shows that 72 percent of logs exported from Myanmar between 2000-2013 were illegally harvested.
Long lost mammal photographed on camera trap in Vietnam
(03/25/2014) In 1929, two sons of Theodore Roosevelt (Teddy Junior and Kermit) led an expedition that killed a barking deer, or muntjac, in present-day Laos, which has left scientists puzzled for over 80 years. At first scientists believed it to be a distinct species of muntjac and named it Roosevelts' muntjac (Muntiacus rooseveltorum), however that designation was soon cast into doubt with some scientists claiming it was a specimen of an already-known muntjac or a subspecies. The problem was compounded by the fact that the animal simply disappeared in the wild. No one ever documented a living Roosevelts' muntjac again—until now.
Bizarre, endangered bird discovered in high densities

(03/24/2014) The turkey-sized, noisy, fruit-feasting guans are arguably one of the strangest wildlife sightings in the tropical forests of Central and South America. Ancient animals, these birds are members of the Cracidae family—which also include equally-odd currasows and chachalacas—and are actually distantly related to megapode, or mound-building, birds of Australiasia. A new study in mongabay.com's open-access journal Tropical Conservation Science looks at a particularly endangered guan: the Cauca gaun (Penelope perspicax).
Meet Iman: the Sumatran rhino's newest hope for survival
(03/24/2014) Hopes for one of the world's most imperiled megafauna rose this month when wildlife conservationists succeeded in catching a female Sumatran rhino named Iman in the Malaysian state of Sabah. The female, which experts believe to be fertile, has since been successfully transferred via helicopter to the Borneo Rhino Sanctuary where experts plan to mate her with the local male, Tam. Located in Tabin Wildlife Reserve, the Borneo Rhino Sanctuary is an uncompleted semi-wild enclosure and home to one of several last-ditch efforts to save the vanishing species from extinction.
Panda lemur making a comeback
(03/20/2014) One of the world's biggest populations of greater bamboo lemurs (Prolemur simus)—sometimes known as the panda lemur—has doubled in just three years, giving conservationists new hope that the species can be kept from extinction. With the recent arrival of twenty babies, a community conservation project run by the Aspinall Foundation has boosted the local population to over 100 individuals in Andriantantely, one of Madagascar's only surviving lowland rainforests. Greater bamboo lemurs are currently categorized as Critically Endangered, though they were once believed extinct until hidden populations were uncovered in the 1980s.
Scientist discovers a plethora of new praying mantises (pictures)
(03/19/2014) Despite their pacific name, praying mantises are ferocious top predators with powerful, grasping forelimbs; spiked legs; and mechanistic jaws. In fact, imagine a tiger that can rotate its head 180 degrees or a great white that blends into the waves and you'll have a sense of why praying mantises have developed a reputation. Yet, many praying mantis species remain little known to scientists, according to a new paper in ZooKeys that identifies an astounding 19 new species from the tropical forests of Central and South America.
Controversial Amazon dams may have exacerbated biblical flooding
(03/16/2014) Environmentalists and scientists raised howls of protest when the Santo Antônio and Jirau Dams were proposed for the Western Amazon in Brazil, claiming among other issues that the dams would raise water levels on the Madeira River, potentially leading to catastrophic flooding. It turns out they may have been right: last week a federal Brazilian court ordered a new environmental impact study on the dams given suspicion that they have worsened recent flooding in Brazil and across the border in Bolivia.
Europe votes for an Arctic Sanctuary

(03/13/2014) Yesterday, the European Parliament passed a resolution supporting the creation of an Arctic Sanctuary covering the vast high Arctic around the North Pole, giving official status to an idea that has been pushed by activists for years. Still, the sanctuary has a long road to go before becoming a reality: as Arctic sea ice rapidly declines due to climate change, there has been rising interest from governments and industries to exploit the once inaccessible wilderness for fish and fossil fuels.
Conservationists catch wild Sumatran rhino, raising hope for world's most endangered rhinoceros
(03/12/2014) Conservationists have succeeded in catching a wild Sumatran rhino in the Malaysia state of Sabah in Borneo, according to local media reports. Officials are currently transferring the rhino, an unnamed female, to a rhino sanctuary in Tabin National Park where experts will attempt to mate it with the resident male, Tam. The Sumatran rhino (Dicerorhinus sumatrensis) is one of the world's most imperiled species with less than 100 individuals left.
New web tool aims to help indigenous groups protect forests and navigate REDD+

(03/12/2014) A new online tool, dubbed ForestDefender, aims to help indigenous people understand and implement their rights in regard to forests. The database, developed by the Center for International Environmental Law (CIEL), brings together vast amounts of legal information—both national and international—on over 50 countries.
Scientists spy on whales from space

(03/11/2014) Although whales are the biggest animals on the planet, scientists have found in difficult to count them. But a new study in PLOS ONE may change this: researchers tested the idea of counting whales using high resolution satellite imagery. Employing a single image from the WorldView2 satellite, scientists went about counting a pod of southern right whales in the Golfo Nuevo off the coast of Argentina.
From theory to deadly reality: malaria moving upslope due to global warming
(03/06/2014) Malaria is a global scourge: despite centuries of efforts to combat the mosquito-borne disease, it still kills between 660,000 to 1.2 million people a year, according to World Health Organization data from 2010. Astoundingly, experts estimate that around 300 million people are infected with the disease every year or about 4 percent of the world's total population. And these stats may only get worse. For years scientists have vigorously debated whether or not malaria will expand as global warming worsens, but a new study in Science lays down the first hard evidence.
Rhino with bullet in its brain and hacked off horn wanders for days before being put down
(03/05/2014) Last week, visitors in Kruger National Park came on a horrifying sight of the poaching trade: a rhino, still alive, with its horn and part of its face chopped off. The gruesome photo of the young rhino went viral and sent South African authorities scrambling. Five days after the sighting, South African National Parks (SANParks) has announced they found the rhino and put it out of its misery.
Javan rhino population jumps by over 10 percent

(03/04/2014) The Javan rhino population has increased by over ten percent from 2012 to last year, according to new figures released by Ujung Kulon National Park. Using camera traps, rangers have counted a total of 58 Javan rhinos, up from 51 in 2012. Although the species once roamed much of Southeast Asia, today it is only found in Ujung Kulon National Park in western Javan and is known as one of the most imperiled mammals on the planet.
Amazon trees super-diverse in chemicals
(03/03/2014) In the Western Amazon—arguably the world's most biodiverse region—scientists have found that not only is the forest super-rich in species, but also in chemicals. Climbing into the canopy of thousands of trees across 19 different forests in the region—from the lowland Amazon to high Andean cloud forests—the researchers sampled chemical signatures from canopy leaves and were surprised by the levels of diversity uncovered.
South Africa loses nearly 150 rhinos to poachers so far this year

(02/28/2014) Since the first of the year, South Africa has lost 146 rhinos to poachers or approximately 2.5 rhinos every day. This is a slight dip from last year's poaching rate, which hit 1,004 for the whole year or 2.75 a day. South Africa is home to more rhinos than any other country on the planet, but the populations have been hit hard by poachers in recent years seeking rhino horn.
Palm oil plantations allegedly poison seven Critically Endangered elephants in Sumatra

(02/28/2014) Wildlife officials suspect foul play in the deaths of seven Sumatran elephants on the outskirts of Tesso Nilo National Park. Officials stumbled on the corpses of one female elephant, five young males, and one male calf in mid-February. Although the males had their tusks hacked off, the officials suspect the elephant were poisoned in revenge for disturbing illegal palm oil plantations inside the park.
Despite frigid cold in U.S., January was the fourth warmest on record worldwide

(02/27/2014) Worldwide, this January was the fourth warmest since record-keeping began, according to new data released by National Oceanic and Atmospheric Administration (NOAA). While parts of the world, most notably eastern North America and northern Russia, experienced temperatures well-below average, overall the month was a scorcher. In fact, another dataset, from NASA's Goddard Institute for Space Studies (GISS), that uses different methodology, found that January was the third warmest since record keeping began.
Lady Gaga gets bitten by venomous primate, sparking outrage over loris trafficking
(02/25/2014) Last week, the musical artist, Lady Gaga, was 'nipped' by the world's only venomous primate, a slow loris, in a misguided attempt to use the animal in a new music video. After it bit the musician, the idea of using the primate in the video was dropped. This was just as well, according to loris expert Anna Nekaris, who says that slow lorises have become increasingly endangered worldwide by the illegal pet trade after people have seen them on YouTube videos.
The lemur end-game: scientists propose ambitious plan to save the world's most imperiled mammal family
(02/20/2014) Due to the wonderful idiosyncrasies of evolution, there is one country on Earth that houses 20 percent of the world's primates. More astounding still, every single one of these primates—an entire distinct family in fact—are found no-where else. The country is, of course, Madagascar and the primates in question are, of course, lemurs. But the far-flung island of Madagascar, once a safe haven for wild evolutionary experiments, has become an ecological nightmare. Overpopulation, deep poverty, political instability, slash-and-burn agriculture, illegal logging for lucrative woods, and a booming bushmeat trade has placed 94 percent of the world's lemurs under threat of extinction, making this the most imperiled mammal group on the planet. But, in order to stem a rapid march toward extinction, conservationists today publicized an emergency three year plan to safeguard 30 important lemur forests in the journal Science.
Two kids, one year, from the Amazon to the Arctic: the environmental adventure of a lifetime
(02/19/2014) The Kraft family—Larry, Lauri, Jamie (age 8), and Jason (age 6)—are on the trip of a lifetime, a round-the-world tour with an environmental focus. Currently in India, the family has already made their way through the Amazon, Vietnam, Costa Rica, Australia, and the Galapagos, among other wild places. Still left on their itinerary: the Arctic. But the trip isn't all fun and games, instead the Kraft's are using the year abroad to learn first hand about global environmental issues and solutions.
Conservation groups launch new whistleblower site for wildlife and forest crimes

(02/18/2014) Welcome to Wildleaks: a new website that aims to give the global public a secure and anonymous platform to report wildlife trafficking and illegal deforestation. The illegal wildlife trade has become one of the world's largest criminal activities in recent years, decimating elephants, rhinos, tigers, primates, and thousands of lesser known species. Meanwhile, illegal logging is rampant in many parts of the world, imperiling biodiversity, undercutting locals, and robbing governments of revenue.
Scientists discover new whale species
(02/14/2014) Beaked whales are incredibly elusive and rare, little-known to scientists and the public alike—although some species are three times the size of an elephant. Extreme divers, beaked whales have been recorded plunging as deep as 1,800 meters (5,900 feet) for over an hour. Few of the over 20 species are well-known by researchers, but now scientists have discovered a new beaked whale to add to the already large, and cryptic, group: the pointed beaked whale (Mesoplodon hotaula).
Ivory trade's shocking toll: 65% of world's forest elephants killed in 12 years (warning: graphic image)

(02/12/2014) Forest elephants have suffered unprecedented butchery for their ivory tusks over the past decade, according to new numbers released by conservationists today in London. Sixty-five percent of the world's forest elephants have been slaughtered by poachers over the last dozen years, with poachers killing an astounding nine percent of the population annually. Lesser-known than their savannah cousins, a genetics study in 2010 found that forest elephants are in fact a distinct species, as far removed from savannah elephants as Asian elephants are from mammoths. These findings make the forest elephant crisis even more urgent.
Obama announces new strategy to tackle wildlife trafficking, including toughening ivory ban

(02/12/2014) Yesterday, the Obama administration announced an ambitious new strategy to help tackle the global illegal wildlife trade, including a near-complete ban on commercial ivory. The new strategy will not only push over a dozen federal agencies to make fighting wildlife trafficking a new priority, but will also focus on reducing demand for wildlife parts and actively engaging the international community. The U.S. is the world's second largest destination for illegal wildlife trafficking after China.
Incredible encounter: whales devour European eels in the darkness of the ocean depths
(02/11/2014) The Critically Endangered European eel makes one of the most astounding migrations in the wild kingdom. After spending most of its life in Europe's freshwater rivers, the eel embarks on an undersea odyssey, traveling 6,000 kilometers (3,720 miles) to the Sargasso Sea where it will spawn and die. The long-journeying eels larva than make their way back to Europe over nearly a year. Yet by tracking adult European eels (Anguilla anguilla) with electronic data loggers, scientists have discovered that some eels never make it to their spawning ground, but instead are swallowed-up in the depths by leviathans.
Photos: mass turtle hatching produces over 200,000 babies
(02/11/2014) Biologists recently documented one of nature's least-known, big events. On the banks of the Purus River in the Brazilian Amazon, researchers witnessed the mass-hatching of an estimated 210,000 giant South American river turtles (Podocnemis expansa). The giant South American river turtle, or Arrau, is the world's largest side-necked turtle and can grow up to 80 centimeters long (nearly three feet).
Alaska roasting: new NASA map shows the Final Frontier in grip of January heatwave
(02/05/2014) Alaska got California weather at the end of January, as displayed by a new map based on data by NASA's Terra satellite's Moderate Resolution Imaging Spectroradiometer (MODIS). The U.S. state experiences one of its warmest winter periods on record during the second half of January, including some temperatures that ran 40 degrees Fahrenheit (22 degrees Celsius) above average. According to the EPA, temperatures in Alaska have risen an average of 3.4 degrees Fahrenheit (1.9 degrees Celsius) in just the last 50 years due to climate change.





20 million people face hunger in Africa's Sahel region

(02/04/2014) The UN and partner humanitarian groups today called on the international community to spend $2 billion to avoid a famine in Africa's Sahel region, which includes nine nations along the southern edge of the Sahara. Although the Sahel is chronically prone to food insecurity, the situation has dramatically worsened as the UN estimates 20 million people are at risk of hunger up from 11 million last year.




Page 1 | Page 2 | Page 3 | Page 4 | Page 5 | Page 6 | Page 7 | Page 8 | Page 9 | Page 10 | Page 11 | Page 12 | Page 13 | Page 14 | Page 15 | Page 16 | Page 17 | Page 18 | Page 19 | Page 20 | Page 21 | Page 22 | Page 23 | Page 24 | Page 25 | Page 26 | Page 27 | Page 28 | Page 29 | Page 30 | Page 31 | Page 32 | Page 33 | Page 34 | Page 35 | Page 36 | Page 37 | Page 38 | Page 39 | Page 40 | Page 41 | Page 42 | Page 43 | Page 44 | Page 45 | Page 46 | Page 47 | Page 48 | Page 49 | Page 50 | Page 51 | Page 52 | Page 53 | Page 54 | Page 55 | Page 56 | Page 57 | Page 58 | Page 59 | Page 60 | Page 61