News articles on jeremy hance

---
Mongabay.com news articles on jeremy hance in blog format. Updated regularly.






FSC mulls controversial motion to certify plantations responsible for recent deforestation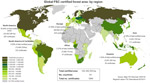 (06/24/2011) Members of the Forest Stewardship Council (FSC), meeting in Malaysia this week for its General Assembly, will consider various changes to the organization, including a vote on a controversial motion that would open the door—slightly at first—to sustainable-certification of companies that have been involved in recent forest destruction for pulp and paper plantations. Known as Motion 18, the change is especially focusing on forestry in places where recent deforestation has been rampant, such as Indonesia and Malaysia.
Rainforest tribe forcibly removed from dam area to palm oil plantation

(06/23/2011) A thousand Penan indigenous people have been forcibly moved from their rainforest home to monoculture plantations, reports Survival International. To make way for the Murum dam, the Malaysian state government of Sarawak is moving a thousand Penan from their traditional homes, but as apart of the deal the government promised to move the Penan to another part of their ancestral land. The government has since sold that land to a palm oil company, which is currently clearcutting the forests for plantations.
FSC to continue allowing baboon killing on sustainably-certified plantations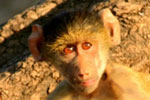 (06/23/2011) Shooting baboons will continue in Forest Stewardship Council (FSC)-certified plantations. After examining a complaint by the NGO GeaSphere against South African plantations for trapping and shooting hundreds of baboons, the FSC has announced it will not place a moratorium on baboon-killing in its sustainably-certified plantations.
Serengeti road cancelled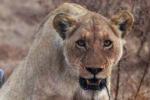 (06/23/2011) In what is a victory for environmentalists, scientists, tourism, and the largest land migration on Earth, the Tanzanian government has cancelled a commercial road that would have cut through the northern portion of the Serengeti National Park. According to scientists the road would have severed the migration route of 1.5 million wildebeest and a half million other antelope and zebra, in turn impacting the entire ecosystem of the Serengeti plains.
The truth about polar bears and climate change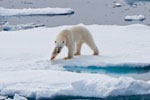 (06/21/2011) Although scientists say innumerable species are threatened by climate change, polar bears have been the global symbol of the movement to rein-in greenhouse gas emissions. This is perhaps not surprising, since polar bears are well known to the public—even though they inhabit a region largely absent of humans—and they make a big impression. Their glaringly white coat contrasts with their deadly skills: as the world's biggest terrestrial predators, they are capable of killing a seal with single blow. When young they are ridiculously adorable, but when adults they are stunning behemoths. But that's not all. Unlike many other species, the perils of climate change are also easy to visualize in connection with polar bears: their habitat is literally melting away.
Ocean prognosis: mass extinction
(06/20/2011) Multiple and converging human impacts on the world's oceans are putting marine species at risk of a mass extinction not seen for millions of years, according to a panel of oceanic experts. The bleak assessment finds that the world's oceans are in a significantly worse state than has been widely recognized, although past reports of this nature have hardly been uplifting. The panel, organized by the International Program on the State of the Ocean (IPSO), found that overfishing, pollution, and climate change are synergistically pummeling oceanic ecosystems in ways not seen during human history. Still, the scientists believe that there is time to turn things around if society recognizes the need to change.
Endangered Madagascar wildlife on sale in Thailand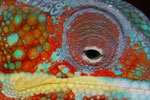 (06/19/2011) Conservation group TRAFFIC uncovered nearly 600 Madagascar reptiles and amphibians on sale in Thai markets, including endangered species and those banned for sale by the Convention on International Trade in Endangered Species of Wild Fauna and Flora (CITES). The animals, representing 24 reptiles species and 9 amphibians, are being sold for the international pet trade. "We know there is a significant ongoing illegal trade in protected species from Madagascar, mainly destined for Asia, which has been exacerbated by the current political situation in the country leading to weaker enforcement of existing laws and safeguarding of protected areas," says Richard Hughes, WWF's Representative in Madagascar.
Ahead of meeting, Forest Stewardship Council (FSC) loses another supporter

(06/19/2011) The forest organization, FERN, has pulled its support from the Forest Stewardship Council (FSC), reports FSC-Watch. FERN has quit the increasingly troubled organization due to FSC pursuing carbon credits through forestry. The FSC loses FERN just weeks before its 6th General Assembly, in which FSC partners—including private corporations and some environmental groups—will meet to debate current practices.
Greenpeace head arrested after nonviolent protest on Arctic oil rig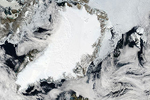 (06/19/2011) Kumi Naidoo, the head of Greenpeace, has been arrested after scaling a deepwater oil rig in the Arctic run by Cairn Energy. Naidoo was attempting to deliver a petition to the captain signed by 50,000 people demanding that Cairn Energy release details on how it would respond to an oil spill. "For me and for many people around the world this is now one of the defining environmental struggles of our time," Naidoo said on a video before scaling the rig. "It's a fight for sanity against the madness that sees the disappearance of the Arctic ice not as a warning, but as an opportunity to seek further profits."
Over 900 species added to endangered list during past year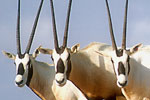 (06/16/2011) The past twelve months have seen 914 species added to the threatened list by the world's authority of species endangerment, the International Union for the Conservation of Nature (IUCN)'s Red List. Over 19,000 species are now classified in one of three threatened categories, i.e. Vulnerable, Endangered, and Critically Endangered, a jump of 8,219 species since 2000. Species are added to the threatened list for a variety of reasons: for many this year was the first time they were evaluated, for others new information was discovered about their plight, and for some their situation in the wild simply deteriorated. While scientists have described nearly 2 million species, the IUCN Red List has evaluated only around 3 percent of these.
Peru cancels massive dam project after years of protests

(06/16/2011) Three years of sustained community opposition have brought down plans for a massive dam on the Madre de Dios River in Peru. Yesterday the Peruvian government announced it was terminating the contract with Empresa de Generación Eléctrica Amazonas Sur (Egasur) to build a 1.5 gigawatt dam, known as the Inambari Dam. The dam was one of six that were agreed upon between Peru and Brazil to supply the latter with energy.
Last chance to see: the Amazon's Xingu River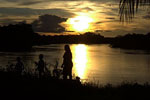 (06/15/2011) Not far from where the great Amazon River drains into the Atlantic, it splits off into a wide tributary, at first a fat vertical lake that, when viewed from satellite, eventually slims down to a wild scrawl through the dark green of the Amazon. In all, this tributary races almost completely southward through the Brazilian Amazon for 1,230 miles (1,979 kilometers)—nearly as long as the Colorado River—until it peters out in the savannah of Mato Grosso. Called home by diverse indigenous tribes and unique species, this is the Xingu River.
New bee species sports world's longest tongue

(06/14/2011) A new species of bee discovered in the Colombian rainforest could give the world's biggest raspberry! Researchers say the new bee has the longest tongue of any known bee, and may even have the world's longest tongue compared to body size of any animal: twice the length of the bee itself. The new species has been named Euglossa natesi in honor of bee-expert Guiomar Nates.
Google Earth used to identify marine animal behavior

(06/14/2011) From the all-seeing eye of Google Earth, one can spy the tip of Mount Everest, traffic on 5th Avenue in Manhattan, and the ruins of Machu Picchu, but who would have guessed everyone's favorite interactive globe would also provide marine biologists a God's-eye view of fish behavior? Well, a new study in the just-launched Scientific Reports has discovered visible evidence on Google Earth of the interactions between marine predators and prey in the Great Barrier Reef.
Germany backs out of Yasuni deal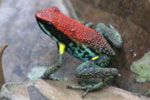 (06/13/2011) Germany has backed out of a pledge to commit $50 million a year to Ecuador's Yasuni ITT Initiative, reports Science Insider. The move by Germany potentially upsets an innovative program hailed by environmentalists and scientists alike. This one-of-a-kind initiative would protect a 200,000 hectare bloc in Yasuni National Park from oil drilling in return for a trust fund of $3.6 billion, or about half the market value of the nearly billion barrels of oil lying underneath the area. The plan is meant to mitigate climate change, protect biodiversity, and safeguard the rights of indigenous people.
Environment versus economy: local communities find economic benefits from living next to conservation areas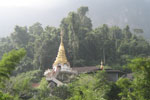 (06/12/2011) While few would question that conserving a certain percentage of land or water is good for society overall, it has long been believed that protected areas economically impoverish, rather than enrich, communities living adjacent to them. Many communities worldwide have protested against the establishment of conservation areas near them, fearing that less access and increased regulations would imperil their livelihoods. However, a surprising study overturns the common wisdom: showing that, at least in Thailand and Costa Rica, protected areas actually boost local economies and decrease poverty.
Vietnam plans to build 90 coal plants

(06/12/2011) Vietnam's government has announced plans to build 90 coal-fired plants over the next 15 years even while being listed as among the top 11 most vulnerable nation's to climate change in the world, according to Eco-Business.
Russia and Norway carve up wildlife-rich Arctic sea for fossil fuels

(06/09/2011) As climate change melts the Arctic sea ice, nations are rushing to carve up once-inaccessible areas for oil and gas exploitation, industrial fishing, and shipping routes. Now, BBC reports that Russia and Norway have essentially agreed to split the Arctic's Barents Sea in half —one of the region's richest in biodiversity and ecological productivity—for industrial exploitation.
Conservation issues in Tanzania
(06/09/2011) What's happening in Tanzania? This is a question making the rounds in East African conservation circles. Why is a nation that has so much invested in wild lands and wild animals pursuing projects that researchers say will not only gravely harm some of the nation's world-famous wildlife and ecosystems, but also undercut its economically-important tourism industry?
Google Earth enhances oceans' layer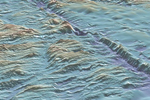 (06/08/2011) How do you celebrate World Oceans Day? Well, if you're Google you make the oceans of the world's most impressive interactive digital globe, Google Earth, come alive. With oceanographers at Columbia University's Lamont-Doherty Earth Observatory, Google Earth has fine-tuned its oceans' resolution in selected areas from 1 kilometer to just 100 meters.
Longline fishing still drowning over a quarter million seabirds every year

(06/08/2011) A new analysis estimates that longline fisheries are still decimating seabirds, even after years of efforts to mitigate deaths. According to a study in Endangered Species Research around 300,000 seabirds are drowned by longline fisheries as bycatch. Attracted by bait on the longline—sometimes measuring hundreds of miles as it trails on the surface behind a boat—birds are often hooked and drowned.
Do kids learn anything at zoos?

(06/07/2011) A new study shows that zoos aren't just a fun place for kids to visit; they are also a teaching opportunity. Interviewing more than 3,000 children between 7 and 14, the largest study of its kind found that just over half of the kids (53 percent) showed improvement in at least one of three areas: conservation-related knowledge, concern for endangered species, or desire to participate in conservation efforts.
Climate scientists in Australia suffer death threats

(06/07/2011) It's not easy to be a climate scientist. First, the media often misconstrues what you say; then some politicians accuse you of lying, manipulating research, and being complicit in a vast conspiracy; and, finally, if you're in Australia, you're threatened with death. According to The Canberra Times over 30 climate scientists and economists have been forced to take security measures after being threatened with violence, sexual assault, and death. In some cases, the families of researchers were also included in threats.
How do we save the Sumatran rhino?

(06/06/2011) Some conservation challenges are more daunting than others. For example, how do you save a species that has been whittled down to just a couple hundred individuals; still faces threats such as deforestation, poaching and trapping; is notoriously difficult to breed in captivity; and is losing precious time because surviving animals are so few and far-apart that simply finding one another—let alone mating and successfully bringing a baby into the world—is unlikely? This is the uphill task that faces conservationists scrambling to save the Sumatran rhino (Dicerorhinus sumatrensis). A new paper in Oryx, aptly named Now or never: what will it take to save the Sumatran rhinoceros Dicerorhinus sumatrensis from extinction? analyzes the conservation challenge, while putting forth a number of recommendations.
Arctic on the line: oil industry versus Greenpeace at the top of the world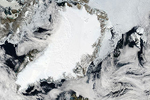 (06/06/2011) At the top of the world sits a lone region of shifting sea ice, bare islands, and strange creatures. For most of human history the Arctic remained inaccessible to all but the hardiest of peoples, keeping it relatively pristine and untouched. But today, the Arctic is arguably changing faster than anywhere else on Earth due to global climate change. Greenhouse gases from society have heated up parts of the Arctic over the past half-century by 4-5 degrees Fahrenheit, leading to a staggering decline in the Arctic sea ice. The large-scale changes suffered by the Arctic have created a new debate over conservation and exploitation, a debate currently represented by the protests of Greenpeace against oil company Cairn Energy, both of whom have been interviewed by mongabay.com (see below).
Scientists urge Indonesia to stop road construction in tiger-rich national park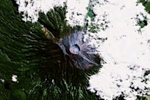 (06/06/2011) The Association for Tropical Biology and Conservation (ATBC) has drafted a resolution urging the Indonesian government to cancel plans to build four 40-foot wide roads through the countries oldest national park, Kerinci Seblat National Park. According to the ATBC, the world's largest professional society devoted to studying and conserving tropical forests, the road-building would imperil the parks' numerous species—many of which are already threatened with extinction—including Sumatra's most significant population of tigers.
New record in global carbon emissions 'another wake-up call'

(05/31/2011) Global carbon emissions hit a new high last year proving once again that international political efforts, hampered by bickering, the blame-game, and tepidity, are failing to drive down the greenhouse gas emissions that are causing the planet to heat up. According to the International Energy Agency (IEA), following a slight fall in carbon dioxide emissions due to the economic downturn, emissions again rose to a new record level in 2010: 30.6 gigatons. This is a full 5 percent higher than the past record hit in 2008. The new record puts greater doubt on the international pledge of limiting the global average temperature rise to 2 degrees Celsius.
Photos: Cambodians rally as 'Avatars' to save one of the region's last great rainforests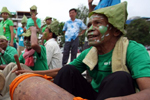 (05/31/2011) Two hundred Cambodians rallied in Phnom Penh last week to protest the widespread destruction of one of Southeast Asia's last intact lowland rainforests, known as Prey Lang. In an effort to gain wider media attention, protestors donned dress and make-up inspired by the James Cameron film, Avatar, which depicts the destruction of a forest and its inhabitants on an alien world. The idea worked as the rally received international attention from Reuters, CNN (i-report), MSNBC, and NPR, among other media outlets.
Amphibian-plague strikes frogs harder in pristine ecosystems

(05/31/2011) Frog populations worldwide are facing two apocalypses: habitat destruction and a lethal plague, known as chytridiomycosis. Over 30 percent of the world's amphibians are currently threatened with extinction and it is thought at least 120 species have gone extinct in just the last 30 years. Unfortunately, a new study in Proceedings of the National Academy of Sciences (PNAS) finds that the two threats—habitat loss and chytridiomycosis—are likely to leave no frog population undisturbed. According to the study, frogs that live in still-pristine habitats are more susceptible to chytridiomycosis than those that are already suffering from habitat loss.
Shareholders to Chevron: company showing 'poor judgment' in Ecuador oil spill case

(05/26/2011) After being found guilty in February of environmental harm and ordered to pay $8.6 billion in an Ecuador court of law, Chevron this week faced another trial: this time by shareholders in its Annual General Meeting in California. While Chevron has appealed the Ecuador case and a US court has put an injunction barring the enforcement of the ruling in the US, notable Chevron investors say the company has gone astray in its seemingly endless legal battle with indigenous groups in the Ecuadorian Amazon.
Photos: new bat uncovered in the Caribbean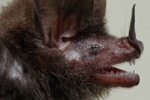 (05/26/2011) Researchers have declared a new species of bat from the Caribbean island of St. Vincent. While the new bat had been documented before, it was long believed to be a member of a similar species that is found throughout South America and a few Caribbean Islands, that is until PhD student Peter Larsen noticed it was far larger than its relative down south.
Green groups to Japan: don't buy illegally logged wood from Indonesia to aid reconstruction

(05/26/2011) Following Japan's devastating earthquake and tsunami, it needs to rebuild and do so the battered nation has already turned to a neighbor, Indonesia, for timber. However, the Environmental Investigation Agency (EIA) and Indonesian NGO, Telapak, warn that much of the timber that reaches Japan's shores from Indonesia could be illegally logged from rainforests, unless Japan pledges to only purchase legally-certified wood under Indonesia's new assurance system.
Environmental law landmark: island nation challenges faraway coal plant for climate impact

(05/25/2011) The far-flung Federated States of Micronesia (FSM), located in the Pacific Ocean, has created legal history by challenging the decision to extend the life of a massive coal plant in the Czech Republic. The over 600-island nation, Micronesia, argues that greenhouse gas emissions from the Czech plant are impacting the way of life in Micronesia, many of whose islands are facing submersion under rising sea levels.
Killing in the name of deforestation: Amazon activist and wife assassinated

(05/24/2011) José Cláudio Ribeiro da Silva and his wife, Maria do Espírito Santo da Silva, were gunned down last night in an ambush near their home in the Brazilian state of Pará. Da Silva was known as a community leader and an outspoken critic of deforestation in the region. Police believe the da Silvas were killed by hired assassins because both victims had an ear cut off, which is a common token for hired gunmen to prove their victims had been slain, according to local police investigator, Marcos Augusto Cruz, who spoke to Al Jazeera. Suspicion immediately fell on illegal loggers linked to the charcoal trade that supplies pig iron smelters in the region.
On the edge of extinction, Philippine eagles being picked off one-by-one

(05/23/2011) Down to a few hundred individuals, every Philippine eagle is important if the species is to survive. However, the Philippine Eagle Foundation (PEF) has recently announced that people continue to illegally trap and keep eagles captive. Since December the organization has taken-in four confiscated Philippine eagles (Pithecophaga jefferyi), according to The Philippine Star. One died of a fungal infection after confiscation, while two others has suffered serious injuries.
Photos: the top ten new species discovered in 2010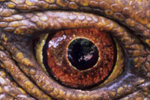 (05/23/2011) If we had to characterize our understanding of life on Earth as either ignorant or knowledgeable, the former would be most correct. In 250 years of rigorous taxonomic work researchers have cataloged nearly two million species, however scientists estimate the total number of species on Earth is at least five million and perhaps up to a hundred million. This means every year thousands of new species are discovered by researchers, and from these thousands, the International Institute for Species Exploration at Arizona State University selects ten especially notable new species.
Locals clash with 'sustainable' FSC logging company in the Congo

(05/22/2011) Two separate protests against logging companies by local communities have turned violent in the Democratic Republic of Congo (DRC), leaving at least one dead. According to Greenpeace, one of the companies involved in the violence, Sodefor, is sustainably certified by the Forest Stewardship Council (FSC). Given that the industry in DRC is rife with social conflict and corruption, Greenpeace is advocating that FSC place a moratorium on certifying new industrial-style logging concessions in the central African nation.
Uncovering the private lives of Amazon wildlife through camera traps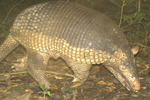 (05/20/2011) One of the best words to describe Amazon wildlife, including large mammals and birds, is cryptic. A person can spend a day trekking through the dense green and brown foliage of the Amazon and see nothing more than a few insects, maybe a frog here and there if they have good eyes. In fact, researchers have spent years in the jungle and never seen a jaguar, let alone a tapir. Some species like the bushdog and the giant armadillo are even more cryptic. Almost never encountered by people, in some parts of the Amazon they have taken on a mythic status, more rumor around the fire than reality. However, camera traps—automated cameras that take a flash photo whenever an animal triggers an infrared sensor—in the Amazon have begun to reveal long-sought information about the presence and abundance of species, providing new data on range and territories. And even at times giving glimpses into the private lives of species that remain largely shrouded in mystery.
US southern forests face bleak future, but is sprawl or the paper industry to blame?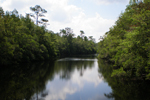 (05/19/2011) More people, less forests: that's the conclusion of a US Forest Service report for forests in the US South. The report predicts that over the next 50 years, the region will lose 23 million acres (9.3 million hectares) largely due to urban sprawl and growing populations amid other factors. Such a loss, representing a decline of over 10 percent, would strain ecosystem services, such as water resources, while potentially imperiling over 1,000 species. However, Dogwood Alliance, which campaigns for conservation of southern forests criticizes the new report for underplaying the role of clearcutting natural forests for the paper industry in the south.
New paper stirs up controversy over how scientists estimate extinction rates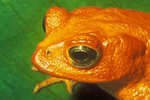 (05/19/2011) A new paper in Nature negating how scientists estimate extinction rates has struck a nerve across the scientific community. The new paper clearly states that a mass extinction crisis is underway, however it argues that due to an incorrect method of determining extinction rates the crisis isn't as severe as has been reported. But other experts in the field contacted disagree, telling mongabay.com that the new the paper is 'plain wrong'. In fact, a number of well-known researchers are currently drafting a response to the day-old, but controversial paper.
3,000 amphibians, 160 land mammals remain undiscovered—that is if they don't go extinct first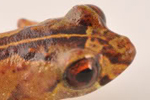 (05/18/2011) Remote little-explored rainforests probably harbor the majority of undiscovered amphibians and land mammals according to a new study in Proceedings of the Royal Society B. The study calculated that it's likely 33% of the world's amphibians and 3% of terrestrial mammals still remain unknown. However, the paper also found that these undiscovered species are likely in worse peril of extinction than already-described species.
Red rodent shows up at Colombian nature lodge after 113 years on the lam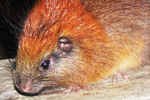 (05/18/2011) The red-crested tree rat (Santamartamys rufodorsalis) had not been recorded since 1898 and was thought possibly extinct—that is until one showed up at 9:30 PM on May 4th at a lodge in El Dorado Nature Reserve in northern Colombia. 'He just shuffled up the handrail near where we were sitting and seemed totally unperturbed by all the excitement he was causing,' said Lizzie Noble, a British volunteer with Fundacion ProAves.
Has the green energy revolution finally arrived?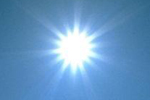 (05/17/2011) When historians look back at the fight to combat climate change—not to mention the struggle to overcome our global addiction to fossil fuels—will 2011 be considered a watershed moment? Maybe. In the last couple months, three countries—each in the top ten in terms of GDP—have suddenly made major renewable energy promises. Germany, Japan, and, just today, Britain are giving speeches and producing plans that, if successful, could be the global tipping point needed to move beyond fossil fuels to, one day, a world run entirely on green.
Bear bile trade, both legal and illegal, ubiquitous in Asia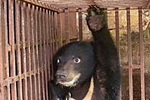 (05/16/2011) Surveying 13 nations and territories in Asia, the wildlife trade organization TRAFFIC found that the bear bile trade remains practically ubiquitous in the region. In many cases the trade, which extracts bile from captive bears' gall bladders for sale as a pharmaceutical, flouts both local and international law, including Appendix I of Convention on International Trade in Endangered Species of Wild Fauna and Flora (CITES ).
Violent protests follow approval of massive dam project in Patagonia

(05/16/2011) The wild rivers of Patagonia may soon never be the same. Last week, Chile's Aysén Environmental Review Commission approved the environmental assessment of a five dam proposal on two rivers. The approval, however, is marred in controversy and has set off protests in many cities, including Santiago. Critics say the series of dams will destroy a largely untouched region of Patagonia.
Valuing Ecosystem Services: The Case of Multi-functional Wetlands

(05/16/2011) Valuing Ecosystem Services: The Case of Multi-functional Wetlands provides the clearest guide yet to describing and implementing in a systematic fashion payments for ecosystems services (PES) strategies for wetland protection mechanisms. By focusing initially on frameworks and obstacles to implementation of wetland protection strategies such as property rights, measuring and monitoring, behavior and compensation, cultural barriers and external factors, the authors posit that is possible to effectively value multi-functional wetlands.
Australia forest destruction connected to local products

(05/15/2011) Some of Australia's most popular stores are driving the destruction of native forests, according to a report by a new environmental group Markets for Change (MFC). Furniture, building materials, and paper products were found to be coming at the expense of native forests in Australia and being sold by over 30 businesses in the country, such as Freedom Furniture, Bunnings, Officeworks, Staples, Target, Coles, and Woolsworths.
Ten-year-old takes on KFC for destroying US forests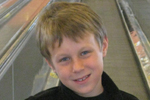 (05/15/2011) Cole Rasenberger's quest to save forests in the US South started as a school assignment to 'be an activist' about something important to him. However, after learning from Dogwood Alliance that coastal forests in North Carolina are being destroyed to make throw-away paper packaging for big fast food companies—such as McDonalds and KFC—Cole Rasenberger, at the age of 8, became more than an activist; he became an environmental leader! He started by targeting McDonalds directly. With the help of 25 friends, and his elementary school administration, he got every student in his school to sign postcards to McDonalds. In all, Cole sent 2,250 postcards to McDonalds.





Reforestation program in China preventing future disasters

(05/13/2011) China's response to large-scale erosion with reforestation is paying off according to a study in the Proceedings of the National Academy of Science (PNAS). The 10-year program, known as Sloping Land Conversion Program (SLCP), is working to turn some 37 million acres back into forest or grasslands after farming on steep slopes in the Yangtze and Yellow River basins had made them perilously susceptible to erosion and flooding.




Page 1 | Page 2 | Page 3 | Page 4 | Page 5 | Page 6 | Page 7 | Page 8 | Page 9 | Page 10 | Page 11 | Page 12 | Page 13 | Page 14 | Page 15 | Page 16 | Page 17 | Page 18 | Page 19 | Page 20 | Page 21 | Page 22 | Page 23 | Page 24 | Page 25 | Page 26 | Page 27 | Page 28 | Page 29 | Page 30 | Page 31 | Page 32 | Page 33 | Page 34 | Page 35 | Page 36 | Page 37 | Page 38 | Page 39 | Page 40 | Page 41 | Page 42 | Page 43 | Page 44 | Page 45 | Page 46 | Page 47 | Page 48 | Page 49 | Page 50 | Page 51 | Page 52 | Page 53 | Page 54 | Page 55 | Page 56 | Page 57 | Page 58 | Page 59 | Page 60 | Page 61