News articles on jeremy hance

---
Mongabay.com news articles on jeremy hance in blog format. Updated regularly.






Peru president signs indigenous rights act into law

(09/07/2011) Peru's new president, Ollanta Humala, has signed into law a measure requiring that indigenous groups are consulted prior to any mining, logging, or oil and gas projects on their land. If properly enforced, the new legislation will give indigenous people free, prior and informed consent (FPIC) over such industrial projects, though the new law does not go so far as to allow local communities a veto over projects. Still, the law puts Peru in line with the Indigenous and Tribal Peoples Convention of 1989, which the South American nation ratified nearly two decades ago.
Climate test for Obama: 1,252 people arrested over notorious oil pipeline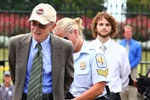 (09/06/2011) Two weeks of climate disobedience at the White House ended over the weekend with 1,252 people arrested in total. Activists were protesting the controversial Keystone XL pipeline in an effort to pressure US President Barack Obama to turn down the project. If built the pipeline would bring oil from Alberta's tar sands through six US states down to Texas refineries. While protestors fear pollution from potential spills, especially in the Ogallala Aquifer which supplies water to millions, the major fight behind the pipeline is climate change: Canada's tar sands emit significantly more carbon than conventional sources of oil.
Organic farming can be more profitable in the long-term than conventional agriculture

(09/01/2011) Organic farming is more profitable and economically secure than conventional farming even over the long-term, according to a new study in Agronomy Journal. Using experimental farm plots, researchers with the University of Minnesota found that organic beat conventional even if organic price premiums (i.e. customers willing to pay more for organic) were to drop as much as 50 percent.
Controversial study finds intensive farming partnered with strict protected areas is best for biodiversity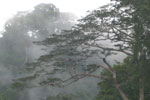 (09/01/2011) Given that we have very likely entered an age of mass extinction—and human population continues to rise (not unrelated)—researchers are scrambling to determine the best methods to save the world's suffering species. In the midst of this debate, a new study in Science, which is bound to have detractors, has found that setting aside land for strict protection coupled with intensive farming is the best way to both preserve species and feed a growing human world. However, other researchers say the study is missing the point, both on global hunger and biodiversity.
World's oldest person discovered in Amazon rainforest

(08/31/2011) Maria Lucimar Pereira is arguably the world's oldest living person: a member of the Kaxinawá tribe, Pereira lives in the Brazilian Amazon and will be soon celebrating her 121st birthday, according to Survival International.
The heroic wolf: are wolves the key to saving the Canada lynx?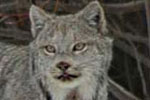 (08/31/2011) In 2000 the Canada lynx (Lynx canadensis) was listed as threatened under the US Endangered Species Act (ESA). While remaining stable in Canada and Alaska, the Canada lynx population had essentially collapsed in much of the continental US, excluding Alaska. Aside from habitat loss, one of the main factors imperiling the medium-sized wild cat was a decline in prey, specifically snowshoe hares (Lepus americanus). Researchers have now come up with an innovative way to aid hungry lynx in the US: wolves.
Busted: 1,835 elephant tusks confiscated in two seizures connected by Malaysia

(08/31/2011) Two massive seizures in the last week—one in Zanzibar and the other in Hong Kong—have confiscated nearly two thousand ivory tusks as elephant poaching continues to rise. Both seizures have connections to Malaysia, highlighting the growing role of a new intermediate player in the illegal ivory trade.
One of world's rarest cats caught on video for the first time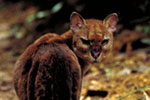 (08/30/2011) Africa is known as a continent of felines: leopards, cheetahs, servals, caracals, and of course the one who wears the crown, the lion. But, few people travel to Africa to see, or have probably ever heard of, the African golden cat. Native to the rainforests of central Africa (from Kenya to Cameroon) with a separate population in West Africa, the African golden cat (Caracal aurata) is considered the continent's least-studied feline. However, a team of researchers is hoping to change this: using camera traps scientists have taken the first ever public video of the African golden cat.
New seabird discovered from Hawaii, but no one knows where it lives

(08/30/2011) Researchers have uncovered a new seabird native to Hawaii stuffed in a museum. Originally identified as a smaller variation of a little shearwater (Puffinus assimilis), DNA tests showed that the bird, which was collected over four decades ago, was in fact a unique species. Named Bryan's shearwater (Puffinus bryani), the fate of this bird in the wild remains unknown.
BBC plans to cancel fruitful Wildlife Conservation Fund

(08/29/2011) The announcement that the BBC plans to axe its 4-year-old Wildlife Conservation Fund, which has raised nearly $5 million (£3 million) for endangered species worldwide, has spurred an online campaign to save the program. The fund, which raises money largely from BBC viewers—especially those watching its renowned wildlife documentaries—has financed 87 programs around the world to date.
Big damage in Papua New Guinea: new film documents how industrial logging destroys lives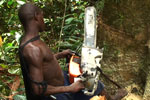 (08/29/2011) In one scene a young man, perhaps not long ago a boy, named Douglas stands shirtless and in shorts as he runs a chainsaw into a massive tropical tree. Prior to this we have already heard from an official how employees operating chainsaws must have a bevy of protective equipment as well as training, but in Papua New Guinea these are just words. The reality is this: Douglas straining to pull the chainsaw out of the tree as it begins to fall while his fellow employees flee the tumbling giant. The new film Bikpela Bagarap('Big Damage') documents the impact of industrial logging on the lives of local people in Papua New Guinea.
Photos: World Food Program works to save lives in East Africa famine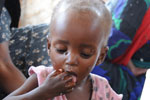 (08/28/2011) Over 12 million people across East Africa are imperiled by a hunger crisis brought on by extreme drought. The worst of the crisis is in Somalia, where famine has been declared in 5 areas of Somalia to date—the first famine to be declared by the UN in three decades. Somalia is unique, because here the drought has been exacerbated by a long-failed government and militants. Refugee camps have been set up in Kenya and Ethiopia, but are strained. A number of aid groups are working on the ground to provide emergency food and medical attention to hunger victims, but funding is still below what is needed. The largest group is probably the UN's World Food Program (WFP). Mongabay.com spoke to Dena Gubaitis, Communications Officer for the WFP, for background on the famine and how relief efforts are going on the ground.
Meet the just discovered 'Komodo dragon' of wasps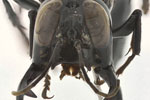 (08/28/2011) A new species of warrior wasp has been discovered on the Indonesian island of Sulawesi that is so large and, frankly, terrifying-looking that it has been dubbed the 'Komodo dragon' of the wasp family. Bizarrely, the male of the species has jaws that outstretch its limbs. "I don't know how it can walk," said the wasp's discoverer, entomologist Lynn Kimsey of the University of California, Davis and director of the Bohart Museum of Entomology, in a press release. "Its jaws are so large that they wrap up either side of the head when closed."
Leopards losing out to bushmeat hunters in competition for prey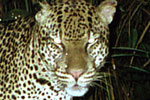 (08/25/2011) According to a surprising new study in the Journal of Zoology, bushmeat hunting is imperiling jungle-dwelling leopards (Panthera pardus) in Africa, even though hunters aren't targeting the elusive big cats themselves. Instead, by hunting many of the leopard's preferred prey—such as red river hogs and forest antelopes—bushmeat hunters are out-competing leopards.
Photo: new titi monkey discovered in Amazon area under siege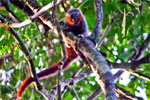 (08/25/2011) A new species of titi monkey has been discovered in the Brazilian Amazon. Found during a 2010 December expedition, this is the second new titi monkey discovered in the Amazon in three years. In 2008 another new titi, dubbed the Caquetá titi, was discovered in the Colombian Amazon, although it was only announced last year. An expedition backed by WWF-Brazil found the new titi between the Guariba River and the Roosevelt River in northwestern part of Mato Grosso, a state of Brazil known as a center of Amazon destruction.
Peru passes landmark indigenous rights legislation

(08/24/2011) A new administration in Peru is moving toward granting indigenous people long-sought legal rights, reports Survival International. Yesterday, the Peruvian congress approved new legislation that gives indigenous people free, prior and informed consent (FPIC) for any project on their land. If signed into law and enforced, the legislation would provide indigenous groups considerable clout in keeping industry off their lands if they choose.
Climate change may fuel increase in warfare, finds study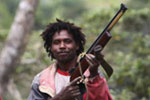 (08/24/2011) Civil war is twice as likely in tropical countries during particularly hot and dry years, according to a new study in Nature. The researchers found that El Niño conditions, which generally cuts rainfall and raises temperatures in the tropics, may have played a factor in one-fifth of the world's total conflicts during the past 50 years. El Niño conditions occur every 3-7 years. While the study did not examine global climate change in conjunction with conflict, the study links a warmer world to a more conflict-prone one, as least in the tropics.
Humanity knows less than 15 percent of the world's species
(08/23/2011) Scientists have named, cataloged, and described less than 2 million species in the past two and a half centuries, yet, according to an new innovative analysis, we are no-where near even a basic understanding of the diversity of life on this small blue planet. The study in PLoS Biology, which is likely to be controversial, predicts that there are 8.7 million species in the world, though the number could be as low as 7.4 or as high as 10 million. The research implies that about 86 percent of the world's species have still yet to be described.
Innovative program saves wildlife, protects forests, and fights poverty in Africa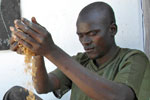 (08/23/2011) Luangwa Valley in Zambia is home to stunning scenes of Africa wildlife: elephants, antelopes, zebra, buffalo, leopards, hyena, and lions all thrive in Luangwa's protected areas, while the Luangwa River is known for multitude of snapping crocodiles and its superabundant herds of hippos. In fact, the area's hippos were filmed for the BBC's program Life, including a dramatic battle between two males (see below). Yet as in many such places in Africa, abundant plains and forest wildlife bump up against the needs of impoverished local people. The resulting conflict usually ends in large-scale wildlife declines; the same trend was documented in the Luangwa Valley until a unique initiative began to make a difference not only in the life of animals, but of people as well.
Uganda resurrects plan to hand over protected forest to sugar company

(08/22/2011) An environmental issue in Uganda that left three people dead four years ago has reared its head again. The Ugandan government has resurrected plans to give a quarter of the Mabira Forest Reserve to a sugar cane corporation after dropping the idea in 2007 following large-scale protests, including one that left many activists injured and three dead. A pet project of Ugandan President Yoweri Museveni the plan would degazette 7,100 hectares of the 30,000 hectare Mabira Forest Reserve for a sugarcane plantation to be run by the Indian-owned company, Mehta Group. However the plan is being heavily attacked by critics.
Over 100 protestors arrested as civil action begins against tar sands pipeline to US

(08/22/2011) In the first two days of a planned two week sit-in at the White House in Washington DC, over 100 activists against the Keystone XL pipeline have been arrested, reports Reuters. If approved by the Obama Administration, the 1,700 mile pipeline would bring around 700,000 barrels of oil daily from Canada's notorious tar sands to oil refineries in Texas.
Protected areas that allow local use better at reining in tropical deforestation

(08/21/2011) Protected areas in tropical forests are better at curtailing deforestation if they allow 'sustainable use' by locals, according to a new World Bank study published in the open-access journal PLoS ONE. Looking at every official protected area in the tropics from 2000 to 2008, researchers found that multi-use reserves in Latin America and Asia lowered deforestation rates by around 2 percent more than strict protected areas, though the effect was less visible in Africa.
APP affiliate 'regrets' astroturfing on Indonesia deforestation claims

(08/21/2011) Solaris, an Australian affiliate of Asia Pulp and Paper (APP), has been caught astroturfing an article that repeated criticism of APP from Greenpeace. The article, which appeared on Mumbrella—an Australian media and marketing news site—garnered a multitude of negative comments which were later tracked to IP addresses used by Solaris. Astroturfing is corporate or government messaging falsified as coming from the public or a grassroots movement.
New species is eel-equivalent of the coelacanth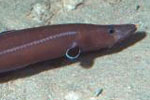 (08/18/2011) The ocean holds endless surprises still. In an underwater cave off the Pacific island nation of Palau, reachers have made an astounding discovery: an eel species unknown to science that harkens back 200 million years. The species, described in the Proceedings of the Royal Society B as an 'enigmatic, small eel-like fish', sports anatomical features that differentiate it from the over 800 known species of eel surviving today.
Conservation groups kicked out of CITES debate on elephants

(08/17/2011) The Standing Committee of CITES (Convention on International Trade in Endangered Species of Wild Fauna and Flora) tossed conservations NGOs out of the room during a debate on the rise in elephant poaching for illegal ivory. A vote of seven to six sent conservation groups making up the Species Survival Network (SSN) packing, however the groups were allowed back in before the day was over.
Cute animal picture of the day: red panda

(08/17/2011) The red panda is found in China, Bhutan, Nepal, India, and Myanmar. Once believed to be in the bear family (like the giant panda), the species is now has its own genus in the Musteloidea, which represents weasels, raccoons, and skunks.
Cameratraps take global snapshot of declining tropical mammals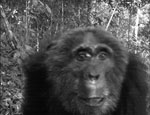 (08/17/2011) A groundbreaking cameratrap study has mapped the abundance, or lack thereof, of tropical mammal populations across seven countries in some of the world's most important rainforests. Undertaken by The Tropical Ecology Assessment and Monitoring Network (TEAM), the study found that habitat loss was having a critical impact on mammals. The study, which documented 105 mammals (nearly 2 percent of the world's known mammals) on three continents, also confirmed that mammals fared far better—both in diversity and abundance—in areas with continuous forest versus areas that had been degraded.
World nations see six all-time record high temperatures, no lows so far in 2011

(08/16/2011) Eight months into the year, six nations have seen record high temperatures, including Kuwait, Iraq, Armenia, Iran, and Republic of the Congo, reports Jeff Master's Wunderblog. To date no record lows have been recorded in any country in the world so far. This is similar, though not quite as extreme, to last year when twenty countries broke all time highs with none hitting an all time low.
Shell spills over 50,000 gallons of oil off Scotland

(08/16/2011) Yesterday, Royal Dutch Shell estimated that to date 54,600 gallons of oil had spilled into the North Sea off the east coast of Scotland, spreading some 19 miles wide (30 kilometers) at its maximum. While the company stopped the initial leak on Thursday, it has now announced that the oil has found a 'second pathway' and is still leaking into the sea around 84 gallons a day.
Featured video: WWF's Astonish Me

(08/16/2011) Highlighting new species recently discovered around the world, the short film Astonish Me, was created as apart of a happy 50th birthday celebration for conservation organization WWF.
Lessons from the world's longest study of rainforest fragments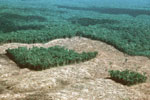 (08/15/2011) For over 30 years, hundreds of scientists have scoured eleven forest fragments in the Amazon seeking answers to big questions: how do forest fragments' species and microclimate differ from their intact relatives? Will rainforest fragments provide a safe haven for imperiled species or are they last stand for the living dead? Should conservation focus on saving forest fragments or is it more important to focus the fight on big tropical landscapes? Are forest fragments capable of regrowth and expansion? Can a forest—once cut-off—heal itself? Such questions are increasingly important as forest fragments—patches of forest that are separated from larger forest landscapes due to expanding agriculture, pasture, or fire—increase worldwide along with the human footprint.
Animal picture of the day: ninja lemurs

(08/14/2011) On the ground Verreaux's Sifaka (Propithecus verreauxi) move in sideways jumps giving them the appearance of elegant dancers or dangerous ninjas.
Dole destroying forest in national park for bananas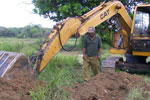 (08/14/2011) Dole Food Company, a US-based corporation famous for its tropical fruit products, is allegedly destroying rainforest in Somawathiya National Park in Sri Lanka for a banana plantation reports local press. The 4,700 hectare (11,600 acre) plantation, reportedly handed to local company Letsgrow by Sri Lanka's military, imperils an elephant migration route and a number of tropical species. Letsgrow has partnered with Dole on the plantation work, already clearing almost half the area, described as 'thick jungle'. Sri Lanka, which has only come out of a decades-long civil war in 2009, is currently seeking a rise in agricultural development.
WWF to investigate program that partners with notorious loggers

(08/14/2011) The World Wide Fund for Nature (WWF) has announced an independent review of its Global Forest and Trade Network (GFTN) following a report from Global Witness that criticized the conservation organization for working with a number of logging companies that destroy forests, imperil species, and abuse human rights. While WWF's GTFN is meant to support companies in changing their ways, Global Witness' report argued that it led to greenwashing forest destruction, including illegal logging.
China opens trade in 'legal' tiger skins

(08/14/2011) The Environmental Investigation Agency (EIA) has warned the US, the UK, and all tiger-range nations that China has re-opened the trade in wild cat skins—including tigers—ahead of a Convention on International Trade in Endangered Species (CITES) meeting this week in Geneva, Switzerland. According to the EIA, China has reinitiated a Skin Registration Scheme that allows the trade of big cat skins from legal sources, such as captive-bred cats and controversial tiger farms, however the NGOS argues the scheme lacks transparency, providing an easy cover for the sale of skins taken from big cats poached in the wild.
The glass is half-full: conservation has made a difference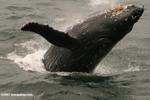 (08/11/2011) Don't despair: that's the message of a new paper in Trends in Ecology and Evolution, which argues that decades of conservation actions at multiple scales have had a positive impact for many of the world's endangered species. While such actions have not yet turned back the tide of the current mass extinction crisis, they have achieved notable successes which often get lost in the gloom-and-doom news stories on biodiversity declines. According to the paper, conservation actions take place on three scales. Microscale conservation focuses on a single species or ecosystem; mesoscale means conservation cooperation between a number of countries, such as efforts to curb the illegal wildlife trade or protect wide-ranging species; and finally macroscale means global organizations or campaigns, such as those that pressure multinational corporations to become more biodiversity-friendly.
Taking corporate sustainability seriously means changing business culture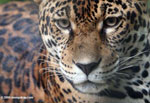 (08/11/2011) As more and more people demand companies to become sustainable and environmentally conscious, many corporations are at a loss of how to begin making the changes necessary. If they attempt to make changes—but fall short or focus poorly—they risk their actions being labeled as 'greenwash'. In addition, if they implement smart changes and self-regulations, but their employees don't buy-in to the process, all their investments will be for nothing. This is where Accountability Now, a young, fresh social responsibility agency, comes in. Clare Raybould, director of Accountability Now, believes companies—large and small—have the potential to change the world for the better, but they simply need a guiding hand to change not just the way a company works, but its culture.
Animal picture of the day: the jaws of the piranha

(08/10/2011) Few fish have a more fearsome reputation than the piranha. Yet recent research has shown that attacks on humans are rare and often accidental, though they do eat their prey alive and are capable of stripping a cattle carcass bare (though it doesn't happen instantaneously).
Arctic sea ice in free fall: new record low for July

(08/10/2011) Average Arctic sea ice extent hit a new record low for July according to the National Snow and Ice Data Center (NSIDC).If the melt continues apace, the sea ice extent could hit its lowest point since record keeping by satellite began 32 years ago. However, ice loss slowed through the second half of July as weather grew colder in the Arctic, and by the end of the month was slightly above conditions in 2007, in which the lowest sea ice extent ever was measured.
Congo to 'reforest' with plantations across one million hectares

(08/10/2011) The Republic of the Congo has announced a new program to create plantations across one million hectares (2.47 million acres) of degraded forest lands. The program, known as the national program of afforestation and reforestation (RAN), is being pushed to support various industries, carbon sequestration and to take pressure off native forests. According to Reuters, the Republic of the Congo is seeking donor and international investment of $2.6 billion for the initiative. However, plantations are controversial in conservation-terms as they store significantly less carbon and support little biodiversity when compared to natural forest.
Photos: 10 new frogs discovered in India's great rainforest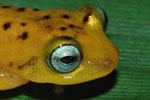 (08/09/2011) Ten new species of frog have been discovered in India's Western Ghats according to two new papers in Biosystematica. Although human populations have farmed in the Western Ghats for centuries, the new discoveries prove that the rainforest still holds many surprises. The Western Ghats lie along India's west coast and have been dubbed one of the world's biodiversity hotspots, but the rich wildlife is imperiled by rising human impacts.
Uncontacted tribe missing after armed drug dealers storm their forest

(08/09/2011) Concern is rising for the welfare of uncontacted natives in the Brazilian Amazon after armed marauders stormed the area where they were last documented. Last week men with rifles and machine guns, believed to be drug traffickers from Peru, overran a remote government guard post run by FUNAI (Brazil's Indigenous Affairs Department) on the Envira River, near the uncontacted indigenous people's location on the border of Brazil and Peru. The uncontacted indigenous people in question made headlines worldwide earlier this year after photos and film of them were released from flyovers.
Balancing agriculture and rainforest biodiversity in India's Western Ghats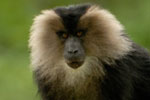 (08/08/2011) When one thinks of the world's great rainforests the Amazon, Congo, and the tropical forests of Southeast Asia and Indonesia usually come to mind. Rarely does India—home to over a billion people—make an appearance. But along India's west coast lies one of the world's great tropical forests and biodiversity hotspots, the Western Ghats. However it's not just the explosion of life one finds in the Western Ghats that make it notable, it's also the forest's long—and ongoing—relationship to humans, lots of humans. Unlike many of the world's other great rainforests, the Western Ghats has long been a region of agriculture. This is one place in the world where elephants walk through tea fields and tigers migrate across betel nut plantations. While wildlife has survived alongside humans for centuries in the region, continuing development, population growth and intensification of agriculture are putting increased pressure on this always-precarious relationship. In a recent paper in Biological Conservation, four researchers examine how well agricultural landscapes support biodiversity conservation in one of India's most species-rich landscapes.





Arctic open for exploitation: Obama administration grants Shell approval to drill

(08/08/2011) Less than a year and a half after the oil spill in the Gulf of Mexico, the Obama administration has bucked warnings from environmentalists to grant preliminary approval to oil giant, Royal Dutch Shell, to drill off the Arctic coast. Exploratory drilling will occur just north of the western edge of the Arctic National Wildlife Refuge (ANWR) in the Beaufort Sea, home to bowhead and beluga whales, seals, walruses, polar bears, and a wide variety of migrating birds.




Page 1 | Page 2 | Page 3 | Page 4 | Page 5 | Page 6 | Page 7 | Page 8 | Page 9 | Page 10 | Page 11 | Page 12 | Page 13 | Page 14 | Page 15 | Page 16 | Page 17 | Page 18 | Page 19 | Page 20 | Page 21 | Page 22 | Page 23 | Page 24 | Page 25 | Page 26 | Page 27 | Page 28 | Page 29 | Page 30 | Page 31 | Page 32 | Page 33 | Page 34 | Page 35 | Page 36 | Page 37 | Page 38 | Page 39 | Page 40 | Page 41 | Page 42 | Page 43 | Page 44 | Page 45 | Page 46 | Page 47 | Page 48 | Page 49 | Page 50 | Page 51 | Page 52 | Page 53 | Page 54 | Page 55 | Page 56 | Page 57 | Page 58 | Page 59 | Page 60 | Page 61