News articles on jeremy hance

---
Mongabay.com news articles on jeremy hance in blog format. Updated regularly.






Scientists: iron fertilization could be a big climate help

(07/18/2012) For a long time, oceanic iron fertilization was seen as a promising mechanism to combat global climate change. But then in 2009 a well-publicized study found that iron fertilization stored 80 times less carbon than expected, dampening enthusiasm and support around the geoengineering scheme. Now, however, the idea of fertilizing the ocean with iron may be back: a new study in Nature reports that iron fertilization, in the right conditions, could store carbon in the deep ocean for centuries.
Brazil cripples illegal gold mining operations in indigenous territory

(07/18/2012) Brazilian police have arrested 26 people and confiscated gold and aircraft in a coordinated effort to tackle illegal gold-mining in the Yanomami Indigenous Reserve, reports the BBC. Along with illegal miners the year-long investigation also arrested complicit airplane pilots, engineers, and business people in a bid to undercut the trade's funders and infrastructure.
First snow leopards collared in Afghanistan as species faces rising threat from climate change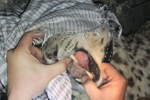 (07/18/2012) Scientists have captured and collared two snow leopards (Panthera uncia), arguably one of the world's most elusive predators, in Afghanistan for the first time. Undertaken by researchers with Wildlife Conservation Society (WCS) and Afghani vets, the successful operation was conducted as a new study finds that snow leopard habitat could shrink by nearly one-third due to anthropogenic climate change in the Himalayas.
Northern Hemisphere experiences warmest June on record

(07/17/2012) The Northern Hemisphere suffered its warmest June on record across land and sea, while globally it was the fourth warmest June yet, according to new data from the National Oceanic and Atmospheric Administration (NOAA).
Over 500 dead penguins wash up in Brazil, cause under investigation

(07/17/2012) In recent weeks, 512 Magellanic penguins (Spheniscus magellanicus) have washed up dead in Brazilian state of Rio Grande do Sul. Although badly composed, researchers do not see any obvious signs why the penguins died, especially in such numbers. Marine biologists are currently performing autopsies on carcasses and hope to determine cause of death within a few weeks.
Clever whale shark video goes viral

(07/17/2012) Researchers have a caught a juvenile—though still massive—whale shark on camera sucking fish out of a hole in an Indonesian fishing net. Posted on YouTube.com, the video has gone viral and has been viewed by 1.2 million people to date. The footage was captured during a program to tag 30 whale sharks (Rhincodon typus) in Indonesia's Cendrawasih Bay National Marine Park in order to learn more about the world's largest fish.
Innovative conservation: bandanas to promote new park in the Congo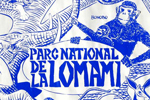 (07/16/2012) American artist, Roger Peet—a member of the art cooperative, Justseeds, and known for his print images of vanishing species—is headed off to the Democratic Republic of the Congo (DRC) to help survey a new protected area, Lomami National Park. With him, he'll be bringing 400 bandanas sporting beautifully-crafted images of the park's endangered fauna. Peet hopes the bandanas, which he'll be handing out freely to locals, will not only create support and awareness for the fledgling park, but also help local people recognize threatened species.
Cute animal picture of the day: baby bamboo lemur

(07/16/2012) Greater bamboo lemurs (Prolemur simus) are one of over a hundred lemur species found only on the island of Madagascar. Listed as Critically Endangered, there are only around 500 individuals known in the wild, making them one of the world's most imperiled primate species. A new baby was recently born in captivity in the UK's Port Lympne Wild Animal Park.
'Beautiful' new snake discovered in Cambodia (photo)

(07/16/2012) Scientists have discovered a new snake species in the biodiverse rainforests of the Cardamom Mountains, reports Fauna & Flora International (FFI). The new reddish-hued serpent has been named after its country of origin by native herpetologist Neang Thy: the Cambodian kukri (Oligodon kampucheaensis).
Cute animal picture of the day: spotted hyena cub

(07/15/2012) Spotted hyenas (Crocuta crocuta) are found across sub-Saharan Africa. Adept hunters, hyenas can also survive by scavenging and opportunism. They form the largest packs of any carnivore, which are run by matriarchs. Although, they resemble dogs, the hyena is actually more closely related to cats and weasels.
Deja vu: U.S. undergoes hottest 12 months on record...again and again

(07/12/2012) According to new data from the National Oceanic and Atmospheric Administration (NOAA)'s National Climatic Data Center, the last twelve months have been the warmest on record for the contiguous United States. This record, set between July 2011 through June 2012, beat the last consecutive twelve month record set only a month earlier between June 2011 and May 2012, which in turn beat the previous record holder, you guessed it: May 2011 through April 2012.
Still time to save most species in the Brazilian Amazon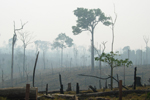 (07/12/2012) Once habitat is lost or degraded, a species doesn't just wink out of existence: it takes time, often several generations, before a species vanishes for good. A new study in Science investigates this process, called "extinction debt", in the Brazilian Amazon and finds that 80-90 percent of the predicted extinctions of birds, amphibians, and mammals have not yet occurred. But, unless urgent action is taken, the debt will be collected, and these species will vanish for good in the next few decades.
Indigenous tribes end occupation of Belo Monte

(07/12/2012) After occupying the construction site of the massive Belo Monte dam for 21 days, some 300 indigenous people have left and gone home. The representatives from nine Amazonian tribes abandoned their occupation after two days of meeting with the dam's builder, the Norte Energia consortium.
Animal picture of the day: the greater roadrunner

(07/12/2012) Charging at speeds up to 26 miles an hour (42 kilometers), the greater roadrunner (Geococcyx californianus) chases down prey like lizards and snakes. It is listed as Least Concern by the IUCN Red List, and is found across the Southwestern U.S. Although the greater roadrunner is capable of flight, it prefers racing along the ground.
Thousands of scientists hold mock funeral in Canada to highlight nation's "death of evidence"

(07/11/2012) Carrying signs that said 'Stop Harper's War on Knowledge' and 'Scientists Shouldn't Wear a Muzzle,' Canada's scientists were unusually theatrical yesterday at a rally against the Canadian government's cuts for basic science funding and environmental protections. Scientists, dressed in white coats, carried a coffin to represent "the death of evidence" in Canada, while a costumed grim-reaper led the way. According to police, around 2,000 joined in the protest.
Climate change increased the probability of Texas drought, African famine, and other extreme weather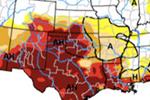 (07/11/2012) Climate change is here and its increasing the chances for crazy weather, according to scientists. A prestigious group of climatologists have released a landmark report that makes the dramatic point that climate change is impacting our weather systems—and in turn our food crops, our economies, and even our lives—here-and-now. The new report in the American Meteorological Society is first of what is intended to be an annual offering that will attempt to tease out the connections between climate change and individual extreme weather events, such as heatwaves, droughts and floods.
Cute animal picture of the day: stranded sea lion finds new home

(07/11/2012) A young female California sea lion (Zalophus californianus) , who had stranded herself three times, has found a new home at the Bronx Zoo. After her most recent escapade of showing up at a beachside bar in California, experts decided she was too habituated to humans to re-release back into the ocean for a third time. She was transferred to the Wildlife Conservation Society's Bronx Zoo.
As U.S. sees record heat, extreme weather pummels 4 continents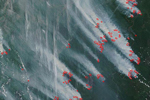 (07/10/2012) It's not only the U.S. that has experienced record-breaking extreme weather events recently, in the last couple months extreme weather has struck around the world with startling ferocity. In addition to the much-covered heatwaves, wildfires, and droughts in the U.S., killer floods struck India, the worst drought yet recorded plagued South Korea, and massive forest fires swept through Siberia to name just a few.
Pictures of the day: LEGO animals storm Bronx Zoo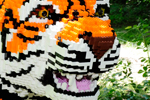 (07/10/2012) LEGO animals are debuting next to the real things at the Wildlife Conservation Society's Bronx Zoo this summer. LEGO artists have created a menagerie of animals including lemurs, a tiger, hornbills, rhinos, gorillas, flamingoes, a giraffe, and a zebra. The exhibition runs until September 3rd. "The safari brings to life the challenges faced by wildlife due to habitat loss and real threats to their survival. The goal of the program is to connect young minds to nature and inspire visitors to help build a future for wildlife," the Bronx Zoo says in a press release.
Meet the world's rarest snake: only 18 left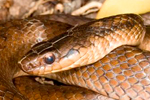 (07/10/2012) It's slithery, brown, and doesn't mind being picked up: meet the Saint Lucia racer (Liophis ornatus), which holds the dubious honor of being the world's most endangered snake. A five month extensive survey found just 18 animals on a small islet off of the Caribbean Island of Saint Lucia. The snake had once been abundant on Saint Lucia, as well, but was decimated by invasive mongooses. For nearly 40 years the snake was thought to be extinct until in 1973 a single snake was found on the Maria Major Island, a 12-hectare (30 acre) protected islet, a mile off the coast of Saint Lucia (see map below).
2,600 scientists: climate change killing the world's coral reefs
(07/10/2012) In an unprecedented show of concern, 2,600 (and rising) of the world's top marine scientists have released a Consensus Statement on Climate Change and Coral Reefs that raises alarm bells about the state of the world's reefs as they are pummeled by rising temperatures and ocean acidification, both caused by greenhouse gas emissions. The statement was released at the 12th International Coral Reef Symposium.
Google Earth used to discover unknown forest in Angola, scientists find it full of rare birds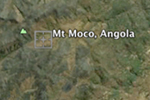 (07/09/2012) An expedition, followed up by some computer hunting on Google Earth, has discovered large remnants of old growth forest, including thriving bird communities, in the mountains of Angola. The Namba Mountains in Angola were expected to contain around 100 hectares of forest, but an on-the-ground survey, coupled with online research, has discovered numerous forest fragments totaling around 590 hectares in the remote mountains, boosting the chances for many rare species.
Predicting the distribution of tropical dung beetles

(07/09/2012) Although they live in almost every ecosystem in the world—from your backyard to the Antarctic—scientists know very little about many insect species, including many individual species' distribution. A new study in mongabay.com's open-access journal Tropical Conservation Science attempts to predict the range of 53 dung beetle species in the genus Eurysternus, all of which are found in the American tropics. Dung beetles are hugely important to their environments, since they efficiently devour and recycle waste.
Poaching in the Serengeti linked to poverty, high legal hunting prices

(07/09/2012) In the effort to protect the Serengeti—arguably Africa's most famous ecosystem—one of the major problems is the bushmeat trade. Population growth, little available protein, poverty, and a long-standing history of hunting has led many communities to poach wildlife within Serengeti National Park. Interviewing over a thousand community members in the western Serengeti, scientists found that community members are largely aware that wildlife hunting is illegal and that conservation of wild species is important, but hunt animals anyway partly out of necessity.
Making reforestation work in abandoned pasturelands

(07/09/2012) Tropical reforestation is not easy, especially in abandoned pasturelands. But a new study in mongabay.com's open access journal Tropical Conservation Science finds that removing grasses prior to and after planting native tree seeds significantly improves the chances of forests to take root. The study site, located in Mexico's Lacandon rainforest, was covered in an invasive African grass (Cynodon plectostachyus).
Poaching results in elephant gender imbalance in Indian park

(07/09/2012) Scientists have undertaken a new census of Asian elephants (Elephas maximus) in India's Biligiri Rangaswamy Temple Tiger Reserve (BRT) following almost 30 years of sustained poaching. Estimating that the park contains four female elephants for every male, the scientists warn in a new study in mongabay.com's open access journal Tropical Conservation Science that this gender imbalance threatens the population. Poachers target male Asian elephants for their tusks, generally leaving females untouched.
Critically Endangered capuchins discovered in four new locations

(07/09/2012) The Ecuadorian capuchin, a Critically Endangered subspecies of the white-fronted capuchin (Cebus albifrons), has been discovered in four new locations according to a new study in mongabay.com's open access journal Tropical Conservation Science. Found only in Ecuador and northern Peru, the scientists say the monkey may be unique enough to warrant consideration as a distinct species.
Tracking elephants in Cameroon to mitigate conflict with locals

(07/09/2012) Elephant conservation is imperiled by poor spatial planning, according to a new study in mongabay.com's open access journal Tropical Conservation Science. Tracking two elephant matriarchs in and around Bénoué National Park in Cameroon, scientists found that the herds spent over half their time outside of the park, highlighting the potential for human-wildlife conflict as elephants are known to raid fields.
Bad science journalism: articles spread misinformation about whale sharks
(07/09/2012) The death of one of the world's largest recorded whale sharks (Rhincodon typus) in the Arabian Sea provoked a sudden global interest in these massive shark. Weighing 14.5 tons, the fish in question made 'whale shark 'whale shark' the number 3 top search in Google Trends on the day the news hit. But, according to a new study in mongabay.com's open access journal Tropical Conservation Science, more than half the reports filed by journalists were "factually wrong."
Endangered fruit bats, and many other species, on the menu in the Philippines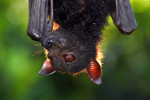 (07/09/2012) Bushmeat hunting is well-known to be decimating animal populations in Africa, but has been little studied much of Southeast Asia. However, a new paper in mongabay.com's open access journal Tropical Conservation Science shines light on the size and scale of bushmeat poaching in the Philippines. Studying an anonymous community near a national park on the island of Luzon, researchers found that poachers targeted 22 species, ten of which are considered either threatened or near threatened with extinction by the IUCN Red List.
Poacher known as 'Morgan' behind devastating massacre at Okapi Wildlife Reserve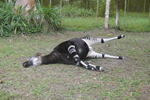 (07/05/2012) Officials have pointed to an infamous elephant poacher known as 'Morgan' as the head of the murderous attack at the Okapi Wildlife Reserve station in the Democratic Republic of the Congo (DRC) late last month. The attack by Morgan and his crew left seven people dead, including two wildlife rangers. The poachers also shot dead 13 captive okapis at the headquarters, which were considered ambassadors for the imperiled forest. One okapi remains alive, but injured and conservationists are not optimistic about its survival. UNESCO and the the NGO Fauna and Flora international have issued an emergency appeal to raise $120,000 dollars within two weeks for the victim's families as well as for rapidly rebuilding the station.
Experts dispute recent study that claims little impact by pre-Columbian tribes in Amazon
(07/05/2012) A study last month in the journal Science argued that pre-Columbian peoples had little impact on the western and central Amazon, going against a recently composed picture of the early Amazon inhabited by large, sophisticated populations influencing both the forest and its biodiversity. The new study, based on hundreds of soil samples, theorizes that indigenous populations in much of the Amazon were tiny and always on the move, largely sticking to rivers and practicing marginal agriculture. However, the study raised eyebrows as soon as it was released, including those of notable researchers who openly criticized its methods and pointed out omissions in the paper, such as no mention of hundreds of geoglyphs, manmade earthen structures, found in the region.
Pre-industrial deforestation still warming atmosphere

(07/03/2012) Fossil fuels were not burned in massive quantities prior to the Industrial Revolution, but humans were still pumping carbon into the atmosphere due to land use change, especially deforestation. In fact, a new study in Environmental Research Letters finds that deforestation prior to 1850 is still heating up our atmosphere today.
Indigenous tribes occupy Belo Monte dam for over 10 days

(07/03/2012) As of Tuesday, the occupation of Belo Monte dam by indigenous tribes entered its 13th day. Indigenous people, who have fought the planned Brazilian dam for decades, argue that the massive hydroelectric project on the Xingu River will devastate their way of life. According to a statement from the tribes, 17 indigenous villages from 13 ethnic groups are now represented at the occupation, which has successfully scuttled some work on the dam.
Animal picture of the day: rare image of Asiatic cheetah and cubs

(07/03/2012) The Asiatic cheetah (Acinonyx jubatus venaticus), also known as the Iranian cheetah, is one the world's rarest cat subspecies with somewhere between 70-110 individuals left. No surprisingly it is considered Critically Endangered by the IUCN Red List.
India's Western Ghats rainforest declared UNESCO World Heritage Site

(07/03/2012) India's Western Ghats, considered one of the richest biodiversity hotspots in the world, has been dubbed a UNESCO World Heritage Site. In total, 39 different sites in the tropical rainforest—home to Asian elephants, Bengal tigers, lion-tailed macaques, and thousands of other species—have made it under the listing.
Scientific expedition to survey species in China's Bigfoot territory

(07/02/2012) This month, nearly 40 scientists will enter a wild and remote region of western China, reports China's state media Xinhua. Spending several weeks in Shennongjia Nature Reserve, the researchers hope to study rare species like the golden snub-nosed monkey (Rhinopithecus roxellana), which is listed as Endangered by the IUCN Red List. But the forest is also the source of China's 'wild man' sightings; known locally as the 'Yeren,' the unconfirmed primate has also been dubbed China's Bigfoot.
Scientist: 'no doubt' that climate change is playing a role in U.S. fires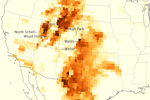 (07/02/2012) A noted climate scientist says there is 'no doubt' that climate change is 'playing a role' in this year's series of record fires in the western U.S. A massive wildfire in Colorado has forced the evacuation of 36,000 people, destroyed over 300 homes, and killed two people. The devastation wrought by the Waldo Canyon Fire even prompted a visit form U.S. President Barack Obama. But this is not the only epic fire in the U.S. this year: less than a month before the Colorado disaster, New Mexico experienced its largest fire on record in Gila Nation Forest; the conflagration burned up 247,000 acres (100,000 hectares). Other major wildfires have occurred in Utah and Wyoming, as well as other parts of New Mexico and Colorado.
Gabon torches their ivory stock as poachers attack okapi reserve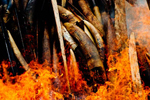 (07/02/2012) Last week, the west African nation of Gabon committed over 1,200 ivory tusks and carvings to the fire. The act, which was meant to send a strong signal to illegal wildlife poachers across Africa, came only a few days after militia poachers stormed the Okapi Wildlife Reserve in the Democratic Republic of the Congo (DRC). The assailants killed 13 okapis and six people, including two wildlife rangers, in retaliation for a crackdown against poaching and mining in the protected area. Poaching has reached epidemic levels in Africa due to increasing bushmeat consumption and a rise in East Asian demand for black-market ivory and rhino horns.
Forgotten species: the overlooked Sumatran striped rabbit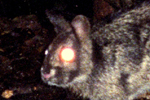 (06/28/2012) When you read the words 'Sumatra' and 'Endangered Species' in the same sentence there is a 99 percent chance that you will be reading about one of four animals: orangutans, tigers, elephants, or rhinos. These big four of Sumatra have become the rallying cry to save the island's ever-dwindling forests. This is not surprising, given that these species include some of the world's most publicly beloved animals and, in addition, they are all considered Critically Endangered by the IUCN Red List. But by dominating the headlines in Sumatra's deforestation crisis, these four species often overshadow the thousands of other species found on the island, many of which also face extinction. In fact when you read the words 'Sumatra' and 'Endangered Species' you will almost certainly not be reading about the Sumatran striped rabbit.
96 percent of the world's species remain unevaluated by the Red List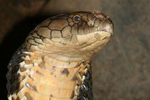 (06/28/2012) Nearly 250 species have been added to the threatened categories—i.e. Vulnerable, Endangered, and Critically Endangered—in this year's update of the International Union for Conservation of Nature's (IUCN) Red List. The 247 additions—including sixty bird species—pushes the number of threatened species globally perilously close to 20,000. However to date the Red List has only assessed 4 percent of the world's known species; for the other 96 percent, scientists simply don't know how they are faring.
Flouting moratorium, Cambodia approves four land concessions in protected areas

(06/27/2012) A month-and-a-half after Cambodian Prime Minister, Hun Sen, declared a moratorium on on new economic land concessions, the government has announced four new concessions, each located in protected areas. Economic land concessions have come under the microscope in Cambodia after large-scale protests by local people and the recent murder of forest activist Chut Wutty. Critics say the concessions, which last year totaled two million hectares (4.9 million acres) sold off to foreign corporations, have resulted in local land conflict and environmental degradation.
Genetic analysis reveals 79 new species of sharks and rays, many likely endangered

(06/27/2012) Analyzing the DNA sequences of 4,383 specimens of sharks and rays, researchers have discovered 79 potentially new species, raising both the known diversity of this predacious family and concerns that many species are likely more imperiled than thought. Already 32 percent of open ocean sharks and rays are considered threatened with extinction by the IUCN Red List, due largely to overfishing, finning, bycatch, and prey depletion.
Agricultural area larger than Texas has been 'land-grabbed'

(06/26/2012) Compiling over 1,000 foreign land deals from 2000-2010, a new report finds that 702,000 square kilometers (271,043 square miles) of agricultural land worldwide has been sold-off to foreign governments or international corporations, an area larger than Texas. The report by the Worldwatch Institute finds that such land deals, often referred to as "land grabbing," have declined since a peak in 2009, but still remain high.
New Sumatran rhino mama filmed giving birth and nursing

(06/25/2012) On early Saturday morning, scientists were elated when first-time Sumatran rhino mother, Ratu, gave birth to a healthy male calf. The birth was filmed as well footage has been taken of the little tike—with massive eyes—nursing (see videos below). The new calf gives hope to a species on the very brink of extinction.
Cute animal picture of the day: moose twins

(06/25/2012) On May 21st, two Eurasian moose twins (Alces alces) were born at the Zoological Society of London's (ZSL) Whipsnade Zoo. The twins were named Toffee and Caramel.
Lonesome George passes, taking unique subspecies with him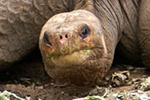 (06/25/2012) Lonesome George, the sole surviving member of the Pinta Island tortoise (Chelonoidis nigra abingdoni), was found dead on Sunday by staff at the Galapagos National Park. With George's passing, the Pinta Island tortoise subspecies officially falls into extinction. First found in 1972, Lonesome George became famous for representing the last of his kind. He was believed to be around 100—middle-aged for a Galapagos tortoise which can live to 200 years old. Staff plan to do an autopsy to determine the cause of death.




Page 1 | Page 2 | Page 3 | Page 4 | Page 5 | Page 6 | Page 7 | Page 8 | Page 9 | Page 10 | Page 11 | Page 12 | Page 13 | Page 14 | Page 15 | Page 16 | Page 17 | Page 18 | Page 19 | Page 20 | Page 21 | Page 22 | Page 23 | Page 24 | Page 25 | Page 26 | Page 27 | Page 28 | Page 29 | Page 30 | Page 31 | Page 32 | Page 33 | Page 34 | Page 35 | Page 36 | Page 37 | Page 38 | Page 39 | Page 40 | Page 41 | Page 42 | Page 43 | Page 44 | Page 45 | Page 46 | Page 47 | Page 48 | Page 49 | Page 50 | Page 51 | Page 52 | Page 53 | Page 54 | Page 55 | Page 56 | Page 57 | Page 58 | Page 59 | Page 60 | Page 61