News articles on java

---
Mongabay.com news articles on java in blog format. Updated regularly.






Indonesian tycoon bears responsibility for devastating mud volcano, contends new research

(07/01/2015) A mud volcano responsible for displacing more than 40,000 people in Indonesia's East Java province was caused by an oil and gas company owned by one of the country's richest tycoons, and not by an earthquake as company executives and some scientists have claimed, according to new research out of Austraila's Adelaide University that aspires to put to matter to rest.
Twitter campaign prompts Indonesians to free captive cockatoos in droves
(05/11/2015) Days after police at a port in Indonesia's second-largest city arrested a passenger with 24 rare birds stuffed in plastic water bottles, a public outcry has prompted the government to set up shelters to accommodate people who wish to return more of the creatures, which have up to now been highly sought after by collectors and breeders.
Farmers fall short in legal challenge to Java cement plant
(04/20/2015) A grassroots movement to halt construction of a cement factory and mine in Indonesia's Rembang regency suffered a major setback last week when a Central Java court rejected a lawsuit against a permit held by state-owned Semen Indonesia, the country's largest cement producer.
Seafood apartments and other experiments in fixing Indonesia's fisheries (Part IV)
(07/25/2014) Shrimp farms, industrial plants, and one of Indonesia's busiest thoroughfares make up Java's north coast today. It's a very different scene from the fishing villages with beachfront boat parking that stood here decades earlier. Which begs the question, where will fish live in this new 'coast without mangroves, without coral, without seagrass,' asks Alan Koropitan, a marine biologist based at Bogor Agricultural University.
Javan rhino population jumps by over 10 percent

(03/04/2014) The Javan rhino population has increased by over ten percent from 2012 to last year, according to new figures released by Ujung Kulon National Park. Using camera traps, rangers have counted a total of 58 Javan rhinos, up from 51 in 2012. Although the species once roamed much of Southeast Asia, today it is only found in Ujung Kulon National Park in western Javan and is known as one of the most imperiled mammals on the planet.
The Javan Rhino's final stronghold
(07/29/2013) August 27, 1883. It's been called 'the day the world exploded'. One hundred and thirty years ago this month, the volcanic island of Krakatau (Krakatoa) blew its top. The smoking mountain had given several days warning to the human inhabitants of Java and Sumatra, the closest large islands, but no one could have imagined the intensity of the eruption and the devastation that followed. Several cubic miles of rock and ash - more than half the island – rocketed skyward. The explosion released over 10,000 times the energy of the atomic bomb dropped on Hiroshima and was an order of magnitude more powerful than the eruption of Mount St. Helens. Tsunamis greater than 100 feet high roared over coastal habitats, inundating lowland forests and scouring them of wildlife.
How YouTube has put the world's only poisonous primates at risk
(07/25/2013) It all started with a video: in 2009 a Russian man uploaded a video of himself tickling his exotic pet (a pygmy slow loris) from Vietnam onto the hugely popular site YouTube. Since then the video has been viewed over half a million times. But a new study in the open source journal in PLoS ONE, finds that such YouTube videos have helped fuel a cruel, illegal trade that is putting some of the world's least-known primates at risk of extinction. Lorises are small, shy, and nocturnal primates that inhabit the forests of tropical Asia, but the existence of all eight species is currently imperiled by a booming illegal pet trade that has been aided by videos of lorises being tickled, holding tiny umbrellas, or doing other seemingly cute (but wholly unnatural) things.
Indonesia's Jatigede Dam Marred by Land Compensation Problems

(06/07/2013) As Indonesia's controversial Jatigede dam project moves closer to completion, West Java residents whose homes are set to be flooded for the planned 4,973-hectare reservoir brought their complaints to Jakarta, demanding that the country's president step in to resolve land compensation issues.
Loris champion: conserving the world's most surprising primate family
(06/04/2013) Before Anna Nekaris began championing the cause of the world's lorises, little was known about this cryptic family of large-eyed, nocturnal, insect-eating, venomous primates. Nekaris, with Oxford Brookes University and founder of the Little Fireface project, has been instrumental in documenting rarely-seen loris behavior, establishing conservation programs, and identifying new species of these hugely-imperiled Asian primates.
Indonesia's largest coal plant will be built despite protests, minister says

(05/26/2013) Indonesia will go ahead with construction of what is set to be its largest coal-fired power plant in Batang, Central Java next year, a senior government official has said, downplaying opposition from environmental groups and the local community. Developers have struggled to acquire the approximately 200 hectares of land needed for the planned PLTU Batang plant, which would have a 2000 megawatt (MW) capacity. Residents of five villages have protested the project, with some refusing to release their land on fears of potential environmental damage to the area. Environmental groups also oppose the plant, saying it overlaps with a marine protected area and runs counter to President Susilo Bambang Yudhoyono's commitment to reduce carbon emissions.
Scientists capture one of the world's rarest big cats on film (photos)
(05/21/2013) Less than a hundred kilometers from the bustling metropolis of Jakarta, scientists have captured incredible photos of one of the world's most endangered big cats: the Javan leopard (Panthera pardus melas). Taken by a research project in Gunung Halimun-Salak National Park, the photos show the magnificent animal relaxing in dense primary rainforest. Scientists believe that fewer than 250 mature Javan leopard survive, and the population may be down to 100.
In landmark ruling, Indonesia's indigenous people win right to millions of hectares of forest
(05/17/2013) In a landmark ruling, Indonesia's Constitutional Court has invalidated the Indonesian government's claim to millions of hectares of forest land, potentially giving indigenous and local communities the right to manage their customary forests, reports Mongabay-Indonesia. In a review of a 1999 forestry law, the court ruled that customary forests should not be classified as "State Forest Areas". The move is significant because Indonesia's central government has control over the country's vast forest estate, effectively enabling agencies like the Ministry of Forestry to grant large concessions to companies for logging and plantations even if the area has been managed for generations by local people.
Bizarre, little-known carnivore sold as illegal pet in Indonesian markets (photo)
(04/24/2013) Few people have ever heard of the Javan ferret-badger, but that hasn't stopped this animal—little-known even to scientists—from being sold in open markets in Jakarta according to a new paper in Small Carnivore Conservation. The Javan ferret-badger (Melogale orientalis) is one of five species in the ferret-badger family, which are smaller than proper badgers with long bushy tails and elongated faces; all five species are found in Asia.
Charts: deforestation in Indonesia and Malaysia, 2000-2010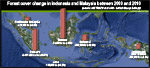 (07/15/2012) Indonesia and Malaysia lost more than 11 million hectares (42,470 square miles) of forest between 2000 and 2010, according to a study published last year in the journal Global Change Biology. The area is roughly the size of Denmark or the state of Virginia. The bulk of forest loss occurred in lowland forests, which declined by 7.8 million hectares or 11 percent on 2000 cover. Peat swamp forests lost the highest percentage of cover, declining 19.7 percent. Lowland forests have historically been first targeted by loggers before being converted for agriculture. Peatlands are increasingly converted for industrial oil palm estates and pulp and paper plantations.
The rarest rhino's last stand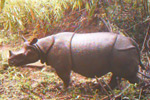 (06/04/2012) Trekking through deep mud and sawgrass we find a stinking wallow. The elite rangers, dressed completely in black despite the tropical heat, mark the site with the GPS unit, measure the mucky puddle's depth, and move on. This is the first sign of one of the planet's rarest animals—the Javan rhino. Only 35 or so remain, including none in captivity. This patch of rainforest and swamp in Ujung Kulon National Park—on the very tip of West Java—is their last and only refuge.
Animal picture of the day: Cicada emerging

(04/30/2012) Cicada's are generally large insects with broad heads and transparent wings. The group is known for some species' habitats of staying under ground for up to 17 years before emerging en masse, though many cicada species emerge annually in small groups. Once it emerges, it sheds its exoskeleten and begins to seek out mates. Males produce a loud, distinct sound.
Javan officials employ camera traps to find extinct tiger

(03/13/2012) Although officially declared extinct in 2003, some people believe the Javan tiger (panthera tigris sondaica) is still alive in the island's Meru Betiri National Park. To prove the big cat has not vanished for good, wildlife officials have installed five camera traps in the park, reports Antara News.
Camera traps snap 35 Javan rhinos, including calves

(01/04/2012) Camera traps have successfully taken photos of 35 Javan rhinos (Rhinoceros sondaicus) in Ujung Kulon National Park. The small population, with an estimated 45 or so individuals, is the species' last stand against extinction. Late last year, a subspecies of the Javan rhino, the Vietnamese rhino (Rhinoceros sondaicus annamiticus), was declared extinct.
Vietnamese rhino goes extinct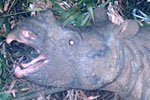 (10/25/2011) In 2009 poachers shot and killed the world's last Vietnamese rhinoceros (Rhinoceros sondaicus annamiticus), a subspecies of the Javan rhino, confirms a report from International Rhino Foundation (IRF) and the World Wide Fund for Nature (WWF). The Vietnamese rhino was the last Javan rhino to survive on the Asian mainland and the second subspecies to vanish, following the extinction of the Indian Javan rhino (rhinoceros sondaicus inermis). The Javan rhino is the world's most imperiled rhino species with now only around 50 individuals surviving in a single park on its namesake island in Indonesia.
Saving the wrong rhino in Indonesia?

(07/29/2011) The slideshow titled "APP: Establishing the Facts" would indeed be laughable if they were not so sad. In the slides on "Investing in Biodiversity," APP appears to want to show how innovative it is in the conservation arena by focusing on the Javan rhino. The slides depict photos of wildlife and the Javan Rhino Sanctuary.
Down to 50, conservationists fight to save Javan Rhino from extinction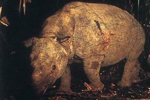 (05/17/2011) Earlier this year, the International Rhino Foundation launched Operation Javan Rhino to prevent the extinction of the critically endangered Javan Rhinoceros (Rhinoceros sondaicus), formerly found in rain forests across Southeast Asia. Operation Javan Rhino is a multi-layered project which links field conservation, habitat restoration, and management efforts with the interests of local governments and communities. The following is an interview with Susie Ellis, Executive Director of the International Rhino Foundation.