News articles on islands

---
Mongabay.com news articles on islands in blog format. Updated regularly.






Video uncovers top level corruption in Sarawak over indigenous forests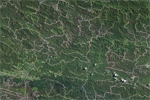 (03/20/2013) Tax evasion, kick-backs, bribery, and corruption all make appearances in a shocking new undercover video by Global Witness that shows how top individuals in the Sarawak government may be robbing the state of revenue for their own personal gain. Anti-corruption groups have believed that corruption has been rife in the Malaysian state of Sarawak for decades, but Global Witness says their investigation offers undeniable proof.
Invasive plants hurt locals in Mauritius

(03/18/2013) Native species on the island of Mauritius have long had to deal with invasive species. In fact, invasives likely played a major role in the extinction of the Mauritius' most famous resident, the dodo. While scientists have long cataloged the impact of invasive animals on island wildlife, there has been less clarity when it comes to invasive plants. However, a new paper in mongabay.com's open access journal Tropical Conservation has found that invasive plants do indeed negatively impact local species.
The Role of Science for Conservation - book review

(03/18/2013) The Role of Science for Conservation, edited by Matthias Wolff and Mark Gardner, celebrates Charles Darwin's Bicentennial and 50 years of research by the Charles Darwin Foundation in The Galápagos, Ecuador.
Starry frog rediscovered after thought extinct for 160 years (photos)
(03/07/2013) In 1853 Edward Frederick Kelaart, a physician and naturalist, collected a strange frog on the island of Sri Lanka then a British colony known as Ceylon. The specimen was a large shrub frog (about 2 inches or 5.5 centimeters long) with black-outlined white specks on lime-green skin. He dubbed it "starry" after its pale specks, but that was last anyone heard of it. Even the holotype—the body of the amphibian collected by Kelaart—went missing. Fast forward nearly 160 years—two world wars, Sri Lanka's independence, and a man on the moon—when a recent expedition into Sri Lanka's Peak Wilderness rediscovered a beguiling frog with pinkish specks.
Extinction warning: racing to save the little dodo from its cousin's fate
(03/04/2013) Sometime in the late 1600s the world's last dodo perished on the island of Mauritius. No one knows how it spent its final moments—rather in the grip of some invasive predator or simply fading away from loneliness—but with its passing came an icon of extinction, that final breath passed by the last of its kind. The dodo, a giant flightless pigeon, was a marvel of the animal world: now another island ground pigeon, known as the little dodo, is facing its namesake's fate. Found only in Samoa, composed of ten islands, the bird has many names: the tooth-billed pigeon, the Manumea (local name), and Didunculus ("little dodo") strigirostris, which lead one scientist to Christen it the Dodlet. But according to recent surveys without rapid action the Dodlet may soon be as extinct as the dodo.
Unique song reveals new owl species in Indonesia
(02/13/2013) Want to find a new species of owl? Just listen. A unique whistling call has led scientists to discover a new owl on the Indonesian island of Lombok, according to a new study in PLoS ONE. Two scientific expeditions, occurring separately but within a few days of each other, both noticed something different about the calls coming from owls on Lombok.
Catching Borneo's mysterious wild cats on film
(02/07/2013) In my childhood's biology books from the 50's, the Australian marsupial tiger Thylacine is classified rare but alive. Today we know that the last thylacine died in a Tasmanian zoo 7th September, 1936, after a century of intensive hunting encouraged by bounties. The local government had finally introduced official protection 59 days before the last specimen died. Despite the optimism in my old books, no more thylacines were ever found. No film of it in the wild exists.
Beyond the resorts: traveling the real and wild Dominican Republic (photos)
(01/29/2013) For its stunning variety of ecosystems, the Dominican Republic is like a continent squished into half an island. Lowland rainforests, cloud forests, pine forests, dry forests, mangroves, savannah, coastal lagoons, salt lakes, a rift valley, karst land formations, four mountain ranges—including the highest mountain in the Caribbean—and not to mention some of the best beaches, snorkeling, and scuba diving in the hemisphere can all be reached within just a few hours drive of the capital, Santo Domingo. Yet, bizarrely, most tourists who visit the Dominican Republic never venture out of their all-inclusive resort, missing out on some of the most stunning landscapes—and accessible wildlife viewing—in the Caribbean.
Malaysian candidate pledges to drop controversial dam in Sarawak if elected

(01/14/2013) Malaysia's current opposition leader, Anwar Ibrahim, has pledged to cancel the controversial Baram Dam in Sarawak if upcoming general elections sweep him into the office of Prime Minister. Ibrahim made the announcement while visiting the state of Sarawak, located on the island of Borneo, over the weekend, according to the indigenous rights NGO, Bruno Manser Fund.
Scientists: bizarre mammal could still roam Australia
(01/03/2013) The continent of Australia is home to a wide variety of wonderfully weird mammals—kangaroos, wombats, and koalas among many others. But the re-discovery of a specimen over a hundred years old raises new hopes that Australia could harbor another wonderful mammal. Examining museum specimens collected in western Australia in 1901, contemporary mammalogist Kristofer Helgen discovered a western long-beaked echidna (Zaglossus bruijnii). The surprise: long-beaked echidnas were supposed to have gone extinct in Australia thousands of years ago.
Measuring nutrient pollution in pristine waters: Puerto Rico's Vieques Island

(12/10/2012) Life in the ocean require nutrient, but too much of a good thing can be hugely detrimental. Nutrient pollution from agricultural and industrial runoff causes serious ecological harm in the world's marine waters, at times producing massive "dead zones" where much of the dissolved oxygen has been stripped making it difficult for most marine animals to live there. A new study by scientists with the U.S. National Oceanic and Atmospheric Administration (NOAA) attempts to establish a baseline of nutrient levels in the largely pristine waters around the island of Vieques off of Puerto Rico.
Illegal logging, mining worsened impact of Philippines' killer typhoon

(12/06/2012) According to Filipino officials, rampant illegal logging and mining were likely a part of the cause for the high casualty count from Category 5 Typhoon Bopha (Pablo), especially in the Compostela Valley where government officials had warned people to stop the illegal activities. So far, 370 people have been found dead on the island of Mindanao with another 400 missing. Waters rose so high even emergency shelters were inundated.
Despite small brains, gray mouse lemurs use calls to avoid inbreeding
(12/03/2012) As a small-brained and largely solitary primate, the gray mouse lemur (Microcebus murinus) wasn't supposed to have the capacity to distinguish the calls of its kin calls from other lemurs. However, a new study in BMC Ecology, finds that a female gray mouse lemur is able to determine the mating calls of its father, allowing it avoid inbreeding. The discovery challenges the long-held belief that only large-brained, highly social animal are capable of determining kin from calls.
New Guinea singing dog photographed in the wild for the first time

(12/03/2012) A rarely seen canine has been photographed in the wild, likely for the first time. Tom Hewitt, director of Adventure Alternative Borneo, photographed the New Guinea singing dog during a 12-day expedition up a remote mountain in Indonesian Papua. Very closely related to the Australian dingo, the New Guinea singing dog, so named for its unique vocalizations, has become hugely threatened by hybridization with domesticated dogs.
'Exporting deforestation': China is the kingpin of illegal logging
(11/29/2012) Runaway economic growth comes with costs: in the case of China's economic engine, one of them has been the world's forests. According to a new report by the Environmental Investigation Agency (EIA), China has become the number one importer of illegal wood products from around the world. Illegal logging—which threatens biodiversity, emits carbon, impoverishes local communities, and is often coupled with other crimes—has come under heavy pressure in recent years from the U.S., the EU, and Australia. Each of these has implemented, or will soon implement, new laws that make importing and selling illegal wood products domestic crimes. However, China's unwillingness to tackle its vast appetite for illegal timber means the trade continues to decimate forests worldwide.
Photos: Mozambique creates Africa's biggest marine protected area
(11/13/2012) Last week, the East African nation of Mozambique announced it was protecting 10,411 square kilometers (4,020 square miles) of coastal marine waters, making the new Marine Protected Area (MPA) the biggest on the continent. The protected area, dubbed the Primeiras and Segundas Archipelago ("First" and "Second" islands), includes ten islands as well as mangrove forests, rich coral reefs, and seagrass ecosystems.
Hurricane Sandy pushes Haiti toward full-blown food crisis

(11/12/2012) Although Haiti avoided a direct hit by Hurricane Sandy, the tropical storm caused severe flooding across the southern part of the country decimating agricultural fields. The UN Office for the Coordination of Humanitarian Affairs now warns that 1.5 million Haitians are at risk of severe food insecurity, while 450,000 people face severe acute malnutrition, which can kill.
Over 100,000 farmers squatting in Sumatran park to grow coffee
(11/06/2012) Sumatra's Bukit Barisan Selatan National Park—home to the Critically Endangered Sumatran rhinos, tigers, and elephants—has become overrun with coffee farmers, loggers, and opportunists according to a new paper in Conservation and Society. An issue facing the park for decades, the study attempted for the first time to determine the number of squatters either living in or farming off Bukit Barisan Selatan National Park, a UNESCO World Heritage Site; the rough census—over 100,000 people—shocked scientists.
Above the ocean: saving the world's most threatened birds
(11/01/2012) A life on the ocean is a perilous one for any bird. They must expend energy staying aloft for thousands of miles and learn to be marathon swimmers; they must seek food beneath treacherous waves and brave the world's most extreme climates; they must navigate the perils both of an unforgiving sea and far-flung islands. Yet seabirds, which includes 346 global species that depend on marine ecosystems, have evolved numerous strategies and complex life histories to deal with the challenges of the sea successfully, and they have been doing so since the dinosaur's last stand. Today, despite such a track record, no other bird family is more threatened; yet it's not the wild, unpredictable sea that endangers them, but pervasive human impacts.
Picture of the day: a bizarre baby bird with oral 'fingerprints'

(10/25/2012) The crested coua (Coua cristata) is native to island of Madagascar. Unlike much of Madagascar's wildlife, the crested coua is not considered threatened with extinction, but is listed as Least Concern by the IUCN Red List. There are around nine species of coua in the world, all found in Madagascar; the unique birds belong to the cuckoo family.
Remarkable comeback: blue iguana downgraded to Endangered after determined conservation efforts

(10/23/2012) The wild blue iguana population has increased by at least 15 times in the last ten years, prompting the IUCN Red List to move the species from Critically Endangered to just Endangered. A targeted, ambitious conservation program, headed by the Blue Iguana Recovery Team, is behind this rare success for a species that in 2002 only numbered between 10 and 25 individuals.
The world's 25 most endangered primates: nearly a quarter in Madagascar
(10/15/2012) A coalition of conservation groups released the biannual Top 25 Primates list today, including nine species not appearing on the 2010 list, at the UN's Convention on Biological Diversity (CBD) in Hyderabad, India. Madagascar tops the list as home to the most threatened primates, including six on the list. Following Madagascar, Vietnam contains five, Indonesia three, and Brazil two. In all, over half (54 percent) of the world's primates, which have been evaluated, are considered threatened by the IUCN Red List.
Parrots of the Caribbean: extinction looms in the Bahamas
(10/08/2012) I think about extinction a lot. It's only natural for someone in my line of work. On my way to work I drive past the Colorado National Monument. Even from a distance it's impressive: piles of dark schist 1,500 million years old; Wingate sandstone from the age of dinosaurs, all of it formed into cliffs, carved into spires. I can see Independence monument from the highway; a tall tower of tan sandstone that John Otto climbed near the beginning of the 20th century without rope. The monument is a display of the massive changes in the world. I often think about the rainforests and the oceans that once covered the land. Ecosystems have come and gone, the planet destroyed and rebuilt over and over.
90 percent of oil palm plantations came at expense of forest in Kalimantan
(10/08/2012) From 1990 to 2010 almost all palm oil expansion in Kalimantan came at the expense of forest cover, according to the most detailed look yet at the oil palm industry in the Indonesian state, published in Nature: Climate Change. Palm oil plantations now cover 31,640 square kilometers of the state, having expanded nearly 300 percent since 2000. The forest loss led to the emission of 0.41 gigatons of carbon, more than Indonesia's total industrial emissions produced in a year. Furthermore the scientists warn that if all current leases were converted by 2020, over a third of Kalimantan's lowland forests outside of protected areas would become plantations and nearly quadruple emissions.
Arachnopocalypse: with birds away, the spiders play in Guam
(09/17/2012) The island of Guam is drowning in spiders. New research in the open-access journal PLOS ONE has found that in the wet season, Guam's arachnid population booms to around 40 times higher than adjacent islands. Scientists say this is because Guam, a U.S. territory in the Pacific, has lost its insect-eating forest birds. Guam's forests were once rich in birdlife until the invasion of non-native brown tree snake (Boiga irregularis) in the 1940s decimated biodiverse bird communities. Now, the island is not only overrun with snakes, but spiders too.
Bizarre new rodent discovered in Indonesia has only 2 teeth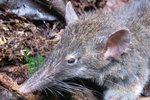 (08/22/2012) The Indonesian island of Sulawesi is a workshop of bizarre evolutionary experiments. Think of the babirusa, pig-like species with tusks that puncture their snouts; or the maleo, a ground-bird that lays its eggs in geothermal heated sand; or the anoa, the world's smallest wild cattle. Now the island, made up of four intersecting peninsulas, can add another bizarre creature to its menagerie of marvels: the Paucidentomys vermidax, a new species of rodent that is different from all others.
Animal pictures of the day: booming captive breeding for Mauritius skinks

(08/14/2012) Three female orange-tailed skinks skinks have produced 16 skink babies in just four months, according to the Durrell Wildlife Conservation Trust (DWCT), which is captive breeding the Critically Endangered species. The breeding efforts are all the more remarkable since the females only produce two eggs at a time.
Solomon Islands' export of 'captive-bred' birds deemed to be a farce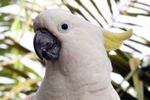 (08/14/2012) Over 68,000 birds listed on CITES (Convention on International Trade in Endangered Species of Wild Fauna and Flora) were exported from the Solomon Islands during 2000-2010 according to a recent report by wildlife-monitoring NGO, TRAFFIC. Although the majority of birds were listed as 'captive-bred,' the report raises the question of whether these species were not in fact taken from the wild.
Camera traps confirm that Sumatran rhinos still roam Leuser rainforest

(08/12/2012) With the help of remote camera traps, wildlife rangers have confirmed that the Sumatran rhino (Dicerorhinus sumatrensis) still inhabits the Leuser ecosystem in northern Sumatra, making the forest the only place on the Earth where Sumatran tigers, orangutans, elephants, and rhinos survive in a single ecosystem, though all remain Critically Endangered.
Controversial deep sea mining project approved in Papua New Guinea, first of its kind

(08/09/2012) The Papua New Guinea government has granted a 20-year license for copper and gold mining around a mile (1.6 kilometers) below the ocean's surface, jump-starting the world's first commercial deep sea mining venture. Undertaken by Canadian company, Nautilus Minerals, the venture will mine deep sea hydrothermal vents off the coast of New Britain. However, the project faces stiff concern from local activists, fishermen, and environmentalists.
'National scandal:' foreign companies stripped Papua New Guinea of community-owned forests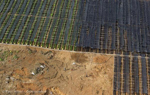 (07/30/2012) Eleven percent of Papua New Guinea's land area has been handed over to foreign corporations and companies lacking community representation, according to a new report by Greenpeace. The land has been granted under controversial government agreements known as Special Agricultural and Business Leases (SABLs), which scientists have long warned has undercut traditional landholding rights in the country and decimated many of Papua New Guinea's biodiverse rainforests. To date, 72 SABLs have been granted—mostly to logging companies—covering an area totaling 5.1 million hectares or the size of Costa Rica.
Conservationists pledge to double number of tiny buffalo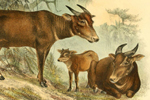 (07/25/2012) Ten thousand mighty tamaraw buffalo (Bubalus mindorensis) once grazed the mountain slopes of Mindoro Island in the Philippines. However, these dwarf buffalo are now classified as Critically Endangered on the IUCN Red List, with fewer than 300 individuals remaining on the small island to which they are wholly endemic. Yet hope remains for the tamaraw: an enormous effort has been mounted to revive this iconic species and to protect its unique island habitat.
New mammal discovered in Indonesia

(07/24/2012) Researchers have discovered a new species of rodent in Indonesia's Mekongga Mountains, reports the Jakarta Post. The new rodent, Christine's Margareta rat (Margaretamys christinae), is only the fourth in the genus Margaretamy, all of which are found on the island of Sulawesi.
Saving 'Avatar Grove': the battle to preserve old-growth forests in British Columbia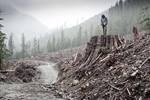 (07/23/2012) A picture is worth a thousand words: this common adage comes instantly to mind when viewing T.J. Watt's unforgettable photos of lost trees. For years, Watt has been photographing the beauty of Vancouver Island's ancient temperate rainforests, and documenting their loss to clearcut logging. The photographer and environmental activist recently helped co-found the Ancient Forest Alliance (AFA), a group devoted to saving the island's and British Columbia's (BC) last old-growth while working with the logging industry to adopt sustainable practices. This February the organization succeeded in saving Avatar Grove—which was only discovered in 2009—from being clearcut. The grove, a rare stand of massive and ancient trees named after the popular eco science-fiction movie, has become a popular tourist destination, providing a new economic incentive for communities to protect rather than cut Canada's last great forests.
Strangest island in the Caribbean may be a sanctuary for critically endangered coral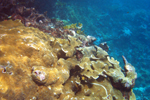 (07/16/2012) Don't feel bad if you've never heard of Navassa Island, even though it's actually part of the U.S. according to the Guano Islands Act of 1856. This uninhabited speck between Haiti and Jamaica, barely bigger than New York City's Central Park, has a bizarre and bloody history—and may be a crucial refuge for endangered coral in the Caribbean.
Meet the world's rarest snake: only 18 left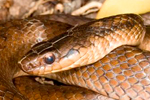 (07/10/2012) It's slithery, brown, and doesn't mind being picked up: meet the Saint Lucia racer (Liophis ornatus), which holds the dubious honor of being the world's most endangered snake. A five month extensive survey found just 18 animals on a small islet off of the Caribbean Island of Saint Lucia. The snake had once been abundant on Saint Lucia, as well, but was decimated by invasive mongooses. For nearly 40 years the snake was thought to be extinct until in 1973 a single snake was found on the Maria Major Island, a 12-hectare (30 acre) protected islet, a mile off the coast of Saint Lucia (see map below).
Endangered fruit bats, and many other species, on the menu in the Philippines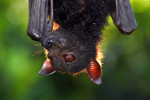 (07/09/2012) Bushmeat hunting is well-known to be decimating animal populations in Africa, but has been little studied much of Southeast Asia. However, a new paper in mongabay.com's open access journal Tropical Conservation Science shines light on the size and scale of bushmeat poaching in the Philippines. Studying an anonymous community near a national park on the island of Luzon, researchers found that poachers targeted 22 species, ten of which are considered either threatened or near threatened with extinction by the IUCN Red List.
Animal picture of the day: Sunda clouded leopard in Borneo

(07/09/2012) The Sunda clouded leopard (Neofelis diardi) is the largest wild cat in Borneo and is classified as Endangered by the IUCN Red list of threatened species. Due to their nocturnal and cryptic habits they are seldom observed and very little is known of their basic ecology and distribution. This large Clouded leopard was photographed by remote camera trap in Malua BioBank as part of the Bornean Banteng Program which studies the rare banteng (Bos javanicus lowi).
Forgotten species: the overlooked Sumatran striped rabbit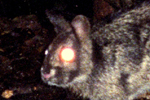 (06/28/2012) When you read the words 'Sumatra' and 'Endangered Species' in the same sentence there is a 99 percent chance that you will be reading about one of four animals: orangutans, tigers, elephants, or rhinos. These big four of Sumatra have become the rallying cry to save the island's ever-dwindling forests. This is not surprising, given that these species include some of the world's most publicly beloved animals and, in addition, they are all considered Critically Endangered by the IUCN Red List. But by dominating the headlines in Sumatra's deforestation crisis, these four species often overshadow the thousands of other species found on the island, many of which also face extinction. In fact when you read the words 'Sumatra' and 'Endangered Species' you will almost certainly not be reading about the Sumatran striped rabbit.
Lonesome George passes, taking unique subspecies with him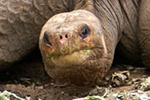 (06/25/2012) Lonesome George, the sole surviving member of the Pinta Island tortoise (Chelonoidis nigra abingdoni), was found dead on Sunday by staff at the Galapagos National Park. With George's passing, the Pinta Island tortoise subspecies officially falls into extinction. First found in 1972, Lonesome George became famous for representing the last of his kind. He was believed to be around 100—middle-aged for a Galapagos tortoise which can live to 200 years old. Staff plan to do an autopsy to determine the cause of death.
Extinct toad rediscovered after hiding for 133 years in Sri Lanka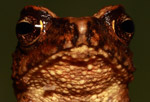 (06/18/2012) A small toad not seen since 1876, and considered by many to be extinct, has been rediscovered in a stream in Sri Lanka. First recorded in 1872, the Kandyan dwarf toad had (Adenomus kandianus) vanished for over a century before being found by scientists during a survey in 2009 in the Peak Wilderness Sanctuary, according to a new paper in Zootaxa.
Less than 100 pygmy sloths survive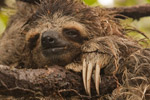 (05/24/2012) The pygmy three-toed sloth (Bradypus pygmaeus) is one of the world's most endangered mammals, according to a detailed survey of the population, which found less than 100 sloths hanging on in their island home. Only described by researchers in 2001, the pygmy sloth lives on a single uninhabited island off the coast of Panama. But human impacts, such as deforestation of the island's mangroves, may be pushing the species to extinction.
Island bat goes extinct after Australian officials hesitate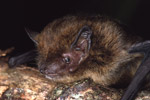 (05/23/2012) Nights on Christmas Island in the Indian Ocean will never again be the same. The last echolocation call of a tiny bat native to the island, the Christmas Island pipistrelle (Pipistrellus murrayi), was recorded on August 26th 2009, and since then there has been only silence. Perhaps even more alarming is that nothing was done to save the species. According to a new paper in Conservation Letters the bat was lost to extinction while Australian government officials equivocated and delayed action even though they were warned repeatedly that the situation was dire. The Christmas Island pipistrelle is the first mammal to be confirmed extinct in Australia in 50 years.
Growing cardamom impacts forests for decades

(05/17/2012) Over 25 years after people stopped growing cardamom in Sri Lanka's Knuckles Forest Reserve (KFR), the spice crop is still having an impact on the forest, according to a recent study in Forest Ecology and Management. The clearing of understory plants and the use of fertilizers continue to shape the forest in the protected area.
Skink biodiversity jumps 650 percent in the Caribbean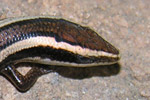 (04/30/2012) In a single paper in Zootaxa scientists have rewritten the current understanding of lizard biodiversity in the Caribbean. By going over museum specimens of skinks, scientists have discovered 24 new species and re-established nine species previously described species, long-thought invalid. The single paper has increased the number of skinks in the Caribbean by 650 percent, from six recognized species to 39. Unfortunately, half of these new species may already be extinct and all of them are likely imperiled.




Page 1 | Page 2 | Page 3 | Page 4 | Page 5 | Page 6 | Page 7