News articles on IPCC

---
Mongabay.com news articles on IPCC in blog format. Updated regularly.






Can we stop runaway global warming? 'All we need is the will to change'
(11/03/2014) Twenty-six years after the founding of the IPCC, the Nobel Prize-winning group of scientists has released a new synthesis report that warns in its strongest tones yet that climate change must be dealt with. None of the findings are surprising—they have been released in earlier assessments throughout the year—but the terms in which they are written are the starkest yet.
Apocalypse now? Climate change already damaging agriculture, acidifying seas, and worsening extreme weather
(03/31/2014) It's not just melting glaciers and bizarrely-early Springs anymore; climate change is impacting every facet of human civilization from our ability to grow enough crops to our ability to get along with each other, according to a new 2,300-page report from the Intergovernmental Panel on Climate Change (IPCC). The massive report states definitively that climate change is already affecting human societies on every continent.
Top scientists propose ambitious plans to safeguard world from devastating climate change
(12/05/2013) Two degrees is too much: that's the conclusion of a landmark new paper by top economists and climatologists, including James Hansen formerly of NASA. The paper, appearing in the open-access journal PLoS ONE, argues that global society must aim for only one degree Celsius of warming above pre-industrial levels to avoid the worst impact of climate change, and not the two degrees Celsius agreed on by the world's governments. But given that the world's governments are not yet on track to even achieve the two degree target, how could we lock in just one? A combination of renewable energy, nuclear power, and, most importantly, a rising price on carbon emissions, according to the eighteen scientists.
Watery world: sea level rising 60 percent faster than predicted

(11/28/2012) Sea levels are rising 60 percent faster than Intergovernmental Panel on Climate Change (IPCC) has estimated, according to a new study in the open access Environmental Research Letters. In addition to imperiling coastal regions and islands, global sea level rise is worsening the damage inflicted by extreme weather such as Hurricane Sandy, which recently brought catastrophic flooding to the New Jersey coast and New York City.
Climate change already worsening weird, deadly, and expensive weather

(11/02/2011) Unprecedented flooding in Thailand, torrential rains pummeling El Salvador, long-term and beyond-extreme drought in Texas, killer snowstorm in the eastern US—and that's just the last month or so. Extreme weather worldwide appears to be both increasing in frequency and intensity, and a new report from the Intergovernmental Panel on Climate Change (IPCC) connects the dots between wilder weather patterns and global climate change.
UN to appoint independent board to audit the IPCC

(02/26/2010) The U.N. will appoint an independent board of scientists to review the Intergovernmental Panel on Climate Change (IPCC), the embattled U.N. climate body charged with evaluating the risk of climate change caused by human activity, reports Reuters.
Largest-ever climate meeting begins in Bali

(12/02/2007) In Bali, Indonesia, more than 10,000 delegates, scientists, journalists, and activists from around the world kicked off the largest-ever climate change conference Monday. Organizers hope that the meeting lays the groundwork for a new international pact to replace the Kyoto Protocol when it expires in 2012.
Peatlands store 100 years of CO2 emissions

(05/08/2007) The UN Convention on Climate Change is putting global climate at risk by ignoring carbon dioxide emissions from the destruction of carbon-rich peatlands in Indonesia, charged Wetlands International, a Dutch environmental group that has highlighted the climate impact of land-use change in southeast Asia.
Cost of stabilizing climate 0.1% per year
(05/04/2007) The Intergovernmental Panel on Climate Change (IPCC) released its long awaiting installment on climate change mitigation, arguing that the costs of offsetting global warming will be much lower than some claim. The IPCC estimates that emissions can be reduced rapidly using existing technology at a cost of 3 percent of GDP, or 0.12 percent per year over the next 25 years, though new technologies could further reduce this cost. While the projections are encouraging, they may be conservative. Some analysts, including the well-respected Amory Lovins of the Rocky Mountain Institute, have calculated that emissions targets that would stabilize the climate could be achieved at no net cost and possibly even a profit. Even McKinsey & Company, a leading management consulting firm, agrees, putting the net cost of reducing emissions by 46 percent at zero.
Climate report warns of drought, rising sea levels, species extinction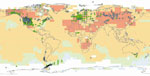 (04/05/2007) Global warming is likely to have wide-ranging impacts on the world's ecosystems, water availablity, and sea levels warned the U.N. Intergovernmental Panel on Climate Change (IPCC) in its latest installment. It said that mitigation and adaption strategies are the best way to reduce and prepare for the coming changes.
Climate change is a "threat to society" says largest scientific body

(02/18/2007) The world's largest scientific society today voiced concern over global warming, calling it a "threat to society." It was the first consensus statement of the board of the American Association for the Advancement of Science (AAAS) on climate change. The announcement comes sixteen days after the International Panel on Climate Change (IPCC) issued its most recent report on global change.
Global warming report released in Paris

(02/02/2007) The Intergovernmental Panel on Climate Change (IPCC) officially unveiled its long-waited report on global climate change. The report was produced by some 600 authors from 40 countries and representatives from 113 governments reviewed and signed off on the report the course of this week.
Sea levels rising at fastest rate on record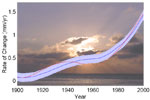 (02/01/2007) A group of prominent scientists criticized the Intergovernmental Panel on Climate Change (IPCC) climate report due to be released Friday. Writing in Friday's issue of the journal Science, the scientists say the IPCC report understates the risk of rising sea levels by accounting for melting ice in Antarctica and Greenland.
UN says man's global warming impact lower than thought

(12/10/2006) When it is released in 2007, the UN Intergovernmental Panel on Climate Change (IPCC) will report that man's impact on global climate is less than previously believed according to a story published in the Sunday edition of the UK-based Telegraph. The Telegraph says that the report will reduce its estimate of man's role in global warming by 25 percent. However, the IPCC will still project global temperatures to climb by 4.5 C druing the next century and rising sea levels, albiet by half the amount -- 17 inches instead of 34 inches by 2100 -- projected by the IPCC's 2001 report. It will also note that atmospheric carbon dioxide levels have continued to climb over the past five years but that the overall human effect on global warming since the industrial revolution has been dampened by cooling caused by particulate matter and aerosol sprays, which accumulate in the upper atmosphere and reflect heat from the sun.
Inhofe doesn't attend climate change meeting but issues statement on children's book

(11/17/2006) James Inhofe, the outgoing chairman of the Senate Environment and Public Works Committee, dismissed the United Nations climate meeting in Nairobi as "a brainwashing session" and released a statement attacking the body's new children's book on the climate change. The Oklahoma Republican, who was the second largest recipient of campaign contributions from oil and gas companies during the 2004 election cycle, has been a vocal opponent of the idea that humans are contributing to global warming, a stance that puts him in opposition with the majority of climate scientists. Inhofe didn't bother to attend the United Nations Framework Convention on Climate Change which ends tomorrow, but he did find time to issue the following statement on "Tore and the Town on Thin Ice", the new children's book from the U.N.
UN agrees to "rainforest conservation for emissions" deal

(12/11/2005) Friday, at the United Nations Framework Convention on Climate Change in Montreal, the U.N. agreed to a proposal that allows developing nations to receive financial compensation from industrialized countries for agreeing to preserve their rainforests. Environmentalists hope the deal -- set forth by ten developing countries led by Papua New Guinea -- will give developing nations a financial reason to get more involved in climate talks while safeguarding globally important ecosystems.