News articles on invertebrates

---
Mongabay.com news articles on invertebrates in blog format. Updated regularly.






Losing our monarchs: iconic monarch butterfly down to lowest numbers in 20 years
(07/15/2013) In the next few months, the beating of fragile fiery orange and black wings will transport the monarch butterfly south. But the number of monarch butterflies (Danaus plexippus) reaching their final destination has steadily declined, dropping to its lowest level in two decades last winter, according to a recent survey.
New long-horned beetle discovered in China
(07/03/2013) Recent expeditions by the Chinese Academy of Science's Institute of Zoology to the Yunnan Province of China have uncovered the existence of a new species of long-horned beetle. This newly discovered beetle has a beautifully colored blue-green body with short, slender, and distinctively blue legs according to a new article in Zookeys.
Newly discovered pirate ant uses sickle-shaped mandibles to decimate rivals
(06/21/2013) A new species of ant has recently been discovered in the Hortarium of the Los Baños University in the Philippines. Scientists named it the pirate ant (Cardiocondyla pirata) due to the female's unique pigmentation pattern: a distinctive stripe across the eyes that resembles a pirates' eye-patch. The pirate ant belongs to a genus Cardiocondyla that are distributed worldwide, but mainly found in the tropics.
Pesticides decimating dragonflies and other aquatic insects
(06/18/2013) While recent research (and media attention) has focused on the alleged negative impacts of pesticides on bees, the problem may be far broader according to a new study in the Proceedings of the US Academy of Sciences (PNAS). Looking at over 50 streams in Germany, France, and Australia, scientists in Europe and Australia found that pesticide contamination was capable of undercutting invertebrate biodiversity by nearly half.
EU labels another pesticide as bad for bees

(06/18/2013) A widely used insect nerve agent has been labelled a "high acute risk" to honeybees by the European Food Safety Authority (EFSA). A similar assessment by the EFSA on three other insecticides preceded the suspension of their use in the European Union.
Ocean acidification pushing young oysters into 'death race'

(06/11/2013) Scientists have long known that ocean acidification is leading to a decline in Pacific oyster (Crassostrea gigas) in the U.S.'s Pacific Northwest region, but a new study in the American Geophysical Union shows exactly how the change is undercutting populations of these economically-important molluscs. Caused by carbon dioxide emissions, ocean acidification changes the very chemistry of marine waters by lowering pH levels; this has a number consequences including decreasing the availability of calcium carbonate, which oysters and other molluscs use to build shells.
Poisonous jellyfish on the rise in the Mediterranean

(06/11/2013) Scientists across the Mediterranean say a surge in the number of jellyfish this year threatens not just the biodiversity of one of the world's most overfished seas but also the health of tens of thousands of summer tourists.
Giant hot pink slug in Australia becomes conservation symbol (photo)
(06/09/2013) Hot pink slugs that emerge after rainy nights have become a conservation symbol for alpine forests on Australia's Mount Kaputar. The slugs, which measure up to 20 centimeters (8 inches), are only found on Mount Kaputar, a volcano that last erupted 17 million years ago. They spend most of their time buried under leaf litter, but emerge by the hundreds when conditions are right to feed on moss, algae, and fungi.
Scientists describe over 100 new beetles from New Guinea
(06/03/2013) In a single paper, a team of researchers have succinctly described 101 new species of weevils from New Guinea, more than doubling the known species in the beetle genus, Trigonopterus. Since describing new species is hugely laborious and time-intensive, the researchers turned to a new method of species description known as 'turbo-taxonomy,' which employs a mix of DNA-sequencing and taxonomic expertise to describe species more rapidly.
Saving Gorongosa: E.O. Wilson on protecting a biodiversity hotspot in Mozambique
(05/30/2013) If you fly over the Great African Rift Valley from its northernmost point in Ethiopia, over the great national parks of Kenya and Tanzania, and follow it south to the very end, you will arrive at Gorongosa National Park in central Mozambique. Plateaus on the eastern and western sides of the park flank the lush valley in the center. Dramatic limestone cliffs, unexplored caves, wetlands, vast grasslands, rivers, lakes, and a patchwork of savanna and forest contribute to the incredible diversity of this park. What makes this place truly unique, however, is Mount Gorongosa—a towering massif that overlooks the valley below.
Two new arachnids discovered in Brazilian caves (photos)

(05/29/2013) Scientists have discovered two new species of short-tailed whipscorpions (in the order Schizomida) in limestone caves in Brazil, according to a new paper published in PLoS ONE. The new species—dubbed Rowlandius ubajara and Rowlandius potiguara—add new knowledge to a group of arachnids that is little known in South America outside of the Amazon.
Scientists discover two mini-spiders in China (photos)
(05/23/2013) Scientists have uncovered two miniature spiders living on mountains in China's southern region, one of which is among the smallest spiders recorded worldwide, according to a new paper in ZooKeys. Both spiders belong to the Mysmenidae family, which is made up of mini-spiders with eight eyes.
New prehistoric animal named after Johnny Depp due to its 'scissorhands'
(05/19/2013) Half a billion years after an arthropod with long triple claws roamed the shallow Cambrian seas, scientists have named it after Hollywood movie actor, Johnny Depp: Kooteninchela deppi. Depp, known for his versatility as an actor, played Edward Scissorhands—an artificial man with long scissors for hands—in a popular 1990 film.
Eat insects to mitigate deforestation and climate change
(05/14/2013) A new 200-page-report by the UN Food and Agriculture Organization (FAO) urges human society to utilize an often-ignored, protein-rich, and ubiquitous food source: insects. While many in the industrialized west might turn up their noses at the idea of eating insects, already around 2 billion people worldwide eat over 1,900 species of insect, according to the FAO. Expanding insect-eating, the authors argue, may be one way to combat rising food needs, environmental degradation, and climate change.
Common moth can hear higher frequencies than any other animal on Earth

(05/09/2013) A common little moth turns out to have the best ears in the animal kingdom. According to a new study in Biology Letters, the greater wax moth (Galleria mellonella) is capable of hearing frequencies up to 300,000 hertz (300kHz), which is 15 times the frequency humans can hear at their prime, around 20 kHz.
U.S. loses nearly a third of its honey bees this season
(05/09/2013) Nearly a third of managed honeybee colonies in America died out or disappeared over the winter, an annual survey found on Wednesday. The decline—which was far worse than the winter before—threatens the survival of some bee colonies. The heavy losses of pollinators also threatens the country's food supply, researchers said. The US Department of Agriculture has estimated that honeybees contribute some $20bn to the economy every year.
Looking beyond the hundred legs: finding new centipedes in India requires many tools
(04/08/2013) A small, boneless creature, that lives underground, with a "hundred" legs, and a rather powerful sting; some of these creatures are drab, but some are so beautiful and brightly colored that they can startle. Centipedes. There is more to a centipede than its many legs, and its habit of darting out of dark places. One of the first lifeforms to turn up on land, some centipede fossils date back to about 450 million years ago. They have been evolving steadily since, with some estimates showing about 8,000 species today. Not even half of these species have been taxonomically described.
New giant tarantula that's taken media by storm likely Critically Endangered (photos)
(04/04/2013) Described by a number of media outlets as "the size of your face" a new tree-dwelling tarantula discovered in Sri Lanka has awed arachnophiliacs and terrified arachnophobes alike. But the new species, named Raja's tiger spider (Poecilotheria rajaei), is likely Critically Endangered according to the scientist that discovered it in northern Sri Lanka.
Scientists discover new wasp species in a field box from the 1930s (photos)
(04/03/2013) Searching through materials at the Natural History Museum in Paris, Simon van Noort recently came across a long-neglected field box of wasp specimens. Collected 80 years earlier by André Seyrig in Madagascar, the box contained several specimens of wasp in the Paramblynotus genus. The big surprise: wasps in this genus had never before been seen in Madagascar.
Domesticated bees do not replace declining wild insects as agricultural pollinators
(04/03/2013) Sprinkled with pollen, buzzing bees fly from one blossom to another, collecting sweet nectar from brilliantly colored flowers. Bees tend to symbolize the pollination process, but there are many wild insects that carry out the same function. Unfortunately, wild insect populations are in decline, and, according to a recent study, adding more honey bees may not be a viable solution.
Scientists discover new genus of crustacean

(03/27/2013) In recent journeys to Madagascar, New Caledonia, Vanuatu, the Philippines, and French Polynesia, scientists from the Centre for Advanced Studies of Blanes and the University of Barcelona have discovered not only five new crustaceous species, but also the existence of a new genus in the family.
Common pesticides disrupt brain functioning in bees

(03/27/2013) Exposure to commonly used pesticides directly disrupts brain functioning in bees, according to new research in Nature. While the study is the first to record that popular pesticides directly injure bee brain physiology, it adds to a slew of recent studies showing that pesticides, especially neonicotinoids, are capable of devastating bee hives and may be, at least, partly responsible for on-going Colony Collapse Disorder (CCD).
Ant communities more segregated in palm oil plantations than rainforest
(03/21/2013) Ants are an important ecological group in both degraded and natural habitats. They interact with many other species and mediate a range of ecological processes. These interactions are often interpreted in the context of ant mosaics, where dominant species form strict territories, keeping other ants out. This segregation between ant species is well-documented in monoculture plantations. Now new research published in Ecography has shown that these changes are driven by the replacement of rainforests with monocultures and not the arrival of non-native species.
Giant squid caught on video
(01/08/2013) Last summer, after 55 dives, three scientists in a submarine off the coast of Japan encountered an animal people have mythologized and feared for thousands of years: the giant squid. According to the researchers with Japan's National Science Museum they managed to capture the first footage ever (see below) of a giant squid in its natural habitat, although photos were also released in 2005 of a giant squid feeding.
Animals dissolving due to carbon emissions
(12/03/2012) Marine snails, also known as sea butterflies, are dissolving in the Southern Seas due to anthropogenic carbon emissions, according to a new study in Nature GeoScience. Scientists have discovered that the snail's shells are being corroded away as pH levels in the ocean drop due to carbon emissions, a phenomenon known as ocean acidification. The snails in question, Limacina helicina antarctica, play a vital role in the food chain, as prey for plankton, fish, birds, and even whales.
New study adds to evidence that common pesticides decimating bee colonies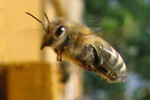 (10/24/2012) The evidence that common pesticides may be partly to blame for a decline in bees keeps piling up. Several recent studies have shown that pesticides known as "neonicotinoid" may cause various long-term impacts on bee colonies, including fewer queens, foraging bees losing their way, and in some cases total hive collapse. The studies have been so convincing that recently France banned the use of neonicotinoid pesticides. Now a new study finds further evidence of harm caused by pesticides, including that bees who are exposed to more than one chemical, i.e. neonicotinoid and pyrethroid, were the most vulnerable.
Brainless slime mold uses slimy memory to navigate

(10/08/2012) How do you navigate space efficiently without a brain? Slime, according to a surprising new study in the Proceedings of the National Academy of Sciences (PNAS) of a brainless slime mold named Physarum polycephalum. Scientists at the University of Sydney have discovered that the mold secretes slime as an 'external spatial memory' to make sure it doesn't end up going around in circles.
Arachnopocalypse: with birds away, the spiders play in Guam
(09/17/2012) The island of Guam is drowning in spiders. New research in the open-access journal PLOS ONE has found that in the wet season, Guam's arachnid population booms to around 40 times higher than adjacent islands. Scientists say this is because Guam, a U.S. territory in the Pacific, has lost its insect-eating forest birds. Guam's forests were once rich in birdlife until the invasion of non-native brown tree snake (Boiga irregularis) in the 1940s decimated biodiverse bird communities. Now, the island is not only overrun with snakes, but spiders too.
Sacrificial squid has unique way of deterring predators

(09/04/2012) Octopoteuthis deletron—this deep-dwelling, unassuming little squid may appear plain and boring, but when threatened, it has a peculiar way of defending itself. This foot-long invertebrate behaves a bit differently than most of its close cousins: it drops its arms.
Biodiversity faltering: 20% of invertebrates threatened with extinction
(08/31/2012) Twenty percent of invertebrates are at risk of extinction, according to a new report that looks at the 12,621 invertebrates assessed by the IUCN Red List to date. Although invertebrates never garner the same conservation attention as big, charismatic animals such as tigers and elephants, they play an undeniable role in maintaining healthy ecosystems. In addition, since invertebrates make-up 80 percent of the world's species, the report raises new concerns about global biodiversity decline.
Unidentified poodle moth takes Internet by storm
(08/29/2012) A white moth from Venezuela that bears a striking resemblance to a poodle has become an Internet sensation, after cryptozoologist Karl Shuker posted about the bizarre-looking species on his blog. Photographed in 2009 in Venezulea's Canaima National Park in the Gran Sabana region by zoologist Arthur Anker from Kyrgyzstan, the white, cuddly-looking moth with massive black eyes has yet to be identified and could be a species still unknown to science.
'Monster larva' turns into a shrimp
(08/28/2012) With blue devil-shaped horns and red armor, the monster larva, or Cerataspis monstrosa, kept scientists guessing for nearly 200 years; infrequently found in the bellies of marine predators, researchers could not imagine what this larva became as an adult. Now they do: the monster larva becomes a deep sea shrimp, known as Plesiopenaeus armatus, which bares little monstrous resemblance to its larval stage, according to DNA studies published in Ecology and Evolution.
One extinction leads to another...and another
(08/28/2012) A new study in Biology Letters demonstrates that altering the relationship between a predator and its prey can cause wide-ranging ripple effects through an ecosystem, including unexpected extinctions. Species help each other, directly or indirectly, which scientists refer to as mutualism or commensalism. For example, a species' success may rely not only upon the survival of its food source, but may also indirectly rely upon the survival of more distantly related species.
Illegal lobster fishermen slammed with over $50 million penalty

(08/21/2012) Three men who illegally harvested lobster from South African waters and smuggled them to the U.S. for 14 years have been ordered to pay $54.9 million in restitution to the South African government by a District Court in Manhattan. According to the Pew Environment Group this is the largest restitution order under the U.S. Lacey Act, which deals with the illegal wildlife trade. The judgement, however, still requires the approval of a district judge.
Velociraptor spider discovered in Oregon cave (pictures)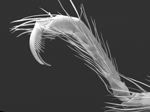 (08/17/2012) Scouring the caves of Southwest Oregon, scientists have made the incredible discovery of a fearsome apex predator with massive, sickle claws. No, it's not the Velociraptor from Jurassic Park: it's a large spider that is so unique scientists were forced to create a new taxonomic family for it. This is the first new spider family to be discovered in North America in over 130 years. 'This is something completely new,' lead author of a paper on the species, Charles Griswold with the California Academy of Sciences, told SFGate. 'It's a historic event.'
New Malaysian snail named after late conservation mentor

(07/30/2012) Researchers have discovered a new snail, which is so unusual that it has been granted its own genus: Kenyirus. To date, the mysterious forest snail, found in Malaysia's Kenyir Forest, is only known from its unique shell.
96 percent of the world's species remain unevaluated by the Red List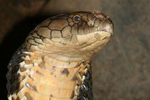 (06/28/2012) Nearly 250 species have been added to the threatened categories—i.e. Vulnerable, Endangered, and Critically Endangered—in this year's update of the International Union for Conservation of Nature's (IUCN) Red List. The 247 additions—including sixty bird species—pushes the number of threatened species globally perilously close to 20,000. However to date the Red List has only assessed 4 percent of the world's known species; for the other 96 percent, scientists simply don't know how they are faring.
New tiny crustacean discovered in deep sea off Europe (photo)

(06/20/2012) Scientists have pulled up a tiny new species of 'squat lobster' from a deep sea mountain at 1,410 meters below sea level off the coast of Spain. Dubbed Uroptychus cartesi, this is only the fourth species in this genus from the eastern Atlantic Ocean, although there are over hundred unique species in the Pacific and Indian ocean. The new species measures just 5-7 centimeters.
Forgotten Species: the wonder-inducing giant clam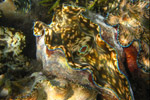 (06/11/2012) The first time I ever saw a giant clam was at a ride in Walt Disney World's Magic Kingdom. My family and I piled into the Nautilus submersible at the 20,000 Leagues Under the Sea: Submarine Voyage and descended into the playtime depths. While we saw sea turtles, sharks, lobsters, mermaids, and even a sea monster, the creature that lingered in my mind most was the giant clam, raising and closing its pearly shell in the weedy abyss. Of course, none of these aquatic wonders were real—they were animatronics—but to a child with a vivid imagination they stirred within me the deep mystery of the boundless ocean, and none more so than that monstrous clam with its gaping maw.
After damning research, France proposes banning pesticide linked to bee collapse

(06/04/2012) Following research linking neonicotinoid pesticides to the decline in bee populations, France has announced it plans to ban Cruiser OSR, an insecticide produced by Sygenta. Recent studies, including one in France, have shown that neonicotinoid pesticides likely hurt bees' ability to navigate, potentially devastating hives. France has said it will give Sygenta two weeks to prove the pesticide is not linked to the bee decline, known as Colony Collapse Disorder (CCD).
Blue tarantula, walking cactus, and a worm from Hell: the top 10 new species of 2011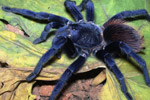 (05/23/2012) A sneezing monkey, a blue tarantula, and an extinct walking cactus are just three of the remarkable new species listed in the annual Top Ten New Species put together by the International Institute for Species Exploration at Arizona State University. This year's list includes a wide-variety of life forms from fungi to flower and invertebrate to primate.
Eye-popping purple crabs discovered in the Philippines

(04/23/2012) Scientists have discovered four new species of brilliantly-colored freshwater crabs on the Philippine island of Palawan. Described in the Raffles Bulletin of Zoology, the new species expands the genus, Insulamon, from one known crab species to five. Although its ecosystems are threatened by widespread mining and deforestation, the Philippines is a mega-diverse country, meaning that it belongs to a select group of 17 countries that contain the bulk of the world's species.
Researchers recreate bee collapse with pesticide-laced corn syrup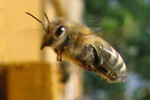 (04/05/2012) Scientists with the Harvard School of Public Health (HSPH) have re-created the mysterious Colony Collapse Disorder in several honeybee hives simply by giving them small doses of a popular pesticide, imidacloprid. Bee populations have been dying mysteriously throughout North America and Europe since 2006, but the cause behind the decline, known as Colony Collapse Disorder, has eluded scientists. However, coming on the heels of two studies published last week in Science that linked bee declines to neonicotinoid pesticides, of which imidacloprid is one, the new study adds more evidence that the major player behind Colony Collapse Disorder is not disease, or mites, but pesticides that began to be widely used in the 1990s.
Smoking gun for bee collapse? popular pesticides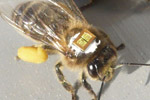 (03/29/2012) Commonly used pesticides may be a primary driver of the collapsing bee populations, finds two new studies in Science. The studies, one focused on honeybees and the other on bumblebees, found that even small doses of these pesticides, which target insect's central nervous system, impact bee behavior and, ultimately, their survival. The studies may have far-reaching repercussions for the regulation of agricultural chemicals, known as neonicotinoid insecticides, that have been in use since the 1990s.
Beyond Bigfoot: the science of cryptozoology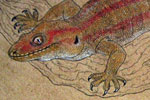 (03/26/2012) Anyone who doubts cryptozoology, which in Greek means the "study of hidden animals," should remember the many lessons of the past 110 years: the mountain gorilla (discovered in 1902), the colossal squid (discovered in 1925, but a full specimen not caught until 1981), and the saola (discovered in 1992) to name a few. Every year, almost 20,000 new species are described by the world's scientists, and a new book by Dr. Karl Shuker, The Encycloapedia of New and Rediscovered Animals, highlights some of the most incredible and notable new animals uncovered during the past century.
Scientists discover world's deepest terrestrial animal

(02/22/2012) It's not the prehistoric monsters from the Jules Verne's Journey to the Center of the Earth or the human-bat hybrids of The Decsent, but it's an astonishing discovery nonetheless: intrepid scientists have discovered the world's deepest surviving terrestrial animal to date, a small wingless insect known as a springtail. Explorers discovered the new species, Plutomurus ortobalaganensis at a shocking 1.23 miles (1.98 kilometers) below the surface. The species was discovered by the Ibero-Russian CaveX Team Expedition in Krubera-Voronja Cave, the world's only known cave to go deeper than 2 kilometers.
Innovative conservation: wild silk, endangered species, and poverty in Madagascar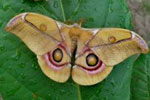 (02/20/2012) For anyone who works in conservation in Madagascar, confronting the complex difficulties of widespread poverty is a part of the job. But with the wealth of Madagascar's wildlife rapidly diminishing— such as lemurs, miniature chameleons, and hedgehog-looking tenrecs found no-where else in the world—the island-nation has become a testing ground for innovative conservation programs that focus on tackling entrenched poverty to save dwindling species and degraded places. The local NGO, the Madagascar Organization of Silk Workers or SEPALI, along with its U.S. partner Conservation through Poverty Alleviation (CPALI), is one such innovative program. In order to alleviate local pressure on the newly-established Makira Protected Area, SEPALI is aiding local farmers in artisanal silk production from endemic moths. The program uses Madagascar's famed wildlife to help create more economically stable communities.





Jurassic insect sings again

(02/06/2012) Innovative research has made a long-extinct katydid—which inhabited the world of dinosaurs like stegosaurus, allosaurus, and diplodocus—sing again. The discovery of an incredibly well-preserved fossil of a new species of katydid, dubbed Archaboilus musicus, gave biomechanical experts the opportunity to recreate a song not heard in 165 million years according to new research published in the Proceedings of the National Academy of Sciences (PNAS).





Jellyfish explosion may be natural cycle

(02/06/2012) Evidence that jellyfish are taking over the oceans is currently lacking, according to a new study published in Bioscience. Complied by a number of marine experts, the study found that while jellyfish have been on the rise in some regions it is likely due to a natural cycle of jellyfish populations and not a global boom. Researchers, including a number of marine biologists, have warned for years that jellyfish numbers may be exploding due to human activities, such as overfishing, warmer oceans due to global climate change, and the rise of oxygen-depleted, so-called "dead zones."




Page 1 | Page 2 | Page 3 | Page 4