News articles on interviews with young scientists

---
Mongabay.com news articles on interviews with young scientists in blog format. Updated regularly.






A path to becoming a conservation scientist
(09/05/2014) The path to finding a career often involves twists and turns. Serendipity is important — one rarely anticipates what small events, chance occurrences, and seeds of inspiration will spur decisions that lead to pursuing one job or another. For Zuzana Burivalova, a PhD candidate based at the Swiss Federal Institute of Technology in Zurich (ETH Zurich), the road to becoming a tropical forest ecologist began as a child in a small Czech Republic village with a foldout children's book about rainforests.
The 90 Percent Diet: reducing our environmental impact by eating less meat
(08/07/2014) In Brian Machovina's life, a serendipitous influence of people and places have all contributed to his current passion for inspiring people to eat less meat. With fewer grazing animals, Machovina's studies show that we could make better conservation and production choices with land that would otherwise be used to raise or feed livestock.
Tapirs, drug-trafficking, and eco-police: practicing conservation amidst chaos in Nicaragua
(10/10/2013) Nicaragua is a nation still suffering from deep poverty, a free-flowing drug trade, and festering war-wounds after decades of internecine fighting. However, like any country that has been largely defined by its conflicts, Nicaragua possesses surprises that overturn conventional wisdom. Not the least of which is that the Central American country is still home to big, stunning species, including jaguars, giant anteaters, pumas, and the nation's heaviest animal, the Baird's tapir (Tapirus bairdii). Still, not surprisingly given the nation's instability, most conservationists have avoided Nicaragua. But tapir-expert Christopher Jordan, who has worked in the country for over four years, says he wouldn't have it any other way.
Bornean elephant meets palm oil: saving the world's smallest pachyderm in a fractured landscape
(10/01/2013) In the Malaysian state of Sabah, where most conservation students are still foreigners—either European or American—Nurzahafarina Othman stands out: not only is she Malaysian, a Muslim, and a mother of a young daughter, but she's rapidly becoming a top researcher and champion for the world's smallest elephant: the Bornean elephant (Elephas maximus borneensis). Although sometimes described as a pygmy elephant, they still weigh 2,000 kilograms (4,400 pounds). The origin of these 'tiny' elephants in Malaysian Borneo have baffled scientists for decades.
Mercury hurts birds and people: what we can learn from studying our feathered friends
(01/07/2013) Birds aren't that different from people. We learn from our parents, just like zebra finches learn songs from their fathers. We are active and noisy during the day, like birds, and we can also be territorial. Also like birds, we try to attract mates through colorful displays and beautiful songs. Birds are sensitive to pollution in their environment just like we are: harmful elements such as mercury wreak similar havoc on human and bird biology alike. Because our species share so many attributes, studying birds illustrates the connections between them and us.
Forests, farming, and sprawl: the struggle over land in an Amazonian metropolis
(12/04/2012) The city of Parauapebas, Brazil is booming: built over the remains of the Amazon rainforest, the metropolis has grown 75-fold in less than 25 years, from 2,000 people upwards of 150,000. But little time for urban planning and both a spatial and mental distance from the federal government has created a frontier town where small-scale farmers struggle to survive against racing sprawl, legal and illegal mining, and a lack of investment in environmental protection. Forests, biodiversity, and subsistence farmers have all suffered under the battle for land. In this, Parauapebas may represent a microcosm both of Brazil's ongoing problems (social inequality, environmental degradation, and deforestation) and opportunity (poverty alleviation, reforestation, and environmental enforcement).
Vampire and bird frogs: discovering new amphibians in Southeast Asia's threatened forests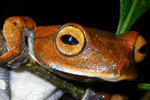 (02/06/2012) In 2009 researchers discovered 19,232 species new to science, most of these were plants and insects, but 148 were amphibians. Even as amphibians face unprecedented challenges—habitat loss, pollution, overharvesting, climate change, and a lethal disease called chytridiomycosis that has pushed a number of species to extinction—new amphibians are still being uncovered at surprising rates. One of the major hotspots for finding new amphibians is the dwindling tropical forests of Southeast Asia.
How lemurs fight climate change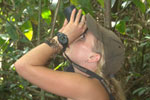 (01/09/2012) Kara Moses may have never become a biologist if not for a coin toss. The coin, which came up heads and decided Moses' direction in college, has led her on a sinuous path from studying lemurs in captivity to environmental writing, and back to lemurs, only this time tracking them in their natural habitat. Her recent research on ruffed lemurs is attracting attention for documenting the seed dispersal capabilities of Critically Endangered ruffed lemurs as well as theorizing connections between Madagascar's lemurs and the carbon storage capacity of its forests. Focusing on the black-and-white ruffed lemur's (Varecia variegata) ecological role as a seed disperser—animals that play a major role in spreading a plant's seeds far-and-wide—Moses suggests that not only do the lemurs disperse key tree species, but they could be instrumental in dispersing big species that store large amounts of carbon.
Illuminating Africa's most obscure cat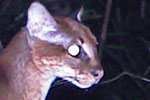 (10/18/2011) Africa is known as the continent of big cats: cheetahs, leopards, and of course, the king of them all, lions. Even servals and caracals are relatively well-known by the public. Still, few people realize that Africa is home to a number of smaller wild cat species, such as the black-footed cat and the African wild cat. But the least known feline on the continent is actually a cryptic predator that inhabits the rainforest of the Congo and West Africa. "The African golden cat has dominated my thoughts and energy for over a year and a half now. When carrying out a study like this one, you find yourself trying to think like your study animal," Laila Bahaa-el-din, University of Kwazulu Natal graduate student, told mongabay.com in a recent interview.
Parks key to saving India's great mammals from extinction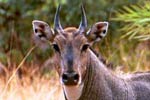 (02/24/2011) Krithi Karanth grew up amid India's great mammals—literally. Daughter of conservationist and scientist Dr. Ullas Karanth, she tells mongabay.com that she saw her first wild tigers and leopard at the age of two. Yet, the India Krithi Karanth grew up in may be gone in a century, according to a massive new study by Karanth which looked at the likelihood of extinction for 25 of India's mammals, including well-known favorites like Bengal tigers and Asian elephants, along with lesser known mammals (at least outside of India) such as the nilgai and the gaur. The study found that given habitat loss over the past century, extinction stalked seven of India's mammals especially: Asiatic lions, Bengal tigers, wild dogs (also known as dholes), swamp deer, wild buffalo, Nilgiri Tahr, and the gaur. However, increasing support of protected areas and innovative conservation programs outside of parks would be key to saving India's wildlife in the 21st Century.
Saving Madagascar's largest carnivorous mammal: the fossa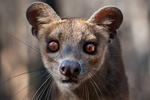 (02/17/2011) Madagascar is a land of wonders: dancing lemurs, thumbnail-sized chameleons, the long-fingered aye-aye, great baobab trees, and the mighty fossa. Wait—what? What's a fossa? It's true that when people think of Madagascar rarely do they think of its top predator, the fossa—even if they are one of the few who actually recognizes the animal. While the fossa gained a little notice in the first Madagascar film by DreamWorks, its role in the film was overshadowed by the lemurs. In this case, art imitates life: in conservation and research this feline-like predator has long lived in the shadow of its prey, the lemur. Even scientists are not certain what to do with the fossa: studies have shown that it's not quite a cat and not quite a mongoose and so the species—and its few Malagasy relatives—have been placed in their own family, the Eupleridae, of which the fossa (Cryptoprocta ferox) is the biggest. But if this is the first you've heard of such matter, don't feel bad: one of the world's only fossa-researchers, Mia-Lana Lührs also stumbled on the species.
Secrets of the Amazon: giant anacondas and floating forests, an interview with Paul Rosolie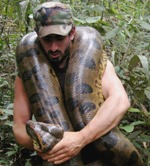 (03/10/2010) At twenty-two Paul Rosolie has seen more adventure than many of us will in our lifetime. First visiting the Amazon at eighteen, Rosolie has explored strange jungle ecosystems, caught anaconda and black caiman bare-handed, joined indigenous hunting expeditions, led volunteer expeditions, and hand-raised a baby giant anteater. "Rainforests were my childhood obsession," Rosolie told Mongabay.com. "For as long as I can remember, going to the Amazon had been my dream […] In those first ten minutes [of visiting], cowering under the bellowing calls of howler monkeys, I saw trails of leaf cutter ants under impossibly large, vine-tangled trees; a flock of scarlet macaws crossed the sky like a brilliant flying rainbow. I saw a place where nature was in its full; it is the most amazing place on earth."
A 'dangerous world' for migratory birds, an interview with Sarah Lehnen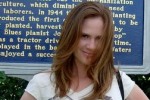 (01/04/2010) Sarah Lehnen has worked with America's rich birdlife for a decade: she has studied everything from songbirds inhabiting dwindling shrub land in Ohio to shorebirds stopping over in the Mississippi Rive alluvial valley, always with an eye towards conservation. Most recently she has been involved in testing migratory birds for avian flu. It may come as a surprise, but American birds are in serious decline. In March of last year, US Secretary of the Interior, Ken Salazar, announced that one-in-three American birds are endangered. Even once common birds are showing precipitous declines. Birds face a barrage of threats, which are only complicated—and heightened—for migratory birds.
The faster, fiercer, and always surprising sloth, an interview with Bryson Voirin

(10/25/2009) Sloths sleep all day; they are always slow; and they are gentle animals. These are just some of the popular misconceptions that sloth-scientist and expert tree-climber, Bryson Voirin, is overturning. After growing up among the wild creatures of Florida, spending his high school years in Germany, and earning a Bachelors degree in biology and environment at the New College of Florida, Voirin found his calling. At the New College of Florida, Voirin "met Meg Lowman, the famous canopy pioneer who invented many of the tree climbing techniques everyone uses today."
Saving the last megafauna of Malaysia, an interview with Reuben Clements
(09/15/2009) Reuben Clements has achieved one success after another since graduating from the National University of Singapore. Currently working in peninsular Malaysia, he manages conservation programs for the Endangered Malayan tiger and the Critically Endangered Sumatran Rhino with World Wildlife Fund. At the same time he has discovered three new species of microsnails, one of which was named in the top ten new species of 2008 (a BIG achievement for a snail) due to its peculiar shell which has four different coiling axes. ie7uhig
The mysterious, fascinating, and lightning-quick mantis shrimp: An Interview with Maya deVries

(08/26/2009) If you have never heard of the mantis shrimp, don't feel bad. Berkeley graduate student Maya deVries, who is becoming an expert on these small crustaceans (related neither to shrimp or preying mantis) admits that until she began her graduate studies mantis shrimp were also unknown to her: "I did not even learn what a mantis shrimp was until I applied to work with my current Ph.D. advisor, Dr. Sheila Patek, at UC Berkeley". But Maya's first look at the mantis shrimp on her advisor's website left an impression: "I was struck by the amazing capacity of mantis shrimp to capture fish and smash shells with only a few powerful blows, something a fish could only dream of doing."
Plant communities changing across the globe, says scientist Sasha Wright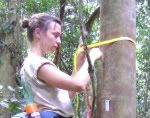 (03/29/2009) Having studied plant communities across three continent and within widely varied ecosystems—lowland tropics, deciduous forests, grasslands, and enclosed ecosystems on hill-tops—graduate student Sasha Wright has gained a unique understanding of shifts in plant communities worldwide as they respond to pressures from land use and global climate change. "Plant communities are certainly changing," Wright told Mongabay.com in a March 2009 interview. "These changes are undoubtedly affected by an increased occurrence of extreme weather events, temperature fluctuations, atmospheric CO2 concentrations, human land use, and in some cases urbanization of populations."
Seeking out the world's rarest and most endangered birds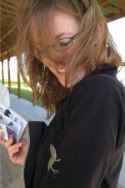 (02/02/2009) For an evolutionary biologist there is no conservation group whose work is more exciting than EDGE, a program developed by the Zoological Society of London (ZSL). Unique in the conservation world, EDGE chooses the species to focus on based on a combination of their threat of extinction and evolutionary distinctness. Katrina Fellerman, an evolutionary biologist herself and the EDGE birds' coordinator, describes the organization as one that focuses on species, which "to put it bluntly, if lost, there would be nothing like them left in the world today". Explaining further Fellerman says "We use evolutionary distinctiveness (ED) as a species-specific measure of the relative evolutionary value of species - it is a way of apportioning conservation value according to a species' phylogenetic position. Species with few or no close relatives on the 'tree of life' have the highest ED scores."
Saving leatherback turtles in South America's smallest country, Suriname: An interview with Liz McHuron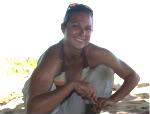 (01/27/2009) After a year studying marine biology at Moss Landing Marine Labs, Liz McHuron headed off to the little-known nation of Suriname to monitor leatherback sea turtles. Her responsibilities included implementing a conservation strategy for a particular beach, moving leatherback nests in danger of flooding, and educating volunteer workers on the biology, behavior, and conservation efforts of the world's largest, and most unique, marine turtle. I visited McHuron during her time at the beach of Galibi in Suriname; she proved to be the sort of scientist who refused to be deterred: breathtaking humidity or downpours, fer-de-lances on the beach or jaguars, Liz was always on the move, always working to aid the critically-endangered leatherbacks while studying them with the thoroughness inherit in a born scientist.