News articles on interviews with environmental journalists

---
Mongabay.com news articles on interviews with environmental journalists in blog format. Updated regularly.






Environmental journalism: rich with stories but 'extremely under-resourced'
(10/15/2013) Erik Hoffner is an environmental journalist and photographer whose work has appeared in a wide range of publications, including Orion, The Sun, Northern Woodlands, Yale Environment 360, Earth Island Journal, and World Ark. Recently two of his stories triggered strong public reactions: an exposé on damaging logging practices in Sweden and a photo feature on suburban fracking in Colorado. In an October interview with Mongabay.com, Hoffner discusses the fallout from these stories as well as his career in environmental journalism.
An interview with conservation writer David Quammen
(09/05/2012) David Quammen has done consistent and conscientious reporting from the trenches of ecological and evolutionary research for over thirty years now. Few in the world can claim as intimate and broad an understanding of conservation biology as he can. His books such as The Song of the Dodo and Monster of God match scientific and literary perfection. Nandini Velho and Umesh Srinivasan talk to him about the history of conservation science and what it can seek to create.
Susan Cosier: Good environmental writing takes 'time, effort, and poetry'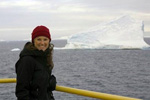 (05/11/2012) Susan Cosier is a senior editor for Audubon, as well as running the magazine's Green Guru column where she answers readers' questions about how to live life in ways which are environmentally responsible. Susan studied environmental science as an undergrad at Wesleyan University, then went to NYU where she earned a Master of Arts in Science in the Science, Health, and Environmental Reporting Program. Her work has appeared in E/The Environmental Magazine, Wildlife Conservation, Utne Reader, and Scientific American MIND. Susan lives in Brooklyn, NY, and when she's not writing about interesting things, she enjoys running, reading, traveling, and trying to learn Spanish.
David Baron: public radio, cougars, and the benefits of understanding science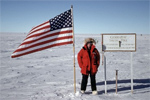 (03/21/2012) David Baron has spent more than two decades covering global issues as a journalist, author, and broadcaster. His assignments have taken him from the South Pole to Iceland, from Uganda to India and beyond in pursuit of stories with scientific topics as wide-ranging as David himself. After graduating from Yale with a degree in Physics, David jumped into radio. Since then, he's been a science reporter for National Public Radio on such programs as All Things Considered, Morning Edition, and Weekend Edition. He also served as substitute host for Talk of the Nation: Science Friday. In 2005, David joined Public Radio International where he currently oversees coverage of science and medicine for The World, a joint venture of PRI, the BBC, and WGBH Boston.
Earth First! activist Nathan Coe: radical cultural shifts required to stave off ecological collapse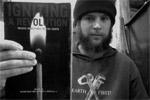 (02/21/2012) Many ideals, actions, and movements considered as fringe or radical by the standards of mainstream culture have gained prominence as global biodiversity withers and the biogeochemical cycles of the entire Earth System are upset by human activities. As endangered species and ecosystems are increasingly threatened, direct confrontation between activists and the entities that drive environmental damage seems also to be increasing. At the same time, concern that present global governance and distribution systems are unable to provide security, clean water, affordable food and a stable future to most of society, is spurring some to move toward new models, including sustainable, autonomous communities and decentralized production. Mongabay recently had the opportunity to discuss some of these issues with activist and writer Nathan Coe.
Margaret Southern: small efforts can add up to big impact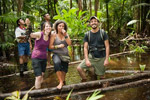 (02/13/2012) Margaret Southern writes about international conservation strategies and projects for The Nature Conservancy's editorial strategy team. She also writes about green living for TNC's Cool Green Science blog. She recently started All Hands On Earth, an organization which informs the public about the little things anyone can do to make a positive impact on the planet. Southern's newest project is Picnic for the Planet, an Earth Day celebration, which begins next month.
Kelly Blynn: activists not "letting the pressure off" on Keystone pipeline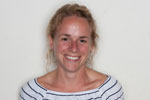 (02/06/2012) Along with Bill McKibben and a small cadre of passionate environmental activists, Kelly Blynn co-founded the climate activism group "350." 350 exemplifies the power of online networks combined with activism and has coordinated some of the largest and most successful environmental protests in history. The 350 team has organized more than 5,200 events in 181 countries around the world. Kelly graduated from Middlebury College with a degree in Geography and Environmental Studies and experience coordinating one of the largest university campus environmental activism groups in the United States. Blynn is currently situated in Washington, D.C.
Hugh Powell: birds lend invaluable insight into ecosystems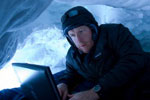 (01/23/2012) Hugh Powell is science editor at the Cornell Lab of Ornithology as well as a contributor to Woods Hole Oceanographic Institution's Oceanus and other publications. He's traveled extensively while writing, including stints in Antarctica for WHOI's Live from the Poles. Before finding his niche as a science writer, Hugh studied the interconnections between black-backed woodpeckers, insects, and forest fires in Montana. He currently resides in Ithaca, New York.
Sarah Laskow: even renewable energy has a dark side

(01/03/2012) Sarah Laskow is a freelance writer who has covered environmental issues for Grist, GOOD, and Newsweek.com, among others. Raised in New Jersey and educated at Yale where she studied literature, Sarah now lives across the river in Manhattan with her partner. She's done extensive traveling in West Africa, Europe, and Central America. Sarah can be found on twitter as @slaskow.
Matt Miller: don't oversimplify issues in environmental debates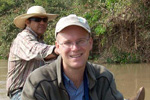 (12/21/2011) Matt Miller is director of communications for The Nature Conservancy in Idaho, a position he's held for ten years. He is responsible for the chapter's publications and digital media. He writes for the Conservancy's blogs Cool Green Science and Idaho Nature Notes. He has also completed two conservation fellowships for the Conservancy's programs in Colombia and Micronesia. In his spare time, he is editor of Backcountry Journal and a freelance writer with credits in Grist, Living Bird, Bugle, Sports Afield and many other publications. Matt is a board member of the Outdoor Writers Association of America and a regular speaker on conservation topics. He has traveled to six continents in search of wildlife and stories. Most recently, he's written about the plight of Pacific Islanders caused by rising sea levels and economic hardships. Matt lives in Boise, Idaho with his wife Jennifer, who promotes sustainable agriculture for the Northwest Center for Alternatives to Pesticides.
Cara Hoffman: Direct action is 'the only real solution' to environmental problems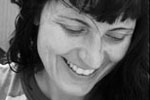 (12/20/2011) Our generation of ecological writers, scientists, and activists confront a situation without historical analog. 21st Century naturalists and environmentalists genuinely concerned about enjoying and preserving wilderness are forced to accept the harsh realities that what little remains of untouched nature is increasingly subjected to seemingly unstoppable destructive forces. The magnitude of the situation is difficult to accept and understand. The perceptive abilities of the human mind and collective consciousness are thrust into a surreal and uncertain future. Even industrial society's cornerstones of technological progress and institutionalized science have proven insufficient. Especially since the dramatic "big melt" of arctic ice in 2007, scientists have been forced to admit their models and predictions of climate change have been grossly understated.