News articles on interns

---
Mongabay.com news articles on interns in blog format. Updated regularly.





Sri Lankan elephant amnesty will lead to poaching, warn conservationists


(12/03/2013) Environmentalists have responded with alarm to a proposed amnesty permitting the registration of illegally captured elephants in Sri Lanka. Recent reports in Sri Lankan media have outlined the proposal, stating that during the amnesty period it would be possible to register elephant calves for a fee of about $7,600. Elephants are closely linked with Sri Lankan history and culture, and are considered sacred in both Buddhism and Hinduism. But the situation for elephants in the country is complicated.


Where have all the dugongs gone?


(12/03/2013) Legend has it that lonely sailors mistook them for beautiful, mythical mermaids. But as it turns out, the muse behind these beguiling sea nymphs was instead the dugong – a rather ungainly, gentle and mini-bus sized marine mammal, cousin to the manatees and part of the sea cow family. However, while they may have once fuelled stories for fairytales and Disney movies, their far-from-glamorous life is currently under serious threat in many parts of the world.


Not all mangroves are created equal: new map reveals carbon storage hot-spots


(11/26/2013) Mangrove forests are one of the most important weapons in the fight against climate change. Not only do they directly store huge amounts of carbon, but they actively capture additional carbon dioxide from the atmosphere and sequester it in their soils. When mangroves are destroyed, huge quantities of carbon are released into the atmosphere, significantly contributing to greenhouse gas emissions.


Consumer report uncovers why people buy rhino horn


(11/26/2013) The rhinoceros is one of the largest and most iconic animals to roam the earth. However, poaching for their horn, erroneously believed to have medicinal value, has led the IUCN Red List to classify three of the world's five species as Critically Endangered. But, a new consumer report by the wildlife trade monitoring network, TRAFFIC, finds that rhino horn consumers in Vietnam buy the illegal product as much to raise their social status as to attempt to treat a fever or hangover.


Satellites reveal browning mountain forests


(11/22/2013) In a dramatic response to global warming, tropical forests in the high elevation areas of five continents have been "browning" since the 1990s. They have been steadily losing foliage, and showing less photosynthetic activity. Scientists analyzed the forest cover by using satellites to measure sunlight bouncing off the surface of the earth, then determining the different surface types via reflection patterns.


Canopy crusade: world's highest network of camera traps keeps an eye on animals impacted by gas project


(11/21/2013) Oil, gas, timber, gold: the Amazon rainforest is rich in resources, and their exploitation is booming. As resource extraction increases, so does the development of access roads and pipelines. These carve their way through previously intact forest, thereby interrupting the myriad pathways of the species that live there. For species that depend on the rainforest canopy, this can be particularly problematic.


The quicksilver demon: rogue gold-mining is the world's largest source of mercury pollution


(11/20/2013) In 1956, in the quiet seaside town of Minamata on the southwestern coast of Japan's Kyushu Island, cats began to behave very strangely. They convulsed, displayed excessive salivation, and gradually lost the ability to walk. Then, dead birds began to fall out of the sky. Shellfish opened and decomposed. Fish also displayed abnormal behaviors, eventually floating up to the surface of the Shiranui Sea. Many of the ailing cats wandered into the sea and drowned. Soon, there were no more cats alive in the area.


The swan song of India's dancing bears


(11/20/2013) India's last dancing bear has retired. As the stars of their cruel little roadshows, sloth bears danced to the piercing sounds of the damru for hundreds of years. Orphaned by poachers and trained by the Qalandars, a nomadic Muslim community, these bears trudged through towns and villages to earn their masters a meager livelihood.


Nearly half a million seabirds die in gillnets every year, but solutions exist


(11/18/2013) A recent study from the Biological Conservation journal brings shocking news: every year across the globe, an estimated 400,000 seabirds are killed by gillnets. Gillnets, a common term for any net used to entangle and catch fish, are used all over the world, and at any depth. These nets, whether used in subsistence or commercial fishing, trap anything that swims through them. When unintended marine wildlife, or "bycatch," is caught in these nets, the results can be significant.


New bat species discovered in Brazil leaves another at risk


(11/15/2013) A team of researchers has discovered a new species of bat in Brazil, which has put a previously known species, Bokermann's nectar bat (Lonchophylla bokermanni), at risk of extinction. Long thought to comprise one species, the bat populations of the Atlantic Forest and the Cerrado – the tropical savannah of Brazil's interior - are in fact distinct from one another, according to a new study in Zootaxa. Scientists now say the Atlantic Forest's population represents a newly described species, which they have dubbed Peracchi's nectar bat (Lonchophylla peracchii).


Newly discovered beetles construct private homes out of leaf holes and feces


(11/12/2013) Scientists have discovered two new species of leaf beetles in southern India that display a novel way of using leaf holes and their fecal pellets to build shelters – a nesting behavior previously not known among leaf beetles. Discovered in the forests of the Western Ghats in the states of Karnataka and Kerala, the scientists have named these pin-head sized leaf beetles Orthaltica syzygium and Orthaltica terminalia, after the plants they feed on: Syzygium species (e.g., the Java plum) and Terminalia species (e.g., the flowering murdah).


Five new, cryptic bats discovered in Senegal


(11/11/2013) An international research team led by Daurina Koubinova has discovered five new species of vesper bats during a series of expeditions to Senegal's Niokolo-Koba National Park. The new species are considered cryptic, because their genetic makeup is different despite physical similarities. The new bats have yet to be named.


Ultraviolet nets significantly reduce sea turtle bycatch


(11/11/2013) Bycatch, a side-effect of commercial fishing in which non-target species are accidentally caught, is linked to severe population declines in several species. Sea turtles are particularly impacted by small-scale coastal gillnetting practices, in which large nets are deployed and indiscriminately snag anything of a certain size that attempts to swim through them. However, that may soon change.


Seahorses on your iPad: new app allows anyone to track and document seahorses


(11/08/2013) Annually, approximately 13 million seahorses—live and dead—are traded around the globe. At this scale, the seahorse trade is potentially very destructive to a group of animals comprised of 48 species, 11 of which are listed by the International Union for Conservation and Nature (IUCN) as threatened with extinction.


Dolphins, bats and the evolution of echolocation


(11/08/2013) A dolphin swimming through the world's oceans after fish, and a bat flying through the air with its membranous wings to catch insects or eat fruit: at first glance, it looks like no two creatures could be more different. But it turns out they share a superpower - they hunt prey by emitting high-pitched sounds and listening for a returning echo. A recent study published in the journal Nature Letters has shown that the regions of the genome responsible for this ability are strikingly similar between these very different mammals.


Critically Endangered Jamaican iguana imperiled by port development


(11/08/2013) The story of the Jamaican iguana (Cyclura collie) is one of adversity and resurgence. Once believed extinct, the species has made a remarkable comeback over the last two decades. However, according to concerned scientists, a new plan to build a massive port in the iguana's habitat could push the species back to the edge of extinction.


Beetles in the spotlight: a new species of burying beetle from the Solomon Islands Archipelago


(11/07/2013) If you thought of the little beetle that you saw the other day as just a 'regular one' then this might interest you. Scientists from the University of Alaska discovered Nicrophorus efferens, a new species of burying beetle from Solomon Islands. Studying six adult specimens borrowed from the Bernice Pauahi Bishop Museum of Hawaii (BPBM), Dr Sikes and Tonya Mousseau describe the new species in a detailed taxonomic assessment published in the journal Zookeys, and how it differs from two closely related species of the Solomon Islands.


Like humans, marmosets are polite communicators


(11/06/2013) Common marmoset monkeys have been described as having human-like conversations according to a team of researchers from the Princeton Neuroscience Institute. Native to Brazil, marmosets are highly social animals, using simple vocalizations in a multitude of situations: during courtship, keeping groups together and defending themselves. They also, according to the study published in Current Biology, exchange cooperative conversations with anyone and everyone - not just with their mates.


Scientists: to save the Malayan tiger, save its prey


(10/31/2013) A major premise of biology, as any high-schooler can tell you, is the study of the connections between organisms. Perhaps nowhere is there a better example of this than in Malaysia, where the population of Endangered Malayan tigers (Panthera tigris jacksoni) is being undercut by dwindling prey. A recent study by MYCAT, the Malaysian Conservation Alliance for Tigers, highlights this connection by presenting a distinct correlation between prey and tiger population.


New species of beetle discovered in megacity


(10/30/2013) When imagining the discovery of a new species, most people conjure thoughts of intrepid explorers, battling the odds in remote rainforests. But this needn't be the case, at least according to a new study published in Zookeys. The study reports the discovery of a new species of water beetle in the heart of the 10th largest megacity in the world: Manila, Philippines.


The mystery of the disappearing elephant tusk


(10/30/2013) Give it a few thousand years, and tusks could completely disappear from the Asian elephant (Elephas maximus). The beautifully smooth, elongated ivory incisors neatly bordering a long trunk are iconic in the public mind. The reigning hypothesis is that tusks evolved to help male elephants fight one another, as demonstrated when males compete over females in estrus. However, a recent study published in the journal Animal Behaviour has shown that tusks may not be key factors in tussles, at least as far as elephants are concerned.


Small invertebrates could be key to uncovering the mysteries of killer amphibian fungus


(10/22/2013) In 2004, the first-ever Global Amphibian Assessment (GAA) reviewed all 5,743 amphibian species known to science and concluded that 32% were threatened with extinction - a number far exceeding corresponding figures for birds and mammals (12 to 23% respectively). In addition to the usual culprits of climate change and habitat destruction, a startling 92.5% of amphibians listed as Critically Endangered were found to be undergoing enigmatic declines linked to an unexpected perpetrator - the chytrid fungus, Batrachochytrium dendrobatidis (Bd).


98% of marine fish headed for the aquarium trade die within a year in the Philippines


(10/22/2013) Almost all wild caught marine fish for the aquarium trade will die within a year of capture, according to WWF. Following months of interviews with Filipino marine exporters and hobbyists, WWF-Philippines have found that roughly 80% of all marine fish die before they are sold, and those that survive long enough to be bought by hobbyists are extremely likely to be dead in under a year.


Mammal-watching: one man's obsession to see the world's mammals


(10/16/2013) There are more than 5,000 different mammal species across the globe, but with this number being dwarfed by the 10,000 bird species, it is little wonder that bird-watching has become the most common wildlife watching hobby in the world. While there are thousands of websites dedicated to ornithology enthusiasts, with information detailing the best places to see particular species and how to find them, similar resources about mammals remain scarce.


Sea and storm: coastal habitats offer strongest defense


(10/11/2013) Surging storms and rising seas threaten millions of U.S. residents and billions of dollars in property along coastlines. The nation's strongest defense, according to a new study by scientists with the Natural Capital Project at the Stanford Woods Institute for the Environment, comes from natural coastal habitats.


Recovering forests 'heal' themselves by speeding up nitrogen fixation


(10/08/2013) Nitrogen is colorless, odorless and tasteless, but all life on earth depends on it. Without it, our bodies cannot synthesize the nucleic acids that make up our DNA, or the protein-forming amino acids that are the very building blocks of our cells. Problematically, atmospheric nitrogen is relatively inert or nonreactive. This has created a unique biological dependency on a process called nitrogen fixation—where inert nitrogen from the atmosphere is converted into more reactive ammonia, a major component of soil fertilizers.


No place like home: scientists discover that male crested penguins head home earlier than females


(10/08/2013) Male crested penguins are hard workers - especially when it comes to their elaborate breeding ritual. After gathering in massive colonies to mate, they find and establish a nesting site, help incubate the eggs females lay, and then guard the chicks after they hatch. Male crested penguins have also been known to arrive at their breeding locations long before the females. But the reasons for this have been largely speculative. Do the males start swimming back to their breeding grounds earlier than the females?


Myanmar faces new conservation challenges as it opens up to the world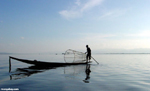 (10/04/2013) For decades, one of Southeast Asia's largest countries has also been its most mysterious. Now, emerging from years of political and economic isolation, its shift towards democracy means that Myanmar is opening up to the rest of the world. Myanmar forms part of the Indo-Burma biodiversity hotspot, and some of the largest tracts of intact habitat in the hotspot can be found here.


Amphibians evolve resistance to popular pesticide


(10/04/2013) Rachel Carson and, more recently, Sandra Steingraber have successfully drawn popular attention to the risks of pesticides on wildlife. Many of the environmental consequences of pesticides have now been well documented by scientists; however, studies investigating the evolutionary consequences of pesticides on non-target species are largely missing. Not surprisingly, most studies looking at how species evolve in response to pesticide-use have been on target species such as mosquitoes and crop pests, which show that some target species have evolved resistance to common pesticides.


Climate change could increase diarrheal disease in Botswana

(10/03/2013) Climate change may increase the incidence of diarrheal disease in Botswana, according to a recent study in the International Journal of Environmental Research and Public Health. "Diarrheal disease is a very important public health problem in Botswana," said lead author Kathleen Alexander, who led a unique 30-year analysis (1974-2003) on the incidence of diarrhea in Botswana. "As a water-restricted country, Botswana is predicted to be heavily impacted by climate change.


Pet fish invade ecosystem, upending nutrients and impoverishing fishers


(10/02/2013) If you, or someone you know, owns a freshwater aquarium, chances are you have seen the peculiar little creature attached face-first to the glass in effort to find a morsel of algae. This algae eater, popularly known as the sucker fish, is the sailfin catfish, or plecos. It is one of the most commonly purchased fish in the freshwater aquarium fish trade, and, according to recent research in The Royal Society B, aquarists often reintroduce the sucker-fish into the wild with detrimental consequences.


Wildlife in Nilgiris Biosphere Reserve suffers from lack of a transition zone


(10/01/2013) The Nilgiris Biosphere Reserve in southern India acts as a conduit between the biodiversity-rich Western Ghats, a mountain range parallel to the western coast of India and its eastern counterpart, the Eastern Ghats. Established in 1986 by Government of India, the 5,520 square kilometer reserve was recognized by UNESCO in 2000. However a new study in mongabay.com's open-access journal Tropical Conservation Science finds that the lack of a transition zone in the Nilgiris Biosphere Reserve has undercut the aims of this crucial protected area.


African manatee hanging on in Cameroon

(09/30/2013) In the Lower Basin of the Sanaga River in Cameroon, near Lake Ossa and the Douala-Edea National Parks, manatees swim and float about like round, potato-shaped mermaids. This region is home to the West African manatee (Trichechus senegalensis), an aquatic mammal facing a decline in population. Classed as Vulnerable by the IUCN Red List, the West African manatee is threatened by excessive kills, habitat loss, and habitat degradation. Given this, and the dearth of information about manatees, a group of Cameroon scientists have taken an ethnobiological approach (i.e. the interaction between people and wildlife) by employing skilled, knowledgable locals to collect data on the manatees.


Camera-traps reveal surprising mammals at remote site in Honduras (photos)


(09/30/2013) A camera trap survey along the Sikre River in Honduras has discovered that the region is home to a menagerie of rare mammals, including giant anteaters. The survey, published in mongabay.com's open access journal, Tropical Conservation Science, recorded five cat species in 70 square kilometers.


New prioritization for Brazil's threatened mammals pushes little known primates and rodents to the top


(09/30/2013) Scientists have applied a species prioritization scheme to Brazil's diverse mammals to deduce which species should become the focus of conservation efforts over the next few years in a new paper published in mongabay.com's open-access journal Tropical Conservation Science.


Climate change pushing tropical trees upslope 'exactly as predicted'


(09/27/2013) Tropical tree communities are moving up mountainsides to cooler habitats as temperatures rise, a new study in Global Change Biology has found. By examining the tree species present in ten one-hectare plots at various intervals over a decade, researchers found that the proportion of lowland species increased in the plots at higher elevations. The study, which was undertaken in Volcan Barva, Costa Rica, adds to a growing body of evidence that climate change is having an impact on species range distributions.


Newly discovered chytrid fungus devastates salamander populations


(09/19/2013) A frightening disease has been ravaging amphibians across the planet. At least 350 species have been infected, two hundred of which have suffered massive population reductions or extinctions, some even occurring within the space of weeks. In 1999, a single fungal species called Batrachochytrium dendrobatidis (Bd), commonly known as the chytrid fungus, was identified as the causative agent for these rapid die-offs.


India moves rapidly to protect Amur falcons from mass-hunting


(09/13/2013) In October last year, an astounding mass hunting came to light—an estimated 120,000–140,000 Amur falcons were being hunted and killed in Nagaland, India, every year. A small bird of prey, the Amur falcon (Falco amurensis) records one of the longest migrations among all birds—a staggering 22,000 km annually. Their journey starts in China and Siberia where they breed and spend their summers.


Bornean orangutans travel along the ground


(09/12/2013) A recent study of forest in East Kalimantan, Borneo has found that orangutans travel on the ground far more often than expected. The study, published in the American Journal of Primatology, was carried out in Wehea Forest involving the use of 78 camera traps across 38 square kilometres of forest.


600 vultures killed by elephant poachers in Namibia


(09/11/2013) As the illegal poaching of African elephants and rhinos reaches epidemic levels, other species are also suffering catastrophic losses as a direct result of poachers' behavior. A recent incident in July, where a poisoned elephant carcass led to the death of 600 vultures near Namibia's Bwabwata National Park, has highlighted how poachers' use of poison is now one of the primary threats to vulture populations.


Scientists discover that even crocs have a fetish for fruit


(09/10/2013) It is hard to reconcile visions of a sharp-toothed, scaly, and ferocious crocodile with anything other than a completely carnivorous diet. We have been bombarded with gory kill scenes in which crocodiles take down everything from impala to buffalo, but new evidence suggests we need to rethink crocodilians altogether.


Loose laws threaten Australia's wildlife


(09/09/2013) Kookaburras, koalas and kangaroos—Australia is well known for its charismatic animals and vast, seemingly untamable, wild spaces. But throughout the country, the national parks and reserves that protect these unique animals and ecosystems have come under increasing threat. New rules and relaxed regulations, which bolster immediate economic growth, are putting pressure on Australia's already-threatened biodiversity.


The brown bears of Bulgaria – life after dancing


(09/09/2013) A rehabilitation center for retired dancing bears sounds like a typo. Yet this is exactly what the animal rights NGOs Four Paws and Foundation Brigitte Bardot created 13 years ago in Belitsa, Bulgaria. For many Bulgarians the first childhood contact with a forest animal is seeing a 'dancing bear' on the street in their city. These chained brown bears (Ursus arctos) would stand on their back feet waving their front paws on hearing their gypsy master play the gadulka (a local musical string instrument). Children used to admire the dancing bears; little did they know of the tragic fate of these animals.


Not just bats and frogs: snake fungal disease hits U.S.


(09/06/2013) A fungal outbreak in the eastern and Midwestern United States is infecting some populations of wild snakes. Snake Fungal Disease (SFD), a fungal dermatitis consistently associated with the fungus Ophidiomyces ophiodiicola, is showing recent spikes in occurrence according to the U.S. Geological Survey's National Wildlife Health Center (NWHC) and other diagnostic laboratories.


Organization proposes climate change warning labels at the gas pump


(09/05/2013) Rob Shirkey is the founder of the Toronto-based, not-for-profit organization Our Horizon. Inspired by his grandfather's last words to him, "Do what you love," Shirkey quit his job and founded the organization. Our Horizon is founded on the basis that we are all responsible for global climate change through our daily collective choices. It endeavors to influence those choices, specifically with the goal of convincing municipalities to require climate change warning labels on gasoline pumps.


Amendments to Indian legislation could pose a threat to wildlife research


(09/05/2013) In the upcoming session of the Indian Parliament, MPs will debate whether researchers and poachers should be treated in the same manner for a breach of law. A new bill proposes to impose substantial penalties, including imprisonment, when researchers with permission to enter a forest area default in any way. At the same time, a poacher or a person in possession banned wildlife product is let off with a fine.


Finding a needle in a haystack: two new species of octocorals discovered in the Pacific Ocean


(09/04/2013) The vast expanse of the Earth's oceans makes finding a new species like finding a needle in a haystack. In fact, finding a needle in a haystack may be easier than finding a new species of octocoral in the Pacific Ocean. But Gary Williams with the California Academy of Sciences has recently found not only one but two new species, including a new genus of octocoral.


World's biggest owl depends on large old trees


(09/03/2013) The Blakiston fish owl (Bubo Blakistoni) is the world's largest – and one of the rarest – owl species, with an impressive 6 foot (2 meter) wingspan. The giant owl, found exclusively in northeast Asia, shares its habitat with a menagerie of endangered and impressive animals, including Amur tigers, Amur leopards, Asiatic black bears and wild boars.


Are sea turtles responsible for lower fish catches in India?


(08/29/2013) Fishing communities on Agatti Island in Lakshwadeep, India, blame their reduced fish catch on green turtles; according to them, green turtles chomp their way through the seagrass beds lining the shallow reef waters that are essential for fish to breed. This leads some in the community to clandestinely kill sea turtles and destroy their nests.


Ground zero for endangered species: new program to assist animals on the brink across Southeast Asia


(08/27/2013) Organizations within the international conservation community are joining forces to minimize impending extinctions in Southeast Asia, where habitat loss, trade and hunting have contributed to a dramatic decline in wildlife. The coalition is aptly named ASAP, or the Asian Species Action Partnership.



Page 1 | Page 2 | Page 3 | Page 4