News articles on indonesia

---
Mongabay.com news articles on indonesia in blog format. Updated regularly.





Greening the world with palm oil?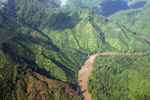 (01/26/2011) The commercial shows a typical office setting. A worker sits drearily at a desk, shredding papers and watching minutes tick by on the clock. When his break comes, he takes out a Nestle KitKat bar. As he tears into the package, the viewer, but not the office worker, notices something is amiss—what should be chocolate has been replaced by the dark hairy finger of an orangutan. With the jarring crunch of teeth breaking through bone, the worker bites into the "bar." Drops of blood fall on the keyboard and run down his face. His officemates stare, horrified. The advertisement cuts to a solitary tree standing amid a deforested landscape. A chainsaw whines. The message: Palm oil—an ingredient in many Nestle products—is killing orangutans by destroying their habitat, the rainforests of Borneo and Sumatra.


Indonesia grants slew of last-minute logging concessions on eve of moratorium

(01/25/2011) Indonesia's Minister of Forestry granted nearly 3 million hectares of plantation forestry concessions the day before the country's president was due to sign a decree establishing a two-year moratorium on new logging licenses, reports a new analysis by Greenomics, an Indonesian environmental group.


'New' cat in Sumatra: clouded leopard is distinct subspecies



(01/23/2011) Just six years ago the beautiful medium-sized Asian cat, the clouded leopard, was considered a single species. Then in 2006 researchers announced that there were, in fact, two unique species of clouded leopard: one species (Neofelis nebulosa) that inhabited mainland Asia (from Nepal to China and south to peninsular Malaysia) and a more threatened species living on the islands of Borneo and of Sumatra, dubbed the Sunda clouded leopard (Neofelis diardi). Now, researchers have confirmed that clouded leopards living on Sumatra are distinct from those on Borneo, further subdividing these two populations into unique subspecies.


Indonesia to open protected forests to geothermal power

(01/14/2011) The Indonesian government will soon issue a decree allowing geothermal mining in protected forests, reports The Jakarta Post.


Does chopping down rainforests for pulp and paper help alleviate poverty in Indonesia?


(01/13/2011) Over the past several years, Asia Pulp & Paper has engaged in a marketing campaign to represent its operations in Sumatra as socially and environmentally sustainable. APP and its agents maintain that industrial pulp and paper production — as practiced in Sumatra — does not result in deforestation, is carbon neutral, helps protect wildlife, and alleviates poverty. While a series of analyses and reports have shown most of these assertions to be false, the final claim has largely not been contested. But is conversion of lowland rainforests for pulp and paper really in Indonesia's best economic interest?


Wildlife crime goes largely unpunished in Indonesia


(01/10/2011) Indonesia is famed for its wildlife diversity. Straddling the contact zone between Asia and Australia, evolution has created some of the earth's most remarkable species here. Think babirusa , Komodo dragon, orangutan and birds of paradise, and you get the picture. Indonesia is famed for its wildlife diversity. Straddling the contact zone between Asia and Australia, evolution has created some of the earth's most remarkable species here. Think babirusa, Komodo dragon, orangutan and birds of paradise, and you get the picture. Most of us also know that Indonesia has a major problem maintaining this diversity through effective conservation programs. Not a day goes by without Indonesia appearing somewhere in the world's media with a negative story on how it is managing its wildlife.


Al Gore thanks Indonesian president for forest, climate commitment

(01/10/2011) Opening a climate summit in Jakarta, former U.S. Vice President Al Gore thanked Indonesian President Susilo Bambang Yudhoyono for his commitment to reduce projected greenhouse gas emissions, reports the Jakarta Globe.


Indonesia delays logging moratorium

(01/05/2011) Bureaucratic confusion has led Indonesia to delay implementation of its two-year moratorium on new logging and plantation concessions in forest areas and peatlands, reports the Jakarta Globe.


Converting palm oil companies from forest destroyers into forest protectors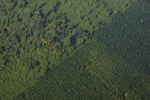 (01/02/2011) In efforts to save the world's remaining rainforests great hopes have been pinned on "degraded lands" — deforested lands that are presently sitting idle in tropical countries. Optimists say shifting agriculture to such lands will help humanity produce enough food to meet growing demand without sacrificing forests and biodiversity and exacerbating social conflict. But to date, degraded lands remain an enigma, especially in Indonesia, where deforestation continues at a rapid pace. Degraded lands are often misclassified by various Indonesian ministries—land in a far-off province may be listed as "wasteland" by Jakarta, but in reality is blanked by verdant forest that sequesters carbon, houses wildlife, and affords communities with food, water, and other essentials. Granting logging and plantation concessions on these lands can result in conflict and environmental degradation.


Borneo province selected for Indonesia's first pilot under REDD program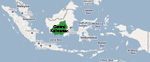 (12/30/2010) Indonesian President Susilo Bambang Yudhoyono has selected Central Kalimantan as the pilot province for the country's Reducing Emissions from Deforestation and Forest Degradation (REDD+) program, according to the President's office on climate change. Central Kalimantan was selected over eight other forested provinces, including Aceh, Jambi, Riau, and South Sumatra on the island of Sumatra; West Kalimantan and East Kalimantan on the island of Borneo; and Papua and West Papua in Indonesian New Guinea. Central Kalimantan was chosen due to its high rate of forest conversion, large expanses of peatlands and rainforests, the advanced state of carbon conservation test projects, and political interest in reducing deforestation and degradation.


Indonesian climate official: palm oil lobbyist is misleading the public

(12/29/2010) Alan Oxley, a lobbyist for industrial forestry companies in the palm oil and pulp and paper sectors, is deliberately misleading the public on deforestation and associated greenhouse gas emissions, said a top Indonesian climate official.


Will Indonesia's big REDD rainforest deal work?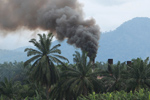 (12/28/2010) Flying in a plane over the Indonesian half of the island of New Guinea, rainforest stretches like a sea of green, broken only by rugged mountain ranges and winding rivers. The broccoli-like canopy shows little sign of human influence. But as you near Jayapura, the provincial capital of Papua, the tree cover becomes patchier—a sign of logging—and red scars from mining appear before giving way to the monotonous dark green of oil palm plantations and finally grasslands and urban areas. The scene is not unique to Indonesian New Guinea; it has been repeated across the world's largest archipelago for decades, partly a consequence of agricultural expansion by small farmers, but increasingly a product of extractive industries, especially the logging, plantation, and mining sectors. Papua, in fact, is Indonesia's last frontier and therefore represents two diverging options for the country's development path: continued deforestation and degradation of forests under a business-as-usual approach or a shift toward a fundamentally different and unproven model based on greater transparency and careful stewardship of its forest resources.


Top 10 Environmental Stories of 2010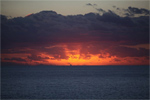 (12/20/2010) Below is a quick review of some of the biggest environmental stories of 2010: Climate change rears it ugly head; Oil spill in the Gulf; Agreement to save global biodiversity; Illegal logging crisis in Madagascar; REDD kicks off in Indonesia; Brazil deforestation falls to its lowest level; Hungary's red sludge; Nestle caves to social media activists; New mammals galore' and Global climate framework back on the table?


Lack of price premium for certified palm oil endangers sustainability initiative

(12/19/2010) The palm oil industry's sustainability initiative is making considerable progress toward improving its environmental performance, but needs to do more to accelerate the adoption of responsible practices, argue researchers writing in mongabay.com's open access journal Tropical Conservation Science.


Teaching orangutans to be wild – orangutan rehabilitation


(12/15/2010) Michelle Desilets, Executive Director of the Orangutan Land Trust, spoke with Laurel Neme on her 'The WildLife' radio show and podcast about the process of rehabilitating orphaned orangutans and teaching them to be wild. This is the second in a two-part interview. The first part covered orangutan biology, habits and the interconnected threats, from the pet trade to habitat loss and expansion of oil palm plantations, facing these creatures. This second part focuses on what happens to surviving orangutans.


The problem-solving ape: what makes orangutans special and why they are threatened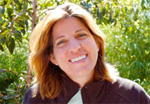 (12/13/2010) Michelle Desilets, Executive Director of the Orangutan Land Trust, spoke with Laurel Neme on her "The WildLife" radio show and podcast about orangutans. In the first part of her interview, they discussed orangutan biology, habits and the interconnected threats, from the pet trade to habitat loss and expansion of oil palm plantations, facing these creatures. The second part covers the process of rehabilitating orangutans and teaching them to be wild.


Logging, palm oil giant hires U.S. ambassador as lobbyist

(12/09/2010) Sinar Mas Group, the sprawling Indonesian conglomerate that has interests in coal mining, logging and wood-pulp production, palm oil plantations, real estate, and other industries, has hired Cameron Hume, the former U.S. ambassador to Indonesia, as an adviser, according to Detik.com. Ambassador Hume stepped down from his post at the embassy in August.


George Soros: save Indonesia's peatlands, rainforests

(12/09/2010) Speaking at a high-level event on the sidelines of climate talks in Cancun, Mexico, financier and philanthropist George Soros made an impassioned call to protect Indonesia's peatlands, the destruction and degradation of which are the largest source of carbon dioxide emissions across the Southeast Asian nation.


Sulawesi groups recognized for efforts to save endangered wildlife, forests

(12/08/2010) Two groups working with local communities to conserve forests in Sulawesi have won mongabay.com's 2010 Conservation Award. The Alliance for Tompotika Conservation (AlTo), which works in Central Sulawesi, and the Nantu Forest Conservation Program, which operates in North Sulawesi, were recognized for their efforts to protect endangered forests on the Indonesian island, which is known for its high levels of endemic species.


Extinct giant stork towered over 'hobbits' on Flores

(12/07/2010) Scientists have discovered an extinct massive stork, standing nearly 6 feet tall (1.8 meter) and weighing 35 pounds (15 kilograms), which would have shared the island of Flores with the 'hobbits'—dwarf hominin species known as Homo floresiensis—reports the BBC. According to the researchers the meat-eating stork was big enough to prey on young Homo floresiensis, and stood about 2 and a half feet (0.8 meters) above adult hobbits.


Saving the maleo, a geothermal nesting bird, in Sulawesi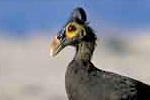 (12/06/2010) More species are threatened with extinction in Indonesia than any other country on Earth. If we are to save them, it will take more protected areas, radical shifts in deforestation, and better anti-poaching efforts, but in many cases it will also take species-specific conservation efforts that work directly with local people. The Alliance for Tompotika Conservation (AlTo) is a model organization for this method, founder Marcy Summers describes it as 'very small, community-based, and efficient, with very low overhead.' By focusing on the wonderfully bizarre maleo, a ground-dwelling bird on the island of Sulawesi, the organization has succeeded in protecting a vital nesting area while initiating a moratorium on the egg-harvesting, which once devastated the species.


Saving Sulawesi's 'pig-deer', the babirusa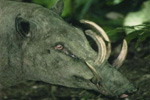 (12/06/2010) The babirusa of Sulawesi may be one of the world's oddest looking—and acting—mammals. Literally meaning 'pig-deer' the babirusa, which includes four species, belongs to its own genus 'Babyrousa' in the pig family. Males are especially unique, sporting four tusks, two of which appear to come right out of the animal's snout. To make it to the top of the babirusa hierarchy, males will combat each other in an activity dubbed 'boxing' where they will rear up on their hind legs and club at each other. Despite their many oddities, the babriusa were not formally studied until the late 1980s when Dr. Lynn Clayton spent four years in Sulawesi's forest observing them.


Will dumping mining waste in peatlands help mitigate climate change?

(12/02/2010) Indonesia's national climate change strategy document includes text suggesting that dumping mining waste in peatlands could be used as an approach to reducing greenhouse gas emissions.


NASA images reveal disappearing mangroves worldwide

(12/01/2010) In August, NASA and the US Geological Survey released the first-ever satellite analysis of the world's mangrove ecosystems. What they found was dire: mangroves covered 12.3% less area than previously estimated. Now, NASA has released images of the world's mangrove ecosystems (see below), which currently cover 137,760 square kilometers. Yet this number keeps shrinking: mangroves are vanishing rapidly due to rising sea levels, deforestation for coastal developments, agriculture and aquaculture.


Logging concession could extinguish endangered Sumatran elephant population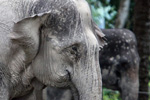 (11/30/2010) Local conservationists are urging the Indonesian government to halt the destruction of a 42,000 hectare forest in the renowned Bukit Tigapuluh Forest Landscape for a pulpwood plantation. According to researchers, the forest concession—owned by PT Lestari Asri Jaya, a subsidiary of Barito Pacific Group—contains the last population of Sumatran elephants (Elephas maximus sumatranus) in the Bukit Tigapuluh and approximately 5% of the island's total population. In a letter being sent to the Ministry of Forests, conservationists write that the destruction of the forest "would immediately lead to local extinction of elephants in Bukit Tigapuluh". They argue that given its ecological importance, the PT Lestari Asri Jaya forest concession should be placed under permanent protection.


Consumer goods industry announces goal of zero deforestation in Cancun

(11/30/2010) While governments continue to stall on action to cut greenhouse gas emissions worldwide, global corporations are promising big changes to tackle their responsibilities. The Board of Consumer Goods Forum (BCGF) has approved a resolution to achieve net zero deforestation by 2020 in products such as palm oil, soy, beef, and paper. Announced yesterday at the UN Climate Summit in Cancun, the BCGF has stated the goal will be met both by individual actions within companies and collective action, including partnerships with NGOs, development banks, and governments. With such giants as Walmart, Unilever, Carrefour, and General Mills, BCGF is made up of four hundred global consumer goods manufacturers and retailers totaling over $2.8 trillion in revenue.


Pulp plantations destroying Sumatra's rainforests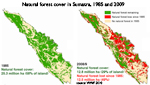 (11/30/2010) Indonesia's push to become the world's largest supplier of palm oil and a major pulp and paper exporter has taken a heavy toll on the rainforests and peatlands of Sumatra, reveals a new assessment of the island's forest cover by WWF. The assessment, based on analysis of satellite imagery, shows Sumatra has lost nearly half of its natural forest cover since 1985. The island's forests were cleared and converted at a rate of 542,000 hectares, or 2.1 percent, per year. More than 80 percent of forest loss occurred in lowland areas, where the most biodiverse and carbon-dense ecosystems are found.


Don't ignore biodiversity when conserving carbon stocks

(11/29/2010) A focus on conservation of high carbon landscapes via the proposed REDD mechanism could come at a detriment to biodiversity, argues a new paper published in Carbon Balance and Management.


Plantations on peatlands are huge source of carbon emissions

(11/29/2010) Converting peatlands for wood-pulp and oil palm plantations generates nearly 1,500 tons of carbon dioxide per hectare, making these ostensibly "green" sources of paper, vegetable oil and biofuels important drivers of climate change, reports new research published by scientists at the Center for International Forestry Research (CIFOR).


Indonesia's forest protection plan at risk, says report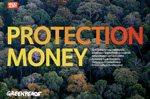 (11/25/2010) Industrial interests are threatening to undermine Norway's billion dollar partnership with Indonesia, potentially turning the forest conservation deal into a scheme that subsidizes conversion of rainforests and peatlands for oil palm and pulp and paper plantations, logging concessions, and energy production, claims a new report from Greenpeace.


Good stewards of forests at home outsource deforestation abroad

(11/24/2010) As more nations adopt better laws and policies to save and restore forests at home, they may, in fact, be outsourcing deforestation to other parts of the world, according to a new study in the Proceedings of the National Academy of Sciences (PNAS). Looking at six developing nations where forests are recovering—instead of receding—the study found only one of them did not outsource deforestation to meet local demand for wood-products and food, a process known as 'leakage'.


Indonesian logging company makes 'deceptive' claims on carbon conservation project

(11/24/2010) A major wood-pulp company is misleading the public over its commitment to reducing greenhouse gas emissions through a carbon conservation project in Sumatra, claims Greenomics, an Indonesian activist group.


Bad books: US paper products are breaking the law and devastating rainforests

(11/18/2010) Everyone knows books are made of paper, but few think of where that paper comes from. However, two new reports may change that. Both the Rainforest Action Network (RAN) and the World Resources Institute (WRI) have found that some paper used in books, including popular children's books, is linked to forest devastation in Indonesian, even targeting endangered trees that have been harvested illegally.


Scientists call upon Indonesia to recognize value of secondary forests

(11/18/2010) A group of scientists have called upon the governments of Indonesia and Norway to recognize the conservation value of logged-over and "degraded" forests under their partnership on reducing emissions from deforestation and degradation. The letter urges the Indonesian government to extend protection to forest areas that may not be pristine but still serve as important carbon sinks, house endangered wildlife, and provide livelihoods for communities.


Massive shark sanctuary declared in the Coral Triangle

(11/17/2010) A shark sanctuary has been declared around the Raja Ampat islands in Indonesia. Larger than Denmark, the new sanctuary covers 17,760 square miles (46,000 square kilometers) of one of the world's richest marine biodiverse region, the Coral Triangle. Protections not only cover sharks, but dugongs, marine turtles, mobulas, and manta rays as well. In addition, reef bombing and fishing for the aquarium trade are banned.


RSPO to recognize secondary forests as conservation priority

(11/12/2010) The Roundtable on Sustainable Palm Oil (RSPO), a body that sets environmental standards for palm oil production, has passed a resolution to reconfirm that secondary and degraded forests can classified as High Conservation Value (HCV) areas. The designation could increase the area of forest conserved within oil palm plantations provided it has high conservation significance, such as serving as habitat for endangered species like orangutans, Sumatran tigers, and rhinos.


Video: Amazon deforestation falls, degradation soars in Sept

(11/12/2010) Mongabay.com's Rhett Butler discusses the week in forests for Nov 12, 2010.


Beyond gloom: solutions to the global coral reef decline

(11/10/2010) The world's coral reefs are in trouble. Due to a variety of factors—including ocean acidification, warming temperatures from climate change, overfishing, and pollution—coral cover has decline by approximately 125,000 square kilometers in the past 50 or so years. This has caused some marine biologists, like Charlie Veron, Former Chief Scientist of the Australian Institute of Marine Science, to predict that coral reefs will be largely extinguished within a century. This year alone, large-scale coral bleaching events, whereby coral lose their symbiotic protozoa and become prone to disease and mortality, were seen off the coasts of Indonesia, the Philippines, and some Caribbean islands. However a new paper in Trends in Ecology and Evolution attempts to dispel the gloom over coral reefs by pointing to strategies, and even some successes, to save them.


Photos: surprises discovered in tiny forest fragment surrounded by palm oil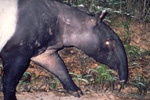 (11/10/2010) Researchers have uncovered an astounding number of species in a tiny protected forest fragment surrounded on all side by palm oil plantations in the Indonesian island of Sumatra. Researchers with the Zoological Society of London (ZSL), Queen Mary, University of London and the Durrell Institute of Conservation and Ecology (DICE – University of Kent) recorded sun bear (Helarctos malayanus), Malayan tapir (Tapirus indicus), the banded langur (Presbytis femoralis), and agile gibbons (Hylobates agilis), but most notable, was the first record ever of the Ridley's leaf-nosed bat (Hipposideros ridleyi) in Sumatra. The discoveries highlight the importance of preserving even small forest fragments surrounded by agriculture.


Indonesia to launch rival palm oil certification standard


(11/10/2010) The Indonesian government is moving closer to launching its own certification system to ensure less damaging palm oil production, reports the Jakarta Post. The scheme would rival the Roundtable on Sustainable Palm Oil, a multi-stakeholder body that has been developing criteria since 2004 and began shipping certified sustainable palm oil (CSPO) in 2008.


Authorities confiscated over 1000 tigers in past decade

(11/09/2010) Highlighting the poaching crisis facing tigers, a new report by the wildlife trade organization, TRAFFIC, found that from 2000-2010 authorities have confiscated the parts of 1,069 tiger individuals, many of them dead. The tigers, or their body parts, were confiscated from 11 of the species' 13 range countries, according to the report entitled Reduced to Skin and Bones. Yet the number only hints at the total number of tigers (Panthera tigris) vanishing in the wild due to the illegal trade in tiger parts for traditional Asian medicine and decorative items, such as skins.


U.S. companies should help drive push toward sustainable palm oil


(11/09/2010) U.S. companies should take a leadership role in helping ensure that palm oil production is sustainable and does not come at the cost of forests, climate, and communities, argues a new report published ahead of the annual meeting of the Roundtable on Sustainable Palm Oil (RSPO). The report, published by the National Wildlife Federation (NWF), says that while the U.S. is only a minor consumer of palm oil, its demand for the vegetable oil is fast rising, increasing four-fold since 2006. Palm oil, which is among the cheapest of vegetables owing to its high yield, is now found in up to 50 percent of packaged retail food products.


Eco-friendly palm oil conference opens

(11/08/2010) The Roundtable on Sustainable Palm Oil (RSPO), a body that has devised certification criteria to improve the social and environmental performance of palm oil, opens its annual meeting tomorrow in Jakarta.


Saving the best for last: a journey into the final phases of orangutan rehabilitation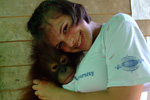 (11/08/2010) Rehabilitation is a powerful word these days. Fashionable, too. In wildlife conservation, rehabilitation can serve functions ranging from augmenting threatened animal populations to desperate attempts to save species from permanent extinction. At its base, rehabilitation consists of handling, preparing and releasing wild animals that have been in some way negatively affected by humans. Rehabilitation programs cover the globe (from cottage-scale sparrow and raccoon rescues in suburban parks to well-established raptor protection programs, wolf rehabilitation and public education about these wild predators in Colorado, semi-touristy rehabilitation centers in Thailand housing everything from gibbons to elephants, vet hospitals dedicated to flu-ridden bobtail lizards in Australia, and sexy lion and cheetah hubs in southern Africa which breed endangered serval cats). The motivations behind these programs are also diverse, but the umbrella goal is unified: to aid the continued survival, so often precarious, of animals valued by people.


Asia Pulp & Paper's emissions from paper production 500 times higher than claimed

(11/04/2010) Asia Pulp & Paper is misrepresenting the greenhouse gas emissions generated through its paper production by several orders of magnitude claims a new analysis of its carbon footprint by the Rainforest Action Network (RAN) and the Japan Tropical Forest Action Network (JATAN).


Nobel Prize winner, anti-poverty group, scientists fire back at logging lobbyist

(11/01/2010) An industrial lobbyist is facing mounting criticism for his campaign to reduce social and environmental safeguards in Indonesia.


Former Indonesian REDD+ negotiator arrested on corruption charge

(10/30/2010) Wandojo Siswanto, one of the lead negotiators for Indonesia's delegation at last year's climate talks in Copenhagen and a key architect of its Reduced Emissions from Deforestation and Degradation (REDD) program, has been arrested and charged with receiving bribes.


Embattled palm oil company seeks redemption from certification body

(10/30/2010) Golden Agri-Resources (GAR) and its subsidiaries, Indonesia-based PT Sinar Mas Agro Resources & Technology (SMART) and PT Ivo Mas Tunggal, had submitted plans for coming into compliance with the Roundtable on Sustainable Palm Oil, a certification body for "greener" palm oil, reports Dow Jones.


Scientists blast greenwashing by front groups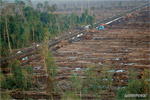 (10/27/2010) A group of prominent scientists has published an open letter challenging the objectivity of World Growth International, an NGO that claims to operate on behalf of the world's poor, and its leader Alan Oxley, a former trade diplomat who also chairs ITS Global, a marketing firm. The letter, published online in several forums, slams World Growth and ITS Global as a front groups for forestry companies. The scientists note that while the groups have not disclosed their sources of funding, they assert ITS receives funding from Sinar Mas, an Indonesian conglomerate that controls Asia Pulp & Paper (APP), a forest products brand, and Sinar Mas Agro Resources & Technology, a palm oil firm, among other companies.


Norway calls for other nations to step up in fight against deforestation in Indonesia

(10/27/2010) On Monday, Norway's Environment Minister called for the US, Japan, and the EU to open their pocket books to support Indonesia's drive to stop deforestation, according to Reuters. Norway has pledged $1 billion to Indonesia in an effort to stop rampant deforestation mostly due to industrial logging and the establishment of commercial plantations for palm oil and paper production.



Page 1 | Page 2 | Page 3 | Page 4 | Page 5 | Page 6 | Page 7 | Page 8 | Page 9 | Page 10 | Page 11 | Page 12 | Page 13 | Page 14 | Page 15 | Page 16 | Page 17 | Page 18 | Page 19