News articles on indigenous people

---
Mongabay.com news articles on indigenous people in blog format. Updated regularly.





International Labor Organization raps Brazil over monster dam

(03/07/2012) The UN's International Labor Organization (ILO) has released a report stating that the Brazilian government violated the rights of indigenous people by moving forward on the massive Belo Monte dam without consulting indigenous communities. The report follows a request last year by the The Inter-American Commission on Human Rights for the Brazilian government to suspend the dam, which is currently being constructed on the Xingu River in the Amazon.


Tourism for biodiversity in Tambopata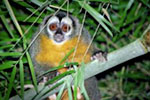 (02/27/2012) Research and exploration in the Neotropics are extraordinary, life-changing experiences. In the past two decades, a new generation of collaborative projects has emerged throughout Central and South America to provide access to tropical biodiversity. Scientists, local naturalists, guides, students and travelers now have the chance to mingle and share knowledge. Fusion programs offering immersion in tropical biology, travel, ecological field work, and adventure often support local wilderness preservation, inspire and educate visitors.


Activists form network to fight Sarawak dam-building spree

(02/15/2012) Last October indigenous groups, local people, and domestic NGOs formed the Save Sarawak's Rivers Network to fight the planned construction of a dozen dams in the Malaysian state on the island of Borneo. The coalition opposes the dam-building plans, known as the Sarawak Corridor of Renewable Energy (SCORE) initiative, due to its impacts on indigenous and river communities, the destruction of pristine rainforest, and the degradation of the state's rivers.


New rainforest and indigenous reserve established in Peru

(02/07/2012) On February 4th, the Peruvian government and a small indigenous group created a new Amazon reserve, dubbed the Maijuna Reserve. Located in northeastern Peru, the 390,000 hectare (970,000 acres) reserve is larger than California's Yosemite National Park and over three times the size of Hong Kong.


Guyanese tribe maps Connecticut-sized rainforest for land rights


(02/07/2012) In a bid to gain legal recognition of their land, the indigenous Wapichan people have digitally mapped their customary rainforest land in Guyana over the past ten years. Covering 1.4 million hectares, about the size of Connecticut, the rainforest would be split between sustainable-use regions, sacred areas, and wildlife conservation according to a plan by the Wapichan tribe that will be released today. The plan says the tribe would preserve the forest from extractive industries.


Supernatural beliefs keep hunting sustainable on Indonesian island

(02/02/2012) How do indigenous communities hunt without pushing target species to local extinction? In other words, how have communities retained sustainable practices over countless generations. One answer is given in a new study by the Center for International Forestry Research (CIFOR) and the Center for International Research in Agronomy and Development (CIRAD): supernatural beliefs. Looking at a community of indigenous people on the Indonesian island of Seram, researchers found that supernatural hunting beliefs ensured animals never vanished for good.


Group releases close-up photos of 'uncontacted' tribe in Peru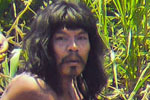 (02/01/2012) New photos provide visual evidence of just how close the long-isolated tribe of Mashco-Piro people in the Amazon rainforest are to being contacted by the outside world—a perilous moment for tribes highly susceptible to disease and likely to defend their people and territory with weapons. According to indigenous rights NGO Survival International, the Maschco-Piro tribe has been seen more frequently outside of their forest home in Manu National Park in recent years. Some experts blame illegal logging in the park and helicopters used in oil and gas projects for the sightings.


Brazilian mining company connected to Belo Monte dam voted worst corporation

(01/31/2012) The world's second largest mining company, Vale, has been given the dubious honor of being voted the world's most awful corporation in terms of human rights abuses and environmental destruction by the Public Eye Awards. Vale received over 25,000 votes online, likely prompted in part by its stake in the hugely controversial Brazilian mega-dam, Belo Monte, which is being constructed on the Xingu River. An expert panel gave a second award to British bank Barclay's for speculation on food prices, which the experts stated was worsening hunger worldwide.


Photos: 46 new species found in little-explored Amazonian nation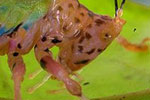 (01/25/2012) South America's tiniest independent nation still hides a number of big surprises: a three week survey to the sourthern rainforests of Suriname found 46 potentially new species and recorded nearly 1,300 species in all. Undertaken by Conservation International's (CI) Rapid Assessment Program (RAP) the survey found new species of freshwater fish, insects, and a new frog dubbed the "cowboy frog" for the spur on its heel. While Suriname may be small, much of its forest, in the Guyana Shield region of the Amazon, remains intact and pristine. The Food and Agriculture Organization (FAO) estimates that 91 percent of Suriname is covered in primary forests, however this data has not been updated in over two decades.


Feared extinct, obscure monkey rediscovered in Borneo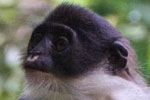 (01/20/2012) A significant population of the rarely seen, little-known Miller's grizzled langurs (Presbytis hosei canicrus) has been discovered in Indonesian Borneo according to a new paper published in the American Journal of Primatology. Feared extinct by some and dubbed one of the world's 25 most threatened primates in 2005 by Conservation International (CI), the langur surprised researchers by showing up on camera trap in a region of Borneo it was never supposed to be. The discovery provides new hope for the elusive monkey and expands its known range, but conservationists warn the species is not out of the woods yet.


Brazil begins preliminary damming of Xingu River as protests continue

(01/19/2012) Damming of the Xingu River has begun in Brazil to make way for the eventual construction of the hugely controversial, Belo Monte dam. The Norte Energia (NESA) consortium has begun building coffer dams across the Xingu, which will dry out parts of the river before permanent damming, reports the NGO International Rivers. Indigenous tribes, who have long opposed the dam plans on their ancestral river, conducted a peaceful protest that interrupted construction for a couple hours.


Obama rejects Keystone pipeline, but leaves door open for tar sands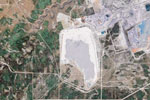 (01/18/2012) The Obama administration today announced it is scrapping TransCanada's Keystone pipeline after Republicans forced a 60-day deadline on the issue in a Congressional rider. The State Department advised against the pipeline arguing that the deadline did not give the department enough time to determine if the pipeline "served the national interest." The cancellation of the pipeline is a victory for environmental and social activists who fought the project for months, but Republicans are blasting the administration.


Will Taiwan save its last pristine coastline?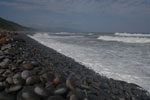 (01/05/2012) Voters in the January 14 Taiwanese presidential election will decide the fate of the island's last pristine wilderness known as the Alangyi Trail. Amongst the three candidates, only one (Tsai Ing-wen from the Democratic Progressive Party) may support the conservation of Alangyi Trail and its coastline. One of the top domestic stories of 2011 were the efforts by the Pingtung County government, indigenous tribes, and NGOs to preserve the Alangyi Trail, according to the Taiwan Environmental Information Center. Alangyi is now a major issue reflecting steadily growing environmental concern amongst the Taiwanese, but its fate is sadly uncertain.


Top 10 Environmental Stories of 2011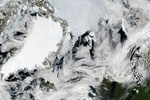 (12/22/2011) Many of 2011's most dramatic stories on environmental issues came from people taking to the streets. With governments and corporations slow to tackle massive environmental problems, people have begun to assert themselves. Victories were seen on four continents: in Bolivia a draconian response to protestors embarrassed the government, causing them to drop plans to build a road through Tipnis, an indigenous Amazonian reserve; in Myanmar, a nation not known for bowing to public demands, large protests pushed the government to cancel a massive Chinese hydroelectric project; in Borneo a three-year struggle to stop the construction of a coal plant on the coast of the Coral Triangle ended in victory for activists; in Britain plans to privatize forests created such a public outcry that the government not only pulled back but also apologized; and in the U.S. civil disobedience and massive marches pressured the Obama Administration to delay a decision on the controversial Keystone XL pipeline, which would bring tar sands from Canada to a global market.


The other side of the Penan story: threatened tribe embraces tourism, reforestation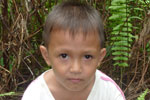 (12/19/2011) News about the Penan people is usually bleak. Once nomadic hunter-gatherers of the Malaysian state of Sarawak on Borneo, the indigenous Penan have suffered decades of widespread destruction of their forests and an erosion of their traditional culture. Logging companies, plantation developments, massive dams, and an ambivalent government have all played a role in decimating the Penan, who have from time-to-time stood up to loggers through blockades, but have not been successful in securing recognition of legal rights to their traditional lands. Yet even as the Penan people struggle against the destruction of their homelands, they are not standing still. Several Penan villages have recently begun a large-scale reforestation program, a community tourism venture, and proclaimed their a portion of their lands a "Peace Park."


Giant snakes commonly attacked modern hunter-gatherers in Philippines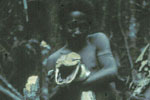 (12/13/2011) Humans have an ambivalent relationship with snakes. The legless reptiles are often feared and reviled, becoming stand-ins for the Devil and movie monster characters; yet many people have grown to love snakes, raising large, even dangerous, specimens as pets. Now, new research suggests that the ecological role between snakes and humans, as well as other primates, is more nuanced than expected. After spending decades living among the Agta Negritos people in the Philippines, anthropologist Thomas Headland has found that the hunter gatherer tribes were quite commonly attacked by reticulated pythons (Python reticulatus), while the people themselves had no qualms with hunting, killing, and consuming python.


Yasuni ITT: the virtues and vices of environmental innovation

(12/07/2011) As the 17th Conference of the Parties to the United Nations Framework Convention on Climate Change (UNFCCC) is taking place in Durban, Ecuador has embarked on the development of a project presented as highly innovative. This project targets Yasuni National Park, which has been protected since 1979. Yasuni is home to several indigenous peoples and is a biodiversity hotspot. But it so happens that the park also sits atop a vast oil field of 846 million barrels, representing about 20 percent of the country's oil reserves. The acronym Yasuni ITT stands for Ishpingo-Tambococha-Tiputinin, which are the names of three potential zones for oil extraction.


Community mapping of African rainforests could show way forward for preservation, REDD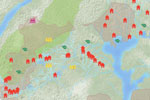 (12/01/2011) A new initiative to place community mapping of central African rainforests online could prove key to local rights in the region, says the UK-based NGO Rainforest Foundation. Working with forest communities in five African countries, Rainforest Foundation has helped create digital maps of local forests, including use areas, parks, and threats such as logging and mining. The website, MappingForRights.org, includes interactive maps, photos, and video.


Indigenous religious leader murdered in front of his tribe in Brazil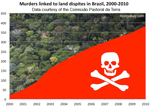 (11/28/2011) Amnesty International has called for an independent investigation of the murder of Nísio Gomes. A religious leader of the Guarani tribe, Gomes was executed by masked gunmen in front of his community earlier this month in the southwestern Brazilian state of Mato Grosso do Sul. Officials believe the gunmen were likely hired by local ranchers, who are embroiled in a land dispute with the Guarani tribe. In addition to killing Gomes, the gunmen allegedly kidnapped three young Guarani.


Brazilian dam-builder quits Peru project after indigenous protest

(11/23/2011) A large Brazilian construction company has pulled out of a Peruvian dam project citing opposition from indigenous communities, reports International Rivers.


Cultural erosion among indigenous groups in Venezuela brings new risks for Caura rainforest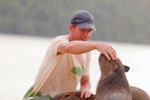 (11/14/2011) One of the planet's most beautiful landscapes is in danger. Deep in southern Venezuela, among ancient forested tabletop mountains known as tepuis, crystalline rivers, and breathtaking waterfalls, outside influences — malaria, the high price of gold, commercial hunting, and cultural erosion — are threatening one of world's largest remaining blocks of wilderness, one that is home to indigenous people and strikingly high levels of biological diversity.


Indigenous do not have right to free, prior and informed consultation on Amazon dam, rules Brazilian court

(11/09/2011) Indigenous communities do not have the right to free, prior and informed consultation on the Belo Monte dam because its infrastructure and reservoirs would not be physically located on tribal lands, ruled a Brazilian court.


Shamans and indigenous spiritual leaders unite in Malibu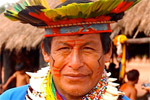 (11/09/2011) Just north of Los Angeles on a bluff overlooking the Pacific Ocean is a special piece of ancient tribal land. Prehistoric artifacts and burials indicate that occupation occurred there as early as 6000 BC. It was this primeval site on a crisp October night recently where the Wishtoyo Foundation and the Chumash people, in cooperation with the Amazon Conservation Team, held 'A Summit of Indigenous Spiritual Leaders.'


Indigenous technicians scour Amazonia to help researchers track wildlife populations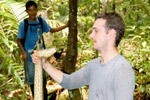 (11/09/2011) Scientists only have so many hands and eyes. That's why ecologists enlisted hundreds of Makushi and Wapishana villagers to record the sights and signs of animals across 48,000 square kilometers of the Amazon basin near the Brazil-Guyana border. In the ongoing project, scientists seek to describe the interactions between indigenous peoples, their environment and the native fauna.


12,000 surround White House to protest tar sands pipeline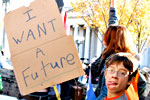 (11/07/2011) One year to the day before the 2012 US election, up to 12,000 activists encircled the White House to protest the Keystone XL pipeline, a proposed 1,700 mile pipeline that would carry oil from Canada's infamous tar sands to the US and other foreign markets. Critics of the TransCanada pipeline have warned of potential spills in America's heartland as well as the climate impacts of allowing more tar sands oil, which has a higher carbon footprint than conventional sources, into the US and other markets. The issue has galvanized climate and environmental activists in the US with the massive rally on Sunday preceded by civil disobedience actions in late summer that lead to the arrests of 1,253 people.


Indigenous community forcibly evicted for palm oil in Indonesian Borneo

(11/01/2011) A palm oil company has forcibly evicted an indigenous community from one of the last tracts of rainforest near Jempang in Indonesia's East Kalimantan province on the island of Borneo, reports Telapak, a group that advocates community forest management.


Brazil boycotts OAS meeting after sharp human rights rebuke over giant Amazon dam

(10/27/2011) Brazil refused to attend a hearing convened by the Inter-American Commission on Human Rights (IACHR) of the Organization of American States (OAS) over the the controversial Belo Monte dam, reports Amazon Watch, a group campaigning against the hydroelectric project.


Peru's real test is a 200km pipeline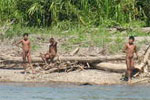 (10/27/2011) One of Ollanta Humala's most striking achievements since becoming Peru's president three months ago is new legislation guaranteeing indigenous people the right to be consulted about and in agreement with any project that affects them. Leading indigenous organization AIDESEP, usually so critical of the government, cautiously welcomed the move, while Survival International called it 'a significant step away from the policies of former Peruvian president Alan Garcia, who vetoed a similar bill.'


Bolivian road project through Amazon reserve canceled

(10/23/2011) Following a violent crackdown on protestors which deeply embarrassed the Bolivian government, president Evo Morales has thrown-out plans to build a road through an indigenous reserve, reports the BBC. Protestors marched 310 miles (498 kilometers) from the Amazon to La Paz to show their opposition to the road, saying that the project would destroy vast areas of biodiverse rainforest and open up their land to illegal settlers.


Malaysian sustainable timber certification fails Dutch standards


(10/23/2011) An independent panel in the Netherlands has found that the Malaysian Timber Certification Scheme (MTCS) falls short of Dutch standards for sustainable forestry. The final decision comes after a series of judgements and appeals with the latest panel concluding that MTCS still allows natural forest to be destroyed for monoculture plantation and that the scheme ignores the rights of indigenous people.


Isolated indigenous people and tourists collide in Peru park

(10/19/2011) New video released by the Peruvian government shows a potentially disastrous encounter between tourists and indigenous people long isolated from the outside world. In a motor boat tourists follow a group of Mashco-Piro people walking along the shores of the Manu River in Manu National Park. At one point one of the tribal members prepares to fire at the boat with an arrow. But danger doesn't only come from the possibility of a violent clash: uncontacted indigenous people, those who have chosen isolation from the world, are incredibly susceptible to disease.


Should public or private money finance efforts to save forests?


(10/11/2011) The 11th Rights and Resources Initiative Dialogue on Forests, Governance and Climate Change in London, which will focus on The Status and Role of Public and Private Finance to Reduce Forest Loss and Degradation. The goal of the RRI Dialogue is to examine the current state of public and private financial mechanisms for REDD+ and adaptation and contribute to developing an updated vision for the optimal design and deployment of finance to reduce forest loss and degradation - while respecting the rights and development needs of local people. RRI has partnered with Mongabay.com to present two diverging viewpoints on issues to be discussed at length at the dialogue, featuring Vicky Tauli-Corpuz (Executive Director, Tebtebba) and Scott Poynton (Executive Director, The Forest Trust).


Judge: work must halt on monster dam, Belo Monte

(09/29/2011) The decades-long fight over Brazilian megadam, the Belo Monte, has taken another U-turn after a judge ordered work to stop immediately since the dam would devastate vital fishing grounds for local people. In June the Brazilian government gave a go-ahead to the $11-17 billion dam, despite large-scale opposition from indigenous groups along the Xingu River and international outcry, including a petition signed by 600,000 people.


Over 100 arrested as tar sands civil disobedience spreads to Canada

(09/27/2011) After two weeks of sustained protesting at the US White House against the Keystone XL pipeline, with 1,252 people arrested, civil disobedience has now spread to Canada, home of the tar sands. Yesterday, around 500 people protested in Ottawa against Canada's controversial tar sands; 117 were arrested as they purposefully crossed a barrier separating them from the House of Commons in an act of civil disobedience.


Following violent crackdown against protestors, Bolivia puts Amazon road project on ice

(09/27/2011) After a police crackdown against indigenous activists, Bolivian President Evo Morales has suspended a large highway project through the Amazon rainforest. The police reaction—which included tear gas, rounding up protestors en masse, and allegations of violence—resulted in several officials stepping down in protest of the government's handling. Some indigenous people marched 310 miles (498 kilometers) from the Amazon to La Paz to show solidarity against the road, saying they had not been consulted and the project would destroy vast areas of biodiverse rainforest.


Featured video: new documentary puts human face on logging in Papua New Guinea

(09/27/2011) A new documentary, filmed single-handily by filmmaker David Fedele, covers the impact of industrial logging on a community in Papua New Guinea. Entitled Bikpela Bagarap(or 'Big Damage' in English), the film shows with startling intimacy how massive corporations, greedy government, and consumption abroad have conspired to ruin lives in places like Vanimo, Papua New Guinea.


Tribal leader to the UN: Indigenous peoples of the Amazon are in danger

(09/22/2011) Amazonian indigenous peoples and their traditional territories are living under constant threat.


Indigenous people blockade river against 'murderous' oil company

(09/21/2011) Over the weekend more than 100 Shuar indigenous people, also known as Wampis, blockaded the Morona River in Peru in an effort to stop exploratory oil drilling by Canadian-owned Talisman Energy. The blockade in meant to prevent oil drilling in an area of the Peruvian Amazon known as Block 64, home to four indigenous tribes in total and the Pastaza River Wetland Complex, a Ramsar wetland site.


Loving the tapir: pioneering conservation for South America's biggest animal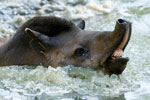 (09/11/2011) Compared to some of South America's megafauna stand-out species—the jaguar, the anaconda, and the harpy eagle come to mind—the tapir doesn't get a lot of love. This is a shame. For one thing, they're the largest terrestrial animal on the South American continent: pound-for-pound they beat both the jaguar and the llama. For another they play a very significant role in their ecosystem: they disperse seeds, modify habitats, and are periodic prey to big predators. For another, modern tapirs are some of the last survivors of a megafauna family that roamed much of the northern hemisphere, including North America, and only declined during the Pleistocene extinction. Finally, for anyone fortunate enough to have witnessed the often-shy tapir in the wild, one knows there is something mystical and ancient about these admittedly strange-looking beasts.


Malaysian court blocks rainforest tribes' fight against mega-dam in Borneo

(09/09/2011) Indigenous tribes in Borneo suffered a stinging defeat Thursday after Sarawak's highest court ruled against them in 12-year-long legal battle. Tribal groups had challenged the Malaysian state government for seizing indigenous lands in order to build a massive hydroelectric power plant, dubbed the Bakun dam, but the three-person top court found unanimously against the tribes.


Peru president signs indigenous rights act into law

(09/07/2011) Peru's new president, Ollanta Humala, has signed into law a measure requiring that indigenous groups are consulted prior to any mining, logging, or oil and gas projects on their land. If properly enforced, the new legislation will give indigenous people free, prior and informed consent (FPIC) over such industrial projects, though the new law does not go so far as to allow local communities a veto over projects. Still, the law puts Peru in line with the Indigenous and Tribal Peoples Convention of 1989, which the South American nation ratified nearly two decades ago.


World's oldest person discovered in Amazon rainforest

(08/31/2011) Maria Lucimar Pereira is arguably the world's oldest living person: a member of the Kaxinawá tribe, Pereira lives in the Brazilian Amazon and will be soon celebrating her 121st birthday, according to Survival International.


Big damage in Papua New Guinea: new film documents how industrial logging destroys lives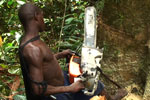 (08/29/2011) In one scene a young man, perhaps not long ago a boy, named Douglas stands shirtless and in shorts as he runs a chainsaw into a massive tropical tree. Prior to this we have already heard from an official how employees operating chainsaws must have a bevy of protective equipment as well as training, but in Papua New Guinea these are just words. The reality is this: Douglas straining to pull the chainsaw out of the tree as it begins to fall while his fellow employees flee the tumbling giant. The new film Bikpela Bagarap('Big Damage') documents the impact of industrial logging on the lives of local people in Papua New Guinea.


Peru passes landmark indigenous rights legislation

(08/24/2011) A new administration in Peru is moving toward granting indigenous people long-sought legal rights, reports Survival International. Yesterday, the Peruvian congress approved new legislation that gives indigenous people free, prior and informed consent (FPIC) for any project on their land. If signed into law and enforced, the legislation would provide indigenous groups considerable clout in keeping industry off their lands if they choose.


Indigenous protestors embark on 300-mile walk to protest Amazon road in Bolivia

(08/21/2011) Indigenous protesters are targeting a new road in the Bolivian Amazon, reports the BBC. The 190-mile highway under construction in the Bolivian Amazon will pass through the Isiboro-Secure Indigenous Territory and National Park (Tipnis), a 4,600-square mile (11,900 square kilometers) preserve which boasts exceptional levels of rainforest biodiversity, including endangered blue macaws and fresh-water dolphins. Indigenous peoples who live in Tipnis are participating in a month-long protest march against the road, which they claim violates their right to self-governance.


Uncontacted tribe missing after armed drug dealers storm their forest

(08/09/2011) Concern is rising for the welfare of uncontacted natives in the Brazilian Amazon after armed marauders stormed the area where they were last documented. Last week men with rifles and machine guns, believed to be drug traffickers from Peru, overran a remote government guard post run by FUNAI (Brazil's Indigenous Affairs Department) on the Envira River, near the uncontacted indigenous people's location on the border of Brazil and Peru. The uncontacted indigenous people in question made headlines worldwide earlier this year after photos and film of them were released from flyovers.


Picture of the day: faces of the indigenous, celebrating the International Day of the World's Indigenous Peoples

(08/09/2011) Today, August 9th, is the International Day of the World's Indigenous Peoples. To help celebrate the world's indigenous cultures, mongabay.com has put together this collection of photos.


Arctic open for exploitation: Obama administration grants Shell approval to drill

(08/08/2011) Less than a year and a half after the oil spill in the Gulf of Mexico, the Obama administration has bucked warnings from environmentalists to grant preliminary approval to oil giant, Royal Dutch Shell, to drill off the Arctic coast. Exploratory drilling will occur just north of the western edge of the Arctic National Wildlife Refuge (ANWR) in the Beaufort Sea, home to bowhead and beluga whales, seals, walruses, polar bears, and a wide variety of migrating birds.


Picture of the day: horse-and-rider in the Amazon

(08/02/2011) Riding a horse in the world's greatest tropical rainforest may be the definition of what kids today call 'bad-ass'. It certainly makes cowboys in Texas look prosaic.


How fruit defines Borneo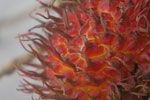 (08/01/2011) Among conservationists and biologists, the mega-island of Borneo is a sort of Mecca. Its rich plant and animal biodiversity, as well as high degree of endemism (unique species found nowhere else) make it a naturalist's dream. There is one aspect of this biological richness which applies to the wellbeing and happiness of all of Borneo's residents, human and animal, in a very direct way: fruit. From wild forest berries to juicy cultivated rambutans, fruit permeates the ecology, landscape and culture of Borneo. On the island there are over 70 wild fruit trees species and around 45 cultivated species that are consumed by people (1). Science has certainly not yet documented all the fruit consumed by wildlife, but we know that the total must be over 500 species.



Page 1 | Page 2 | Page 3 | Page 4 | Page 5 | Page 6 | Page 7 | Page 8 | Page 9 | Page 10