News articles on indigenous people

---
Mongabay.com news articles on indigenous people in blog format. Updated regularly.






NGOs, activists fret new role for Indonesia's spy agency
(06/29/2015) A mysterious new partnership between Indonesia's spy agency and Investment Coordinating Board (BKPM) to boost foreign investment has civil society wary of deepening agrarian conflict in the post-authoritarian country. While little is known about the specifics of the new arrangement, activists point to Indonesia's long history of repression by state security forces to warn that intelligence reports on local sentiment could be manipulated to stymie community opposition to development projects.
New reserve in Peru will protect nearly a million acres of pristine forest
(06/26/2015) A tract of Peruvian rainforest bigger than California's Yosemite National Park is officially more protected, with formal declaration of the Maijuna-Kichwa Regional Conservation Area (RCA) made last week in Lima. Those involved with the reserve's formation hope it will safeguard the area's biodiversity as well as the ancestral homeland and way of life of local indigenous communities.
Amazon tribe creates 500-page traditional medicine encyclopedia
(06/24/2015) In one of the great tragedies of our age, indigenous traditions, stories, cultures and knowledge are winking out across the world. Whole languages and mythologies are vanishing, and in some cases even entire indigenous groups are falling into extinction. This is what makes the news that a tribe in the Amazon have created a 500-page encyclopedia of their traditional medicine all the more remarkable.
Indigenous Indonesians file land claim against IndoMet coal project
(06/24/2015) A few months before BHP Billiton's Haju mine is set to begin operations in Indonesia's Central Kalimantan province, residents of nearby Maruwei village have filed a claim for 1,000 hectares of land in the area under a new land rights scheme for indigenous peoples. The scheme, called Dayak Misik and introduced by the provincial government last year, allocates 10 hectares to each village for communal use and five hectares to each household.
Rainforest parks cut malaria transmission

(06/16/2015) Strictly protected areas in the Brazilian Amazon are associated with lower rates of malaria transmission than extractive reserves, mining zones, and areas with roads, reports a paper published this week in Proceedings of the National Academy of Sciences. The findings add to a growing body of data suggesting that conservation efforts contribute to human welfare.
Satellite images provide new view of uncontacted Amazonian communities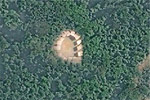 (06/10/2015) A laundry list of dangers threaten Amazonia's few remaining uncontacted indigenous communities. Colonists and industry workers often grab tribal land for mining, logging, drug trafficking, or hydrocarbon extraction, which damage the groups' environment and bring them into conflict with armed settlers. Careless encroachment by outsiders can also bring diseases to which uncontacted groups have no immunity.
'Green' hydropower dam fuels charges of gross human rights violations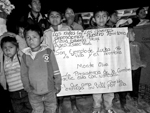 (05/27/2015) A hydropower project planned on Guatemala's Icbolay River has resulted in major human rights abuses, advocacy groups are charging. The 24-megawatt Santa Rita dam is backed by the World Bank and several European banks, as well as the Guatemalan government. In spite of the alleged abuses, the dam's owner has been granted approval to earn carbon offset credits for the electricity the dam would generate that could be traded under the European Union's Emission Trading System.
Mining and Energy Contracts under Investigation as Corruption Scandals Rock Guatemala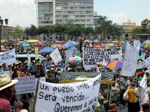 (05/22/2015) The Guatemalan cabinet ministers for the environment, the interior, and energy and mines stepped down May 21 amid corruption scandals and massive protests. Investigations into alleged irregularities in mining, energy, and other environmental project contracts and permits have been thrust back into the spotlight. Mining and energy projects in the country have faced intense community resistance, which has often become the target of crackdowns by state and corporate security forces.
Woman defeats mine, saves wilderness, wins $175,000
(04/20/2015) When a huge open-pit mine threatened a pristine lake and surrounding forest in British Columbia, Canada, Marilyn Baptiste jumped into action, spearheading efforts to collect environmental impact data and even physically turning away construction crews. Today, Baptiste was honored for her work when she was presented the 2015 Goldman Environmental Prize at a ceremony in San Francisco.
Killings of environmental activists jumped by 20 percent last year
(04/20/2015) The assassination, murder, and extrajudicial killing of environmental activists rose by 20 percent last year, according to a new grim report by Global Witness. The organization documented 116 killings in 2014 across 17 countries with the highest number in Brazil, which saw 29 environmental and land defenders killed.
Study finds abandoned pasture is 'a huge resource that is not being harnessed'
(04/09/2015) As tropical forests around the world are cleared for human development, scientists and conservationists are trying to find ways to both stem their loss and reclaim areas already deforested. In a recent study, researchers investigated restoration of abandoned agricultural land in Ecuador, finding that planting trees and even re-establishing pasture may help limit conversion of more forest to farmland.
Palm oil companies, NGOs endorse new deforestation-limiting toolkit
(04/06/2015) Forests not only house many of the world's species, but also much of its carbon. Now, a toolkit has been developed by a group of companies and organizations with the aim of helping other companies and NGOs identify High Carbon Stock (HCS) forests. The toolkit was endorsed last week by major NGOs and plantation companies in Singapore.
Kaiduan dam in Borneo meets fierce opposition
(04/06/2015) Activists are calling on the government of Sabah, Malaysia, to reconsider the proposed Kaiduan dam, saying it has not considered other solutions to Sabah's looming water crisis and has failed to consult with the indigenous people who will be displaced if the project proceeds.
9 months after Amazonian oil pipeline spill, effects and fears linger
(03/30/2015) When Peru's state-run oil company pulled out of this small Kukama Indian village in mid-December after cleaning up an oil pipeline spill, residents thought life could slowly return to normal. But more than three months later, wisps of oil floating down the Cuninico River—along with a larger spill in the neighboring community of San Pedro—are a reminder that the problems are not over.
Discovery of 'Lost City' spurs conservation pledge
(03/18/2015) Earlier this month, National Geographic made big news: the discovery of what it called a 'lost city' below the thick jungles of Honduras. While the coverage has led to scientists crying sensationalism, it also resulted this week in a commitment of protection by the Honduras President, Juan Orlando Hernández, for a long-neglected portion of the country.
Bushmeat's dual role: threatened species face off against nutrition and culture
(03/05/2015) Deforestation, habitat destruction, climate change, and other man-made forces are threatening species around the world. But, often overlooked, overhunting is a rising peril to many animals. On the other hand, bushmeat hunting also helps provide vital protein in rural tropical regions and is an important cultural rite for many indigenous tribes. Thus, there is a dual challenge of maintaining food security for forest-dependent populations and ensuring wildlife conservation.
Colombia proposes protected corridor across South America
(03/03/2015) Colombian President Juan Manuel Santos has announced plans to create the world's largest protected area, stretching from the Atlantic Ocean to the Andes Mountains. Santos plans to propose the protected environmental corridor during the UN climate talks in Paris later this year as a means to combat global warming.
Cambodia deports activist leader...then suspends controversial dam

(02/25/2015) On Monday, Cambodia deported well-known environmental activist, Alex Gonzalez-Davidson, back to his native Spain. Co-founder of the Cambodian NGO, Mother Nature, Gonzalez-Davidson played a vital role in blocking efforts to build the Cheay Areng Dam. But a day after deporting the activist, Cambodia's Prime Minister, Hun Sen, said the country would postpone the dam until 2018.
Partnering for conservation benefits Tacana people, Bolivian park
(02/25/2015) Kneeling in a small clearing amid tropical trees, Baldemar Mazaro skillfully arranges a circle of sticks and a noose of cord in the community of San Miguel de Bala. He hands a branch to a tourist and asks her to prod the sticks as if the branch were the nose of an animal snuffling around, looking for food.
Locals lead scientists to new population of near-extinct reptile
(02/24/2015) By the early Twentieth Century, the world had pretty much given up on the Arakan forest turtle, named after the hills where it was found in 1875 in western Myanmar. Now, this Lazarus reptile —which has been dubbed one of the 25 most threatened turtles on the planet —has more good news: researchers have documented an entirely new population where no one
Study finds local technicians effective at forest monitoring
(02/20/2015) An important part of REDD is accurate measurement of carbon stocks. In Guyana, members of native Amerindian communities have been recruited for data collection by Project Fauna, a joint initiative by researchers from different institutions and local indigenous leaders.
Dams or indigenous land: the battle over the Munduruku frontier
(02/20/2015) The Munduruku indigenous tribe have begun to mark out the limits of their land, in an action that could halt the giant São Luiz do Tapajós hydroelectric dam, the apple of the Brazilian government's eye. Although sacred, this land will be flooded if the dam goes ahead. 'We are not leaving,' says the village chief.
Exclusive: Funai confirms that land threatened by dam projects belongs to indigenous tribe
(02/19/2015) The Brazilian government opposes granting traditional land to the Munduruku people since it would jeopardize seven proposed hydroelectric dams on the Tapajós River. For this reason, a year-old report by Funai that supports the Munduruku claim has not been officially published, but a copy of this report was obtained by the Brazilian publication Publica.
Brazilian indigenous populations grow quickly after first contact devastation

(02/18/2015) Indigenous communities in South America have long experienced devastating impacts from contact with Western society. In the Sixteenth Century, European colonists brought slavery, war, and violence, but disease proved the most devastating. In all, European contact destroyed over 95 percent of the native population.
Indigenous communities in Paraguay threatened by deforestation despite having land rights
(02/17/2015) According to a report by Survival International, the existence of the isolated Ayoreo Totobiegosode people is critically threatened by cattle ranching firms that are destroying their last forest refuge. The report asserts Paraguayan law gives native people the rights to their traditional land. Yet, most of the land in Paraguay is privatized, making these laws in reality difficult to achieve.
Arctic upheaval: new book outlines challenges at the top of the world
(02/16/2015) For most of us, the Arctic is not at the front of our minds. We view it as cold, stark, and, most importantly, distant. Yet, even in an age of vast ecological upheaval, one could argue that no biome in the world is changing so rapidly or so irrevocably. Two hundred plus years of burning fossil fuels has warmed up the top of our planet more quickly than anywhere else.
How do parks affect the poor? Jury's still out, some experts say
(02/13/2015) In Peru's vast northeastern region, where roads are scarce and forests abundant, crackdowns on the illegal plundering of timber, fish, and wildlife are sporadic and expensive. To fill the gap, the Peruvian National Park Service and non-profit conservation organizations encourage community groups to patrol their lakes and forests and control fishing and hunting.
Innovating Brazil nuts: a business with roots in the rainforest
(02/11/2015) Scientist and entrepreneur turn to Brazil nuts to protect Peru's threatened forests. Sofía Rubio was eight years old when she decided she wanted to be a biologist. 'I would skip school to go to the woods with my father or mother,' who did research in what is now the Tambopata National Reserve in the southeastern Peruvian Amazon, she says.
Video: innovative tourism helps protect forests in Amazonian Peru
(02/05/2015) A new short documentary highlights the innovative, locally-grown tourist ventures sprouting up in the buffer zone around Peru's Tambopata National Reserve. Not only do these tourist adventures--some specializing in rehabilitating wildlife, others in finding out how locals live, and some even in jungle yoga--help provide jobs and income in a region dominated by extractive industries, but they are also help to keep forests standing.
Mapping local communities' efforts to protect forests in Indonesia
(02/05/2015) Local and indigenous communities play an important role managing and protecting forests. Research published in 2014 by World Resources Institute and the Rights and Resources Initiative concluded that community-managed forests experienced an average deforestation rate that is eleven times lower than land outside their borders.
Communities create timber company to protect Sumatran forest
(02/04/2015) To reduce logging pressures on the surrounding forest, several villages in the Lampung province of Sumatra have been conducting an experiment in community managed timber plantations on public lands. For the last 10 years, instead of logging the forest, members of the local timber cooperative have planted thousands of seedlings such as white teak and acacia in and among the surrounding villages.
The Amazon's oil boom: concessions cover a Chile-sized bloc of rainforest
(02/04/2015) Hungry for oil revenue, governments and fossil fuel companies are moving even further into one of the world's last great wildernesses, according to a new study in the journal Environmental Research Letters. The total area set aside for oil and gas in the Western Amazon has grown by 150,000 square kilometers since 2008, now totaling more than 730,000 square kilometers—an area the size of Chile.
Sulawesi communities build big, unique houses by sustainably managing forests
(02/03/2015) Layuk Sarungallo sits in front of a large Tongkonan, the traditional house of the Toraja people characterized by sweeping roofs that resemble a boat or a buffalo horn arching toward the sky. The locals still use traditional construction methods, maintaining their houses with wood, bamboo and reeds.
Rapid development threatening traditional farms, forests in West Papua
(02/03/2015) Through a system of community protected areas and family agricultural rotation, the indigenous people of Demaisi in West Papua have maintained their way of life and the health of the forest for as long as anyone can remember. But now this system is under threat as government-fostered development moves into the region.
Mercury fish: gold mining puts downstream communities at risk in Peru
(02/02/2015) Artisanal, often illegal gold-mining, has swept across portions of the Peruvian Amazon over last decade, driven in part by a rising price in gold. The unregulated industry has resulted in widespread deforestation leading to an environmental disaster. Now a new study finds that mercury pollution has moved rapidly downstream and could be impacting communities at least 560 kilometers away.
Community tourism fills niche around Tambopata National Reserve
(01/29/2015) When Víctor Zambrano retired from the military and returned to his family's old homestead outside the fast-growing jungle town of Puerto Maldonado in Peru, he got an unpleasant surprise. Strangers had moved in and cleared the trees to raise cattle. As Zambrano tells it, he ran up the Peruvian flag, chased the invaders off, and set to work planting 19,000 native tree seedlings.
Sumatran community grows crops, aids conservation through 'village forests'
(01/23/2015) The rolling green hills covered in rice paddies and coffee plantations give Semende in the Muara Enim regency of South Sumatra a welcome and hospitable feeling. However, behind the peaceful pastoral veil, is a history of rampant forest encroachment and land conflict in the Barisan mountains.
Indigenous territories play dual role as homelands and protected areas
(01/22/2015) Indigenous communities claim—and scientific evidence increasingly shows—that indigenous forested territories are as well protected as, or better protected than, government-designated parks. In areas under pressure from roads or development projects, deforestation rates are sometimes even lower in indigenous territories than in official protected areas.
Sumatran village protects environment through agroforestry
(01/21/2015) The forest behind Indudur village clings to the steep hillside. The topography itself is enough to protect it from most common threats of development. However, the area is under attack by a more pernicious force: a lack of interest by the younger generation in earning their living here. The difficulty of life compels many to migrate out, leaving the village dominated by older people.
Environmental wisdom: keeping indigenous stories alive
(01/21/2015) Enchanted lakes and magic hills: how traditional stories support conservation and abundance. 'Long ago, when animals were gente...' Those words, uttered countless times by indigenous Amazonian storytellers, blur the boundary between humans and other creatures in the forests and rivers, revealing a different view of the way human and non-human worlds intertwine.
A model forest? Regional park balances local needs and conservation
(01/21/2015) Regional conservation area safeguards subsistence and spirituality in the Peruvian Amazon. For Alfredo Rojas, the history of the remote villages along the Ampiyacu River is one of enslavement. Growing up here, Rojas listened to his parents tell stories of the rubber barons who beat and killed the Indians who failed to meet their latex quota.
Sulawesi village seeks protection for sacred forest threatened by development
(01/16/2015) Home to some 400 fishermen, Manurung village appears unremarkable at first glance: quiet houses along a winding river lined with boats. However, behind the village lies something remarkable: a tract of old-growth forest nearly untouched by human exploitation. Pensimoni Hill stands as a rare outpost of towering trees rising above freshwater springs that provide clean water and life for the villages below.
Amazon tribe attacks oilfield in Ecuador

(01/15/2015) Indigenous leaders are calling for the release of six tribesmen implicated in a raid on an oilfield in Eastern Ecuador that left six soldiers injured, reports Andina and El Comercio.
Farmers help restore degraded forests in Sulawesi
(01/15/2015) Irda tends to his two-hectare timber plantation in Pamulukkang Forest at the base of Tanete Kindo Mountain in West Sulawesi. Unlike some other farmers in Indonesia, he does so without fear of harassment by forest rangers or police. Since 2008, he has been involved in the Community Plantation Forest (HTR) program—an initiative by the Indonesian government to restore degraded lands by encouraging locals to plant and manage commercially sustainable forests.
Forest management by Sulawesi community attracts international attention
(01/13/2015) The Ngata Toro community in the Indonesian province of Central Sulawesi worked with the government to remap their lands and negotiate access to the forest. In the year 2000, officials from the national park signed an agreement with Ngata Toro recognizing the existence of indigenous forests, and granting them permission to maintain the forest as they had previously.
Sulawesi community regains access to forest on which it depends
(01/09/2015) Recognizing the ecological sensitivity of an area in Central Sulawesi, the Indonesian government established two expansive protected areas in the region. Although these protective measures may be forward-thinking in terms of environmental protection, they had the unfortunate side effect of corralling the residents of the village of Namo on a tiny patch of land, forbidding them from the utilizing the forest resources that once sustained them.
Kalimantan community maps forest to thwart timber companies
(01/08/2015) The small village of Tumbang Bahanei is inhabited by 139 indigenous families that tend to 2,859 hectares of customary forest, 132 hectares of rice fields, 5,841 hectares of rubber forest, and 43 hectares of forest designated for indigenous tourism. In total, this amounts to just over 8,880 hectares. The residents know these numbers precisely, because they have been diligently mapping every corner of their territory in a desperate attempt to prevent it from being snatched up by timber companies.
Sulawesi community vies to maintain rights to forest
(01/07/2015) Around 3,000 people from 833 households live in Tompo Bulu's seven sub-villages. Traditional culture and ritual run thick in this area. The residents of Karampuang believe the area is where the cultures from eastern and western Indonesia first met. Local myth holds that the first leader of the area descended from the sky with a mandate that the locals must maintain their traditional way of life.
Palm oil threatens community forest in Central Kalimantan
(01/07/2015) Delang district is different than many parts of Central Kalimantan. Namely, on the drive in from Nangabulik, you won't see large-scale oil palm plantations, and the forest appears to be well maintained. This is because the locals are keenly aware of the importance of their land at the headwaters of the Lamandau River.
Traditional farming technique preserves soil, forest in Kalimantan
(01/06/2015) The road winds five kilometers through a thick canopy of trees before ending abruptly at a stream and a small, stout wooden cabin in West Kalimantan, Indonesia. Amid, the cabin's owner, proudly explains that he constructed it from local hardwoods—high value trees still readily available in the surrounding hills.
Coffee farmers help protect Flores forest
(01/06/2015) Located on the slopes of Inerie Mountain on the island of Flores in Indonesia, farmers in Bajawa and Golewa districts have practiced sustainable agroforestry for generations, producing coffee for export to the U.S. and Europe known as Arabica Flores Bajawa (AFB). Although not as well-known as other specialty coffees in Indonesia, its popularity is increasing, and Ngada regency now produces more than 300 tons of AFB per harvest.
Conservation conflicting with local ways of life in Mexican reserve
(12/23/2014) Although conservation has good intentions, it can give rise to conflicts when the interests of conservationists put local peoples' livelihoods at stake. A recent study has uncovered an unhappy symbiosis between Mayan subsistence hunters and authorities in Yucatán, Mexico. A lack of understanding and communication about hunting regulations are forcing Mayan hunter societies to alter their traditional ways of living.
Conservation and the rights of indigenous communities

(12/12/2014) Many conservationists have long supported local communities and indigenous peoples seeking recognition of their rights to land and natural resources. In addition to being the right thing to do, supporting these local initiatives in land and seascapes across the globe helps strengthen the constituency for conserving healthy wildlife populations, habitats, and natural ecosystems.
New film highlights local resistance to Nicaragua's canal
(12/11/2014) This fall, filmmakers Tom Miller and Nuin-Tara Key with Pretty Good Productions found themselves in Nicaragua where they heard about a stunning project: the Gran Canal. Approved last year, the canal is meant to compete with the Panama Canal to the south. Built by a Chinese company, it will cut through 278 kilometers, destroying forests and driving through the largest freshwater body in Central America.
Deforestation puts cultural survival of forest-dependent peoples at risk
(12/10/2014) Forest-dependent peoples face grave threats from deforestation and other depredations, warns a new report that urges greater recognition of traditional land use and support of community-led initiatives to fight forest loss. The report, published Monday during climate talks in Lima, is based on research by dozens of indigenous and forest communities from Africa, Asia and Latin America.
Indigenous leader murdered before he could attend Climate Summit
(12/08/2014) Days before José Isidro Tendetza Antún was supposed to travel to the UN Climate Summit in Lima to publicly file a complaint against a massive mining operation, he went missing. Now, the Guardian reports that the body of the Shuar indigenous leader has been found, bound and buried in an unmarked grave on the banks of the Zamora River.
How an indigenous community in Ecuador stood up to big oil - and won
(12/05/2014) The Sarayaku, a Kichwa indigenous people numbering 1,200 from the Ecuadorian Amazon, won a historic court case in 2012. The Inter-American Court of Human Rights ruled that the government of Ecuador must publicly apologize, consult with, and recompense the Sarayaku for allowing oil exploration by Argentine Compañia General de Combustibles on their territory without prior consultation
Giant stone face unveiled in the Amazon rainforest (video)
(12/04/2014) A new short film documents the journey of an indigenous tribe hiking deep into their territory in the Peruvian Amazon to encounter a mysterious stone countenance that was allegedly carved by ancient peoples. According to Handcrafted Films, which produced the documentary entitled The Reunion, this was the first time the Rostro Harakbut has been filmed.
Is the Gran Canal really a 'big Christmas present' for Nicaraguans?
(12/04/2014) "A big Christmas present"—that is how Paul Oquist, an advisor to Nicaraguan president, Daniel Ortega, described the country's plan to build a mega-canal across the nation. Preliminary construction on the canal is set to begin December 24th, despite major concerns over environmental destruction, forced removal of thousands of people, and a lack of transparency.
What we can learn from uncontacted rainforest tribes
(11/26/2014) If you have ever wondered about the connection between hallucinogenic frogs, uncontacted peoples, conservation, and climate change — and who hasn't? — check out this TED talk from ethnobotanist Mark Plotkin. An ethnobotanist by training, Plotkin serves as President of the Amazon Conservation Team. Plotkin took a few minutes from his busy schedule to answer a few questions from Mongabay.
Developing land without approval of local people 'a human rights issue of grave concern,' says new report
(11/20/2014) Throughout the tropics, staggering amounts of land have been designated for natural resource extraction—as much as 40 percent of Peru, 30 percent of Indonesia and 35 percent of Liberia. However, much of this land is already in use; it is being inhabited by local communities and indigenous peoples. And while it is possible to live on and extract resources from the same land, when local communities are not consulted in this exchange, conflict may erupt.
A tale of 2 Perus: Climate Summit host, 57 murdered environmentalists
(11/18/2014) On September 1st, indigenous activist, Edwin Chota, and three other indigenous leaders were gunned down and their bodies thrown into rivers. Chota, an internationally-known leader of the Asháninka in Peru, had warned several times that his life was on the line for his vocal stance against the destruction of his peoples' forests, yet the Peruvian government did nothing to protect him—or others.
Disappearing oasis: northeastern India losing forests as people move in
(11/18/2014) Northeastern India is part of the Eastern Himalaya biodiversity hotspot, one of the megadiverse areas of the world. The region boasts more than 60 percent forest cover, compared to the 15 percent for India as a whole. However, not all is pristine when one visits areas designated as forest on the map.
An end to unjust conservation? (commentary)

(11/16/2014) In September 2014, events took place in three different parts of the world, which together highlight the multifaceted relationship between human rights and conservation. First, in New York, the UN General Assembly adopted the Outcome Document of the World Conference on Indigenous Peoples.
Indigenous uprising earned tribe territories, but greatest challenges lie ahead
(11/06/2014) In 1925, Nele Kantule led a revolution that would make Guna Yala an independent and sovereign indigenous territory within Panama. Since then, the Guna have maintained a way of life that has allowed them to preserve their natural resources and mainland forest to an exceptional degree. But today, like many indigenous groups around the world, the Guna face some of their greatest challenges yet: the impacts of climate change, encroaching outside influences, and a younger generation that many elders feel is drifting from its roots.
Brazilian tribes demarcate territory in bid to block dams
(11/06/2014) Indigenous communities in Brazil have taken the unusual step of demarcating their own land — without the approval of the Brazilian government — in a bid to block two dams they say threaten their territory and traditional livelihoods, report International Rivers and Amazon Watch, advocacy groups that are fighting the projects. Last week the Munduruku people annexed the 178,000-hectare Sawré Muybu territory after authorities failed to recognize their claims.
Between the Forest and the Sea: The Yarsuisuit Collective - Part II
(10/31/2014) In this multimedia piece by SRI fellow Bear Guerra, we follow Andrés de León and the Yarsuisuit collective, a group of men who grow and harvest food sustainably in the Guna mainland forest. They also run a store on the island of Ustupu that helps support their families, serving as a model for the wider community.
Local communities rise to the forefront of global conservation practice (commentary)

(10/29/2014) A few weeks ago, a remote aboriginal community in western Australia made headlines when it completed the establishment of an Indigenous Protected Area (IPA) containing over 4.2 million hectares of desert and grassland. The Kiwirrkurra IPA, as the area is known, is billed as the largest protected expanse of arid land on Earth.
Between the forest and the sea: life and climate change in Guna Yala - Part I
(10/27/2014) The island-dwelling Guna people of Panama are one of the most sovereign indigenous communities in the world, but now severe weather and sea level rise are causing regular flooding on many of the islands, and will likely force the Guna to have to abandon their island homes for the mainland. This multimedia piece offers an introduction to everyday life and customs in Guna Yala and touches upon the uncertain future the Guna are now facing thanks to the impacts of climate change.
Scientific association calls on Nicaragua to scrap its Gran Canal

(10/27/2014) ATBC—the world's largest association of tropical biologists and conservationists—has advised Nicaragua to halt its ambitious plan to build a massive canal across the country. The ATBC warns that the Chinese-backed canal, also known as the Gran Canal, will have devastating impacts on Nicaragua's water security, its forests and wildlife, and local people.
Top scientists raise concerns over commercial logging on Woodlark Island
(10/21/2014) A number of the world's top conservation scientists have raised concerns about plans for commercial logging on Woodlark Island, a hugely biodiverse rainforest island off the coast of Papua New Guinea. The scientists, with the Alliance of Leading Environmental Scientists and Thinkers (ALERT), warn that commercial logging on the island could imperil the island's stunning local species and its indigenous people.
An impossible balancing act? Forests benefit from isolation, but at cost to local communities
(10/07/2014) The indigenous people of the Amazon live in areas that house many of the Amazon's diverse species. The Rupununi region of Guyana is one such area, with approximately 20,000 Makushi and Wapishana people living in isolation. According to a recent study published in Environmental Modelling & Software, a simulation model revealed a link between growing indigenous populations and gradual local resource depletion.
Extinction island? Plans to log half an island could endanger over 40 species
(09/22/2014) Woodlark Island is a rare place on the planet today. This small island off the coast Papua New Guinea is still covered in rich tropical forest, an ecosystem shared for thousands of years between tribal peoples and a plethora of species, including at least 42 found no-where else. Yet, like many such wildernesses, Woodlark Island is now facing major changes: not the least of them is a plan to log half of the island.
The cheap option on climate change: recognize indigenous rights to forests
(09/18/2014) Since 2008, governments have invested $1.64 billion in funds to kick-start REDD+, or Reducing Emissions from Deforestation and Degradation, the global effort to conserve the world's forests in order to better mitigate climate change. However, a new report by the Rights and Resources Initiative (RRI) finds that same amount of money could have secured the legal rights of indigenous and local people to 450 million hectares of forest, an area 40 percent larger than India.
4 Ashaninka tribesmen killed by loggers in Peru

(09/08/2014) One of those killed was Edwin Chota, the leader of the Alto Tamaya-Saweto indigenous community who won fame for fighting illegal loggers. As such, Chota was a top target for assassination, according to a conservationist familiar with the situation.
REDD+ versus indigenous people? Why a tribe in Panama rejected pay for their carbon-rich forests
(09/04/2014) There isn't a word or phrase in the Kuna language for "carbon trading," and much less for something as complex as REDD+. Standing for Reducing Emissions from Deforestation and Degradation, REDD+ is the worldwide UN-backed climate change mitigation scheme that relies on carbon trading within forest landscapes to fund forest conservation programs. And yet, since 2008, the Kuna people have been hearing lots about it and referring to it often in their private conversations.
The Gran Canal: will Nicaragua's big bet create prosperity or environmental ruin?
(08/27/2014) A hundred years ago, the Panama Canal reshaped global geography. Now a new project, spearheaded by a media-shy Chinese millionaire, wants to build a 278-kilometer canal through Nicaragua. While the government argues the mega-project will change the country's dire economic outlook overnight, critics contend it will cause undue environmental damage, upend numerous communities, and do little to help local people.
How do we save the world's vanishing old-growth forests?
(08/26/2014) There's nothing in the world like a primary forest, which has never been industrially logged or cleared by humans. They are often described as cathedral-like, due to pillar-like trees and carpet-like undergrowth. Yet, the world's primary forests—also known as old-growth forests—are falling every year, and policy-makers are not doing enough to stop it.
Indonesia to hear indigenous peoples' grievances on land disputes
(08/22/2014) Public hearings into alleged violations of indigenous peoples' land rights will open next week in Palu on the island of Sulawesi. This is the beginning of a series of hearings by the Commission on Human Rights to explore conflicts affecting indigenous people in forest areas. The Commission will travel throughout Indonesia, providing concerned parties an opportunity to meet and discuss land disputes, before submitting the results of their findings to the next president.
An untapped resource: new study finds local people may trump scientists at biodiversity surveys
(08/12/2014) Figuring out what species live in a given area is important to the determination of its conservation importance. Traditionally, these biodiversity assessments have been done directly by scientists via surveys, which can be very time-intensive and expensive. However, a new study found that interviewing people in local communities who are familiar with the species of their regions could be just as effective – and much cheaper.
Indonesia's children see ravaged environment in their future
(08/11/2014) A generation ago, Borneo was one of the wildest places on the planet. But decades of logging and oil palm plantations has changed the landscape of Borneo forever: in fact a recent study found that the island has lost 30 percent of its total forest cover since 1973. In the face of this large-scale environmental destruction, a new study finds that Indonesian Borneo's children have a pessimistic view of their future.
Peru slashes environmental protections to attract more mining and fossil fuel investment
(07/23/2014) In an effort to kickstart investment in mining and fossil fuels, Peru has passed a controversial law that overturns many of its environmental protections and essentially defangs its Ministry of Environment. The new law has environmentalists not only concerned about its impact on the country but also that the measures will undermine progress at the up-coming UN Climate Summit in December.
A fine line: new program predicts when human impact becomes too much
(07/03/2014) Scientists at Stanford University recently unveiled a new modeling program that can predict the response of the environment to the land-use changes of human communities. Using their model, they found that natural resources can support humanity – up to a certain point.
Using Google Earth to protect uncontacted tribes in the Amazon rainforest
(06/19/2014) In 2008, images of an uncontacted tribe in the Amazon rainforest in Brazil created ripples. With bodies painted in bright colors, members of the tribe aimed their arrows at a Brazilian government plane flying overhead, occupants of which were attempting to photograph the tribe to prove their existence. Now, a new study has found another way to survey such tribes safely and remotely—using satellite images.




Page 1 | Page 2 | Page 3 | Page 4 | Page 5 | Page 6 | Page 7