News articles on in-situ conservation

---
Mongabay.com news articles on in-situ conservation in blog format. Updated regularly.






Gabon to burn ivory stockpiles

(04/09/2012) The government of Gabon has announced it will burn its stockpiles of ivory later this year in a bid to undercut illegal elephant poaching, which is decimating populations in central Africa.
Baby boom: 18 of the world's rarest duck born

(04/06/2012) The global population of one of the world's rarest birds just increased 43 percent. The Durrell Wildlife Conservation Trust is reporting that 18 Madagascar pochards — the world's rarest duck — hatched and are now being reared at a facility in Madagascar. The breeding program is a joint effort between Durrell, the Wildfowl & Wetlands Trust (WWT), the Peregrine Fund, Asity Madagascar and the Government of Madagascar.
Kruger National Park loses 95 rhinos to poachers in three months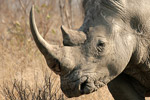 (04/05/2012) Since the first of the year, South Africa's Kruger National Park has lost 95 rhinos to poachers, reports the blog Rhino Horn is NOT Medicine. South Africa, and Kruger National Park in particular, continue to be the epicenter for rhino poaching worldwide. South Africa has lost 159 rhinos in total this year with Kruger bearing nearly 60 percent of the fatalities.
Turkey's rich biodiversity at risk
(03/28/2012) Turkey: the splendor of the Hagia Sophia, the ruins of Ephesus, and the bizarre caves of the Cappadocia. For foreign travelers, Turkey is a nation of cultural, religious, and historic wonders: a place where cultures have met, clashed, and co-created. However, Turkey has another wealth that is far less known: biodiversity. Of the globe's 34 biodiversity hotspots, Turkey is almost entirely covered by three: the Caucasus, the Irano-Anatolian, and the Mediterranean. Despite its wild wealth, conservation is not a priority in Turkey and recent papers in Science and Biological Conservation warn that the current development plans in the country, which rarely take the environment into account, are imperiling its species and ecosystems.
Photos: the aye-aye of frogs rediscovered after 62 years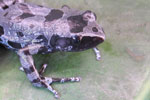 (03/27/2012) A pair of researchers have rediscovered a long-lost frog in the tiny African country of Burundi. Known as the Bururi long-fingered frog (Cardioglossa cyaneospila), the species hadn't been seen for over 60 years—since the Soviet Union tested its first nuclear weapon in 1949—but was rediscovered in Bururi Forest Reserve.
Beyond Bigfoot: the science of cryptozoology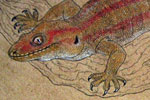 (03/26/2012) Anyone who doubts cryptozoology, which in Greek means the "study of hidden animals," should remember the many lessons of the past 110 years: the mountain gorilla (discovered in 1902), the colossal squid (discovered in 1925, but a full specimen not caught until 1981), and the saola (discovered in 1992) to name a few. Every year, almost 20,000 new species are described by the world's scientists, and a new book by Dr. Karl Shuker, The Encycloapedia of New and Rediscovered Animals, highlights some of the most incredible and notable new animals uncovered during the past century.
World's smallest dolphin: only 55 left, but continue to drown in nets

(03/22/2012) The world's smallest dolphin is also the closest to extinction. New Zealand government figures show that Maui's dolphin (Cephalorhynchus hectori maui) are down to just 55 mature individuals, falling from 111 in 2005. The small cetaceans, measuring up to 1.7 meters (5.5 feet), are imperiled due to drowning in gillnets with the most recent death by a fisherman's net occurring in January.
Over 5,000 vital biodiversity sites remain unprotected

(03/22/2012) A recent study has found that half of the world's Important Bird Areas (IBAs) and Alliance for Zero Extinction (AZE) sites remain unprotected, leaving many endangered species, some on the verge of extinction, gravely vulnerable to habitat loss. Published in the open access journal PLoS ONE, the study urges governments to focus on expanding protected areas to cover the species that need it most.
Chimp conservation requires protecting fragmented river forests in Uganda

(03/19/2012) Forest fragments along riversides in Uganda may make good habitats for chimpanzees but remain unprotected, according to a new study in mongabay.com's open access journal Tropical Conservation Society (TCS). Researchers surveyed a riverine forest known as Bulindi in Uganda, in-between Budongo and Bugoma Forest Reserves, to determine if it was suitable for the long-term survival of eastern chimpanzee (Pan troglodytes schweinfurthii) populations.
How tiny otters survive in agricultural India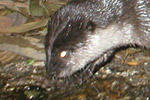 (03/19/2012) In the fragmented rainforests of India, many animals must move through human-modified landscapes such as agricultural fields to survive. This includes the world's smallest otter species: the Asian small-clawed otter (Aonyx cinereus). According to a new study published in mongabay.com's open access journal Tropical Conservation Society, the Asian small-clawed otter is widespread in streams flowing through tea and coffee estates of the Western Ghats, but requires improved protection.
Wildlife corridor key to conserving tigers, rhinos in Nepal

(03/19/2012) A single forest corridor links two of Nepal's great wildlife areas: Chitwan National Park and the Mahabharat mountain range, also known as the "little Himalayas." The Barandabhar Forest Corridor (BFC) has become essential for the long term survival Nepal's Indian rhinos (Rhinoceros unicornis) and Bengal tigers (Panthera tigris tigris). Yet, according to a new paper published in mongabay.com's open access journal Tropical Conservation Society (TCS), the corridor is imperiled by deforestation, a highway, and inconsistent management policies.
How best to monitor biodiversity in REDD+ projects?
(03/19/2012) If done well, REDD+ projects (Reducing Emissions from Deforestation and Forest Degradation) may not only save carbon rich forests, but also protect embattled biodiversity. But what's the best way to ensure both and carbon and species are preserved under REDD+, a program that proposes to pay nations to keep forests standing? A new study in mongabay.com's open access journal Tropical Conservation Society (TCS) argues that a one-size-fits-all approach to monitoring biodiversity in REDD+ projects would not only be difficult to develop, but would likely fail given vast differences in forest ecology and threats worldwide. Instead local sites should develop monitoring programs based on a generally approved roadmap.
Three U.S. retailers pledge to avoid fish from embattled Ross Sea

(03/14/2012) The Ross Sea, a massive bay off Antarctica, has been dubbed the world's last ocean due to its pristine state, long-untouched by industry and fisheries. However, over the last 15 years New Zealand commercial fisheries have entered the sea, seeking the slow-growing Antarctic toothfish which is usually sold as the high-end Chilean sea bass. Now as conservation groups plead for nations to grant the Ross Sea protected status, Greenpeace has begun a campaign to get good retailers to steer clear of stocking Antarctic toothfish. To date, Safeway, Wegmans, and Harris Teeter has all pledged not to source from the Ross Sea.
Without data, fate of great apes unknown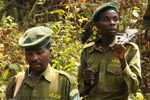 (03/12/2012) Our closest nonhuman relatives, the great apes, are in mortal danger. Every one of the six great ape species is endangered, and without more effective conservation measures, they may be extinct in the wild within a human generation. The four African great ape species (bonobos, chimpanzees and two species of gorilla) inhabit a broad swath of land across the middle of Africa, and two species of orangutans live in rainforests on the islands of Borneo and Sumatra in Southeast Asia.
Camera traps go under the ocean, seeking sharks

(03/12/2012) Remote camera traps, which have become a hugely important conservation tool on land during the past decade, have now gone underwater. Marine biologists have used underwater video camera traps to compare the population of Caribbean reef sharks (Carcharhinus perezii) in Belize's protected areas versus fishing areas in a new study in the open-access journal PLoS ONE. Conducted from 2005-2010, the study found that reef sharks benefited significantly from conservation areas.
Niger creates desert park bigger than Hungary

(03/07/2012) Yesterday, the Niger government formally created the Termit and Tin Toumma National Nature and Cultural Reserve in the Sahara Desert, reports the Sahara Conservation Fund. The reserve, now one of the largest in Africa, expands existing protected areas to 100,000 square kilometers (38,610 sq. miles), an area bigger than Hungary and nearly twice the size of Costa Rica.
Animal photos of the day: green sea turtle saved in China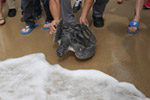 (03/06/2012) Last month, an organization devoted to marine turtles in the China, Sea Turtle 911, released a green sea turtle (Chelonia mydas) back into the wild in an event that included adoring crowds and a lecture on sea turtle conservation. The sea turtle, dubbed "Crush," had been rescued from a local fishing village. Green sea turtles are listed as Endangered by the IUCN Red List. "Despite the endangered status of sea turtles, there remains a thriving illegal market for sea turtle meat and products in China," a press release from Sea Turtle 911 notes.
World's most toxic frog gets new reserve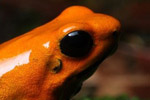 (03/05/2012) Touching a wild golden poison frog could kill you within minutes: in fact, a single golden poison frog, whose Latin name Phyllobates terribilis is even more evocative than its common one, is capable of killing 10 humans with its one milligram dose of poison. Yet the deadly nature of this tiny frog has not stopped it from nearing extinction. Now, in a bid to save the species, the World Land Trust (WLT) and Colombian NGO ProAves have teamed up to establish a 50 hectare (124 acres) reserve in the Chocó rainforest.
Military called in to stop Cameroon elephant slaughter - but may be too late

(03/05/2012) Cameroon's military has been called in to Bouba Ndjida National Park to take on foreign poachers that have slaughtered hundreds of elephants for their ivory, according to the World Wide Fund for Nature (WWF). Reports vary, but between 200-480 elephants have been killed in recent weeks in the park by what is widely assumed to be poachers from Sudan.
Innovative conservation: wild silk, endangered species, and poverty in Madagascar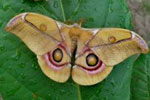 (02/20/2012) For anyone who works in conservation in Madagascar, confronting the complex difficulties of widespread poverty is a part of the job. But with the wealth of Madagascar's wildlife rapidly diminishing— such as lemurs, miniature chameleons, and hedgehog-looking tenrecs found no-where else in the world—the island-nation has become a testing ground for innovative conservation programs that focus on tackling entrenched poverty to save dwindling species and degraded places. The local NGO, the Madagascar Organization of Silk Workers or SEPALI, along with its U.S. partner Conservation through Poverty Alleviation (CPALI), is one such innovative program. In order to alleviate local pressure on the newly-established Makira Protected Area, SEPALI is aiding local farmers in artisanal silk production from endemic moths. The program uses Madagascar's famed wildlife to help create more economically stable communities.
Republic of the Congo expands park to protect fearless chimps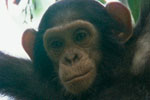 (02/16/2012) The Republic of the Congo has expanded its Nouabalé-Ndoki National Park by 37,295 hectares (144 square miles) to include a dense swamp forest, home to a population of chimpanzees (Pan troglodytes) that show no fear of humans. Known as the Goualougo Triangle, the swamp forest is also home to forest elephants (Loxodonta cyclotis) and western lowland gorillas (Gorilla gorilla gorilla). The expansion of the park to include the Goualougo Triangle makes good on a government commitment from 2001.
What a Bornean elephant wants: more protected forests and wildlife corridors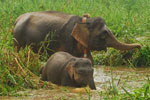 (02/16/2012) Forest fragmentation and destruction is imperiling the Bornean elephant (Elephas maximus borneensis), according to a new paper published in PLoS ONE. Using satellite collars to track the pachyderms for the first time in the Malaysian state of Sabah, scientists have found that the elephants are extremely sensitive to habitat fragmentation from palm oil plantations and logging.
New sanctuaries declared for Asia's freshwater dolphins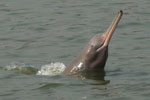 (02/15/2012) Bangladesh has declared three new sanctuaries to help protect the south Asian river dolphin (Platanista gangetica) in the Sundarbans, the world's largest mangrove forest. Split into two subspecies, the Ganges River dolphin (Platanista gangetica gangetica) and the Irrawaddy River dolphin (Platanista gangetica minor), the new sanctuaries will benefit both. Listed as Endangered by the IUCN Red List, the south Asian freshwater dolphin has disappeared from much of its habitat. Already Asia has its other freshwater dolphin species: the baiji (Lipotes vexillifer) was declared functionally extinct into 2006 after a survey of the Yangtze River failed to find a single individual.
The camera trap revolution: how a simple device is shaping research and conservation worldwide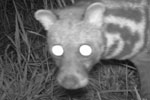 (02/14/2012) I must confess to a recent addiction: camera trap photos. When the Smithsonian released 202,000 camera trap photos to the public online, I couldn't help but spend hours transfixed by the private world of animals. There was the golden snub-monkey (Rhinopithecus roxellana), with its unmistakably blue face staring straight at you, captured on a trail in the mountains of China. Or a southern tamandua (Tamandua tetradactyla), a tree anteater that resembles a living Muppet, poking its nose in the leaf litter as sunlight plays on its head in the Peruvian Amazon. Or the dim body of a spotted hyena (Crocuta crocuta) led by jewel-like eyes in the Tanzanian night. Or the less exotic red fox (Vulpes vulpes) which admittedly appears much more exotic when shot in China in the midst of a snowstorm. Even the giant panda (Ailuropoda melanoleuca), an animal I too often connect with cartoons and stuffed animals, looks wholly real and wild when captured by camera trap: no longer a symbol or even a pudgy bear at the zoo, but a true animal with its own inner, mysterious life.
Forgotten species: the wild jungle cattle called banteng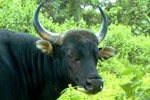 (01/31/2012) The word "cattle," for most of us, is the antithesis of exotic; it's familiar like a family member one's happy enough to ignore, but doesn't really mind having around. Think for a moment of the names: cattle, cow, bovine...likely they make many of us think more of the animals' byproducts than the creatures themselves—i.e. milk, butter, ice cream or steak—as if they were an automated food factory and not living beings. But if we expand our minds a bit further, "cattle" may bring up thoughts of cowboys, Texas, herds pounding the dust, or merely grazing dully in the pasture. But none of these titles, no matter how far we pursue them, conjure up images of steamy tropical rainforest or gravely imperiled species. A cow may be beautiful in its own domesticated sort-of-way, but there is nothing wild in it, nothing enchanting. However like most generalizations, this idea of cattle falls to pieces when one encounters, whether in literature or life, the banteng.
Saving the world's biggest river otter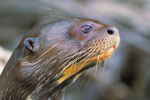 (01/30/2012) Charismatic, vocal, unpredictable, domestic, and playful are all adjectives that aptly describe the giant river otter (Pteronura brasiliensis), one of the Amazon's most spectacular big mammals. As its name suggest, this otter is the longest member of the weasel family: from tip of the nose to tail's end the otter can measure 6 feet (1.8 meters) long. Living in closely-knit family groups, sporting a complex range of behavior, and displaying almost human-like capricious moods, the giant river otter has captured a number of researchers and conservationists' hearts, including Dutch conservationist Jessica Groenendijk.
Invasion!: Burmese pythons decimate mammals in the Everglades

(01/30/2012) The Everglades in southern Florida has faced myriad environmental impacts from draining for sprawl to the construction of canals, but even as the U.S. government moves slowly on an ambitious plan to restore the massive wetlands a new threat is growing: big snakes from Southeast Asia. A new paper in the Proceedings of the National Academy of Sciences (PNAS) has found evidence of a massive collapse in the native mammal population following the invasion of Burmese pythons (Python molurus bivittatus) in the ecosystem. The research comes just after the U.S. federal government has announced an importation ban on the Burmese python and three other big snakes in an effort to safeguard wildlife in the Everglades. However, the PNAS study finds that a lot of damage has already been done.
U.S. implements snake ban to save native ecosystems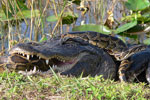 (01/25/2012) Last week the U.S. Fish and Wildlife Service (USFWS) announced it was banning the importation and sale across state lines of four large, non-native snakes: the Burmese python (Python molurus bivittatus), the yellow anaconda (Eunectes notaeus), and two subspecies of the African python (Python sebae). Although popular pets, snakes released and escaped into the wild have caused considerable environmental damage especially in the Florida Everglades.
Leatherback sea turtles granted massive protected area along U.S. west coast
(01/23/2012) The U.S. federal government has designated 108,556 square kilometers (41,914 square miles) as critical habitat for the leatherback sea turtle (Dermochelys coriacea), the largest of the world's marine turtles and one of the most endangered. The protected area, around the size of Guatemala, spans coastal sea waters from California to Washington state, but does not protect the migration routes environmentalists hoped for.
Photos: program devoted to world's strangest, most neglected animals celebrates five years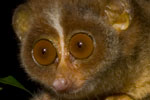 (01/16/2012) What do Attenborough's echidna, the bumblebee bat, and the purple frog have in common? They have all received conservation attention from a unique program by the Zoological Society of London (ZSL) called EDGE. Five years old this week, the program focuses on the world's most unique and imperiled animal species or, as they put it, the most Evolutionarily Distinct and Globally Endangered (EDGE) species. In the past five years the program has achieved notable successes from confirming the existence of long unseen species (Attenborough's echidna) to taking the first photos and video of a number of targeted animals (the purple frog).
How much is the life of a whale worth?

(01/16/2012) How do you end a decades-long conflict between culture and conservation? How do you stop a conflict where both sides are dug in? A new paper in Nature proposes a way to end the long and bitter battle over whaling: environmentalists could pay whalers not to whale.
How lemurs fight climate change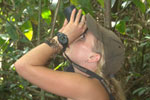 (01/09/2012) Kara Moses may have never become a biologist if not for a coin toss. The coin, which came up heads and decided Moses' direction in college, has led her on a sinuous path from studying lemurs in captivity to environmental writing, and back to lemurs, only this time tracking them in their natural habitat. Her recent research on ruffed lemurs is attracting attention for documenting the seed dispersal capabilities of Critically Endangered ruffed lemurs as well as theorizing connections between Madagascar's lemurs and the carbon storage capacity of its forests. Focusing on the black-and-white ruffed lemur's (Varecia variegata) ecological role as a seed disperser—animals that play a major role in spreading a plant's seeds far-and-wide—Moses suggests that not only do the lemurs disperse key tree species, but they could be instrumental in dispersing big species that store large amounts of carbon.
Critically Endangered Hawaiian monk seals bludgeoned to death
(01/08/2012) To date three Hawaiian monk seals (Monachus schauinslandi), and possibly a fourth mortality under investigation, have been found bludgeoned to death by an as yet undiscovered assailant, reports the Associated Press. Authorities believe the seals may have been killed by local fishermen who fear new regulations meant to save the species from extinction. The seal is currently down to 1,100 individuals.
Eco-toilets help save hippos and birds in Kenya
(01/04/2012) It may appear unintuitive that special toilets could benefit hippos and other wetland species, but the Center for Rural Empowerment and the Environment (CREE) has proven the unique benefits of new toilets in the Dunga Wetlands on Lake Victoria's Kenyan side. By building ecologically-sanitary (eco-san) toilets, CREE has managed to alleviate some of the conflict that has cropped up between hippos and humans for space.
Camera traps snap 35 Javan rhinos, including calves

(01/04/2012) Camera traps have successfully taken photos of 35 Javan rhinos (Rhinoceros sondaicus) in Ujung Kulon National Park. The small population, with an estimated 45 or so individuals, is the species' last stand against extinction. Late last year, a subspecies of the Javan rhino, the Vietnamese rhino (Rhinoceros sondaicus annamiticus), was declared extinct.
'Christmas miracle' for endangered rhinos

(12/24/2011) Conservationists and wildlife officials in the Malaysian state of Sabah airlifted a young female Sumatran Rhinoceros — one of the world's most endangered animals — to an area of forest where she would encounter a potential partner, reports the Sabah Wildlife Department and Borneo Rhino Alliance. Sumatran Rhinoceros populations are so low, some individuals live in areas where they have no hope of ever finding another rhino.
Camera trap videos capture stunning wildlife in Thailand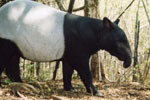 (12/20/2011) A year's worth of camera trap videos (see photos and video below) are proving that scaled-up anti-poaching efforts in Thailand's Western Forest Complex are working. Capturing rare glimpses of endangered, elusive animals—from clouded leopards (Neofelis nebulosa) to banteng (Bos javanicus), a rarely seen wild cattle—the videos highlight the conservation importance of the Western Forest Complex, which includes 17 protected areas in Thailand and Myanmar.
Interview with conservation legend George Schaller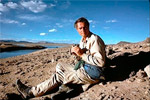 (12/13/2011) Dr George Schaller is a veteran ecologist affiliated with two conservation organizations in New York, Panthera and the Wildlife Conservation Society. Spending much of his time during the past six decades in various countries of Asia, Africa and South America, he has studied and helped protect species as diverse as the Tiger, Mountain Gorilla, Giant Panda and Tibetan Antelope. In addition, he has promoted the establishment of about 15 protected areas. His studies have been the basis for his scientific and popular writings.
Palm oil, pulp companies commit to zero-tolerance policy for orangutan killing
(12/06/2011) Two Indonesian plantation companies have signed an agreement to train workers not to kill or injure orangutans and other protected species. The agreement was brokered by the Indonesian government between Orangutan Foundation International (OFI), a non-profit with operations in Central Kalimantan, Indonesian Borneo, and two major plantation firms: PT Smart, one of Indonesia's largest palm oil producers, and PT Lontar Papyrus, which supplies wood-pulp to Asia Pulp & Paper (APP). Both companies are holdings of the Sinar Mas Group. Under the terms of the deal, OFI will assist the companies 'in delivering a best management practices training program on orangutans and endangered species for its employees, affiliates and pulpwood suppliers.'
On the edge of extinction, giant ibis discovered in new region of Cambodia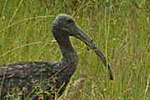 (12/06/2011) The world's largest ibis, and one of the world's most endangered birds, has received some good news. A giant ibis (Thaumatibis giganteawas) has been photographed in the Kampong Som Valley in Koh Kong Province in Cambodia, the first record from this province in nearly a hundred years. Adults can grow to reach nearly 3.5 feet (106 centimeters) long.
Wildlife official: palm oil plantations behind decline in proboscis monkeys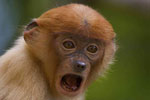 (12/05/2011) The practice of palm oil plantations planting along rivers is leading to a decline in proboscis monkeys (Nasalis larvatus) in the Malaysian state of Sabah on Borneo, says the director of the Sabah Wildlife Department, Laurentius Ambu. Proboscis monkeys, known for their bulbous noses and remarkable agility, depend on riverine forests and mangroves for survival, but habitat destruction has pushed the species to be classified as Endangered by the IUCN Red List.
Wolverines live up to tough reputation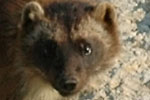 (12/05/2011) In the first X-Men film, the comic book character Wolverine is asked if it hurts when his claws retract from his knuckles. His unflinching response: "Every time." The real wolverine (Gulo gulo) is just as tenacious with new research proving it is a "winter endurance athlete." Eight years of radio-tracking 30 individual wolverines in the Rocky Mountains has provided an abundance of new data about the world's largest member of the weasel family, including that the feisty mammals survive year-round in harsh, snowy conditions 9,000 feet above see level. Although immeasurably tough, the animal is nearly extinct in the lower 48 states of the U.S.
Rare apes saved in India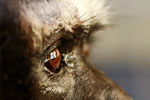 (11/30/2011) Two Hoolock gibbons have been successfully translocated from a fragmented forest to Mehao Wildlife Sanctuary in the beginning of a desperate bid to save 18 family groups of India's last apes. Living near the village of Dello in northeastern India, the apes were straining to survive amid heavy deforestation and fragmentation.
Interview with conservation legend, Richard Leakey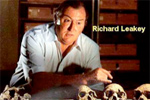 (11/28/2011) Following in his family's footsteps, Dr. Richard Leakey, is considered the heir to the scientific legacy of his parents, Louis and Mary Leakey, icons in the field of paleoanthropology. Dr Richard Leakey has been credited with some of the field's most successful paleoanthropologic finds, including a near complete, groundbreaking, Homo Erectus fossil dubbed 'Turkana Boy'. The scientific contributions of the Leakey family have reshaped our views of the origins of mankind and shed new light on the history and shared ties of the human family.
Animal picture of the day: tracking the world's smallest elephant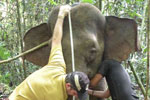 (11/15/2011) Researchers have fitted three Bornean elephants with satellite collars to track them across the Lower Kinabatangan Wildlife Sanctuary, in the Malaysian state of Sabah, Borneo. The effort means currently five elephants are being tracked. The tracking is a part of a collaborative effort by the Sabah Wildlife Department (SWD), the NGO HUTAN, and the Danau Girang Field Centre (DGFC).
First ever survey shows Sumatran tiger hanging on as forests continue to vanish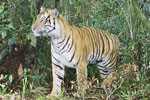 (11/10/2011) The first-ever Sumatran-wide survey of the island's top predator, the Sumatran tiger (Panthera tigris sumatrae), proves that the great cat is holding on even as forests continue to vanish. The study, carried out by eight NGOs and the Indonesian government, shows that the tiger is still present in 70 percent of the forests surveyed, providing hope for the long-term survival of the subspecies if remaining forests are protected.
Aloha, and welcome to the planet's extinction capital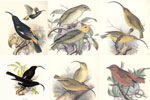 (11/07/2011) Hawaii evokes images of a tropical paradise where fragrant flowers, vivid colors, exotic plants, birds, and fish abound. Unfortunately, much of Hawaii's original native flora and fauna has disappeared since the arrival of Europeans in the 18th Century. Hawaii now has the dubious distinction as having become the planet's extinction capital, having lost more than 55 endemic species (mostly native forest birds) which account for nearly one third of recorded of bird extinctions since the 1700s.
New site is a match-maker for world's endangered frogs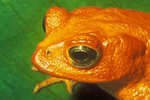 (11/03/2011) A new initiative by the conservation group, Amphibian Ark, hopes to match lonely, vanishing frogs with a prince/princess to to save them. Dubbed FrogMatchMaker.com after online dating sites, the program is working to connect supporters and donors with amphibian conservation programs in need. Currently, amphibians are among the world's most imperiled species with 41 percent threatened with extinction according to the IUCN Red list.
South Africa hits record poaching of rhinos—again
(11/03/2011) Two months before the end of the year, the number of rhinos killed for their horns in South Africa has surpassed last year's breaking record, reports conservation organizations WWF and TRAFFIC. So far, 341 rhinos have been lost to poaching this year; while last year saw a total record of 333. The news follows last week's announcement that the Vietnamese rhino (Rhinoceros sondaicus annamiticus), a subspecies of the Javan rhino, has gone extinct—the last individual killed by a poachers' bullet. Rhinos are killed for their horns which are used in traditional Chinese medicine, even though numerous studies have shown there is no medicinal benefit to consuming rhino horn.




Page 1 | Page 2 | Page 3 | Page 4 | Page 5 | Page 6 | Page 7 | Page 8 | Page 9 | Page 10 | Page 11 | Page 12 | Page 13 | Page 14 | Page 15