News articles on impact of climate change

---
Mongabay.com news articles on impact of climate change in blog format. Updated regularly.





Northwest Passage now open for business

(09/15/2007) Melting sea ice has opened the Northwest Passage in the Arctic to navigation, reports the European Space Agency. The clearing allows direct access between the North Pacific and North Atlantic and could eventually be a cheaper shipping route that the Panama Canal.


Arctic sea ice thickness only half of 2001 level

(09/14/2007) Arctic sea is thinning and disappearing, report German researchers. An Alfred-Wegener-Institute for Polar and Marine Research expedition to the North Polar Sea found that large areas of the Arctic sea-ice are only one meter thick this year -- half the thickness found in 2001. The findings support concerns that large expanses of polar ice could soon disppaear from the Arctic during summer months.


Arctic sea ice melts to all-time record low

(09/12/2007) Sea ice cover in the Arctic Ocean is presently 20 percent below its all time lowest extent and may decline further before winter, said scientists from the National Snow and Ice Data Center in Boulder (NSIDC).


Global warming is killing trees in California parks

(09/12/2007) A new study ties a 22 percent increase in mortality among trees in the California Sierra Nevadas to a temperature-driven increase in drought.


Gray whale populations a fraction of historic level

(09/10/2007) The current population of gray whales is one-third to one-fifth of the number found in the Pacific before industrial whaling began in the 19th century, reports a new study based on genetic analysis.


Two-thirds of polar bears at risk of extinction by 2050

(09/07/2007) Two-thirds the world's polar bears could be threatened with extinction by 2050 due to melting sea ice, said U.S. government scientists Friday. U.S. Geological Survey scientists said that the United States (the north coast of Alaska) and Russian would likely lose all of their polar bear populations. The only bears expected to survive would be those in the northern Canadian Arctic islands and the west coast of Greenland. Overall, bears are forecast to lose 42 percent of the Arctic range they need to hunt and breed during summer months.


Environmentalists may use Endangered Species Act to pressure gov't on global warming

(09/07/2007) The addition of elkhorn and staghorn corals to the Endangered Species Act due to threats from climbing ocean temperatures, may be environmentalists' best weapon for levering the U.S. government into action on global warming, writes Mark Clayton of The Christian Science Monitor.


Experts forecast large decline in Arctic sea ice

(09/07/2007) Summer sea ice off Alaska's north coast will likely shrink to nearly half the area it covered in the 1980s by 2050, report scientists from the National Oceanic and Atmospheric Administration. The loss of ice would have a significant impact on mammals dependent on sea ice, including polar bear and walrus.


Climate change drove human evolution

(09/03/2007) Climate change appears to have been a significant driver of human evolution, report researchers writing in this week's issue of the journal Proceedings of the National Academy of Science (PNAS).


Global warming to cause more severe thunderstorms, reports NASA

(08/31/2007) Global warming will increase the incidence of severe storms and tornados, report NASA scientists.


Pearl River Delta under Rising Water Threat

(08/30/2007) 1,153 square km (445 square miles) of land surrounding the Pearl River Delta in Guangdong Province, China may be engulfed by rising sea levels by 2050, reports Chinese state media. The cities worst affected will be Guangzhou, capital of Guangdong province, alongside Zhuhai and Foshan if nothing is done to combat the problem soon.


Northwest Passage Nearly Open, reports NASA

(08/28/2007) The fabeled Northwest Passage is nearly open, with implications for trade and natural resource exploitation, reports NASA.


Greenhouse gases made 2006 2nd-warmest year on record for U.S.

(08/28/2007) Greenhouse gases likely accounted for over half of the widespread warmth across the continental United States in 2006, report scientists writing in the September 5th issue of the journal Geophysical Research Letters.


Global warming causes increase in tropical rainfall

(08/27/2007) Climate change appears to be resulting in higher levels of rainfall in the tropics, reports NASA.


U.S. grazing lands at risk due to rising CO2 levels

(08/27/2007) Rising carbon dioxide levels could cause significant changes to open grazing lands and rangelands around the world, reports a study published in the journal Proceedings of the National Academy of Sciences (PNAS).


European blood-sucker falls victim to global warming

(08/26/2007) Europe's only known land leech may be on the brink of extinction due to shifts in climate, report researchers writing in the journal Naturwissenschaften. The findings are significant because they suggest that "human-induced climate change without apparent habitat destruction can lead to the extinction of populations of cold-adapted species that have a low colonization ability," according to the authors.


Could a hurricane hit California?

(08/20/2007) San Diego has been hit by hurricanes in the past and could be affected by such storms in the future according to data from the National Oceanic and Atmospheric Administration (NOAA). While a hurricane in San Diego would likely produce significantly less damage than Hurricane Katrina in New Orleans, it could still exact a high cost to Southern California especially if the region was caught off guard.


Arctic sea ice shrinks to record low in 2007

(08/15/2007) Arctic sea ice has shrunk to a record low according the Japan Aerospace Exploration agency.


Climate change reducing Lake Tahoe's water clarity

(08/15/2007) Lake Tahoe in Northern California is losing is characteristic water clarity due to pollution and climate change, reports a new study by the University of California at Davis.


Global warming to stunt growth of rainforest trees

(08/12/2007) Global warming could reduce the growth rates of rainforest trees by 50 percent, reported research presented last week at the annual meeting of the Ecological Society of America in San Jose, California by Ken Feeley of Harvard University's Arnold Arboretum in Boston.


Climate change claims a snail

(08/12/2007) The Aldabra banded snail (Rachistia aldabrae), a rare and poorly known species found only on Aldabra atoll in the Indian Ocean, has apparently gone extinct due to declining rainfall in its niche habitat. While some may question lamenting the loss of a lowly algae-feeding gastropod on some unheard of chain of tropical islands, its unheralded passing is nevertheless important for the simple reason that Rachistia aldabrae may be a pioneer. As climate change increasingly brings local and regional shifts in precipitation and temperature, other species are expected to follow in its path.


European heat waves double in length since 1880

(08/11/2007) The most accurate measures of European daily temperatures ever indicate that the length of heat waves on the continent has doubled and the frequency of extremely hot days has nearly tripled in the past century. The new data shows that many previous assessments of daily summer temperature change underestimated heat wave events in western Europe by approximately 30 percent.


U.S. government weather agency cuts hurricane outlook

(08/10/2007) The U.S. National Oceanic and Atmospheric Administration on Thursday reduced its forecast for the number of tropical storms and hurricanes expected during the 2007 Atlantic season. NOAA said it now expected between 13 and 16 named storms, with seven to nine becoming hurricanes and three to five of them classified as "major" hurricanes (categories 3, 4, or 5).


Floating sea ice shrinks in the Arctic

(08/10/2007) By one estimate, the extent of floating sea ice in the Arctic has shrunk more than in any summer ever recorded, reports the New York Times.


Melting permafrost affects greenhouse gas emissions

(08/10/2007) Permafrost -- the perpetually frozen foundation of the north -- isn't so permanent anymore, and scientists are scrambling to understand the pros and cons when terra firma goes soft.


Floods affect 500 million people per year, will worsen with warming

(08/10/2007) Floods affect 500 million people a year and cause billions of dollars in damage, said U.N. officials Thursday.


Global warming will slow, then accelerate reports ground-breaking model

(08/09/2007) Global warming will slow during the next few years but then accelerate with at least half of the years after 2009 warmer than 1998, the warmest year on record, reports a new study that is the first to incorporate information about the actual state of the ocean and the atmosphere, rather than the approximate ones most models use. The research, published by a team of scientists from the Hadley Center in the United Kingdom, appears in the current issue of the journal Science.


Coral reefs declining faster than rainforests

(08/08/2007) Coral reefs in the Pacific Ocean are dying faster than previously thought due to costal development, climate change, and disease, reports a study published Wednesday in the online journal PLoS One. Nearly 600 square miles of reef have disappeared per year since the late 1960s, a rate twice that of tropical rainforest loss.


Frog killing diseases worse than thought in California

(08/06/2007) The deadly fungal disease that is killing amphibians worldwide can likely be spread by sexual reproduction reports a new study published in the early online edition of the journal Proceedings of the National Academy of Sciences. The findings suggest that protecting frogs and other amphibians from the pathogen will be more complicated than previously believed.


2007 hurricane season downgraded, questions over climate role remain

(08/06/2007) Hurricane researcher William Gray from Colorado State University cut his 2007 hurricane season outlook, saying there will likely be fewer storms than previously projected due to weak La Niña conditions and more atmospheric dust from Africa.


Las Vegas has gotten hotter

(07/25/2007) Las Vegas and the rest of Nevada has heated up over the past 30 years, but it's not the entertainment industry that is responsible. A new study by the U.S. Public Interest Research Group reports that, as a state, Nevada has seen one of the largest increases in average temperature over the last three decades.


Human-induced climate change causes shifts in rainfall

(07/23/2007) Human-induced climate change has caused changes in rainfall patterns around the world over the past century, claims a new study published in Nature.


Hurricanes can help coral reefs

(07/17/2007) A close call with a hurricane can be beneficial to a stressed coral reef, reports a study published in Proceedings of the National Academy of Sciences (PNAS).


Polar bears avoiding sea ice for cub dens

(07/15/2007) Polar bears in Alaska are increasingly setting up dens on sea on land because sea ice is thinning, reports a new study by U.S. Geological Survey (UCGS) researchers.


Glaciers in western China shrank 20% in 40 years

(07/13/2007) Glaciers in Western China have melted at "alarming" rates over the past 40 years, according to Chinese state media.


How will climate change impact the U.S. Northeast?

(07/11/2007) The Northeastern United States could experience widespread changes from global warming if greenhouse gas emission are not significantly reined in, warns a new report from the Union of Concerned Scientists (UCS) and a team of more than 50 scientists and economists.


Climate change fueled ancient wars in China

(07/10/2007) A new study ties past climate change to warfare in ancient China.


Careless humanity batters the Arctic

(07/03/2007) I feel the need to say from the outset when I discuss topics such as Global-Warming that I am indeed a greenie of sorts, and I believe that the obvious downward spiral that our planet is taking is due to the careless attitudes towards the environment that the industrialized and predominantly white nations have taken over the past decades. I, as a note, am white, and have no qualms in pointing the finger at my own country (Australia) and others that we support, and that support us. In fact, I am ashamed to be one of the only two countries in the world not to have signed the Kyoto Protocol (the other, for reference, being the United States of America).


Global warming will producer higher death rates in the U.S.

(07/02/2007) Global warming will cause more deaths due to higher temperatures, reports a new study published in Occupational and Environment Medicine. While milder winters will produce fewer deaths, they will not offset high mortality in summer months.


Climate change is making poison ivy worse

(06/26/2007) New research shows that climate change is making poison ivy more potent, according to an article in The Wall Street Journal.


Sedentary, not migratory birds, face higher extinction risk

(06/24/2007) Sedentary birds face considerably higher risk of extinction than migratory birds, reports a new paper published in the journal Current Biology. The findings have implications for the conservation of increasingly endangered wildlife populations.


Spring arrives 2 weeks earlier in Arctic due to climate change

(06/19/2007) Arctic summers are arriving two weeks earlier than just a decade ago reports a study published the June 19th issue of Current Biology. The research, based on phenology--the study of the timing of familiar signs of spring seen in plants, insects, birds, and other species--found that the arrival of spring is advancing at 14.5 days per decade.


France to see scorching summers due to global warming

(06/14/2007) Mediterranean countries will face a 200-500 percent rise in the number of dangerously hot days due to global warming, reports a study published in the June 15 Geophysical Research Letters.


Ocean acidification monitoring system launched

(06/13/2007) The first buoy to monitor ocean acidification has been launched in the Gulf of Alaska reports the National Science Foundation (NSF). Scientists hope the instrument, which will transmit data via satellite, will help examine how ocean circulation and ecosystems interact to determine how much carbon dioxide the north Pacific Ocean absorbs each year.


Can cattle ranchers and soy farmers save the Amazon?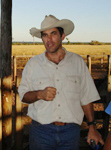 (06/06/2007) John Cain Carter, a Texas rancher who moved to the heart of the Amazon 11 years ago and founded what is perhaps the most innovative organization working in the Amazon, Alianca da Terra, believes the only way to save the Amazon is through the market. Carter says that by giving producers incentives to reduce their impact on the forest, the market can succeed where conservation efforts have failed. What is most remarkable about Alianca's system is that it has the potential to be applied to any commodity anywhere in the world. That means palm oil in Borneo could be certified just as easily as sugar cane in Brazil or sheep in New Zealand. By addressing the supply chain, tracing agricultural products back to the specific fields where they were produced, the system offers perhaps the best market-based solution to combating deforestation. Combining these approaches with large-scale land conservation and scientific research offers what may be the best hope for saving the Amazon.


Glaciers speed up due to global warming

(06/05/2007) Antarctic glaciers are moving faster due to global warming, reports the British Antarctic Survey.


Indonesia: No more rainforest clearing for palm oil

(06/05/2007) Indonesian Minister for Environment Rachmat Witoelar said Indonesia will not allow palm oil producers to clear primary forests for establishing plantations, reports Bloomberg. Indonesia is expected to surpass Malaysia as the world largest producer of palm oil this year. The government hopes to add 7 million hectares of plantations by 2011.


10-20% of birds extinct by 2100 due to global warming, deforestation


(06/04/2007) Ten to twenty percent of the world's terrestrial bird species could be threatened with extinction by 2100 due to climate change and habitat destruction reports a study published in the June 5 issue of the journal PLoS Biology. The numbers are in line with estimates published last year in The Proceedings of the National Academy of Sciences. Combining future projections on global warming, agricultural expansion and human population growth from the global Millennium Ecosystem Assessment with current geographic ranges of the world's 8,750 species of terrestrial birds, researchers Walter Jetz, David Wilcove, and Andrew Dobson estimate that 950 to 1800 species may be condemned to extinction by 2100.


Pictures of newly discovered species in Suriname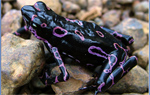 (06/04/2007) Scientists documented 467 species, including 24 species believed new to science, during a rainforest survey in eastern Suriname, South America. The expedition, led by conservation International (CI), was sponsored by two mining companies, BHP-Billiton Maatschappij Suriname (BMS) and Suriname Aluminium Company LLC (Suralco), hoping to mine the area for bauxite, the raw material used to make aluminum. conservation International said the Rapid Assessment Survey (RAP) will help "give miners guidance on protecting unique plants and animals during potential future development," according to a statement from the organization.


Globalization could save the Amazon rainforest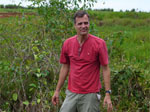 (06/03/2007) The Amazon basin is home to the world's largest rainforest, an ecosystem that supports perhaps 30 percent of the world's terrestrial species, stores vast amounts of carbon, and exerts considerable influence on global weather patterns and climate. Few would dispute that it is one of the planet's most important landscapes. Despite its scale, the Amazon is also one of the fastest changing ecosystems, largely as a result of human activities, including deforestation, forest fires, and, increasingly, climate change. Few people understand these impacts better than Dr. Daniel Nepstad, one of the world's foremost experts on the Amazon rainforest. Now head of the Woods Hole Research Center's Amazon program in Belem, Brazil, Nepstad has spent more than 23 years in the Amazon, studying subjects ranging from forest fires and forest management policy to sustainable development. Nepstad says the Amazon is presently at a point unlike any he's ever seen, one where there are unparalleled risks and opportunities. While he's hopeful about some of the trends, he knows the Amazon faces difficult and immediate challenges.



Page 1 | Page 2 | Page 3 | Page 4 | Page 5 | Page 6 | Page 7 | Page 8 | Page 9 | Page 10 | Page 11 | Page 12 | Page 13 | Page 14 | Page 15