News articles on impact of climate change

---
Mongabay.com news articles on impact of climate change in blog format. Updated regularly.






Adaptation to climate change will be difficult for Madagascar

(07/29/2008) Madagascar's high levels of endemism coupled with its extensive loss and degradation of ecosystems leave its species particularly vulnerable to climate change. A new paper evaluates these risks and sets forth conservation priorities to best maintain the ecological resilience of the island nation.
Climate change will increase the erosion of coral reefs

(07/28/2008) Coral reefs are particularly susceptible to climate change. Warming waters have been shown to bleach coral, killing off symbiotic algae that provide them with sustenance, and often leading to the death of the coral itself. Much attention has been placed on bleaching coral, but now scientists have discovered an additional danger to coral reefs in a warming world: erosion.
Coral susceptibility to bleaching due to small differences in symbiotic relationship

(07/22/2008) Coral reefs are now considered the second most threatened group of animals in the world, with nearly one-third of corals listed as endangered (amphibians retain the dubious honor of being number one). Although corals face many threats, the greatest is bleaching caused by warming oceans due to climate change. However, some coral populations are more susceptible to bleaching than others, even including corals of the same species. New research has uncovered that the reason lies in small differences in the symbiotic relationship between corals and their symbionts, small marine animals and protozoa. Such differences, however minuscule, have a huge impact on the likelihood of a coral's ability to survive warming oceans.
Moving species may be only way to save them from climate change

(07/17/2008) Desperate times call for desperate measures, according to a new paper in Science. conservation scientists from the US, the UK, and Australia are calling for the consideration of a highly controversial conservation technique: assisted migration. According to the policy piece, species would be relocated to sites "where they do not currently occur or have not been known to occur in recent history".
Forests cover 1/3 of U.S. but are responsible for 2/3 of its water supply

(07/16/2008) The single most important function of U.S. forests is their role in securing the country's freshwater supply at a time when water demand is surging but climate risks to forests are also increasing, say the authors of a new federal report released by the National Research Council.
Birds face higher risk of extinction than conventionally thought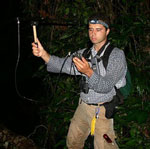 (07/14/2008) Birds may face higher risk of extinction than conventionally thought, says a bird ecology and conservation expert from Stanford University. Dr. Cagan H. Sekercioglu, a senior research scientist at Stanford and head of the world's largest tropical bird radio tracking project, estimates that 15 percent of world's 10,000 bird species will go extinct or be committed to extinction by 2100 if necessary conservation measures are not taken. While birds are one of the least threatened of any major group of organisms, Sekercioglu believes that worst-case climate change, habitat loss, and other factors could conspire to double this proportion by the end of the century. As dire as this sounds, Sekercioglu says that many threatened birds are rarer than we think and nearly 80 percent of land birds predicted to go extinct from climate change are not currently considered threatened with extinction, suggesting that species loss may be far worse than previously imagined. At particular risk are marine species and specialists in mountain habitats.
Pine beetles attack Canada, boosting GHG emissions

(07/10/2008) The mountain pine beetle, a small tree-devouring insect, has deforested an area of British Columbia the size of Louisiana — over 130,000 square kilometers. The 5 millimeter insect is a perfect tree-destroying machine. The beetles bore through the tree's bark to reach the phloem of the tree, which contains the tree's organic nutrients. The beetles then feed on these nutrients and lay their eggs. The trees defend themselves by secreting extra resin, but the beetles are often able to combat this by releasing a blue fungi. In about two weeks time, the tree turns a tell-tale red and essentially starves to death. The mountain pine beetles move on.
1/3 of corals face extinction

(07/10/2008) Nearly one-third of reef-building corals are vulnerable to extinction, according to an assessment of 845 species of coral. Rising temperatures, increased incidence of disease, and human disturbance are driving the trend.
Good news for reefs: giant coral structure found off Brazil

(07/07/2008) Amid a series of dire reports on the status of coral reefs, scientists announced the discovery of a reef off the southern coast of Brazil's Bahia state that doubles the size of the Southern Atlantic Ocean's largest and richest reef system, the Abrolhos Bank.
U.S. coral reefs in trouble

(07/07/2008) Nearly half of U.S. coral reefs are in "poor" or "fair" condition according to a new study by the National Oceanic and Atmospheric Administration (NOAA).
Some grasslands resilient against climate change, according to 13 year study

(07/07/2008) In Buxton, England--a spa town lying in the county of Derbyshire--scientists have spent 13 years subjecting grasslands to temperature increases and precipitation shifts consistent with climate change predictions. Considered one of the longest studies of climate change on natural ecosystems, the grasslands of Buxton proved surprisingly resilient to most of the effects of climate change.
CO2 emissions could doom fishing industry

(07/03/2008) Aside from warming climate, rising carbon dioxide emissions are contributing to ocean acidification, threatening sea live, warn researchers writing in the journal Science. This trend makes it all the more important to reduce emissions, argue the authors.
Global warming threatens California's native plants

(06/24/2008) Two-thirds of California's native plants could suffer an 80 percent or more reduction in geographic range by the end of the century due to changing climate warns a study appearing tomorrow in the open-access journal PLoS ONE.
New discoveries about past forest changes may help predict future ones in a changing climate

(06/12/2008) There is no better method to understand the future than to look to the past. Several new studies of the earth's glacial history are transforming the way scientists look at tree behvaior during extreme changes in climate. Scientists Remj Petit, Feng Sheng Hu, and Christopher Dick described such changes in relation to current global warming in the new issue of the journal Science. They report that already "in some parts of the world, tree species have started to shift their distributions in response to anthropogenic climatic warming", thus raising the stakes for understanding how tree species will adapt to coming changes.
Forests face governance challenges

(06/12/2008) Governments "own" about 86 percent of the word's forests, but recent changes in forest management structure means they effectively control far less than they did just a generation ago. As such, the fate of forests is increasingly determined by concesssionary agreements with extractive industries and the whims of market demand for commodities produced on forest lands. Climate change and rapid economic growth are poised to further complicate effective management of forest areas.
Diversity in streams may brace Chinook salmon for climate change

(06/03/2008) Chinook salmon face a one-two punch. They have disappeared from several rivers in the western U.S. largely because of human interventions and some populations are threatened or endangered. Numbers of Chinook in California's Central Valley have dwindled by 88 percent in the past five years, a loss that closed fisheries for 2008 and may cost California's economy $167 million, according to the state Department of Fish and Game. On top of all this looms a second impact: These salmon will be in hotter water still because of climate change.
Bush Administration: global warming is real and a threat to the U.S. economy

(05/28/2008) The Bush Administration today released a court-ordered assessment on climate. The report — titled "Scientific Assessment of the Effects of Global Change on the United States" — says human-driven climate change will damage ecosystems and pose challenges to key sectors of the U.S. economy including agriculture and energy.
Environmental damage costs $4.8 trillion annually

(05/28/2008) Environmental damage and biodiversity loss in forest ecosystems costs 2.1 to 4.8 trillion dollars per year, according to a report released Thursday at the UN Convention on Biological Diversity meeting in Bonn, Germany.
Ocean acidification worse than expected, threatens sea life

(05/22/2008) Increasing ocean acidification along the continental shelf of North America will likely have negative impacts on marine ecosystems, including the corrosion of calcium carbonate exoskeletons in many organisms, warn researchers writing in the journal Science.
Global warming harming plant-eating animals in the Arctic

(05/21/2008) Climate change is making it more difficult for plant-eating animals in highly seasonal environments like as the Arctic to locate food, according to a new study published in the online edition of the journal Proceedings of the Royal Society B.
No longer a fan of Earth Day

(05/01/2008) After April 22nd of this year, I am no longer a fan of Earth Day. It has become a strange pseudo-holiday that allows individuals, governments, corporations, and the media to focus a miniscule spotlight on our environmental crises, and then breathe a sigh of relief over the following days and weeks as they to go back to their old ineffectual ways. It is a day to stem the guilt of the sorry state of our natural—and 'civilized'—world. It is not a day where environmental education actually reaches the masses, or when people wake to the need—not the luxury—to change our ways. It is the opposite: a chance to feel good about our time's greatest crisis.
Global warming could worsen HIV/AIDS epidemic

(04/30/2008) A number of studies have suggested that climate change could expand the range of tropical diseases like Dengue fever and Encephalitis. Now a researcher from the University of New South Wales (UNSW) in Australia says that global warming could lead to an increase in HIV infection rates worldwide.
The Arctic's most threatened marine mammals due to climate change

(04/25/2008) A recent study has measured the sensitivity to Arctic marine mammals to climate change. The study found that the three species most vulnerable to climate change are the hooded seal, the polar bear, and the narwhal: the common thread between these species being the loss of sea ice.
Sunshine worsens Arctic sea ice melt

(04/21/2008) Arctic sea ice is increasingly vulnerable to sunny days, concludes new research published in the journal Geophysical Research Letters.
Invasive species cost China $14B per year

(04/01/2008) Rapid economic growth and giant infrastructure projects have allowed invasive species to spread throughout China and inflict more than $14.5 billion of damage to the nation's economy annually, according to a study published in Bioscience. The research warns that the Beijing Olympics may worsen the toll.
Humans, and global warming, responsible for extinction of mammoths

(03/31/2008) The combination of human hunting pressure and climate change was responsible for the extinction in woolly mammoths, claims new research published in the open-access journal PLoS Biology. Scientists have long debated whether climate change or human hunting were the more important driver in the demise of North America's megafauna towards the end of the last Ice Age. Now new modeling by David Nogues-Bravo, a biologist at the National Museum of Natural Sciences in Madrid, Spain, and colleagues supports the theory that synergistic effects of warming climate and new human predators drove mammoths to extinction.
No global warming link to dying frogs?
(03/25/2008) Scientists have fired another salvo in the heated debate over the role of climate change in the global decline of amphibians. Writing in the March 25 issue of PLoS Biology, a team of researchers led by Karen Lips of Southern Illinois University-Carbondale report finding "no evidence to support the hypothesis that climate change has been driving outbreaks of amphibian chytridiomycosis" -- a disease blamed for large-scale die-offs of amphibians. Other researchers have argued that climate shifts are worsening the outbreak of the fungal disease.
Swan finds love with paddleboat

(03/25/2008) In a bizarre story out of Muenster, Germany, a black swam will be reunited with its companion — a paddleboat shaped like an outsized white swan, reports the Associated Press.
Photos: Warming triggers massive Antarctic ice shelf collapse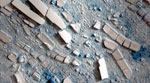 (03/25/2008) Satellites have captured the collapse of a massive ice shelf in Antarctica. At 160 square miles the area of collapsed ice was seven times the size of Manhattan. Scientists say the collapse is the beginning of a "runaway" disintegration of the 13,680 square kilometer (5,282 square mile) Wilkins Ice Shelf on the southwest Antarctic Peninsula. The region has experienced the largest temperature increase on the planet, rising by 0.5 degree Celsius (0.9 degree Fahrenheit) per decade over the past 50 years.
Black carbon pollution has big impact on climate

(03/24/2008) Black carbon, a form of particulate air pollution most often produced from biomass burning, cooking with solid fuels and diesel exhaust, has a warming effect in the atmosphere three to four times greater than prevailing estimates, according to scientists in an upcoming review article in the journal Nature Geoscience.
Markets could save forests: An interview with Dr. Tom Lovejoy

(03/20/2008) Market mechanisms are increasingly seen as a way to address environmental problems, including tropical deforestation. In particular, compensation for ecosystem services like carbon sequestration — a concept known by the acronym REDD for "reducing emissions from deforestation and degradation" — may someday make conservation a profitable enterprise in which carbon traders are effectively saving rainforests simply by their pursuit of profit. Protecting rainforests and their resident biodiversity would be an unintentional, but happy byproduct of profit-seeking endeavors.
Perennial ice disappearing in the Arctic receives little attention from the media

(03/19/2008) A big story came out on the loss of perennial ice in Arctic from NASA on Wednesday — and was mostly ignored by the media. Despite a colder winter than usual, the Arctic is losing its perennial ice (ice that lasts longer than a season) making the region even more susceptible to global warming. Perennial ice used to cover 50-60 percent of the Arctic. Results from this year's satellites show that perennial ice has decreased to less than 30 percent. In addition ice older than six years has declined from 20 percent in the eighties to six percent today.
Dams mask sea level rise - oceans swell faster than previously thought

(03/13/2008) Water held in man-made reservoirs is masking the true extent of sea level rise from melting ice and thermal expansion, report scientists writing in the journal Science. The researchers, from the National Central University in Taiwan, calculate that sea levels would be 30 mm (1.2 inches) higher without water stored behind dams.
Half of Madagascar's amphibians may still await discovery

(03/11/2008) Madagascar is one of the most unique places on Earth for wildlife. When the public thinks of Madagascar's fauna most likely they think of one of the fifty species of lemur. Yet, Madagascar possesses a wealth of endemic wildlife outside of these unique prosimians. For example, to frog-lovers Madagascar is a paradise. The only amphibians living on Madagascar are frogs; the island is devoid of toads, salamanders, or newts. But what it lacks in other amphibians it makes up for in the number and beauty of its frogs. Currently, 240 frogs have been catalogued in Madagascar, 99 percent of which are endemic. Yet, amphibian expert Dr. Franco Andreone believes that, according to recent field studies, this may only be half of the frogs that actually live in Madagascar. Dr. Andreone believes the final tally could reach 500 species!
Cellulosic energy may trigger dramatic collapse in the Amazon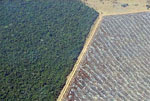 (03/11/2008) Next generation biofuels may trigger the ecological collapse of the Amazon frontier and could have profoundly unexpected economic consequences for the region, warns a paper published in Philosophical Transactions of the Royal Society B. Dr. Donald Sawyer writes that "interacting with climate change and land use, the upcoming stage of cellulosic energy could result in a collapse of the new frontier into vast degraded pasture." The shift could increase the incidence and severity of fires, reduce rainfall in key agricultural zones, exacerbate forest die-back and climate change, and worsen social instability. Sawyer says that while difficult to anticipate, the worst outcomes could likely be avoided be promoting "intensified and more sustainable use" of already cleared areas, minimizing new deforestation, and encouraging "sustainable use of natural resources by local communities."




Page 1 | Page 2 | Page 3 | Page 4 | Page 5 | Page 6 | Page 7 | Page 8 | Page 9 | Page 10 | Page 11 | Page 12 | Page 13 | Page 14 | Page 15