News articles on impact of climate change

---
Mongabay.com news articles on impact of climate change in blog format. Updated regularly.





No longer a fan of Earth Day

(05/01/2008) After April 22nd of this year, I am no longer a fan of Earth Day. It has become a strange pseudo-holiday that allows individuals, governments, corporations, and the media to focus a miniscule spotlight on our environmental crises, and then breathe a sigh of relief over the following days and weeks as they to go back to their old ineffectual ways. It is a day to stem the guilt of the sorry state of our natural—and 'civilized'—world. It is not a day where environmental education actually reaches the masses, or when people wake to the need—not the luxury—to change our ways. It is the opposite: a chance to feel good about our time's greatest crisis.


Global warming could worsen HIV/AIDS epidemic

(04/30/2008) A number of studies have suggested that climate change could expand the range of tropical diseases like Dengue fever and Encephalitis. Now a researcher from the University of New South Wales (UNSW) in Australia says that global warming could lead to an increase in HIV infection rates worldwide.


Endangered species status of the polar bear to be decided May 15

(04/29/2008) A federal judge has ordered the Bush administration to stop delaying its decision on whether to list the polar bear as an endangered species. Environmentalists say the bear is threatened by melting sea ice in its Arctic habitat.


The Arctic's most threatened marine mammals due to climate change

(04/25/2008) A recent study has measured the sensitivity to Arctic marine mammals to climate change. The study found that the three species most vulnerable to climate change are the hooded seal, the polar bear, and the narwhal: the common thread between these species being the loss of sea ice.


Sunshine worsens Arctic sea ice melt

(04/21/2008) Arctic sea ice is increasingly vulnerable to sunny days, concludes new research published in the journal Geophysical Research Letters.


Invasive species cost China $14B per year

(04/01/2008) Rapid economic growth and giant infrastructure projects have allowed invasive species to spread throughout China and inflict more than $14.5 billion of damage to the nation's economy annually, according to a study published in Bioscience. The research warns that the Beijing Olympics may worsen the toll.


Humans, and global warming, responsible for extinction of mammoths

(03/31/2008) The combination of human hunting pressure and climate change was responsible for the extinction in woolly mammoths, claims new research published in the open-access journal PLoS Biology. Scientists have long debated whether climate change or human hunting were the more important driver in the demise of North America's megafauna towards the end of the last Ice Age. Now new modeling by David Nogues-Bravo, a biologist at the National Museum of Natural Sciences in Madrid, Spain, and colleagues supports the theory that synergistic effects of warming climate and new human predators drove mammoths to extinction.


No global warming link to dying frogs?


(03/25/2008) Scientists have fired another salvo in the heated debate over the role of climate change in the global decline of amphibians. Writing in the March 25 issue of PLoS Biology, a team of researchers led by Karen Lips of Southern Illinois University-Carbondale report finding "no evidence to support the hypothesis that climate change has been driving outbreaks of amphibian chytridiomycosis" -- a disease blamed for large-scale die-offs of amphibians. Other researchers have argued that climate shifts are worsening the outbreak of the fungal disease.


Swan finds love with paddleboat

(03/25/2008) In a bizarre story out of Muenster, Germany, a black swam will be reunited with its companion — a paddleboat shaped like an outsized white swan, reports the Associated Press.


Photos: Warming triggers massive Antarctic ice shelf collapse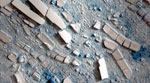 (03/25/2008) Satellites have captured the collapse of a massive ice shelf in Antarctica. At 160 square miles the area of collapsed ice was seven times the size of Manhattan. Scientists say the collapse is the beginning of a "runaway" disintegration of the 13,680 square kilometer (5,282 square mile) Wilkins Ice Shelf on the southwest Antarctic Peninsula. The region has experienced the largest temperature increase on the planet, rising by 0.5 degree Celsius (0.9 degree Fahrenheit) per decade over the past 50 years.


Black carbon pollution has big impact on climate

(03/24/2008) Black carbon, a form of particulate air pollution most often produced from biomass burning, cooking with solid fuels and diesel exhaust, has a warming effect in the atmosphere three to four times greater than prevailing estimates, according to scientists in an upcoming review article in the journal Nature Geoscience.


Global warming could trigger dramatic Lake Tahoe changes within 10 years

(03/24/2008) Warming temperatures may cloud Lake Tahoe's legendary clear waters and put the lake's native species at risk, reports a new study from the University of California, Davis.


Markets could save forests: An interview with Dr. Tom Lovejoy



(03/20/2008) Market mechanisms are increasingly seen as a way to address environmental problems, including tropical deforestation. In particular, compensation for ecosystem services like carbon sequestration — a concept known by the acronym REDD for "reducing emissions from deforestation and degradation" — may someday make conservation a profitable enterprise in which carbon traders are effectively saving rainforests simply by their pursuit of profit. Protecting rainforests and their resident biodiversity would be an unintentional, but happy byproduct of profit-seeking endeavors.


Perennial ice disappearing in the Arctic receives little attention from the media

(03/19/2008) A big story came out on the loss of perennial ice in Arctic from NASA on Wednesday — and was mostly ignored by the media. Despite a colder winter than usual, the Arctic is losing its perennial ice (ice that lasts longer than a season) making the region even more susceptible to global warming. Perennial ice used to cover 50-60 percent of the Arctic. Results from this year's satellites show that perennial ice has decreased to less than 30 percent. In addition ice older than six years has declined from 20 percent in the eighties to six percent today.


Dams mask sea level rise

(03/13/2008) Water held in man-made reservoirs is masking the true extent of sea level rise from melting ice and thermal expansion, report scientists writing in the journal Science. The researchers, from the National Central University in Taiwan, calculate that sea levels would be 30 mm (1.2 inches) higher without water stored behind dams.


Fast-growing coral may help reefs survive global warming

(03/13/2008) Two fast-growing coral species may hold the key to Caribbean reefs surviving global warming, report researchers writing in the journal Science.


Half of Madagascar's amphibians may still await discovery



(03/11/2008) Madagascar is one of the most unique places on Earth for wildlife. When the public thinks of Madagascar's fauna most likely they think of one of the fifty species of lemur. Yet, Madagascar possesses a wealth of endemic wildlife outside of these unique prosimians. For example, to frog-lovers Madagascar is a paradise. The only amphibians living on Madagascar are frogs; the island is devoid of toads, salamanders, or newts. But what it lacks in other amphibians it makes up for in the number and beauty of its frogs. Currently, 240 frogs have been catalogued in Madagascar, 99 percent of which are endemic. Yet, amphibian expert Dr. Franco Andreone believes that, according to recent field studies, this may only be half of the frogs that actually live in Madagascar. Dr. Andreone believes the final tally could reach 500 species!


Cellulosic energy may trigger dramatic collapse in the Amazon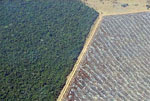 (03/11/2008) Next generation biofuels may trigger the ecological collapse of the Amazon frontier and could have profoundly unexpected economic consequences for the region, warns a paper published in Philosophical Transactions of the Royal Society B. Dr. Donald Sawyer writes that "interacting with climate change and land use, the upcoming stage of cellulosic energy could result in a collapse of the new frontier into vast degraded pasture." The shift could increase the incidence and severity of fires, reduce rainfall in key agricultural zones, exacerbate forest die-back and climate change, and worsen social instability. Sawyer says that while difficult to anticipate, the worst outcomes could likely be avoided be promoting "intensified and more sustainable use" of already cleared areas, minimizing new deforestation, and encouraging "sustainable use of natural resources by local communities."


Climate change leave Arctic tundra vulnerable to fire

(03/06/2008) Research from ancient sediment cores indicates that a warming climate could make the world's arctic tundra far more susceptible to fires than previously thought. The findings are important given the potential for tundra fires to release organic carbon -- which could add significantly to the amount of greenhouse gases already blamed for global warming.


Cretaceous sea levels were 550 feet higher than today

(03/06/2008) Sea levels were 550 feet (170 m) higher in the late Cretaceous period, about 80 million years ago, than today, shows a new reconstruction of historic ocean basins published in the journal Science. The authors say the work may help model current global warming-driven sea level change.


Global warming to worsen crop damage from frost

(03/03/2008) Global warming could worsen frost damage in the United States according to a new study published in the journal Bioscience.


Mapping the future of conservation

(02/28/2008) A new series of maps projecting habitat loss and the impact of climate change show that the world's most biodiverse regions are in most of need of conservation investments. The authors say the study, published online today in the journal Proceedings of the Royal Society B, will help drive future conservation decisions.


Greenhouse gas emissions have already caused the Amazon to dry

(02/27/2008) Anthropogenic emissions of greenhouse gases have already caused the Amazon to dry, finds a new study published in Philosophical Transactions of the Royal Society B.


Small fires a big threat to Amazon rainforest biodiversity

(02/27/2008) Small fires have a big impact in the Amazon rainforest, report researchers writing in Philosophical Transactions of the Royal Society B. The findings suggest a dire future for Earth's largest rainforest.


Half the Amazon rainforest will be lost within 20 years



(02/27/2008) More than half the Amazon rainforest will be damaged or destroyed within 20 years if deforestation, forest fires, and climate trends continue apace, warns a study published in Philosophical Transactions of the Royal Society B. Reviewing recent trends in economic, ecological and climatic processes in Amazonia, Daniel Nepstad and colleagues forecast that 55 percent of Amazon forests will be "cleared, logged, damaged by drought, or burned" in the next 20 years. The damage will release 15-26 billion tons of carbon into the atmosphere, adding to a feedback cycle that will worsen both warming and forest degradation in the region. While the projections are bleak, the authors are hopeful that emerging trends could reduce the likelihood of a near-term die-back. These include the growing concern in commodity markets on the environmental performance of ranchers and farmers; greater investment in fire control mechanisms among owners of fire-sensitive investments; emergence of a carbon market for forest-based offsets; and the establishment of protected areas in regions where development is fast-expanding.


Deforestation a greater threat to the Amazon than global warming

(02/25/2008) If past conditions are any indication of future conditions, the Amazon rainforest may survive considerable drying and warming caused by global warming, argue researchers in a paper published in Philosophical Transactions of the Royal Society B.


Amazon rainfall linked to Atlantic Ocean temperature

(02/25/2008) Climate models increasingly forecast a dire future for the Amazon rainforest. These projections are partly based on recent research that has linked drought in the Amazon to sea surface temperatures in the tropical Atlantic. As the tropical Atlantic warms, the southern Amazon -- the agricultural heartland of Brazil -- may see higher temperatures and less rainfall.


Widespread butterflyfish may go extinct due to global warming, pollution

(02/24/2008) The Chevroned Butterflyfish, a colorful fish found in tropical oceans around the world, faces extinction due to overexploitation, pollution and climate change, report researchers writing in the journal Behavioural Ecology and Sociobiology. Despite its widespread distribution, the species could be doomed by its specialized feeding habitats: the Chevroned Butterflyfish (Chaetodon trifascialis) feeds on only one type of coral.


Melting of permafrost could trigger rapid global warming warns UN

(02/21/2008) Melting of the Arctic permafrost is a "wild card" that could dramatically worsen global warming by releasing massive amounts of greenhouse gases, warned the U.N. on Wednesday at a meeting in Monaco.


Private sector pumping hundreds of billions into cleantech

(02/21/2008) The private sector is "pumping hundreds of billions of dollars" into cleaner and renewable energies, says a new publication released yesterday by the United Nations Environment Programme (UNEP).


NASA: warming is causing Greenland ice to melt faster than expected

(02/21/2008) Warming air temperatures are causing Greenland's ice sheet to melt faster than previously anticipated, reported NASA on Wednesday. Though unlikely, the complete melting of Greenland's ice sheet would raise global sea level by 23 feet.


Large-scale Amazon deforestation or drying would have dire global consequences

(02/21/2008) A new study shows that large-scale degradation of the Amazon, either through drying or continued deforestation, would have global consequence, including worsening climate change, causing regional vegetation shifts, and increasing dust in the atmosphere.


Global warming - not el Nino - drove severe Amazon drought in 2005

(02/20/2008) One of the worst droughts on record in the Amazon was caused by high temperatures in the Atlantic rather than el Nino. The research, published in Philosophical Transactions of the Royal Society B, suggests that human-driven warming is already affecting the climate of Earth's largest rainforest.


Ancient Amazon fires linked to human populations

(02/20/2008) Analysis of soil charcoal in South America confirms that from a historical perspective, fire is rare in the Amazon rainforest, but when it does occur, it appears linked to human activities. The research, published in Philosophical Transactions of the Royal Society B, is based on dating of soil carbon, which provides a good indication of when fires occurred in Amazonia, according to lead author Mark Bush, head of the Department of Biology at Florida Institute of Technology.


conservation strategies can mitigate the impact of global warming in the Amazon

(02/19/2008) Careful design of protected areas to safeguard key "refugia" and allow for migration can increase the resilience of Amazon biodiversity to climate change, report researchers writing in Philosophical Transactions of the Royal Society B.


Photos of bizarre creatures discovered in Antarctica

(02/19/2008) Researchers aboard the Aurora Australis, an Australian vessel, have discovered a trove of strange creatures on the sea floor near East Antarctica.


Small Amazon farmers especially vulnerable to climate change

(02/19/2008) Communicating the impact of climate change to small farmers in the Amazon will be key in helping them adapt to higher temperatures, more frequent and intense drought, and greater incidence of forest fires forecast for the region, according to a paper published in Philosophical Transactions of the Royal Society B.


Fire policy is key to reducing the impact of drought on the Amazon

(02/19/2008) Gaining control over the setting of fires for land-clearing in the Amazon is key to reducing deforestation and the impact of severe drought on the region's forests, write researchers in a paper published in Philosophical Transactions of the Royal Society B.


Why are oceans at risk from global warming?

(02/17/2008) Climate change is putting the world's oceans at risk by increasing the temperature and acidity of seawater, and altering atmospheric and oceanic circulation, warned a panel of scientists this week at the American Association for the Advancement of Science (AAAS) annual meeting in Boston.


How will global warming affect marine food chains?

(02/17/2008) Rising temperatures and acidity of the world's oceans due to human emissions of carbon dioxide is putting marine food webs at risk warned a researcher speaking at a press briefing at the annual meeting of the American Association for the Advancement of Science in Boston.


Warming could bring sharks to Antarctica with devastating ecological consequences

(02/15/2008) Global warming could make the waters around Antarctica hospitable to sharks for the first time in 40 million years. Their return could have devastating ecological consequences report researchers from the University of Rhode Island.


Lake Mead could be dry up by 2021

(02/12/2008) There is a 50 percent chance Lake Mead, a key source of water for millions of people in the southwestern U.S., will be dry by 2021 if climate changes as expected and future water usage is not curtailed, a new study finds.


Bloomberg: global warming "just as lethal" as terrorism

(02/12/2008) New York City mayor Michael Bloomberg told reporters Monday that global warming is as big a threat to humanity as terrorism, according to Reuters.


Global warming to increase insect attacks on plants

(02/11/2008) Global warming will increase attacks on plant leaves by insects, reports a study published in Proceedings of the National Academy of Sciences.


Global warming puts penguins at risk of extinction

(02/11/2008) Climate change could put the long-term survival of sub-Antarctic King Penguins at risk by reducing the availability of prey, reports a new study published in Proceedings of the National Academy of Sciences.


Natural ocean thermostat may protect some coral reefs

(02/07/2008) Natural processes may prevent oceans from warming beyond a certain point, helping protect some coral reefs from the impacts of climate change, new research finds. The study provides evidence that an ocean "thermostat" may be helping regulate sea-surface temperatures in a biologically diverse region of the western Pacific.


Climate system approaching 9 critical tipping points

(02/04/2008) Earth is approaching and may pass nine important climate tipping points this century, according to research published this week in Proceedings of the National Academy of Science (PNAS).


Global warming to hurt agriculture in world's poorest regions

(01/31/2008) Global warming wil cause severe crop losses in some of the poorest parts of Africa and Asia by 2030, reports a study published in tomorrow's issue of the journal Science.


Globl warming worsening U.S. water crisis

(01/31/2008) Human-induced climate change is accelerating a water crisis in the American West, reports a study published this week in the journal Science.


Largest body of geologists issues warning on global warming

(01/24/2008) A statement newly released by the world's largest scientific society of Earth and space scientists--the American Geophysical Union, or AGU--updates the organization's position on climate change: the evidence for it, potential consequences from it, and how to respond to it.



Page 1 | Page 2 | Page 3 | Page 4 | Page 5 | Page 6 | Page 7 | Page 8 | Page 9 | Page 10 | Page 11 | Page 12 | Page 13 | Page 14 | Page 15