News articles on impact of climate change

---
Mongabay.com news articles on impact of climate change in blog format. Updated regularly.






Why do different species of bird lay different numbers of eggs?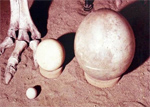 (12/10/2008) Clutch size varies greatly between bird species. Researchers now have a better idea why. Analyzing data on clutch size, biology, and habitat for 5,290 species of birds, a team of biologists — Walter Jetz (UC San Diego), Cagan H. Sekercioglu (Stanford University), and Katrin Böhning-Gaese (Johannes Gutenberg-Universität) — developed a model to predict variations in the number of eggs a species lays. They found clutch sizes are consistently largest in cavity nesters and in species occupying seasonal environments. The findings add depth and complexity to previous research that has shown short-lived species — ones that face high predation or have low survival rates among offspring — tend to lay more eggs than longer-lived species, which invest more resources in raising their offspring.
Tropical ocean dead zones could increase 50 percent by 2050

(11/18/2008) If carbon dioxide levels continue to rise as expected, marine dead zones in the tropics are expected to increase by 50 percent in just over four decades, according to a new study from the Leibniz Institute of Marine Sciences in Germany. The expansion of marine dead zones in tropical seas could have devastating impacts on ocean ecosystems and fisheries.
Climate change will cost California billions

(11/14/2008) $2.5 trillion of real estate assets in California are at risk from extreme weather events, sea level rise and wildfires expected to result from climate change over the course of a century, according to a new assessment from UC Berkeley researchers.
Coral reefs and mangroves worth $395-559 M per year in Belize

(11/14/2008) Services provided by coral reefs and mangroves in Belize are worth US$395 million to US$559 million per year, or 30 to 45 percent of the Central American country's GDP — according to a new report released by the World Resources Institute and the World Wildlife Fund (WWF).
Prioritizing amphibian species for captive breeding to save them from extinction

(11/13/2008) Frogs, toads, salamanders and other amphibians are disappearing at an alarming rate. Of approximately 6,000 amphibian species in the world, about one third are classified as threatened or endangered. A disease caused by a chytrid fungus has devastated frogs living in mid to high elevation streams worldwide. Amphibians also face habitat destruction as forests and wetlands are developed and polluted by agricultural chemicals. In Panama, highland frog populations west of the Canal have declined at an alarming rate.
Limiting global warming to 2-degree rise will require $180/t carbon price says energy think tank

(11/13/2008) In a report released Wednesday the International Energy Agency warned that a business-as-usual approach to energy use would result in a 6°-degree rise in temperatures putting hundreds of millions at risk from reduced water supplies and diminished agricultural production. But the agency said that limiting temperature rise to 2-3°-rise by the end of the century would be "possible, but very hard."
Scientists can't explain cause of amphibian extinction crisis

(11/13/2008) Scientists have yet to conclusively explain the underlying cause of global declines in amphibian populations, according to a study published in the journal Proceedings of the National Academy of Sciences. The research says that two leading theories for the demise of amphibians — both related to the emergence and spread of the deadly chytrid fungus — are not supported by scientific data.
Factoring social and economic instability into ecological catastrophe and the decline of western civilization

(11/12/2008) When proposing and exploring solutions to environmental crises we rarely, if ever, consider social and geopolitical factors such as massive refugee migrations, economic market instability and collapse, wars for resources, the peaking of oil, civil uprisings/riots, and the rise of fascism/military oppression. If we hope to create lasting and effective solutions to environmental issues of the 21st Century it is clear we must consider facets beyond the realm of traditional environmental science and shift towards multi-disciplinary systems-level approaches. In addition to the long list of existing and impending environmental crises (passing points-of-no-return in tropical deforestation and climate change, widespread coral bleaching, and the accelerating mass extinction of biodiversity) we must recognize and adapt to the effects of current and emerging social issues (resource wars, economic collapse, and the rise of fascism).
Yellowstone amphibians in decline due to climate change

(10/27/2008) Climate change appears to be responsible for a "marked drop" in the population of three of four species of amphibian once common to Yellowstone National Park, report researchers writing in Proceedings of the National Academy of Sciences.
NOAA offers "dramatic evidence" of Arctic warming

(10/16/2008) Fall air temperatures 9°F (5°C) above normal, the second lowest-ever extent of summer sea ice, and the melting of surface ice in Greenland are signs of continued warming in the Arctic, according to the Arctic Report Card, an annual review of Arctic conditions by U.S. National Oceanic and Atmospheric Administration (NOAA) and its partners.
Kangaroos at risk from climate change

(10/16/2008) A 2°C-rise in temperature could trigger significant range contraction for kangaroos in Australia and put one species at high risk of extinction, reports research published in the December issue of Physiological and Biochemical Zoology.
U.S. to ban oil drilling in new Arctic reserves for polar bears

(10/07/2008) The U.S. Department of the Interior will designate two Arctic reserves in areas considered critical habitat for polar bears as part of a legal settlement with environmental groups, reports Reuters. The reserves will be off-limits of oil development and must be established by June 30, 2010.
99% of Alaska's large glaciers are retreating

(10/07/2008) The bulk of glaciers in every mountain range and island group in Alaska are retreating, thinning, or stagnating, according to a new book by the U.S. Geological Survey (USGS).
An interview with ringtailed lemur expert Alison Jolly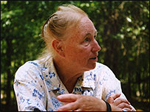 (10/06/2008) Madagascar has more than 100 types of lemurs, but the most famous species is the ringtailed lemur, a primate found widely in the southern part of the Indian Ocean island. The world's leading expert on ringtailed lemurs is Alison Jolly, presently a Visiting Scientist at the University of Sussex in the UK. Since arriving on the Indian Ocean island in 1963, Jolly has documented the behavior and population dynamics of ringtailed lemurs in Berenty, a small private reserve of gallery forest amid a sea of desert-like spiny forest in southern Madagascar.
Arctic sea ice "likely" hit lowest volume on record in 2008

(10/03/2008) The volume of sea ice in the Arctic has likely hit its lowest level since satellite measurements began in 1979, report researchers at the University of Colorado at Boulder's National Snow and Ice Data Center, who confirmed that Arctic sea ice extent was the second-lowest on record this year.
20 waterbirds added to threatened list

(10/02/2008) The U.N. has added 20 species of migratory waterbird to the Agreement on the Conservation of African-Eurasian Migratory Waterbirds (AEWA) giving them greater international protection in Africa, Europe, and Asia.
Past climate change drove mass extinction in Pakistan

(09/26/2008) Research on long-vanished mammals in the Siwalik region of Northern Pakistan has yielded results relevant for today. In the span of two-and-a-half million years climate change caused a shift in Siwalik habitat from wet monsoon forest to savannah, dooming over half the mammal species to local extinction. The research was published by the Proceedings of the National Academy of Sciences.
Arctic sea ice falls to second lowest on record

(09/16/2008) Arctic sea ice retreated to the second lowest level on record but remains about 9 percent above the low set last September, reports the NASA and the National Snow and Ice Data Center in Boulder, Colorado.
Earth already committed to 2.4-degree C rise from climate change

(09/15/2008) As of 2005 the Earth was already committed to rise of global mean temperatures by 2.4°C (4.3°F), concludes a new study published in the journal Proceedings of the National Academy of Sciences (PNAS). The conclusion is significant because the Intergovernmental Panel on Climate Change (IPCC) has warned that a rise in global temperature by 1 to 3°C will lead to catastrophic consequences, including "widespread loss of biodiversity, widespread deglaciation of the Greenland Ice Sheet, and a major reduction of area and volume of Hindu-Kush-Himalaya-Tibetan glaciers, which provide the head-waters for most major river systems of Asia." These glaciers, predicted to shrink considerably in the next few decades, provide food and water to over two billion people.
Migratory waterbird populations in decline in Europe

(09/15/2008) 41 percent of 522 migratory waterbird populations on the routes across Africa and Eurasia show decreasing trends, reports a new study released at the African-Eurasian Migratory Waterbird Agreement meeting in Antananarivo, Madagascar.
NASA: Sea ice melt opens the Northwest and Northeast Passage

(09/09/2008) An image released by NASA shows that Arctic sea ice has retreated to the point where both the Northwest Passage around North America and the Northern Sea Route around Russia are open simultaneously. The occurrence marks the first time on record that both passages have been open.
Canada's ice shelves lost 23% of their area this summer

(09/03/2008) A 19-square-mile (50 sq km) chuck of ice shelf broke off from Canada's Ellesmere Island in the northern Arctic, reports the Associated Press. The Manhattan-sized ice shelf is now adrift in the Arctic Ocean. It is the largest of more than 83 sq mi (214 sq km) of ice shelf that has broken up in the Canadian Arctic this year.
Past decade is warmest in at least 1300 years

(09/01/2008) A reconstruction of surface temperatures over the past two thousand years provides further evidence that the northern hemisphere is now warmer than at any time in at least 1300 years. The research, published in the online edition of the Proceedings of the National Academy of Sciences, in the Northern Hemisphere are higher than those of the Medieval warm period.
Melting permafrost will be major driver of global warming

(09/01/2008) The thawing of permafrost in northern latitudes will become a major source of greenhouse gas emissions, according to a new study that more than doubles previous estimates of the amount of carbon stored in the frozen soils of Alaska and Siberia.
Climate change may increase global conflict

(08/25/2008) The signs of a warming world are everywhere: birds are migrating with changing temperatures; coral reefs are dying out due to bleaching; warmer winters are allowing beetles to devour Canadian forests; and the Northwest Passage has opened for the second year in a row. While scientists work to understand how climate change is affecting the worldÕs ecosystems, others are attempting to predict how societies may respond. Jurgen Scheffran, a scientist with the Program in Arms Control, Disarmament and International Security at the University of Illinois, believes a warmer world will lead to an increase in armed conflicts. He concludes that societies stressed by increased competition for natural resources are more likely to engage in warfare.
French birds on the move due to climate change—just not fast enough

(08/21/2008) French ornithologists have discovered, year by year, that French birds are moving north due to the affects of climate change. A recent study of such movements in the Royal Society journal Proceedings B concludes that the birds are not moving fast enough, leading to concern among conservationists.
The long-ignored ocean emergency and what can be done to address it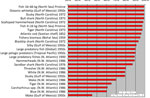 (08/18/2008) This year has been full of bad news regarding marine ecosystems: one-third of coral species threatened with extinction, dead-zones spread to 415 sites, half of U.S. reefs in fair or bad condition, increase in ocean acidification, tuna and shark populations collapsing, and only four percent of ocean considered pristine. Jeremy Jackson, director of the Scripps Center for Marine Biodiversity and Conservation at the University of California, San Diego, synthesizes such reports and others into a new paper, published in the journal Proceedings of the National Academy of Sciences, that boldly lays out the scope of the oceanic emergency and what urgently needs to be done.





Amphibians face mass extinction

(08/11/2008) Amphibians are in big trouble. At least one third of the world's 6,300 known species are threatened with extinction, while at least 200 species have gone extinct over the past 20 years. Worryingly the outbreak of a deadly fungal disease, chytridiomycosis, is spreading throughout the tropics leaving millions of victims. A new study, published in the early edition of the Proceedings of the National Academy of Sciences, warns that there is "little time to stave off a potential mass extinction" of frogs, salamanders, and caecilians.







Climate change to hurt Brazil's farm exports by 2020

(08/11/2008) Climate change could have a significant impact on thye value of Brazil's agricultural exports according to a study presented Monday at an agribusiness conference in Sao Paulo, reports the Financial Times.





Fossils grant new insight into the Antarctica's natural history

(08/07/2008) At one time an alpine lake was inhabited by mosses and diatoms; insects such as beetles and midges crawled among sparse ferns and various crustaceans lived amid the lake's calm waters. This tundra-like landscape was the last stand of life in Antarctica, and it existed up to 14 million years ago before suddenly vanishing.





Global warming increases "extreme" rain storms

(08/07/2008) Global warming is increasing the incidence of heavy rainfall at a rate greater than predicted by current climate models have predicted, reports a new study published in the journal Science. The findings suggest that storm damage from precipitation could worsen as greenhouse gas concentrations continue to rise.





Researchers evacuated due to polar bear trapped on land by melting sea ice

(08/07/2008) The Wildlife Conservation Society (WCS) evacuated five of its scientists from a remote camp in northern Alaska because of a new and unusual threat: a polar bear stuck on land due to climate change. Polar bears would normally be out on sea ice this time of year, but with recent warming the ice is miles from shore and bears are becoming increasingly trapped on land well away from their usual seal prey.







New mapping system shows how detailed climate changes will affect species

(08/06/2008) A new computer simulation from the Nature Conservancy shows greater detail than ever before on how climate change will affect the world's biodiversity, according to an article in New Scientist. In worst case scenarios—using the example of Bengal tigers in Sundarbans mangrove forest—the article's author, Peter Aldhous, writes that some species will be forced into a "condemned cell", literally having no-where to go while their region becomes inhabitable.





Ocean acidification may hurt reproduction in marine life

(07/30/2008) Ocean acidification due to rising carbon dioxide levels in the atmosphere may be putting the reproductive capabilities of some marine species at risk, reports a new study published in Current Biology by Swedish and Australian scientists.





Adaptation to climate change will be difficult for Madagascar

(07/29/2008) Madagascar's high levels of endemism coupled with its extensive loss and degradation of ecosystems leave its species particularly vulnerable to climate change. A new paper evaluates these risks and sets forth conservation priorities to best maintain the ecological resilience of the island nation.




Page 1 | Page 2 | Page 3 | Page 4 | Page 5 | Page 6 | Page 7 | Page 8 | Page 9 | Page 10 | Page 11 | Page 12 | Page 13 | Page 14 | Page 15