News articles on illegal logging

---
Mongabay.com news articles on illegal logging in blog format. Updated regularly.






CI refutes Cambodian logging story

(12/23/2011) Conservation International (CI) issued a sharp rebuke of a Phnom Pehn Post story that alleged involvement in illegal rosewood logging in Cambodia's Central Cardamom Protected Forest.
Philippines disaster may have been worsened by climate change, deforestation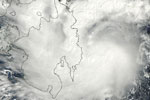 (12/20/2011) As the Philippines begins to bury more than a 1,000 disaster victims in mass graves, Philippine President Benigno Aquino has ordered an investigation into last weekend's flash flood and landslide, including looking at the role of illegal logging. Officials have pointed to both climate change and vast deforestation as likely exacerbating the disaster.
Featured video: documentary on logging mafia

(12/19/2011) A new documentary, The Real Chainsaw Massacre, follows the corrupt and violent black market of illegal timber trading in Vietnam. The documentary highlights the efforts of undercover investigators with the Environmental Investigation Agency (EIA) working to expose the lucrative trade of illegal logging from Laos to Vietnam. A trade that is not only decimating forests in Southeast Asia, but is imperiling biodiversity, harming locals, and often coupled with other illegal activities.
Seismic trails cut by U.S. oil firm in Belizean national park used by illegal loggers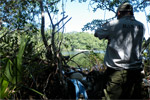 (12/06/2011) In the Belizean rainforest two rangers look up and down a straight path hacked through the jungle and take GPS coordinates, the escorting soldiers lying back in the heat as the coordinates are delivered. These are noted and the patrol resumes, pausing to photograph protected comfra palms that have been cut and laid on the muddy ground, or stretches where the rainforest has been cleared far beyond the permitted width. We are in the Sarstoon-Temash National Park, nearly 42,000 acres of rainforest and red mangrove swamps in southern Belize adjacent to the Guatemalan border, and the park rangers are dealing with a new threat to the biodiversity of the reserve. Rather than searching for illegal loggers from Guatemala, this patrol is monitoring the activities of an American oil company.
World's most endangered primate still losing habitat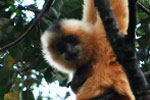 (12/04/2011) Just twenty-three Hainan gibbons (Nomascus hainanus) survive in the world. Confined to a single protected area on a lone island, Hainan gibbons are losing their habitat at a steady rate of 20 hectares per day finds a new study by Greenpeace. In all, nearly a quarter of the Critically Endangered lesser ape's habitat has been lost since 2001.
Monarch butterflies decline at wintering grounds in Mexico, Texas drought adds to stress to migration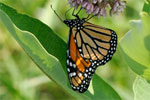 (11/10/2011) Every fall, millions of monarch butterflies travel south to Mexico and take refuge in twelve mountain sanctuaries of oyamel fir forests. Now, declining numbers of the overwintering butterflies expose the migration's vulnerability and raise questions about threats throughout the monarch's lifecycle. A study published online last spring in Insect Conservation and Diversity shows a decrease in Mexico's overwintering monarch butterflies between 1994 and 2011. The butterflies face loss of wintering habitat in Mexico and breeding habitat in the United States. Extreme weather, like winter storms in Mexico and the ongoing drought in Texas, adds yet another challenge.
Cooper-Blackburn bill seeks exemptions for illegal wood imports

(11/05/2011) A proposed bill would gut the Lacey Act, undermining an amendment that bans import of illegally logging forest products, says a coalition of environmentalists and woodworkers in a letter addressed to members of Congress. The bill, introduced last month by Jim Cooper, Marsha Blackburn, and Mary Bono Mack, would grant an exemption to pulp and paper importers from Lacey Act requirements, while reducing fines for non-compliance to a pittance for "first time" offenders no matter the size of the infraction.
Saving Ghana's vanishing frogs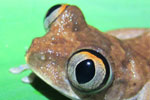 (11/02/2011) Frogs need all the help they can get. With the IUCN Red List estimating that 41 percent of amphibians are endangered, frogs are currently the world's most imperiled animal family. Scientists estimate that around 200 amphibian species have been lost to extinction in recent decades to habitat loss, pollution, and a devastating fungal disease. Yet as the frog emergency worsens, there have been positive movements in conservation. The most recent comes from the small West African country of Ghana. Partnering with the enthusiastic US-based organization, SAVE THE FROGS!, two Ghanaian herpetologists, Gilbert Baase Adum and Caleb Ofori, have started a sister branch in their country: SAVE THE FROGS! Ghana.
Tea Party rallies in favor of Gibson Guitar, ignores reasons instrument-maker is under investigation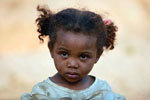 (10/10/2011) This weekend around 500 people showed up for a rally and concert in Nashville, Tennessee. The rally was in support of Gibson Guitars, a US-company currently under investigation for allegedly importing illegally logged wood into the country, an action that breaks a recent bipartisan amendment to the Lacey Act. While the Tea Party-affiliated groups that held the rally were expressing frustration with perceived over-regulation by the federal government, the issue at stake—a global effort to help stem illegal logging—was actually overlooked by the organizers.
September in review: A massive crocodile and Gibson Guitars' disingenuous PR campaign

(10/03/2011) A post about the giant crocodile captured in the Philippines was the most popular article on mongabay.com's news section during the month of September. The 21-foot (6.4-meter) saltwater crocodile was captured in Agusan del Sur wetland on the southern Philippine island of Mindanao after a three-week hunt following the disappearance of a farmer in the town of Bunawan. The giant croc will be kept at a nature park in Bunawan, where it is expected to be the star attraction among other wildlife found in the marsh. The crocodile is believed to be the biggest ever captured, exceeding a 5.48-meter (18-foot) male which lives at a zoo in Australia.
Tea party versus Madagascar's forests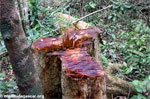 (10/02/2011) The Tea Party and the African island-nation of Madagascar are having dueling concerts over the issue of illegal logging, reports the Associated Press. A concert in Madagascar over the weekend was meant to highlight the problem of illegal deforestation in one of the world's poorest countries. Meanwhile the Tea Party is holding a rally and concert on October 8th to support Gibson Guitar, a musical instruments company currently under investigation for breaking US law by allegedly purchasing illegally logged wood products from Madagascar.
Madagascar asks CITES to regulate rosewood and ebony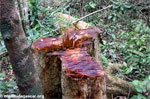 (09/29/2011) Following a logging crisis in 2009 where a number of Madagascar's remaining forests were illegally cut, the African nation has turned to the Convention on International Trade in Endangered Species of Wild Fauna and Flora (CITES) to help regulate 91 species of rosewood and ebony. "Regulating trade in these high-value timber species under CITES will help ensure that the benefits of trade flow to local people and it will also serve the global community by helping conserve these species, which will be to the benefit of entire ecosystems."
Background: the Lacey Act and the Fish & Wildlife Service raid on Gibson Guitars

(09/02/2011) On 24 August 2011, agents of the Fish & Wildlife Service (FWS) raided Gibson Guitar facilities in Nashville and Memphis, Tennessee, seizing ebony and rosewood material, guitars and guitar parts as evidence of suspected violation(s) of the U.S. Lacey Act. The Lacey Act is a long-standing anti-trafficking statute which prohibits commerce of illegally-sourced wildlife, plants and wood products from either the U.S. or other countries.
Could "wood bank" ease Madagascar's illegal logging problem?

(08/25/2011) ith illegal timber stocks continuing to build due ongoing logging in its rainforest parks and under pressure from powerful timber traders, Madagascar's political leaders are debating a plan to lift a ban on precious wood exports. Environmentalists fear the move — without proper safeguards — could effectively reward illegal loggers and drive further exploitation the country's remaining forests.
Madagascar may authorize exports of illegally-logged rosewood

(08/22/2011) A meeting scheduled for August 25th between rosewood traders, the Ministry of Forest and Environment, and other government officials may determine the fate of tens of millions of dollars' worth of rosewood illegally logged from Madagascar's rainforests parks.
WWF to investigate program that partners with notorious loggers

(08/14/2011) The World Wide Fund for Nature (WWF) has announced an independent review of its Global Forest and Trade Network (GFTN) following a report from Global Witness that criticized the conservation organization for working with a number of logging companies that destroy forests, imperil species, and abuse human rights. While WWF's GTFN is meant to support companies in changing their ways, Global Witness' report argued that it led to greenwashing forest destruction, including illegal logging.
Vietnamese military illegally plundering Laos' forests

(07/28/2011) Dwindling forests in the Asian nation of Laos are being illegally destroyed and traded by Vietnamese companies with the Vietnamese army as one of the biggest players in this multi-million dollar smuggling operation, according to an investigation by the Environmental Investigation Agency (EIA). EIA agents went undercover as timber purchasers to discover a long trail of corruption and poor enforcement from the destruction of Laos forests to furniture factories in Vietnam to stores in the USA and Europe. Even a ban on exporting raw timber out of Laos has done little to stop the plunder of the nation's forests for outside gain.
Australian 'green' buildings used illegally logged wood from rainforests allege activists

(07/27/2011) A 'green' building development being built by Frasers Property Australia in Sydney has been accused of using illegally-sourced plywood from Malaysian state of Sarawak in Borneo, according to a new Greenpeace report. The wood in question comes from a subsidiary of Samling, a company that has been connected to illegal logging and abusing the rights of indigenous groups in the past. After the revelations came to light, Frasers Property Australia said they would conduct an audit of the wood which was provided to them by Australian Wood Panels (AWP).
WWF partnering with companies that destroy rainforests, threaten endangered species
(07/25/2011) Arguably the globe's most well-known conservation organization, the World Wide Fund for Nature (WWF), has been facilitating illegal logging, vast deforestation, and human rights abuses by pairing up with notorious logging companies in a flagging effort to convert them to greener practices, alleges a new report by Global Witness. Through its program, the Global Forest and Trade Network (GFTN), WWF—known as World Wildlife Fund in the US and Canada—has become entangled with some dubious companies, including one that is imperiling orangutans in Borneo and another which has been accused of human rights abuses in the Congo rainforest. Even with such infractions, these companies are still able to tout connections to WWF and use its popular panda logo. The Global Witness report, entitled Pandering to the Loggers, calls for WWF to make large-scale changes in order to save the credibility of its corporate program.
Suspects named for assassination of husband and wife activists in Brazil

(07/21/2011) Brazilian authorities have fingered three men for the killing of environmental activist, José Cláudio Ribeiro da Silva, and his wife, Maria do Espírito Santo da Silva, in May. The grisly murders received international attention, since José da Silva was a well known activist against illegal logging in Pará, a state in Brazil that is rife with deforestation and violence.
Another rosewood bust in Madagascar

(07/12/2011) Authorities in Madagascar confiscated six containers of rosewood logs worth $360,000 - $600,000 at a port in the northwestern part of the country, reports AFP.
Endangered species trafficking: What did Gibson Guitar know?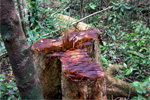 (07/07/2011) A motion filed last month by the U.S. Department of Justice alleges Gibson Guitar knew it was trafficking in endangered timber when it was busted by the U.S. Fish and Wildlife Service in November 2009, reports the Environmental Investigation Agency (EIA).
New rosewood scandal in Madagascar

(07/01/2011) Customs officials in Madagascar threatened to go on strike Monday if the country's Transition Authority does not reveal the owner of a shipment of six containers of rosewood seized in Mauritius.
Logging company fined $100 million for illegal logging in Papua New Guinea

(06/28/2011) In a landmark court decision a judge has slapped a logging company with a nearly $100 million (K225.5 million) fine for large-scale illegal logging. Last week, Malaysian timber company, Concord Pacific, was sentenced to pay four forest tribes for environmental destruction in the first ruling of its kind for Papua New Guinea.
Pictures: Turquoise 'dragon' among 1,000 new species discovered in New Guinea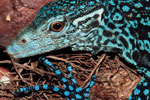 (06/27/2011) Scientists discovered more than 1,000 previously unknown species during a decade of research in New Guinea, says a new report from WWF. While the majority of 1,060 species listed are plants and insects, the inventory includes 134 amphibians, 71 fish, 43 reptiles, 12 mammals, and 2 birds. Among the most notable finds: a woolly giant rat, an endemic subspecies of the silky cuscus, a snub-fin dolphin, a turquoise and black 'dragon' or monitor lizard, and an 8-foot (2.5-m) river shark.
Indonesia to investigate palm oil company that allegedly breached moratorium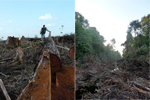 (06/21/2011) Indonesia's REDD+ Task Force will investigate charges that PT Menteng Jaya Sawit Perdana (PT Menteng), a palm oil company owned by Malaysia-based Kuala Lumpur Kepong Berhad (KLK), has cleared peat forest in breach of the country's newly-signed moratorium on the granting of new forestry licenses on peatlands and in primary forest areas. The allegation was levied by the Environmental Investigation Agency, an international NGO, and Telapak, an Indonesian group, after an on-the-ground undercover investigation. EIA and Telapak found that PT Menteng had cleared peat forest near Sampit in Indonesia's Central Kalimantan province without securing proper licenses.
Bloody June: fifth rural activist assassinated in Brazil this month

(06/16/2011) A rural worker who confronted illegal loggers operating in the Brazilian state of Pará was found murdered near his home, reports the Associated Press. Murdered on the Esperanca landless settlement, his death is likely related to ongoing conflicts between loggers and farmers in the Esperanca community. The victim, Obede Souza, is the fifth person to be murdered this month after standing up to illegal loggers.
Government cracks down on illegal logging in Madagascar

(06/02/2011) Authorities in Madagascar seized roughly a thousand logs during an ongoing operation in the northeastern part of the country, which has been besieged by illegal logging, reports l'Express de Madagascar. Seven people were arrested.
Assassinations of environmentalists continue in Brazil's Amazon, deforestation rises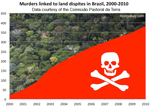 (05/28/2011) A community leader in the Brazilian Amazon was slain Friday just three days after two environmentalists were killed in a neighboring state, reports Reuters. Adelino "Dinho" Ramos, the president of the Movimento Camponeses Corumbiara e da Associação dos Camponeses do Amazonas, a small farmers association, was gunned down front of his family Friday morning in Rondônia. Brazil's Special Secretariat for Human Rights, an office of the president, said it was unclear who killed Ramos, who had received death threats from loggers.
Green groups to Japan: don't buy illegally logged wood from Indonesia to aid reconstruction

(05/26/2011) Following Japan's devastating earthquake and tsunami, it needs to rebuild and do so the battered nation has already turned to a neighbor, Indonesia, for timber. However, the Environmental Investigation Agency (EIA) and Indonesian NGO, Telapak, warn that much of the timber that reaches Japan's shores from Indonesia could be illegally logged from rainforests, unless Japan pledges to only purchase legally-certified wood under Indonesia's new assurance system.
Shipping firm pledges to disconnect itself from rainforest destruction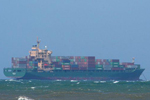 (05/25/2011) The Danish shipping giant Maersk pledged this week to stop purchasing containers with floors made from uncertified tropical hardwood, reports Deutsche Welle press. In an effort to reduce illegal logging and combat climate change, the company will be turning to recycled plastic, bamboo, and tropical wood certified by the Forest Stewardship Council (FSC) for its flooring. The Copenhagen-based firm is the first cargo company to transition to 'green containers' as part of a sustainable business strategy.
Killing in the name of deforestation: Amazon activist and wife assassinated

(05/24/2011) José Cláudio Ribeiro da Silva and his wife, Maria do Espírito Santo da Silva, were gunned down last night in an ambush near their home in the Brazilian state of Pará. Da Silva was known as a community leader and an outspoken critic of deforestation in the region. Police believe the da Silvas were killed by hired assassins because both victims had an ear cut off, which is a common token for hired gunmen to prove their victims had been slain, according to local police investigator, Marcos Augusto Cruz, who spoke to Al Jazeera. Suspicion immediately fell on illegal loggers linked to the charcoal trade that supplies pig iron smelters in the region.
Distressed Place and Faded Grace in North Sulawesi
(05/10/2011) The Nantu Wildlife Reserve is located in northern Sulawesi's Minehasa Peninsula, in Gorontalo Province. Sulawesi is among the largest of Indonesia's some seventeen thousand islands. Its shape is bizarre: a sinuous sprawling monkey, with lavish tail, poised to leap the straits of Makassar. Sulawesi lies to the north of Bali and Lombok and to the east of Borneo. Alfred Russell Wallace, the nineteenth century English explorer and natural scientist of broad expertise, spent a lot of time in Sulawesi's northern peninsula, casting his curiosity and observation with such singular acuity that his mind apprehended "Darwin's theory of evolution" independently from and possibly before Darwin. His work described the zone of transition between the Asian and Australian zoographic regions and was so accurate and thorough in its logic that today, some one-hundred and fifty years later, the zone is named Wallacea.





Liberia fights illegal logging through agreement with EU

(05/10/2011) The tiny West African nation of Liberia (about the size of the US state of Virginia) is the most recent country to work with the European Union (EU) on ending the illegal logging trade. Yesterday the EU and Liberia signed a Voluntary Partnership Agreement (VPA) that would make certain no raw wood or wood products exported from Liberia to the EU would have been illegally cut.




Page 1 | Page 2 | Page 3 | Page 4 | Page 5 | Page 6 | Page 7 | Page 8 | Page 9 | Page 10