News articles on hunting

---
Mongabay.com news articles on hunting in blog format. Updated regularly.






Trophy hunters auction off life of Critically Endangered black rhino

(01/13/2014) The Dallas Safari Club has auctioned off a permit to shoot-and-kill a Critically Endangered black rhino in Namibia for $350,000. The club says the proceeds from the auction will aid rhino conservation, but the move has upset many wildlife organizations and attracted protestors outside the closed-door auction. In fact the issue has become so contentious that the FBI is currently investigating purported death threats against the Dallas Safari Club members over the issue. Currently, less than 5,000 black rhinos survive in the wild today, a drop of 90 percent since 1960 as the species has been decimated by poaching and habitat loss.
Indonesia police nab illegal wildlife traffickers in sting operation
(01/12/2014) Police in Indonesia's Aceh province have arrested two wildlife trafficking suspects allegedly behind five tiger poaching rings operating in the forests of northern Sumatra. The arrests followed a months-long investigation and an undercover sting operation in which police seized thousands of dollars worth of illegal animal parts.
Over 75 percent of large predators declining
(01/09/2014) The world's top carnivores are in big trouble: this is the take-away message from a new review paper published today in Science. Looking at 31 large-bodied carnivore species (i.e those over 15 kilograms or 33 pounds), the researchers found that 77 percent are in decline and more than half have seen their historical ranges decline by over 50 percent. In fact, the major study comes just days after new research found that the genetically-unique West African lion is down to just 250 breeding adults.
Jaguars in Argentine Chaco on verge of local extinction
(12/23/2013) The majestic jaguar (Panthera onca), the largest of the New World cats, is found as far north as the southern states of the US, and as far south as northern Argentina. In the past jaguars ranged 1,500 kilometers (930 miles) further south, but their range has shrunk as habitat loss and human disturbance have increased. Overall, jaguars are classified as Near Threatened by the IUCN, but the level of risk facing jaguars varies by region. Populations in Argentina, at the present-day southern range limit, have previously been identified as some of the most threatened of them all.
Top 10 HAPPY environmental stories of 2013
(12/19/2013) China begins to tackle pollution, carbon emissions: As China's environmental crisis worsens, the government has begun to unveil a series of new initiatives to curb record pollution and cut greenhouse emissions. The world's largest consumer of coal, China's growth in emissions is finally slowing and some experts believe the nation's emissions could peak within the decade. If China's emissions begin to fall, so too could the world's.
Madagascar's most famous lemur facing big threats
(12/18/2013) The ring-tailed lemur (Lemur catta), perhaps the most well-known of Madagascar's endemic animals, is facing a "very high" risk of extinction in the wild. The Madagascar Section of the IUCN Primate Specialist Group reassessed the Red List status of ring-tailed lemurs and upgraded the species from Near-Threatened (2008) to Endangered (2012). Ring-tailed lemurs are facing extinction in some parts of Madagascar because of continued habitat loss, and more recently, species exploitation.
New Guinea animals losing vital tree cavities to logging, hunting practices
(12/17/2013) Across New Guinea, deforestation is occurring at increasing levels. Whether it be industrial logging, monoculture plantations, hunters felling trees in pursuit of arboreal wildlife, or other forms of forest conversion, deforestation is depleting not only forest carbon stocks and understory environments, but habitats for species who call tree cavities "home." A new study in mongabay.com's open-access journal, Tropical Conservation Science, evaluated whether a variety of man-made nest boxes could function as suitable substitutes for tree cavities.
Scientists make one of the biggest animal discoveries of the century: a new tapir
(12/16/2013) In what will likely be considered one of the biggest (literally) zoological discoveries of the Twenty-First Century, scientists today announced they have discovered a new species of tapir in Brazil and Colombia. The new mammal, hidden from science but known to local indigenous tribes, is actually one of the biggest animals on the continent, although it's still the smallest living tapir. Described in the Journal of Mammology, the scientists have named the new tapir Tapirus kabomani after the name for 'tapir' in the local Paumari language: Arabo kabomani.
Odd porcupine hugely imperiled by hunting, deforestation
(12/16/2013) The thin-spined porcupine, also known as the bristle-spined rat, is a truly distinct animal: a sort of cross between New World porcupines and spiny rats with genetic research showing it is slightly closer to the former rather than the latter. But the thin-spined porcupine (Chaetomys subspinosus), found only in Brazil's Atlantic Forest, is imperiled by human activities. In fact, a new study in mongabay.com's open access journal Tropical Conservation Science found that the species remains a target for hunters, despite a reputation for tasting terrible.
86 percent of big animals in the Sahara Desert are extinct or endangered
(12/03/2013) Bigger than all of Brazil, among the harshest ecosystems on Earth, and largely undeveloped, one would expect that the Sahara desert would be a haven for desert wildlife. One would anticipate that big African animals—which are facing poaching and habitat loss in other parts of the world—would thrive in this vast wilderness. But a new landmark study in Diversity and Distributions finds that the megafauna of the Sahara desert are on the verge of total collapse.
Where have all the dugongs gone?
(12/03/2013) Legend has it that lonely sailors mistook them for beautiful, mythical mermaids. But as it turns out, the muse behind these beguiling sea nymphs was instead the dugong – a rather ungainly, gentle and mini-bus sized marine mammal, cousin to the manatees and part of the sea cow family. However, while they may have once fuelled stories for fairytales and Disney movies, their far-from-glamorous life is currently under serious threat in many parts of the world.
Honey badgers and more: camera traps reveal wealth of small carnivores in Gabon (photos)
(10/17/2013) Gabon has lost most of its big meat-eaters including lions, spotted hyenas, and African wild dogs (although it's still home to leopards), but a new study focuses on the country's lesser-known species with an appetite for flesh. For the first time, researchers surveyed Gabon's small carnivores, including 12 species from the honey badger (Mellivora capensis) to the marsh mongoose (Atilax paludinosus).
Tapirs, drug-trafficking, and eco-police: practicing conservation amidst chaos in Nicaragua
(10/10/2013) Nicaragua is a nation still suffering from deep poverty, a free-flowing drug trade, and festering war-wounds after decades of internecine fighting. However, like any country that has been largely defined by its conflicts, Nicaragua possesses surprises that overturn conventional wisdom. Not the least of which is that the Central American country is still home to big, stunning species, including jaguars, giant anteaters, pumas, and the nation's heaviest animal, the Baird's tapir (Tapirus bairdii). Still, not surprisingly given the nation's instability, most conservationists have avoided Nicaragua. But tapir-expert Christopher Jordan, who has worked in the country for over four years, says he wouldn't have it any other way.
African manatee hanging on in Cameroon

(09/30/2013) In the Lower Basin of the Sanaga River in Cameroon, near Lake Ossa and the Douala-Edea National Parks, manatees swim and float about like round, potato-shaped mermaids. This region is home to the West African manatee (Trichechus senegalensis), an aquatic mammal facing a decline in population. Classed as Vulnerable by the IUCN Red List, the West African manatee is threatened by excessive kills, habitat loss, and habitat degradation. Given this, and the dearth of information about manatees, a group of Cameroon scientists have taken an ethnobiological approach (i.e. the interaction between people and wildlife) by employing skilled, knowledgable locals to collect data on the manatees.
Forgotten species: the nearly extinct primate that can be shot on sight
(09/27/2013) The attention paid to charismatic popular primates—such as gorillas, chimps, orangutans, lion tamarins, and even some lemurs—could make one suppose that conservationists have the protection of our closest relatives well in hand; the astounding fact that no primate species is known to have gone extinct in the last hundred years (despite large-scale destruction of their habitats) seems to confirm this statement. However, looking more closely at the data, one finds that not only are many of the world's primates slipping toward extinction, but a number of them have received little conservation attention. According to the IUCN Red List, a staggering 48 percent of the world's primates are threatened with extinction: that's a worse percentage than amphibians which have been ravaged by a global epidemic. And although a handful of the world's 600-plus primates have garnered conservation adoration, many remain obscure.
Lions rising: community conservation making a difference for Africa's kings in Mozambique
(09/17/2013) Everyone knows that tigers, pandas, and blue whales are threatened with extinction—but lions!? Researchers were shocked to recently discover that lion populations have fallen precipitously: down to around 30,000 animals across the African continent. While 30,000 may sound like a lot, this is a nearly 70 percent decline since 1960. In addition, lion populations are increasingly fragmented with a number of populations having vanished altogether. However, there is hope: one place where lion populations are actually on the rise is Niassa National Reserve in Mozambique. Here, lion populations have risen by around 60 percent in just seven years. In part this is due to the effort of Colleen and Keith Begg.
India moves rapidly to protect Amur falcons from mass-hunting
(09/13/2013) In October last year, an astounding mass hunting came to light—an estimated 120,000–140,000 Amur falcons were being hunted and killed in Nagaland, India, every year. A small bird of prey, the Amur falcon (Falco amurensis) records one of the longest migrations among all birds—a staggering 22,000 km annually. Their journey starts in China and Siberia where they breed and spend their summers.
Scientists discover that threatened bird migrates entirely within Amazon Basin
(09/11/2013) When one thinks of bird migrations, it's usually a north-south route that follows seasonal climates. But researchers in the Amazon have tracked, for the first time, a largely-unknown long-distance migration that sticks entirely to the Amazon Basin. Using satellite telemetry, scientists tracked a pair of Orinoco geese (Neochen jubata) from Peru and a male from Western Brazil, who both migrated to the Llanos de Moxos, a vast savanna and Amazonian watershed in Bolivia. The research has shown that the Orinoco geese—which breeds in both Peru and Brazil—depends on wetlands in the Llanos de Moxos for much of the year.
Protecting predators in the wildest landscape you've never heard of
(09/10/2013) The Serengeti, the Congo, the Okavango Delta: many of Africa's great wildernesses are household names, however on a continent that never fails to surprise remain vast wild lands practically unknown to the global public. One of these is the Ruaha landscape: covering 51,800 square kilometers (20,000 square miles) of southern Tanzania's woodlands and savannah, Ruaha contains the largest population of elephants in East Africa, over 500 bird species, and a wealth of iconic top predators, including cheetah, hyena, wild dogs, leopard, and—the jewel in its crown—10 percent of the world's lions. But that's not all, one of Africa's least-known and secretive tribal groups, the Barabaig, also calls Ruaha home.
Hunting, logging could threaten long-term health of Congo forests by wiping out key animals
(07/23/2013) Unsustainable hunting of forest elephants, gorillas, forest antelopes, and other seed-dispersers could have long-term impacts on the health and resilience of Congo Basin rainforests, warns a study published today in a special issue of the journal Philosophical Transactions of The Royal Society B. Conducting a review of more than 160 papers and reports on trends in wildlife populations, hunting, and land use in the Congo Basin, an international team of researchers conclude that unless effective management plans are put into place, hunting pressure in the region is likely to increase, with knock-on ecological effects.
Weak laws governing Malaysia's indigenous people complicate conservation efforts
(07/22/2013) The balance between biodiversity conservation, land acquisition, natural resource utilization and indigenous peoples is often wrought with conflict. Legislation governing the use of natural resources should ideally protect biodiversity and address the needs of indigenous peoples, but in many places, falls short of these ambitions. In a recent study published in Biodiversity Conservation, researchers examined the weaknesses in select natural resource laws that affect the indigenous peoples of Peninsular Malaysia, and compared these laws with data on a specific group of indigenous people's use of natural resources, collected through questionnaires. In addition to suggesting potential solutions to address legislative weaknesses, the researchers make a strong case for why natural resource legislation is a matter of concern for conservationists.
Deforestation rate falls in Congo Basin countries
(07/22/2013) Deforestation has fallen in Congo Basin countries over the past decade despite a sharp increase in the rate of forest clearing in the Democratic Republic of the Congo, according to a new study published in the Philosophical Transactions of the Royal Society B as part of a set of 18 papers on the region's tropical forests. The special issue, which was put together by Oxford University's Yadvinder Malhi, covers a range of issues relating to the rainforests of the Congo Basin, including deforestation, the impacts of global change, the history and key characteristics of the region's forests, and resource extraction, among others.
Making movies to save Uganda's great apes
(07/03/2013) A new series of films aims to protect Uganda's great ape species (mountain gorillas and chimpanzees) by bringing entertaining and educational movies to a rural audience living on the edges of Kibale National Park and Bwindi Impenetrable National Park. Produced with heavy input from locals, these films are acted with an all-Ugandan task to teach those living near great apes about the species and their conservation-needs.
60 big cats killed in Brazilian parks in last two years
(06/24/2013) At least 60 big cats have been killed within national protected areas in Brazil during the past two years according to a recent survey published in mongabay.com's open access journal Tropical Conservation Science. The report, which focuses on jaguar (Panthera onca) and puma (Puma concolor) populations, within Brazilian protected areas shows that reserve management and use restrictions impact the level of big cat hunting.
On guard: protecting wildlife in a heavily hunted Brazilian forest

(06/24/2013) The Brazilian government offers tax relief to landowners who set aside areas for preservation. While this has expanded the system of private ecological reserves considerably, the Brazilian government currently lacks funding to enforce the protection of these lands from threats such as hunting, leaving the responsibility to the landowners.
Saving the Tenkile: an expedition to protect one of the most endangered animals you've never heard of
(06/05/2013) The tenkile, or the Scott's tree kangaroo (Dendrolagus scottae) could be a cross between a koala bear and a puppy. With it's fuzzy dark fur, long tail and snout, and tiny ears, it's difficult to imagine a more adorable animal. It's also difficult to imagine that the tenkile is one of the most endangered species on Earth: only an estimated 300 remain. According to the Tenkile Conservation Alliance (TCA), the tenkile's trouble stems from a sharp increase of human settlements in the Torricelli mountain range. Once relatively isolated, the tenkile now struggles to avoid hunters and towns while still having sufficient range to live in.
Snowy tigers and giant owls: conservation against the odds in Russia's Far East
(05/28/2013) The Russian Far East is one of the wildest places on Earth: where giant tigers roam snow-covered forests and the world's biggest owls stalk frozen rivers. Bordering northern China and North Korea, the forests of Primorye are known for the diversity of habitats, including coastal forests along the Sea of Japan, vast coniferous forests in the Sikhote-Alin mountains, and even steppe. These diverse ecosystems also makes the forests a hotspot for endangered species, including Amur tigers (Panthera tigris altaica), Blakiston's fish owls (Bubo blakistoni), and one of the world's rarest big cats, Amur leopards (Panthera pardus orientalis), which number only 30-50 animals.
13 year search for Taiwan's top predator comes up empty-handed

(05/01/2013) After 13 years of searching for the Formosan clouded leopard (Neofelis nebulosa brachyura), once hopeful scientists say they believe the cat is likely extinct. For more than a decade scientists set up over 1,500 camera traps and scent traps in the mountains of Taiwan where they believed the cat may still be hiding out, only to find nothing.
Scientists discover new giant mole rat in Africa (photos)
(04/30/2013) Although the term "giant mole rat" may not immediately inspire love, the mole rats of Africa are a fascinating bunch. They spend practically their entire lives underground building elaborate tunnel systems and feeding on plant stems. This underground lifestyle has led them to evolve small ears, tiny eyes, forward-pointing teeth for digging, and nostrils they can shut at will while digging. Some species are quite social, such as the most famous, the naked mole rat (Heterocephalus glaber), while others live largely solitary lives. If that's not enough, the family of mole rats, dubbed Blesmols, may even help us find a cure for cancer.
Obama Administration to propose stripping protection from all gray wolves

(04/29/2013) The U.S. Fish and Wildlife Service (USFWS) is proposing to end protection for all gray wolves (Canis lupus) in the lower 48 states, save for a small population of Mexican wolves in New Mexico, reports the Los Angeles Times. The proposal comes two years after wolves were removed from the Endangered Species Act (ESA) in western states by a legislative rider on a budget bill, and soon after in the midwest. Since then hunting and trapping has killed over 1,500 wolves in these two regions.
Working to save the mystery antelope that's little bigger than a pet cat (photos)
(04/25/2013) Little is known about the silver dik-dik (Madoqua piacentinii) population that roams the dense coastal bushlands of eastern Africa, but experts are working to learn more about the mysterious species. Weighing little more than a domestic cat, the small antelopes are found in a long, narrow coastal strip spreading across 250 kilometers (155 miles) from Somalia's capital of Mogadishu north to the port town of Hobyo. This coastal strip is known as the Hobyo Grassland and Shrubland eco-region, according to the WWF.
Malaysia may be home to more Asian tapirs than previously thought (photos)
(04/23/2013) You can't mistake an Asian tapir for anything else: for one thing, it's the only tapir on the continent; for another, it's distinct black-and-white blocky markings distinguishes it from any other tapir (or large mammal) on Earth. But still little is known about the Asian tapir (Tapirus indicus), including the number surviving. However, researchers in Malaysia are working to change that: a new study for the first time estimates population density for the neglected megafauna, while another predicts where populations may still be hiding in peninsular Malaysia, including selectively-logged areas.
Lions for sale: big game hunting combines with lion bone trade to threaten endangered cats
(04/18/2013) Koos Hermanus would rather not give names to the lions he breeds. So here, behind a 2.4-meter high electric fence, is 1R, a three-and-a-half-year-old male, who consumes 5kg of meat a day and weighs almost 200kg. It will only leave its enclosure once it has been "booked"' by a hunter, most of whom are from the United States. At that point the big cat will be set loose in the wild for the first time in its life, 96 hours before the hunt begins. It usually takes about four days to track down the prey, with the trophy hunter following its trail on foot, accompanied by big-game professionals including Hermanus. He currently has 14 lions at his property near Groot Marico, about two and a half hours by road west of Johannesburg.
Humans killed over 10 percent of the world's bird species when they colonized the Pacific Islands
(03/25/2013) Around 4,000 years ago intrepid Polynesian seafarers made their way into an untamed wilderness: the far-flung Pacific Islands. Over a thousands or so years, they rowed from one island to another, stepping on shores never yet seen by humans. While this vast colonization brought about a new era of human history, it also ended the existence of well-over a thousand bird species according to a new study in the Proceedings of the National Academy of Sciences (PNAS).
Deer populations hurt by poaching in Mexican dry forest

(03/18/2013) White-tailed deer are usually thought of as inhabiting temperate forests in the U.S. and Canada, but this widespread species can also be found across tropical forests, from Mexico to Peru. A new study in mongabay.com's open access journal Tropical Conservation Science investigates the population of white-tailed deer (Odocoileus virginianus) in Mexico's Tehuacan-Cuicatlan Biosphere Reserve (TCBR), and finds that poaching may be having a large impact.
Crocodilian competition may hinder conservation efforts in Amazon
(03/11/2013) In the slow-moving freshwater of the Amazon River basin, a dark, scaly crocodilian known as the black caiman (Melanosuchus niger) is attempting a comeback from near extinction, but another crocodilian may threaten the recovery process, according to a new study in the journal Herpetologica.
Warlords, sorcery, and wildlife: an environmental artist ventures into the Congo
(02/25/2013) Last year, Roger Peet, an American artist, traveled to the Democratic Republic of Congo (DRC) to visit one of the world's most remote and wild forests. Peet spent three months in a region that is largely unknown to the outside world, but where a group of conservationists, headed by Terese and John Hart, are working diligently to create a new national park, known as Lomami. Here, the printmaker met a local warlord, discovered a downed plane, and designed a tomb for a wildlife ranger killed by disease, in addition to seeing some of the region's astounding wildlife. Notably, the burgeoning Lomami National Park is home to the world's newest monkey species, only announced by scientists last September.
Jaguars, tapirs, oh my!: Amazon explorer films shocking wildlife bonanza in threatened forest
(02/19/2013) Watching a new video by Amazon explorer, Paul Rosolie, one feels transported into a hidden world of stalking jaguars, heavyweight tapirs, and daylight-wandering giant armadillos. This is the Amazon as one imagines it as a child: still full of wild things. In just four weeks at a single colpa (or clay lick where mammals and birds gather) on the lower Las Piedras River, Rosolie and his team captured 30 Amazonian species on video, including seven imperiled species. However, the very spot Rosolie and his team filmed is under threat: the lower Las Piedras River is being infiltrated by loggers, miners, and farmers following the construction of the Trans-Amazon highway.
Over 1,500 wolves killed in the contiguous U.S. since hunting legalized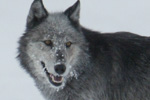 (02/06/2013) Hunters and trappers have killed approximately 1,530 wolves over the last 18 months in the contiguous U.S., which excludes Alaska. After being protected under the Endangered Species Act (ESA) for 38 years, gray wolves (Canis lupus) were stripped of their protected states in 2011 by a legislative rider (the only animal to ever be removed in this way). Hunting and trapping first began in Montana and Idaho and has since opened in Wyoming, Minnesota, and Wisconsin.
Photos: Scientists discover tapir bonanza in the Amazon
(01/22/2013) Over 14,000 lowland tapirs (Tapirus terrestris), also known as Brazilian tapirs, roam an Amazonian landscape across Bolivia and Peru, according to new research by scientists with the Wildlife Conservation Society (WCS). Using remote camera trapping, thousands of distribution records, and interviews, the researchers estimated the abundance of lowland tapirs in the Greater Madidi-Tambopata Landscape Conservation Program made up of three national parks in Bolivia (Madidi, Pilón Lajas and Apolobamba) and two in Peru (Tambopata and Bahuaja Sonene).
Three developing nations move to ban hunting to protect vanishing wildlife
(01/21/2013) Three developing countries have recently toughened hunting regulations believing the changes will better protect vanishing species. Botswana has announced it will ban trophy hunting on public lands beginning in 2014, while Zambia has recently banned any hunting of leopards or lions, both of which are disappearing across Africa. However, the most stringent ban comes from another continent: Costa Rica—often considered one of the "greenest" countries on Earth—has recently passed a law that bans all sport hunting and trapping both inside and outside protected areas. The controversial new law is considered the toughest in the Western Hemisphere.
From catastrophic to the sustainable: the flight of the Amur Falcon
(12/17/2012) It is said that the price of 'freedom and justice' is constant vigilance. It seems the same can be said of conservation and sustainability in our ever changing world. In a story and allegory appropriate for many of the challenges that face our global environment, two Indian conservation champions, Shashank Dalvi and Ramki Sreenivasan (both protégés and associates of famed conservation leader, Dr Ullas Karanth of the WCS India), have stepped to work with a host of international and local interests to help save one species of beleaguered bird, the Amur Falcon of Eurasia.
Why it's time to ban the ivory trade for good [Graphic images: viewer discretion advised]
(12/12/2012) This week the Kenya Wildlife Service (KWS) announced a 14% decline in elephants in the Samburu/Laikipia ecosystem over the last 4 years. The decline has occurred in a population whose natural growth rate was measured at 5.3% between 2002 and 2008 according to the previous survey, suggesting that over 300 elephants are dying annually in the Samburu and Laikipia's landscape, denting the poster child image of one of Kenya's most important wildlife landscapes. Poaching and drought are the main causes of mortality in this population. The impact of poaching on tourism cannot be ignored, heavily armed bandits threaten more than elephants, if we can't protect elephants how can we protect international tourists? But it's the long term consequence that are of greater concern.





Poaching in Serengeti seems worth the risk

(12/10/2012) Illegal hunting in Tanzania's Greater Serengeti Ecosystem (GSE) remains a prevalent activity for local people, despite government regulation and grassroots movements to prevent it. A new paper from mongabay.com's open-access Tropical Conversation Science examines the factors that drive poachers to continue their activities, despite the high costs involved. By interviewing citizens involved with illegal hunting in the Western part of the Serengeti, they were able to identify key risks that are faced by the hunters as well as the perceived gains of a successful hunt.





New inroads made into bushmeat consumption in Tanzania

(12/10/2012) Bushmeat consumption, or "wildlife hunted for human consumption," poses a significant threat to wildlife conservation all across the globe. But in Eastern Africa—where savannah grasslands flourish and big game roam free within 'protected' reserves—one may be forgiven to think that poaching does not occur here: but it does.




Page 1 | Page 2 | Page 3 | Page 4 | Page 5 | Page 6 | Page 7 | Page 8 | Page 9