News articles on human-wildlife conflict

---
Mongabay.com news articles on human-wildlife conflict in blog format. Updated regularly.






Social-media firestorm defends popular man-eating tiger in India, raising conservation questions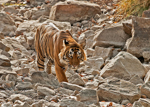 (06/23/2015) On May 8, 56-year-old forest guard Rampal Saini was attacked and killed by a tiger named Ustad with a bite to the neck. Ustad was hugely popular with tourists and had gained a massive online following. But Saini was Ustad's fourth victim in a span of five years, and his death unleashed a heated debate — especially online — about whether the ensuing decision to banish him to captivity was the right one.
Drone Herders: Tanzanian rangers and researchers use UAVs to protect elephants and crops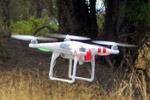 (05/27/2015) HEC, otherwise known as human elephant conflict, is a centuries-old problem responsible for the deaths of untold numbers of elephants. This ongoing battle between African farmers trying to grow crops and hungry elephants foraging for a meal, has motivated conservationists to find solutions for protecting the largest and one of the most intelligent land animals on the planet. Scientists' most recent effort -- Unmanned Aerial Vehicles (UAVs), frisbee-sized remote controlled quad-helicopters -- may provide the answer that researchers have been looking for.
Tapping into evolutionary responses to guard crops against elephants
(04/30/2015) The search for effective measures to reduce human-elephant conflict is a top priority for wildlife managers and a significant challenge. Ongoing conflict incidents exacerbate anti-wildlife sentiments among rural populations, as conflict events can lead to the deaths of both people and elephants. The continued expansion of development and agriculture into traditional wildlife grazing lands pushes elephants into more frequent contact with people and crop fields.
Enough for an elephant: why are Cameroon's elephants raiding fields?
(12/18/2014) Waza National Park in West Africa is a refuge to many endangered and vulnerable species. Walk through the grounds and you may see red-fronted gazelles grazing or giraffes sauntering between trees in search of foliage. Head to the park's perimeter, though, and you may see a less serene scene: elephants raiding local farmers' crops.
Seeking justice for Corazón: jaguar killings test the conservation movement in Mexico
(07/31/2014) Eight years ago, a female jaguar cub was caught on film by a motion-triggered camera trap set in the foothills of canyons, oak forest, and scrubland that make-up the Northern Jaguar Reserve, just 125 miles south of the U.S.-Mexico border. Three years later, in 2009, the jaguar reappeared on film as an adult. They called her 'Corazón' for the distinctive heart-shaped spot on her left shoulder.
On track to 'go beyond the critical point': Sri Lanka still losing forests at rapid clip
(07/15/2014) During the latter half of Sri Lanka's civl war, between 1990 and 2005, Sri Lanka suffered one of the highest rates of deforestation in the world, losing about 35 percent of its old growth forest and almost 18 percent of its total forest cover. The conflict ended in 2009, and while deforestation has slowed somewhat, Sri Lanka is still losing forest cover at a fast pace.
Cats' best friend? A new role for guard dogs in South Africa
(07/09/2014) While there has been a surge of recovery and reintroduction programs to combat predator decline, human population growth and limited protected areas have led to increased rates of human-wildlife conflicts in many regions of the world. A study published recently tested the ability of trained guarding dogs to protect livestock in South Africa and found it to be highly effective, protecting humans and predators alike.
Deforestation drives tigers into contact, conflict with humans
(06/20/2014) Conflicts between tigers and humans will continue to increase unless the destruction and loss of Sumatra's forests is halted, warns Dr. Erni Suyanti Musabine, a wildlife conservation veterinarian with Indonesia's Ministry of Forestry. According to Yanti, the critically endangered Sumatran tiger (Panthera tigris sumatrae) traditionally lived deep in the forest, but habitat loss forces them closer to human habitation where they are at risk of being hunted or contracting diseases, and are increasingly becoming a nuisance or threat to humans.
'Simmering conflict': the delicate balancing act of protecting India's wilderness
(05/13/2014) The Western Ghats of southern India, one of the world's top biodiversity hotspots, is a 1600-kilometer (1000-mile) mountain chain that runs parallel to the western coast of the Indian subcontinent. It traverses six states and is home to as many as 250 million people. In an interview with mongabay.com, M.D. Madhusudan of the Nature Conservation Foundation discusses the importance and challenges of establishing protected areas in India.
Elephants in the midst: warning system prevents human-elephant conflicts in India, saves lives
(05/08/2014) Indian elephants once freely roamed the rich mid-elevation evergreen forests of the Valparai plateau in the Western Ghats, one of the world's mega biodiversity regions, but they can't move the way they used to. Ever-increasing commercial plantations and settlements have become obstacles to the daily and seasonal movements of elephants, creating more chances for often-deadly encounters between humans and elephants.
How locals and conservationists saved the elephants of Mali amidst conflict and poverty
(04/02/2014) At a time when Africa's elephants are facing a relentless poaching crisis, one community has managed to safeguard their elephants in the most unlikely of places: Mali. In a country that has suffered from widespread poverty, environmental degradation, and, most recently, warfare, a collaboration between conservationists and the local community has kept Mali's elephants from extinction.
Kala: the face of tigers in peril
(03/27/2014) In 1864, Walter Campbell was an officer in the British Army, stationed in India when he penned these words in his journal: "Never attack a tiger on foot—if you can help it. There are cases in which you must do so. Then face him like a Briton, and kill him if you can; for if you fail to kill him, he will certainly kill you." In a stroke of good fortune for the tiger, perceptions in India have changed drastically since Campbell's time. Tiger hunting is now banned and conservationists are usually able to rescue the big cats if they become stranded while navigating increasingly human-occupied areas. But is this enough to save the tiger?
Palm oil plantations allegedly poison seven Critically Endangered elephants in Sumatra

(02/28/2014) Wildlife officials suspect foul play in the deaths of seven Sumatran elephants on the outskirts of Tesso Nilo National Park. Officials stumbled on the corpses of one female elephant, five young males, and one male calf in mid-February. Although the males had their tusks hacked off, the officials suspect the elephant were poisoned in revenge for disturbing illegal palm oil plantations inside the park.
One person killed, two injured in elephant attacks in Indonesia this year
(02/12/2014) It was near dawn on Jan. 4 when a critically endangered Sumatran elephant (Elephas maximus sumatranus) destroyed a small shack near a plantation in Indonesia's Aceh province, killing a local farmer from West Aceh district and injuring his 13-year-old son. Yusmani, 59, was trampled to death while his son, Reverendi, escaped with a broken leg.
Endangered tiger killed in Sumatra

(02/01/2014) A young Sumatran Tiger (Panthera tigris sumatrae) was shot and killed by a coffee farmer in Jambi Province. With an estimated 400 individuals left in the wild, the species is Critically Endangered, while habitat loss increasingly forces them into populated areas to search for food.
Predator appreciation: how saving lions, tigers, and polar bears could rescue ourselves
(01/29/2014) In the new book, In Predatory Light: Lions and Tigers and Polar Bears, authors Elizabeth Marshall Thomas, Sy Montgomery, and John Houston, and photographers Cyril Christo and Marie Wilkinson share with us an impassioned and detailed appeal to appreciate three of the world's biggest predators: lions, tigers, and polar bears. Through lengthy discussions, combining themes from scientific conservation to local community folklore, In Predatory Light takes us step by step deeper into the wild world of these awe-inspiring carnivores and their varied plight as they facedown extinction.
Over 75 percent of large predators declining
(01/09/2014) The world's top carnivores are in big trouble: this is the take-away message from a new review paper published today in Science. Looking at 31 large-bodied carnivore species (i.e those over 15 kilograms or 33 pounds), the researchers found that 77 percent are in decline and more than half have seen their historical ranges decline by over 50 percent. In fact, the major study comes just days after new research found that the genetically-unique West African lion is down to just 250 breeding adults.
Asian elephants depend on shifting cultivation during the dry season

(12/16/2013) Asian elephants (Elephas maximus) have co-existed with human practices for thousands of years, including shifting cultivation. Shifting agriculture encompasses a variety of different practices that involve abandoning plots for periods of time to allow natural vegetation to grow. The practice consists of cutting and burning the natural vegetation at the end of the dry season and cultivating with the rains. Harvesting is completed by the end of the wet season.
Sri Lankan elephant amnesty will lead to poaching, warn conservationists
(12/03/2013) Environmentalists have responded with alarm to a proposed amnesty permitting the registration of illegally captured elephants in Sri Lanka. Recent reports in Sri Lankan media have outlined the proposal, stating that during the amnesty period it would be possible to register elephant calves for a fee of about $7,600. Elephants are closely linked with Sri Lankan history and culture, and are considered sacred in both Buddhism and Hinduism. But the situation for elephants in the country is complicated.
Bornean elephant meets palm oil: saving the world's smallest pachyderm in a fractured landscape
(10/01/2013) In the Malaysian state of Sabah, where most conservation students are still foreigners—either European or American—Nurzahafarina Othman stands out: not only is she Malaysian, a Muslim, and a mother of a young daughter, but she's rapidly becoming a top researcher and champion for the world's smallest elephant: the Bornean elephant (Elephas maximus borneensis). Although sometimes described as a pygmy elephant, they still weigh 2,000 kilograms (4,400 pounds). The origin of these 'tiny' elephants in Malaysian Borneo have baffled scientists for decades.
Samburu's lions: how the big cats could make a comeback in Kenya
(09/30/2013) In 2009 conservationists estimated that less than 2,000 lions survive in Kenya, a drop of 26 percent in just seven years. In addition, the East Africa country continues to hemorrhage lions: around a hundred a year. Poaching, poisoning, and large-scale habitat loss has put lions on the defensive across Africa, but even countries once thought lion strongholds--like Kenya--have seen populations harried to devastation and in some cases local extinction. Shivani Bhalla, a fourth-generation Kenyan, is working to turnaround this trend in Samburu National Reserve.
Lions rising: community conservation making a difference for Africa's kings in Mozambique
(09/17/2013) Everyone knows that tigers, pandas, and blue whales are threatened with extinction—but lions!? Researchers were shocked to recently discover that lion populations have fallen precipitously: down to around 30,000 animals across the African continent. While 30,000 may sound like a lot, this is a nearly 70 percent decline since 1960. In addition, lion populations are increasingly fragmented with a number of populations having vanished altogether. However, there is hope: one place where lion populations are actually on the rise is Niassa National Reserve in Mozambique. Here, lion populations have risen by around 60 percent in just seven years. In part this is due to the effort of Colleen and Keith Begg.
Butchering nature's titans: without the elephant 'we lose an essential pillar in the ability to wonder'
(09/12/2013) Africa's elephant poaching crisis doesn't just threaten a species, but imperils one of humanity's most important links to the natural world and even our collective sanity, according to acclaimed photographers and film-makers, Cyril Christo and Marie Wilkinson. Authors of the book Walking Thunder - In the Footsteps of the African Elephant, Christo and Wilkinson have been documenting Africa's titans in photos and film for several years. In 2011, the pair released a film Lysander's Song (named after their son an avid fan of elephants) which depicts the millennial-old relationship between humans and elephants.
Protecting predators in the wildest landscape you've never heard of
(09/10/2013) The Serengeti, the Congo, the Okavango Delta: many of Africa's great wildernesses are household names, however on a continent that never fails to surprise remain vast wild lands practically unknown to the global public. One of these is the Ruaha landscape: covering 51,800 square kilometers (20,000 square miles) of southern Tanzania's woodlands and savannah, Ruaha contains the largest population of elephants in East Africa, over 500 bird species, and a wealth of iconic top predators, including cheetah, hyena, wild dogs, leopard, and—the jewel in its crown—10 percent of the world's lions. But that's not all, one of Africa's least-known and secretive tribal groups, the Barabaig, also calls Ruaha home.
Are sea turtles responsible for lower fish catches in India?
(08/29/2013) Fishing communities on Agatti Island in Lakshwadeep, India, blame their reduced fish catch on green turtles; according to them, green turtles chomp their way through the seagrass beds lining the shallow reef waters that are essential for fish to breed. This leads some in the community to clandestinely kill sea turtles and destroy their nests.
Scientists map human-wildlife conflict in India
(08/15/2013) Designating protected areas in a country with 1.27 billion people comes with its own consequences: around each protected area in India lies a zone where wildlife strays out, and people stray in. Inevitably, there is contact, and more often than not, conflict. Human wildlife conflict has been under the lens for a long time. How humans respond to conflict situations varies.
First of its kind rescue and release for sloth bear in India
(08/08/2013) For a young wild sloth bear who found himself amidst a panic-stricken village in India, rescue was fortunately, and surprisingly, close at hand. In a one-of-a-kind heartwarming story, a team from Wildlife SOS (WSOS) India – a conservation and welfare NGO – successfully rescued, treated and subsequently released the sloth bear back into the wild, but this time with a radio collar fitted around its neck.
Featured video: Sumatra's last elephants versus palm oil

(08/05/2013) A new video by The Ecologist documents the illegal destruction of the Leuser protected area in Sumatra for palm oil production, a vegetable oil which has become ubiquitous in many mass-produced foods and cosmetics. The destruction of the forest has pushed elephants and people together, leading to inevitable conflict with casualties on both sides. Elephants are increasingly viewed as agricultural pests for crop-raiding while locals—some of them squatting in protected land—lack the means and resources to keep elephants at bay. Meanwhile, palm oil plantations often see elephants as a threat to the palms.
No sweat: elephants living with people aren't stressed
(07/23/2013) Nature preserves, wildlife sanctuaries, national forests, parks, grasslands and protected areas are the cornerstones of conservation. These are the wild places where animals can still dwell, grow, and reproduce in their natural environment without any human-caused stressors. While many of these special places have facilitated leaps and bounds for wildlife conservation, the reality is that these areas are extremely limited and most plants and animals live beyond, or must migrate out of, their bounds.
Galapagos sea lions threatened by human exposure
(07/19/2013) A recent study conducted by the Zoological Society of London (ZSL) on endangered Galapagos sea lions (Zalophus wollebaeki) has revealed that the animals are more susceptible to starvation as a result of their exposure to humans. Over a span of more than 18 months, conservationists tagged and monitored the behavior and physiology of two groups of 60 Galapagos sea lions, one in San Cristobal, which is inhabited by humans, and one in Santa Fe, where there are no humans, dogs, cats, mice, or rats.
5 men rescued, 1 killed, after 5-day Sumatran tiger standoff
(07/12/2013) Five men were finally rescued on Monday after spending five days trapped in a tree by a group of Sumatran tigers. A team of around 30 people rescued the men after several tiger tamers were able to lure the animals away using chants and mantras. The men were attacked inside Aceh's Gunung Leuser National Park by a mother tiger after accidentally killing its cub in a trap the group had set to hunt deer. The tiger killed one of the men, 28-year-old David, and forced the others to escape up a tree.
Tigers, orangutans, rhinos: Sumatra's big mammals on the edge of extinction

(06/12/2013) Karman Lubis's body was found near where he had been working on a Sumatran rubber plantation. His head was found several days later a mile away and they still haven't found his right hand. He had been mauled by a Sumatran tiger that has been living in Batang Gadis National Park and he was one of five people killed there by tigers in the last five years.
Tibetan monks partner with conservationists to protect the snow leopard
(06/10/2013) Tibetan monks could be the key to safeguarding the snow leopard (Panthera uncia) from extinction, according to an innovative program by big cat NGO Panthera which is partnering with Buddhist monasteries deep in leopard territory. Listed as Endangered by the IUCN Red List, snow leopard populations have dropped by a fifth in the last 16 years or so. Large, beautiful, and almost never-seen, snow leopards are the apex predators of the high plateaus and mountains of central Asia, but their survival like so many big predators is in jeopardy.
Scientists capture one of the world's rarest big cats on film (photos)
(05/21/2013) Less than a hundred kilometers from the bustling metropolis of Jakarta, scientists have captured incredible photos of one of the world's most endangered big cats: the Javan leopard (Panthera pardus melas). Taken by a research project in Gunung Halimun-Salak National Park, the photos show the magnificent animal relaxing in dense primary rainforest. Scientists believe that fewer than 250 mature Javan leopard survive, and the population may be down to 100.
Unidentified toxin caused the deaths of Borneo elephants

(04/18/2013) After three months, officials still don't know for certain what killed at least 14 Bornean elephants (Elephas maximus borneensis) in the Malaysian state of Sabah. However tests do indicate that the herd perished from a "caustic intoxicant," possibly ingested accidentally or just as easily intentionally poisoned. A distinct subspecies, Bornean elephants are the world's smallest with a population that has fallen to around 2,000 on the island.
Forgotten lions: shedding light on the fate of lions in unprotected areas
(03/18/2013) African lions (Panthera leo) living outside of protected areas like national parks or reserves also happen to be studied much less than those residing within protected areas, to the detriment of lion conservation initiatives. In response to this trend, a group of researchers surveyed an understudied, unprotected region in northwestern Mozambique called the Tete Province, whose geography and proximity to two national parks suggests a presence of lions.
The end of wild Africa?: lions may need fences to survive
(03/06/2013) In order for dwindling lion populations to survive in Africa, large-scale fencing projects may be required according to new research in Ecology Letters. Recent estimates have put lion populations down to 15,000-35,000, a massive drop from a population that was thought to be around 100,000 in 1960. The worsening plight of lions have pushed the researchers to suggest what is likely to be a controversial proposal: fence the top predators in.
Biofuel company caught clearing elephant habitat in Sri Lanka
(02/20/2013) A biofuel plantation near Yala National Park has landed Lanka Orex Leasing Company PLC (LOLC) in Sri Lanka's highest court. Environmentalists say the company is illegally bulldozing Asian elephant habitat, including scrubland and tree stands, near the buffer zone of Yala National Park for gliricidia (Gliricidia sepium) biofuel plantation.
14 Bornean elephants found dead, likely poisoned
(01/31/2013) Wildlife officials in the Malaysian state of Sabah have found the bodies of 14 Bornean elephants in Gunung Rara Forest Reserve, and suspect that more may be found dead. While tests are pending, they believe the elephants were likely poisoned due to damage in the animals' digestive tracts. Only around 2,000 Bornean elephants (Elephas maximus borneensis) are left on the island of Borneo with the vast bulk found in Sabah.
Claim of human and tiger 'coexistence' lacks perspective
(01/29/2013) Nepal's Chitwan National Park was the site of a study, published in September 2012 by Carter and others, which concluded that, tigers coexist with humans at fine spatial scales. This paper has ignited a scientific debate regarding its implications for large carnivore conservation worldwide, with scientists at institutions worldwide questioning the validity of claims of coexistence. At the foundation of this debate, perhaps, is the unresolved question, "what is coexistence?"
Living beside a tiger reserve: scientists study compensation for human-wildlife conflict in India
(01/21/2013) During an average year, 87% of households surrounding Kanha Tiger Reserve in Central India report experiencing some kind of conflict with wild animals, according to a new paper in the open-access journal PLOS One. Co-existence with protected, free-roaming wildlife can be a challenge when living at the edge of a tiger reserve. "Local residents most often directly bear the costs of living alongside wildlife and may have limited ability to cope with losses" wrote the authors of the new paper.
Can ranchers co-exist with jaguars?
(01/17/2013) Jaguar once roamed from the United States to Argentina, but today they've been eliminated from several range countries, including the United States. The chief reasons are habitat loss and direct killing by humans, putting ranchers and farmers at the heart of the issue. Both ranchers and farmers convert key jaguar habitat and kill the big cats as a threat to their livestock. However in parts of Brazil's Pantanal, some ranchers are going about their business without killing jaguars. My Pantanal, a film by Andrea Heydlauff, Vice President of the wild cat conservation group Panthera, takes a look at one particular ranch that is helping prove that jaguars and ranchers can co-exist.
Dead tigers, dead people: logging by paper industry worsens human-tiger conflict in Sumatra, alleges report
(01/10/2013) Destruction of rainforests and peatlands on the Indonesian island of Sumatra by the pulp and paper industry is worsening conflict between tigers and humans, including fatal encounters, alleges a new report published by a coalition of environmental groups in Riau, Sumatra. The report looks specifically at five concessions operated by companies that supply wood to Asia Pulp & Paper (APP) and its corporate parent, the Sinar Mas Group (SMG). The report says that the majority of human-tiger conflict incidents in Riau between 1997 and 2009 occurred within these concessions.
An avalanche of decline: snow leopard populations are plummeting

(01/03/2013) The trading of big cat pelts is nothing new, but recent demand for snow leopard pelts and taxidermy mounts has added a new commodity to the illegal trade in wildlife products, according to the Environmental Investigation Agency (EIA). Traditionally, the market for large cat products has centered around tiger bones and parts for traditional Chinese medicine. Snow leopards (Uncia uncia), however, are a novel trend in the illegal wildlife trade arena and skins and taxidermy mounts are the most recent fad in luxury home décor.
Leopard poaching is a bigger problem in India than previously believed
(10/31/2012) A recent study conducted by wildlife trade monitoring group TRAFFIC uncovered unnerving statistics about the illegal trade of leopards (Panthera pardus) in India: at least four leopards have been poached every week for the past decade in the country. The study, entitled Illuminating the Blind Spot: A study on illegal trade in Leopard parts in India, highlights the severity of leopard poaching from 2001 to 2010, despite preventative measures established in 1972 by the Wildlife Protection Act (WLPA) that prohibit the sale of leopard parts in India.
Appreciating elephant individuality: a new approach to preventing conflicts with humans
(10/09/2012) To prevent conflicts between humans and elephants in developed areas, a new study shows there is much to learn from analyzing Asian elephant behavior at the individual level as opposed to population studies. Researchers have traditionally interpreted elephant behavior at the population level, looking for behavior patterns among elephants of similar ages, group sizes, and genders. Today, field researchers in India are studying elephant behavior at the individual level. Their goal is to appreciate the idiosyncrasies of individual elephants in the hopes of predicting their behavior. Nishant Srinivasaiah, of the Tata Institute of Fundamental Research and lead author of the study, told mongabay.com that it is vital "to get to know our elephants more intimately than ever before and, more importantly, to shift our focus from a population to include its individuals as well."
Learning to live with elephants in Malaysia
(09/18/2012) Humans and elephants have a lot in common: both are highly intelligent, intensely social, and both are capable of having a massive impact on their local environments. Given their similarities, it might not be surprising that elephants and human have often run afoul of one another. Conflict between these two great species has probably been going on for thousands of years, but as human populations have grown dramatically, elephant populations have been crippled and forced into smaller-and-smaller pockets. No-where is this more true than in Southeast Asia.
Elephant ancestors and Africa's Bigfoot: new initiative works to preserve a continent's wildest tales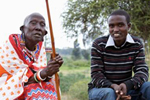 (08/20/2012) Paula Kahumbu, the Executive Director of WildlifeDirect and a 2011 National Geographic Emerging Explorer, is on a mission to reconnect young Africans with the natural world through storytelling. In a new initiative dubbed Africa's Wildest Stories, Kahumbu and others are recording the wit and wisdom of African elders in Kenya as they share their love of nature and the way in which Africans, for millennia, have co-existed with their environment and its astounding wildlife.
Tracking elephants in Cameroon to mitigate conflict with locals

(07/09/2012) Elephant conservation is imperiled by poor spatial planning, according to a new study in mongabay.com's open access journal Tropical Conservation Science. Tracking two elephant matriarchs in and around Bénoué National Park in Cameroon, scientists found that the herds spent over half their time outside of the park, highlighting the potential for human-wildlife conflict as elephants are known to raid fields.
New campaign targets snares in effort to save world's big cats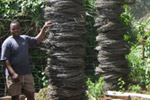 (06/05/2012) Last summer, a wild Sumatran tiger—one of only a few hundred surviving on the island—made news in a story that did not have a happy ending. The cat had become entangled in a snare in a logging concession owned by Asia Pulp and Paper (APP). The tiger spent seven days without food or water before wildlife rangers found it, but its snared right paw was a bloody black mess. Although the rangers were able to sedate and free the cat, it died shortly thereafter from its wounds.
Solitary male monkeys cause crop damage in Uganda

(03/19/2012) Solitary male red-tailed monkeys (Cercopithecus ascanius) cause significant damage to cocoa crops in Uganda, according to a new study in mongabay.com's open access journal Tropical Conservation Society (TCS). Researchers examined crop raiding by social groups of red-tailed monkeys and lone males, only to discover that solitary males caused significantly more damage to cocoa crops than the average group member. The research may have implications for how to mitigate human-wildlife conflict in the area.
Photos of the day: satellite tagging a 12-foot saltwater crocodile

(02/06/2012) Researchers in the Malaysian state of Sabah on Borneo have successfully satellite-tagged a 3.6 meter (11.8 feet) saltwater crocodile (Crocodylus porosus) in an effort to study human-wildlife conflict with the world's largest reptile. As massive, powerful reptiles they are quite capable of injuring and killing adult humans.
Saving the world's biggest river otter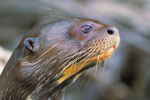 (01/30/2012) Charismatic, vocal, unpredictable, domestic, and playful are all adjectives that aptly describe the giant river otter (Pteronura brasiliensis), one of the Amazon's most spectacular big mammals. As its name suggest, this otter is the longest member of the weasel family: from tip of the nose to tail's end the otter can measure 6 feet (1.8 meters) long. Living in closely-knit family groups, sporting a complex range of behavior, and displaying almost human-like capricious moods, the giant river otter has captured a number of researchers and conservationists' hearts, including Dutch conservationist Jessica Groenendijk.
Eco-toilets help save hippos and birds in Kenya
(01/04/2012) It may appear unintuitive that special toilets could benefit hippos and other wetland species, but the Center for Rural Empowerment and the Environment (CREE) has proven the unique benefits of new toilets in the Dunga Wetlands on Lake Victoria's Kenyan side. By building ecologically-sanitary (eco-san) toilets, CREE has managed to alleviate some of the conflict that has cropped up between hippos and humans for space.
Giant snakes commonly attacked modern hunter-gatherers in Philippines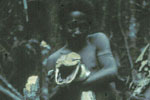 (12/13/2011) Humans have an ambivalent relationship with snakes. The legless reptiles are often feared and reviled, becoming stand-ins for the Devil and movie monster characters; yet many people have grown to love snakes, raising large, even dangerous, specimens as pets. Now, new research suggests that the ecological role between snakes and humans, as well as other primates, is more nuanced than expected. After spending decades living among the Agta Negritos people in the Philippines, anthropologist Thomas Headland has found that the hunter gatherer tribes were quite commonly attacked by reticulated pythons (Python reticulatus), while the people themselves had no qualms with hunting, killing, and consuming python.
Bushmeat trade driving illegal hunting in Zimbabwe park

(12/12/2011) Bushmeat hunting is one of the major threats to mammals in sub-Saharan Africa. Although widely discussed and recognized as an issues in Central and West Africa, a new study in mongabay.com's open access journal Tropical Conservation Science describes a pattern of bushmeat hunting that is also occurring in southern Africa. Interviewing 114 locals living adjacent to Gonarezhou National Park in Zimbabwe, Edson Gandiwa with Wageningen University found that the primary drivers of illegal hunting in the park were bushmeat and personal consumption (68 percent).
Palm oil, pulp companies commit to zero-tolerance policy for orangutan killing
(12/06/2011) Two Indonesian plantation companies have signed an agreement to train workers not to kill or injure orangutans and other protected species. The agreement was brokered by the Indonesian government between Orangutan Foundation International (OFI), a non-profit with operations in Central Kalimantan, Indonesian Borneo, and two major plantation firms: PT Smart, one of Indonesia's largest palm oil producers, and PT Lontar Papyrus, which supplies wood-pulp to Asia Pulp & Paper (APP). Both companies are holdings of the Sinar Mas Group. Under the terms of the deal, OFI will assist the companies 'in delivering a best management practices training program on orangutans and endangered species for its employees, affiliates and pulpwood suppliers.'
Kenya should embrace living with nature as the model for a healthier, wealthier nation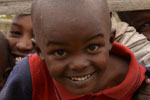 (09/27/2011) Hundreds of thousands of Kenyans are supporting government efforts to enact progressive new policies through its Vision 2030 initiative as it promises to lift us out of a depressed economy and to take us onto a path to becoming a prosperous developed nation. For this to occur, development must be sustainable —but for now what the people want and need most is for the basic necessities for life to be assured like adequate water, sanitation, energy, health, education, homes, and jobs. It is unfortunate that some of our leaders are mistaken in believing that this means Kenya should look like USA or Europe with concrete cities and mega highways, speed trains, and artificial gardens—it will all be at the cost of our spectacular natural environment and wildlife heritage. Kenya hardly has any natural resources, what we have is wilderness and wildlife. For Kenya to stand apart, she must aspire to safeguard the environment and protect forests and wildlife as a central means of to attaining this sustainable development goal.
Balancing agriculture and rainforest biodiversity in India's Western Ghats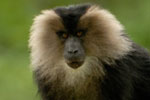 (08/08/2011) When one thinks of the world's great rainforests the Amazon, Congo, and the tropical forests of Southeast Asia and Indonesia usually come to mind. Rarely does India—home to over a billion people—make an appearance. But along India's west coast lies one of the world's great tropical forests and biodiversity hotspots, the Western Ghats. However it's not just the explosion of life one finds in the Western Ghats that make it notable, it's also the forest's long—and ongoing—relationship to humans, lots of humans. Unlike many of the world's other great rainforests, the Western Ghats has long been a region of agriculture. This is one place in the world where elephants walk through tea fields and tigers migrate across betel nut plantations. While wildlife has survived alongside humans for centuries in the region, continuing development, population growth and intensification of agriculture are putting increased pressure on this always-precarious relationship. In a recent paper in Biological Conservation, four researchers examine how well agricultural landscapes support biodiversity conservation in one of India's most species-rich landscapes.
Ironic conservation: APP touts tiger relocation after allegedly destroying tiger's home

(08/02/2011) A female Sumatran tiger (Panthera tigris sumatrae) has been relocated from her threatened rainforest home to Sembilang National Park. According to Asia Pulp and Paper (APP) and the Sumatran Tiger Conservation Foundation (YPHS), the tiger had become an issue in its home region due to human and wildlife conflict. The group touted saving the tiger as 'a significant moment for Sumatran tiger preservation'. However, Greenpeace says that the tiger would never have been a problem if APP were not destroying its habitat.
Viable population of snow leopards still roam Afghanistan (pictures)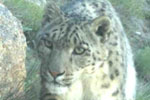 (07/13/2011) Decades of war and poverty has not exterminated snow leopards (Panthera uncia) in Afghanistan according to a new paper in the International Journal of Environmental Studies, written by researchers with the Wildlife Conservation Society (WCS). Instead the researchers report a healthy population of the world's most elusive big cat in Afghanistan's remote and peaceful Wakhan Corridor region. Monitored by camera trap in the region, WCS researchers were able to identify 30 snow leopards in 16 different locations.
Elephants: the gardeners of Asia's and Africa's forests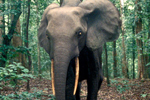 (04/25/2011) It seems difficult to imagine elephants delicately tending a garden, but these pachyderms may well be the world's weightiest horticulturalist. Elephants both in Asia and Africa eat abundant amounts of fruit when available; seeds pass through their guts, and after expelled—sometimes tens of miles down the trail—sprouts a new plant if conditions are right. This process is known by ecologists as 'seed dispersal', and scientists have long studied the 'gardening' capacities of monkeys, birds, bats, and rodents. Recently, however, researchers have begun to document the seed dispersal capacity of the world's largest land animal, the elephant, proving that this species may be among the world's most important tropical gardeners.
Fearful Symmetry—Man Made, an interview with John Vaillant, author of The Tiger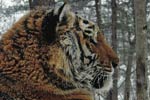 (03/14/2011) In The Tiger, John Vailliant weaves a haunting and compelling true narrative of men who live—or die—with tigers. No doubt the story itself is on-the-edge of your seat reading. As well, the book provides factual information on the 400 or so Amur Tigers remaining, and the raw milieu that is Primorye, Far East Russia—a wilderness and people unto their own. What is special, transcendent even in this story, however, murmurs uncomfortably in the background. Questions emerge from deep taiga snow, not unlike the unseen Panchelaza Tiger. What exactly is our relationship with apex predators? How do people live with them? How would you live with them in your backyard? What if your pet dog disappeared? As we ourselves are apex predators, are we wise enough, tolerant enough, compassionate enough to share this planet with them? Evidence today points to the contrary, but this can change.
Parks key to saving India's great mammals from extinction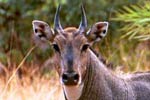 (02/24/2011) Krithi Karanth grew up amid India's great mammals—literally. Daughter of conservationist and scientist Dr. Ullas Karanth, she tells mongabay.com that she saw her first wild tigers and leopard at the age of two. Yet, the India Krithi Karanth grew up in may be gone in a century, according to a massive new study by Karanth which looked at the likelihood of extinction for 25 of India's mammals, including well-known favorites like Bengal tigers and Asian elephants, along with lesser known mammals (at least outside of India) such as the nilgai and the gaur. The study found that given habitat loss over the past century, extinction stalked seven of India's mammals especially: Asiatic lions, Bengal tigers, wild dogs (also known as dholes), swamp deer, wild buffalo, Nilgiri Tahr, and the gaur. However, increasing support of protected areas and innovative conservation programs outside of parks would be key to saving India's wildlife in the 21st Century.
Saving Madagascar's largest carnivorous mammal: the fossa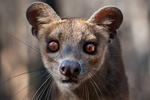 (02/17/2011) Madagascar is a land of wonders: dancing lemurs, thumbnail-sized chameleons, the long-fingered aye-aye, great baobab trees, and the mighty fossa. Wait—what? What's a fossa? It's true that when people think of Madagascar rarely do they think of its top predator, the fossa—even if they are one of the few who actually recognizes the animal. While the fossa gained a little notice in the first Madagascar film by DreamWorks, its role in the film was overshadowed by the lemurs. In this case, art imitates life: in conservation and research this feline-like predator has long lived in the shadow of its prey, the lemur. Even scientists are not certain what to do with the fossa: studies have shown that it's not quite a cat and not quite a mongoose and so the species—and its few Malagasy relatives—have been placed in their own family, the Eupleridae, of which the fossa (Cryptoprocta ferox) is the biggest. But if this is the first you've heard of such matter, don't feel bad: one of the world's only fossa-researchers, Mia-Lana Lührs also stumbled on the species.
Asia's last lions lose conservation funds to tigers

(01/24/2011) The last lions of Asia and the final survivors of the Asiatic lion subspecies (Panthera leo persica) are losing their federal conservation funding to tiger programs, reports the Indian media agency Daily News & Analysis (DNA). While the Asiatic lion once roamed Central Asia, the Middle East, and even Eastern Europe, today the subspecies survives only in India's Gir Forest National Park in the north-western state of Gujarat.
Villagers beat, ride on, and kill baby elephant

(10/28/2010) A video camera has captured villagers in the Indian state of Assam, beating, riding on, and eventually spearing a three-year-old elephant to death that had been abandoned by its herd after suffering an injury. The footage, available from New Delhi Television (NDTV) [warning: it is graphic], shows policemen standing by as the animal is killed. The incident took place a day after the Asian elephant was declared a National Heritage Animal status by Indian authorities, granting it special cultural status.
After months on the run, man-eating tiger caught

(10/28/2010) A male Bengal tiger that killed eight people was captured after a months-long chase by officials with India's Forest Department and biologists with the local conservation organization, Wildlife Trust of India (WFI), in the Indian state of Uttar Pradesh. After avoiding laced bait and tranquilizer darts, the tiger was finally trapped by officials earlier this month. Even after being tranquilized three times, the animal still lashed out, injuring several villagers who had begun throwing rocks at it. Eventually, though, the hunt for the cat ended with its capture.
Lion population in Kenya could disappear in 10 to 20 years

(08/20/2009) The Kenyan Wildlife Service recently announced that massive declines in lion population may lead to their disappearence from the region within less than 2 decades. Kenya currently has an estimated 2000 lions, but is losing the large cats at a rate of around 100 each year.
Malaysian palm oil chief claims oil palm plantations help orangutans
(06/18/2009) Dr. Yusof Basiron, CEO of the Malaysian Palm Oil Council, the government-backed marketing arm of the Malaysian palm oil industry, claims on his blog that endangered orangutans benefit from living in proximity to oil palm plantations. Environmentalists scoff at the notion, maintaining that oil palm expansion is one of the greatest threats to orangutans.
Tigers continue killing rampage in Indonesia

(03/03/2009) Two more illegal loggers were attacked and killed Sunday night in Sungai Gelam district in Jambi Province on the island of Sumatra, reports the Jakarta Post. The deaths bring the total number of people killed by tigers in the province since January 24th to nine.