News articles on herps

---
Mongabay.com news articles on herps in blog format. Updated regularly.





Geriatric turtle sex only hope for world's rarest reptile

(05/21/2008) With only four individuals of the Yangtze giant softshell turtle left on Earth—one in the wild and three in captivity—conservationists have launched a desperate attempt to save the species from extinction.


Frog chooses whether to lay eggs on land or in water

(05/19/2008) Researchers in Panama have discovered a frog that can choose whether it lays its eggs on land or in water. It is the first time such "reproductive flexibility" has been found in a vertebrate.


Invasive Species: Toad-ally out of control

(05/18/2008) Throughout warm, wet climates around the world lurks a camouflaged combatant seldom known beyond those who experience first hand its awesome destructive powers. It is an ingeniously crafted destroyer equipped with a host of specially developed chemical toxins, a lightening fast attack, and the ability to easily navigate across both water and land. This devious tool is not a creation of human engineering or military research and development but a product of a much more ancient and refined process: evolution. And until human intervention it was neither ecologically harmful nor an invasive pest but a well-integrated part of ecosystems throughout South and Central America. Meet Bufo marinus — the cane toad: exemplary proof of how human short-sightedness and misuse of biological control agents often leads to the catastrophic mismanagement of our natural world in the form of a large, squat, hungry toad.


Photos of newly discovered species in Brazil's Cerrado

(04/29/2008) An expedition to Brazil's Cerrado has turned up more than a dozen undiscovered species. conservationists say the discoveries add urgency to protecting the grassland habitat which is rapidly being converted for agriculture.


Lungless frog discovered in Borneo

(04/11/2008) A lungless frog has been discovered on the island of Borneo. Scientists say the species may shed light on the process of evolution in some organisms.


No global warming link to dying frogs?


(03/25/2008) Scientists have fired another salvo in the heated debate over the role of climate change in the global decline of amphibians. Writing in the March 25 issue of PLoS Biology, a team of researchers led by Karen Lips of Southern Illinois University-Carbondale report finding "no evidence to support the hypothesis that climate change has been driving outbreaks of amphibian chytridiomycosis" -- a disease blamed for large-scale die-offs of amphibians. Other researchers have argued that climate shifts are worsening the outbreak of the fungal disease.


How falling a gecko lands on its feet

(03/17/2008) According to new research the gecko may have the most dynamic tail in the natural world. Two researchers from UC Berkley have discovered that the gecko uses its tail to keep itself from falling off slippery vertical surfaces and when falling to rapidly right itself. So, like a cat, it always lands on four feet.


Rare jewel-colored frog rediscovered in Colombia

(03/13/2008) A brilliantly-colored frog has been rediscovered 14 years after its last sighting in a remote mountainous region in Colombia.


Half of Madagascar's amphibians may still await discovery



(03/11/2008) Madagascar is one of the most unique places on Earth for wildlife. When the public thinks of Madagascar's fauna most likely they think of one of the fifty species of lemur. Yet, Madagascar possesses a wealth of endemic wildlife outside of these unique prosimians. For example, to frog-lovers Madagascar is a paradise. The only amphibians living on Madagascar are frogs; the island is devoid of toads, salamanders, or newts. But what it lacks in other amphibians it makes up for in the number and beauty of its frogs. Currently, 240 frogs have been catalogued in Madagascar, 99 percent of which are endemic. Yet, amphibian expert Dr. Franco Andreone believes that, according to recent field studies, this may only be half of the frogs that actually live in Madagascar. Dr. Andreone believes the final tally could reach 500 species!


Deforestation causes snake invasion in the Amazon

(03/11/2008) An official with Brazil's environmental protection agency Ibama claims that snakes are invading the city of Belem due to deforestation of the Amazon rainforest.


Rare frog breeds in captivity for the first time

(03/03/2008) A rare species of frog has been found breeding in captivity in New Zealand, reports the Associated Press. The finding offers hope that the species' vulnerability to extinction can be reduced.


A Doomsday Vault for Frogs?

(02/27/2008) The Amphibian Ark, a doomsday vault for amphibians, will highlight Leap Day, February 29th, to recognize 2008 as the Year of the Frog. The campaign seeks to raise awareness of the global plight of frogs and other amphibians threatened by habitat loss, climate change, pollution and an emergent disease. Joining in the effort is the Wildlife conservation Society?s (WCS) Bronx Zoo and New York Aquarium, facilities that house some of the world's most threatened amphibians.


Rainforest logging threatens endangered sea turtles

(02/25/2008) Logging is having an unexpected impact on endangered sea turtles in Central Africa, reports a new study published in Oryx. Aerial surveys in Gabon reveal that logs lost during transport are clogging beaches, preventing critically endangered leatherback turtles (Dermochelys coriacea) from nesting.


Rainforest fragmentation affects reptiles and amphibians

(02/20/2008) Deforestation of tropical ecosystems is one of the major threats to biological diversity. Anthropogenic activities transform tropical environments into semi-natural landscapes generating a great amount of forest edge that limits with pastures and agricultural lands.


Sea turtle makes record migration - 12,774 miles

(02/07/2008) Satellite-tagging has revealed that a leatherback sea turtle (Dermochelys coriacea) swam a total distance of 20,558 kilometers (12,774 miles) over 647 days from Jamursba-Medi, Indonesia to the coast of Oregon. The results are published in The State of the World's Sea Turtles magazine, a publication launched by conservation International and the IUCN Marine Turtle Specialist Group.


Madagascar's tortoises at high risk of extinction

(02/07/2008) Madagascar's rare and unique turtles and tortoises face high risk of extinction in the wild if conservation measures are not rapidly put into place, warned a group of scientists meeting to discuss the fate of Madagascar's most threatened repitles.


The Panamanian golden frog declared extinct by BBC Natural History crew

(02/04/2008) A national symbol of Panama has been declared extinct by BBC filmmakers. The crew was in Panama to film the unique frog for David Attenborough's most recent series on reptiles and amphibians, entitled Life in Cold Blood. The filmmakers achieved their objective and captured the golden frog on film, including rarely seen behvaior.


Photos: Top 100 most threatened amphibians named

(01/21/2008) Due to numerous factors--including habitat destruction, pollution, climate change, and chytrid fungus--amphibians are probably the most threatened taxon of species in the world. Dr Jonathan Baillie, head of the EDGE organization which has just established an amphibian program, stated that "tragically, amphibians tend to be the overlooked members of the animal kingdom, even though one in every three amphibian species is currently threatened with extinction, a far higher proportion than that of bird or mammal species." To help save these species on the brink, EDGE, apart of the Zoological Society of London, has compiled a list of the hundred most threatened and evolutionary distinct amphibians.


Scientists discover four species of anole lizards in 24 hours in Panama

(01/13/2008) In January of 2006 a biological expedition uncovered four anole species in a single day. Dr. Gunther Koehler, a member of the expedition, described the discoveries as "a once in a life time experience; during expeditions before, we had found new species, one at a time--but four species within 24 hours, that was incredible!"


Three salamander species discovered in Costa Rica

(01/06/2008) Scientists from the Natural History Museum of London have discovered three new species of salamander in south-eastern Costa Rica. This brings the nation's total to forty-three species, meaning that this small tropical nation contains approximately nine percent of the world's salamanders.


As amphibians leap toward extinction, alliance pushes "The Year of the Frog"

(12/31/2007) With amphibians experiencing dramatic die-offs in pristine habitats worldwide, an alliance of zoos, botanical gardens and aquariums has launched a desperate public appeal to raise funds for emergency conservation measures. Scientists say that without quick action, one-third to one-half the world's frogs, toads, salamanders, newts and caecilians could disappear.


Migrating frogs fare poorly when habitat altered

(12/19/2007) Habitat loss and fragmentation are putting amphibians already threatened by climate change, pesticides, alien invasive species, and the outbreak of a deadly fungal infection at greater risk of extinction, reported a study published in Science last week.


Study shows that sea turtles can recover

(12/18/2007) conservation of sea turtle nesting sites is paying off for the endangered reptiles, reports a new study published this week in the journal Global Ecology and Biogeography. A team of researchers led researchers from IUCN and conservation International found that green turtle (Chelonia mydas) nesting on four beaches in the Pacific and two beaches in the Atlantic have increased by an four to fourteen percent annually over the past two to three decades as a result of beach protection efforts.


World's largest spitting cobra discovered in Kenya

(12/09/2007) The world's largest spitting cobra has been discovered in Kenya, according to WildlifeDirect, a conservation group.


Earthquake triggers decline in a frog species

(12/03/2007) In 1999 a 7.3 earthquake struck Nantou County at the center of quake-prone Taiwan. The earthquake caused considerable damage: over 2,000 people died and just under 45,000 houses were destroyed. It was Taiwan's strongest quake in a hundred years. The quake also devastated a subpopulation of riparian frogs, Rana swinhoana, which had been under scientific study for three years prior. This devastation allowed scientists the opportunity to study the population changes in a species affected suddenly and irretrievably by natural disaster.


Photo of the Venomous Gila Monster Getting an X-ray

(11/28/2007) Dr. Tim Georoff, a veterinarian for the Wildlife conservation Society's Bronx Zoo, handles this venomous lizard with great care as he prepares this female for an radiograph (X-ray).


Global warming may provoke evolution

(11/26/2007) Some 80 million years ago, during a period of global warming, a group of relatively immobile salamanders trekked from western North America to the continent that became Asia, report researchers writing in this week's issue of the journal Proceedings of the National Academy of Science.


Physicists join fight to save amphibians from extinction

(11/19/2007) Physicists have joined the fight to save amphibians from extinction by using Optical Coherence Tomography (OCT) to investigate the properties of frogs skin.


86% of sea turtle species threatened with extinction

(11/14/2007) Marine turtles have thrived for more than 100 million years. But only the last few hundred years have given the huge, spectacular, prehistoric amphibians serious trouble.


Amphibian extinction may be worse than thought

(10/31/2007) Amphibian extinction rates may be higher than previously thought, according to new DNA analysis that found more than 60 unrecognized species in the Guiana Shield of South America.


Scientists find treatment for killer frog disease

(10/29/2007) New Zealand scientists have found a treatment for a disease blamed for the death of millions of amphibians worldwide, according to a report from BBC News. However, at best, the cure would only be applicable to captive populations. The disease is killing many amphibians in apparently pristine habitats.


Iguanas listen to birds to avoid predators

(10/29/2007) As the world's only sea-feeding lizard, Galapagos Marine Iguanas have long held a unique place in the animal kingdom. While most of their life is spent on land, these lizards forage the seas for their staple food: algae. Now, new research has provided this species with another distinction: although the Galapagos Marine Iguana is mute, it recognizes and utilizes the alarm call of the Galapagos Mockingbird. This is the first instance of a non-vocal species eavesdropping on another species' calls. Both the iguana and mockingbird fall prey to the Galapagos hawk, so by recognizing the mockingbird's warning the iguanas gain important information on avoiding predation.


As colorful frog leaps toward extinction, experts look for clues

(10/29/2007) A brightly coloured tropical frog under threat of extinction is the focus of a new research project hoping to better understand how environment and diet influence its development and behaviour.


Mexican fishing villages work to change practices to preserve loggerhead turtles

(10/17/2007) Industrial fishing operations take plenty of blame for both depleting fish stocks and inadvertently catching innocent bystanders such as dolphins, sharks, seabirds, and sea turtles--a phenomenon known as "bycatch.".


Snake uses trick to avoid poisoning from toxic frogs

(10/16/2007) An Australian snake employs a special feeding behvaior to avoid poisoning by toxic frogs, reports The American Naturalist.


Two new species of salamander discovered in Panama

(09/09/2007) Scientists have discovered two new species of salamanders from the mountainous Costa Rica-Panama border region. The findings, published by David B. Wake, Jay M. Savage, and James Hanken in the journal Copeia, push the number of salamanders known in the region to 24, making it a hotspot in terms of salamander biodiversity.


New poison frog species discovered in Colombia

(08/28/2007) Scientists have discovered a previously unknown species of poison frog in a remote mountainous region in Colombia. The tiny frog has been dubbed the "golden frog of Supata" and lives only in a 20 hectare area in Colombia's Cundinamarca region.


Scientists meet in Hungary to discuss saving dying frogs

(08/27/2007) Scientists are meeting this week in Budapest, Hungary to discuss last-ditch efforts to save the world's most threatened frogs from extinction.


How do snakes survive starvation?

(08/27/2007) Starving snakes employ novel survival strategies not seen before in vertebrates, according to research conducted by a University of Arkansas biologist. These findings could be used in conservation strategies to determine the health of snake populations.


Animal trafficking at Miami International airport

(08/23/2007) Wildlife Inspector Carlos Pages vividly remembers the times when he opened a crate of imported animals only to discover that not all of them were still in the cloth bags that serve as their shipping cages. Those are the moments when his speed trumps their speed.


Legless lizard retracts eyes to avoid retaliatory prey bites

(08/14/2007) For creatures without legs, snakes are remarkable predators. Pythons can capture and eat animals well over twice their size, while a mere drop of venom injected by an Australian death adder can kill a person. Scientists believe the main purpose for these adaptations is to help snakes avoid injury when pursuing and eating prey. However, snakes are not the only legless reptiles -- there are more than a dozen species of legless lizard distributed around the world. A new paper examines how these reptiles subdue their prey without venom or constriction.


Squirrels communicate with rattlesnakes using heated tail

(08/13/2007) Ground squirrels heat their tails to defend their young against predatory rattlesnakes, reports a study published in the early online edition of Proceedings of the Natural Academy of Sciences (PNAS).


Frog killing diseases worse than thought in California

(08/06/2007) The deadly fungal disease that is killing amphibians worldwide can likely be spread by sexual reproduction reports a new study published in the early online edition of the journal Proceedings of the National Academy of Sciences. The findings suggest that protecting frogs and other amphibians from the pathogen will be more complicated than previously believed.


Gecko + mussels = biomimetic underwater adhesive

(07/19/2007) Scientists have developed a new adhesive material based on the properties of mussels and gecko lizard. The researchers say the biomimetic design could produce more durable and longer-lasting bandages, patches, and surgical materials.


Forest disturbance reduces biodiversity in the Amazon rainforest


(07/02/2007) Two new studies in the Amazon rainforest show that plantation forests and second-growth forests have lower species counts for butterflies, reptiles, and amphibians than adjacent primary forest areas. The research has important implications for conservation of tropical biodiversity in a world where old-growth forest is increasingly replaced by secondary forests, industrial plantations, and agricultural landscapes.


Mother lizards select color patterns of offspring

(06/13/2007) Mother lizards can induce different color patterns in their offspring in response to social cues, reports research published June 10 in the online early edition of the journal Ecology Letters. Female side-blotched lizards determine the patterns "most likely to ensure success under the conditions they will encounter as adults," according to scientists from the University of California, Santa Cruz.


Pictures of newly discovered species in Suriname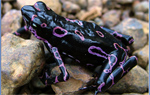 (06/04/2007) Scientists documented 467 species, including 24 species believed new to science, during a rainforest survey in eastern Suriname, South America. The expedition, led by conservation International (CI), was sponsored by two mining companies, BHP-Billiton Maatschappij Suriname (BMS) and Suriname Aluminium Company LLC (Suralco), hoping to mine the area for bauxite, the raw material used to make aluminum. conservation International said the Rapid Assessment Survey (RAP) will help "give miners guidance on protecting unique plants and animals during potential future development," according to a statement from the organization.


Frogs rafted from South America to the Caribbean 29M years ago

(06/04/2007) Large populations of frogs in Central America and the Caribbean rafted, over the ocean from South America more than 29 million years ago, reports a new study published in the June 4 early online edition of The Proceedings of the National Academy of Sciences.


Global warming may be key factor in frog deaths

(05/30/2007) Three papers published in this week's issue of the journal Nature debate the proximate causes for the global decline of amphibians, but nonetheless reveal mounting concerns among scientists over the continuing disappearance of frogs, salamanders, and their relatives.


New snake-like lizard discovered in India

(05/28/2007) A previously unknown species of legless lizard as been discovered in a remote Indian forest, reports the Associated Press. Sushil Kumar Dutta, leader of a team of researchers from NGO Vasundhra and the North Orissa University, found the 7-inch long creature in the forests of Khandadhar near Raurkela in Orissa state, about 625 miles southeast of New Delhi.



Page 1 | Page 2 | Page 3 | Page 4 | Page 5 | Page 6 | Page 7 | Page 8 | Page 9 | Page 10