News articles on herps

---
Mongabay.com news articles on herps in blog format. Updated regularly.








Prioritizing amphibian species for captive breeding to save them from extinction

(11/13/2008) Frogs, toads, salamanders and other amphibians are disappearing at an alarming rate. Of approximately 6,000 amphibian species in the world, about one third are classified as threatened or endangered. A disease caused by a chytrid fungus has devastated frogs living in mid to high elevation streams worldwide. Amphibians also face habitat destruction as forests and wetlands are developed and polluted by agricultural chemicals. In Panama, highland frog populations west of the Canal have declined at an alarming rate.
Scientists can't explain cause of amphibian extinction crisis

(11/13/2008) Scientists have yet to conclusively explain the underlying cause of global declines in amphibian populations, according to a study published in the journal Proceedings of the National Academy of Sciences. The research says that two leading theories for the demise of amphibians — both related to the emergence and spread of the deadly chytrid fungus — are not supported by scientific data.
New gecko species discovered

(11/08/2008) A previously unknown species of gecko has been discovered in the South Pacific by French scientists, reports the Associated Press.
Yellowstone amphibians in decline due to climate change

(10/27/2008) Climate change appears to be responsible for a "marked drop" in the population of three of four species of amphibian once common to Yellowstone National Park, report researchers writing in Proceedings of the National Academy of Sciences.
7 new species of frog discovered in Ecuador

(10/22/2008) Seven previously unknown species of frog discovered over the past two years by Ecuadorian researchers are already under threat from habitat loss, reports a newsletter from the IUCN Amphibian Specialist Group.
Mass amphibian die-offs affect ecosystems

(10/19/2008) Large-scale die-offs of amphibians due to the outbreak of a killer fungal disease is impacting the forest ecosystem in which they live, reports a new study published in the journal Ecosystems.
Armageddon for amphibians? Frog-killing disease jumps Panama Canal

(10/12/2008) Chytridiomycosis — a fungal disease that is wiping out amphibians around the world — has jumped across the Panama Canal, report scientists writing in the journal EcoHealth. The news is a worrying development for Panama's rich biodiversity of amphibians east of the canal.
Good news for amphibians: three new species and one "extinct" frog discovered

(10/01/2008) Amphibians have received a lot of bleak news recently. Last week a report from the Zoological Society of London and EDGE stated that 50 percent of Europe's amphibians will go extinct by 2050 unless more is done for their conservation. Meanwhile a report published in August found that one in three amphibians worldwide are threatened with extinction, while 200 species have already been lost since the 1980s. Therefore the discovery of three new frog species and the rediscovery of one thought to be extinct provide a little respite from such bad tidings.
More than half of Europe's amphibians face extinction by 2050

(09/28/2008) Researchers with the Zoological Society of London (ZSL) said over half of European amphibians face extinction in less than fifty years due to a perfect storm of threats: climate change, habitat loss, and disease. The announcement came at an event titled 'Amphibians in a climate of change' hosted by Sir. David Attenborough, one of the world's most well-known wildlife enthusiasts due to his long career making nature documentaries.
Thought-to-be-extinct frog rediscovered in Australia

(09/11/2008) Scientists have rediscovered a thought-to-be-extinct species of frog in a creek in Northern Australia. The find offers hope that some species have survived a fungal epidemic that has devastated the amphibians of Queensland.
Photo: commonly-kept gecko was thought to be extinct in the wild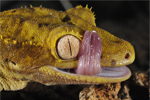 (09/04/2008) The Crested Gecko is endemic to South Province, New Caledonia in the South Pacific. While the species is widely kept in the pet trade, the species was long believed extinct in the wild until it was rediscovered in 1994. It is now known to have three distinct populations and its conservation status is currently being evaluated by the IUCN. Trade in wild-caught individuals is presently banned.
Developing the world's most sophisticated program for mapping endangered species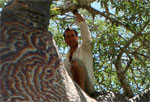 (08/04/2008) It was big news in April when a comprehensive map of Madagascar's rich and unique biodiversity was unveiled. The project managed to map ranges of 2,315 species across an island larger than France. Such detailed mapping could not have happened without the aid of Steve Phillips. A researcher at AT&T, Phillips developed the software that made such detailed and expansive mapping possible.
Scientists discover world's smallest snake species

(08/03/2008) If one wanted to overcome their fear of snakes, they may want to start with the newly discovered Leptotyphlops carlae. Measuring less than four inches long, even stretched out this new species of threadsnake can't compete with the average pen or pencil.
Volunteering with Leatherback Sea Turtles in Galibi, Suriname

(07/08/2008) The northern coast of Suriname is one of the best places in the world to view the largest turtle, the marine Leatherback. Watching the turtle rise out of the tides onto the beach gives one the sense of meeting something ancient, rare, and more sea-monster than marine turtle. Yet, if I call it a sea-monster, I do not mean that it is frightening or ugly: far from it. But it is mysterious, terrible, and wondrous.
Chameleon has shortest life span of any four-legged animal

(06/30/2008) A newly discovered species of chameleon lives a cicada-like existence, spending the bulk of its short year-long life in its egg, report researchers writing in journal Proceedings of the National Academy of Sciences (PNAS).
Roads are a major killer of amphibians, reveals study

(05/29/2008) Frogs, toads, and salamanders worldwide are dying from mysterious causes, with possible culprits ranging from habitat loss to fungal diseases. Now, researchers at Purdue University believe they may have identified a significant and surprising contributor to global amphibian declines: traffic. In a recent study, the scientists looked at road kill along several stretches of road in northwestern Indiana and found that 93 percent of the dead animals were amphibians.
Marauding kangaroos may drive extinction of earless dragons in Australia

(05/21/2008) A plague of kangaroos overgrazing sensitive grasslands near Australia's capital city Canberra is jeopardizing habitat critical for the survival of endangered species including the golden sun moth (Synemon plana) and the grassland earless dragon (Tympanocryptis pinguicolla), one of the world's rarest lizards, according to German and Australian. Culling the kangaroos may be the only option for saving some of these grassland species from extinction.
Invasive Species: Toad-ally out of control

(05/18/2008) Throughout warm, wet climates around the world lurks a camouflaged combatant seldom known beyond those who experience first hand its awesome destructive powers. It is an ingeniously crafted destroyer equipped with a host of specially developed chemical toxins, a lightening fast attack, and the ability to easily navigate across both water and land. This devious tool is not a creation of human engineering or military research and development but a product of a much more ancient and refined process: evolution. And until human intervention it was neither ecologically harmful nor an invasive pest but a well-integrated part of ecosystems throughout South and Central America. Meet Bufo marinus — the cane toad: exemplary proof of how human short-sightedness and misuse of biological control agents often leads to the catastrophic mismanagement of our natural world in the form of a large, squat, hungry toad.
Photos of newly discovered species in Brazil's Cerrado

(04/29/2008) An expedition to Brazil's Cerrado has turned up more than a dozen undiscovered species. conservationists say the discoveries add urgency to protecting the grassland habitat which is rapidly being converted for agriculture.
Lungless frog discovered in Borneo

(04/11/2008) A lungless frog has been discovered on the island of Borneo. Scientists say the species may shed light on the process of evolution in some organisms.
No global warming link to dying frogs?
(03/25/2008) Scientists have fired another salvo in the heated debate over the role of climate change in the global decline of amphibians. Writing in the March 25 issue of PLoS Biology, a team of researchers led by Karen Lips of Southern Illinois University-Carbondale report finding "no evidence to support the hypothesis that climate change has been driving outbreaks of amphibian chytridiomycosis" -- a disease blamed for large-scale die-offs of amphibians. Other researchers have argued that climate shifts are worsening the outbreak of the fungal disease.
How falling a gecko lands on its feet

(03/17/2008) According to new research the gecko may have the most dynamic tail in the natural world. Two researchers from UC Berkley have discovered that the gecko uses its tail to keep itself from falling off slippery vertical surfaces and when falling to rapidly right itself. So, like a cat, it always lands on four feet.
Half of Madagascar's amphibians may still await discovery

(03/11/2008) Madagascar is one of the most unique places on Earth for wildlife. When the public thinks of Madagascar's fauna most likely they think of one of the fifty species of lemur. Yet, Madagascar possesses a wealth of endemic wildlife outside of these unique prosimians. For example, to frog-lovers Madagascar is a paradise. The only amphibians living on Madagascar are frogs; the island is devoid of toads, salamanders, or newts. But what it lacks in other amphibians it makes up for in the number and beauty of its frogs. Currently, 240 frogs have been catalogued in Madagascar, 99 percent of which are endemic. Yet, amphibian expert Dr. Franco Andreone believes that, according to recent field studies, this may only be half of the frogs that actually live in Madagascar. Dr. Andreone believes the final tally could reach 500 species!







Rare frog breeds in captivity for the first time

(03/03/2008) A rare species of frog has been found breeding in captivity in New Zealand, reports the Associated Press. The finding offers hope that the species' vulnerability to extinction can be reduced.





A Doomsday Vault for Frogs?

(02/27/2008) The Amphibian Ark, a doomsday vault for amphibians, will highlight Leap Day, February 29th, to recognize 2008 as the Year of the Frog. The campaign seeks to raise awareness of the global plight of frogs and other amphibians threatened by habitat loss, climate change, pollution and an emergent disease. Joining in the effort is the Wildlife conservation Society?s (WCS) Bronx Zoo and New York Aquarium, facilities that house some of the world's most threatened amphibians.





Rainforest logging threatens endangered sea turtles

(02/25/2008) Logging is having an unexpected impact on endangered sea turtles in Central Africa, reports a new study published in Oryx. Aerial surveys in Gabon reveal that logs lost during transport are clogging beaches, preventing critically endangered leatherback turtles (Dermochelys coriacea) from nesting.





Rainforest fragmentation affects reptiles and amphibians

(02/20/2008) Deforestation of tropical ecosystems is one of the major threats to biological diversity. Anthropogenic activities transform tropical environments into semi-natural landscapes generating a great amount of forest edge that limits with pastures and agricultural lands.





Sea turtle makes record migration - 12,774 miles

(02/07/2008) Satellite-tagging has revealed that a leatherback sea turtle (Dermochelys coriacea) swam a total distance of 20,558 kilometers (12,774 miles) over 647 days from Jamursba-Medi, Indonesia to the coast of Oregon. The results are published in The State of the World's Sea Turtles magazine, a publication launched by conservation International and the IUCN Marine Turtle Specialist Group.





Madagascar's tortoises at high risk of extinction in the wild

(02/07/2008) Madagascar's rare and unique turtles and tortoises face high risk of extinction in the wild if conservation measures are not rapidly put into place, warned a group of scientists meeting to discuss the fate of Madagascar's most threatened repitles.





The Panamanian golden frog declared extinct by BBC Natural History crew

(02/04/2008) A national symbol of Panama has been declared extinct by BBC filmmakers. The crew was in Panama to film the unique frog for David Attenborough's most recent series on reptiles and amphibians, entitled Life in Cold Blood. The filmmakers achieved their objective and captured the golden frog on film, including rarely seen behvaior.





Photos: Top 100 most threatened amphibians named

(01/21/2008) Due to numerous factors--including habitat destruction, pollution, climate change, and chytrid fungus--amphibians are probably the most threatened taxon of species in the world. Dr Jonathan Baillie, head of the EDGE organization which has just established an amphibian program, stated that "tragically, amphibians tend to be the overlooked members of the animal kingdom, even though one in every three amphibian species is currently threatened with extinction, a far higher proportion than that of bird or mammal species." To help save these species on the brink, EDGE, apart of the Zoological Society of London, has compiled a list of the hundred most threatened and evolutionary distinct amphibians.





Scientists discover four species of anole lizards in 24 hours in Panama

(01/13/2008) In January of 2006 a biological expedition uncovered four anole species in a single day. Dr. Gunther Koehler, a member of the expedition, described the discoveries as "a once in a life time experience; during expeditions before, we had found new species, one at a time--but four species within 24 hours, that was incredible!"





Three salamander species discovered in Costa Rica

(01/06/2008) Scientists from the Natural History Museum of London have discovered three new species of salamander in south-eastern Costa Rica. This brings the nation's total to forty-three species, meaning that this small tropical nation contains approximately nine percent of the world's salamanders.





As amphibians leap toward extinction, alliance pushes "The Year of the Frog"

(12/31/2007) With amphibians experiencing dramatic die-offs in pristine habitats worldwide, an alliance of zoos, botanical gardens and aquariums has launched a desperate public appeal to raise funds for emergency conservation measures. Scientists say that without quick action, one-third to one-half the world's frogs, toads, salamanders, newts and caecilians could disappear.





Migrating frogs fare poorly when habitat altered

(12/19/2007) Habitat loss and fragmentation are putting amphibians already threatened by climate change, pesticides, alien invasive species, and the outbreak of a deadly fungal infection at greater risk of extinction, reported a study published in Science last week.




Page 1 | Page 2 | Page 3 | Page 4 | Page 5 | Page 6 | Page 7 | Page 8 | Page 9 | Page 10