News articles on heatwave

---
Mongabay.com news articles on heatwave in blog format. Updated regularly.






Alaska roasting: new NASA map shows the Final Frontier in grip of January heatwave
(02/05/2014) Alaska got California weather at the end of January, as displayed by a new map based on data by NASA's Terra satellite's Moderate Resolution Imaging Spectroradiometer (MODIS). The U.S. state experiences one of its warmest winter periods on record during the second half of January, including some temperatures that ran 40 degrees Fahrenheit (22 degrees Celsius) above average. According to the EPA, temperatures in Alaska have risen an average of 3.4 degrees Fahrenheit (1.9 degrees Celsius) in just the last 50 years due to climate change.
Climate change to increase violent crime

(08/06/2013) Bring on the cool weather – climate change is predicted to cause extreme weather, more intense storms, more frequent floods and droughts, but could it also cause us to be more violent with one another?
NASA image shows nearly ice-free Alaska as temps top 96 degrees

(06/24/2013) After a colder-than-average spring, Alaska is suffering a sudden and record-breaking heatwave. Temperatures on Monday, June 17th hit a stunning 96 degrees Fahrenheit (35 degrees Celsius) in Talkeetna, Alaska, just below the state's highest temperature ever record of 98 degrees Fahrenheit in 1969. On the same day, NASA's Terra Satellite's Moderate Resolution Imaging Spectroradiometer (MODIS) took a rare image of a cloud-free Alaska.
Climate change already pummeling U.S. according to government report

(01/14/2013) Climate change is on the march across the U.S. according to a new draft report written by U.S. government scientists with input from 240 experts. It documents increasing and worsening extreme weather, rising sea levels, and ocean acidification among other impacts. Released Friday for public review, the report will be officially launched later this year or early in 2014.
Australia reels from record heatwave, fires

(01/09/2013) Yesterday Australia recorded its highest average temperature yet: 40.33 degrees Celsius (104.59 Fahrenheit). The nation has been sweltering under an unprecedented summer heatwave that has spawned wildfires across the nation, including on the island of Tasmania where over 100 houses were engulfed over the weekend. Temperatures are finally falling slightly today, providing a short reprieve before they are expected to rise again this weekend.
World Bank: 4 degrees Celsius warming would be miserable
(11/20/2012) A new report by the World Bank paints a bleak picture of life on Earth in 80 years: global temperatures have risen by 4 degrees Celsius spurring rapidly rising sea levels and devastating droughts. Global agriculture is under constant threat; economies have been hampered; coastal cities are repeatedly flooded; coral reefs are dissolving from ocean acidification; and species worldwide are vanishing. This, according to the World Bank, is where we are headed even if all of the world's nations meet their pledges on cutting greenhouse gas emissions. However, the report also notes that with swift, aggressive action it's still possible to ensure that global temperatures don't rise above 4 degrees Celsius.
Obama breaks climate silence at press conference

(11/14/2012) At a news conference today, a question by New York Times reporter Mark Landler pushed President Obama to speak at some length about climate change. In his answer, Obama re-iterated his acceptance of climate science and discussed how progress on tackling climate change might proceed in his second term, though he also noted that he wouldn't put action on the climate ahead of the economy. President Obama made a small reference to climate change in his victory speech following his historic re-election last Tuesday, but his answer today was the most the president has talked about the issue at any length since at least Hurricane Sandy.
It's not just Sandy: U.S. hit by record droughts, fires, and heatwaves in 2012
(11/05/2012) As the devastation wrought by Hurricane Sandy—killing over 100 people and producing upwards of $50 billion in damage along the U.S. East Coast—has reignited a long-dormant conversation on climate change in the media, it's important to note that this is not the only weird and wild weather the U.S. has seen this year. In fact, 2012 has been a year of record-breaking weather across the U.S.: the worst drought in decades, unprecedented heatwaves, and monster forest fires. While climatologists have long stated that it is not yet possible to blame a single extreme weather event on climate change, research is showing that rising temperatures are very likely increasing the chances of extreme weather events and worsening them when they occur.
One in eight people suffer from malnutrition worldwide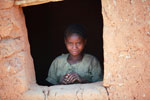 (10/16/2012) In a world where technology has advanced to a point where I can instantly have a face-to-face conversation via online video with a friend in Tokyo, nearly 870 million people, or one in eight, still suffer from malnutrition, according to a new UN report. While worldwide hunger declined from 1990 to 2007, progress was slowed by the global economic crisis. Over the last few years, numerous and record-breaking extreme weather events have also taken tolls on food production. Currently, food prices hover just below crisis levels.
Over 70 percent of Americans: climate change worsening extreme weather

(10/10/2012) According to a new poll, 74 percent of Americans agree that climate change is impacting weather in the U.S., including 73 percent who agreed, strongly or somewhat, that climate change had exacerbated record high temperatures over the summer. The findings mean that a large majority of Americans agree with climatologists who in recent years have found increasingly strong evidence that climate change has both increased and worsened extreme weather events.
July 2012: hottest month in U.S. history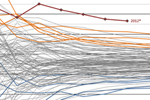 (08/08/2012) Last month was not only the hottest July in U.S. weather history, but the hottest month ever recorded in the contiguous U.S, besting a record struck in July 1936 during the Dust Bowl, according to new data from the National Oceanic and Atmospheric Administration (NOAA). The average temperature last month over the contiguous U.S. was 77.6 degrees Fahrenheit, or 3.3 degrees Fahrenheit above the 20th Century average. Making matters worse, crippling drought continued to spread over 63 percent of the lower 48 states.
Extreme heatwaves 50 to 100 times more likely due to climate change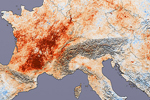 (08/05/2012) A recent rise in deadly, debilitating, and expensive heatwaves was caused by climate change, argues a new statistical analysis published in the Proceedings of the National Academy of Sciences (PNAS). Climatologists found that extreme heatwaves have increased by at least 50 times during the last 30 years. The researchers, including James Hansen of NASA, conclude that climate change is the only explanation for such a statistical jump.
Featured video: climate change bringing on the extremes

(07/24/2012) Focusing on extreme weather events in the U.S. this summer, a new compilation video highlights the connection between climate change and increasing and worsening extremes, such as heatwaves, droughts, and floods.
Northern Hemisphere experiences warmest June on record

(07/17/2012) The Northern Hemisphere suffered its warmest June on record across land and sea, while globally it was the fourth warmest June yet, according to new data from the National Oceanic and Atmospheric Administration (NOAA).
Deja vu: U.S. undergoes hottest 12 months on record...again and again

(07/12/2012) According to new data from the National Oceanic and Atmospheric Administration (NOAA)'s National Climatic Data Center, the last twelve months have been the warmest on record for the contiguous United States. This record, set between July 2011 through June 2012, beat the last consecutive twelve month record set only a month earlier between June 2011 and May 2012, which in turn beat the previous record holder, you guessed it: May 2011 through April 2012.
Climate change increased the probability of Texas drought, African famine, and other extreme weather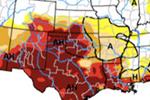 (07/11/2012) Climate change is here and its increasing the chances for crazy weather, according to scientists. A prestigious group of climatologists have released a landmark report that makes the dramatic point that climate change is impacting our weather systems—and in turn our food crops, our economies, and even our lives—here-and-now. The new report in the American Meteorological Society is first of what is intended to be an annual offering that will attempt to tease out the connections between climate change and individual extreme weather events, such as heatwaves, droughts and floods.
As U.S. sees record heat, extreme weather pummels 4 continents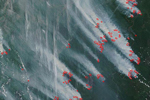 (07/10/2012) It's not only the U.S. that has experienced record-breaking extreme weather events recently, in the last couple months extreme weather has struck around the world with startling ferocity. In addition to the much-covered heatwaves, wildfires, and droughts in the U.S., killer floods struck India, the worst drought yet recorded plagued South Korea, and massive forest fires swept through Siberia to name just a few.
Scientist: 'no doubt' that climate change is playing a role in U.S. fires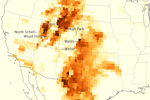 (07/02/2012) A noted climate scientist says there is 'no doubt' that climate change is 'playing a role' in this year's series of record fires in the western U.S. A massive wildfire in Colorado has forced the evacuation of 36,000 people, destroyed over 300 homes, and killed two people. The devastation wrought by the Waldo Canyon Fire even prompted a visit form U.S. President Barack Obama. But this is not the only epic fire in the U.S. this year: less than a month before the Colorado disaster, New Mexico experienced its largest fire on record in Gila Nation Forest; the conflagration burned up 247,000 acres (100,000 hectares). Other major wildfires have occurred in Utah and Wyoming, as well as other parts of New Mexico and Colorado.
U.S. undergoes warmest 12 months yet

(05/10/2012) Americans would not be remiss in asking, "is it getting hot in here?" According to new data from the National Oceanic and Atmospheric Administration (NOAA)'s National Climatic Data Center, the last twelve months (from May 2011 through April 2012) were the warmest on record for the lower 48 U.S. states since record keeping began in the late 19th Century.
Thousands worldwide to "connect the dots" between climate change and extreme weather this weekend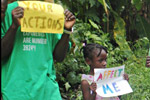 (05/03/2012) On Saturday, May 5th vulnerable populations from the United States to Bangladesh will "connect the dots" between devastating extreme weather and climate change in a global day of action organized by 350.org. The nearly 1,000 events occurring in over half of the world's nations are meant to highlight to governments, media, and the public that climate change is impacting lives through an increase in number and intensity of devastating weather events, such as droughts, heatwaves, and floods.
U.S. suffers warmest March, breaking over 15,000 record temperatures

(04/11/2012) March was the warmest ever recorded in the U.S. with record-keeping going back to 1895, according to new data by the National Oceanic and Atmospheric Administration (NOAA). But the month wasn't just a record-breaker, it was shockingly aberrant: an extreme heatwave throughout much of the eastern and central U.S. shattered 15,272 day and nighttime records across the U.S. In all March 2012 was 0.5 degrees Fahrenheit above the previous warmest March in 1910, and an astounding 8.6 degrees Fahrenheit above the 20th Century average for March in the U.S.
"Strong evidence" linking extreme heatwaves, floods, and droughts to climate change

(03/28/2012) As North America recovers from what noted meteorologist Jeff Masters has called "the most incredible spring heatwave in U.S. and Canadian recorded history," a new paper argues that climate change is playing an important role in a world that appears increasingly pummeled by extreme weather. Published in Nature Climate Change, the paper surveys recent studies of climate change and extreme weather and finds "strong evidence" of a link between a warming world and the frequency and intensity of droughts, floods, and heatwaves—such as the one that turned winter into summer in the U.S.
NASA image: records shattered across U.S. as summer arrives before spring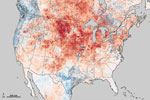 (03/22/2012) Central U.S. and parts of Canada have seen over a thousand record temperatures shattered over the past week and a half, as an abnormally-long and bizarrely-hot warm spell moves across portions of North America. The direct cause of the weird weather is a blocked high pressure system, but as the U.S. experiences what may be the warmest March on record, meteorologists say climate change may be playing a role in the severity of the heatwave.
Climate change already worsening weird, deadly, and expensive weather

(11/02/2011) Unprecedented flooding in Thailand, torrential rains pummeling El Salvador, long-term and beyond-extreme drought in Texas, killer snowstorm in the eastern US—and that's just the last month or so. Extreme weather worldwide appears to be both increasing in frequency and intensity, and a new report from the Intergovernmental Panel on Climate Change (IPCC) connects the dots between wilder weather patterns and global climate change.
Killer Russian heatwave product of climate change

(10/26/2011) Last year's Russian heatwave and drought resulted in vast wildfires and a morality rate that was 56,000 people higher than the same period in 2009. Now, researchers have published a paper in the Proceedings of the National Academy of Sciences (PNAS) that finds the heatwave would very likely have never happened if not for climate change. The study flies in the face of previous research by the National Oceanic and Atmospheric Administration (NOAA) that concluded the heatwave was simply due to natural variation and not a warming world.