News articles on happy-upbeat environmental

---
Mongabay.com news articles on happy-upbeat environmental in blog format. Updated regularly.





Melting Antarctic icebergs help increase biodiversity, slow climate change

(06/21/2007) Icebergs breaking off Antarctica are unexpected hotspots of biological productivity and have a surprising role in climate change, reports a new study published in the journal Science.


Google to be carbon neutral by year end

(06/20/2007) Google Inc. aims to be carbon neutral by the end of 2007, according to a statement posted on the Official Google Blog. The search giant plans to fight global warming by investing in and using renewable energy sources; reducing energy consumption by maximizing efficiency, and purchasing carbon offsets for the greenhouse gas emissions that it cannot reduce directly.


Google will put $10M towards plug-in hybrid cars

(06/19/2007) Google.org, Google Inc.'s philanthropic arm, today unveiled an initiative to convert hybrid cars to plug-in hybrid vehicles (PHEVs), a move that will cut carbon dioxide emissions, reduce oil use, and help stabilize the electrical grid.


Giant manta ray born in captivity for first time

(06/18/2007) For the first time, a giant manta ray was born in captivity at an aquarium in Japan, reports the Associated Press. The baby manta ray was born Saturday at the Okinawa Churaumi Aquarium, 374 days after its parents mated. The birth was recorded on film.


Coffee plantations may preserve tropical bird species

(06/18/2007) Agricultural areas offer opportunities for conservation in deforested landscapes in the tropics, reports a study published in the April 2007 issue of the journal conservation Biology by Stanford University biologists.


Photos of baby Matschie's tree kangaroo

(06/14/2007) An endangered baby Matschie's tree kangaroo has emerged from its mother's pouch for the first time at the Bronx Zoo's JungleWorld exhibit in New York. The baby, called a joey, was born on October 25, 2006, but only recently left her puch for the outside world.


African elephants get 9-year reprieve


(06/14/2007) African countries have agreed to extend a ban on ivory exports for another nine years. In a deal reached Wednesday at the meeting of the UN Convention on International Trade in Endangered Species (CITES) in The Hague, four African countries will be allowed to sell their ivory stockpiles to raise funds for conservation and community development efforts. The ivory had been intercepted from black market transactions and the sale by Botswana, Namibia, South Africa and Zimbabwe had been previously approved. The four countries say their elephant populations are increasing thanks to conservation and law enforcement efforts.


Google, Intel seek greener computers

(06/13/2007) Google, Intel, and other tech giants announced an energy efficiency drive develop "greener" computers that use 50 percent less power by 2010. The plan, dubbed the Climate Savers Computing Initiative, seeks to reduce emissions of greenhouse gases that contribute to global warming..


Indo-Chinese tiger spotted in China for first time in years

(06/13/2007) Scientists captured a wild Indo-Chinese tiger on film in a nature reserve in China's southeastern Yunnan Province, reports the Worldwatch Institute.


An interview with author and eco-lodge pioneer Jack Ewing



(06/12/2007) In 1970 a young man went to Costa Rica, a place he initially confused with Puerto Rico, on an assignment to accompany 150 head of cattle. 37 years and several lifetimes' worth of adventures later, Jack Ewing runs a eco-lodge that serves as a model for a country now considered the world leader in nature travel.


Massive wildlife population discovered in Southern Sudan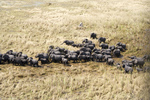 (06/12/2007) Aerial surveys by the New York-based Wildlife conservation Society found more than 1.3 million white-eared kob, tiang antelope and Mongalla gazelle in Southern Sudan, despite decades of civil war. The population, which includes more than 8,000 elephants, rivals that of the legendary Serengeti in Tanzania and suggests that the region is of critical importance for conservation efforts.


Google, Microsoft launch energy efficiency initiative

(06/12/2007) Google, Microsoft, and other tech giants announced an energy efficiency drive to reduce computer power consumption by 50 percent by 2010. The scheme, dubbed the Climate Savers Computing Initiative, seeks to reduce the emission of greenhouse gases that contribute to climate change global warming.


World's largest movement has no leader but 100M employees

(06/11/2007) The world's largest movement has no name, no leader, and no ideology, but may directly involve more than 100 million people, said a green business pioneer.


Cuddly primate trade banned

(06/11/2007) CITES delegates agreed to a total ban on trade in the slow loris, a Southeast Asian primate commonly trafficked for the pet trade. Environmental groups welcomed the move.


Google helps protect Amazon rainforest

(06/10/2007) Google is working with a indigenous tribe deep in the Amazon rainforest to protect their lands from illegal encroachment, reports the San Francisco Chronicle. For the first time, Google has confirmed details of the project. Working in conjuction with the Amazon conservation Team, Google Earth's technology is being used to monitor illegal mining and logging that threaten the lands of the Surui tribe in Brazil. Google is working with satellite providers to significantly improve image resolution in some of the most remote parts of the Amazon basin.


Amazon deforestation rates fall 89% for 2007

(06/08/2007) Deforestation rates fell by 89 percent in the Brazilian Amazon state of Mato Grosso for April 2007 compared with April 2006, according to the System Alert for Deforestation, an innovative deforestation monitoring program backed from Brazilian NGO Imazon. Mato Grosso, which has suffered some of the highest rates of deforestation of any state in the Brazilian Amazon, lost 2,268 square kilometers of forest between August 2006 and April 2007, a decline of 62 percent from the year earlier period when 5,968 square kilometers were cleared.


First park established in Russian Far East

(06/08/2007) Russia has established the first national park in the far eastern part of the country. The initiative seeks to protect endangered Amur tigers from extinction.


Can cattle ranchers and soy farmers save the Amazon?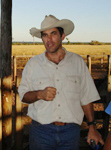 (06/06/2007) John Cain Carter, a Texas rancher who moved to the heart of the Amazon 11 years ago and founded what is perhaps the most innovative organization working in the Amazon, Alianca da Terra, believes the only way to save the Amazon is through the market. Carter says that by giving producers incentives to reduce their impact on the forest, the market can succeed where conservation efforts have failed. What is most remarkable about Alianca's system is that it has the potential to be applied to any commodity anywhere in the world. That means palm oil in Borneo could be certified just as easily as sugar cane in Brazil or sheep in New Zealand. By addressing the supply chain, tracing agricultural products back to the specific fields where they were produced, the system offers perhaps the best market-based solution to combating deforestation. Combining these approaches with large-scale land conservation and scientific research offers what may be the best hope for saving the Amazon.


Unknown tribe found in the Amazon

(06/04/2007) An unknown Indian tribe has been discovered in the Amazon rainforest reports the Associated Press. The Metyktire tribe, with about 87 members, was found in late May around 1,200 northwest of Rio de Janeiro. Brazil's Federal Indian Bureau (FUNAI) says the tribe is a subgroup of the Kayapo tribe and lives on the Kayapos, 12.1-million-acre Menkregnoti Indian reservation.


Pictures of newly discovered species in Suriname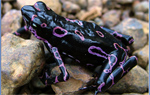 (06/04/2007) Scientists documented 467 species, including 24 species believed new to science, during a rainforest survey in eastern Suriname, South America. The expedition, led by conservation International (CI), was sponsored by two mining companies, BHP-Billiton Maatschappij Suriname (BMS) and Suriname Aluminium Company LLC (Suralco), hoping to mine the area for bauxite, the raw material used to make aluminum. conservation International said the Rapid Assessment Survey (RAP) will help "give miners guidance on protecting unique plants and animals during potential future development," according to a statement from the organization.


Globalization could save the Amazon rainforest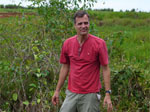 (06/03/2007) The Amazon basin is home to the world's largest rainforest, an ecosystem that supports perhaps 30 percent of the world's terrestrial species, stores vast amounts of carbon, and exerts considerable influence on global weather patterns and climate. Few would dispute that it is one of the planet's most important landscapes. Despite its scale, the Amazon is also one of the fastest changing ecosystems, largely as a result of human activities, including deforestation, forest fires, and, increasingly, climate change. Few people understand these impacts better than Dr. Daniel Nepstad, one of the world's foremost experts on the Amazon rainforest. Now head of the Woods Hole Research Center's Amazon program in Belem, Brazil, Nepstad has spent more than 23 years in the Amazon, studying subjects ranging from forest fires and forest management policy to sustainable development. Nepstad says the Amazon is presently at a point unlike any he's ever seen, one where there are unparalleled risks and opportunities. While he's hopeful about some of the trends, he knows the Amazon faces difficult and immediate challenges.


Tasmania agrees to logging moratorium

(05/30/2007) Forestry Tasmania, the forest service of Tasmania, has signed an agreement with environmental activists to cease logging activities in the Upper Florentine Valley of the island. The moratorium will last through federal elections this in October..


Uganda abandons rainforest logging for palm oil

(05/27/2007) The Ugandan government abandoned plans to log thousands of hectares of rainforest on Bugala island in Lake Victoria for a palm oil plantation, Reuters reported Saturday.


EU will demand sustainable biofuel production

(05/24/2007) The European Commission is planning new criteria to ensure that biofuels are produced in an environmentally-friendly manner, reports Reuters. The move comes a month after the Dutch issued voluntary guidelines for biofuel production.


Scientists find possible cure for global amphibian-killing disease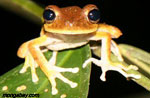 (05/23/2007) Scientists have discovered a possible treatment for the fungal disease that has killed millions of amphibians worldwide. Presenting Wednesday at the General Meeting of the American Society for Microbiology in Toronto, Professor Reid N. Harris at James Madison University reported that Pedobacter cryoconitis, a bacteria found naturally on the skin of red-backed salamanders, wards off the deadly chytridiomycosis fungus, an infection cited as a contributing factor to the global decline in amphibians observed over the past three decades.


First U.S. offshore wind farm wins preliminary approval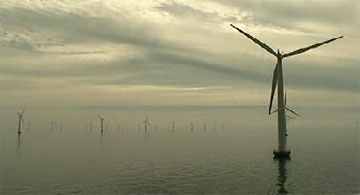 (05/23/2007) The first offshore wind farm in the United States won preliminary approval Tuesday from a panel of Delaware state officials. According to published reports, four Delaware state agencies ordered Delmarva Power, an electric utility, to buy wind-generated power from Bluewater Wind, the wind farm's developer.


Uganda rainforest reserve safe, for now

(05/23/2007) Uganda's cabinet has suspended a proposal to allow a sugarcane grower to convert part of Mabria rainforest reserve for a plantation, reports Reuters. The plan, a pet project of president Yoweri Museveni, faced widespread opposition that was capped by deadly riots.


Sugar could power hydrogen fuel cars says VTU researcher

(05/22/2007) Sugary carbohydrates could be used to produce low-cost hydrogen to power fuel cells report researchers writing in the May 23 issue of PLoS ONE, the online, open-access journal from the Public Library of Science ( www.plosone.org)


Photos of newborn baby giraffe at the Bronx Zoo

(05/21/2007) A baby giraffe born October 30, 2006 at the Bronx Zoo in New York is doing well reports the Wildlife conservation Society (WCS). The youngster is the second offspring of Margaret Sukari, a 12-year old giraffe that lives on the African Plains' Giraffe Lawn at the zoo.


Improving energy efficiency will require overcoming market distortions

(05/20/2007) In a new study, McKinsey&Company, one the world's most respected management consulting firms, reports that the world should be able to cut energy demand growth by half over the next 15 years without compromising economic growth. However it says that market forces along will not drive the transition--targeted policies will be needed to overcome present market failures and policy distortions.


16 cities to get energy-saving retrofits

(05/17/2007) Sixteen cities will get financing to make buildings "greener" through environmental renovations, former President Clinton announced Wednesday at the C40 Large Cities Climate Summit in New York, where mayors and local government officials are meeting to discuss strategies to flight global warming. The green building initiatives will cut carbon emissions and reduce waste.


Ancient Amazonian technology could save the world


(05/17/2007) Terra preta, the ancient charcoal-based soil used by ancient Amazonians to create permanently fertile agricultural lands in the rainforest, is getting serious consideration as a means to fight global warming and meet domestic energy demand, reports an article in Scientific American.


Peru makes progress on illegal mahogany logging

(05/16/2007) Last month Inrena, Peru's environmental agency, implemented regulations for mahogany loggers that will now require forest concession holders to replant ten times the logged amount of trees. Overall, the initiative calls for the production and establishment of one million of mahogany plantlets over 5 years.


Rare softshell turtle rediscovered in Cambodia

(05/16/2007) Scientists from conservation International have successfully hatched a clutch of eggs from one of the world's most endangered turtle species.


New species of hummingbird discovered in Colombia

(05/15/2007) Ornithologists have discovered a previously unknown blue-and-green-throated hummingbird species in a cloud forest in Colombia, reports BirdLife International, a conservation group. The bird, called the gorgeted puffleg, measures up to 4 inches (10 cm) in length.


'Green' dams could reduce GHG emissions

(05/14/2007) Scientists in Brazil have developed a way to reduce greenhouse emissions from large hydro-electric dams, according to a report from BBC News. The technology, developed by researchers at Brazil's National Space Research Institute (INPE), extracts methane from reservoir water to supplement energy produced by the dam turbines.


Marine reserves help damaged coral reefs recover

(05/14/2007) Marine reserves can help coral reefs damaged by overfishing, disease, and bleaching caused by high temperatures, reports a new study published in Proceedings of the National Academy of Sciences.


Urban parks can offset warming effects of climate change says study

(05/14/2007) Increasing the number of urban parks and street trees in a city could offset the local heat effects of global warming, reports a new study by researchers at the University of Manchester.


Citigroup commits $50 billion to fight global warming

(05/13/2007) Citigroup said last week that it plans to spend $50 billion towards mitigating climate change, mostly through investments in clean energy and 'alternative technology' over the next 10 years.


Carnivorous plants invade San Francisco


(05/13/2007) While most plants derive nutrients from soil, some trap and consume living creatures for their primary source of sustenance. Now a special exhibit at the San Francisco Conservatory of Flowers offers a journey into the strange world of carnivorous plants.


Reducing tropical deforestation will help fight global warming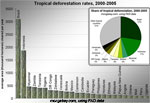 (05/10/2007) Scientists have lent support to a plan by developing countries to fight global warming by reducing deforestation rates. Tropical deforestation releases more than 1.5 billion metric tons of carbon into the atmosphere every year, though in some years, like the 1997-1998 el Nino year when fires released some 2 billion tons of carbon from peat swamps alone in Indonesia, emissions are more than twice that. Writing in the journal Science, an international team of scientists argue that the Reducing Emissions from Deforestation (RED) initiative, launched in 2005 by the United Nations Framework Convention on Climate Change, is scientifically and technologically sound, and that political and economic challenges facing the plan can be overcome.


Deal to end destructive bottom trawling reached

(05/07/2007) Governments have reached a landmark agreement to end high seas bottom trawling in nearly a quarter of the world's oceans. Environmentalists say bottom trawling, which destroys reefs and depletes slow-growing fish species, is one of the world's most destructive fishing practices.


conservation is saving lemurs and helping people in Madagascar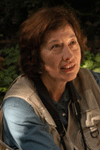 (05/07/2007) Madagascar, an island nation that lies off the coast of southeastern Africa, has long been famous for its unique and diverse species of wildlife, especially lemurs--primates found nowhere else on the planet. In recent years, the island country has also become world-renowned for conservation efforts that are succeeding in spite of extraordinary pressures from a poor population that relies heavily on forest burning for basic subsistence. A large part of this success is due to the early efforts of Patricia Wright, a primatologist who has been working in the country for more than 20 years. Wright led the effort to launch the country's leading protected area and helped Madagascar become a leading global example of conservation despite its economic adversity.


Indonesia will plant 2 billion trees in 2007

(05/07/2007) Indonesia plans to rehabilitate 59.2 million hectares (146 million acres) of damaged forest throughout Indonesia, according to Malam Sambat Kaban, Indonesia's Forestry Minister.


Malaysia will reforest 4000 ha of forest in Borneo

(05/07/2007) Malaysia plans to rehabilitate 4000 hectares (10,000 acres) of damaged forest is Sabah state, on the island of Borneo, reports the Associated Press. The environmental restoration and management plan for the Ulu Semaga-Malua forests will cost $58 million.


First ever photos of leopard with cub in Cambodia

(05/05/2007) WWF has captured the first ever photos of a wild leopard with cub in Cambodia. Leopards are exothermally rare in Cambodia, which has suffered one of the highest deforestation rates in southeast Asia due to illegal logging., clearing for agriculture, fires, and unsustainable hunting.


Apple defends green credentials, promises to do better

(05/04/2007) In a open letter posted Wednesday, Apple Inc. CEO Steve Jobs countered claims by green groups that the iPod and computer maker lagged in recycling and removing toxic chemicals from its products. He said the company is already an industry leader when it comes to the environment and that Apple will continue to reduce its impact on the planet.


Cost of stabilizing climate 0.1% per year


(05/04/2007) The Intergovernmental Panel on Climate Change (IPCC) released its long awaiting installment on climate change mitigation, arguing that the costs of offsetting global warming will be much lower than some claim. The IPCC estimates that emissions can be reduced rapidly using existing technology at a cost of 3 percent of GDP, or 0.12 percent per year over the next 25 years, though new technologies could further reduce this cost. While the projections are encouraging, they may be conservative. Some analysts, including the well-respected Amory Lovins of the Rocky Mountain Institute, have calculated that emissions targets that would stabilize the climate could be achieved at no net cost and possibly even a profit. Even McKinsey & Company, a leading management consulting firm, agrees, putting the net cost of reducing emissions by 46 percent at zero.


U.S. could offset 20% of emissions through reforestation of marginal lands



(05/03/2007) Reforesting marginal agricultural land could significantly slow the increase of carbon in the atmosphere reports a new study based on NASA data, though it would be no magic bullet in fighting global warming since temperate forests have been shown to increase regional temperatures by absorbing more sunlight. Still, reforestation has the potential to offer other ancillary benefits including watershed services and erosion control.


Coral reef fish return home after drifting the seas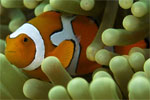 (05/03/2007) Most coral reef fish larvae return to their 'home' reefs after spending weeks to months maturing in the open ocean, reports a new study published in the journal Science. The findings improve the understanding of coral reef ecosystems and have implications for marine conservation efforts.



Page 1 | Page 2 | Page 3 | Page 4 | Page 5 | Page 6 | Page 7 | Page 8 | Page 9 | Page 10 | Page 11 | Page 12 | Page 13 | Page 14 | Page 15 | Page 16 | Page 17 | Page 18 | Page 19 | Page 20 | Page 21 | Page 22 | Page 23 | Page 24