News articles on greenhouse gas emissions

---
Mongabay.com news articles on greenhouse gas emissions in blog format. Updated regularly.





Carbon accounting must not neglect emissions from bioenergy production and use

(10/29/2009) Carbon accounting used in the Kyoto Protocol and other climate legislation currently neglects CO2 emissions from the production of biofuels, a loophole that could drive large-scale destruction of tropical forests and exacerbate global warming, warned researchers writing last week in the journal Science.


500 global business leaders call for 50-85% cut in emissions by 2050

(09/22/2009) In a statement issued today, more than 500 business leaders have called for "an ambitious, robust and equitable global deal" on climate change.


Indonesia: emissions to rise 50% by 2030, 3rd largest GHG emitter

(09/22/2009) A report released by the Indonesian government shows the country is the world's third largest greenhouse gas emitter, largely as a result of the destruction of rainforests and carbon-dense peatlands. Indonesia accounts for 8 percent of global carbon dioxide emissions.


Hummer owners view themselves as morally upright

(09/22/2009) For many the Hummer has become a symbol of all that is wrong with America: wastefulness without regard to consequences, entitlement beyond the scope of reason, and individualism to the point of arrogance.


US subsidies of oil and coal more than double the subsidies of renewable energy

(09/21/2009) During the fiscal years of 2002-2008 the United States handed out subsidies to fossil fuel industries to a tune of 72 billion dollars, while renewable energy subsidies, during the same period, reached 29 billion dollars.


Fake Obama makes climate change top priority

(09/21/2009) In an effort to push the real President Obama to attend the UN Summit on Climate Change in December, a fake Obama took over on Friday.


France announces carbon tax

(09/10/2009) The President of France, Nicolas Sarkozy, has announced that he will implement a carbon tax to help "save the human race" from global warming.


Russia's plan to mine peatlands for energy could release 113 gigatons of carbon

(09/08/2009) Wetlands International, a not-for-profit organization dedicated to preserving the world's wetlands, has warned of drastic environmental consequences if the Russia government goes ahead with plans to begin large scale peat mining, including the potential release of 113 gigatons of carbon.


Activists target Brazil's largest driver of deforestation: cattle ranching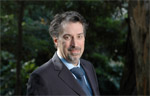 (09/08/2009) Perhaps unexpectedly for a group with roots in confrontational activism, Amigos da Terra - Amazônia Brasileira is calling for a rather pragmatic approach to address to cattle ranching, the largest driver of deforestation in the Brazilian Amazon. The solution, says Roberto Smeraldi, founder and director of Amigos da Terra, involves improving the productivity of cattle ranching, thereby allowing forest to recover without sacrificing jobs or income; establishing a moratorium on new clearing; and recognizing the economic values of maintaining the ecological functions of Earth's largest rainforest.


Japan throws down gauntlet, vows to cut greenhouse gas emissions 25 percent by 2020

(09/07/2009) The new prime minister of Japan, Yukio Hatoyama, has thrown down the gauntlet to other industrialized nations in the lead-up to the UN Climate Change Summit in Copenhagen this December. He had pledged to cut his nation's greenhouse gas emissions 25 percent from 1990 levels (the set date for the Kyoto Treaty) by 2020.


Sea levels set to rise as Arctic warming replaces millennia long natural cooling cycle


(09/03/2009) According to a new study published in Science the Arctic should be cooling, and in fact has been cooling for millennia. But beginning in 1900 Arctic summer temperatures began rising until the mid-1990s when the cooling trend was completely overcome. Researchers fear that this sudden up-tick in temperatures could lead to rising sea levels threatening coastal cities and islands. "Scientists have known for a while that the current period of warming was preceded by a long-term cooling trend," said lead author Darrell Kaufman of Northern Arizona University. "But our reconstruction quantifies the cooling with greater certainty than ever before."


Investing in conservation could save global economy trillions of dollars annually

(09/03/2009) By investing billions in conserving natural areas now, governments could save trillions every year in ecosystem services, such as natural carbon sinks to fight climate change, according to a European report The Economics of Ecosystems and Biodiversity (TEEB).


Political heat rising on climate change, but does the United States feel it?

(09/02/2009) The UN Summit on Climate Change isn't for three months, yet the political temperature has been rising steadily over the summer. The heat is especially focused on the three big players at the summit: China, India, and the United States.


Maldives president tells world: 'please, don't be stupid' on climate change

(09/01/2009) "Please, don't be stupid," Mohamed Nasheed told the world regarding the need to act decisively against climate change. To underlie his message, Nasheed announced that his country will become carbon neutral in ten years.


Greenhouse gas emissions drop in the EU for the fourth year in a row

(08/31/2009) In 2008 greenhouse gas emissions in the EU fell 1.3 percent, the European Environment Agency (EEA) said today. This figure measures only the emissions in the 15 EU countries that have commitments to reduce emissions, however when all 27 members of the EU are included, greenhouse gas emissions actually fell further: 1.5 percent.


Destructive farming practices of early civilization may have altered climate long before industrial era

(08/31/2009) William Ruddiman has become well known for his theory that human-induced climate change started long before the Industrial Age. In 2003 he first brought forth the theory that the Neolithic Revolution-when some humans turned from hunter-gathering to large-scale farming-caused a shift in the global climate 7,000 years ago.


Environmental disappointments under Obama

(08/24/2009) While the President has been bogged down for the last couple months in an increasingly histrionic health-care debate-which has devolved so far into ridiculousness that one doesn't know whether to laugh or cry-environmental decisions, mostly from the President's appointees have still been coming fast and furious. However, while the administration started out pouring sunshine on the environment (after years of obfuscated drudgery under the Bush administration), they soon began to move away from truly progressive decisions on the environment and into the recognizable territory of playing it safe-and sometimes even stupid.


China moves forward on global warming: top scientists recommend emissions peak in 2030


(08/17/2009) In a move that many have seen as a step forward for China in terms of its willingness to combat climate change, the nation's top climatologists have released a report recommending that China begin drawing down greenhouse gas emissions after 2030. The report comes just four months before a widely anticipated global meeting to set up a new international framework to combat climate change in Copenhagen, Denmark.


Boreal forests in wealthy countries being rapidly destroyed

(08/12/2009) Boreal forests in some of the world's wealthiest countries are being rapidly destroyed by human activities — including mining, logging, and purposely-set fires — report researchers writing in Trends in Ecology and Evolution.


India surpasses Japan in CO2 emissions

(08/12/2009) India accounts for about five percent of global carbon dioxide emissions, roughly a quarter of the emissions of China and the United States, according to an Indian government study reported by Reuters.


Emissions from Amazon deforestation to rise as loggers move deeper into the rainforest

(07/31/2009) Emissions from Amazon deforestation are growing as developers move deeper into old-growth forest areas where carbon density is higher, report scientists writing in Geophysical Research Letters.


Are we on the brink of saving rainforests?


(07/22/2009) Until now saving rainforests seemed like an impossible mission. But the world is now warming to the idea that a proposed solution to help address climate change could offer a new way to unlock the value of forest without cutting it down.Deep in the Brazilian Amazon, members of the Surui tribe are developing a scheme that will reward them for protecting their rainforest home from encroachment by ranchers and illegal loggers. The project, initiated by the Surui themselves, will bring jobs as park guards and deliver health clinics, computers, and schools that will help youths retain traditional knowledge and cultural ties to the forest. Surprisingly, the states of California, Wisconsin and Illinois may finance the endeavor as part of their climate change mitigation programs.


Smart biofuels that don't hurt people or the environment are possible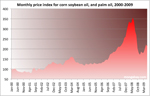 (07/16/2009) Sustainable biofuels can be a reality but only in combination with reductions in fuel demand and increased productivity on existing agricultural lands, argue researchers writing in the journal Science. Five years ago biofuels were seen as a panacea for the world's energy hunger and the need to address climate change, but increased production of biofuels soon contributed to a clutch of problems, including competition with food, resulting in rising prices, and large-scale conversion of rainforests and tropical grasslands for feedstocks, resulting in biodiversity loss and increased greenhouse gas emissions. Environmentalists and scientists condemned many biofuels — including ethanol produced from Midwestern corn ethanol and biodiesel generated from European rapeseed and Southeast Asian palm oil — as a short-sighted energy solution. Some biofuels were found to be even worse for the environment, and more costly, than conventional gasoline. However some researchers remain optimistic that smart biofuel production could help meet energy demand without hurting people or the planet. In a Science Policy Forum piece, David Tilman and colleagues explore some of these options, noting that biofuels can be produced in substantial quantities at low environmental cost


A Tasmanian tragedy? : How the forestry industry has torn an island apart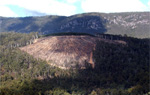 (07/02/2009) This is by no means a new battle: in fact, Tasmanian industrial foresters and environmentalists have been fighting over the issue of clearcutting the island's forests for decades. The battle—some would probably prefer 'war'—is over nothing less than the future of Tasmania. Some Tasmanians see the rich forests that surround them in terms of income, dollars and cents; they see money literally growing on trees, or more appropriately growing on monoculture plantations and government owned native forests. They see the wilderness of Tasmania as an exploitative resource.


Implications of the American Clean Energy and Security Act for conservation

(06/26/2009) Following today's passage of the American Clean Energy and Security Act (ACES) by the House of Representatives, The Natury Conservancy released a set of questions and answers with Mark Tercek, its chairman and CEO.


Global warming bill passes the House

(06/26/2009) The U.S. House of Representatives passed the country's first climate change legislation 219-212 on Friday. The vote was highly partisan with Democrats generally supporting the American Clean Energy and Security Act, and Republicans mostly opposing it.


Wind could power the entire world

(06/22/2009) Wind power may be the key to a clean energy revolution: a new study in the Proceedings of the National Academy of Science finds that wind power could provide for the entire world's current and future energy needs.


Scientists call on Obama for 'maximum personal leadership' to combat global warming

(06/22/2009) Twenty leading scientists have called on President Obama "to exercise maximum personal leadership" in tackling the threat posed by climate change.


New Yangtze River dam could doom more endangered species

(06/22/2009) Eight Chinese environmentalists and scientists have composed a letter warning that a new dam under consideration for the Yangtze River could lead to the extinction of several endangered species. The letter contends that Xiaonanhia Dam, which would be 30 kilometers upstream from the city of Chongqing, will negatively impact the river's only fish reserve. Spanning 400 kilometers in the upper Yangtze, the reserve is home to 180 fish species, including the Endangered Chinese sturgeon, and the Critically Endangered Chinese paddlefish, as well as the finless porpoise.


What is the crop productivity and environmental impact of too much or too little fertilizer?



(06/18/2009) While the use of synthetic fertilizer has greatly increased agricultural production globally—helping to feed a global population that is not slowing down—it has brought with it high environmental costs. Fertilizer runoff has polluted many coastal regions creating 'dead zones' where the ocean is starved of oxygen by the influx of nitrogen. Synthetic fertilizers have also polluted the air with ammonia, and sent emissions of nitrous oxide into the atmosphere, contributing to global warming.


Lomborg calls for a carbon tax

(06/17/2009) Bjorn Lomborg, a Danish business school professor and author who has riled environmentalists by arguing that addressing climate change should be a lesser priority than health and nutrition initiatives, is calling for a $7 per ton tax on carbon dioxide emissions, reports the Wall Street Journal.


Burning fossil fuels is disrupting nitrogen cycle

(06/04/2009) The burning of fossil fuels has disrupted the nitrogen cycle by altering that amount of nitrogen in the biosphere, according to scientists from Brown University and the University of Washington. It has long been known that fossil fuel combustion releases nitric oxides into the air—which combine with other elements to form both smog and acid rain—but until now scientists have been unsure as to the extent nitric oxide emissions have affected the natural nitrogen cycle.


Peatlands conversion for oil palm a 'monumental mistake' for Indonesia's long-term prosperity, sustainability

(06/04/2009) Indonesia's decision earlier this year to allow conversion of up to 2 million hectares of peatlands for oil palm plantations is "a monumental mistake" for the country's long-term economic prosperity and sustainability, argues an editorial published in the June issue of Frontiers in Ecology and the Environment.


Brazil's plan to save the Amazon rainforest


(06/02/2009) Accounting for roughly half of tropical deforestation between 2000 and 2005, Brazil is the most important supply-side player when it comes to developing a climate framework that includes reducing emissions from deforestation and forest degradation (REDD). But Brazil's position on REDD contrasts with proposals put forth by other tropical forest countries, including the Coalition for Rainforest Nations, a negotiating block of 15 countries. Instead of advocating a market-based approach to REDD, where credits generated from forest conservation would be traded between countries, Brazil is calling for a giant fund financed with donations from industrialized nations. Contributors would not be eligible for carbon credits that could be used to meet emission reduction obligations under a binding climate treaty.


US responsible for 29 percent of greenhouse gas emissions over past 150 years

(05/31/2009) In the past 150 years, the United States has emitted more greenhouse gas emissions than any other nation in the world, according to a recent report by Greenpeace. In fact, US emissions account for 29 percent of the world's total since the mid-1800s. The US emitted 328,264 million metric tons of carbon dioxide (MtCO2) in the past 150 years, which is over 3 times the amount emitted by China in the same century-and-a-half.


Excluding forest carbon from climate policy will spur massive deforestation


(05/28/2009) Failure to develop policies that account for emissions from land use change will lead to widespread deforestation and higher costs for addressing climate change, warn researchers writing in the journal Science. Using a computer model that incorporates economics, energy, agriculture, land-use changes, emissions and concentrations of greenhouse gases, a team of researchers from the Department of Energy's Pacific Northwest National Laboratory (PNNL) and the University of Maryland found that efforts to limit atmospheric carbon dioxide levels while ignoring emissions from terrestrial sources would lead to nearly a complete loss of unmanaged forests by 2100, resulting largely from increased expansion of bioenergy crops. Meanwhile placing a value ("tax") on terrestrial carbon emissions equivalent to that on industrial and fossil fuel emissions would lead to an increase in forest cover.


Permian mass extinction caused by giant volcanic eruption

(05/28/2009) Two hundred and sixty million years ago the Earth experienced its worst mass extinction: 95 percent of marine life and 70 percent of terrestrial life vanished. Long a subject of dispute, researchers from the University of Leeds believe they have confirmed the reason behind the so-called Permian extinction.


U.S. CO2 emissions fall 2.8% in 2008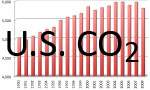 (05/21/2009) Carbon dioxide emissions from fossil fuel use in the United States fell 2.8 percent in 2008, the largest annual drop in more than 20 years, reports the Energy Information Administration. A slowing economy and high gasoline prices contributed to the decline. U.S. emissions from fossil fuel burning in 2008 were 15.9 percent above the 1990 level (the baseline for the 1997 Kyoto Protocol) and 2.8 percent below the 2005 level (the baseline proposed under the American Clean Energy and Security Act of 2009 [Waxman-Markey bill]).


Green groups, corporations call for forest conservation to counter global warming


(05/20/2009) A group of leading U.S. businesses and environmental groups today formed a coalition calling for the inclusion of forest conservation in domestic cap-and-trade legislation. The pact endorses policies that would allow companies to receive credit for reducing emissions by financing activities that protect forests in tropical countries. It also calls for five percent of proceeds from the auctioning of greenhouse gas emissions allowances under a cap-and-trade system to go towards funding forest conservation projects.


Global warming estimates double in severity according to new MIT modeling

(05/20/2009) Employing the MIT Integrated Global System Model, scientists have found that global warming could be more than twice as severe as previous estimates six years ago. The MIT Integrated Global Systems Model, which uses computer simulations to analyze the relationship between climatic changes and the global economy, found during 400 runs of the model that there is a 90 percent probability that temperatures will have risen 3.5 to 7.4 degrees Celsius by the end of the century.


Study refutes criticism of polar bear listing under the Endangered Species Act



(05/20/2009) In May 2008 the Bush Administration listed the polar bear under the Endangered Species Act (ESA). The listing immediately received allegations of being politically biased and not based on sound science. However, a new paper addresses the allegations point by point and concludes that the decision to add the polar bear under the ESA was not only scientifically sound, but right.


Bioelectricity bests ethanol on two fronts: land use and global warming



(05/07/2009) Yesterday the Obama Administration established a Biofuels Interagency Working Group to oversee implementation of new rules and research regarding biofuels. On the group's first day of work they would do well to look at a new study in Science Magazine comparing the efficacy of ethanol versus bioelectricity.


Prince Charles' new online initiative for rainforests makes media splash

(05/06/2009) Releasing a video with as many species of celebrity as ants in the rainforest, while simultaneously turning to online sites such as MySpace and YouTube, appears to have worked for Prince Charles, a longtime advocate of rainforest conservation. His conservation organization's new outreach to online users has garnered considerable coverage from the international media.


Global warming to cripple Southeast Asia economically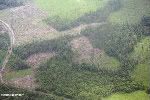 (04/28/2009) By the end of the century nations in Southeast Asia will face debilitating economic loss due to global warming, according to a new study from the Asian Development Bank. Analyzing Indonesia, Philippines, Thailand, and Vietnam the study found that they could suffer an annual loss of 6.7 percent ($230 billion dollars) in combined gross domestic product by 2100, more than double the global average which is estimated at a loss of 2.6 percent.


Fire contributes 20% of global warming emissions

(04/23/2009) Fire accounts for roughly half of greenhouse gas emissions from deforestation and about twenty percent of total emissions from human activities, report researchers writing in the journal Science. The estimates — based on analysis of fire's impact on emissions of carbon dioxide, nitrous oxide, and methane; albedo or the reflectivity of Earth's surface; and release of aerosols and other particulates — suggest fire plays a major large role in climate than conventionally believed.


U.S. climate change legislation may cut energy costs - report

(04/21/2009) The U.S. can dramatically cut greenhouse gas emissions while reducing energy spending at the same time, reports a new study by the Union of Concerned Scientists (UCS).


EPA finds CO2 a danger to public health

(04/17/2009) The U.S. Environmental Protection Agency on Friday ruled that carbon dioxide and other greenhouse gases "may endanger public health or welfare", a finding that opens to door to future regulation of such emissions under the the Clean Air Act.


Cutting greenhouse gases now would save world from worst global warming scenarios


(04/14/2009) If nations worked together to produce large cuts in greenhouse gases, the world would be saved from global warming's worst-case-scenarios, according to a new study from the National Center for Atmospheric Research (NCAR). The study found that, although temperatures are set to rise this century, cutting greenhouse gases by 70 percent the globe could avoid the most dangerous aspects of climate change, including a drastic rise in sea level, melting of the Arctic sea ice, and large-scale changes in precipitation. In addition such cuts would eventually allow the climate to stabilize by the end of the century rather than a continuous rise in temperatures.


Rainforest conservation gains in U.S. and U.N. climate proposals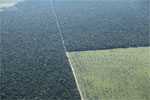 (04/14/2009) A proposed mechanism for reducing emissions from deforestation and degradation (REDD) figures prominently in the draft climate bill released last month by Congressmen Henry Waxman and Ed Markey as well as a U.N. document posted last week following a climate meeting in Bonn, Germany. Deforestation is the source of roughly 20 percent of greenhouse gas emissions from human activities.


Black carbon linked to half of Arctic warming

(04/05/2009) Black carbon is responsible for 50 percent of the total temperature increases in the Arctic from 1890 to 2007 according to a study published in Nature Geoscience. Since 1890 the temperature in the Arctic has risen 1.9 degrees Celsius, linking black carbon to nearly an entire degree rise in Celsius or almost two degrees Fahrenheit.



Page 1 | Page 2 | Page 3 | Page 4 | Page 5 | Page 6 | Page 7 | Page 8 | Page 9 | Page 10 | Page 11 | Page 12 | Page 13