News articles on green

---
Mongabay.com news articles on green in blog format. Updated regularly.






Forest carbon map released for the US

(04/20/2011) The Woods Hole Research Center (WHRC) has released the first hectare-scale map displaying aboveground woody biomass and forest carbon in US forests. The map, which also shows canopy heights, is known as the National Biomass and Carbon Dataset (NBCD).
Demand for gold pushing deforestation in Peruvian Amazon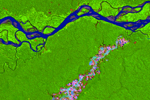 (04/19/2011) Deforestation is on the rise in Peru's Madre de Dios region from illegal, small-scale, and dangerous gold mining. In some areas forest loss has increased up to six times. But the loss of forest is only the beginning; the unregulated mining is likely leaching mercury into the air, soil, and water, contaminating the region and imperiling its people. Using satellite imagery from NASA, researchers were able to follow rising deforestation due to artisanal gold mining in Peru. According the study, published in PLoS ONE, Two large mining sites saw the loss of 7,000 hectares of forest (15,200 acres)—an area larger than Bermuda—between 2003 and 2009.
Richard Branson's pet lemur project won't help save wildlife in Madagascar

(04/19/2011) Richard Branson's plan to introduce lemurs on one of his private islands in the Caribbean is a terrible idea if his aim is really to protect the primates from extinction. Beyond the much-discussed ecological impact of bringing in non-native primates, Branson's scheme risks undermining conservation efforts where lemurs actually exist in the wild: Madagascar.
Major paper company clear-cutting key tiger habitat

(04/19/2011) A pulp supplier for a major paper company is clearing natural forest in a wildlife corridor in central Sumatra, alleges a new investigation conducted by Eyes on the Forest, a coalition of environmental groups.
Forest Governance Measuring Tools within Collaborative Governance of Tropical Landscapes: Book Review

(04/19/2011) Conservation projects at the landscape level in the tropics often require collaborative governance because there are many factors that may be involved with conserving and enhancing the ecosystem services with a landscape-based project. Yet as eloquently described in Collaborative Governance of Tropical Landscapes, significant issues remain in designing and implementing effective collaborative governance models for tropical landscapes.
Scientists urge Papua New Guinea to declare moratorium on massive forest clearing

(04/19/2011) Forests spanning an area larger than Costa Rica—5.6 million hectares (13.8 million acres)—have been handed out by the Papua New Guinea government to foreign corporations, largely for logging. Granted under government agreements known as Special Agricultural and Business Leases (SABLs), the land leases circumvent the nation's strong laws pertaining to communal land ownership. Now, the Association for Tropical Biology and Conservation (ATBC), the world's largest professional society devoted to studying and conserving tropical forests, is urging the Papua New Guinea government to declare a moratorium on SABLs.
Scientists follow rise of mercury pollution in seabird feathers

(04/18/2011) Analyzing the feathers of the black-footed albatross (Phoebastria nigripes) going back to 1880. researchers have uncovered rising levels of the toxic methylmercury in the endangered birds that is generally consistent with rising mercury emissions in the Pacific region. Methylmercury is a more toxic compound than mercury that binds with organic molecules when it is released through industrial processes, such as burning coal and other fossil fuels.
The great penguin rescue: far-flung community cooperates, sacrifices to save 4,000 penguins from oil spill

(04/18/2011) One of the world remotest communities, the UK's Tristan da Cunha archipelago, has come together to save 4,000 endangered penguins following a devastating oil spill, reports the Guardian. Last month a freighter ran aground on Nightingale Island releasing 1,500 tons of oil, potentially devastating the local population of northern rockhopper penguins (Eudyptes moseleyi), which are listed as Endangered by the IUCN Red List. However, fortunately for the penguins, the tiny community of 260 people living on the Tristan da Cunha archipelago were unwilling to give up on the oiled birds.
Tropical countries aim for global forest pact

(04/18/2011) Representatives from more than 30 countries are expected to hammer out a formal agreement for future discussions on forest and climate issues when they meet next month in the Republic of Congo, reports the Wildlife Conservation Society (WCS).
US wolves lose to politics

(04/17/2011) A 'rider' attached to the most recent budget passed this week in the US congress has stripped gray wolves from the protection of the Endangered Species Act, a first in the law's nearly 40-year-history. The rider, which was signed into law under the budget on Friday by US President Barack Obama, hands gray wolves (Canis lupus) in Montana, Idaho, Utah, Washington, and Oregon from Federal protection to state control. Hunting is expected to begin soon.
NASA image reveals extent of 2010 Amazon drought

(04/17/2011) NASA has revealed a satellite image of the crippling effect of last year's record-breaking drought on the Amazon ecosystem. For those of you counting, that's two record droughts in the Amazon Basin in 5 years.
Indonesia and the EU reach agreement on illegal wood trade

(04/17/2011) A new agreement will work to keep illegal wood from Indonesia out of European Union markets. The Voluntary Partnership Agreement (VPA) will force Indonesia to only ship wood to the EU that has been approved as legal by a national authority, while EU customs workers are set to send any unapproved wood back to Indonesia. The VPA is a step forward in tackling the illegal timber market in Indonesia that is estimated to be worth $1 billion and has been responsible, in part, for leveling rainforests across the Indonesia islands.
Avon commits to greener palm oil

(04/15/2011) The beauty products giant Avon will purchase enough GreenPalm certificates to meet 100 percent of its palm oil use.
Pro-deforestation group calls for weakening of U.S. law against illegal logging

(04/14/2011) A group that lobbies on behalf of forestry conglomerates in Indonesia and Malaysia is calling on the U.S. to roll back legislation intended to fight illegal logging. World Growth International, a Washington D.C.-based group that portrays itself as a humanitarian organization, yet consistently pushes policies that favor industrial forestry interests over those of rural communities, has submitted formal comments to the United States Department of Agriculture, Animal and Plant Health Inspection Service's (APHIS) review of the implementation of the revised Lacey Act provisions that prohibit trade in illegally logged wood products, including timber and paper.
Vietnam creates reserve for newly-discovered, nearly-extinct mammal, the saola

(04/14/2011) The Vietnam government and local people have approved a Saola Natural Reserve to protect one of the world's most endangered—and most elusive—mammals. Only discovered by the outside world in 1992, the saola (Pseudoryx nghetinhensis) inhabits the lush forests of the Annamite Mountains. No one knows how many saola remain, but it has been classified as Critically Endangered as it is likely very few. Recently, conservationist William Robichaud told mongabay.com that the saola was "perhaps the most spectacular zoological discovery of the 20th century", comparing it only to the discovery of the okapi in central Africa in 1900.
From the Serengeti to Lake Natron: is the Tanzanian government aiming to destroy its wildlife and lands?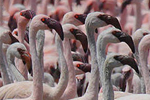 (04/14/2011) What's happening in Tanzania? This is a question making the rounds in conservation and environmental circles. Why is a nation that has so much invested in its wild lands and wild animals willing to pursue projects that appear destined not only to wreak havoc on the East African nation's world-famous wildlife and ecosystems, but to cripple its economically-important tourism industry? The most well known example is the proposed road bisecting Serengeti National Park, which scientists, conservationists, the UN, and foreign governments alike have condemned. But there are other concerns among conservationists, including the fast-tracking of soda ash mining in East Africa's most important breeding ground for millions of lesser flamingo, and the recent announcement to nullify an application for UNESCO Heritage Status for a portion of Tanzania's Eastern Arc Mountains, a threatened forest rich in species found no-where else. According to President Jakaya Kikwete, Tanzania is simply trying to provide for its poorest citizens (such as communities near the Serengeti and the Eastern Arc Mountains) while pursuing western-style industrial development.
World Atlas of Mangroves: A Book Review

(04/14/2011) Because recent research has shown that it is often the case that mangroves store more carbon than tropical forests--from 90 tons to 588 tons carbon from above-ground and below-ground biomass combined with net primary productivity of 7 to 25 tons carbon annually--while providing an estimated ecosystem services value of up to US$ 9270 per hectare per year, the timely publication of the World Atlas of Mangroves is an excellent reference for those of us working to protect mangroves globally. With information sourced from 1400 literature references, the atlas gives the reader the information they need so as to further understand mangrove ecosystems, and the opportunities to develop mangrove ecosystem conservation and carbon projects.
Election cycle linked to deforestation rate in Indonesia

(04/14/2011) Increased fragmentation of political jurisdictions and the election cycle contribute to Indonesia's high deforestation rate according to analysis published by researchers at the London School of Economics (LSE), the Massachusetts Institute of Technology (MIT), and South Dakota State University (SDSU). The research confirms the observation that Indonesian politicians in forest-rich districts seem repay their election debts by granting forest concessions.
Opposition rises against Mekong dam as governments ponder decision
(04/13/2011) As the governments of Laos, Thailand, Cambodia, and Vietnam ready to meet on April 19th to decide whether or not to move forward on the Xayaburi Dam, critics of Mekong River hydroelectric project have warned that the dam will devastate freshwater biodiversity and impact the livelihoods of hundreds of thousands, if not more. Last month a coalition of 263 organizations from 51 countries released a letter in opposition of the dam's construction.
Gas from 'fracking' not climate friendly

(04/13/2011) It appears every time a fossil fuels industry claims its energy is 'green' or 'climate-friendly', scientists discover this just isn't so. The most recent culprit is natural gas produced by an already controversial method known as hydraulic fracturing, or fracing, which extracts the gas from shale basins. A new study in Climatic Change has found that the process of fracing is worse than coal over a 20-year period and about equal over 100-years. Coal had long been considered the worst climate offender of all energy options.
Satellite evidence of deforestation in uncontacted tribe's territory sparks legal action

(04/12/2011) The destruction of 3,600 hectares (8,900 acres) of the Gran Chaco forest in Paraguay by large Brazilian cattle ranching companies has led to a legal complaint filed by a local indigenous-rights organization, since the land in question was one of the last refuges of a group of uncontacted indigenous people in the Ayoreo-Totobiegosode tribe. The loss of the forest was revealed in part by satellite images of the remote area.
Noise in oceans leads to 'severe acoustic trauma' in octopus, squid

(04/12/2011) Researchers have documented for years how noise pollution impacts dolphins in whales, but a new study in Frontiers in Ecology and the Environment finds that even low intensity noise can severely injure cephalopods, which include octopus, squid, and cuttlefish. The injuries are bad enough to possibly lead to stranding and death, thereby providing a feasible explanation for a number of recent strandings, including giant squid washing ashore in Spain.
Giant fish help grow the Amazon rainforest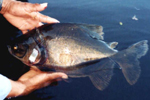 (04/12/2011) A fruit in the flooded Amazon falls from a tree and plops in the water. Before it can even sink to the floor, a 60-pound monster fish with a voracious appetite gobbles it. Nearly a week later—and miles away—the fish expels its waste, including seeds from the fruit eaten long ago and far away. One fortunate seed floats to a particularly suitable spot and germinates. Many years later the new fruit tree is thriving, while the same monster-fish returns from time-to-time, waiting for another meal to drop from the sky. This process is known as seed-dispersal, and while researchers have studied the seed-dispersal capacity of such species as birds, bats, monkeys, and rodents, one type of animal is often overlooked: fish.
Antarctic penguins losing to climate change through 80% krill decline

(04/11/2011) Climate change has hit species of Antarctic penguins by causing a staggering decline in their prey: krill. A new study in the Proceedings of the National Academy of Sciences (PNAS) has found that both chinstrap penguins (Pygoscelis antarcticus) and Adélie penguins (Pygoscelis adeliae) have seen their populations decline likely do to less krill, instead of habitat changes. Since 1970 krill populations have fallen by 80% in the Southern Ocean surrounding Antarctica. Because krill require sea ice to reproduce, shrinking sea ice from climate change has made it more difficult for them to breed.
A new rhino species?

(04/11/2011) Using genetic data and re-assessing physical evidence, scientists write that they have uncovered a new species of rhino, long considered by biologists as merely a subspecies. Researchers write in an open access PLoS ONE paper published last year that evidence has shown the northern white rhino is in fact a distinct species from the more commonly known—and far more common—southern white rhino. If the scientific community accepts the paper's argument it could impact northern white rhino conservation, as the species would overnight become the world's most endangered rhino species with likely less than ten surviving.
Cambodian prime minister cancels titanium mine project citing impact on biodiversity and local people

(04/11/2011) In a surprise move, the Cambodian Prime Minister, Sandech Hun Sen, has cancelled a titanium strip mine project in one of Southeast Asia's last great intact forest ecosystems, the Cardamom Mountains. According to a press release sent out by the Cambodian government the mine was canceled due to "concerns of the impact on the environment, biodiversity and local livelihoods" of villagers. The mine, which was planned to sit directly in the migration route for the largest population of Asian elephants in Cambodia, had been largely opposed by locals in the region who spent years developing eco-tourism in the region.
Conversion of Brazil's cerrado slows

(04/08/2011) Destruction of Brazil's cerrado, a woody savanna that covers 20 percent of the country, slowed during the 2008-2009, reports Brazil's Ministry of Environment.
Greenpeace says McKinsey's REDD+ work could encourage deforestation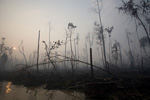 (04/07/2011) One of the world's top consultancies, McKinsey & Co., is providing advice to governments developing 'Reducing Emissions from Deforestation and Degradation' (REDD+) programs that could increase risks to tropical forests, claims a new report published by Greenpeace. The report, Bad Influence – how McKinsey-inspired plans lead to rainforest destruction, says that McKinsey's REDD+ cost curve and baseline scenarios are being used to justify expansion of industrial capacity in Indonesia, Papua New Guinea, Democratic Republic of Congo, and Guyana.
New method to measure threat of extinction could help conservationists prioritize

(04/07/2011) Researchers have developed a new method to predict how close species are to extinction. Dubbed SAFE (Species Ability to Forestall Extinction) the researchers believe the new tool, published in the Frontiers in Ecology and Environment, should help conservationists select which species to focus on saving and which, perhaps controversially, should be let go.
More biodiversity equals cleaner water, but why?

(04/07/2011) A new landmark study not only proves that adding more species to a freshwater stream linearly increases the ecosystem's ability to clean pollutants, but also shows why. The study, published in Nature found that by increasing the biodiversity of a lab controlled mini-stream from one algae species to eight caused the ecosystem to soak up nitrate pollution 4.5 times faster on average. To conduct the experiment, researchers used plastic to create 150 mini model streams. Molding the plastic, they recreated real stream-like habitats such as pools, runs, and eddies. Different species of algae gravitated toward particular mini-habitats, creating special ecological niches and allowing more of the stream to be utilized by the algae for soaking up the nitrate pollution. Less utilization of the available habitats resulted in a dirtier river and vice-versa.
Indigenous group claims Ecuadorian government complicit in 'genocide'

(04/06/2011) Ecuador's paramount indigenous organization has filed a legal complaint against the government, including President Rafael Correa, for allegedly participating in 'genocide' against indigenous people in the Amazon. The Confederation of Indigenous Nationalities of Ecuador (CONAIE) is arguing that expanding oil exploration and mining is imperiling the lives of uncontacted tribes that have chosen voluntary isolation known as the Tagaeri and the Tarmenane, reports the AFP.
The value of the little guy, an interview with Tyler Prize-winning entomologist May Berenbaum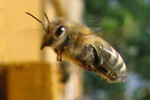 (04/06/2011) May Berenbaum knows a thing or two about insects: in recognition of her lifelong work on the interactions between insects and plants, she has had a character on The X-Files named after her, received the Public Understanding of Science and Technology Award for her work in making science accessible to the public, and this year has been awarded the prestigious Tyler Environmental Prize. "Winning the Tyler Prize is an incredible honor—most of my scientific heroes have been Tyler Prize winners and I'm exceedingly grateful to be considered worthy of being included among their ranks," Berenbaum told mongabay.com in an interview. "The Prize is also tremendously enabling—because the money is unrestricted I can use it to carry out projects that have been difficult to fund."
Japan disaster to put logging pressure on rainforests in Indonesia, Malaysia

(04/05/2011) The tragic earthquake and tsunami that hit Japan last month is likely to boost wood imports into the recovering nation, adding increased pressure on the already imperiled rainforests of Southeast Asia. Even before the disaster, Japan was the world's number one importer of wood chips and plywood and the second largest importer of logs. Japan usually imports plywood from China, Malaysia, and Indonesia, however the forests of Southeast Asia are facing tremendous loss due to logging and clearing for industrial-scale agriculture, such as palm oil.
Vanishing mangroves are carbon sequestration powerhouses

(04/05/2011) Mangroves may be the world's most carbon rich forests, according to a new study in Nature Geoscience. Measuring the carbon stored in 25 mangrove forests in the Indo-Pacific region, researchers found that mangroves forests stored up to four times as much carbon as other tropical forests, including rainforests. "Mangroves have long been known as extremely productive ecosystems that cycle carbon quickly, but until now there had been no estimate of how much carbon resides in these systems. That's essential information because when land-use change occurs, much of that standing carbon stock can be released to the atmosphere," explains co-author Daniel Donato, a postdoctoral research ecologist at the Pacific Southwest Research Station in Hilo, Hawaii.
Iconic cheetah, Chewbaaka, dies

(04/05/2011) The symbol of the Cheetah Conservation Fund (CCF), a male cheetah named Chewbaaka has passed away. At the age of 16, Chewbaaka outlived most cheetahs in the wild, but was killed from wounds suffered after a rabid kudu leapt into his enclosure.
World Bank proposes to limit funding to coal plants

(04/05/2011) Following years of criticism from environmentalists and some governments the World Bank has proposed new rules regarding carbon-intensive coal plants, reports the Guardian. The new rules would allow lending for coal-fired plants only to the world's poorest nations and would only lend after other alternatives, such as renewable energy, had been ruled out.
The saola: rushing to save the most 'spectacular zoological discovery' of the 20th Century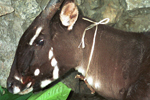 (04/04/2011) The saola (Pseudoryx nghetinhensis) may be the most enigmatic, beautiful, and endangered big mammal in the world—that no one has ever heard of. The shy ungulate looks like an African antelope—perhaps inhabiting the wide deserts of the Sahara—but instead it lives in the dense jungles of Vietnam and Laos, and is more related to wild cattle than Africa's antelopes. The saola is so unusual that is has been given its own genus: Pseudoryx, due to its superficial similarities to Africa's oryx. In the company of humans this quiet forest dweller acts calm and tame, but has yet to survive captivity long. Yet strangest of all, the 200 pound (90 kilogram) animal remained wholly unknown to science until 1992.





World Bank to resume lending to palm oil sector after 18-month moratorium

(04/03/2011) After a two-year moratorium triggered by complaints over social conflict between local communities and palm oil companies, the World Bank has announced the adoption of a framework to restart lending to the palm oil sector. The framework was developed after months of consultations with stakeholders, including the private sector, NGOs, farmers, indigenous communities, development experts, and governments.





Bats worth billions

(04/03/2011) US agriculture stands to lose billions in free ecosystem services from the often-feared and rarely respected humble bat. According to a recent study in Science bats in North America provide the US agricultural industry at least $3.7 billion and up to a staggering $53 billion a year by eating mounds of potentially pesky insects. Yet these bats, and their economic services, are under threat by a perplexing disease known as white-nose syndrome (WNS) and to a lesser extent wind turbines.








Page 1 | Page 2 | Page 3 | Page 4 | Page 5 | Page 6 | Page 7 | Page 8 | Page 9 | Page 10 | Page 11 | Page 12 | Page 13 | Page 14 | Page 15 | Page 16 | Page 17 | Page 18 | Page 19 | Page 20 | Page 21 | Page 22 | Page 23 | Page 24 | Page 25 | Page 26 | Page 27 | Page 28 | Page 29 | Page 30 | Page 31 | Page 32 | Page 33 | Page 34 | Page 35 | Page 36 | Page 37 | Page 38 | Page 39 | Page 40 | Page 41 | Page 42 | Page 43 | Page 44 | Page 45 | Page 46 | Page 47 | Page 48 | Page 49 | Page 50 | Page 51 | Page 52 | Page 53 | Page 54 | Page 55 | Page 56 | Page 57 | Page 58 | Page 59 | Page 60 | Page 61 | Page 62 | Page 63 | Page 64 | Page 65 | Page 66 | Page 67 | Page 68 | Page 69 | Page 70 | Page 71 | Page 72 | Page 73 | Page 74 | Page 75 | Page 76 | Page 77 | Page 78 | Page 79 | Page 80 | Page 81 | Page 82 | Page 83 | Page 84 | Page 85 | Page 86 | Page 87 | Page 88 | Page 89 | Page 90 | Page 91 | Page 92 | Page 93 | Page 94 | Page 95 | Page 96 | Page 97 | Page 98 | Page 99 | Page 100 | Page 101 | Page 102 | Page 103 | Page 104 | Page 105 | Page 106 | Page 107 | Page 108 | Page 109 | Page 110 | Page 111 | Page 112 | Page 113 | Page 114 | Page 115 | Page 116 | Page 117 | Page 118 | Page 119 | Page 120 | Page 121 | Page 122 | Page 123 | Page 124 | Page 125 | Page 126 | Page 127 | Page 128 | Page 129 | Page 130 | Page 131 | Page 132 | Page 133 | Page 134 | Page 135 | Page 136 | Page 137 | Page 138 | Page 139 | Page 140 | Page 141 | Page 142 | Page 143 | Page 144 | Page 145 | Page 146 | Page 147 | Page 148 | Page 149 | Page 150 | Page 151 | Page 152 | Page 153 | Page 154 | Page 155 | Page 156 | Page 157 | Page 158 | Page 159 | Page 160 | Page 161 | Page 162 | Page 163 | Page 164 | Page 165 | Page 166 | Page 167 | Page 168 | Page 169 | Page 170 | Page 171 | Page 172 | Page 173 | Page 174 | Page 175 | Page 176 | Page 177 | Page 178 | Page 179 | Page 180 | Page 181 | Page 182 | Page 183 | Page 184 | Page 185 | Page 186 | Page 187 | Page 188 | Page 189 | Page 190 | Page 191 | Page 192 | Page 193 | Page 194 | Page 195 | Page 196 | Page 197 | Page 198 | Page 199 | Page 200 | Page 201 | Page 202 | Page 203 | Page 204 | Page 205 | Page 206 | Page 207 | Page 208 | Page 209 | Page 210