News articles on green

---
Mongabay.com news articles on green in blog format. Updated regularly.





Cameroon gets gorilla park

(02/18/2009) Cameroon has created a new national park to protect a population of 600 gorillas, along with other threatened species such as chimpanzees, forest elephants, buffaloes, and bongo.


Illegal timber trade to face tough penalties in the E.U.


(02/18/2009) Companies dealing in illegal timber may soon face stiff penalties under a proposed E.U. regulation. The European Parliament voted Monday to impose penalties on companies who use or trade illegally sourced timber. National authorities will have the power to impound timber of illegal origin, fine companies, and even shut down particularly egregious violators. Penalties will be "at least five times the value of the timber products" under the proposal, which will be voted on in April at Parliament's plenary session and then later by EU agriculture ministers.


Deforestation jumps 55% in Vietnam province

(02/18/2009) Deforestation increased 55 percent during the past year in Vietnam's Dak Nong province, reports the Vietnam News Agency.


FARC killing Rainforest Indians in Colombia

(02/18/2009) Several members of the Awa indigenous community have been killed by Revolutionary Armed Forces of Colombia (FARC) guerrillas in Nariño, a state bordering Ecuador, reports Human Rights Watch.


Climate change doubles coastal erosion in Alaska over 5-year period

(02/18/2009) Coastal erosion along a 64-kilometer (40-mile) stretch of Alaska's Beaufort Sea doubled between 2002 and 2007, report researchers, who link the development to "declining sea ice extent, increasing summertime sea-surface temperature, rising sea level, and increases in storm power and corresponding wave action."


Universal phone charger to cut e-waste

(02/18/2009) Mobile phone manufacturers will introduce a universal charger for handsets by 2012, reports CNN.


Climate change to have a big impact on marine fisheries

(02/18/2009) Climate change will have a big impact on marine fisheries, report scientists writing in the journal Fish and Fisheries.


Little-known flatback sea turtle receives extra attention at symposium in Australia


(02/17/2009) Beginning today in Brisbane, Australia, the 29th annual Symposium on Sea Turtle Biology and Conservation will feature the flatback sea turtle, native to Australia and probably the least-studied of the marine turtle species. For a hundred years biologists debated as to how closely the flatback marine turtle was related to the green sea turtle. Several unique attributes of the flatback came to the forefront. The name 'flatback' describes the turtle's distinct flattened carapace. The species also lays the largest eggs of any sea turtles, proportional to their size. However, perhaps most distinctly the flatback is the only marine turtle to call one nation home. The flatback forages, mates, and lays eggs along Australia's coats; its penchant for swimming, rather than riding oceanic currents, keeps it from migrating across oceans as other turtle do.


Photos: 13,000 species found in Arctic, Antarctic Oceans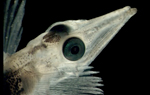 (02/16/2009) A marine census has documented more than 13,000 species in the Arctic and Antarctic Oceans, including several hundred that may be new to science. Conducted over a two-year period under often perilous conditions — including monster waves and dangerous polar bears — the series of 18 surveys turned up a wealth of information on the diversity, distribution and abundance of marine life. The research will also help establish a baseline for measure changes in polar ecosystems.


Burning rainforests, melting tundra could accelerate global warming well beyond current projections


(02/16/2009) Projections by the Intergovernmental Panel on Climate Change (IPCC) likely underestimate the scale and rapidity of climate change, warned a Stanford University scientist presenting Saturday at the annual meeting of the American Association for the Advancement of Science (AAAS) in Chicago.


Beef consumption fuels rainforest destruction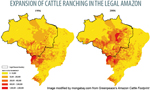 (02/16/2009) Nearly 80 percent of deforestation in the Brazilian Amazon results from cattle ranching, according to a new report by Greenpeace. The finding confirms what Amazon researchers have long known – that Brazil's rise to become the world's largest exporter of beef has come at the expense of Earth's biggest rainforest. More than 38,600 square miles has been cleared for pasture since 1996, bringing the total area occupied by cattle ranches in the Brazilian Amazon to 214,000 square miles, an area larger than France. The legal Amazon, an region consisting of rainforests and a biologically-rich grassland known as cerrado, is now home to more than 80 million head of cattle. For comparison, the entire U.S. herd was 96 million in 2008.


Pricing emissions from farming, logging could shift land use towards conservation

(02/15/2009) Putting a price tag on carbon dioxide emissions resulting from various land use practices could dramatically change the way that land is used, including reducing deforestation and limiting agricultural expansion on carbon-rich lands, said a researcher presenting at the annual meeting of the American Association for the Advancement of Science.


Mass media 'screwing up' global warming reporting says renowned climatologist

(02/15/2009) Stanford scientist and climate-specialist Stephen Schneider has called out media organizations for the quality of their reporting on climate change and other scientific issues. "Business managers of media organizations," he said, "you are screwing up your responsibility by firing science and environment reporters who are frankly the only ones competent to do this."


80% of agricultural expansion since 1980 came at expense of forests


(02/15/2009) More than half of cropland expansion between 1980 and 2000 occurred at the expense of natural forests, while another 30 percent of occurred in disturbed forests, reported a Stanford University researcher presenting Saturday at the annual meeting of the American Association for the Advancement of Science (AAAS) in Chicago.


Japanese paper firms contribute to destruction of old-growth forests in Tasmania

(02/15/2009) A new report released by Australian conservation groups The Wilderness Society and Still Wild, Still Threatened shows that despite claims to the contrary, Japanese paper manufacturers are the purchasers of wood chips derived from the destruction of Tasmania's old growth forests.


Indonesia may allow conversion of peatlands for palm oil

(02/15/2009) The Indonesian government will allow developers to convert millions of hectares of land for oil palm plantations, reports The Jakarta Post. The decision threatens to undermine Indonesia's efforts to reduce greenhouse gas emissions from land use and fashion itself as a leader on the environment among tropical countries.


Fishermen - not whales as claimed by Japan - are the cause of fisheries depletion


(02/12/2009) Fishermen calling for a resumption of whaling to restore commercial fish stocks are taking the wrong approach, argue researchers writing in the journal Science. Analyzing data on fish catch and whale abundance off the coast of northwestern Africa and the Caribbean, Leah R. Gerber and colleagues show that fishermen remove far more fish than whales consume, undermining the agreement by whaling nations that whales are driving depletion of fisheries.


Fit with tiny backpacks, songbirds reveal speed of migration at 311 miles a day


(02/12/2009) Using extra tiny geo-locator backpacks, researchers have tracked songbirds' seasonal migrations for the first time, according to research published in Science . The researchers discovered that these beloved birds fly faster and further than anyone ever imagined. The data taken from the geo-locators surprised everyone. Stutchbury and her team discovered that during their migrations between Pennsylvania and South America songbirds flew more than 311 miles a day, three times higher than previous estimates.


Carbon market surges 84% in 2008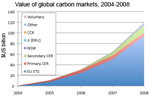 (02/12/2009) The value of the global carbon market surged 84 percent to $118 billion in 2008 despite the worldwide financial crisis, reports New Carbon Finance. Data from the market research firm shows that transaction volume for carbon dioxide emissions allowances reached four billion tons for the year, an increase of 42 percent over 2007.


Obama blocks offshore oil drilling for now

(02/11/2009) The Obama administration has shelved a plan by the Bush Administration to open U.S. coastal waters to oil and gas drilling. The proposal, put forth on the last business day of the Bush Administration, had been vehemently opposed by environmental groups.


Indonesian ecolabeling initiative providing cover for rainforest destruction

(02/10/2009) The Indonesian Ecolabel Institute is facilitating rainforest destruction by issuing "sustainable forest management certificates" to companies that convert natural and peatlands into industrial timber estates, allege national environmental groups.


408 mammal species discovered since 1993

(02/09/2009) The discovery of 408 species of mammals — the planet's best-known group of animals 𔃐 since 1993 demonstrates our poor understanding of global biodiversity, argue scientists writing in Proceedings of the National Academy of Sciences.


Boy Scouts of America have logged 34,000 acres of forest in 20 years

(02/06/2009) A nationwide review of the Boy Scouts of America by Hearst newspapers has shown that one-third of Boy Scouts' councils have been involved in logging to raise funds for the beleaguered organization.


Tropical forest tree is source of new mosquito repellent as effective as DEET

(02/05/2009) Isolongifolenone, a natural compound found in the Tauroniro tree (Humiria balsamifera) of South America, has been identified as an effective deterrent of mosquitoes and ticks, report researchers writing in the latest issue of Journal of Medical Entomology.


Gravitational effects may boost sea level rise by 25% along U.S. coast

(02/05/2009) The melting of the West Antarctic Ice Sheet could cause sea level to rise more than previously predicted for some regions, including the U.S. coastline, report researchers writing in the journal Science.


Frogs can be used to predict biodiversity hotspots

(02/05/2009) Tree frogs may help scientists inexpensively predict biodiversity hotspots for conservation, report researchers writing in the journal Science.


Indigenous rights' groups to oppose effort to certify 'sustainable' aquaculture

(02/05/2009) A coalition of indigenous rights' groups and grassroots environmental organizations will oppose the World Wildlife Fund's move to improve environmental stewardship of the aquaculture industry through a certification system.


New York zoos, aquariums saved from funding cut

(02/05/2009) The New York State Legislature has rejected Governor David Paterson's proposal to cut funding for state zoos by 55 percent for 2009 after public uproar.


Global warming to strengthen Arctic storms

(02/05/2009) Arctic storms could worsen due to climate change, putting fisheries, oil and gas exploration, and sea lanes at risk, warn researchers writing in the journal Climate Dynamics.


Brazil to boost spending on infrastructure to counter economic crisis

(02/05/2009) Brazil will increase spending on infrastructure projects by 28 percent to in response to the global financial crisis, reports Bloomberg.


Sustainable farming is the only way to feed the planet going forward


(02/05/2009) Embracing more sustainable farming methods is the only way for the world's farmers to grow enough food to meet the demands of a growing population and respond to climate change, the top crop expert with the United Nations Food and Agriculture Organization (FAO) said today.


Google Earth now allows ocean exploration, tracking of sharks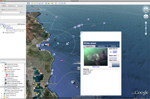 (02/05/2009) Google Earth now allows users to dive beneath the surface of the world's oceans to see coral reefs, trenches, and other marine wonders. The new version, Google Earth 5, includes layers showing locations of shipwrecks and surf spots; routes for ocean expeditions; the movements of GPS-tracked sea animals; and information (including videos and images) about the ocean environment from sources including National Geographic, the Cousteau Society, the International Union for Conservation of Nature (IUCN), the Monterey Bay Aquarium, and the National Oceanic and Atmospheric Administration (NOAA).


12 new species of frogs discovered in India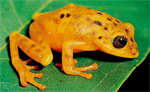 (02/03/2009) A dozen previously unknown species of frogs have been discovered in the forests of Western Ghats according to a paper published in latest issue of Zoological Journal of Linnean Society, London. The 12 species have been identified following a revision of the Philautus genus and are the result of ten years of field study in Kerala, Tamil Nadu, Karnataka. Goa, Maharashtra, and part of Gujarat, in the Western Ghats. The Western Ghats are considered a global biodiversity hotspot for their species richness and the threats the mountain range faces.


Amazon scientists awarded 'Nobel Prize' of conservation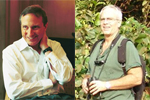 (02/01/2009) Thomas Lovejoy of the H. John Heinz III Center for Science, Economics and the Environment and William F. Laurance of the Smithsonian Tropical Research Institute (STRI) have been awarded one of ecology's most coveted prizes for their work to understand and conserve the Amazon rainforest. The €400,000 BBVA Foundation Frontiers of Knowledge Award in Ecology and Conservation Biology is given annually to "honor contributions which significantly advance the stock of knowledge in this area for reasons of their importance and originality."


Wind energy jobs now exceed coal mining jobs

(02/01/2009) Wind industry jobs now outnumber those in coal mining, reports CNNMoney.


Giant population of lions could live war-torn region


(01/30/2009) The war-torn frontier between Uganda and the Democratic Republic of the Congo has prey to support more than 900 lions, but conservationists must act soon to protect the big cats from poaching and poisoning by livestock herders, report researchers writing in the journal Oryx. The study, which was conducted by Adrian Treves of the University of Wisconsin-Madison and colleagues from Wildlife Conservation Society and the Panthera Foundation, relied on aerial surveys of lion prey — buffalo, warthog, waterbuck and other ungulates — which were then used to estimate the region's potential lion population.


Glaciers decline in ice mass for 18th straight year

(01/30/2009) Glaciers worldwide lost ice mass for the 18th consecutive year due to warming temperatures and reduce snowfall, reports the University of Zurich's World Glacier Monitoring Service. Alpine glaciers lost on average 1.3 meters of thickness in 2006 and 0.7 meters in 2007, extending an 11.3-meter (36-foot) retreat since 1980.


California faces severe drought

(01/30/2009) California appears to be on track for its worst drought since the early 1990s, warned the state's Department of Water Resources (DWR) following its survey of snowpack and other water resources.


Gore pushes for avoided deforestation to save rainforests during testimony

(01/29/2009) In testimony before the Senate Foreign Relations Committee on Wednesday, former Vice President Al Gore urged lawmakers to move swiftly on a cap-and-trade climate bill as well as the economic stimulus package. Among many recommendations, Gore repeatedly emphasized the importance of forest conservation in fighting climate change, mentioning "deforestation" more than a dozen times.


Beef drives 80% of Amazon deforestation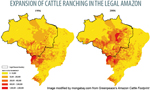 (01/29/2009) Nearly 80 percent of land deforested in the Amazon from 1996-2006 is now used for cattle pasture, according to new maps released today in a report by Greenpeace at the World Social Forum in Belem, Brazil. The report, Amazon Cattle Footprint: Mato Grosso: State of Destruction, confirms that cattle ranching is the primary driver of deforestation in Earth's largest rainforest: the Brazilian Amazon.


Iron fertilization of oceans may be ineffective in fighting global warming

(01/29/2009) Schemes to promote increased carbon uptake by plankton via iron fertilization of oceans will be less effective than previously believed, report researchers writing in the journal Nature.


Iceland raises whale killing quota to 150 fin whales, 100 minkes per year

(01/28/2009) The outgoing administration in Iceland has substantially raised the country's whaling quota, reports the BBC.


Biochar and reforestation may offer better global cooling potential than ocean fertilization

(01/28/2009) The first comprehensive assessment of the climate cooling potential of different geoengineering schemes has been conducted by researchers at the University of East Anglia (UEA). The results are published in the journal Atmospheric Chemistry and Physics Discussions


Many global warming impacts may be irreversible in next 1000 years

(01/27/2009) Even if greenhouse gas emissions were to cease today, many of the forecast impacts of climate change are already irreversible for at least the next 1000 years, report researchers writing in the journal Proceedings of the National Academy of Sciences.


Mountain gorilla population in DR Congo increases 12.5%

(01/27/2009) The population of critically endangered mountain gorillas in Democratic Republic of Congo's Virunga National Park increased 12.5 percent in the past 16 months according to a census conducted by the Congolese Wildlife Authority (ICCN). 81 gorillas now live permanently in the park, up from 72 in August 2007.


Global warming may doom emperor penguins to extinction

(01/27/2009) Disappearing sea ice around Antarctica may put emperor penguins at risk of extinction within the next century, warn scientists writing in this week's Proceedings of the National Academy of Sciences.


ADM takes step towards more sustainable soy production in the Amazon

(01/27/2009) Agricultural giant Archer Daniels Midland Co. (ADM) has partnered with Brazilian nonprofit Aliança Da Terra to promote better environmental stewardship among soybean producers operating in the Amazon, reports the Chicago Tribune.


New global temperature record expected in the next 1-2 years

(01/27/2009) 2008 was the coolest year since 2000 but still ranks in the top ten warmest years since record-keeping began in 1880, reported NASA last week.


Americans building fewer McMansions

(01/27/2009) New home size is shrinking in the U.S., reports the Wall Street Journal.


How to make forest fragments more hospitable to wildlife

(01/27/2009) While deforestation garners more attention from environmentalists, fragmentation of forest habitats is of significant concern to ecologists. As forest is fragmented into islands by logging, roads, agriculture, and other disturbances, edge effects alter the structure, microclimate and species composition of the forest patches, usually reducing the overall number of species. Forest specialists are most likely to suffer, losing out to "weedier" generalists and species that can tolerate forest "edge" conditions. A new study, conducted in the Brazilian Amazon, takes a detailed look at the types of birds that are likely to persist, and even thrive, in forest fragments.



Page 1 | Page 2 | Page 3 | Page 4 | Page 5 | Page 6 | Page 7 | Page 8 | Page 9 | Page 10 | Page 11 | Page 12 | Page 13 | Page 14 | Page 15 | Page 16 | Page 17 | Page 18 | Page 19 | Page 20 | Page 21 | Page 22 | Page 23 | Page 24 | Page 25 | Page 26 | Page 27 | Page 28 | Page 29 | Page 30 | Page 31 | Page 32 | Page 33 | Page 34 | Page 35 | Page 36 | Page 37 | Page 38 | Page 39 | Page 40 | Page 41 | Page 42 | Page 43 | Page 44 | Page 45 | Page 46 | Page 47 | Page 48 | Page 49 | Page 50 | Page 51 | Page 52 | Page 53 | Page 54 | Page 55 | Page 56 | Page 57 | Page 58 | Page 59 | Page 60 | Page 61 | Page 62 | Page 63 | Page 64 | Page 65 | Page 66 | Page 67 | Page 68 | Page 69 | Page 70 | Page 71 | Page 72 | Page 73 | Page 74 | Page 75 | Page 76 | Page 77 | Page 78 | Page 79 | Page 80 | Page 81 | Page 82 | Page 83 | Page 84 | Page 85 | Page 86 | Page 87 | Page 88 | Page 89 | Page 90 | Page 91 | Page 92 | Page 93 | Page 94 | Page 95 | Page 96 | Page 97 | Page 98 | Page 99 | Page 100 | Page 101 | Page 102 | Page 103 | Page 104 | Page 105 | Page 106 | Page 107 | Page 108 | Page 109 | Page 110 | Page 111 | Page 112 | Page 113 | Page 114 | Page 115 | Page 116 | Page 117 | Page 118 | Page 119 | Page 120 | Page 121 | Page 122 | Page 123 | Page 124 | Page 125 | Page 126 | Page 127 | Page 128 | Page 129 | Page 130 | Page 131 | Page 132 | Page 133 | Page 134 | Page 135 | Page 136 | Page 137 | Page 138 | Page 139 | Page 140 | Page 141 | Page 142 | Page 143 | Page 144 | Page 145 | Page 146 | Page 147 | Page 148 | Page 149 | Page 150 | Page 151 | Page 152 | Page 153 | Page 154 | Page 155 | Page 156 | Page 157 | Page 158 | Page 159 | Page 160 | Page 161 | Page 162 | Page 163 | Page 164 | Page 165 | Page 166