News articles on green

---
Mongabay.com news articles on green in blog format. Updated regularly.






Picture of the day: Meandering river in the Amazon

(09/18/2011) Rivers in lowland Amazonia tend to meander due to the flatness of the basin. For example, the Amazon itself falls only 345 feet (105 m) from the Peruvian river port of Iquitos, a full 2,300 miles from the ocean. Thus the river descends at a rate of only 1.8 inches per mile (2.8 cm/km).
Measuring Livelihoods and Environmental Dependence: Methods for Research and Fieldwork - Book Review

(09/18/2011) eveloping a systematic approach applicable globally to measuring the environmental impacts associated with rural economic development in the developing world, as measured through landscape-level carbon accounting, is critically important as these communities begin to implement land-based carbon projects. To be able to successfully compare carbon sequestration activities between communities, we need to develop quantitatively robust methodologies to measure rural livelihoods' environmental impacts. With these methodologies in place it is possible to begin to measure financial effectiveness and equitable distribution of revenue associated with these land-based carbon projects.
Biodiversity and Social Carbon: Sustainable Development and the Carbon Market - Book Review

(09/18/2011) Our 21st century economy faces to twin challenges - biodiversity loss and climate change - and in Biodiversity and Social Carbon, authors Divaldo Rezende and Stefano Merlin, describe the Social Carbon methodology and its approach to protecting and enhancing biodiversity while mitigating climate change. Moreover, the authors also provide numerous case studies on how the Social Carbon methodology functions.
The Vietnam War's ongoing effect on conservation

(09/16/2011) In the Phong Dien Nature Reserve in central Vietnam, an unlikely resource is hindering formal conservation efforts. Deep in the forest, villagers scavenge for scrap metal left during the Vietnam War. Unprecedented research from the Center for International Forestry Research (CIFOR) and the Institute of Tropical Forest Conservation (ITFC) finds scrap metal gathering is a primary driver in forest degradation and trade in non-timber forest products in Vietnam.
Photo of the day: Turquoise waters along the California coast

(09/15/2011) A new study, commissioned by the California Department of Boating and Waterways and conducted by San Francisco State University (SFSU), finds that rising sea levels could take a substantial toll on one of California's biggest attractions: its beaches.
Tropical Ecology: A Book Review

(09/15/2011) Dr. Kricher's full-color textbook is a great introductory textbook for tropical ecology courses. With increased interest globally in forest carbon and the underlying tropical forest ecological fundamentals that forest carbon offsets are manufactured from allowing climate change mitigation, this book provides a one-stop tropical forest ecology resource for those who work in the forest carbon field in the tropics. Key topics addressed, through a pan-tropical lens, include evolution, tropical rain forest structure and biodiversity, carbon flux and climate change, forest fragmentation, nutrient cycling, species richness, and flora and fauna relationships.
Old-growth forests are irreplaceable for sustaining biodiversity
(09/14/2011) Old growth rainforests should be a top conservation priority when it comes to protecting wildlife, reports a new comprehensive assessment published in the journal Nature. The research examined 138 scientific studies across 28 tropical countries. It found consistently that biodiversity level were substantially lower in disturbed forests.
Sea turtle deaths in U.S. waters reduced 90%, but shrimp trawling accounts for 98% of kill

(09/14/2011) The number of sea turtles accidentally caught and killed in United States coastal waters has declined by an estimated 90 percent since 1990, reports a new study published in the journal Biological Conservation. The authors, including researchers at Duke University and Duke University, say regulations to reduce bycatch are responsible for the decline.
Famine in Africa: Can Reforestation Improve Food Security?

(09/14/2011) Millions of people across the Horn of Africa are suffering under a crippling regional drought and tens of thousands have died during the accompanying famine. Refuge camps in Somalia, Kenya, and Ethiopia are swelling with the hungry.
Logged rainforests are a cheap conservation option
(09/14/2011) With old-growth forests fast diminishing and land prices surging across Southeast Asia due to rising returns from timber and agricultural commodities, opportunities to save some of the region's rarest species seem to be dwindling. But a new paper, published in the journal Conservation Letters, highlights an often overlooked opportunity for conservation: selectively logged forests.
Palm oil, poverty, and conservation collide in Cameroon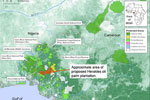 (09/13/2011) Industrial palm oil production is coming to Africa, its ancestral home. And like other places where expansion has occurred rapidly, the crop is spurring hope for economic development while generating controversy over its potential impacts. The world's most productive oil seed has been a boon to southeast Asian economies, but the looming arrival of industrial plantations in Africa is raising fears that some of the same detriments that have plagued leading producers Malaysia and Indonesia—deforestation, greenhouse gas emissions, biodiversity loss, conflicts with local people, social displacement, and poor working conditions—could befall one of the world's most destitute regions. While there is no question that oil palm is a highly lucrative crop that can contribute to economic development, there is also little doubt that conversion of native forests for plantations exacts a heavy toll on the environment. The apparent conflict seems to pit agroindustrial goliaths against greens, with communities falling somewhere in between. But Herakles, a New York-based investment firm planning to construct a 60,000-hectare plantation in the Central African country of Cameroon, says its approach will bridge this gap between economic development and the environment. Social and environmental campaigners are skeptical.
Indonesia to launch REDD+ agency to tackle deforestation

(09/13/2011) Indonesia will establish a REDD+ agency to support the country's efforts to reduce emissions from deforestation and forest degradation, according to a statement released by Indonesian President Susilo Bambang Yudhoyono's office.
Green Jobs? New program to compensate poor for environmental protection

(09/12/2011) Brazilian President Dilma Rousseff has introduced a new program, Bolsa Verde (Green Allowance), to compensate the poor for environmental protection, reports Globo News. Eighteen thousand families living in extreme poverty in the Brazilian Amazon are expected to benefit in the first stage of the program.
Conserving and Valuing Ecosystem Services and Biodiversity: Economic, Institutional and Social Challenges

(09/11/2011) Conserving and Valuing Ecosystem Services and Biodiversity: Economic, Institutional and Social Challenges provides a much needed survey reflecting upon recent institutional experience yielding analysis that concludes that there exists financially rigorous rationale to justify conservation of biodiversity for economic reasons, above and beyond the usual rationale of conservation only for biodiversity, spiritual or ethical reasons.
Featured video: the Caribbean's last mammals

(09/11/2011) Although they are little-known, the hutia and solenodon are some of the last surviving mammals of the Caribbean. A hefty rodent, the hutia spends its time grazing in trees like a giant arboreal hamster. While, the solenodon may be one of the world's oddest creatures: a 'living fossil', the solenodon's evolutionary origins goes back all the way to the time of dinosaurs.
Loving the tapir: pioneering conservation for South America's biggest animal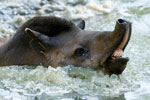 (09/11/2011) Compared to some of South America's megafauna stand-out species—the jaguar, the anaconda, and the harpy eagle come to mind—the tapir doesn't get a lot of love. This is a shame. For one thing, they're the largest terrestrial animal on the South American continent: pound-for-pound they beat both the jaguar and the llama. For another they play a very significant role in their ecosystem: they disperse seeds, modify habitats, and are periodic prey to big predators. For another, modern tapirs are some of the last survivors of a megafauna family that roamed much of the northern hemisphere, including North America, and only declined during the Pleistocene extinction. Finally, for anyone fortunate enough to have witnessed the often-shy tapir in the wild, one knows there is something mystical and ancient about these admittedly strange-looking beasts.
Malaysian court blocks rainforest tribes' fight against mega-dam in Borneo

(09/09/2011) Indigenous tribes in Borneo suffered a stinging defeat Thursday after Sarawak's highest court ruled against them in 12-year-long legal battle. Tribal groups had challenged the Malaysian state government for seizing indigenous lands in order to build a massive hydroelectric power plant, dubbed the Bakun dam, but the three-person top court found unanimously against the tribes.
Another major elephant ivory bust in Malaysia

(09/09/2011) Customs authorities in Malaysia seized two containers full of 695 elephant tusks in the country's largest port, reports TRAFFIC, the wildlife trade monitoring network.
Children on the frontlines: the e-waste epidemic in Africa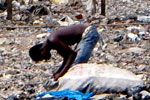 (09/09/2011) In Agbogbloshie, a slum outside the capital city of Accra, Ghana, tons of electronic waste lies smoldering in toxic piles. Children make their way through this dangerous environment, desperate to strip even a few ounces of copper, aluminum, brass, and zinc from worn-out electronics originating from the United States and Europe. "The smell alone will drive all but the most desperate away, but many are so desperate they persevere despite the obvious dangers. It is a very tough thing to witness," explains Dr. Kwei Quartey, a Ghanaian author and physician, in a recent mongabay.com interview.
Sowing the seeds to save the Patagonian Sea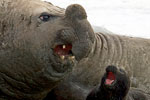 (09/07/2011) With wild waters and shores, the Patagonia Sea is home to a great menagerie of marine animals: from penguins to elephants seals, albatrosses to squid, and sea lions to southern right whales. The sea lies at crossroads between more northern latitudes and the cold bitter water of the Southern Ocean, which surround Antarctica. However the region is also a heavy fishing ground, putting pressure on a number of species and imperiling the very ecosystem that supplies the industry. Conservation efforts, spearheaded by marine conservationist Claudio Campagna and colleagues with the Wildlife Conservation Society (WCS), are in the early stages. Campagna, who often writes about the importance of language in the fight for preservation, has pushed to rename the area to focus on its stunning wildlife.
Peru president signs indigenous rights act into law

(09/07/2011) Peru's new president, Ollanta Humala, has signed into law a measure requiring that indigenous groups are consulted prior to any mining, logging, or oil and gas projects on their land. If properly enforced, the new legislation will give indigenous people free, prior and informed consent (FPIC) over such industrial projects, though the new law does not go so far as to allow local communities a veto over projects. Still, the law puts Peru in line with the Indigenous and Tribal Peoples Convention of 1989, which the South American nation ratified nearly two decades ago.
California moves closer to banning shark fin trade

(09/07/2011) California moved a step closer to banning the sale and trade of shark fin with the passage Tuesday of Senate Bill 376. The bill, which passed 25-9, now goes the governor, whose approval would make the ban law. The bill was introduced to the California State Assembly February this year by Paul Fong (D-Cupertino) and Jared Huffman (D-San Rafael).
Climate test for Obama: 1,252 people arrested over notorious oil pipeline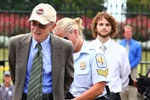 (09/06/2011) Two weeks of climate disobedience at the White House ended over the weekend with 1,252 people arrested in total. Activists were protesting the controversial Keystone XL pipeline in an effort to pressure US President Barack Obama to turn down the project. If built the pipeline would bring oil from Alberta's tar sands through six US states down to Texas refineries. While protestors fear pollution from potential spills, especially in the Ogallala Aquifer which supplies water to millions, the major fight behind the pipeline is climate change: Canada's tar sands emit significantly more carbon than conventional sources of oil.
Germany proves the promise of renewable energy: hits 20 percent renewables

(09/06/2011) As many people in the United States question whether renewable energy is a viable alternative to fossil fuels, Germany now derives 20.8 percent of its electricity from renewable sources—a 15 percent increase since 2000, reports Der Spiegel. In contrast, the United States generates only 10 percent of its electricity from renewable sources, 6 percent of which comes from hydroelectric power, which some environmentalists see as unacceptably damaging.
Picture of the day: where the Andes meets the Amazon rainforest

(09/04/2011) The zone where the Amazon rainforest meets the Andes mountains is the most biodiverse place on Earth. Large amounts of rainfall and altitudinal gradients create a variety of microclimates and niches that are exploited by a wide range of species. The Western Amazon—especially its submontane and montane forests—are also poorly known due to their inaccessibility. Only a few research sites have been studied extensively.
62% of deforested Amazon land ends up as cattle pasture

(09/04/2011) 62 percent of the area deforested in the Brazilian Amazon until 2008 is occupied by cattle pasture, reports a new satellite-based analysis by Brazil's National Institute for Space Research (INPE) and its Agricultural Research Corporation (Embrapa).
Background: the Lacey Act and the Fish & Wildlife Service raid on Gibson Guitars

(09/02/2011) On 24 August 2011, agents of the Fish & Wildlife Service (FWS) raided Gibson Guitar facilities in Nashville and Memphis, Tennessee, seizing ebony and rosewood material, guitars and guitar parts as evidence of suspected violation(s) of the U.S. Lacey Act. The Lacey Act is a long-standing anti-trafficking statute which prohibits commerce of illegally-sourced wildlife, plants and wood products from either the U.S. or other countries.
New plan to restore 150 million hectares of forest

(09/02/2011) Conservationists and politicians meeting in Bonn on Friday launched a new initiative to restore 150 million hectares (580,000 square miles) of deforested and degraded forests, reports the World Resources Institute (WRI), an NGO that is involved in the effort.
EcoCommerce 101: adding an ecological dimension to the economy

(09/02/2011) EcoCommerce 101: Adding an Ecological Dimension to the Economy provides a foundation for an analysis of environmental economics from the perspective of a theorist and a practitioner. The author, a fifth-generation farmer living in the USA with a background in economics, separates his book into three easy-to-read sections.
Mass walrus haul-outs, polar bear cub mortality linked to climate change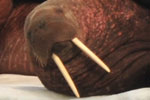 (09/01/2011) Recent, unprecedented walrus haul-outs and increased instances of long-distance swims by polar bears show the direct impacts on wildlife of dwindling Arctic sea ice from climate change. These threatened species also face the prospect of offshore drilling in the Arctic after the Obama Administration recently approved a number of plans to move forward on oil exploration. At least 8,000 walruses hauled out on an Alaskan beach along the Chukchi Sea on August 17. Only a day before, the U.S. Geological Survey announced it would begin tagging walruses near Point Lay, Alaska to study how a lack of sea ice is affecting the species.
Organic farming can be more profitable in the long-term than conventional agriculture

(09/01/2011) Organic farming is more profitable and economically secure than conventional farming even over the long-term, according to a new study in Agronomy Journal. Using experimental farm plots, researchers with the University of Minnesota found that organic beat conventional even if organic price premiums (i.e. customers willing to pay more for organic) were to drop as much as 50 percent.
Controversial study finds intensive farming partnered with strict protected areas is best for biodiversity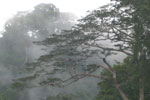 (09/01/2011) Given that we have very likely entered an age of mass extinction—and human population continues to rise (not unrelated)—researchers are scrambling to determine the best methods to save the world's suffering species. In the midst of this debate, a new study in Science, which is bound to have detractors, has found that setting aside land for strict protection coupled with intensive farming is the best way to both preserve species and feed a growing human world. However, other researchers say the study is missing the point, both on global hunger and biodiversity.
World's oldest person discovered in Amazon rainforest

(08/31/2011) Maria Lucimar Pereira is arguably the world's oldest living person: a member of the Kaxinawá tribe, Pereira lives in the Brazilian Amazon and will be soon celebrating her 121st birthday, according to Survival International.
The heroic wolf: are wolves the key to saving the Canada lynx?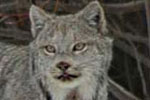 (08/31/2011) In 2000 the Canada lynx (Lynx canadensis) was listed as threatened under the US Endangered Species Act (ESA). While remaining stable in Canada and Alaska, the Canada lynx population had essentially collapsed in much of the continental US, excluding Alaska. Aside from habitat loss, one of the main factors imperiling the medium-sized wild cat was a decline in prey, specifically snowshoe hares (Lepus americanus). Researchers have now come up with an innovative way to aid hungry lynx in the US: wolves.





Picture of the day: rainbow over the Amazon rainforest

(08/31/2011) While environmentalists have long lamented the destruction of the Amazon rainforest, in recent years deforestation has slowed in Brazil, the country that accounts for the bulk of remaining Amazon forest cover. Annual forest loss has fallen substantially since last peaking in 2004 and even with a small increase this year over last year's record low, deforestation in 2011 will be only a fraction of what it was just five years ago.




Page 1 | Page 2 | Page 3 | Page 4 | Page 5 | Page 6 | Page 7 | Page 8 | Page 9 | Page 10 | Page 11 | Page 12 | Page 13 | Page 14 | Page 15 | Page 16 | Page 17 | Page 18 | Page 19 | Page 20 | Page 21 | Page 22 | Page 23 | Page 24 | Page 25 | Page 26 | Page 27 | Page 28 | Page 29 | Page 30 | Page 31 | Page 32 | Page 33 | Page 34 | Page 35 | Page 36 | Page 37 | Page 38 | Page 39 | Page 40 | Page 41 | Page 42 | Page 43 | Page 44 | Page 45 | Page 46 | Page 47 | Page 48 | Page 49 | Page 50 | Page 51 | Page 52 | Page 53 | Page 54 | Page 55 | Page 56 | Page 57 | Page 58 | Page 59 | Page 60 | Page 61 | Page 62 | Page 63 | Page 64 | Page 65 | Page 66 | Page 67 | Page 68 | Page 69 | Page 70 | Page 71 | Page 72 | Page 73 | Page 74 | Page 75 | Page 76 | Page 77 | Page 78 | Page 79 | Page 80 | Page 81 | Page 82 | Page 83 | Page 84 | Page 85 | Page 86 | Page 87 | Page 88 | Page 89 | Page 90 | Page 91 | Page 92 | Page 93 | Page 94 | Page 95 | Page 96 | Page 97 | Page 98 | Page 99 | Page 100 | Page 101 | Page 102 | Page 103 | Page 104 | Page 105 | Page 106 | Page 107 | Page 108 | Page 109 | Page 110 | Page 111 | Page 112 | Page 113 | Page 114 | Page 115 | Page 116 | Page 117 | Page 118 | Page 119 | Page 120 | Page 121 | Page 122 | Page 123 | Page 124 | Page 125 | Page 126 | Page 127 | Page 128 | Page 129 | Page 130 | Page 131 | Page 132 | Page 133 | Page 134 | Page 135 | Page 136 | Page 137 | Page 138 | Page 139 | Page 140 | Page 141 | Page 142 | Page 143 | Page 144 | Page 145 | Page 146 | Page 147 | Page 148 | Page 149 | Page 150 | Page 151 | Page 152 | Page 153 | Page 154 | Page 155 | Page 156 | Page 157 | Page 158 | Page 159 | Page 160 | Page 161 | Page 162 | Page 163 | Page 164 | Page 165 | Page 166 | Page 167 | Page 168 | Page 169 | Page 170 | Page 171 | Page 172 | Page 173 | Page 174 | Page 175 | Page 176 | Page 177 | Page 178 | Page 179 | Page 180 | Page 181 | Page 182 | Page 183 | Page 184 | Page 185 | Page 186 | Page 187 | Page 188 | Page 189 | Page 190 | Page 191 | Page 192 | Page 193 | Page 194 | Page 195 | Page 196 | Page 197 | Page 198 | Page 199 | Page 200 | Page 201 | Page 202 | Page 203 | Page 204 | Page 205 | Page 206 | Page 207 | Page 208 | Page 209 | Page 210