News articles on green

---
Mongabay.com news articles on green in blog format. Updated regularly.





Barbie, Legos, other toys linked to destruction of Indonesia's rainforests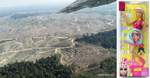 (06/07/2011) Some of the world's largest and most prominent toy-makers are sourcing their packaging materials from companies linked to large-scale destruction of Indonesia's rainforests, alleges a new report from Greenpeace. The report, How APP is Toying with Extinction, is based on forensic analysis of toy packaging from Mattel, which manufacturers Barbie and Hot Wheels toys; Disney, which makes a variety of toys linked to its movies; Hasbro, which produces GI Joe, Star Wars, and Sesame Street toys and various games like Monopoly and Scrabble; and Lego, which makes the iconic plastic building blocks. The analysis found traces of mixed-tropical hardwood (MTH) and acacia fiber which are principally sourced from Asia Pulp & Paper (APP), an umbrella paper products brand that sources from several companies that have been linked to rainforest destruction in Sumatra.


Do kids learn anything at zoos?

(06/07/2011) A new study shows that zoos aren't just a fun place for kids to visit; they are also a teaching opportunity. Interviewing more than 3,000 children between 7 and 14, the largest study of its kind found that just over half of the kids (53 percent) showed improvement in at least one of three areas: conservation-related knowledge, concern for endangered species, or desire to participate in conservation efforts.


Climate scientists in Australia suffer death threats

(06/07/2011) It's not easy to be a climate scientist. First, the media often misconstrues what you say; then some politicians accuse you of lying, manipulating research, and being complicit in a vast conspiracy; and, finally, if you're in Australia, you're threatened with death. According to The Canberra Times over 30 climate scientists and economists have been forced to take security measures after being threatened with violence, sexual assault, and death. In some cases, the families of researchers were also included in threats.


90% of tropical forests managed poorly or not at all

(06/07/2011) More than 90 percent of tropical forests are managed poorly or not at all, says a new assessment by the International Tropical Timber Organization (ITTO).


Congo meeting fails to make forest commitment

(06/06/2011) Delegates from tropical forest countries meeting in Republic of Congo failed to come up with a formal commitment to protect rainforests, reports Nature News.


How do we save the Sumatran rhino?



(06/06/2011) Some conservation challenges are more daunting than others. For example, how do you save a species that has been whittled down to just a couple hundred individuals; still faces threats such as deforestation, poaching and trapping; is notoriously difficult to breed in captivity; and is losing precious time because surviving animals are so few and far-apart that simply finding one another—let alone mating and successfully bringing a baby into the world—is unlikely? This is the uphill task that faces conservationists scrambling to save the Sumatran rhino (Dicerorhinus sumatrensis). A new paper in Oryx, aptly named Now or never: what will it take to save the Sumatran rhinoceros Dicerorhinus sumatrensis from extinction? analyzes the conservation challenge, while putting forth a number of recommendations.


Picture: Fluorescent lizardfish, glowing reefs in Fiji

(06/06/2011) The Wildlife Conservation Society (WCS) and other partners are currently exploring a remote coral reef off Fiji's Totoya Island.


Ecosystem Goods and Services from Plantation Forests

(06/06/2011) Given that plantations cover 140 million hectares, or 4% of the global forested area, and are a growing source of round wood and pulp, Ecosystem Goods and Services from Plantation Forests is very well timed edited value that can add value to the discussion and implementation of sustainable forest management within a carbon constrained and biodiversity depleted global economic system.


Arctic on the line: oil industry versus Greenpeace at the top of the world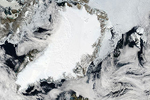 (06/06/2011) At the top of the world sits a lone region of shifting sea ice, bare islands, and strange creatures. For most of human history the Arctic remained inaccessible to all but the hardiest of peoples, keeping it relatively pristine and untouched. But today, the Arctic is arguably changing faster than anywhere else on Earth due to global climate change. Greenhouse gases from society have heated up parts of the Arctic over the past half-century by 4-5 degrees Fahrenheit, leading to a staggering decline in the Arctic sea ice. The large-scale changes suffered by the Arctic have created a new debate over conservation and exploitation, a debate currently represented by the protests of Greenpeace against oil company Cairn Energy, both of whom have been interviewed by mongabay.com (see below).


Photos: 600 new species discovered in Madagascar since 1999

(06/06/2011) More than 600 species of plants and animals have been described in Madagascar over the past decade, reiterating the position of Indian Ocean island as one of the world's top biodiversity hotspots, says a new report issued today by WWF.


South Sudan's tropical forests fast disappearing

(06/06/2011) South Sudan's tropical montane forests are fast disappearing according to new analysis by PRINS Engineering. At current rates, Mount Dongotomea, located in South Sudan's most biodiverse ecosystem, could be completely stripped of tree cover by 2020.


Scientists urge Indonesia to stop road construction in tiger-rich national park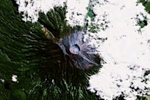 (06/06/2011) The Association for Tropical Biology and Conservation (ATBC) has drafted a resolution urging the Indonesian government to cancel plans to build four 40-foot wide roads through the countries oldest national park, Kerinci Seblat National Park. According to the ATBC, the world's largest professional society devoted to studying and conserving tropical forests, the road-building would imperil the parks' numerous species—many of which are already threatened with extinction—including Sumatra's most significant population of tigers.


Despite setbacks, voluntary carbon markets booming

(06/06/2011) The voluntary carbon market posted a 34 percent gain in 2010, trading a record 131 million tons of carbon dioxide equivalent (MtC02e). While the US accounted for the majority of trading activity, worth $424 million in total, market growth was strongest in developing countries.


Food security in developing world threatened by climate change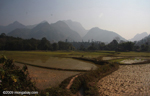 (06/06/2011) If swift action is not taken to prepare farmers in the developing world for hotter, drier, shorter growing seasons, climate change may threaten the lives of hundreds of millions of people by 2050. People in Africa and South Asia are particularly at risk of further impoverishment and hunger in a warmer world. According to the UN, a billion people are already going hungry worldwide.


Indonesia's moratorium map has errors, says government

(06/03/2011) The map underpinning Indonesia's moratorium on new concessions in primary forests and peatlands is "inaccurate", an Indonesian forestry official told The Jakarta Post.


Brazil's shame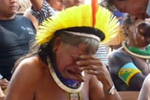 (06/03/2011) As an American I know a lot about shame — the U.S. government and American companies have wrought appalling amounts of damage the world over. But as an admirer of Brazil's recent progress toward an economy that recognizes the contributions of culture and the environment, this week's decision to move forward on the Belo Monte dam came as a shock. Belo Monte undermines Brazil's standing as a global leader on the environment. Recent gains in demarcating indigenous lands, reducing deforestation, developing Earth monitoring technologies, and enforcing environmental laws look more tenuous with a project that runs over indigenous rights and the environment.


Interview with Indonesian climate official on rainforest logging moratorium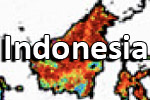 (06/03/2011) In May, Indonesia President Susilo Bambang Yudhoyono issued a presidential instruction laying out the specifications for a two-year moratorium on new concessions in primary forests and peatlands. The moratorium aims to create a window for Indonesia to enact reforms needed to slow deforestation and forest degradation under its Letter of Intent with Norway, which would pay the Southeast Asian nation up to a billion dollars for protecting forests.


New technology enables scientists to map rainforest biodiversity by airplane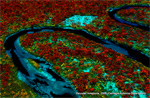 (06/02/2011) A new airplane-based remote-sensing and analysis system will enable scientists to catalog tree species as they create three-dimensional maps of tropical forests. Unveiled today at the Hiller Aviation Museum in San Carlos, California by Greg Asner of the Carnegie Institution's Department of Global Ecology, the newest version of the Carnegie Airborne Observatory (CAO) will offer powerful insights into the composition and biology of tropical forests.


Government cracks down on illegal logging in Madagascar

(06/02/2011) Authorities in Madagascar seized roughly a thousand logs during an ongoing operation in the northeastern part of the country, which has been besieged by illegal logging, reports l'Express de Madagascar. Seven people were arrested.


Ocean acidification dissolves algae, deafens fish

(06/02/2011) As if being a major contributor to global warming wasn't enough, the increasing amount of carbon dioxide produced through human activity is also acidifying our oceans - and doing so more rapidly than at any other time in more than half a million years. New projections show that at current rates of acidification, clownfish and many species of algae may be unable to survive by 2100.


Amazon mega-dam gets final approval

(06/01/2011) Brazilian authorities gave final approval to the controversial Belo Monte dam, reports AFP.


Peru to abolish uncontacted tribe's reserve, says group

(06/01/2011) Territory inhabited by an uncontacted Amazon tribe in Peru is again up for grabs, claims Survival International.


May in review: Jump in Amazon deforestation and murders, Indonesia's 'moratorium'

(06/01/2011) A review of mongabay.com's May 2011 stories.


Traditional Chinese medicine trade takes toll on Indonesia's geckos

(06/01/2011) The call of the tokek, or gecko, is one of the most familiar sounds in Indonesia. Next to the smell of clove cigarettes, the calls to prayer, the friendly smiles and the ferocious afternoon rainstorms, it stands as one of the most easily identifiable characteristics of the country.


REDD should fund efficient stoves, crop yield increases, says study

(05/31/2011) Efforts to reduce greenhouse gas emissions from deforestation and forest degradation (REDD) must incorporate the implementation cost of programs to meet resource demands of local people in order to be successful, argues a new study published in Nature Climate Change.


New record in global carbon emissions 'another wake-up call'

(05/31/2011) Global carbon emissions hit a new high last year proving once again that international political efforts, hampered by bickering, the blame-game, and tepidity, are failing to drive down the greenhouse gas emissions that are causing the planet to heat up. According to the International Energy Agency (IEA), following a slight fall in carbon dioxide emissions due to the economic downturn, emissions again rose to a new record level in 2010: 30.6 gigatons. This is a full 5 percent higher than the past record hit in 2008. The new record puts greater doubt on the international pledge of limiting the global average temperature rise to 2 degrees Celsius.


World's 'most social' lizard builds multigenerational homes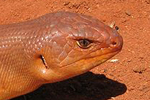 (05/31/2011) Researchers from Macquarie University in Australia have discovered that the threatened great desert burrowing skink lizard forms stable families that construct and maintain elaborate underground homes, reports ABC News. This is the first lizard in the world known to practice such familial behavior. Native to central Australia, researchers are conducting studies on the great desert skink (Liopholis kintorei) at Uluru Kata-Tjuta National Park, where rangers monitor the threatened species. Over 5,000 species of lizard have been documented globally, but only the Uluru skinks live together in immediate and social families that invest in the construction of long-lasting homes.


Photos: Cambodians rally as 'Avatars' to save one of the region's last great rainforests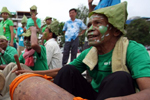 (05/31/2011) Two hundred Cambodians rallied in Phnom Penh last week to protest the widespread destruction of one of Southeast Asia's last intact lowland rainforests, known as Prey Lang. In an effort to gain wider media attention, protestors donned dress and make-up inspired by the James Cameron film, Avatar, which depicts the destruction of a forest and its inhabitants on an alien world. The idea worked as the rally received international attention from Reuters, CNN (i-report), MSNBC, and NPR, among other media outlets.


Amphibian-plague strikes frogs harder in pristine ecosystems

(05/31/2011) Frog populations worldwide are facing two apocalypses: habitat destruction and a lethal plague, known as chytridiomycosis. Over 30 percent of the world's amphibians are currently threatened with extinction and it is thought at least 120 species have gone extinct in just the last 30 years. Unfortunately, a new study in Proceedings of the National Academy of Sciences (PNAS) finds that the two threats—habitat loss and chytridiomycosis—are likely to leave no frog population undisturbed. According to the study, frogs that live in still-pristine habitats are more susceptible to chytridiomycosis than those that are already suffering from habitat loss.


New global carbon map for 2.5 billion ha of forests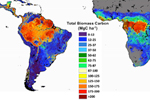 (05/31/2011) Tropical forests across Latin America, Africa, and Southeast Asia stored 247 gigatons of carbon — more than 30 years' worth of current emissions from fossil fuels use — in the early 2000s, according to a comprehensive assessment of the world's carbon stocks. The research, published in the journal Proceedings of the National Academy of Sciences by an international team of scientists, used data from 4,079 plot sites around the world and satellite-based measurements to estimate that forests store 193 billion tons of carbon in their vegetation and 54 billion tons in their roots structure. The study has produced a carbon map for 2.5 billion ha (6.2 billion acres) of forests.


Assassinations of environmentalists continue in Brazil's Amazon, deforestation rises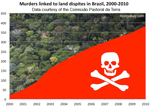 (05/28/2011) A community leader in the Brazilian Amazon was slain Friday just three days after two environmentalists were killed in a neighboring state, reports Reuters. Adelino "Dinho" Ramos, the president of the Movimento Camponeses Corumbiara e da Associação dos Camponeses do Amazonas, a small farmers association, was gunned down front of his family Friday morning in Rondônia. Brazil's Special Secretariat for Human Rights, an office of the president, said it was unclear who killed Ramos, who had received death threats from loggers.


Destruction of Brazil's most endangered forest, the Mata Atlantica, slows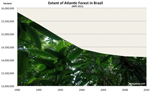 (05/27/2011) Deforestation of Brazil's most threatened forest ecosystem dropped substantially during the 2008-2010 period according to new data released by Brazil's National Institute for Space Research (INPE) and Fundação SOS Mata Atlântica. Analysis of satellite images across 16 of the 17 states the Atlantic Forest spans found that 312 square kilometers of forest was cleared between 2008 and 2010, down from 1,029 square kilometers between 2005 and 2008. Deforestation was concentrated in the states of Minas Gerais, Bahia, Santa Catarina and Parana.


Lack of clarity complicates Indonesia's logging moratorium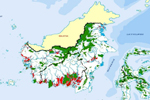 (05/27/2011) Lack of clarity makes it difficult to assess whether Indonesia's moratorium on new logging concessions in primary forest areas and peatlands will actually reduce greenhouse gas emissions from deforestation, according to a new comprehensive assessment of the instruction issued last week by Indonesian President Susilo Bambang Yudhoyono. The analysis, conducted by Philip Wells and Gary Paoli of Indonesia-based Daemeter Consulting, concludes that while the moratorium is "potentially a powerful instrument" for achieving the Indonesian president's goals of 7 percent annual growth and a 26 percent reduction in greenhouse gas emissions from a projected 2020 baseline, the language of the moratorium leaves significant areas open for interpretation, potentially offering loopholes for developers.


Salmon-Crested Cockatoo to be protected under ESA

(05/27/2011) The salmon-crested cockatoo is now listed as a threatened species under the Endangered Species Act (ESA). Native to islands in eastern Indonesia, the parrot is at risk due to logging in its lowland rainforest habitat, the conversion of forest to agricultural lands, and the domestic and international pet trade.


Congressman Rohrabacher believes chopping down rainforests will solve global warming

(05/27/2011) Republican House Representative Dana Rohrabacher shocked scientists on Wednesday when he asserted clear-cutting the world's rainforests would be a way to reduce greenhouse gas emissions, reports Politico.


Shareholders to Chevron: company showing 'poor judgment' in Ecuador oil spill case

(05/26/2011) After being found guilty in February of environmental harm and ordered to pay $8.6 billion in an Ecuador court of law, Chevron this week faced another trial: this time by shareholders in its Annual General Meeting in California. While Chevron has appealed the Ecuador case and a US court has put an injunction barring the enforcement of the ruling in the US, notable Chevron investors say the company has gone astray in its seemingly endless legal battle with indigenous groups in the Ecuadorian Amazon.


Restoring forests: an opportunity for Africa

(05/26/2011) Tropical forest news last week was dominated by Indonesia and Brazil. Forest clearing has surged over the past year in parts of the Amazon, the Brazilian Government reported. Meanwhile, Indonesia's President signed a moratorium on cutting some intact forest areas, as part of a landmark billion-dollar deal with international donors. But new research shows that Africa offers some of the greatest opportunities globally for restoring forests.


Photos: new bat uncovered in the Caribbean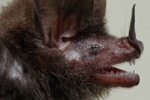 (05/26/2011) Researchers have declared a new species of bat from the Caribbean island of St. Vincent. While the new bat had been documented before, it was long believed to be a member of a similar species that is found throughout South America and a few Caribbean Islands, that is until PhD student Peter Larsen noticed it was far larger than its relative down south.


Green groups to Japan: don't buy illegally logged wood from Indonesia to aid reconstruction

(05/26/2011) Following Japan's devastating earthquake and tsunami, it needs to rebuild and do so the battered nation has already turned to a neighbor, Indonesia, for timber. However, the Environmental Investigation Agency (EIA) and Indonesian NGO, Telapak, warn that much of the timber that reaches Japan's shores from Indonesia could be illegally logged from rainforests, unless Japan pledges to only purchase legally-certified wood under Indonesia's new assurance system.


Amnesty for illegal rainforest loggers moves forward in Brazil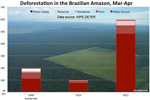 (05/25/2011) A controversial bill environmentalists say could increase deforestation in the Amazon rainforest moved a step forward to becoming law in Brazil after winning approval in Brazil's lower house of Congress. The measure, which has been hotly debated for months, next goes to the Senate where it is expected to pass, before heading to President Dilma Rousseff, who has vowed to veto any bill that grants amnesty for illegal deforestation. The bill includes such a measure, although it could be subject to change before a final decision by the president. The bill aims to reform Brazil's Forest Code, which requires landowners in the Amazon rainforest to maintain 80 percent of their holdings as forest.


Shipping firm pledges to disconnect itself from rainforest destruction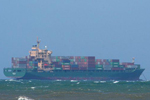 (05/25/2011) The Danish shipping giant Maersk pledged this week to stop purchasing containers with floors made from uncertified tropical hardwood, reports Deutsche Welle press. In an effort to reduce illegal logging and combat climate change, the company will be turning to recycled plastic, bamboo, and tropical wood certified by the Forest Stewardship Council (FSC) for its flooring. The Copenhagen-based firm is the first cargo company to transition to 'green containers' as part of a sustainable business strategy.


Brazil protected areas suffer serious deficiencies, says study

(05/25/2011) Brazil's conservation units are poorly run and in need of better funding, finds a new study published by Brazil's Ministry of the Environment and the United Nations Environment Program (UNEP). The assessment, released last week, concludes Brazil's protected areas system should be open to creative management solutions.


Environmental law landmark: island nation challenges faraway coal plant for climate impact

(05/25/2011) The far-flung Federated States of Micronesia (FSM), located in the Pacific Ocean, has created legal history by challenging the decision to extend the life of a massive coal plant in the Czech Republic. The over 600-island nation, Micronesia, argues that greenhouse gas emissions from the Czech plant are impacting the way of life in Micronesia, many of whose islands are facing submersion under rising sea levels.


Killing in the name of deforestation: Amazon activist and wife assassinated

(05/24/2011) José Cláudio Ribeiro da Silva and his wife, Maria do Espírito Santo da Silva, were gunned down last night in an ambush near their home in the Brazilian state of Pará. Da Silva was known as a community leader and an outspoken critic of deforestation in the region. Police believe the da Silvas were killed by hired assassins because both victims had an ear cut off, which is a common token for hired gunmen to prove their victims had been slain, according to local police investigator, Marcos Augusto Cruz, who spoke to Al Jazeera. Suspicion immediately fell on illegal loggers linked to the charcoal trade that supplies pig iron smelters in the region.


iPhone app uses Google Earth to track climate change impact on redwoods

(05/24/2011) The Save the Redwoods League is partnering with Google Earth Outreach and iNaturalist.org to connect citizens and scientists in an effort to track the effects of climate change on redwood trees and forests.


Authorities launch stealth operation in Amazon after satellite images reveal deforestation

(05/24/2011) Brazil's environmental enforcement agency busted an illegal logging ring following analysis of satellite imagery, reports Globo.


10 former environment ministers ask Brazil to hold off on Forest Code vote

(05/24/2011) Ten former environment ministers weighed in on Brazil's looming vote on the forest code governing land use in the Amazon rainforest.


On the edge of extinction, Philippine eagles being picked off one-by-one

(05/23/2011) Down to a few hundred individuals, every Philippine eagle is important if the species is to survive. However, the Philippine Eagle Foundation (PEF) has recently announced that people continue to illegally trap and keep eagles captive. Since December the organization has taken-in four confiscated Philippine eagles (Pithecophaga jefferyi), according to The Philippine Star. One died of a fungal infection after confiscation, while two others has suffered serious injuries.


Prosperity without Growth: Economics for a Finite Planet

(05/23/2011) Prosperity without Growth: Economics for a Finite Planet challenges us to imaging a world where growth and unmitigated consumption do not equal development. In fact, as clearly described throughout, countries with unmitigated consumption are the underdeveloped countries of the 21st Century expanding our global ecological debt at the expense of countries who are more sophisticated in their development practices with similar prosperity levels while incurring less "national" ecological debt.


Indonesia's moratorium allows mining in protected forests

(05/23/2011) Indonesia's mining industry expects the just implemented moratorium on new forestry concessions in primary forests and peatlands to open up protected areas to underground coal and gold mining, reports the Jakarta Globe.



Page 1 | Page 2 | Page 3 | Page 4 | Page 5 | Page 6 | Page 7 | Page 8 | Page 9 | Page 10 | Page 11 | Page 12 | Page 13 | Page 14 | Page 15 | Page 16 | Page 17 | Page 18 | Page 19 | Page 20 | Page 21 | Page 22 | Page 23 | Page 24 | Page 25 | Page 26 | Page 27 | Page 28 | Page 29 | Page 30 | Page 31 | Page 32 | Page 33 | Page 34 | Page 35 | Page 36 | Page 37 | Page 38 | Page 39 | Page 40 | Page 41 | Page 42 | Page 43 | Page 44 | Page 45 | Page 46 | Page 47 | Page 48 | Page 49 | Page 50 | Page 51 | Page 52 | Page 53 | Page 54 | Page 55 | Page 56 | Page 57 | Page 58 | Page 59 | Page 60 | Page 61 | Page 62 | Page 63 | Page 64 | Page 65 | Page 66 | Page 67 | Page 68 | Page 69 | Page 70 | Page 71 | Page 72 | Page 73 | Page 74 | Page 75 | Page 76 | Page 77 | Page 78 | Page 79 | Page 80 | Page 81 | Page 82 | Page 83 | Page 84 | Page 85 | Page 86 | Page 87 | Page 88 | Page 89 | Page 90 | Page 91 | Page 92 | Page 93 | Page 94 | Page 95 | Page 96 | Page 97 | Page 98 | Page 99 | Page 100 | Page 101 | Page 102 | Page 103 | Page 104 | Page 105 | Page 106 | Page 107 | Page 108 | Page 109 | Page 110 | Page 111 | Page 112 | Page 113 | Page 114 | Page 115 | Page 116 | Page 117 | Page 118 | Page 119 | Page 120 | Page 121 | Page 122 | Page 123 | Page 124 | Page 125 | Page 126 | Page 127 | Page 128 | Page 129 | Page 130 | Page 131 | Page 132 | Page 133 | Page 134 | Page 135 | Page 136 | Page 137 | Page 138 | Page 139 | Page 140 | Page 141 | Page 142 | Page 143 | Page 144 | Page 145 | Page 146 | Page 147 | Page 148 | Page 149 | Page 150 | Page 151 | Page 152 | Page 153 | Page 154 | Page 155 | Page 156 | Page 157 | Page 158 | Page 159 | Page 160 | Page 161 | Page 162 | Page 163 | Page 164 | Page 165 | Page 166 | Page 167 | Page 168 | Page 169 | Page 170 | Page 171 | Page 172 | Page 173 | Page 174 | Page 175 | Page 176 | Page 177 | Page 178 | Page 179 | Page 180 | Page 181 | Page 182 | Page 183 | Page 184 | Page 185 | Page 186 | Page 187 | Page 188 | Page 189 | Page 190 | Page 191 | Page 192 | Page 193 | Page 194 | Page 195 | Page 196 | Page 197 | Page 198 | Page 199 | Page 200 | Page 201