News articles on green

---
Mongabay.com news articles on green in blog format. Updated regularly.






UN: wild teak forests declining

(03/28/2012) Wild teak forests continue to decline, threatening genetic diversity, while commercial planted teak forests are on the rise, according to a new assessment by the Food and Agriculture Organization (FAO). Overall, teak forests have declined by 1.3 percent, or 385,000 hectares, worldwide from 1992 to 2010. Teak (Tectona grandis) is used for a variety of commercial purposes, including outdoor furniture and flooring.
As world bodies dally, private sector, local governments forge ahead on valuing nature

(03/28/2012) Despite slow progress via the U.N. process and other intergovernmental bodies, national governments, municipalities, and the private sector are moving ahead with initiatives to measure and compensate the value of services afforded by ecosystems, said a leading forestry expert speaking on the sidelines of the Skoll World Forum on Social Entrepreneurship meeting this week in Oxford.
Government policy contributes to huge drop in Amazon deforestation in Brazil

(03/28/2012) Roughly half of the 70 percent decline in deforestation in the Brazilian Amazon between 2005 and 2009 can be attributed to policies enacted by the Brazilian government, finds an analysis published by the Climate Policy Initiative (CPI), a group funded by George Soros. The measures helped avoid 62,000 square kilometers of deforestation and 620 million tons of carbon dioxide emissions that would have otherwise occurred.
"Strong evidence" linking extreme heatwaves, floods, and droughts to climate change

(03/28/2012) As North America recovers from what noted meteorologist Jeff Masters has called "the most incredible spring heatwave in U.S. and Canadian recorded history," a new paper argues that climate change is playing an important role in a world that appears increasingly pummeled by extreme weather. Published in Nature Climate Change, the paper surveys recent studies of climate change and extreme weather and finds "strong evidence" of a link between a warming world and the frequency and intensity of droughts, floods, and heatwaves—such as the one that turned winter into summer in the U.S.
NASA image shows decline in maximum sea ice extent

(03/28/2012) Data released by the National Snow and Ice Data Center (NSIDC) shows that Arctic sea ice for the winter of 2011-2012 reached its maximum extent on March 18 at 15.24 million square kilometers (5.88 million square miles). The mark is well below the 1979–2000 average, but was above the record low of the 2010–2011 winter.
Photos: the aye-aye of frogs rediscovered after 62 years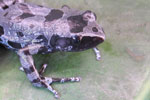 (03/27/2012) A pair of researchers have rediscovered a long-lost frog in the tiny African country of Burundi. Known as the Bururi long-fingered frog (Cardioglossa cyaneospila), the species hadn't been seen for over 60 years—since the Soviet Union tested its first nuclear weapon in 1949—but was rediscovered in Bururi Forest Reserve.
Mining cancellation throws wrench into Sarawak dam-building spree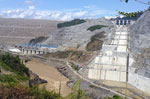 (03/27/2012) The world's third largest mining company, Rio Tinto, and a local financial and construction firm, Cahya Mata Sarawak (CMS), have cancelled plans for a $2 billion aluminum smelter to be constructed in the Malaysian state of Sarawak. The cancellation calls into question Sarawak's plan to build a dozen massive dams—known as the Sarawak Corridor of Renewable Energy (SCORE) initiative—that were proposed, in part, to provide power to the massive aluminum smelter. However, the mega-dam proposal has been heavily criticized for its impact on Sarawak's rivers, rainforest and indigenous people.
Australia-led peat conversation project in Borneo failing to deliver on hype

(03/27/2012) A $100 million peat conservation project launched in the heart of Indonesian Borneo by the Australian government has been dramatically scaled back and is largely failing to meet expectations, hampering efforts to develop an effective Reducing Emissions from Deforestation and forest Degradation (REDD+) program in Indonesia, concludes a new analysis published by researchers at Australian National University.
Humans killed off magnificent Australian megafauna, flipping rainforest into savannah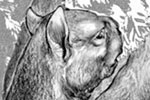 (03/27/2012) The theory that humans, and not climate change, was primarily responsible for the extinction of giant marsupials in prehistoric Australia takes another step forward with a new study in Science. Exploring sediment cores for past evidence of big herbivores, researchers found that the arrival of humans coincided with the loss of a menagerie of magnificent beasts, from giant kangaroos to fearsome marsupial lions and monster birds to Komodo dragon-like reptiles. The decline of this megafauna ultimately led to ecological changes that may have caused Australia's rainforest to become savannah.
Beyond Bigfoot: the science of cryptozoology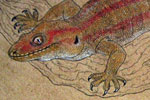 (03/26/2012) Anyone who doubts cryptozoology, which in Greek means the "study of hidden animals," should remember the many lessons of the past 110 years: the mountain gorilla (discovered in 1902), the colossal squid (discovered in 1925, but a full specimen not caught until 1981), and the saola (discovered in 1992) to name a few. Every year, almost 20,000 new species are described by the world's scientists, and a new book by Dr. Karl Shuker, The Encycloapedia of New and Rediscovered Animals, highlights some of the most incredible and notable new animals uncovered during the past century.
Animal picture of the day: a sun-colored weedy scorpion fish

(03/26/2012) This bright yellow weedy scorpion fish (Rhinopias frondosa) is the newest member of the Wildlife Conservation Society's (WCS) New York Aquarium. Weedy scorpion fish are found in the Indo-Pacific Ocean and in a wide variety of colors.
Indigenous groups fight for recognition and illumination in Peru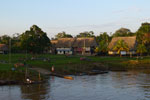 (03/26/2012) "Shh, wait here," Wilson told me. I ducked down behind the buttress of a large tree to wait. We had been walking through the jungle for a few hours. At first we followed a path through the undergrowth, a wet world of ferns, trunks and lianas speckled with the sunlight that made it down through the canopy and understory, but soon we simply walked along a route Wilson picked out. I had been trying to concentrate on the myriad sounds: cicadas were the background and various small birds tweeted from different points. We were listening and looking for signs that would lead us to prey—perhaps the calm whistle of a perdiz or the scent—marking of a boar—but just before Wilson became excited I had heard nothing. He stopped and said, "Red monkeys," pointing ahead.
Banning ivory sales to China could save elephants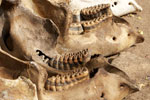 (03/24/2012) Although the international ivory trade has been banned since 1989, last year was the worst ever for elephant poaching, and this year has begun little better as reports come out of Cameroon of hundreds of elephants slaughtered in a single park. What went wrong? According to a new briefing by the Environmental Investigation Agency (IEA), approved legal auctions of ivory by the Convention on International Trade in Endangered Species (CITES) to Japan and, especially, China has fueled, rather than abated as promised, the illegal trade along with mass deaths of elephants across Africa.
Belo Monte Dam: A spearhead for Brazil's dam-building attack on the Amazon?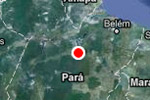 (03/23/2012) Brazil's Belo Monte Dam on the Xingu River is now under construction despite its many controversies. The Brazilian government has launched an unprecedented drive to dam the Amazon's tributaries, and Belo Monte is the spearhead for its efforts. Brazil's 2011-2020 energy-expansion plan calls for building 48 additional large dams, of which 30 would be in the country's Legal Amazon region1. Building 30 dams in 10 years means an average rate of one dam every four months in Brazilian Amazonia through 2020. Of course, the clock doesn't stop in 2020, and the total number of planned dams in Brazilian Amazonia exceeds 60.
Controversial logging company sells operations in DR Congo

(03/23/2012) Danzer, a Swiss-German forestry company that has been subject to much criticism by environmentalists for its logging practices in the Democratic Republic of Congo (DRC), has sold its operations in the Central African country, reports Greenpeace.
Google brings Street View, Maps to the Amazon (photos)

(03/22/2012) Google has posted images of a stretch of rainforest and communities along the Amazon river on its Street View product available via Google Maps. The addition makes it possible to virtually explore communities and ecosystems in Earth's largest tropical forest.
World's smallest dolphin: only 55 left, but continue to drown in nets

(03/22/2012) The world's smallest dolphin is also the closest to extinction. New Zealand government figures show that Maui's dolphin (Cephalorhynchus hectori maui) are down to just 55 mature individuals, falling from 111 in 2005. The small cetaceans, measuring up to 1.7 meters (5.5 feet), are imperiled due to drowning in gillnets with the most recent death by a fisherman's net occurring in January.
Animal picture of the day: a baby bongo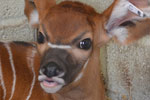 (03/22/2012) A female bongo (Tragelaphus eurycerus) was born at the Zoological Society of London's Whipsnade Zoo last month. "The calf and her mum are happy to sit with other members of the group and the calf is not always found with mum—babysitting is common with the bongo," Mark Holden, Africa section leader at ZSL Whipsnade Zoo, said in a press release.
NASA image: records shattered across U.S. as summer arrives before spring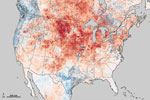 (03/22/2012) Central U.S. and parts of Canada have seen over a thousand record temperatures shattered over the past week and a half, as an abnormally-long and bizarrely-hot warm spell moves across portions of North America. The direct cause of the weird weather is a blocked high pressure system, but as the U.S. experiences what may be the warmest March on record, meteorologists say climate change may be playing a role in the severity of the heatwave.
Over 5,000 vital biodiversity sites remain unprotected

(03/22/2012) A recent study has found that half of the world's Important Bird Areas (IBAs) and Alliance for Zero Extinction (AZE) sites remain unprotected, leaving many endangered species, some on the verge of extinction, gravely vulnerable to habitat loss. Published in the open access journal PLoS ONE, the study urges governments to focus on expanding protected areas to cover the species that need it most.
Palm oil case against 'Green Governor' in Indonesia heats up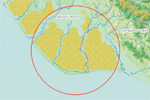 (03/22/2012) Environmental activists have launched an urgent appeal calling for a 'just decision' in a court case that has pitted Aceh's 'Green Governor' and palm oil developers against efforts to save endangered orangutans in a Sumatran peat forest. In letters directed toward judges weighing the case in Sumatra's Aceh Provice, Indonesian President Susilo Bambang Yudhoyono, the country's REDD+ authority, the World Bank, and the Governors' Climate and Forests Task Force (GCF), a coalition of conservation groups says the outcome of the case could have substantial implications for efforts to conserve Indonesia's remaining forests and peatlands.
Fight illegal logging by going after criminal masterminds
(03/22/2012) Illegal logging has never been a high priority for criminal investigators, but a new report by the World Bank says it should be. Worldwide, the illegal logging epidemic is decimating natural resources, imperiling biodiversity, emitting carbon, and undercutting the livelihoods of local and indigenous people. But the lucrative funds from these ill-gotten gains is just as problematic: top organized criminals rake in $10-15 billion annually from illegal logging and largely use the funds to drive corruption.
Xerox: we no longer buy from Asia Pulp & Paper

(03/21/2012) Xerox no longer buys paper products from Asia Pulp & Paper (APP), a Singapore-based paper giant under fire for its forest management practices in Indonesia, according to a statement published on the company's official blog late last week.
David Baron: public radio, cougars, and the benefits of understanding science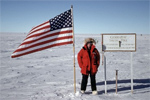 (03/21/2012) David Baron has spent more than two decades covering global issues as a journalist, author, and broadcaster. His assignments have taken him from the South Pole to Iceland, from Uganda to India and beyond in pursuit of stories with scientific topics as wide-ranging as David himself. After graduating from Yale with a degree in Physics, David jumped into radio. Since then, he's been a science reporter for National Public Radio on such programs as All Things Considered, Morning Edition, and Weekend Edition. He also served as substitute host for Talk of the Nation: Science Friday. In 2005, David joined Public Radio International where he currently oversees coverage of science and medicine for The World, a joint venture of PRI, the BBC, and WGBH Boston.
Legal case against Serengeti road moves forward

(03/21/2012) A regional case against the construction of a proposed road through Serengeti National Park has moved to trial after a judge with the East African Court of Justice (EACJ) threw out concerns by Tanzania reports the Daily Nation. The government of Tanzania has proposed a controversial highway that would bifurcate the northern part of the Serengeti National, only to see their plans stalled by a lawsuit filed by the Kenyan-based NGO, Africa Network for Animal Welfare (ANAW), which argues that the road could have massive consequences for the entire Serengeti ecosystem, a view shared by many scientists.
Deforestation increases in the Congo rainforest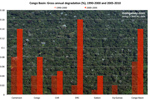 (03/20/2012) Deforestation in the Congo Basin has increased sharply since the 1990s, reports an extensive new assessment of forests in the six-nation region. Released by the Central African Forests Commission (COMIFAC) and members of the Congo Basin Forest Partnership, The State of the Forest finds that the region's annual gross deforestation rate doubled from 0.13 percent to 0.26 percent between the 1990s and the 2000-2005 period. Gross degradation caused by logging, fire, and other impacts increased from 0.07 percent to 0.14 percent on an annual basis. Despite the jump, rates in the Congo Basin remain well below those in Latin America and Southeast Asia, but the region is seen as a prime target for future agroindustrial expansion.
Picture of the day: tarsier rescued from palm oil plantation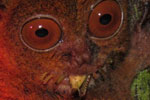 (03/20/2012) Earlier this month, biologists with Danau Girang Field Centre (DGFC) in the Malaysian state of Sabah in Borneo, found and rescued a tarsier from a locally owned palm oil plantation. "For a day, we kept the animal in a cage at the field centre and fed him with insects", explained Alice Miles, a Cardiff University student leading a project on tarsier and slow loris ecology at DGFC.
2010, not 1998, warmest year on record

(03/20/2012) An updated temperature analysis by the Met Office and the University of East Anglia's Climatic Research Unit has confirmed that 2010, not 1998, was the warmest year since record keeping began in the late 19th Century. The new analysis adds in temperature data from 400 stations across northern Canada, Russia, and the Arctic, which had been left out of the previous analysis.
'Where's my mama?': campaign targets cruel slow loris pet trade [warning: graphic photo]

(03/20/2012) A new campaign by The Body Shop West Malaysia and TRAFFIC Southeast Asia attempts to raise awareness of the illegal slow loris pet trade. YouTube videos of "cute" pet slow lorises have raised demand for these endangered primates, but as the campaign highlights the pet trade is fueling slow loris deaths in the wild and cruel treatment, such as pulling out their teeth, to make them more desirable pets.
Belize enacts moratorium on rosewood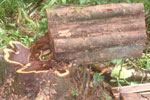 (03/20/2012) The Belizean Government has banned the harvesting and export of rosewood with immediate effect, in response to the widespread clearing of the hardwood species for the Asian market. A government statement released on Friday, March 16th claimed the moratorium was necessary "to carry out an orderly assessment of the situation on the ground and as a first response to regulate the timber trade occurring in southern Belize." The government would subsequently institute "a rigorous regulatory framework throughout the country."
Cambodia sells off national park for city-sized pleasure resorts

(03/19/2012) The Cambodian government has handed over nearly 20 percent of Botum Sakor National Park to a Chinese real-estate firm building a massive casino and resorts in the middle of pristine rainforest, reports Reuters. The city-sized resorts, costing $3.8 billion, will include a 64 kilometers highway, an airport, hotels, and golf courses. Botum Sakur is home to a number of endangered species including the pileated gibbon (Hylobates pileatus) and Asian elephant (Elephas maximus).
Russia, South Korea sign agreement to resurrect woolly mammoth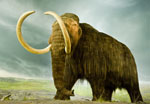 (03/19/2012) Last week Russian and South Korean educational facilities signed an agreement to work together to bring back the woolly mammoth (Mammuthus primigenius) from extinction. The project will be headed by Hwang Sooam of South Korea's Bioengineering Research Institute and will involve implanting a woolly mammoth embryo into a modern elephant.
Invasive primates threaten Atlantic Forest natives

(03/19/2012) Scientists have called for the removal of eight invasive primates from Brazil's imperiled Atlantic Forest in a new study published in mongabay.com's open access journal Tropical Conservation Society. The researchers fear that the eight alien monkeys could hurt other species due to increased competition, predation, and possible disease.
Solitary male monkeys cause crop damage in Uganda

(03/19/2012) Solitary male red-tailed monkeys (Cercopithecus ascanius) cause significant damage to cocoa crops in Uganda, according to a new study in mongabay.com's open access journal Tropical Conservation Society (TCS). Researchers examined crop raiding by social groups of red-tailed monkeys and lone males, only to discover that solitary males caused significantly more damage to cocoa crops than the average group member. The research may have implications for how to mitigate human-wildlife conflict in the area.
Chimp conservation requires protecting fragmented river forests in Uganda

(03/19/2012) Forest fragments along riversides in Uganda may make good habitats for chimpanzees but remain unprotected, according to a new study in mongabay.com's open access journal Tropical Conservation Society (TCS). Researchers surveyed a riverine forest known as Bulindi in Uganda, in-between Budongo and Bugoma Forest Reserves, to determine if it was suitable for the long-term survival of eastern chimpanzee (Pan troglodytes schweinfurthii) populations.
How tiny otters survive in agricultural India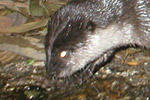 (03/19/2012) In the fragmented rainforests of India, many animals must move through human-modified landscapes such as agricultural fields to survive. This includes the world's smallest otter species: the Asian small-clawed otter (Aonyx cinereus). According to a new study published in mongabay.com's open access journal Tropical Conservation Society, the Asian small-clawed otter is widespread in streams flowing through tea and coffee estates of the Western Ghats, but requires improved protection.
Wildlife corridor key to conserving tigers, rhinos in Nepal

(03/19/2012) A single forest corridor links two of Nepal's great wildlife areas: Chitwan National Park and the Mahabharat mountain range, also known as the "little Himalayas." The Barandabhar Forest Corridor (BFC) has become essential for the long term survival Nepal's Indian rhinos (Rhinoceros unicornis) and Bengal tigers (Panthera tigris tigris). Yet, according to a new paper published in mongabay.com's open access journal Tropical Conservation Society (TCS), the corridor is imperiled by deforestation, a highway, and inconsistent management policies.
Tink frog calls allow researchers to measure population

(03/19/2012) Given their often tiny size and cryptic nature, how does one determine frog populations in the rainforest? Just eavesdrop. A new study in mongabay.com's open access journal Tropical Conservation Society (TCS) employed automated recorders to listen to amphibian calls to determine if the common tink frog (Diasporus diastema) could be found in recovering secondary forests in Costa Rica.
Airborne lasers discover undocumented deforestation in Belize park

(03/19/2012) A NASA funded expedition using airborne lasers to study ancient Mayan ruins has also documented widespread illegal deforestation in the Caracol Archaeological Reserve. The lasers found that forest disturbance was actually 58 percent greater than recent satellite surveys showed, according new study in mongabay.com's open access journal Tropical Conservation Society (TCS). Such deforestation not only imperils biodiversity, carbon storage, and migration routes for Central American species, but could also lead to plundering of the Maya site of Caracol.
How best to monitor biodiversity in REDD+ projects?
(03/19/2012) If done well, REDD+ projects (Reducing Emissions from Deforestation and Forest Degradation) may not only save carbon rich forests, but also protect embattled biodiversity. But what's the best way to ensure both and carbon and species are preserved under REDD+, a program that proposes to pay nations to keep forests standing? A new study in mongabay.com's open access journal Tropical Conservation Society (TCS) argues that a one-size-fits-all approach to monitoring biodiversity in REDD+ projects would not only be difficult to develop, but would likely fail given vast differences in forest ecology and threats worldwide. Instead local sites should develop monitoring programs based on a generally approved roadmap.




Page 1 | Page 2 | Page 3 | Page 4 | Page 5 | Page 6 | Page 7 | Page 8 | Page 9 | Page 10 | Page 11 | Page 12 | Page 13 | Page 14 | Page 15 | Page 16 | Page 17 | Page 18 | Page 19 | Page 20 | Page 21 | Page 22 | Page 23 | Page 24 | Page 25 | Page 26 | Page 27 | Page 28 | Page 29 | Page 30 | Page 31 | Page 32 | Page 33 | Page 34 | Page 35 | Page 36 | Page 37 | Page 38 | Page 39 | Page 40 | Page 41 | Page 42 | Page 43 | Page 44 | Page 45 | Page 46 | Page 47 | Page 48 | Page 49 | Page 50 | Page 51 | Page 52 | Page 53 | Page 54 | Page 55 | Page 56 | Page 57 | Page 58 | Page 59 | Page 60 | Page 61 | Page 62 | Page 63 | Page 64 | Page 65 | Page 66 | Page 67 | Page 68 | Page 69 | Page 70 | Page 71 | Page 72 | Page 73 | Page 74 | Page 75 | Page 76 | Page 77 | Page 78 | Page 79 | Page 80 | Page 81 | Page 82 | Page 83 | Page 84 | Page 85 | Page 86 | Page 87 | Page 88 | Page 89 | Page 90 | Page 91 | Page 92 | Page 93 | Page 94 | Page 95 | Page 96 | Page 97 | Page 98 | Page 99 | Page 100 | Page 101 | Page 102 | Page 103 | Page 104 | Page 105 | Page 106 | Page 107 | Page 108 | Page 109 | Page 110 | Page 111 | Page 112 | Page 113 | Page 114 | Page 115 | Page 116 | Page 117 | Page 118 | Page 119 | Page 120 | Page 121 | Page 122 | Page 123 | Page 124 | Page 125 | Page 126 | Page 127 | Page 128 | Page 129 | Page 130 | Page 131 | Page 132 | Page 133 | Page 134 | Page 135 | Page 136 | Page 137 | Page 138 | Page 139 | Page 140 | Page 141 | Page 142 | Page 143 | Page 144 | Page 145 | Page 146 | Page 147 | Page 148 | Page 149 | Page 150 | Page 151 | Page 152 | Page 153 | Page 154 | Page 155 | Page 156 | Page 157 | Page 158 | Page 159 | Page 160 | Page 161 | Page 162 | Page 163 | Page 164 | Page 165 | Page 166 | Page 167 | Page 168 | Page 169 | Page 170 | Page 171 | Page 172 | Page 173 | Page 174 | Page 175 | Page 176 | Page 177 | Page 178 | Page 179 | Page 180 | Page 181 | Page 182 | Page 183 | Page 184 | Page 185 | Page 186 | Page 187 | Page 188 | Page 189 | Page 190 | Page 191 | Page 192 | Page 193 | Page 194 | Page 195 | Page 196 | Page 197 | Page 198 | Page 199 | Page 200 | Page 201 | Page 202 | Page 203 | Page 204 | Page 205 | Page 206 | Page 207 | Page 208 | Page 209 | Page 210 | Page 211 | Page 212 | Page 213 | Page 214