News articles on green

---
Mongabay.com news articles on green in blog format. Updated regularly.






Giant snakes commonly attacked modern hunter-gatherers in Philippines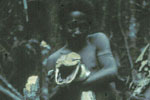 (12/13/2011) Humans have an ambivalent relationship with snakes. The legless reptiles are often feared and reviled, becoming stand-ins for the Devil and movie monster characters; yet many people have grown to love snakes, raising large, even dangerous, specimens as pets. Now, new research suggests that the ecological role between snakes and humans, as well as other primates, is more nuanced than expected. After spending decades living among the Agta Negritos people in the Philippines, anthropologist Thomas Headland has found that the hunter gatherer tribes were quite commonly attacked by reticulated pythons (Python reticulatus), while the people themselves had no qualms with hunting, killing, and consuming python.
Interview with conservation legend George Schaller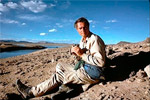 (12/13/2011) Dr George Schaller is a veteran ecologist affiliated with two conservation organizations in New York, Panthera and the Wildlife Conservation Society. Spending much of his time during the past six decades in various countries of Asia, Africa and South America, he has studied and helped protect species as diverse as the Tiger, Mountain Gorilla, Giant Panda and Tibetan Antelope. In addition, he has promoted the establishment of about 15 protected areas. His studies have been the basis for his scientific and popular writings.
Harsh words for Canada after it abandons Kyoto Protocol

(12/13/2011) Less than two days after signing on to a "road map" agreement at the UN Climate Summit in Durban, South Africa, Canada has announced it is formally withdrawing from the Kyoto Protocol after failing to meet its emissions pledges. Although not surprising, reaction from other nations and environmental groups was not only swift, but harsh.
Large tract of old growth redwood forest protected in the San Francisco Bay Area

(12/13/2011) 8,532 acres of redwood forest and wildlife habitat in the Santa Cruz mountains will be protected after a coalition of San Francisco Bay Area conservation groups bought the land — the largest private landholding in in Santa Cruz County — for $30 million from building materials giant CEMEX, reports the San Jose Mercury News.
New species of frog sings like a bird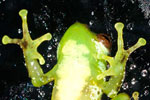 (12/12/2011) If you're trudging through the high-altitude rainforests of northern Vietnam and you hear bird song, you might want to check the trees for frogs. Yes, that's right: frogs. A new species of tree frog has been discovered in Vietnam that researchers say has a uniquely complex call that makes it sound more like a bird than a typical frog. Discovered in Pu Hoat Proposed Nature Reserve, the new species, dubbed Quang's tree frog (Gracixalus quangi), dwells in the forests at an altitude 600-1,300 meters (nearly 2,000-4,265 feet).
NGOs call for arrest of Malaysian leader for corruption, money laundering

(12/12/2011) A coalition of Malaysian and international NGOs are calling for the arrest of Sarawak chief minister Abdul Taib Mahmud and 14 family members for alleged abused of power, corruption, and money laundering, reports the Bruno Manser Fund, a group that has signed the letter urging action.
Using palm hearts sustainably in Colombia

(12/12/2011) Long eaten by indigenous populations, palm hearts have also popular abroad, usually in fine dining establishments. However, palm hearts are cut-out of the inner core of various palm tree species, in some cases killing the tree. A new study published in mongabay.com's open access journal Tropical Conservation Society looks at the sustainability of palm heart extraction from the palm species Prestoea acuminata in the Colombian Andes. While harvesting from Prestoea acuminata does not kill the host tree, better management is needed to ensure the practice doesn't become unsustainable.
Estimating the rich diversity of galling insects

(12/12/2011) How does one estimate the number of tiny, cryptic "galling" insects without finding and describing every one (a task that could take centuries of taxonomic work)? According to a new paper in mongabay.com's open access journal Tropical Conservation Science, you count the plants. Galling insects use plant tissue for development creating a "gall," or abnormal growth on the plant. Such little-known insects include gall wasps, gall midges, aphids, and jumping plant lice. The groups are known to be highly diverse, with over 2,000 species described from the US alone; scientists have previously estimated that there may be as many as 132,000 different species.
Madagascar tree diversity among the highest worldwide

(12/12/2011) In terms of biodiversity, the hugely imperiled forests of Madagascar may be among the world's richest. Researchers estimate that the island off the coast of Africa is home to at least 10,000 tree and shrub species with over 90 percent of them found no-where else in the world. With little baseline data collected on Madagascar's ecosystems, a new study, the first ever of tree diversity in Madagascar lowland rainforests, hopes to begin the process. Published in mongabay.com's open access journal Tropical Conservation Science, the new study surveyed tree species in eastern Madagascar's Betampona Special Reserve.
Mixed reactions to the Durban agreement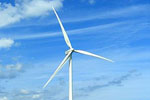 (12/12/2011) Early Sunday morning over 190 of the world's countries signed on to a new climate agreement at the 17th UN Framework Convention on Climate Change (UNFCCC) in Durban, South Africa. The summit was supposed to end on Friday, but marathon negotiations pushed government officials to burn the midnight oil for about 36 extra hours. The final agreement was better than many expected out of the two week summit, but still very far from what science says is necessary to ensure the world does not suffer catastrophic climate change.
Bushmeat trade driving illegal hunting in Zimbabwe park

(12/12/2011) Bushmeat hunting is one of the major threats to mammals in sub-Saharan Africa. Although widely discussed and recognized as an issues in Central and West Africa, a new study in mongabay.com's open access journal Tropical Conservation Science describes a pattern of bushmeat hunting that is also occurring in southern Africa. Interviewing 114 locals living adjacent to Gonarezhou National Park in Zimbabwe, Edson Gandiwa with Wageningen University found that the primary drivers of illegal hunting in the park were bushmeat and personal consumption (68 percent).
Picture of penguins is a prize-winner

(12/10/2011) Carl Safina's picture of King Penguins coming ashore at Salisbury Plain on South Georgia Island was the first winner of mongabay.com's series of photo contests hosted on Facebook.
EPA finds toxic chemicals in water supply near fracking sites in Wyoming

(12/10/2011) The U.S. Environmental Protection Agency announced on Thursday it found chemicals used in the process of hydraulic fracturing to extract natural gas in water supplies in Wyoming. The preliminary findings seem to confirm the fears of environmentalists that hydraulic fracturing can contaminate aquifers, but the gas industry called the EPA's release of the results "irresponsible" and claimed political motivations for the announcement.
Picture of the day: the endangered Toad Mountain Harlequin Toad

(12/09/2011) Atelopus certus is an endangered species of harlequin toad that is endemic to the Darien region of eastern Panama. It is primarily at risk from the spread of chytridiomycosis, a deadly fungal disease, that has been killing amphibians through Central America and other parts of the world.
Picture of the day: emerald-eyed tree frog

(12/09/2011) The emerald eyed tree frog (Hypsiboas crepitans) is found widely across tropical Latin America, ranging from Panama to Peru to Brazil. It is found both in pristine habitats and areas heavily impacted by humans.
Tool to track U.S. REDD+ finance released

(12/09/2011) A new online tool allows anyone to check U.S. government financial pledges made toward reducing emissions from deforestation and forest degradation (REDD+) programs in developing countries.
Peru's Cocha Cashu biological station changes management

(12/08/2011) The San Diego Zoo Global Wildlife Conservancy is taking over management of the productive Cocha Cashu field station in Manu National Park, Peru. To date, nearly 600 scientific papers have come out of research conducted at the station, making it among the five most productive research stations in the Amazon and Andes. Located in a part of the Amazon rainforest that has seen little human impact, the station was founded in 1969, four years before Manu National Park was gazetted.
Evidence mounts that Maya did themselves in through deforestation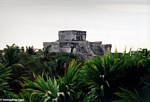 (12/08/2011) Researchers have garnered further evidence for a smoking gun behind the fall of the great Maya civilization: deforestation. At the American Geophysical Union (AGU) conference, climatologist Ben Cook presented recent research showing how the destruction of rainforests by the Mayan ultimately led to declines in precipitation and possibly civilization-rocking droughts. While the idea that the Maya may have committed ecological-suicide through deforestation has been widely discussed, including in Jared Diamond's popular book Collapse, Cook's findings add greater weight to the theory.
Picture of the day: Blue-and-yellow poison frog

(12/08/2011) The blue-and-yellow poison dart frog (Dendrobates tinctorius) — often called the dyeing dart frog — is found in the rainforests and savannas of Suriname, Guyana, French Guiana, and northern Brazil. Across its range there are several color forms.
Agriculture group to spend 10 years on forest research

(12/07/2011) Recognizing the global importance of the world's vanishing forests, a 10-year-long research program will focus on the interconnection between agriculture and forests. Conducted by CGIAR, a global agriculture group concerned with sustainability, the research program will look at ways to decrease forest loss and degradation.
Discovery Channel backtracks, promises to air climate change episode of new Frozen Planet series

(12/07/2011) Discovery Channel has announced that it will, in fact, air the last episode of the new series Frozen Planet, which focuses solely on the impact of climate change at the world's poles. By the creators of universally-acclaimed Planet Earth, the full series explores the wildlife and environs of the Arctic and Antarctic, but the Discovery Channel came under fire after it announced it would not air the last episode, called "On Thin Ice", which deals specifically with climate change. A petition on Change.org garnered 75,000 signatures calling on the Discovery Channel to air the full series, before the network caved and announced it would do so.
Palm oil, pulp companies commit to zero-tolerance policy for orangutan killing
(12/06/2011) Two Indonesian plantation companies have signed an agreement to train workers not to kill or injure orangutans and other protected species. The agreement was brokered by the Indonesian government between Orangutan Foundation International (OFI), a non-profit with operations in Central Kalimantan, Indonesian Borneo, and two major plantation firms: PT Smart, one of Indonesia's largest palm oil producers, and PT Lontar Papyrus, which supplies wood-pulp to Asia Pulp & Paper (APP). Both companies are holdings of the Sinar Mas Group. Under the terms of the deal, OFI will assist the companies 'in delivering a best management practices training program on orangutans and endangered species for its employees, affiliates and pulpwood suppliers.'
On the edge of extinction, giant ibis discovered in new region of Cambodia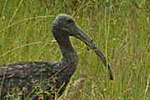 (12/06/2011) The world's largest ibis, and one of the world's most endangered birds, has received some good news. A giant ibis (Thaumatibis giganteawas) has been photographed in the Kampong Som Valley in Koh Kong Province in Cambodia, the first record from this province in nearly a hundred years. Adults can grow to reach nearly 3.5 feet (106 centimeters) long.
Seismic trails cut by U.S. oil firm in Belizean national park used by illegal loggers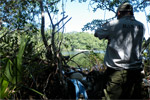 (12/06/2011) In the Belizean rainforest two rangers look up and down a straight path hacked through the jungle and take GPS coordinates, the escorting soldiers lying back in the heat as the coordinates are delivered. These are noted and the patrol resumes, pausing to photograph protected comfra palms that have been cut and laid on the muddy ground, or stretches where the rainforest has been cleared far beyond the permitted width. We are in the Sarstoon-Temash National Park, nearly 42,000 acres of rainforest and red mangrove swamps in southern Belize adjacent to the Guatemalan border, and the park rangers are dealing with a new threat to the biodiversity of the reserve. Rather than searching for illegal loggers from Guatemala, this patrol is monitoring the activities of an American oil company.
Current emission pledges will raise temperature 3.5 degrees Celsius

(12/06/2011) New research announced at the 17th UN Climate Summit in Durban, South Africa finds that under current pledges for reducing emissions the global temperature will rise by 3.5 degrees Celsius (6.3 degrees Fahrenheit) from historic levels, reports the AFP. This is nearly double world nations' pledge to keep warming below 2 degrees Celsius (3.6 degrees Fahrenheit). The report flies in the face of recent arguments by the U.S. and others at Durban that current pledges are adequate through 2020.
Jump-starting REDD finance: $3 billion Forest Finance Facility needed to halve deforestation within a decade

(12/06/2011) How to finance a means to reduce deforestation, which contributes emissions equivalent to the entire transport sector combined, has had some encouragement at the UN Climate meeting in Durban this week. An à la carte approach, where no source is ruled out, is emerging, leaving the door open to private sector finance for the first time. And with progress imminent in two other crucial areas of safeguards and reference levels, REDD+, a novel mechanism to halt deforestation, is once more likely to be the biggest winner.
Featured video: saving baby orphaned sloths

(12/06/2011) The world's only sloth sanctuary works to save orphaned and injured sloths in Costa Rica. A recent short film (below) by Lucy Cooke highlights a few of the stars of the sloth sanctuary. Cooke has a new hour long film debuting on Animal Planet on December 17th at 8 PM EST, following the adventures of a number of these sloths.
Feeding the world's population and saving forests aren't mutually exclusive

(12/06/2011) The world can simultaneously improve food security and save tropical forests by better optimizing land use, factoring in the true costs of biofuels, boosting yields on existing farmland, encouraging production away from forest frontiers, and supporting efforts to develop more sustainable community roundtables, concludes a new report released Monday by the National Wildlife Federation.
Photos: biologists surprised by world's biggest leopard in Afghanistan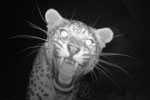 (12/05/2011) When biologists with the Wildlife Conservation Society (WCS) reviewed recent photos from camera traps in the Hindu Kush region of Afghanistan they were shocked to find a snarling image of the world's largest leopard: the Persian leopard (Panthera pardus saxicolor). Listed as Endangered by the IUCN Red List, the subspecies was thought long-vanished from the Hindu Kush. Photos from the camera traps—automated cameras that use an infrared trigger to catch wildlife—also showed lynx (Lynx lynx), wild cat (Felis silvestris), Eurasian wolf (Canis lupus lupus), red fox (Vulpes vulpes), and stone marten (Martes foina).
At least 74 percent of current warming caused by us

(12/05/2011) A new methodology to tease out how much current climate change is linked to human activities has added to the consensus that behind global warming is us. The study, published in Nature Geoscience found that humans have caused at least three-quarters (74 percent) of current warming, while also determining that warming has actually been slowed down by atmospheric aerosols, including some pollutants, which reflect sunlight back into space.
REDD project gets initial go-ahead in Cameroon

(12/05/2011) The government of Cameroon approved a feasibility assessment for the first REDD+ project in the Central African nation, reports the Global Green Carbon Corporation, which is developing the project.
Wildlife official: palm oil plantations behind decline in proboscis monkeys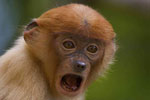 (12/05/2011) The practice of palm oil plantations planting along rivers is leading to a decline in proboscis monkeys (Nasalis larvatus) in the Malaysian state of Sabah on Borneo, says the director of the Sabah Wildlife Department, Laurentius Ambu. Proboscis monkeys, known for their bulbous noses and remarkable agility, depend on riverine forests and mangroves for survival, but habitat destruction has pushed the species to be classified as Endangered by the IUCN Red List.
Effort to save world's rarest frogs recognized with conservation award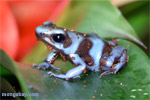 (12/05/2011) An effort to save the world's most endangered amphibians has won mongabay.com's 2011 conservation award. Amphibian Ark — a joint effort of the World Association of Zoos and Aquariums, the IUCN/SSC Conservation Breeding Specialist Group, and the IUCN/SSC Amphibian Specialist Group — is working to evaluate the status of threatened amphibians, raise awareness about the global amphibian extinction crisis, and set up captive breeding programs. The initiative is targeting 500 species that will not survive without captive breeding efforts.
Volcano and cloud forests conserved in Ecuador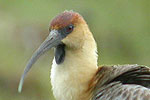 (12/05/2011) Conservation organizations and the Ecuadorian government have succeeded in securing over 250,000 acres (106,000 hectares) of cloud forest and grasslands surrounding the Antisana Volcano for protection. The area, long-used for cattle ranching, is home to Andean condors (Vultur gryphus), cougars (Puma concolor), Andean fox (Lycalopex culpaeus), silvery grebes (Podiceps occipitalis), black-faced ibis (Theristicus melanopis), spectacled bear (Tremarctos ornatus), and three species of endangered frogs. The protected area stretches from 3,900 feet (1,188 meters) to 18,700 feet (5,699 meters) above sea level.
Wolverines live up to tough reputation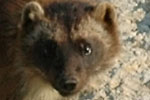 (12/05/2011) In the first X-Men film, the comic book character Wolverine is asked if it hurts when his claws retract from his knuckles. His unflinching response: "Every time." The real wolverine (Gulo gulo) is just as tenacious with new research proving it is a "winter endurance athlete." Eight years of radio-tracking 30 individual wolverines in the Rocky Mountains has provided an abundance of new data about the world's largest member of the weasel family, including that the feisty mammals survive year-round in harsh, snowy conditions 9,000 feet above see level. Although immeasurably tough, the animal is nearly extinct in the lower 48 states of the U.S.
World's most endangered primate still losing habitat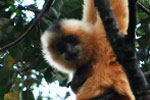 (12/04/2011) Just twenty-three Hainan gibbons (Nomascus hainanus) survive in the world. Confined to a single protected area on a lone island, Hainan gibbons are losing their habitat at a steady rate of 20 hectares per day finds a new study by Greenpeace. In all, nearly a quarter of the Critically Endangered lesser ape's habitat has been lost since 2001.
Global carbon emissions rise 49 percent since 1990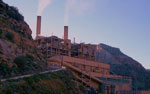 (12/04/2011) Total carbon emissions for the first time hit 10 billion metric tons (36.7 billion tons of CO2) in 2010, according to new analysis published by the Global Carbon Project (GCP) in Nature Climate Change. In the past two decades (since the reference year for the Kyoto Protocol: 1990), emissions have risen an astounding 49 percent. Released as officials from 190 countries meet in Durban, South Africa for the 17th UN Summit on Climate Change to discuss the future of international efforts on climate change, the study is just the latest to argue a growing urgency for slashing emissions in the face of rising extreme weather incidents and vanishing polar sea ice, among other impacts.







Protections for indigenous rights, biodiversity weakened in latest REDD+ text

(12/04/2011) Safeguards to ensure forest carbon projects protect biodiversity and respect the rights of local and indigenous communities were weakened in the latest draft text on REDD+ at climate talks in Durban, reports CIFOR, a forest policy and research institution. The draft text, which will now move forward to a plenary session for approval, also dropped any decision on financing of REDD+ projects.





Global map of REDD+ projects released

(12/03/2011) The Center for International Forestry Research (CIFOR) on Saturday released a comprehensive map of the world's REDD+ programs. The map includes 340 REDD+ projects, programs, and policies in 52 countries.




Page 1 | Page 2 | Page 3 | Page 4 | Page 5 | Page 6 | Page 7 | Page 8 | Page 9 | Page 10 | Page 11 | Page 12 | Page 13 | Page 14 | Page 15 | Page 16 | Page 17 | Page 18 | Page 19 | Page 20 | Page 21 | Page 22 | Page 23 | Page 24 | Page 25 | Page 26 | Page 27 | Page 28 | Page 29 | Page 30 | Page 31 | Page 32 | Page 33 | Page 34 | Page 35 | Page 36 | Page 37 | Page 38 | Page 39 | Page 40 | Page 41 | Page 42 | Page 43 | Page 44 | Page 45 | Page 46 | Page 47 | Page 48 | Page 49 | Page 50 | Page 51 | Page 52 | Page 53 | Page 54 | Page 55 | Page 56 | Page 57 | Page 58 | Page 59 | Page 60 | Page 61 | Page 62 | Page 63 | Page 64 | Page 65 | Page 66 | Page 67 | Page 68 | Page 69 | Page 70 | Page 71 | Page 72 | Page 73 | Page 74 | Page 75 | Page 76 | Page 77 | Page 78 | Page 79 | Page 80 | Page 81 | Page 82 | Page 83 | Page 84 | Page 85 | Page 86 | Page 87 | Page 88 | Page 89 | Page 90 | Page 91 | Page 92 | Page 93 | Page 94 | Page 95 | Page 96 | Page 97 | Page 98 | Page 99 | Page 100 | Page 101 | Page 102 | Page 103 | Page 104 | Page 105 | Page 106 | Page 107 | Page 108 | Page 109 | Page 110 | Page 111 | Page 112 | Page 113 | Page 114 | Page 115 | Page 116 | Page 117 | Page 118 | Page 119 | Page 120 | Page 121 | Page 122 | Page 123 | Page 124 | Page 125 | Page 126 | Page 127 | Page 128 | Page 129 | Page 130 | Page 131 | Page 132 | Page 133 | Page 134 | Page 135 | Page 136 | Page 137 | Page 138 | Page 139 | Page 140 | Page 141 | Page 142 | Page 143 | Page 144 | Page 145 | Page 146 | Page 147 | Page 148 | Page 149 | Page 150 | Page 151 | Page 152 | Page 153 | Page 154 | Page 155 | Page 156 | Page 157 | Page 158 | Page 159 | Page 160 | Page 161 | Page 162 | Page 163 | Page 164 | Page 165 | Page 166 | Page 167 | Page 168 | Page 169 | Page 170 | Page 171 | Page 172 | Page 173 | Page 174 | Page 175 | Page 176 | Page 177 | Page 178 | Page 179 | Page 180 | Page 181 | Page 182 | Page 183 | Page 184 | Page 185 | Page 186 | Page 187 | Page 188 | Page 189 | Page 190 | Page 191 | Page 192 | Page 193 | Page 194 | Page 195 | Page 196 | Page 197 | Page 198 | Page 199 | Page 200 | Page 201 | Page 202 | Page 203