News articles on green

---
Mongabay.com news articles on green in blog format. Updated regularly.






Plant wars: some tree species compete better against grasses for reforestation
(12/18/2014) What happens to degraded pastureland once the cows are kicked out? After years of letting the area rest, does it eventually become what it once was? Not likely. When disruptions such as invasive species and human interference are introduced to an area, ecological succession doesn't occur the way it should naturally.
Tropical deforestation could disrupt rainfall globally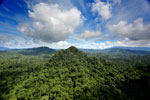 (12/18/2014) Large-scale deforestation in the tropics could drive significant and widespread shifts in rainfall distribution and temperatures, potentially affecting agriculture both locally and far from where forest loss is occurring, concludes a study published today in Nature Climate Change.
Enough for an elephant: why are Cameroon's elephants raiding fields?
(12/18/2014) Waza National Park in West Africa is a refuge to many endangered and vulnerable species. Walk through the grounds and you may see red-fronted gazelles grazing or giraffes sauntering between trees in search of foliage. Head to the park's perimeter, though, and you may see a less serene scene: elephants raiding local farmers' crops.
Ocelots live in super densities on Barro Colorado Island

(12/18/2014) By comparing camera trapping findings with genetic samples taken from feces, biologists have determined that the density of ocelots on Barro Colorado Island in Panama is the highest yet recorded. There are over three ocelots per every two square kilometers (0.77 square miles) on the island.
Amazonian peatlands store mega carbon

(12/17/2014) Peatlands in the Peruvian Amazon store ten times the amount of carbon as undisturbed rainforest in adjacent areas, making them critical in the battle to fight climate change, finds a new study published in Environmental Research Letters.
Saving the world's rarest primate: can it be done?
(12/17/2014) Endemic to China's southernmost province of Hainan, only around 30 Hainan gibbons survive today. Rapid island-wide deforestation and consequential loss of habitat, uncontrolled hunting, and failed captive breeding attempts have pushed this ape towards the precipice of becoming the first primate species to go extinct in the modern world. Will a multi-stakeholder conservation strategy be able to save it?
When predators attack, plants grow fewer thorns
(12/17/2014) Crisp lines of light begin to play out across the landscape. As the morning light grows, blades of grass take shape and, amongst rocky outcrops, green acacia breaks the yellow and gold of the savannah. Stirring in this early morning atmosphere is the African impala, an ungulate that typically grazes at dusk and dawn.
Deforestation taking toll on nesting birds in Cameroon
(12/17/2014) The tropical montane forests of the Cameroon mountain ranges boast fertile volcanic soils, high biodiversity of grasses and non-woody plants, as well as many endemic bird species that can be found only in this high-altitude region. Yet, many of these endemic bird species may be at risk due to increased nest predation linked with human-induced forest degradation, according to a new study.
Google Earth used to identify environmentally important termite mounds

(12/17/2014) In woodland and savannah areas, certain termite species play a critical environmental role due to the mounds they build. These mounds can be used as fertilizer to induce new ecosystems, and the termites themselves can be studied as biological indicators of human-caused degradation. Detecting the amount and distribution of these mounds throughout an area can provide importance insight on the overall health of an environment. However, detecting the mounds on the ground can be a costly and time-consuming activity.
Scientists reintroduce agoutis in rainforest in city of 12 million
(12/17/2014) When one thinks of Rio de Janeiro, one usually doesn't think: rainforest. However, in the heart of the city sits a massive rainforest sprung over long-gone sugar and coffee plantations. The forest—protected today as the Tijuca National Park—is home to hundreds of threatened species, but no agoutis, a common ground mammal in Latin America.
Success of 'land sparing' will depend on global economics, regulations
(12/16/2014) Agriculture is the primary driver of tropical deforestation. Indeed, most global food production occurs in the tropics, including important commodity crops such as sugarcane, soybeans, palm oil, and beef. Recent estimates indicate that forest clearing for agriculture contributes significantly to greenhouse gas emissions. This fuels concern over how to balance food production for a growing population with climate change mitigation through conserving tropical forests.
Forests could be a thrifty way to fight ozone pollution
(12/16/2014) Planting trees may be a cost-effective way to reduce ground-level ozone, a toxic component of smog that contributes to the deaths of about 152,000 people annually worldwide, according to new research. The study is the first to lay out a practical plan and examine the economic impacts of lowering ozone levels with trees.
New mapping technique sheds light on dry forests
(12/16/2014) The extreme habitat heterogeneity of Southeast Asian forests makes it difficult to map their different compositions, resulting in a lack of study of many forest types and their underrepresentation in protected area networks. To address this issue, researchers came up with a remote sensing-based method to accurately delineate forest types, which they demonstrate in a study released this week by focusing on one particular forest type: Dry Deciduous Dipterocarp forests.
Hunting is a greater threat than logging for most wildlife in Borneo
(12/16/2014) Persistence is the key factor in the two most common human stressors on tropical wildlife. In Malaysian Borneo, hunting continually diminishes wildlife populations, whereas the negative impacts from selective logging are more transient, according to a recent study in Conservation Biology.
Palm oil facilitates large-scale illegal logging in Indonesia
(12/16/2014) Development of oil palm plantations is providing cover for large-scale illegal logging in Indonesian Borneo, driving destruction of some of the island's most biodiverse forests and undermining efforts to reform the country's forestry sector, alleges a new report published by the Environmental Investigation Agency (EIA).
Growth of forests may not be keeping pace with rising CO2 levels
(12/15/2014) Plants rely on three critical elements for growth: carbon dioxide, water, and sunlight. Rising atmospheric carbon dioxide concentrations are therefore expected to increase rates of forest growth, in turn helping counter some of humanity's influence on global climate. But a new study provides evidence that challenges that assumption.
Then there were five: rhino death moves species closer to extinction

(12/15/2014) As if news for rhinos couldn't get any worse: this weekend, Angalifu, died a the San Diego Zoo. Forty four-year-old Angalifu was a male northern white rhino and his death means only five of this subspecies remains on the planet. Angalifu's death, which keepers suspect was simply from old age, follows soon after the death of another northern white rhino, Suni, in October.
Gibbon species pushed towards extinction as island loses its trees
(12/15/2014) Only about 30 Hainan gibbons currently inhabit our world and all of them are confined to the 2,100-hectare Bawangling National Nature Reserve on the western part of Hainan Island. Endemic to this island, these gibbons primarily inhabited the lowland broadleaf and semi-deciduous monsoon forests that today are almost entirely deforested.
Children 'clean' oil spill with kitchen utensils in the Sundarbans
(12/15/2014) On December 9th, a tanker slammed into another vessel along the Shela River in the world's largest mangrove forest: the Sundarbans in Bangladesh. The tanker sank, spilling an estimated 75,000 gallons (350,000 liters) of fuel oil into waterways that are a part of a reserve for threatened Ganges river dolphins and Irrawaddy dolphins.
New poison dart frog needs immediate conservation plan
(12/15/2014) It was a surprising discovery in an unlikely location. In a leaf litter nearly four inches deep under a dense canopy of rainforest trees, researchers Marcos Ponce and Abel Batista with the Universidad Autónoma de Chiriquí worked to complete an inventory of endangered species in Panama's Isthmian-Atlantic moist forest. But they were both completely unsuspecting of what they were about to find: a new poison dart frog.
Reefs reduce 97 percent of wave energy, could be better than artificial barriers
(12/15/2014) We have a lot of stake in the coast. Coastal waters are where we host fisheries, build homes and turn to for tourism and recreation. So how should coastal communities, which comprise nearly 40 percent of the world's population, safeguard against flooding, erosion and violent weather? Marine scientist Michael Beck suggests the solution is growing right beneath some waves and, in many cases, it has been waiting there for thousands of years.
Conservation and the rights of indigenous communities

(12/12/2014) Many conservationists have long supported local communities and indigenous peoples seeking recognition of their rights to land and natural resources. In addition to being the right thing to do, supporting these local initiatives in land and seascapes across the globe helps strengthen the constituency for conserving healthy wildlife populations, habitats, and natural ecosystems.
EU adopts law mandating palm oil labeling on food products

(12/12/2014) Tomorrow the European Union will begin enforcing legislation that mandates labeling of specific vegetable oils on food products. The move means consumers will soon know whether the products they consume contain palm oil, canola, or one of many other sources of plant-based fat.
An app to save 400 million animals
(12/11/2014) Brazilian biologist Alex Bager has been leading a crusade to raise awareness of a major but neglected threat to biodiversity in his country. Every year over 475 million animals die in Brazil as victims of roadkill, according to an estimate by Centro Brasileiro de Ecologia de Estradas, an initiative funded and coordinated by Bager. This means 15 animals are run down every second on Brazilian roads and highways.
Bamboo could help fight global warming
(12/11/2014) Restoring degraded land and forests with the world's fastest growing plant, bamboo, can contribute to major carbon emission reductions. This is according to a new report that discusses the massive potential of bamboo in fighting global warming, with bamboo forests projected to store more than one million tons of carbon by 2050 in China alone.
New film highlights local resistance to Nicaragua's canal
(12/11/2014) This fall, filmmakers Tom Miller and Nuin-Tara Key with Pretty Good Productions found themselves in Nicaragua where they heard about a stunning project: the Gran Canal. Approved last year, the canal is meant to compete with the Panama Canal to the south. Built by a Chinese company, it will cut through 278 kilometers, destroying forests and driving through the largest freshwater body in Central America.
New pit viper discovered in Sumatra
(12/10/2014) A new pit viper was discovered by researchers working in Sumatra, Indonesia. The viper, named Trimeresurus gunaleni, was identified by the researchers while they were studying a group of Trimeresurus sumanatrus, first described by Sir Thomas Stamford Raffles in 1822.
To collect or not to collect? Experts debate the need for specimens
(12/10/2014) In 1912, a group of intrepid explorers led by Rollo and Ida Beck, widely acknowledged to be the foremost marine bird collectors of their time, embarked on a most remarkable effort to catalogue South America's oceanic birds. Museums of the day held opportunistically collected specimens from scattered sources, but rarely did these include ocean-bound birds that spent little time near the coast.
Lizard see, lizard do: scientists discover surprising behavior in reptiles
(12/10/2014) Imitation can be obnoxious. For those with siblings, imitating your brother's or sister's every word was a surefire way to steadily drive them toward insanity. Annoying it may be, imitation is also special; it's a behavior long regarded to be uniquely human. The skill of imitation is a little less exclusive now, as reptiles join the ranks of creatures capable of the social feat. Researchers from the United Kingdom and Austria recently demonstrated that one lizard, the bearded dragon (Pogona vitticeps), can learn through imitation.
Deforestation puts cultural survival of forest-dependent peoples at risk
(12/10/2014) Forest-dependent peoples face grave threats from deforestation and other depredations, warns a new report that urges greater recognition of traditional land use and support of community-led initiatives to fight forest loss. The report, published Monday during climate talks in Lima, is based on research by dozens of indigenous and forest communities from Africa, Asia and Latin America.
False victories for sustainability – Amazonian Hydropower
(12/09/2014) Dams are hugely controversial, especially in the Amazon Rainforest. Their proponents, flashing green credentials, have dammed the tributaries of the Amazon for decades. However, there is a rising backlash against the huge economical, environmental, and sociological costs dams bring. A paper led by Dr. James Randall Kahn from Washington and Lee University is the latest in this volley.
Striking new gecko discovered in Thailand
(12/09/2014) A research team based in western Thailand has discovered a new gecko species in the Kanchanaburi Province, a region renowned for its number of species found nowhere else in the world. A recent publication describes the Sai Yok bent-toed gecko (Cyrtodactylus saiyok), the sixth reptile species endemic to the region known to science.
For the first time, Sea Shepherd targets Antarctic toothfish poachers
(12/09/2014) For the first time, marine conservation group, Sea Shepherd, is employing their controversial methods to protect Antarctic and Patagonian toothfish. Dubbed 'Operation Icefish,' Sea Shepherd Australia is sending two ships into Antarctic waters to disrupt illegal vessels targeting the little-known species that are often sold in luxury markets as Chilean seabass.
Relief for Kenya's rare coastal forest
(12/09/2014) In October this year, CAMAC Energy, an oil and gas exploration and production company, announced that they would conduct seismic surveys for oil and gas within Arabuko-Sokoke Forest, one of the last remaining fragments of coastal forests in East Africa. But following immense pressure from the environmental front, CAMAC Energy cancelled their plans to conduct surveys inside the forest.
Pollinators puzzle to find flowers amidst natural and human fumes
(12/09/2014) While unpleasant car exhaust makes us wrinkle our noses, such human-made fumes may pose serious problems to insects searching for nectar. Researchers recently revealed that background odors make finding flowers difficult for pollinators. The study, published in Science, measured how hawk moths (Manduca sexta) pick out the sacred datura flower scent (Datura wrightii) amidst all the other smells that waft through the environment.
Tribal violence comes naturally to chimpanzees
(12/08/2014) It all went to hell when Jane Goodall started handing out bananas. Within a few years, the previously peaceful chimpanzees she was studying split into two warring tribes. Gangs of males from the larger faction systematically slaughtered their former tribemates. All over the bananas. Or so the argument goes.
Indigenous leader murdered before he could attend Climate Summit
(12/08/2014) Days before José Isidro Tendetza Antún was supposed to travel to the UN Climate Summit in Lima to publicly file a complaint against a massive mining operation, he went missing. Now, the Guardian reports that the body of the Shuar indigenous leader has been found, bound and buried in an unmarked grave on the banks of the Zamora River.
Initiative to restore 50M acres of degraded Latin American ecosystems by 2020
(12/07/2014) A coalition of governments and organizations today pledged to restore 20 million hectares (50 million acres) of degraded forests and ecosystems across Latin America by 2020 under an initiative that aims to curb boost rural incomes, fight climate change, and increase agricultural production. The effort is backed by $365 million from five impact investors.
How an indigenous community in Ecuador stood up to big oil - and won
(12/05/2014) The Sarayaku, a Kichwa indigenous people numbering 1,200 from the Ecuadorian Amazon, won a historic court case in 2012. The Inter-American Court of Human Rights ruled that the government of Ecuador must publicly apologize, consult with, and recompense the Sarayaku for allowing oil exploration by Argentine Compañia General de Combustibles on their territory without prior consultation
Biodiversity protection is key to REDD+ success, study shows
(12/05/2014) Protecting biodiversity may be crucial for successfully storing carbon in forests, scientists say. A recent publication on Oryx - The International Journal of Conservation suggests that biodiversity loss –especially through hunting – will hinder the success of Reducing Emissions from Deforestation and Forest Degradation (REDD) projects.
A landmark year for forests (commentary)
(12/05/2014) About one year ago today, I was pretty down. It was Thanksgiving night, and the Forest Heroes campaign, which I chair, had been running a big global campaign to persuade Wilmar International, Asia's largest agribusiness company, to eliminate deforestation and human rights abuse throughout its enormous supply chain.
Tradeoff: Sabah banks on palm oil to boost forest protection
(12/05/2014) Last month Sabah set aside an additional 203,000 hectares of protected forest reserves, boosting the Malaysian state's extent of protected areas to 21 percent of its land mass. But instead of accolades, Sabah forestry leaders were criticized for how they went about securing those reserves: allowing thousands of hectares of deforested land within an officially designated forestry area to be converted for oil palm plantations
Giant stone face unveiled in the Amazon rainforest (video)
(12/04/2014) A new short film documents the journey of an indigenous tribe hiking deep into their territory in the Peruvian Amazon to encounter a mysterious stone countenance that was allegedly carved by ancient peoples. According to Handcrafted Films, which produced the documentary entitled The Reunion, this was the first time the Rostro Harakbut has been filmed.




Page 1 | Page 2 | Page 3 | Page 4 | Page 5 | Page 6 | Page 7 | Page 8 | Page 9 | Page 10 | Page 11 | Page 12 | Page 13 | Page 14 | Page 15 | Page 16 | Page 17 | Page 18 | Page 19 | Page 20 | Page 21 | Page 22 | Page 23 | Page 24 | Page 25 | Page 26 | Page 27 | Page 28 | Page 29 | Page 30 | Page 31 | Page 32 | Page 33 | Page 34 | Page 35 | Page 36 | Page 37 | Page 38 | Page 39 | Page 40 | Page 41 | Page 42 | Page 43 | Page 44 | Page 45 | Page 46 | Page 47 | Page 48 | Page 49 | Page 50 | Page 51 | Page 52 | Page 53 | Page 54 | Page 55 | Page 56 | Page 57 | Page 58 | Page 59 | Page 60 | Page 61 | Page 62 | Page 63 | Page 64 | Page 65 | Page 66 | Page 67 | Page 68 | Page 69 | Page 70 | Page 71 | Page 72 | Page 73 | Page 74 | Page 75 | Page 76 | Page 77 | Page 78 | Page 79 | Page 80 | Page 81 | Page 82 | Page 83 | Page 84 | Page 85 | Page 86 | Page 87 | Page 88 | Page 89 | Page 90 | Page 91 | Page 92 | Page 93 | Page 94 | Page 95 | Page 96 | Page 97 | Page 98 | Page 99 | Page 100 | Page 101 | Page 102 | Page 103 | Page 104 | Page 105 | Page 106 | Page 107 | Page 108 | Page 109 | Page 110 | Page 111 | Page 112 | Page 113 | Page 114 | Page 115 | Page 116 | Page 117 | Page 118 | Page 119 | Page 120 | Page 121 | Page 122 | Page 123 | Page 124 | Page 125 | Page 126 | Page 127 | Page 128 | Page 129 | Page 130 | Page 131 | Page 132 | Page 133 | Page 134 | Page 135 | Page 136 | Page 137 | Page 138 | Page 139 | Page 140 | Page 141 | Page 142 | Page 143 | Page 144 | Page 145 | Page 146 | Page 147 | Page 148 | Page 149 | Page 150 | Page 151 | Page 152 | Page 153 | Page 154 | Page 155 | Page 156 | Page 157 | Page 158 | Page 159 | Page 160 | Page 161 | Page 162 | Page 163 | Page 164 | Page 165 | Page 166 | Page 167 | Page 168 | Page 169 | Page 170 | Page 171 | Page 172 | Page 173 | Page 174 | Page 175 | Page 176 | Page 177 | Page 178 | Page 179 | Page 180 | Page 181 | Page 182 | Page 183 | Page 184 | Page 185 | Page 186 | Page 187 | Page 188 | Page 189 | Page 190 | Page 191 | Page 192 | Page 193 | Page 194 | Page 195 | Page 196 | Page 197 | Page 198 | Page 199 | Page 200 | Page 201 | Page 202 | Page 203 | Page 204 | Page 205 | Page 206 | Page 207