News articles on green

---
Mongabay.com news articles on green in blog format. Updated regularly.








Photos: Asia's disappearing species

(09/05/2012) To highlight the plight of Asia's biodiversity, which is facing a range of threats from deforestation to the wildlife trade, the Wildlife Conservation Society today released a list of Asian species in need of immediate conservation action.
Sacrificial squid has unique way of deterring predators

(09/04/2012) Octopoteuthis deletron—this deep-dwelling, unassuming little squid may appear plain and boring, but when threatened, it has a peculiar way of defending itself. This foot-long invertebrate behaves a bit differently than most of its close cousins: it drops its arms.
Tiger and cubs filmed near proposed dam in Thailand

(09/04/2012) A tigress and two cubs have been filmed by remote camera trap in a forest under threat by a $400 million dam in Thailand. To be built on the Mae Wong River, the dam imperils two Thai protected areas, Mae Wong National Park and Huay Kha Khaeng Wildlife Sanctuary, according to the World Wide Fund for Nature (WWF)
New contest seeks for-profit efforts to save rainforests

(09/04/2012) The World Wide Fund for Nature (WWF)-Switzerland has kick-started a new contest to award innovative ideas devoted to protecting tropical forests. Focusing on for-profit enterprises, the Tropical Forest Challenge will reward the best idea, startup, and company as voted by the public.
Rainforest fungi, plants fuel rainfall

(09/04/2012) Salt compounds released by fungi and plants in the Amazon rainforest have an important role in the formation of rain clouds, reports research published in the journal Science.
Boosting forestry at the bottom of the pyramid

(09/04/2012) Nearly 600 million people manage some one billion hectares (2.5 million hectares) of agroforests worldwide, yet these smallholders have been largely left out of a push to move some commodities up the value chain through certification programs. To date, it has been mostly corporate entities and commercial farmers who have been able to capitalize on premiums offered for certified "eco-friendly" products. The reason is simple: scale. Smallholders can't bear the costs associated with getting certified.
40% of Liberia's forests granted for logging

(09/04/2012) 40 percent of Liberia's forests have been granted to logging companies operating outside the country's strict forestry laws, alleges a new investigation by Global Witness, Save My Future Foundation (SAMFU) and Sustainable Development Institute (SDI).
Coral calcification rates fall 44% on Australia's Great Barrier Reef

(09/04/2012) Calcification rates by reef-building coral communities on Australia's Great Barrier Reef have slowed by nearly half over the past 40 years, a sign that the world's coral reefs are facing a grave range of threats, reports a new study published in the Journal of Geophysical Research - Biogeosciences.
Biodiversity faltering: 20% of invertebrates threatened with extinction
(08/31/2012) Twenty percent of invertebrates are at risk of extinction, according to a new report that looks at the 12,621 invertebrates assessed by the IUCN Red List to date. Although invertebrates never garner the same conservation attention as big, charismatic animals such as tigers and elephants, they play an undeniable role in maintaining healthy ecosystems. In addition, since invertebrates make-up 80 percent of the world's species, the report raises new concerns about global biodiversity decline.
Obama approves preparation for oil drilling in Arctic, Shell en route

(08/30/2012) In the same week that sea ice in the Arctic Ocean hit another record low due to climate change, the Obama Administration has given final approval to Royal Dutch Shell to prepare for exploratory drilling in the region. Vehemently opposed by environmentalists and indigenous groups, the drilling plans are a part of the Obama Administrations 'all of the above' energy policy. Whether or not Shell will actually drill a well this season, however, is still up in the air as its oil spill containment barge remains docked in Washington state for an upgrade that could last several days.
Indigenous groups in Panama wait for UN REDD to meet promises
(08/30/2012) A dispute over the implementation of REDD+ (Reducing Emissions from Deforestation and Degradation) in Panama has pitted the United Nations (UN) against the nation's diverse and large indigenous groups. Represented by the National Coordinator of Indigenous Peoples in Panama (COONAPIP), indigenous groups charge that the UN has failed to meet several pledges related to kick-starting REDD+ with their support, including delaying a $1.79 million payment to the group to begin REDD+-related activities. The on-going dispute highlights the perils and complexities of implementing REDD+, especially concerns that the program might disenfranchise indigenous groups who have long been the stewards of their forest territories.
Survivors say gold miners in helicopter massacred village of 80 in Venezuelan Amazon
(08/30/2012) Up to 80 people have been massacred by gold miners in the remote Venezuelan Amazon, according to reports received by the indigenous-rights group, Survival International. According to Reuters, the reports have prompted the Venezuelan government to investigate the alleged murders of the Yanomami isolated community. According to three indigenous survivors, sometime in July a helicopter and what-are-believed to be illegal goldminers massacred the Yanomami community of Irotatheri.
Emissions from Amazon deforestation in Brazil fall 57% since 2004

(08/29/2012) Annual emissions from deforestation in the Brazilian Amazon fell by about 57 percent between 2004 and 2011, 20 percentage points lower than the recorded drop in deforestation, reports a new study published in the journal Global Change Biology by Brazilian scientists. Overall, Brazilian deforestation represented roughly 1.5 percent of global carbon emissions from human activities.
Unidentified poodle moth takes Internet by storm
(08/29/2012) A white moth from Venezuela that bears a striking resemblance to a poodle has become an Internet sensation, after cryptozoologist Karl Shuker posted about the bizarre-looking species on his blog. Photographed in 2009 in Venezulea's Canaima National Park in the Gran Sabana region by zoologist Arthur Anker from Kyrgyzstan, the white, cuddly-looking moth with massive black eyes has yet to be identified and could be a species still unknown to science.
U.S. boosts fuel economy standard to 54.5 mpg

(08/29/2012) The Obama administration finalized rules that will boost the national fuel economy standard for cars and light trucks to 54.5 miles per gallon for the 2025 model year.
Brazil's controversial Belo Monte back on track after court decision overruled

(08/29/2012) Brazil's Supreme Court on Tuesday ordered work on the controversial Belo Monte dam in the Amazon to resume, overturning a lower court order that suspended the project less than two weeks ago. Construction activities by the Norte Energia, the consortium building the dam, resumed immediately, according to the Associated Press.
'Monster larva' turns into a shrimp
(08/28/2012) With blue devil-shaped horns and red armor, the monster larva, or Cerataspis monstrosa, kept scientists guessing for nearly 200 years; infrequently found in the bellies of marine predators, researchers could not imagine what this larva became as an adult. Now they do: the monster larva becomes a deep sea shrimp, known as Plesiopenaeus armatus, which bares little monstrous resemblance to its larval stage, according to DNA studies published in Ecology and Evolution.
One extinction leads to another...and another
(08/28/2012) A new study in Biology Letters demonstrates that altering the relationship between a predator and its prey can cause wide-ranging ripple effects through an ecosystem, including unexpected extinctions. Species help each other, directly or indirectly, which scientists refer to as mutualism or commensalism. For example, a species' success may rely not only upon the survival of its food source, but may also indirectly rely upon the survival of more distantly related species.
Private reserve safeguards newly discovered frogs in Ecuadorian cloud forest
(08/28/2012) Although it covers only 430 hectares (1,063 acres) of the little-known Chocó forest in Ecuador, the private reserve las Gralarias in Ecuador is home to an incredible explosion of life. Long known as a birder's paradise, the Reserva las Gralarias is now making a name for itself as a hotspot for new and endangered amphibians, as well as hundreds of stunning species of butterfly and moth. This is because the reserve is set in the perfect place for evolution to run wild: cloud forest spanning vast elevational shifts. "The pacific slope cloud forests [...] are among the most endangered habitats in the world," explains Reserva las Gralarias' founder, Jane Lyons, in a recent interview with mongabay.com.
Rainforests decline sharply in Sumatra, but rate of deforestation slows
(08/28/2012) The extent of old-growth forest in Sumatra shrank by 40 percent over the past 20 years, while overall forest on the Indonesian island declined by 36 percent, finds a comprehensive new satellite-based assessment published in Environmental Research Letters. The research, conducted by an international team led by Belinda Arunarwati Margono of South Dakota State University and Indonesia's Ministry of Forestry, reveals the dire condition of Sumatra's once extensive rainforests. Overall Sumatra lost 7.5 million hectares of forest between 1990 and 2010, of which about 2.6 million hectares was primary forest. The bulk of forest loss occurred in secondary forests that had been previously degraded by logging.
Japan declares its river otter extinct

(08/28/2012) Japan's Ministry of the Environment today declared the Japanese river otter (Lutra lutra whiteleyi) extinct. Last seen in 1979 in the city of Susaki on the island of Shikoku, the unique subspecies was killed-off by overhunting and loss of habitat due to development.
Sea ice falls to record low with over two weeks of melting left

(08/27/2012) One of the most visible impacts of climate change—melting summer sea ice in the Arctic—just hit a new milestone. Scientists with the U.S. National Snow and Ice Data Center (NSIDC) have declared that this year's Arctic sea ice extent dipped below the previous record set in 2007 as of yesterday. The record is even more notable, however, as it occurred more than a fortnight before the Arctic's usual ice melt season ends, meaning the old record will likely not just be supplanted, but shattered.
Mekong dam spree could create regional food crisis
(08/27/2012) Fish are a hugely important protein source for many people around the world. This is no more evident than along the lower Mekong River delta where an estimated 48 million people depend directly on the river for food and livelihoods. But now a new study in Global Environmental Change cautions that 11 planned hydroelectric dams in the region could cut vital fish populations by 16 percent while putting more strain on water and land resources.
Picture of the day: Yao Ming with baby elephant orphaned by ivory trade

(08/27/2012) Former NBA Basketball player and Olympian, Yao Ming is taking his first trip through Africa in order to see the on-the-ground impacts of the black-market ivory and rhino trades in East Asia. Ming, who stands 7-and-a-half feet (2.3 meters), has become not only well-known for his athletic prowess, but also his devotion to endangered wildlife.
Greenpeace abandons occupation of Arctic oil drilling rig after workers throw metal at them

(08/26/2012) On Friday the head of Greenpeace, Kumi Naidoo, and five other activists occupied an Arctic oil platform owned by Russian oil and gas giant Gazprom to protest exploiting fossil fuel beds in the Arctic ocean. The action by Greenpeace was short-lived after workers began spraying them with cold water from high-powered hoses and then threw pieces of metal at them, according to Naidoo, who communicated via Twitter during the civil disobedience.
Bird uses hurricane winds to accelerate flight speed to 100 MPH

(08/24/2012) Migrating Whimbrels — a type of shorebird — may struggle for hours against winds when trying to cross the Caribbean during hurricane season but get a huge boost as they fly out of storms, report researchers from the Center for Conservation Biology in Williamsburg, Virginia.
Construction of controversial Belo Monte dam stopped

(08/24/2012) Belo Monte dam developer Norte Energia, S.A. has stopped all work on the Belo Monte dam after receiving formal notification of the decision last week by the Brazilian Federal Appeals Court to suspend the project, reports International Rivers. Norte Energia said it would take 'all available measures to reverse the decision.'
Animal picture of the day: Critically Endangered macaws

(08/23/2012) Found in only one location in northern Bolivia, the blue-throated macaw (Ara glaucogularis) is thought to number little more than 100 individuals in the wild. However the species is protected from utter extinction by a much larger captive population.
Burma warns of deforestation crisis

(08/23/2012) An official warned that Myanmar is facing a deforestation crisis due to poor forest management, illegal logging, and fuelwood collection, reports Chinese state media.
Human society surpasses 'nature's budget' today

(08/22/2012) As of today, August 22nd, humanity has overshot the world's annual ecological budget, according to the Global Footprint Network, which tracks global consumption related to resource availability and sustainability. The organization looks at a variety of data including the world's fisheries, forests, agriculture, water, mining, and greenhouse gas emissions.
Bizarre new rodent discovered in Indonesia has only 2 teeth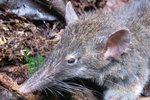 (08/22/2012) The Indonesian island of Sulawesi is a workshop of bizarre evolutionary experiments. Think of the babirusa, pig-like species with tusks that puncture their snouts; or the maleo, a ground-bird that lays its eggs in geothermal heated sand; or the anoa, the world's smallest wild cattle. Now the island, made up of four intersecting peninsulas, can add another bizarre creature to its menagerie of marvels: the Paucidentomys vermidax, a new species of rodent that is different from all others.





Arctic sea ice approaches another record melt

(08/22/2012) Sea ice extent in the Arctic is very near to beating the previous record low set in 2007, according to the U.S. National Snow and Ice Data Center. Researchers told Reuters that they expect the record to be beaten by the end of month, well over a week before the melt season ends in the frozen north.







Featured video: a Sumatran rhino love story

(08/21/2012) Efforts to save the Sumatran rhino in Borneo have sped up ever since the capture of Puntung last Christmas. A female rhino, who lost one foot to a snare, Puntung represents the first viable mate for Tam, a male rhino who has been kept in a large rainforest enclosure since his rescue in an oil plantation in 2008. Now a new video hopes to garner some publicity for the new couple, who may represent the best chance for the continued survival of Sumatran rhinos on Borneo.





Chinook salmon return to Olympic National Park after dam demolished

(08/21/2012) In March of this year the Elwha Dam, which had stood for 99 years, was demolished in the U.S. state of Washington. Five months later, Chinook salmon (Oncorhynchus tshawytscha) made their way down 70 miles of long-blocked off habitat and entered Olympic National Park.





Pictures of the day: NASA captures stunning images of U.S. wildfires at night

(08/21/2012) NASA is now able to capture satellite images of wildfires—at night. Using the The Suomi National Polar-orbiting Partnership satellite (S-NPP), which has instruments that are particularly sensitive to light, NASA was able to take images of fires burning nocturnally across the American West in what has been a record year, to date, for fires in the country.





Illegal lobster fishermen slammed with over $50 million penalty

(08/21/2012) Three men who illegally harvested lobster from South African waters and smuggled them to the U.S. for 14 years have been ordered to pay $54.9 million in restitution to the South African government by a District Court in Manhattan. According to the Pew Environment Group this is the largest restitution order under the U.S. Lacey Act, which deals with the illegal wildlife trade. The judgement, however, still requires the approval of a district judge.





Burma: slowly opening its doors

(08/21/2012) As a 'road junky', I know what you're thinking: 'Burma is reforming so quickly, let's rush off to Burma before tourists snatch up all its unspoiled beauty!' I had the same idea, and after an incredible trip to Burma, I have to say that I was right. However, I must tell you that traveling in Burma is both rewarding and challenging. In Burma, I found myself spending a day in Bagan being driven from majestic temple to majestic temple by a betel-chewing, elementary-school-aged, driver who took the horse cart right through a plowed and planted field on the way to Sule Pagoda where I watched the sunset of a lifetime. I found myself in awe of the red-brick stupas, colorful frescoes, pastoral simplicity, and peace found in off-season induced solitude amongst some of the ruins. Still, in spite of these wonderful experiences, I also found that my optimism over the country's recent transformation was sometimes tempered by evidence of its tumultuous past.








Page 1 | Page 2 | Page 3 | Page 4 | Page 5 | Page 6 | Page 7 | Page 8 | Page 9 | Page 10 | Page 11 | Page 12 | Page 13 | Page 14 | Page 15 | Page 16 | Page 17 | Page 18 | Page 19 | Page 20 | Page 21 | Page 22 | Page 23 | Page 24 | Page 25 | Page 26 | Page 27 | Page 28 | Page 29 | Page 30 | Page 31 | Page 32 | Page 33 | Page 34 | Page 35 | Page 36 | Page 37 | Page 38 | Page 39 | Page 40 | Page 41 | Page 42 | Page 43 | Page 44 | Page 45 | Page 46 | Page 47 | Page 48 | Page 49 | Page 50 | Page 51 | Page 52 | Page 53 | Page 54 | Page 55 | Page 56 | Page 57 | Page 58 | Page 59 | Page 60 | Page 61 | Page 62 | Page 63 | Page 64 | Page 65 | Page 66 | Page 67 | Page 68 | Page 69 | Page 70 | Page 71 | Page 72 | Page 73 | Page 74 | Page 75 | Page 76 | Page 77 | Page 78 | Page 79 | Page 80 | Page 81 | Page 82 | Page 83 | Page 84 | Page 85 | Page 86 | Page 87 | Page 88 | Page 89 | Page 90 | Page 91 | Page 92 | Page 93 | Page 94 | Page 95 | Page 96 | Page 97 | Page 98 | Page 99 | Page 100 | Page 101 | Page 102 | Page 103 | Page 104 | Page 105 | Page 106 | Page 107 | Page 108 | Page 109 | Page 110 | Page 111 | Page 112 | Page 113 | Page 114 | Page 115 | Page 116 | Page 117 | Page 118 | Page 119 | Page 120 | Page 121 | Page 122 | Page 123 | Page 124 | Page 125 | Page 126 | Page 127 | Page 128 | Page 129 | Page 130 | Page 131 | Page 132 | Page 133 | Page 134 | Page 135 | Page 136 | Page 137 | Page 138 | Page 139 | Page 140 | Page 141 | Page 142 | Page 143 | Page 144 | Page 145 | Page 146 | Page 147 | Page 148 | Page 149 | Page 150 | Page 151 | Page 152 | Page 153 | Page 154 | Page 155 | Page 156 | Page 157 | Page 158 | Page 159 | Page 160 | Page 161 | Page 162 | Page 163 | Page 164 | Page 165 | Page 166 | Page 167 | Page 168 | Page 169 | Page 170 | Page 171 | Page 172 | Page 173 | Page 174 | Page 175 | Page 176 | Page 177 | Page 178 | Page 179 | Page 180 | Page 181 | Page 182 | Page 183 | Page 184 | Page 185 | Page 186 | Page 187 | Page 188 | Page 189 | Page 190 | Page 191 | Page 192 | Page 193 | Page 194 | Page 195 | Page 196 | Page 197 | Page 198 | Page 199 | Page 200 | Page 201 | Page 202 | Page 203 | Page 204 | Page 205 | Page 206 | Page 207 | Page 208 | Page 209 | Page 210 | Page 211