News articles on green

---
Mongabay.com news articles on green in blog format. Updated regularly.






Indonesia drops water bombs on fires, may resort to cloud-seeding

(06/22/2013) In an effort to control peat fires casting a pall of haze over neighboring Singapore and Malaysia, Indonesia is using airplanes to drop water across hotspots in Riau Province on the island of Sumatra, reports AFP. Officials say they may try cloud-seeding — dumping silver iodide at high altitude — if current fire-fighting efforts fall short.
Singapore air pollution hits worst level on record, government blames palm oil and timber plantations in Sumatra

(06/21/2013) Singapore's Pollutant Standards Index hit the highest level on record Friday as 'haze' driven by fires burning across plantations, peatlands, and forest areas continued to rage across Sumatra. The air pollution gauge touched a record 400 at 11 am local time on Friday, according to the National Environment Agency's website. The level is considered "very unhealthy" with people advised to 'minimize all outdoor exposure' and wear masks when outside.
Newly discovered pirate ant uses sickle-shaped mandibles to decimate rivals
(06/21/2013) A new species of ant has recently been discovered in the Hortarium of the Los Baños University in the Philippines. Scientists named it the pirate ant (Cardiocondyla pirata) due to the female's unique pigmentation pattern: a distinctive stripe across the eyes that resembles a pirates' eye-patch. The pirate ant belongs to a genus Cardiocondyla that are distributed worldwide, but mainly found in the tropics.
Building a new generation of local conservationists: how improving education in Uganda may save one of the world's great forests
(06/20/2013) Conservation work is often focused on the short-term: protecting a forest from an immediate threat, saving a species from pending extinction, or a restoring an ecosystem following degradation. While short-term responses are often borne of necessity, one could argue that long-term thinking in conservation and environmental work (as in all human endeavors) is woefully neglected, especially in the tropics. This is why programs like the Kasiisi Project are so important: by vastly improving education for primary kids near a threatened park in Uganda, the project hopes to create a "generation of committed rural conservationists," according to founder and director, Elizabeth Ross.
Featured video: Rare Syrian Brown Bear caught on camera

(06/19/2013) New camera-trap footage from the Caucasus Wildlife Refuge in Armenia, has captured rare footage of a Syrian Brown Bear (Ursus arctos syriacus), a subspecies of Brown Bear native to Eurasia. This is an important recording as there may be just one or two bears in this reserve and are listed as vulnerable in Armenia. The exact population of this subspecies is unknown and likely to be declining due to poaching, habitat destruction and diminishing sources of food in the wild.
Conserving top predators results in less CO2 in the air
(06/19/2013) What does a wolf in Yellowstone National Park have in common with an ambush spider on a meadow in Connecticut? Both are predators and thus eat herbivores, such as elk (in the case of wolves) and grasshoppers (in the case of spiders). Elk and grasshoppers also have more in common than you probably imagine: they both consume large quantities of plant matter. While scientists have long-known that predators lead to carbon storage by reducing herbivore populations, a new study reveals a novel way in which top predators cause an ecosystem to store more carbon.
Seabirds face big problems as sea levels rise
(06/19/2013) Migratory shorebird populations are at great risk from rising sea levels due to global climate change, warns a recent paper in Proceedings of the Royal Society B. These birds play an important role in the distribution of nutrients within wetland and coastal ecosystems, and their loss could have unknown consequences for the rest of the world.
Warming world hits fig wasps and figs
(06/19/2013) Recent experiments concerning hugely-important fig plants (Ficus) and their relationship with small, short-lived fig wasps suggest dire potential consequences due to human induced climate change, finds a study published in the journal Biology Letters. The researchers collected four species of adult female fig wasps from the lowland tropical forests of Singapore to test their tolerance to gradually increased temperatures.
Pesticides decimating dragonflies and other aquatic insects
(06/18/2013) While recent research (and media attention) has focused on the alleged negative impacts of pesticides on bees, the problem may be far broader according to a new study in the Proceedings of the US Academy of Sciences (PNAS). Looking at over 50 streams in Germany, France, and Australia, scientists in Europe and Australia found that pesticide contamination was capable of undercutting invertebrate biodiversity by nearly half.
Should zoos educate the public about climate change?
(06/18/2013) Zoos are usually thought of as entertainment destinations. As a place to take the kids on a nice afternoon, they are sometimes perceived to lack the educational heft of an art museum or a theatre. However, over the past few decades many of the world's best zoos and aquariums have also worked to educate their visitors about conservation issues, in addition to funding and supporting programs in the field to save the ever-growing number of imperiled species. But as threats to the world's species mount—including climate change—many are beginning to ask what, if anything, zoos and aquariums should do to address the global environmental crisis.
EU labels another pesticide as bad for bees

(06/18/2013) A widely used insect nerve agent has been labelled a "high acute risk" to honeybees by the European Food Safety Authority (EFSA). A similar assessment by the EFSA on three other insecticides preceded the suspension of their use in the European Union.
Logging may destabilize carbon in forest soils

(06/14/2013) Logging in temperate zones may release more greenhouse gases than previously thought by destabilizing carbon stored in forest soils, argues a new paper published in the journal Global Change Biology-Bioenergy.
Fertility in Africa could push world population over 11 billion

(06/13/2013) The global population could grow by another 4 billion people by the end of the century if fertility rates in Africa don't decline, according to a new report by the United Nations. Currently around 1.1 billion people live on the continent, but that number could skyrocket to 4.2 billion (a 380 percent increase) by 2100, causing global population to hit 11 billion.
Why bioluminescent fungi glow in the dark
(06/13/2013) Aristotle (384–322 BC) reported a mysterious light, distinct from fire, emanating from decaying wood. Pliny the Elder (23–79 AD) mentioned feasting on a glowing, sweet fungus found on trees in France and, in the late fifteenth century, a Dutch consul gave accounts of Indonesian peoples using fungal fruits to illuminate forest pathways. Bioluminescent fungi have intrigued generations of observers, and a handful of scientists still carry that torch of curiosity, answering questions about how and why these mushrooms glow.
Why endangered species need conservation champions
(06/13/2013) Without heroic conservationists many of today's most beloved species would be extinct: think of pandas, tigers, and elephants. By single-mindly focused on saving a particular species, these conservation champions bring much-needed research, publicity, and, most importantly, targeted actions to keep an imperiled animal from the brink. Through their own exuberance, these heroes also gather others to their cause. But, many of the world's heroic conservationists are little-known to the broader public. To address this a new book, Wildlife Heroes: 40 Leading Conservationists and the Animals They Are Committed to Saving, strives to introduce the public to some of the world's most devoted conservationists.
Burning coal responsible for over 20,000 deaths a year in Europe
(06/13/2013) Air pollution from Europe's 300 largest coal power stations causes 22,300 premature deaths a year and costs companies and governments billions of pounds in disease treatment and lost working days, says a major study of the health impacts of burning coal to generate electricity. The research, from Stuttgart University's Institute for energy economics and commissioned by Greenpeace International, suggests that a further 2,700 people can be expected to die prematurely each year if a new generation of 50 planned coal plants are built in Europe. "The coal-fired power plants in Europe cause a considerable amount of health impacts," the researchers concluded.
Indonesia denies it has any indigenous peoples

(06/13/2013) Indonesia is home to an estimated 50-70 million indigenous peoples, but the government does not recognize the rights of its indigenous peoples and claims that none live in Indonesia. In a response to the United Nations Periodic Review in 2012, a four–year human rights check-up for all countries, Indonesia said: "The Government of Indonesia supports the promotion and protection of indigenous people worldwide... Indonesia, however, does not recognize the application of the indigenous peoples concept...in the country."
Tigers, orangutans, rhinos: Sumatra's big mammals on the edge of extinction

(06/12/2013) Karman Lubis's body was found near where he had been working on a Sumatran rubber plantation. His head was found several days later a mile away and they still haven't found his right hand. He had been mauled by a Sumatran tiger that has been living in Batang Gadis National Park and he was one of five people killed there by tigers in the last five years.
Bird extravaganza: scientists discover 15 new species of birds in the Amazon

(06/12/2013) From 2000-2009, scientists described on average seven new bird species worldwide every year. Discovering a new bird is one of the least common of any species group, given that birds are highly visible, mobile, and have been scrutinized for centuries by passionate ornithologists and birders. But descriptions this year already blows away the record year over the last decade (in 2001 when nine new birds were described): scientists working in the southern Amazon have recorded an incredible 15 new species of birds according to the Portuguese publication Capa Aves. In fact, this is the largest group of new birds uncovered in the Brazilian in the Amazon in 140 years.
11,000 barrels of oil spill into the Coca River in the Amazon

(06/12/2013) On May 31st, a landslide ruptured an oil pipeline in Ecuadorean Amazon, sending around 11,000 barrels of oil ( 420,000 gallons) into the Coca River. The oil pollution has since moved into the larger Napo River, which borders Yasuni National Park, and is currently heading downstream into Peru and Brazil. The spill has occurred in a region that is notorious for heavy oil production and decades of contamination, in addition to resistance and lawsuits by indigenous groups.
Featured video: gorgeous golden takin caught on camera trap

(06/12/2013) The takin (Budorcas taxicolor) is a goat-antelope species that lives in the Himalayan Mountains. Takins are social bovines and are often spotted traveling in packs of 15 or more. Packs tend to be composed of female takins as the male takin is largely solitary outside of the summer rutting season. The takin is listed as a Vulnerable species by the IUCN Red List and is considered to be Endangered in China.
Bachmann was right? $2 gas, with a catch

(06/11/2013) One of Republican House member Michele Bachmann's most famous and controversial campaign promises — that Americans would see $2-a-gallon gasoline prices if she were elected president — may have come true without her even winning the nomination. Only not in the way she expected.
Syrian bald ibis may be down to a single bird

(06/11/2013) The eastern population of northern bald ibises (Geronticus eremita) has likely fallen to a single breeding bird, reports conservationists monitoring the dwindling flock. The population had believed to be obliterated starting from 1989 until a small group was discovered in 2002 in Syria. However, it now appears that this last group is vanishing one-by-one despite efforts by conservation groups to sustain the distinct population.
Ocean acidification pushing young oysters into 'death race'

(06/11/2013) Scientists have long known that ocean acidification is leading to a decline in Pacific oyster (Crassostrea gigas) in the U.S.'s Pacific Northwest region, but a new study in the American Geophysical Union shows exactly how the change is undercutting populations of these economically-important molluscs. Caused by carbon dioxide emissions, ocean acidification changes the very chemistry of marine waters by lowering pH levels; this has a number consequences including decreasing the availability of calcium carbonate, which oysters and other molluscs use to build shells.
Poisonous jellyfish on the rise in the Mediterranean

(06/11/2013) Scientists across the Mediterranean say a surge in the number of jellyfish this year threatens not just the biodiversity of one of the world's most overfished seas but also the health of tens of thousands of summer tourists.
Conserving the long-neglected freshwater fish of Borneo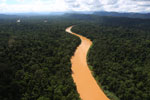 (06/11/2013) Borneo is a vast tropical island known for orangutans, rhinos, elephants, sun bears, proboscis monkeys, hornbills, and ubiquitous leeches. Conservationists have championed all of these species (aside from the leeches) in one way or another, but like many tropical regions Borneo's freshwater species have long been neglected, despite their rich biodiversity and importance to local people. But a new organization, the Kinabatangan River Spirit Initiative, is working to change that.
Data on big transboundary land acquisition deals now available

(06/11/2013) Concerns about potential land grabs – governments and corporation purchasing high-quality agricultural land in developing countries to grow food and crops for home – prompted this initiative by the International Land Coalition (ILC). Open access to a public database is the first step towards preventing unfair or harmful land deals.
Flying rainbows: the scarlet macaw returns to Mexico
(06/11/2013) On April 21, 2013, the first flock of scarlet macaws (of many more to come) was released into the jungles of Aluxes Ecopark, nearby classified World Heritage Site Palenque National Park, as a part of a massive reintroduction project to restore the popular and culturally-significant bird to the well preserved rainforests of Palenque and the rest of its southern Mexico homeland—where the species has been extinct for close to 70 years.
NASA: Deforestation jumps in Malaysia

(06/10/2013) Deforestation jumped during the first three months of 2013 in Malaysia, Nepal and Mexico, according to a forest tracking tool developed by a team of NASA researchers.
CO2 emissions hit record in 2012

(06/10/2013) Carbon dioxide emissions from fossil fuels use hit a record in 2012, according to a new report from the International Energy Agency (IEA).
Illegal wildlife trade flourishes in Sumatra
(06/10/2013) In a chilly rain on Sunday, in a town just a few kilometers beyond the edge of a protected Sumatran rainforest, a young orangutan sat perched on a piece of plywood and grabbed the metal wires of his tiny cage. He has sat in that cage for six months and, like dozens of other species on display in this 'zoo' in the town of Kadang in Aceh, he has a price tag. This packed assembly is an acknowledged front for illegal trafficking in wildlife.
Costa Rican environmentalist pays ultimate price for his dedication to sea turtles
(06/10/2013) On the evening of May 30th, 26-year-old Jairo Mora Sandoval was murdered on Moin beach near Limón, Costa Rica, the very stretch of sand where he courageously monitored sea turtle nests for years even as risks from poachers rose, including threats at gunpoint. A dedicated conservationist, Sandoval was kidnapped along with four women volunteers (three Americans and one from Spain) while driving along the beach looking for nesting sea turtles. Sandoval was separated from the women—who eventually escaped their captors—but the young Costa Rican was stripped naked, bound, and viciously beaten. Police found him the next day, face-down and handcuffed in the sand; Sandoval died of asphyxiation.
Tibetan monks partner with conservationists to protect the snow leopard
(06/10/2013) Tibetan monks could be the key to safeguarding the snow leopard (Panthera uncia) from extinction, according to an innovative program by big cat NGO Panthera which is partnering with Buddhist monasteries deep in leopard territory. Listed as Endangered by the IUCN Red List, snow leopard populations have dropped by a fifth in the last 16 years or so. Large, beautiful, and almost never-seen, snow leopards are the apex predators of the high plateaus and mountains of central Asia, but their survival like so many big predators is in jeopardy.
Giant hot pink slug in Australia becomes conservation symbol (photo)
(06/09/2013) Hot pink slugs that emerge after rainy nights have become a conservation symbol for alpine forests on Australia's Mount Kaputar. The slugs, which measure up to 20 centimeters (8 inches), are only found on Mount Kaputar, a volcano that last erupted 17 million years ago. They spend most of their time buried under leaf litter, but emerge by the hundreds when conditions are right to feed on moss, algae, and fungi.





Brazil may lift ban on Amazon ethanol expansion

(06/09/2013) In coming weeks Brazil will vote on a bill that would lift a ban on sugar cane mills across a large extent of the Amazon region, sparking fears that ethanol production could drive new deforestation and tarnish the country's image as an attractive source biofuels for environmentally-conscious markets,







Amazon fire risk on the rise, says NASA

(06/09/2013) The Amazon rainforest is facing a higher risk of fires this dry season, warns a fire prediction system developed by researchers using NASA and NOAA data.







China to build $17B worth of dams in Indonesian Borneo

(06/09/2013) Two Chinese companies — China Power Investment Corporation and Anhui Conch Cement — will invest $17 billion in dams in North Kalimantan, Indonesia's newest province located on the island of Borneo, reports the Jakarta Globe.





NASA: 3% of Amazon rainforest burned between 1999-2010

(06/08/2013) 33,000 square miles (85,500 square kilometers) or 2.8 percent of the Amazon rainforest burned between 1999-2010 finds new NASA-led research that measured the extent of fires that smolder under the forest canopy.





Indonesia's Jatigede Dam Marred by Land Compensation Problems

(06/07/2013) As Indonesia's controversial Jatigede dam project moves closer to completion, West Java residents whose homes are set to be flooded for the planned 4,973-hectare reservoir brought their complaints to Jakarta, demanding that the country's president step in to resolve land compensation issues.







Indonesian President visits Greenpeace ship 3 years after it was deported

(06/07/2013) Indonesian President Susilo Bambang Yudhoyono met with Greenpeace International Executive Director Kumi Naidoo aboard the activist group's ship, the Rainbow Warrior, today in Jakarta to discuss Indonesia's environmental issues. The meeting took place 31 months after the Rainbow Warrior was barred from Indonesian waters under pressure from interests in the forestry sector.





Monster shark sparks talk of overfishing

(06/06/2013) A giant mako shark caught by a sports-fisherman Monday in California has spurred a conversation about declining shark populations worldwide, reports the Associated Press.




Page 1 | Page 2 | Page 3 | Page 4 | Page 5 | Page 6 | Page 7 | Page 8 | Page 9 | Page 10 | Page 11 | Page 12 | Page 13 | Page 14 | Page 15 | Page 16 | Page 17 | Page 18 | Page 19 | Page 20 | Page 21 | Page 22 | Page 23 | Page 24 | Page 25 | Page 26 | Page 27 | Page 28 | Page 29 | Page 30 | Page 31 | Page 32 | Page 33 | Page 34 | Page 35 | Page 36 | Page 37 | Page 38 | Page 39 | Page 40 | Page 41 | Page 42 | Page 43 | Page 44 | Page 45 | Page 46 | Page 47 | Page 48 | Page 49 | Page 50 | Page 51 | Page 52 | Page 53 | Page 54 | Page 55 | Page 56 | Page 57 | Page 58 | Page 59 | Page 60 | Page 61 | Page 62 | Page 63 | Page 64 | Page 65 | Page 66 | Page 67 | Page 68 | Page 69 | Page 70 | Page 71 | Page 72 | Page 73 | Page 74 | Page 75 | Page 76 | Page 77 | Page 78 | Page 79 | Page 80 | Page 81 | Page 82 | Page 83 | Page 84 | Page 85 | Page 86 | Page 87 | Page 88 | Page 89 | Page 90 | Page 91 | Page 92 | Page 93 | Page 94 | Page 95 | Page 96 | Page 97 | Page 98 | Page 99 | Page 100 | Page 101 | Page 102 | Page 103 | Page 104 | Page 105 | Page 106 | Page 107 | Page 108 | Page 109 | Page 110 | Page 111 | Page 112 | Page 113 | Page 114 | Page 115 | Page 116 | Page 117 | Page 118 | Page 119 | Page 120 | Page 121 | Page 122 | Page 123 | Page 124 | Page 125 | Page 126 | Page 127 | Page 128 | Page 129 | Page 130 | Page 131 | Page 132 | Page 133 | Page 134 | Page 135 | Page 136 | Page 137 | Page 138 | Page 139 | Page 140 | Page 141 | Page 142 | Page 143 | Page 144 | Page 145 | Page 146 | Page 147 | Page 148 | Page 149 | Page 150 | Page 151 | Page 152 | Page 153 | Page 154 | Page 155 | Page 156 | Page 157 | Page 158 | Page 159 | Page 160 | Page 161 | Page 162 | Page 163 | Page 164 | Page 165 | Page 166 | Page 167 | Page 168 | Page 169 | Page 170 | Page 171 | Page 172 | Page 173 | Page 174 | Page 175 | Page 176 | Page 177 | Page 178 | Page 179 | Page 180 | Page 181 | Page 182 | Page 183 | Page 184 | Page 185 | Page 186 | Page 187 | Page 188 | Page 189 | Page 190 | Page 191 | Page 192 | Page 193 | Page 194 | Page 195 | Page 196 | Page 197 | Page 198 | Page 199 | Page 200 | Page 201 | Page 202 | Page 203 | Page 204 | Page 205 | Page 206 | Page 207 | Page 208 | Page 209 | Page 210 | Page 211 | Page 212 | Page 213 | Page 214