News articles on green

---
Mongabay.com news articles on green in blog format. Updated regularly.








After decades of turning a blind eye, Peru declares state of emergency due to oil contamination in Amazon
(03/26/2013) The Peruvian government has declared an environmental state of emergency after finding elevated levels of lead, barium, and chromium in the Pastaza River in the Amazon jungle, reports the Associated Press. Indigenous peoples in the area have been complaining for decades of widespread contamination from oil drilling, but this is the first time the Peruvian government has acknowledged their concerns. Currently 84 percent of the Peruvian Amazon is covered by potential oil blocs, leading to conflict with indigenous people and environmental degradation.
A thousand soldiers sent after marauding elephant poachers [warning: graphic photos]
(03/26/2013) Eight Central African nations have announced they will send a thousand soldiers after poachers responsible for slaughtering 89 elephants, including over 30 pregnant mothers, in Chad earlier this month. The mobilization of soldiers and law enforcement officers could be a sign that Central African countries are beginning to take elephant poaching, which has decimated populations across Africa, more seriously.
NGO says Malaysian regulators should shut down two Sarawak companies after damning video

(03/26/2013) The fallout from a video by Global Witness exposing widespread corruption in Sarawak continues, as the Bruno Manser Fund, a European NGO, has called on the Companies Commission of Malaysia to "dereigster" land corporations highlighted in the video. The video purports to connect the head of Sarawak, Chief Minister Taib Mahmud, to illegal land deals on indigenous territory.
Extreme cold linked to climate change, say scientists

(03/26/2013) Climate scientists have linked the massive snowstorms and bitter spring weather now being experienced across Britain and large parts of Europe and North America to the dramatic loss of Arctic sea ice.
Humans killed over 10 percent of the world's bird species when they colonized the Pacific Islands
(03/25/2013) Around 4,000 years ago intrepid Polynesian seafarers made their way into an untamed wilderness: the far-flung Pacific Islands. Over a thousands or so years, they rowed from one island to another, stepping on shores never yet seen by humans. While this vast colonization brought about a new era of human history, it also ended the existence of well-over a thousand bird species according to a new study in the Proceedings of the National Academy of Sciences (PNAS).
Indigenous protester killed by masked assailants in Panama over UN-condemned dam
(03/25/2013) A Ngäbe indigenous Panamanian, Onesimo Rodriguez, opposing the Barro Blanco hydroelectric dam project was killed last Friday evening by four masked men. His body was then thrown into a nearby stream where it was discovered the following day. Onesimo Rodriguez was attacked with a companion in Las Nubes, after they had attended a demonstration in Cerro Punta, Bugaba, against the dam. His companion, whose identity is being withheld for security reasons, received serious injuries but managed to escape and is having his injuries tended to by the local indigenous community.
Forging zoos into global conservation centers, an interview with Cristian Samper, head of WCS
(03/25/2013) The Wildlife Conservation Society (WCS) is one of the world's leading environmental organizations. Founded in 1895 (originally as the New York Zoological Society), the WCS manages 200 million acres of wild places around the globe, with over 500 field conservation projects in 65 countries, and 200 scientists on staff. The WCS also runs five facilities in New York City: the Central Park Zoo, the New York Aquarium, Prospect Park and Queens Zoos, and the world renowned Bronx Zoo.
Over ten percent of a species' total population found in smuggler's bag
(03/25/2013) On Friday, March 15th Thai authorities arrested a 38-year-old man attempting to collect a bag containing 54 ploughshare tortoises (Astrochelys yniphora) and 21 radiated tortoises (Astrochelys radiata) in Suvarnabhumi International Airport. Found only in Madagascar both species are listed as Critically Endangered and protected under the Convention on International Trade in Endangered Species (CITES), but have become lucrative targets for the black-market pet trade given their scarcity and beauty.
Conservation scientists: Aceh's spatial plan a risk to forests, wildlife, and people
(03/22/2013) A group of biologists and conservation scientists meeting in Sumatra warned that potential changes to Aceh's spatial plan could undermine some of the ecological services that underpin the Indonesian province's economy and well-being of its citizens. After its meeting from March 18-22 in Banda Aceh, the Asia chapter of the Association for Tropical Biology and Conservation (ATBC) issued a declaration [PDF] highlighting the importance of the region's tropical forest ecosystem, which is potentially at risk due to proposed changes to its spatial plan.
Roads could help protect the environment rather than destroy it, argues Nature paper
(03/22/2013) Rapidly expanding road networks are causing large-scale damage to forests but proper infrastructure planning and implementation could actually turn them into a net positive for the environment, argue researchers writing in the journal Nature. William Laurance and Andrew Balmford highlight the severe environmental impacts of roads in wilderness areas, including fostering illegal logging, poaching, colonization, and land speculation.
Scientists discover two new remarkably-colored lizards in the Peruvian Amazon (photos)
(03/21/2013) Scientists have discovered two new species of woodlizards from the Peruvian Amazon. Woodlizards, in the genus Enyalioides, are little-known reptiles with only 10 described species found in South and Central America. Described in a new paper in ZooKeys, both new woodlizards were found in Cordillera Azul National Park, the nations third-largest.
Ant communities more segregated in palm oil plantations than rainforest
(03/21/2013) Ants are an important ecological group in both degraded and natural habitats. They interact with many other species and mediate a range of ecological processes. These interactions are often interpreted in the context of ant mosaics, where dominant species form strict territories, keeping other ants out. This segregation between ant species is well-documented in monoculture plantations. Now new research published in Ecography has shown that these changes are driven by the replacement of rainforests with monocultures and not the arrival of non-native species.
Scientists discover 8 new frogs in one sanctuary, nearly all Critically Endangered (photos)
(03/21/2013) Two surveys in the mountainous forests of Sri Lanka's Peak Wilderness Sanctuary have uncovered eight new species of frogs, according to a massive new paper in the Journal of Threatened Taxa. While every year over a hundred new amphibians are discovered, eight new discoveries in a single park is especially notable. Sri Lanka is an amphibian-lovers paradise with well over 100 described species, most of which are endemic, i.e. found only on the small island country. Unfortunately the country has also seen more frog extinctions than anywhere else, and seven of the eight new species are already thought to be Critically Endangered.
Monthly updates to track APP's progress on 'no deforestation' policy
(03/21/2013) The Forest Trust (TFT), the NGO that brokered Asia Pulp & Paper's no deforestation commitment in February 2013, will produce monthly updates on Indonesian forestry giant progress toward avoiding conversion of natural forests and reducing social conflict with communities. The reports aim to both allay fears among some environmental groups that APP will not respect the commitment and advance the paper producer's goal of eliminating rainforest and peatland destruction from its supply chain.
Male lions require dense vegetation for successful ambush hunting
(03/20/2013) For a long time male lions were derided as the lazy ones in the pride, depending on females for the bulk of hunting and not pulling their weight. Much of this was based on field observations—female lions hunt cooperatively, often in open savannah, and therefore are easier to track at night. But new research in Animal Behaviour is showing that males are adroit hunters in their own right, except prickly males hunt alone and use dense vegetation as cover; instead of social hunting in open savannah, they depend on ambushing unsuspecting prey.
New pope: 'let us be protectors of creation'

(03/20/2013) In his first homily as the new pope, Francis I spoke of the need to act as protectors both for the environment as well as for the poor and weak. With his focus on the environment the new pope echoes both his namesake, Saint Francis of Assisi, as well as the previous pope, Benedict XVI who championed environmental causes from climate change to biodiversity as crucial to the Catholic religion.
Video uncovers top level corruption in Sarawak over indigenous forests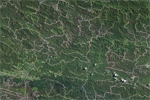 (03/20/2013) Tax evasion, kick-backs, bribery, and corruption all make appearances in a shocking new undercover video by Global Witness that shows how top individuals in the Sarawak government may be robbing the state of revenue for their own personal gain. Anti-corruption groups have believed that corruption has been rife in the Malaysian state of Sarawak for decades, but Global Witness says their investigation offers undeniable proof.
Fish use adoption strategy to ensure survival of young

(03/20/2013) Fish in southern Africa's Lake Tanganyika engage in adoption as a risk mitigation strategy for keeping some of their offspring from being eaten, finds a new study published in the journal Behavioral Ecology.
Planet organic: achieving sustainable food security and environmental gains

(03/19/2013) The global farmland area certified organic has expanded more than threefold to 37 million hectares since 1999, according to new research conducted by the Worldwatch Institute. The Institute argues that organic farming has the potential to contribute to sustainable food security by improving nutrition intake and sustaining rural livelihoods, while reducing vulnerability to climate change and enhancing biodiversity.
The beautiful amphibian from Hell: scientists discover new crocodile newt in Vietnam (photos)
(03/19/2013) Researchers have discovered a new species of Vietnamese salamander that looks like it was birthed from an abyssal volcano. Found tucked away in Tokyo's National Museum of Nature and Science, the scientists described the species in the new edition of Current Herpetology. Coal-black with orange-tinted toes, the new crocodile newt (in the genus Tylototriton) was determined to be a new species when it showed morphological and genetic differences from near relatives. Despite its remarkable appearance, the researchers say these are typical colors for crocodile newts.
Tropical croplands expand by 48m ha in 10 years, raising environmental concerns
(03/19/2013) Croplands in the tropics expanded by an average of 4.8 million hectares per year between 1999 and 2008, increasing pressure on forest areas and other ecosystems, reports a study published in the journal PLoS ONE. The research found that soybeans and maize (corn) expanded the most of any crops in terms of absolute area, followed by rice, sorghum, oil palm, beans, and sugar cane. The countries which added the largest area of new cropland were Nigeria, Indonesia, Ethiopia, Sudan and Brazil.
Poachers slaughter 89 elephants in Chad, including over 30 pregnant mothers [warning: graphic photos]

(03/19/2013) In what is being called the worst elephant massacre in Africa this year, poachers have recently killed as many as 89 elephants in Chad. Stephanie Vergniault, the Chairman of SOS Elephants in Chad, says the elephants were slaughtered in a two-day period late last week near Tikem, on the southwest border of Chad and Cameroon. At least 30 of the elephants were pregnant. Images from a television news report show what appear to be an elephant still connected to its umbilical cord on the ground. Separately, 12 calves were also slaughtered.
APP conservation policy came after it pulped most of its forests
(03/19/2013) Asia Pulp & Paper's widely heralded forest conservation policy came after the forestry giant had already cleared nearly all of the legally protected forests within its concessions in Sumatra, alleges a new report published by Greenomics, an Indonesian environmental group.
Panama's indigenous people drop REDD+

(03/19/2013) The National Coordinator of Indigenous Peoples in Panama (COONAPIP) has announced it is withdrawing from the United Nation's REDD+ program following a series of disagreements. The exit of COONAPIP from the negotiating table with UN officials and the Panamanian government will likely be a blow to the legitimacy of REDD+ in the central American country. REDD, or Reducing Emissions from Deforestation and Degradation, is a program to reduce emissions by safeguarding forests.
Indonesian palm oil giant launches conservation pilot project

(03/19/2013) Golden Agri-Resources, one of the largest palm oil producers in Indonesia, is launching a pilot program designed to protect forests within its concession areas that have high carbon stock and those most important for conservation. Greenpeace Indonesia, which has long urged the company to adopt more sustainable practices, praised the effort, and called on other palm oil companies and the Indonesian government to follow suit.
Peruvian night monkey threatened by vanishing forests, lost corridors
(03/18/2013) The Peruvian night monkey (Aotus miconax) is one of the world's least known primates, having never been studied in the wild--until now. Found only in the cloud forests of northern Peru, a group of scientists with Neotropical Primate Conservation and the National University of Mayor San Marcos have spent 12 months following a single group of this enigmatic monkey species in a small forest patch. The results of their research, published in mongabay.com's open access journal Tropical Conservation Science, shows that protecting forests, even small forest fragments, is vital to the species' survival.
Scientists successfully freeze Barbary sheep embryos for conservation purposes

(03/18/2013) The Barbary sheep (Ammotragus lervia), or aoudad, is a goat-antelope found in northern Africa. It is currently listed as Vulnerable by the IUCN Red List, with populations imperiled by hunting, habitat loss, and competition with livestock. Still little is known about its remaining population, prompting scientists in Mexico to test possible assisted reproduction of captive individuals.
Deer populations hurt by poaching in Mexican dry forest

(03/18/2013) White-tailed deer are usually thought of as inhabiting temperate forests in the U.S. and Canada, but this widespread species can also be found across tropical forests, from Mexico to Peru. A new study in mongabay.com's open access journal Tropical Conservation Science investigates the population of white-tailed deer (Odocoileus virginianus) in Mexico's Tehuacan-Cuicatlan Biosphere Reserve (TCBR), and finds that poaching may be having a large impact.
Invasive plants hurt locals in Mauritius

(03/18/2013) Native species on the island of Mauritius have long had to deal with invasive species. In fact, invasives likely played a major role in the extinction of the Mauritius' most famous resident, the dodo. While scientists have long cataloged the impact of invasive animals on island wildlife, there has been less clarity when it comes to invasive plants. However, a new paper in mongabay.com's open access journal Tropical Conservation has found that invasive plants do indeed negatively impact local species.
Forgotten lions: shedding light on the fate of lions in unprotected areas
(03/18/2013) African lions (Panthera leo) living outside of protected areas like national parks or reserves also happen to be studied much less than those residing within protected areas, to the detriment of lion conservation initiatives. In response to this trend, a group of researchers surveyed an understudied, unprotected region in northwestern Mozambique called the Tete Province, whose geography and proximity to two national parks suggests a presence of lions.
Scientists successfully reintroduce gaur in Indian park

(03/18/2013) Gaur (Bos gaurus gaurus) is one of the large wild ungulates of Asian jungles. It is the tallest living ox, and one of the four heaviest land mammals (elephant, rhino and wild buffalo are the other three), weighing up to 940 kilograms (2,070 pounds) and standing between 1.6 and 1.9 meters (5.2 to 6.2 feet) at the shoulder. Gaur were once distributed throughout the forested tracts of India and South Nepal, east to Vietnam and south to Malaya. Today, however, they are confined to just over a hundred existing, and 27 proposed, Protected Areas in India.
Heavy metal shark meat: dangerous lead levels found in sharks used as fish food
(03/18/2013) A recent study published in mongabay.com's open access journal Tropical Conservation Science raises concerns about levels of heavy metals, particularly lead (Pb), present in shark meat, as well as the decline of shark abundance due to global fishing pressures. Sharks are primarily caught as by-catch for other fishing industries. By one account, 70% of the total catch in swordfish long-line fisheries was sharks. Due to consumer demand, this by-catch is sold to Asian fish markets as fin and trunk meat. Much of the trunk and organ meat is used to make fish-meal, which is then fed to farmed fish.







Innovative idea: wildlife income may help people withstand drought in Africa

(03/18/2013) Getting local people to become invested in wildlife conservation is not always easy, especially in parts of the world where protected areas are seen as taking away natural resources from local communities. This tension lies around Gonarezhou National Park in Zimbabwe, where a growing population of livestock herders competes with wildlife.





The Role of Science for Conservation - book review

(03/18/2013) The Role of Science for Conservation, edited by Matthias Wolff and Mark Gardner, celebrates Charles Darwin's Bicentennial and 50 years of research by the Charles Darwin Foundation in The Galápagos, Ecuador.





Logging studies plagued by sampling problems

(03/18/2013) Although research into the impact of selective logging in tropical forests has been booming recently, much of it is undercut by basic research flaws, according to a new study in mongabay.com's open access journal Tropical Conservation Science. Selective logging means targeting certain species or only a particular number of trees per hectare, and as such is considered generally more environmentally-friendly than clearcutting, which strips entire forests.







Cambodia loses half its seasonal wetlands in 10 years

(03/18/2013) Cambodia lost more than half of its seasonally flooded grasslands in ten years due to industrial agricultural conversion, abandonment of traditional farming, and illegal drainage, putting several endangered bird species at risk and undermining traditional livelihoods in the region, reports a new study published in the journal Conservation Biology.






Page 1 | Page 2 | Page 3 | Page 4 | Page 5 | Page 6 | Page 7 | Page 8 | Page 9 | Page 10 | Page 11 | Page 12 | Page 13 | Page 14 | Page 15 | Page 16 | Page 17 | Page 18 | Page 19 | Page 20 | Page 21 | Page 22 | Page 23 | Page 24 | Page 25 | Page 26 | Page 27 | Page 28 | Page 29 | Page 30 | Page 31 | Page 32 | Page 33 | Page 34 | Page 35 | Page 36 | Page 37 | Page 38 | Page 39 | Page 40 | Page 41 | Page 42 | Page 43 | Page 44 | Page 45 | Page 46 | Page 47 | Page 48 | Page 49 | Page 50 | Page 51 | Page 52 | Page 53 | Page 54 | Page 55 | Page 56 | Page 57 | Page 58 | Page 59 | Page 60 | Page 61 | Page 62 | Page 63 | Page 64 | Page 65 | Page 66 | Page 67 | Page 68 | Page 69 | Page 70 | Page 71 | Page 72 | Page 73 | Page 74 | Page 75 | Page 76 | Page 77 | Page 78 | Page 79 | Page 80 | Page 81 | Page 82 | Page 83 | Page 84 | Page 85 | Page 86 | Page 87 | Page 88 | Page 89 | Page 90 | Page 91 | Page 92 | Page 93 | Page 94 | Page 95 | Page 96 | Page 97 | Page 98 | Page 99 | Page 100 | Page 101 | Page 102 | Page 103 | Page 104 | Page 105 | Page 106 | Page 107 | Page 108 | Page 109 | Page 110 | Page 111 | Page 112 | Page 113 | Page 114 | Page 115 | Page 116 | Page 117 | Page 118 | Page 119 | Page 120 | Page 121 | Page 122 | Page 123 | Page 124 | Page 125 | Page 126 | Page 127 | Page 128 | Page 129 | Page 130 | Page 131 | Page 132 | Page 133 | Page 134 | Page 135 | Page 136 | Page 137 | Page 138 | Page 139 | Page 140 | Page 141 | Page 142 | Page 143 | Page 144 | Page 145 | Page 146 | Page 147 | Page 148 | Page 149 | Page 150 | Page 151 | Page 152 | Page 153 | Page 154 | Page 155 | Page 156 | Page 157 | Page 158 | Page 159 | Page 160 | Page 161 | Page 162 | Page 163 | Page 164 | Page 165 | Page 166 | Page 167 | Page 168 | Page 169 | Page 170 | Page 171 | Page 172 | Page 173 | Page 174 | Page 175 | Page 176 | Page 177 | Page 178 | Page 179 | Page 180 | Page 181 | Page 182 | Page 183 | Page 184 | Page 185 | Page 186 | Page 187 | Page 188 | Page 189 | Page 190 | Page 191 | Page 192 | Page 193 | Page 194 | Page 195 | Page 196 | Page 197 | Page 198 | Page 199 | Page 200 | Page 201 | Page 202 | Page 203 | Page 204 | Page 205 | Page 206 | Page 207