News articles on green

---
Mongabay.com news articles on green in blog format. Updated regularly.





California researchers discover 137 new species in 2012

(12/07/2012) Researchers at the California Academy of Sciences in San Francisco formally described 137 previously unknown species during 2012, including 83 arthropods, 41 fish, seven plants, four sea slugs, one reptile, and one amphibian.


Norway payments to Brazil for reducing deforestation reach $670 million

(12/06/2012) Norway will deposit another $180 million into Brazil's Amazon Fund after the Latin American giant reported a third straight annual drop in deforestation, reports Bloomberg. The payment comes despite a high-profile dispute over who verifies reductions in emissions from deforestation — Norway believes emissions reductions should be measured by an independent third party, but Brazil disagrees. The disagreement sidelined discussions over the REDD+ mechanism during climate talks in Doha, pushing negotiations over the program out another year.


Greenpeace says U.S. logging company has broken landmark boreal forest agreement

(12/06/2012) When a long-fought peace was reached between nine environmental groups and 20 logging companies in 2010 for the vast Canadian boreal forest, it was dubbed the "world's largest conservation agreement." However, now that agreement is being shaken. A dispute between Greenpeace and U.S. logging company, Resolute Forest Products, over alleged logging in critical caribou habitat has resulted in the activist group abandoning the agreement.


Global decline of big trees in old-growth forests worrying, argue scientists

(12/06/2012) The decline of large trees is putting biodiversity and forest health at risk globally, warn researchers writing in the journal Science.


Illegal logging, mining worsened impact of Philippines' killer typhoon

(12/06/2012) According to Filipino officials, rampant illegal logging and mining were likely a part of the cause for the high casualty count from Category 5 Typhoon Bopha (Pablo), especially in the Compostela Valley where government officials had warned people to stop the illegal activities. So far, 370 people have been found dead on the island of Mindanao with another 400 missing. Waters rose so high even emergency shelters were inundated.


Okapi Conservation Project wins mongabay's 2012 conservation award


(12/06/2012) A group that works to protect the rare okapi, a type of forest giraffe found only in the Congo Basin, has has won mongabay.com's 2012 conservation award. The Okapi Conservation Project has been working to protect the okapi and its habitat in the Democratic Republic of Congo (DRC) for 25 years. The group was instrumental in establishing the Okapi Wildlife Reserve, a 13,700-square-kilometer tract of wilderness in the Ituri Forest of northeastern DRC. While the Okapi Conservation Project has had a long track record of success, earlier this year it was devastated by a brutal attack on the reserve's headquarters. Two wildlife rangers were among the six people killed during June 24 assault.


Deforestation rate falls across Amazon rainforest countries


(12/06/2012) The average annual rate of deforestation across Amazon rainforest countries dropped sharply in the second half of the 2000s, reports a comprehensive new assessment of the region's forest cover and drivers of deforestation. While the drop in deforestation in the Brazilian Amazon has been widely reported, several other Amazon countries saw their rates of forest loss drop as well, according to the report, which was published by a coalition of 11 Latin American civil society groups and research institutions that form the Amazonian Network of Georeferenced Socio-Environmental Information (RAISG).


Asia Pulp & Paper hires top U.S. lobbyist to help 'green' its image


(12/05/2012) Indonesian forestry giant Asia Pulp & Paper (APP) has hired a top U.S. official to help it work through trade and environmental issues. In November, APP announced it had retained Stuart Eizenstat of Covington & Burling, a U.S.-based law firm, to help 'ensure APP's trade and sustainability compliance in North America'. Eizentstat's hiring is notable because he led the U.S. delegation that negotiated the Kyoto Protocol and has served in a number of high-level government positions, including U.S. Ambassador to the European Union; Under Secretary of Commerce for International Trade; Under Secretary of State for Economic, Business and Agricultural Affairs; and Deputy Secretary of the Treasury in the Clinton Administration.


Indonesia approves first REDD+ project in Borneo

(12/05/2012) The Indonesian government has approved its first REDD+ project to reduce emissions from deforestation and peatlands degradation, reports President Susilo Bambang Yudhoyono's office.


Wealthy nations' fossil fuel subsidies dwarf climate financing

(12/05/2012) A new analysis finds that 21 wealthy countries spent five-times more on subsidizing fossil fuels in 2011 than they have on providing funds for poor nations to cut greenhouse gas emissions and adapt to the impacts of climate change. The analysis, by Oil Change International, comes in the midst of the current UN Climate Summit held in Doha, Qatar; progress at the talks has been stymied due to the gulf between poor and rich nations, including on the issue of climate financing.


Cute animal picture of the day: cheetahs in the snow

(12/05/2012) Cheetah cubs at the Zoological Society of London's Whipsnade Zoo attempt to make sense of snow. Cheetahs (Acinonyx jubatus), currently found in many African countries as well as Iran, are generally warm weather animals.


Improving food and water efficiency a must for the next generation

(12/05/2012) This summer, while climate change silence reigned in the U.S. presidential race, the Stockholm International Water Institute's conference for World Water Week focused on the global initiatives required in order to live with its effects. The report, titled "Feeding a Thirsty World," garnered the most publicity with the assertion that agricultural water scarcity and an increasing population would force the world to reduce average meat and dairy consumption down to just 5% of all calories by 2050. At present, 20% of the average human diet is made up from animal proteins.


Forests, farming, and sprawl: the struggle over land in an Amazonian metropolis


(12/04/2012) The city of Parauapebas, Brazil is booming: built over the remains of the Amazon rainforest, the metropolis has grown 75-fold in less than 25 years, from 2,000 people upwards of 150,000. But little time for urban planning and both a spatial and mental distance from the federal government has created a frontier town where small-scale farmers struggle to survive against racing sprawl, legal and illegal mining, and a lack of investment in environmental protection. Forests, biodiversity, and subsistence farmers have all suffered under the battle for land. In this, Parauapebas may represent a microcosm both of Brazil's ongoing problems (social inequality, environmental degradation, and deforestation) and opportunity (poverty alleviation, reforestation, and environmental enforcement).


Lion population falls 68 percent in 50 years


(12/04/2012) African lions, one of the most iconic species on the planet, are in rapid decline. According to a new study in Biodiversity Conservation, the African lion (Panthera leo leo) population has dropped from around 100,000 animals just fifty years ago to as few as 32,000 today. The study, which used high resolution satellite imagery to study savannah ecosystems across Africa, also found that lion habitat had plunged by 75 percent.


Jeff Corwin talks sharks


(12/04/2012) Sharks are among the most feared of all the world's predators, yet humans kill tens of millions of sharks for every person who falls victim to shark attack. Part of our fear stems from lack of understanding. A new eBook however tries to change that. Jeff Corwin, an Emmy Award Winning TV host, has this week released Jeff's Explorer Series: SHARKS, the first of a new eBook series, which Corwin likens to the 21st century version of an encyclopedia. The eBook is rich with video, images, and text. It is narrated by Corwin.


Africa's great savannahs may be more endangered than the world's rainforests


(12/04/2012) Few of the world's ecosystems are more iconic than Africa's sprawling savannahs home to elephants, giraffes, rhinos, and the undisputed king of the animal kingdom: lions. This wild realm, where megafauna still roam in abundance, has inspired everyone from Ernest Hemingway to Karen Blixen, and David Livingstone to Theodore Roosevelt. Today it is the heart of Africa's wildlife tourism and includes staunch defenders such as Richard Leakey, Michael Fay, and the Jouberts. Despite this, the ecosystem has received less media attention than imperiled ecosystems like rainforests. But a ground-breaking study in Biodiversity Conservation finds that 75 percent of these large-scale intact grasslands have been lost, at least from the lion's point of view.


Pledge to end wildlife trafficking for Wildlife Conservation Day

(12/04/2012) Today has been dubbed the first ever global Wildlife Conservation Day. To honor it, a coalition of conservation groups—including WWF and Wildlife Conservation Society (WCS)—are working to raise awareness of illegal wildlife trafficking. Poaching for traditional medicine, bushmeat, and other products has put innumerable species at risk, including tigers, rhinos, sharks, and elephants.


Tropical deforestation emissions were 3 billion tons/yr from 2000-2005

(12/03/2012) Two prominent groups of researchers have reached a consensus estimate for emissions from tropical deforestation between 2000 and 2005.


With deforestation falling, energy sector to become Brazil's biggest CO2 source

(12/03/2012) With its annual rate of deforestation falling more than 80 percent since 2004, energy is set to soon become Brazil's largest source of greenhouse gas emissions, reports a new study seen by Reuters.


Animals dissolving due to carbon emissions


(12/03/2012) Marine snails, also known as sea butterflies, are dissolving in the Southern Seas due to anthropogenic carbon emissions, according to a new study in Nature GeoScience. Scientists have discovered that the snail's shells are being corroded away as pH levels in the ocean drop due to carbon emissions, a phenomenon known as ocean acidification. The snails in question, Limacina helicina antarctica, play a vital role in the food chain, as prey for plankton, fish, birds, and even whales.


REDD+ negotiations in Doha at impasse, potentially delaying decisions on safeguards another year


(12/03/2012) Negotiations over a program that would pay tropical countries for reducing greenhouse gas emissions from deforestation and degradation — or REDD+ — are stuck at an impasse over how emissions reductions would be verified, reports Ecosystem Marketplace. The disagreement, which has been characterized as a standoff between Brazil, which is potentially a beneficiary of REDD+, and Norway, which is the world's largest funder of tropical forest conservation, could push any final decisions on REDD+ out another year.


Despite small brains, gray mouse lemurs use calls to avoid inbreeding


(12/03/2012) As a small-brained and largely solitary primate, the gray mouse lemur (Microcebus murinus) wasn't supposed to have the capacity to distinguish the calls of its kin calls from other lemurs. However, a new study in BMC Ecology, finds that a female gray mouse lemur is able to determine the mating calls of its father, allowing it avoid inbreeding. The discovery challenges the long-held belief that only large-brained, highly social animal are capable of determining kin from calls.


'No-one is listening to the entire scientific community': global carbon emissions set to hit new high


(12/03/2012) Global carbon dioxide (CO2) emissions from industrial sources are set to hit a new record high this year according to a new analysis by Global Carbon Project. The analysis in Nature Climate Changes predicts that CO2 emissions will rise another 2.6 percent, hitting 35.6 billion tonnes. The scientists warn that such steep climbs in global emissions year-after-year means that the door is rapidly closing on a global agreement to keep temperatures from rising 2 degree Celsius (3.6 degrees Fahrenheit) above pre-industrial levels.


New Guinea singing dog photographed in the wild for the first time

(12/03/2012) A rarely seen canine has been photographed in the wild, likely for the first time. Tom Hewitt, director of Adventure Alternative Borneo, photographed the New Guinea singing dog during a 12-day expedition up a remote mountain in Indonesian Papua. Very closely related to the Australian dingo, the New Guinea singing dog, so named for its unique vocalizations, has become hugely threatened by hybridization with domesticated dogs.


Ecological Restoration and Environmental Change: Renewing Damaged Ecosystems - book review

(12/03/2012) Stuart K. Allison, PhD's excellent book Ecological Restoration and Environmental Change: Renewing Damaged Ecosystems clearly explains the current state of affairs regarding ecological restoration. He addresses key issues and challenges to ecosystem restoration science dogma. He questions how we define ecosystem restoration and against which baseline. Baselines are various and can be difficult to define on a species by species level.


Featured video: turning yards and neighborhoods into wildlife habitat

(12/03/2012) A new animation by the American Society of Landscape Architects introduces viewers to the benefits of making their yards and neighborhoods wildlife friendly. By focusing on the threat of sprawl to biodiversity, the video shows how urban and suburban residents can use native plants, freshwater, and wildlife-friendly structures to allow a space for nature, and, possibly even help create and maintain corridors for wild animals.


Science and Public Reason - book review

(12/03/2012) Professor Sheila Jasanoff's superb treatise Science and Public Reason, part of Earthscan's, is a wonderful book describing, through a collection of her essays and articles from the past 25-years, the rise of the field of Science and Technology Studies. The book could not have arrived soon enough, as we now globally face the triple threat of 1) massive biodiversity loss, 2) nutrient cycling disruption (greenhouse gases, Montreal Protocol gases, nitrogen fertilizer caused eutrophication, etc.), and 3) water quality degradation (saltwater intrusion, depleted aquifers, lack of clean drinking water, etc.).


Greenland and Antarctica ice melt accelerating, pushing sea levels higher


(12/03/2012) A massive team of scientists have used multiple methods to provide the best assessment yet of ice loss at the world's poles, including Greenland and a number of Antarctic ice sheets. Their findings—that all major ice sheets are shrinking but one; that ice loss is speeding up; and that this is contributing to the rise in sea levels—add more evidence to the real-time impacts from global climate change. Melting ice sheets at the poles have raised sea levels 11.1 millimeters, or about 20 percent of observed sea level rise, in the past twenty years, according to the landmark study in Science.


Indonesia lost 8.8m ha of forest in the 2000s, generating 7 billion tons of CO2

(12/02/2012) Indonesia's greenhouse gas emissions from deforestation could have been reduced by hundreds of millions of tons had a moratorium on new concessions in high carbon forest areas and peatlands been implemented earlier, reported a researcher presenting at a forests conference on the sideline of climate talks in Doha.


Brazilian bank approves $10.8 billion loan for controversial Amazon rainforest dam

(11/30/2012) Brazil's National Development Bank (BNDES) on Monday announced it has approved a $10.8 billion (22.5 billion Brazilian reais) loan to the consortium that is building the controversial Belo Monte dam in the state of Par´ in the heart of the Amazon rainforest, reports International Rivers, a group that is campaigning against the dam. The loan in the largest in the bank's 60-year history, according to the group.


Introducing the 'Obama-fish'

(11/30/2012) Scientists have named five newly discovered fish after former and current U.S. political leaders, including President Barack Obama, Bill Clinton, Al Gore, Jimmy Carter, and Teddy Roosevelt, reports the Tennessee Aquarium Conservation Institute and Scientific American.


'Exporting deforestation': China is the kingpin of illegal logging


(11/29/2012) Runaway economic growth comes with costs: in the case of China's economic engine, one of them has been the world's forests. According to a new report by the Environmental Investigation Agency (EIA), China has become the number one importer of illegal wood products from around the world. Illegal logging—which threatens biodiversity, emits carbon, impoverishes local communities, and is often coupled with other crimes—has come under heavy pressure in recent years from the U.S., the EU, and Australia. Each of these has implemented, or will soon implement, new laws that make importing and selling illegal wood products domestic crimes. However, China's unwillingness to tackle its vast appetite for illegal timber means the trade continues to decimate forests worldwide.


Complaint filed with palm oil body over orangutan rescue case


(11/29/2012) Conservationists have filed a complaint against an Indonesian palm oil company for allegedly clearing an area of forest that contained orangutans. Earlier this month, the Sumatran Orangutan Society (SOS) filed a complaint against PT Sisirau for allegedly breaching the Roundtable on Sustainable Palm Oil's rules on sparing high conservation value forest. PT Sisirau is a member of the Roundtable on Sustainable Palm Oil (RSPO), a multistakeholder body that sets criteria for more environmentally responsible palm oil production.


World has lost half its wetlands


(11/29/2012) Half of the worlds wetlands have been destroyed in just the last 100 years, says a new report. Published by the Economics of Ecosystems and Biodiversity (TEEB), the report found that of the 25 million square kilometers of wetlands that existed in 1900 just 12.8 million square kilometers now remain. The rate of destruction varies geographically with notable loses in East Asia running at 1.6 per cent per year. In places where aquaculture, over-exploitation (e.g. unsustainable harvesting of fish) and storm damage have been severe, the rate of destruction can be as high as 80 percent.


Investors shouldn't ignore financial risk of environmental damage

(11/29/2012) Environmental damage poses a long-ignored risk to sovereign bonds, according to a new report by the UNEP FI (The United Nations Environment Programme Finance Initiative) and the Global Footprint Network. The report, E-RISC Report, A New Angle on Sovereign Credit Risk, finds that the overuse of natural resources and their degradation has put considerable, and largely unrecognized, risk against national economies.


Birders urge ban on imports of 5 snake species

(11/28/2012) Bird conservationists in the United States are urging Congress to ban imports of five types of snakes that are considered a threat to native birds.


5 years in, debates over REDD+ continue


(11/28/2012) An initiative that aims to slow global warming by paying developing countries to protect and better manage their forests is expected to be an important storyline during climate talks in Doha this week and next. REDD+ (Reducing Emissions from Deforestation and Degradation), as the mechanism is known, has grown in complexity since it gained momentum during the 2005 climate talks in Montreal, but is arguably moving forward faster than other areas of climate negotiations. Still, many elements of REDD+ continue to be as hotly debated today as they were five years ago when it got the conceptual OK from the U.N. These include the process for establishing baselines to measure reductions in emissions, safeguards to protect against adverse outcomes for biodiversity and forest-dependent communities, and financing and markets.


Reduction in snow threatens Arctic seals


(11/28/2012) Arctic snowfall accumulation plays a critical role in ringed seal breeding, but may be at risk due to climate change, according to a new study in Geophysical Research Letters. Sea ice, which is disappearing at an alarming rate, provides a crucial platform for the deep snow seals need to reproduce. Ringed seals (Phoca hispida) require snow depths of at least 20 centimeters (8 inches): deep enough to form drifts that seals use as birth chambers.


Watery world: sea level rising 60 percent faster than predicted

(11/28/2012) Sea levels are rising 60 percent faster than Intergovernmental Panel on Climate Change (IPCC) has estimated, according to a new study in the open access Environmental Research Letters. In addition to imperiling coastal regions and islands, global sea level rise is worsening the damage inflicted by extreme weather such as Hurricane Sandy, which recently brought catastrophic flooding to the New Jersey coast and New York City.


E.U. OKs biofuels produced from certified palm oil


(11/28/2012) The European Commission has approved palm oil-based biodiesel for the renewable fuels standard provided it is certified under the Roundtable for Sustainable Palm Oil (RSPO), a body that sets social and environmental criteria for palm oil production. The move, which could dramatically boost sales of palm oil in Europe, was sharply criticized by environmental activists, who said that without stronger safeguards, increased palm oil production could increase deforestation and greenhouse gas emissions.


Organic farming keeps carbon out of the atmosphere


(11/28/2012) With the worst effects of climate change, we are seeing how pollution hurts both human health and the environment but there is good news: a new study shows that organic farming stores more greenhouse gases in the soil than non-organic farming. By switching to organic methods, many farmers across the globe may be helping to solve the climate crisis at the same time as they improve soil quality and avoid the use of pesticides.


Long and thin with a big head: new snake adds diversity to a bizarre group (photo)

(11/28/2012) There's no question that blunt-headed vine snakes are an odd lot: a thin body tapers into an even thinner neck which expands suddenly into a broad head with massive eyes. Until now only six species were recognized from this genus, known as Imantodes, but a new study in Zookeys describes a seventh species: Imantodes chocoensis from the Chocó Forests in northeastern Ecuador.


Brazil's deforestation at record low from 2011-2012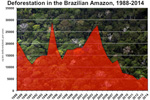 (11/27/2012) Deforestation in the Brazilian Amazon fell to the lowest rate since annual record-keeping began in 1988 according to provisional data released Tuesday by Brazil's National Space Research Agency (INPE). 1,798 square miles (4,656 square kilometers) of Amazon forest was chopped down during the 12 months ending July 31, 2012, 27 percent less than the year earlier period.


Photos: Chinese leopard wins camera trap contest


(11/27/2012) The third annual BBC Wildlife Magazine Camera Trap Photo of the Year contest has produced some stunning and surprising images, including a snow leopard sticking its tongue out, a rare giant pangolin, and wrestling monitor lizards. But the winner this year was the perfect shot of a young leopard in China.


Featured video: how locals depend on Kalimantan's vanishing forests

(11/27/2012) A new video explores local indigenous views of the forests of Kalimantan or Indonesian Borneo. Having depended on the rainforest ecosystems for centuries, indigenous groups now find themselves under pressure to exploit forest for logging, coal mining, or industrial plantations. While biodiversity, carbon sequestration, and other ecosystem services are at stake, the forests are also deeply intertwined with the culture and way-of-life for indigenous group.


Legislation leaves future of world's largest temperate rainforest up in the air


(11/27/2012) Although unlikely to pass anytime in the near term, recurring legislation that would hand over 80,000 acres of the Tongass Rainforest to a Native-owned logging corporation has put local communities on guard in Southeast Alaska. "The legislation privatizes a public resource. It takes land that belongs to all of us, and that all of us have a say in the use and management of, and it gives that land to a private for-profit corporation," Andrew Thoms, Executive Director of the Sitka Conservation Society, told mongabay.com in a recent interview.


Photos reveal destruction of Cameroon rainforest for palm oil


(11/26/2012) Newly released photos by Greenpeace show the dramatic destruction of tropical forest in Cameroon for an oil palm plantation operated by SG Sustainable Oils Cameroon (SGSOC), a subsidiary of the U.S. company Herakles Farm. The agriculture company is planning to convert 73,000 hectares to palm oil plantations on the edge of several protected areas, but has faced considerable opposition from environmentalists and some local communities. In addition to the aerial photos, Greenpeace alleges that ongoing forest clearing by Herakles is illegal since the companies 99-year lease has yet to be fully approved by the Cameroonian government.


Could marine cloud machines cool the planet?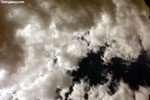 (11/26/2012) In 1990, British cloud physicist John Latham published a paper arguing he could cool global climate by brightening clouds over the ocean. Most colleagues ignored the paper, titled 'Control global warming?'—probably because this thing called global warming was not yet a hot topic. Now, more than two decades later, Latham continues to develop what has become one of the most promising and controversial ideas in climate control. 'Marine cloud brightening' might sound benign, but hairs rise when it's called 'geoengineering.'


Could rebuilding global fisheries save hundreds of billions of dollars?


(11/26/2012) Global fisheries are gutting the world economy by US$13 billion annually, according to an economic analysis published July 13 in the journal PLoS ONE. National subsidies that encourage overfishing cause the most losses, the analysis claims. However, researchers believe that allowing fish stocks to rebuild and making fishing more efficient could reverse these losses, leading to net gains of US$600 to US$1,400 billion within 50 years. Such savings won't come cheaply, the analysis suggests. Rebuilding fisheries worldwide could cost US$130 to US$292 billion, the researchers estimate. Most of the cost would go toward retraining or retiring nearly half of the world's 35 million fisheries workers.


Endangered muriqui monkeys in Brazil full of surprises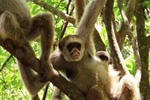 (11/26/2012) On paper, the northern muriquis (Brachyteles hypoxanthus) look like a conservation comeback story. Three decades ago, only 60 of the gentle, tree-dwelling primates lived in a fragment of the Atlantic Forest along the eastern coast of Brazil. Now there are more than 300. But numbers don't tell the whole story, according to anthropologist Karen Strier and theoretical ecologist Anthony Ives of the University of Wisconsin, Madison. The pair analyzed 28 years of data on the demographics of the muriquis, one of the longest studies of its kind. They found surprising patterns about birth and death rates, sex ratios, and even how often the monkeys venture out of their trees. These findings raise questions about the muriquis' long-term survival and how best to protect them, the scientists wrote in the Sept 17 issue of PLoS ONE.



Page 1 | Page 2 | Page 3 | Page 4 | Page 5 | Page 6 | Page 7 | Page 8 | Page 9 | Page 10 | Page 11 | Page 12 | Page 13 | Page 14 | Page 15 | Page 16 | Page 17 | Page 18 | Page 19 | Page 20 | Page 21 | Page 22 | Page 23 | Page 24 | Page 25 | Page 26 | Page 27 | Page 28 | Page 29 | Page 30 | Page 31 | Page 32 | Page 33 | Page 34 | Page 35 | Page 36 | Page 37 | Page 38 | Page 39 | Page 40 | Page 41 | Page 42 | Page 43 | Page 44 | Page 45 | Page 46 | Page 47 | Page 48 | Page 49 | Page 50 | Page 51 | Page 52 | Page 53 | Page 54 | Page 55 | Page 56 | Page 57 | Page 58 | Page 59 | Page 60 | Page 61 | Page 62 | Page 63 | Page 64 | Page 65 | Page 66 | Page 67 | Page 68 | Page 69 | Page 70 | Page 71 | Page 72 | Page 73 | Page 74 | Page 75 | Page 76 | Page 77 | Page 78 | Page 79 | Page 80 | Page 81 | Page 82 | Page 83 | Page 84 | Page 85 | Page 86 | Page 87 | Page 88 | Page 89 | Page 90 | Page 91 | Page 92 | Page 93 | Page 94 | Page 95 | Page 96 | Page 97 | Page 98 | Page 99 | Page 100 | Page 101 | Page 102 | Page 103 | Page 104 | Page 105 | Page 106 | Page 107 | Page 108 | Page 109 | Page 110 | Page 111 | Page 112 | Page 113 | Page 114 | Page 115 | Page 116 | Page 117 | Page 118 | Page 119 | Page 120 | Page 121 | Page 122 | Page 123 | Page 124 | Page 125 | Page 126 | Page 127 | Page 128 | Page 129 | Page 130 | Page 131 | Page 132 | Page 133 | Page 134 | Page 135 | Page 136 | Page 137 | Page 138 | Page 139 | Page 140 | Page 141 | Page 142 | Page 143 | Page 144 | Page 145 | Page 146 | Page 147 | Page 148 | Page 149 | Page 150 | Page 151 | Page 152 | Page 153 | Page 154 | Page 155 | Page 156 | Page 157 | Page 158 | Page 159 | Page 160 | Page 161 | Page 162 | Page 163 | Page 164 | Page 165 | Page 166 | Page 167 | Page 168 | Page 169 | Page 170 | Page 171 | Page 172 | Page 173 | Page 174 | Page 175 | Page 176 | Page 177 | Page 178 | Page 179 | Page 180 | Page 181 | Page 182 | Page 183 | Page 184 | Page 185 | Page 186 | Page 187 | Page 188 | Page 189 | Page 190 | Page 191 | Page 192 | Page 193 | Page 194 | Page 195 | Page 196 | Page 197 | Page 198 | Page 199 | Page 200