News articles on green

---
Mongabay.com news articles on green in blog format. Updated regularly.





Climate change to halve habitat for over 10,000 common species

(05/13/2013) Even as concentrations of carbon dioxide in the atmosphere hit 400 parts per million (ppm) for the first time in human history last week, a new study in Nature Climate Change warns that thousands of the world's common species will suffer grave habitat loss under climate change.


Why responsible tourism is the key to saving the mountain gorilla


(05/13/2013) The sunlight poured through the canopy, casting dappled shade over Makara, a large silverback mountain gorilla, as he cast his eyes around the forest clearing, checking on the members of his harem. A female gorilla reclined on a bank of dense vegetation of the most brilliant green, clutching her three day old infant close to her chest, and elsewhere, two juvenile gorillas played around a small tree, running rings around it until one crashed into the other and they rolled themselves into a roly-poly ball of jet black fluff that came to a halt a few meters in front of our delighted group.


Palm oil company violated RSPO standards, evicted from sustainability body

(05/13/2013) The Roundtable on Sustainable Palm Oil (RSPO) has evicted Indonesian palm oil giant Dutapalma Nusantara for violating key principles for sustainability.


Indonesian palm oil giant cutting deforestation from supply chain


(05/13/2013) Indonesian palm oil giant Golden Agri-Resources (GAR) is continuing to reduce deforestation under its 2011 forest conservation policy despite ongoing forest destruction by other palm oil producers in the sector, finds a new assessment by Greenomics, an Indonesian activist group. However the report finds GAR's operations are not completely deforestation-free.


For Mother's Day, pictures of mama animals with babies


(05/12/2013) One of the highlights of traveling to exotic planes is seeing mother animals with their babies so here is a collection of a some pictures I've taken over the years. They range from amphibians in Panama to orangutans in Borneo. I hope you enjoy. Happy Mother's Day!


Last time CO2 hit 400 ppm, temperature was 8C warmer, seas 40m higher than today

(05/12/2013) The future of a globally warmed world has been revealed in a remote meteorite crater in Siberia, where lake sediments recorded the strikingly balmy climate of the Arctic during the last period when greenhouse gas levels were as high as today.


A new world?: carbon dioxide concentrations in atmosphere hit 400 ppm


(05/11/2013) For the first time since homo sapiens evolved, concentrations of carbon dioxide in the atmosphere have struck 400 parts per million (ppm) due to burning fossil fuels. The National Oceanic and Atmospheric Administration (NOAA) reports that readings of carbon dioxide at Mauna Loa Observatory in Hawaii hit the symbolic number on Thursday and are expected to continue rising in coming years. The last time concentrations were this high for a sustained period was 4-5 million years ago when sea levels were 5-40 meters higher than today and the poles were 10 degrees Celsius hotter. During this epoch, forests grew along the shores of the Arctic Ocean and coral reefs were almost wholly absent.


Google Time-lapse offers view of Earth over 3 decades


(05/10/2013) Google has released a series of time-lapse images showing global change between 1984 and 2012. The images are sourced from NASA's Landsat mission, a series of Earth-observation satellites that have orbited the planet since 1972, providing scientists, policymakers, and the general public with a wealth of data and imagery used for a wide range of applications.


Elephants massacred for ivory in Central African Republic

(05/10/2013) Dozens of elephants have been slaughtered in the Dzanga Bai World Heritage Site in the Central African Republic just days after conservationists warned about an impending threat from the movement of 17 heavily armed poachers. The massacre occurred at a site renowned as 'village of elephants', where tourists and scientists have for decades observed wild elephants congregating at a large clearing to feed on minerals.


Aquarium launches desperate search to save a species down to 3 individuals

(05/10/2013) Aquarists at ZSL London Zoo have launched a worldwide appeal to find a female mate for a fish species that is believed to have gone extinct in the wild.


New endangered list for ecosystems modeled after 'Red list' for species

(05/09/2013) The IUCN has unveiled the first iteration of its new Red List of Ecosystems, a ranking of habitats worldwide.


Continued deforestation in the Amazon may kill Brazil's agricultural growth

(05/09/2013) Continuing deforestation in the Amazon rainforest could undermine agricultural productivity in the region by reducing rainfall and boosting temperatures, warns a new study published in the journal Environmental Research Letters.


Microsoft puts price on carbon, buys credits from forest conservation project

(05/09/2013) Microsoft is 'offsetting' some of its greenhouse gas emissions by buying credits generated by a forest conservation project in Kenya.


Indonesia welcomes Greenpeace ship 3 years after eviction

(05/09/2013) Indonesia has welcomed Greenpeace's ship, the Rainbow Warrior, back into its waters for the first time since deporting the vessel in October 2010. The Rainbow Warrior arrived today in Jayapura, a major port in Indonesian New Guinea, as the first leg of a tour to raise environmental awareness across the archipelago, according to the activist group.


Scientists discover that marine animals disperse seagrass

(05/09/2013) Lesser known than coral reefs, marine seagrass ecosystems are rich in biodiversity and are powerhouses when it comes to sequestering carbon dioxide. Yet, much remains unknown about the ecology of seagrass beds, including detailed information on how seagrass spread their seeds and colonize new area. Now a recent study in Marine Ecology Progress Series documents that several species of marine animal are key to dispersing seagrass, overturning the assumption that seagrass was largely dispersed by abiotic methods (such as wind and waves).


Common moth can hear higher frequencies than any other animal on Earth

(05/09/2013) A common little moth turns out to have the best ears in the animal kingdom. According to a new study in Biology Letters, the greater wax moth (Galleria mellonella) is capable of hearing frequencies up to 300,000 hertz (300kHz), which is 15 times the frequency humans can hear at their prime, around 20 kHz.


Featured video: saving sea turtles in Mexico's Magdalena Bay

(05/09/2013) A new short film, Viva la tortuga documents the struggle to save loggerhead and green sea turtles in Magdalena Bay, Mexico. Once a region for a massive sea turtle meat market, the turtles now face a new threat: bycatch. Loggerhead sea turtles are drowning in bottom-set gillnets, unable to escape from the nets once entangled. The issue has even raises threats of trade embargoes from the U.S.


U.S. loses nearly a third of its honey bees this season


(05/09/2013) Nearly a third of managed honeybee colonies in America died out or disappeared over the winter, an annual survey found on Wednesday. The decline—which was far worse than the winter before—threatens the survival of some bee colonies. The heavy losses of pollinators also threatens the country's food supply, researchers said. The US Department of Agriculture has estimated that honeybees contribute some $20bn to the economy every year.


New UN report gives Indonesia low marks in forest governance


(05/09/2013) A new UN report exposes serious flaws in Indonesia's forest governance, serving as a wake up call to policy makers aiming to conserve forests in the country, which boasts the third largest area of tropical forest coverage in the world. On Monday, the United Nations Development Programme (UNDP) together with the Government of Indonesia launched a comprehensive forest governance index, which evaluates forest governance at the central, provincial and district levels and offers policy recommendations designed to better equip the country to conserve forests and peatlands.


Brazil's satellite monitoring reduced Amazon deforestation by 60,000 sq km in 5 years

(05/08/2013) Brazil's advanced satellite monitoring system, coupled with increased law enforcement, was responsible for nearly 60 percent of the 101,000 square kilometer-drop in deforestation observed between 2007 and 2011, argues a new study published an international think tank.


Are seagulls killing whales in Patagonia?


(05/08/2013) It sounds ludicrous, but it could just be true: scientists say seagulls may be responsible for hundreds of southern right whale moralities off the Argentine coastline. Since 2003, scientists have documented the deaths of 605 southern right whales (Eubalaena australis) near Península Valdés which the whales use as a nursery. Notably, 88 percent of these were newborn calves. The death rate is so high that researchers now fear for the whales' long-term survival.


Featured video: How climate change is messing with the jetstream

(05/08/2013) Weather patterns around the globe are getting weirder and weirder: heat waves and record snow storms in Spring, blasts of Arctic air followed by sudden summer, record deluges and then drought.


Uranium mine at edge of Grand Canyon National Park approved


(05/08/2013) Uranium mining on the doorstep of the Grand Canyon national park is set to go ahead in 2015 despite a ban imposed last year by Barack Obama. Energy Fuels Resources has been given federal approval to reopen its old Canyon Mine, located six miles south of the canyon's popular South Rim entrance, that attracts nearly 5 million visitors a year.


Debate heats up over California's plan to reduce emissions via rainforest protection


(05/07/2013) As the public comment period for California's cap-and-trade program draws to a close, an alliance of environmental activists have stepped up a heated campaign to keep carbon credits generated by forest conservation initiatives in tropical countries out of the scheme. These groups say that offsets generated under the so-called Reducing Emissions from Deforestation and Degradation (REDD+) mechanism, will undermine efforts to cut emissions as home, while potentially leading to abuses abroad. However supporters of forest conservation-based credits say the program may offer the best hope for saving the world's beleaguered rainforests, which continue to fall at a rate of more than 8 million hectares per year.


17 poachers allegedly enter elephant stronghold in Congo, conservationists fear massacre


(05/07/2013) Local researchers and wildlife guards say 17 armed elephant poachers have gained access to Dzanga Bai, a large waterhole and clearing where up to 200 forest elephants visit daily in the Central African Republic (CAR)'s Dzanga-Ndoki National Park. WWF, which works in the region but has recently evacuated due to rising violence, is calling on the CAR government to rapidly mobilize its military to stop another elephant bloodbath in central Africa. Elephants are being killed across their range for their ivory, which is mostly smuggled to East Asia.


Featured video: camera trapping in Bwindi Impenetrable National Park

(05/07/2013) A new video highlights the work of Badru Mugerwa as he sets and monitors 60 remote camera traps in one of the most rugged tropical forests on Earth: Bwindi Impenetrable National Park in Uganda. Mugerwa is working with the TEAM Network, run by Conservation International, which monitors mammal and bird populations in 16 protected tropical forests around the world. Every researcher uses the same methodology allowing findings to be compared not just from year-to-year but across oceans.


A Tale of Two Elephants: celebrating the lives and mourning the deaths of Cirrocumulus and Ngampit


(05/07/2013) On March 21st, the organization Save the Elephants posted on their Facebook page that two African elephants had been poached inside a nearby reserve: "Sad news from the north of Kenya. Usually the national reserves are safe havens for elephants, and they know it. But in the last two weeks two of our study animals have been shot inside the Buffalo Springs reserve. First an 18 year-old bull called Ngampit and then, yesterday, 23 year-old female called Cirrocumulus (from the Clouds family)."


Health effects of toxic waste sites in developing countries could rival malaria, air pollution, new study shows


(05/07/2013) Exposure to dangerous chemicals from toxic waste sites may be creating a public health crisis in developing countries comparable to that caused by malaria or even air pollution, a new study suggests, highlighting the urgent need to clean up toxic waste. In a study published on Saturday in Environmental Health Perspectives, researchers calculated the number of 'healthy years of life lost' due to ill-health, disability or early death in individuals at risk of exposure to chemicals at 373 toxic waste sites in India, the Philippines and Indonesia.


Frankenfish or scientific marvel?: giant GM salmon await U.S. approval

(05/07/2013) It is hard to think of a more unlikely setting for genetic experimentation or for raising salmon: a rundown shed at a secretive location in the Panamanian rainforest miles inland and 1,500m above sea level. But the facility, which is owned by an American company AquaBounty Technologies, stands on the verge of delivering the first genetically modified food animal—a fast-growing salmon—to supermarkets and dinner tables.


Munching on marine plastic kills sperm whale


(05/07/2013) What do children's toys, balloons, mattresses and plastic bags have in common? They can, along with more non-biodegradable pollutants, be found in the belly of a sperm whale, the topic of a new study in the Marine Pollution Bulletin. The same whale that swallowed Jonah from the Bible, Geppetto from Collodi's Pinocchio, and the crew of the Pequod from Melville's Moby-Dick is now swallowing trash from the Spanish-Mediterranean coast, and in the Strait of Gibraltar.


Bat's tongue could inspire miniature surgical robot design

(05/06/2013) Nectar-feeding bats shift the shape of their tongue to slurp up sugar from flowers upon which they feed, finds a new study published in the Proceedings of the National Academy of Sciences.


The Hawaiian silversword: another warning on climate change


(05/06/2013) The Hawaiian silversword (Argyroxyphium sandwicense), a beautiful, spiny plant from the volcanic Hawaiian highlands may not survive the ravages of climate change, according to a new study in Global Change Biology. An unmistakable plant, the silversword has long, sword-shaped leaves covered in silver hair and beautiful flowering stalks that may tower to a height of three meters.


The world's largest 'waste dump' is found in the Pacific Ocean

(05/06/2013) If you were to travel from the United States of America to Japan, you would most likely encounter what could be described as the world's largest waste dump: a 100,000 tonne expanse of debris floating around a large region of the Pacific Ocean. The total area of this phenomenon has been said to equal the size of continental U.S., but the truth about its true size remains unknown.


Central America's largest forest under siege by colonists

(05/06/2013) In the last four years, invading land speculators and peasants have destroyed 150,000 hectares (370,000 acres) of rainforest in Nicaragua's Bosawás Biosphere Reserve, according to the Mayangna and Miskito indigenous peoples who call this forest home. Although Nicaragua recognized the land rights of the indigenous people in 2007, the tribes say the government has not done near-enough to keep illegal settlers out despite recent eviction efforts.


Unconventional swine: how invasive pigs are helping preserve biodiversity in the Pantanal


(05/06/2013) Ordinarily, invasive and exotic species are a grave threat to native wildlife: outcompeting local species, introducing parasites and disease, and disturbing local ecological regimes. A unique case in the Brazilian Pantanal, however, has turned the tables; here, an introduced mammal has actually aided the conservation of native wildlife.


Featured video: If I were a panda...

(05/06/2013) A new powerful video by the conservation program, APES, highlights the threat faced by many species: not being cute enough. The creative short video was produced pro bono by Ogilvy & Mather Chicago.


'Suffering...without witnesses': over a quarter of a million people perished in Somali famine


(05/06/2013) A new report estimates that 258,000 people died in 2011 during a famine in Somalia, the worst of such events in 25 years and a number at least double the highest estimations during the crisis. Over half of the victims, around 133,000, were children five and under. The report, by the UN Food and Agricultural Organization (FAO), argues that the international community reacted too late and too little to stem the mass starvation brought on by government instability, conflict, high food prices, and failed rains, the last of which has been linked to climate change by some scientists.


All the world's rarest birds in one book: photo contest enlivens new guide


(05/06/2013) The World's Rarest Birds is an extraordinary bird book. 590 different bird species are classified as Endangered or Critically Endangered, with many species only existing in captivity. A new book, The World's Rarest Birds, catalogs all of these species. Each species is shown with remarkable color-photography and illustrations. Threats to species habitat are described, population estimates per species are given, and each species has a quick response (QR) code that takes the reader to a species-specific BirdLife International webpage. The book also covers 60 Data Deficient species. Data Deficient means that there exists little to no information on the relative abundance and distribution of the species.


Lemur has unexpectedly wide range, diversity of color variations

(05/05/2013) An endangered lemur has a larger range than originally believed but is still at risk due to forest fragmentation and land clearing, reports a study published in the journal Primate Conservation.


Court rules for palm oil company in controversial deforestation case


(05/05/2013) Court orders Aceh governor to reverse decision to cancel palm oil concession in protected peatlands. An Indonesian court has ruled in favor of plantation company PT Kallista Alam in a lawsuit brought against the governor of Indonesia's Aceh province for revoking the company's license to develop palm oil plantations in a protected peat swamp forest.


Acting Madagascar president breaks pledge not to stand in election

(05/04/2013) President Andry Rajoelina broke his pledge not to run in Madagascar's upcoming presidential election, once again throwing the political stability of the island nation into question.


Indonesia's Ministry of Forestry denies losing $731m in state funds in 2012

(05/03/2013) Indonesia's Ministry of Forestry on Friday denied a claim by an NGO that it lost or misappropriated 7.1 trillion rupiah ($731 million) in 2012, reports the Jakarta Globe.


Tribesmen launch 'occupy' protest at dam site in the Amazon rainforest

(05/03/2013) On Thursday roughly 200 indigenous people launched an occupation of a key construction site for the controversial Belo Monte dam in the Brazilian Amazon. The protestors, who represent communities that will be affected by the massive dam, are demanding immediate suspension of all work on hydroelectric projects on the Xingu, Tapajós and Teles Pires rivers until they are properly consulted, according to a coalition of environmental groups opposing the projects.


Widely used insecticide contaminating water supplies, triggering wildlife die-off in Europe

(05/03/2013) The world's most widely used insecticide is devastating dragonflies, snails and other water-based species, a groundbreaking Dutch study has revealed.


Mekong region has lost a third of its forests in 30 years, may lose another third by 2030

(05/03/2013) The Greater Mekong region of Cambodia, Laos, Myanmar (Burma), Thailand and Vietnam will lose a third of its remaining forest cover by 2030 unless regional governments improve management of natural resources and transition toward a greener growth model, warns a new report issued by WWF.


Hibernating primates: scientists discover three lemur species sleep like bears


(05/02/2013) Bears do it, bats do it, and now we know lemurs do it too: hibernate, that is. Since 2005, scientists have known that the western fat-tailed dwarf lemur hibernates, but a new study in Scientific Reports finds that hibernation is more widespread among lemurs than expected. At least two additional lemur species—Crossley's dwarf lemur and Sibree's dwarf lemur—have been discovered hibernating. So far lemurs, which are only found on the island of Madagascar, are the only primates known to undergo hibernation, raising curious questions about the relationship between lemur hibernation and more well-known deep sleepers.


Endangered primates and cats may be hiding out in swamps and mangrove forests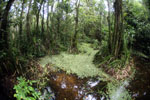 (05/02/2013) What happens to animals when their forest is cut down? If they can, they migrate to different forests. But in an age when forests are falling far and fast, many species may have to shift to entirely different environments. A new paper in Folia Primatologica theorizes that some 60 primate species and 20 wild cat species in Asia and Africa may be relying more on less-impacted environments such as swamp forests, mangroves, and peat forests.


Is it possible to reduce the impact of oil drilling in the Amazon rainforest?


(05/02/2013) Oil extraction in the Amazon rainforest has been linked to severe environmental degradation — including deforestation and pollution — which in some areas has spurred violent social conflict. Yet a vast extent of the Colombian, Peruvian, Ecuadorian, Bolivian, and Brazilian Amazon is currently under concession for oil and gas exploration and production. It seems clear that much of this hydrocarbon development is going to proceed whether environmentalists and human rights groups like it or not.


Drill baby drill! The fate of African biodiversity and the monkey you've never heard of


(05/02/2013) Equatorial Guinea is not a country that stands very large in the American consciousness. In fact most Americans think you mean Papua New Guinea when you mention it or are simply baffled. When I left for Bioko Island in Equatorial Guinea, I also knew almost nothing about the island, the nation, or the Bioko drills (Mandrillus leucophaeus poensis). The subspecies of drill is unique to Bioko Island and encountering them was an equally unique experience. I initially went to Bioko as a turtle research assistant but ended up falling in love with the entire ecosystem, especially the Bioko drills as I tagged along with drill researchers.


Sugarcane production impacting local climate in Brazil


(05/01/2013) Intensification of Brazil's sugarcane industry in response to rising demand for sugar-based ethanol could have impacts on the regional climate reports a new study by researchers from Arizona State University, Stanford University and the Carnegie Institution for Science. Following the conversion of cerrado grasslands into sugarcane in Brazil, a recent study in Geophysical Research Letters found local cooling that approached 1 degree Celsius during the growing season and maximum local warming near 1 degree Celsius post-harvest.



Page 1 | Page 2 | Page 3 | Page 4 | Page 5 | Page 6 | Page 7 | Page 8 | Page 9 | Page 10 | Page 11 | Page 12 | Page 13 | Page 14 | Page 15 | Page 16 | Page 17 | Page 18 | Page 19 | Page 20 | Page 21 | Page 22 | Page 23 | Page 24 | Page 25 | Page 26 | Page 27 | Page 28 | Page 29 | Page 30 | Page 31 | Page 32 | Page 33 | Page 34 | Page 35 | Page 36 | Page 37 | Page 38 | Page 39 | Page 40 | Page 41 | Page 42 | Page 43 | Page 44 | Page 45 | Page 46 | Page 47 | Page 48 | Page 49 | Page 50 | Page 51 | Page 52 | Page 53 | Page 54 | Page 55 | Page 56 | Page 57 | Page 58 | Page 59 | Page 60 | Page 61 | Page 62 | Page 63 | Page 64 | Page 65 | Page 66 | Page 67 | Page 68 | Page 69 | Page 70 | Page 71 | Page 72 | Page 73 | Page 74 | Page 75 | Page 76 | Page 77 | Page 78 | Page 79 | Page 80 | Page 81 | Page 82 | Page 83 | Page 84 | Page 85 | Page 86 | Page 87 | Page 88 | Page 89 | Page 90 | Page 91 | Page 92 | Page 93 | Page 94 | Page 95 | Page 96 | Page 97 | Page 98 | Page 99 | Page 100 | Page 101 | Page 102 | Page 103 | Page 104 | Page 105 | Page 106 | Page 107 | Page 108 | Page 109 | Page 110 | Page 111 | Page 112 | Page 113 | Page 114 | Page 115 | Page 116 | Page 117 | Page 118 | Page 119 | Page 120 | Page 121 | Page 122 | Page 123 | Page 124 | Page 125 | Page 126 | Page 127 | Page 128 | Page 129 | Page 130 | Page 131 | Page 132 | Page 133 | Page 134 | Page 135 | Page 136 | Page 137 | Page 138 | Page 139 | Page 140 | Page 141 | Page 142 | Page 143 | Page 144 | Page 145 | Page 146 | Page 147 | Page 148 | Page 149 | Page 150 | Page 151 | Page 152 | Page 153 | Page 154 | Page 155 | Page 156 | Page 157 | Page 158 | Page 159 | Page 160 | Page 161 | Page 162 | Page 163 | Page 164 | Page 165 | Page 166 | Page 167 | Page 168 | Page 169 | Page 170 | Page 171 | Page 172 | Page 173 | Page 174 | Page 175 | Page 176 | Page 177 | Page 178 | Page 179 | Page 180 | Page 181 | Page 182 | Page 183 | Page 184 | Page 185 | Page 186 | Page 187 | Page 188 | Page 189 | Page 190 | Page 191 | Page 192 | Page 193 | Page 194 | Page 195 | Page 196 | Page 197 | Page 198 | Page 199 | Page 200