News articles on green

---
Mongabay.com news articles on green in blog format. Updated regularly.






The 'dead' ocean: eyewitness says overfishing has emptied the Pacific
(10/22/2013) An Australian sailor has described parts of the Pacific Ocean as "dead" because of severe overfishing, with his vessel having to repeatedly swerve debris for thousands of kilometers on a journey from Australia to Japan. Ivan MacFadyen told of his horror at the severe lack of marine life and copious amounts of rubbish witnessed on a yacht race between Melbourne and Osaka. He recently returned from the trip, which he previously completed 10 years ago.
Global warming could shift tropical rainfall

(10/21/2013) Ongoing burning of fossil fuels could flip which portion of the tropics receive more rainfall: the southern hemisphere or the northern. Currently, the northern hemisphere tropics is the wetter of the two, but why this is has long baffled scientists. Now, new research in Nature Geoscience has discovered that rainfall in the tropics is in part driven by massive ocean currents that travel back-and-forth between the Arctic and Antarctic, a process known as ocean overturning circulation.
Art, education, and health: holistic conservation group embarks on new chapter
(10/21/2013) It's unlikely conservation organizations can survive if they are unwilling to embrace change: as an endeavor, conservation requires not just longterm planning, but also an ability to move proactively and fluidly to protect species and safeguard ecosystems. Environmental and education NGO, the Art of Conservation, is currently embarking on its biggest change since its foundation in 2006: moving away from its base in Rwanda, while leaving a legacy behind.
Yeti may be undescribed bear species
(10/20/2013) The purported Yeti, an ape-like creature that walks upright and roams the remote Himalayas, may in fact be an ancient polar bear species, according to new DNA research by Bryan Sykes with Oxford University. Sykes subjected two hairs from what locals say belonged to the elusive Yeti only to discover that the genetics matched a polar bear jawbone found in Svalbard, Norway dating from around 120,000 (though as recent as 40,000 years ago).
Honey badgers and more: camera traps reveal wealth of small carnivores in Gabon (photos)
(10/17/2013) Gabon has lost most of its big meat-eaters including lions, spotted hyenas, and African wild dogs (although it's still home to leopards), but a new study focuses on the country's lesser-known species with an appetite for flesh. For the first time, researchers surveyed Gabon's small carnivores, including 12 species from the honey badger (Mellivora capensis) to the marsh mongoose (Atilax paludinosus).
WHO: air pollution causes cancer

(10/17/2013) Outdoor air pollution has been officially classified as carcinogenic by the cancer arm of the World Health Organization. The International Agency for Research on Cancer (IARC) said air pollution from traffic and industrial fumes was a definite cause of lung cancer and also linked to bladder cancer. The strong verdict from IARC, a cautious body that pronounces only when the evidence is strong, will put pressure on governments to take action.
Map reveals gas company flying over Manu National Park
(10/17/2013) A map in an internal Peruvian government report reveals that gas company Pluspetrol has been flying over the protected Manu National Park (MNP) in the south-eastern Peruvian Amazon where UNESCO says the biodiversity "exceeds that of any other place on earth." The over-flight was done via helicopter on 3 February, 2012 by Pluspetrol personnel together with a team from the National Institute e Development of Andean, Amazonian and Afroperuvian Peoples (INDEPA).
Nature tours in Costa Rica: an economic alternative to palm oil?
(10/16/2013) Oil palm plantations have been rapidly expanding across the tropics for the better part of the past twenty years due to high returns from palm oil production. But palm oil isn't necessarily the most profitable form of land use in wildlife-rich areas, as one conservation entrepreneur is demonstrating in Costa Rica.David Lando Ramirez, a landowner in Sarapiqui, northeastern Costa Rica, has converted a small patch of oil palm into a thriving ecotourism business centered around people's love of the Central American nation's stunning diversity of birds.
Mammal-watching: one man's obsession to see the world's mammals
(10/16/2013) There are more than 5,000 different mammal species across the globe, but with this number being dwarfed by the 10,000 bird species, it is little wonder that bird-watching has become the most common wildlife watching hobby in the world. While there are thousands of websites dedicated to ornithology enthusiasts, with information detailing the best places to see particular species and how to find them, similar resources about mammals remain scarce.
Advertising campaign changing minds in China on ivory trade
(10/16/2013) For three years, the International Fund for Animal Welfare (IFAW) has been running advertizing campaigns in Chinese cities to raise awareness on the true source of ivory: slaughtered elephants. A recent evaluation of the campaign by Rapid Asia found that 66 percent of those who saw the ads said they would "definitely" not buy ivory in the future.
David Attenborough: someone who believes in infinite growth is 'either a madman or an economist'

(10/16/2013) Sir David Attenborough has said that people living in poorer countries are just as concerned about the environment as those in the developed world, and "exporting environmentalism" isn't necessarily an "uphill struggle". The veteran broadcaster said ideas about protecting the natural world were not unwelcome in less developed nations—but added that wealthier countries should work to improve women's rights around the world to bring down birth rates and avoid overpopulation.
California 'sea monster' is an oarfish

(10/16/2013) The dead "sea monster' spotted off the coast of Southern California on Sunday is actually an oarfish, a deepwater fish species that can reach a length of 55 feet (17 meters).
Palm oil deal undermines efforts to resolve 25-year conflict in Sumatra
(10/15/2013) Local groups have called on the governor of Jambi province to cancel PT Asiatic Persada's permit after Wilmar's sale of the company stalls IFC-mediated talks. Indigenous people in Indonesia's Jambi province on the island of Sumatra have urged the local government to revoke the permit of PT Asiatic Persada, a palm oil company at the center of a more than two-decade-long land conflict.
Environmental journalism: rich with stories but 'extremely under-resourced'
(10/15/2013) Erik Hoffner is an environmental journalist and photographer whose work has appeared in a wide range of publications, including Orion, The Sun, Northern Woodlands, Yale Environment 360, Earth Island Journal, and World Ark. Recently two of his stories triggered strong public reactions: an exposé on damaging logging practices in Sweden and a photo feature on suburban fracking in Colorado. In an October interview with Mongabay.com, Hoffner discusses the fallout from these stories as well as his career in environmental journalism.
Featured video: 22-year-old produces documentary on the Peruvian Amazon
(10/15/2013) Spending a year on the Tambopata River in Peru's deep Amazon, allowed 22-year-old Tristan Thompson, to record stunning video of the much the region's little seen, and little known, wildlife. Thompson, a student at the University of the West of England, has turned his footage into a new documentary An Untamed Wilderness that not only gives viewers an inside look at the world's greatest forests, but also records the secretive behavior of many species, including howler monkeys, aracaris, leaf-cutter ants, hoatzin, and giant river otters.
California celebrates its inaugural Pacific Leatherback Conservation Day with sobering reality
(10/15/2013) On an isolated beach in Bird's Head Peninsula, Indonesia, a female leatherback turtle shuffles out of the ocean and onto the shore, ready to lay her eggs. Under the cover of night she excavates a hole in the sand, depositing anywhere from 80 to 100 eggs inside. Using her flippers she flicks sand over the eggs, hiding them from potential predators. Then, shuffling away, she returns to the turquoise waters ready to make an 8,500-mile journey across the Pacific Ocean to the California coast.
Key European species make 'refreshing' comebacks

(10/15/2013) Beaver, bison and eagles are among the species that have made a successful comeback in Europe in the past 50 years, according to a major survey published by a coalition of conservation groups on Thursday. The report selected 37 species that have showed signs of recovery, studied changes in their numbers and range since 1960, and examined the reasons driving their comeback.
France upholds nationwide ban on fracking

(10/14/2013) France's landmark ban on fracking has survived constitutional challenges lobbed by U.S.-company, Schuepbach Energy. On Friday, the nation's Constitutional Council decided that the ban did not violate France's constitution. Passed in 2011 under then President Nicolas Sarkozy, the ban has since been upheld by current President Francios Hollande.
Meeting the mammal that survived the dinosaurs
(10/14/2013) So, here I am, running in a forest at night over 2,000 miles from home. This forest—dry, stout, and thorny enough to draw blood—lies just a few miles north of a rural town in the western edge of the Dominican Republic on the border with Haiti. I'm following—or trying to keep pace with—a local hunter and guide as we search for one of the world's most bizarre mammals. It's an animal few people have heard of, let alone actually seen; even most Dominicans don't readily recognize its name or picture. But I've been obsessed with it for six years: it's called a "solenodon," more accurately the Hispaniolan solenodon or its (quite appropriate) scientific name, Solenodon paradoxus.
Sea and storm: coastal habitats offer strongest defense
(10/11/2013) Surging storms and rising seas threaten millions of U.S. residents and billions of dollars in property along coastlines. The nation's strongest defense, according to a new study by scientists with the Natural Capital Project at the Stanford Woods Institute for the Environment, comes from natural coastal habitats.
Scientists discover cocoa frog and 60 other new species in remote Suriname (photos)
(10/11/2013) In one of the most untouched and remote rainforests in the world, scientists have discovered some sixty new species, including a chocolate-colored frog and a super-mini dung beetle. The species were uncovered in Southeastern Suriname during a Rapid Assessment Program (RAP); run by Conservation International (CI), RAPS involve sending teams of specialists into little-known ecosystems to record as much biodiversity as they can in a short time. In this case, sixteen researchers from around the world had about three weeks to document the region's biodiversity.
Tapirs, drug-trafficking, and eco-police: practicing conservation amidst chaos in Nicaragua
(10/10/2013) Nicaragua is a nation still suffering from deep poverty, a free-flowing drug trade, and festering war-wounds after decades of internecine fighting. However, like any country that has been largely defined by its conflicts, Nicaragua possesses surprises that overturn conventional wisdom. Not the least of which is that the Central American country is still home to big, stunning species, including jaguars, giant anteaters, pumas, and the nation's heaviest animal, the Baird's tapir (Tapirus bairdii). Still, not surprisingly given the nation's instability, most conservationists have avoided Nicaragua. But tapir-expert Christopher Jordan, who has worked in the country for over four years, says he wouldn't have it any other way.
Tanzania should implement shoot-to-kill policy for poachers, says government minister

(10/09/2013) A government minister in Tanzania has called for a "shoot-to-kill" policy against poachers in a radical measure to curb the mass slaughter of elephants. Khamis Kagasheki's proposal for perpetrators of the illicit ivory trade to be executed 'on the spot' divided opinion, with some conservationists backing it as a necessary deterrent but others warning that it would lead to an escalation of violence.
WWF risking Sumatran rhinos by releasing camera trap images, says scientist
(10/09/2013) On October 2nd, WWF released camera trap videos of Sumatran rhinos surviving in Kalimantan, Indonesian Borneo. The conservation organization had already announced in April that they had evidence of at least one Sumatran rhino in the province, but the new images confirmed what is likely to be a small surviving population. While this is good news for an animal on the edge of extinction, Erik Meijaard, a researcher who has worked in Indonesia for over 20 years, says WWF has made a mistake publicizing the news around the world, noting 'the last thing those rhinos need is publicity.'
Recovering forests 'heal' themselves by speeding up nitrogen fixation
(10/08/2013) Nitrogen is colorless, odorless and tasteless, but all life on earth depends on it. Without it, our bodies cannot synthesize the nucleic acids that make up our DNA, or the protein-forming amino acids that are the very building blocks of our cells. Problematically, atmospheric nitrogen is relatively inert or nonreactive. This has created a unique biological dependency on a process called nitrogen fixation—where inert nitrogen from the atmosphere is converted into more reactive ammonia, a major component of soil fertilizers.
No place like home: scientists discover that male crested penguins head home earlier than females
(10/08/2013) Male crested penguins are hard workers - especially when it comes to their elaborate breeding ritual. After gathering in massive colonies to mate, they find and establish a nesting site, help incubate the eggs females lay, and then guard the chicks after they hatch. Male crested penguins have also been known to arrive at their breeding locations long before the females. But the reasons for this have been largely speculative. Do the males start swimming back to their breeding grounds earlier than the females?
Divestment campaign could cause considerable damage to fossil fuel industry

(10/08/2013) A campaign to persuade investors to take their money out of the fossil fuel sector is growing faster than any previous divestment campaign and could cause significant damage to coal, oil and gas companies, according to a study from the University of Oxford. The report compares the current fossil fuel divestment campaign, which has attracted 41 institutions since 2010, with those against tobacco, apartheid in South Africa, armaments, gambling and pornography. It concludes that the direct financial impact of such campaigns on share prices or the ability to raise funds is small but the reputational damage can still have major financial consequences.
Scientists uncover high radioactivity near fracking site in Pennsylvania

(10/07/2013) Scientists have for the first time found dangerous levels of radioactivity and salinity at a shale gas waste disposal site that could contaminate drinking water. If the UK follows in the steps of the US "shale gas revolution", it should impose regulations to stop such radioactive buildup, they said.
Russia charges non-violent activists with 'piracy' for protesting Arctic oil drilling

(10/07/2013) In what is being described by Greenpeace as an 'imaginary offense,' Russia has charged 30 people with piracy after activists protested against oil exploitation in the Arctic. The 30 charged included not only protestors, but a British journalist and Russian videographer who were on board Greenpeace's ship, the Arctic Sunrise, when it was stormed by the Russian military late last month.
Myanmar faces new conservation challenges as it opens up to the world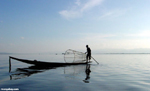 (10/04/2013) For decades, one of Southeast Asia's largest countries has also been its most mysterious. Now, emerging from years of political and economic isolation, its shift towards democracy means that Myanmar is opening up to the rest of the world. Myanmar forms part of the Indo-Burma biodiversity hotspot, and some of the largest tracts of intact habitat in the hotspot can be found here.
Amphibians evolve resistance to popular pesticide
(10/04/2013) Rachel Carson and, more recently, Sandra Steingraber have successfully drawn popular attention to the risks of pesticides on wildlife. Many of the environmental consequences of pesticides have now been well documented by scientists; however, studies investigating the evolutionary consequences of pesticides on non-target species are largely missing. Not surprisingly, most studies looking at how species evolve in response to pesticide-use have been on target species such as mosquitoes and crop pests, which show that some target species have evolved resistance to common pesticides.
Climate change could increase diarrheal disease in Botswana

(10/03/2013) Climate change may increase the incidence of diarrheal disease in Botswana, according to a recent study in the International Journal of Environmental Research and Public Health. "Diarrheal disease is a very important public health problem in Botswana," said lead author Kathleen Alexander, who led a unique 30-year analysis (1974-2003) on the incidence of diarrhea in Botswana. "As a water-restricted country, Botswana is predicted to be heavily impacted by climate change.
Governments should respond to ocean acidification 'as urgently as they do to national security threats'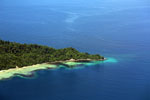 (10/03/2013) The oceans are more acidic now than they have been for at least 300m years, due to carbon dioxide emissions from burning fossil fuels, and a mass extinction of key species may already be almost inevitable as a result, leading marine scientists warned on Thursday. An international audit of the health of the oceans has found that overfishing and pollution are also contributing to the crisis, in a deadly combination of destructive forces that are imperiling marine life, on which billions of people depend for their nutrition and livelihood.
Over 100 scientists warn Ecuadorian Congress against oil development in Yasuni
(10/03/2013) Over 100 scientists have issued a statement to the Ecuadorian Congress warning that proposed oil development and accompanying roads in Yasuni National Park will degrade its "extraordinary biodiversity." The statement by a group dubbed the Scientists Concerned for Yasuni outlines in detail how the park is not only likely the most biodiverse ecosystems in the western hemisphere, but in the entire world. Despite this, the Ecuadorian government has recently given the go-ahead to plans to drill for oil in Yasuni's Ishpingo-Tambococha-Tiputini (ITT) blocs, one of most remote areas in the Amazon rainforest.
Unlikely success: how Zimbabwe has become a global leader in rhino conservation
(10/02/2013) With its collapsed economy, entrenched poverty, and political tremors, one would not expect that a country like Zimbabwe would have the capacity to safeguard its rhinos against determined and well-funded poachers, especially as just across the border South Africa is currently losing over two rhinos a day on average. And indeed, without the Lowveld Rhino Trust (LRT), rhinos in Zimbabwe would probably be near local extinction. But the LRT, which is centrally involved in the protection of around 90 percent of the country's rhinos in private reserves along with conservancy members, has proven tenacious and innovative in its battle to safeguard the nation's rhinos from the poaching epidemic.
Pet fish invade ecosystem, upending nutrients and impoverishing fishers
(10/02/2013) If you, or someone you know, owns a freshwater aquarium, chances are you have seen the peculiar little creature attached face-first to the glass in effort to find a morsel of algae. This algae eater, popularly known as the sucker fish, is the sailfin catfish, or plecos. It is one of the most commonly purchased fish in the freshwater aquarium fish trade, and, according to recent research in The Royal Society B, aquarists often reintroduce the sucker-fish into the wild with detrimental consequences.
Celebrities aim to raise $1.6 million to keep orangutan forests from the the chopping block in Borneo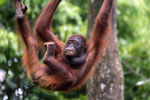 (10/02/2013) Sir David Attenborough, Bill Oddie and Chris Packham are supporting an effort to save the orangutan from extinction by raising £1m in just two weeks. Orangutans in their natural environment live in undisturbed ancient forests and for many years it was believed they shunned any other habitats. But researchers have discovered they can survive just as well and perhaps even better in forests that have been intensively thinned out by loggers, giving renewed hope for the species.
Forests increasingly limited to steeper slopes

(10/01/2013) Forests are increasingly limited to steep slopes as mankind continues to clear lowland areas suitable for agriculture and urban areas, finds a new study published in Nature Communications. The trend has significant implications for global biodiversity.
Wildlife in Nilgiris Biosphere Reserve suffers from lack of a transition zone
(10/01/2013) The Nilgiris Biosphere Reserve in southern India acts as a conduit between the biodiversity-rich Western Ghats, a mountain range parallel to the western coast of India and its eastern counterpart, the Eastern Ghats. Established in 1986 by Government of India, the 5,520 square kilometer reserve was recognized by UNESCO in 2000. However a new study in mongabay.com's open-access journal Tropical Conservation Science finds that the lack of a transition zone in the Nilgiris Biosphere Reserve has undercut the aims of this crucial protected area.
Bornean elephant meets palm oil: saving the world's smallest pachyderm in a fractured landscape
(10/01/2013) In the Malaysian state of Sabah, where most conservation students are still foreigners—either European or American—Nurzahafarina Othman stands out: not only is she Malaysian, a Muslim, and a mother of a young daughter, but she's rapidly becoming a top researcher and champion for the world's smallest elephant: the Bornean elephant (Elephas maximus borneensis). Although sometimes described as a pygmy elephant, they still weigh 2,000 kilograms (4,400 pounds). The origin of these 'tiny' elephants in Malaysian Borneo have baffled scientists for decades.




Page 1 | Page 2 | Page 3 | Page 4 | Page 5 | Page 6 | Page 7 | Page 8 | Page 9 | Page 10 | Page 11 | Page 12 | Page 13 | Page 14 | Page 15 | Page 16 | Page 17 | Page 18 | Page 19 | Page 20 | Page 21 | Page 22 | Page 23 | Page 24 | Page 25 | Page 26 | Page 27 | Page 28 | Page 29 | Page 30 | Page 31 | Page 32 | Page 33 | Page 34 | Page 35 | Page 36 | Page 37 | Page 38 | Page 39 | Page 40 | Page 41 | Page 42 | Page 43 | Page 44 | Page 45 | Page 46 | Page 47 | Page 48 | Page 49 | Page 50 | Page 51 | Page 52 | Page 53 | Page 54 | Page 55 | Page 56 | Page 57 | Page 58 | Page 59 | Page 60 | Page 61 | Page 62 | Page 63 | Page 64 | Page 65 | Page 66 | Page 67 | Page 68 | Page 69 | Page 70 | Page 71 | Page 72 | Page 73 | Page 74 | Page 75 | Page 76 | Page 77 | Page 78 | Page 79 | Page 80 | Page 81 | Page 82 | Page 83 | Page 84 | Page 85 | Page 86 | Page 87 | Page 88 | Page 89 | Page 90 | Page 91 | Page 92 | Page 93 | Page 94 | Page 95 | Page 96 | Page 97 | Page 98 | Page 99 | Page 100 | Page 101 | Page 102 | Page 103 | Page 104 | Page 105 | Page 106 | Page 107 | Page 108 | Page 109 | Page 110 | Page 111 | Page 112 | Page 113 | Page 114 | Page 115 | Page 116 | Page 117 | Page 118 | Page 119 | Page 120 | Page 121 | Page 122 | Page 123 | Page 124 | Page 125 | Page 126 | Page 127 | Page 128 | Page 129 | Page 130 | Page 131 | Page 132 | Page 133 | Page 134 | Page 135 | Page 136 | Page 137 | Page 138 | Page 139 | Page 140 | Page 141 | Page 142 | Page 143 | Page 144 | Page 145 | Page 146 | Page 147 | Page 148 | Page 149 | Page 150 | Page 151 | Page 152 | Page 153 | Page 154 | Page 155 | Page 156 | Page 157 | Page 158 | Page 159 | Page 160 | Page 161 | Page 162 | Page 163 | Page 164 | Page 165 | Page 166 | Page 167 | Page 168 | Page 169 | Page 170 | Page 171 | Page 172 | Page 173 | Page 174 | Page 175 | Page 176 | Page 177 | Page 178 | Page 179 | Page 180 | Page 181 | Page 182 | Page 183 | Page 184 | Page 185 | Page 186 | Page 187 | Page 188 | Page 189 | Page 190 | Page 191 | Page 192 | Page 193 | Page 194 | Page 195 | Page 196 | Page 197 | Page 198 | Page 199 | Page 200 | Page 201 | Page 202 | Page 203 | Page 204 | Page 205 | Page 206 | Page 207