News articles on green

---
Mongabay.com news articles on green in blog format. Updated regularly.






Environmental groups: top secret Pacific trade agreement to sacrifice wildlife, environment

(01/16/2014) Environmental groups have blasted draft text of the Trans-Pacific Partnership (TPP) released yesterday by WikiLeaks as potentially devastating to the environment and wildlife. The massive 12-nation free trade agreement has been negotiated in secret now for almost four years, and the information release by WikiLeaks shows that key environmental safeguards in the agreement are being stripped away, including a ban on shark finning and illegal logging, as well as legally-enforced pollution regulations.
Population growth and associated food demand to take heavy toll on rainforests
(01/16/2014) Human population growth and associated food demand will likely take a heavy toll on tropical ecosystems unless major shifts occur in how crops are produced and consumed, warns a new review published in Trends in Ecology & Evolution. Noting that projections published by the U.N. now forecast the human population to swell to 11 billion before the end of the century, William F. Laurance, Jeffrey Sayer, and Kenneth Cassman highlight potential impacts of agricultural expansion on biodiversity in the tropics.
Tree growth accelerates with age
(01/15/2014) Old, large trees may be even more important ecologically than long-believed, according to a new study in Nature. Looking at over half a million individual trees from over 400 species (both tropical and temperate), scientists have determined that most trees actually grow faster in their dotage than in their youth.
Underestimating global warming: gaps in Arctic temperature data lead scientists and public astray
(01/15/2014) No place on Earth is heating up faster than the Arctic, but just how fast has remained an open question due to large gaps in temperature data across the vast region. Now, a recent study in the Quarterly Journal of the Royal Meteorological Society finds that not only is the Arctic warming eight times faster than the rest of the planet, but failure to account for temperature gaps has led global datasets to underestimate the rise of temperatures worldwide.
For agoutis, the night is fraught with peril
(01/15/2014) In a study recently published in the online Animal Behavior journal, scientists from the US and the Netherlands have examined the impact of predation patterns on prey's food foraging habits. The two-year long study on Barro Colorado Island, Panama, focused on the predator-prey relationship between the Central American agouti (Dasyprocta punctata), a common rainforest rodent, and the ocelot (Leopardus pardalis).
Carbon emissions rise 2 percent in U.S. due to increase in coal

(01/14/2014) Carbon dioxide emissions rose two percent in the U.S. last year, according to preliminary data from the Energy Information Administration. Emissions rose largely due to increased coal consumption, the first such rise in U.S. emissions since 2010. Still, the annual emissions remain well below the peak hit in 2007 when emissions hit 6 billion tons.
Climate fail: Geoengineering would cool planet, but screw up rainfall patterns
(01/14/2014) For decades, scientists have been grappling with the consequences of climate change and working toward viable solutions. Climate engineering, also known as geoengineering, is the most controversial possible solution. Currently, one of the most talked about geoengineering ideas is Solar Radiation Management (SRM), which intends to block shortwave solar radiation, thus cooling the Earth to offset rising temperatures. In other words, SRM may be one way in which global temperatures could be artificially stabilized.
German government gives tigers $27 million

(01/14/2014) At a summit in 2010, the world's 13 tiger range states pledged to double the number of tigers (Panthera tigris) in the wild by 2020. Today, non-tiger state Germany announced its assistance toward that end. Through its KfW Development Bank, the German government has pledged around $27 million (20 million Euro) to a new program run by the International Union for Conservation of Nature.
High-living frogs hurt by remote oil roads in the Amazon
(01/14/2014) Often touted as low-impact, remote oil roads in the Amazon are, in fact, having a large impact on frogs living in flowers in the upper canopy, according to a new paper published in PLOS ONE. In Ecuador's Yasuni National Park, massive bromeliads grow on tall tropical trees high in the canopy and may contain up to four liters of standing water. Lounging inside this micro-pools, researchers find a wide diversity of life, including various species of frogs. However, despite these frogs living as high as 50 meters above the forest floor, a new study finds that proximity to oil roads actually decreases the populations of high-living frogs.
Colombia to protect remote region bordering Venezeula
(01/13/2014) The Colombian government plans to declare a remote area bordering Venezuela a new protected area. Colombian Minister of Environment, Luz Helena Sarmiento, told the El Espectador that President Juan Manuel Santos will declare the Estrella Fluvial de Inirida river area a Ramsar Wetland of International Importance. The designation would give Colombia six Ramsar sites.
Trophy hunters auction off life of Critically Endangered black rhino

(01/13/2014) The Dallas Safari Club has auctioned off a permit to shoot-and-kill a Critically Endangered black rhino in Namibia for $350,000. The club says the proceeds from the auction will aid rhino conservation, but the move has upset many wildlife organizations and attracted protestors outside the closed-door auction. In fact the issue has become so contentious that the FBI is currently investigating purported death threats against the Dallas Safari Club members over the issue. Currently, less than 5,000 black rhinos survive in the wild today, a drop of 90 percent since 1960 as the species has been decimated by poaching and habitat loss.
Indonesia police nab illegal wildlife traffickers in sting operation
(01/12/2014) Police in Indonesia's Aceh province have arrested two wildlife trafficking suspects allegedly behind five tiger poaching rings operating in the forests of northern Sumatra. The arrests followed a months-long investigation and an undercover sting operation in which police seized thousands of dollars worth of illegal animal parts.
PHOTOS: Glowing fish - study finds widespread biofluorescence among fish
(01/10/2014) Biofluorescence is widespread among marine fish species, indicating its importance in communication and avoiding detection, finds a new study published in the journal PLOS ONE. The research shows that biofluorescence — a phenomenon where organisms absorb light, transform it, and emit it as a different color — is more common in the animal kingdom than previously known.
Next big idea in forest conservation? Integrating forest conservation, use, and restoration
(01/10/2014) The next big idea is to integrate the social and natural components of forest conservation, use of forest products, and restoration. In reality, these aspects are completely intertwined, but in practice they are completely separated. I believe (along with many others) that the scale at which we can begin to integrate these components is at the landscape scale.
Primary school children build fuel-efficient stoves in Uganda
(01/10/2014) A group of young children have become a catalyst in the effort to save Kibale National Park from deforestation. Children from Iruhuura Primary School in Uganda have collaborated with the Kasiisi Project and Camp Uganda to build fuel-efficient stoves, developing a more sustainable method of wood consumption around the hugely-biodiverse Kibale National Park.
Not seen in over 130 years, 'extinct' frog rediscovered in Sri Lanka
(01/10/2014) In 1876—the same year that the first telephone call was made—the British scientist Albert Günther described a new species of frog from Sri Lanka, but the species, known as the webless shrub frog (Pseudophilautus hypomelas), was never seen again. Having disappeared into history, scientists considered the species extinct—that is until a 2010 expedition stumbled on 40 mystery frogs.
Wonderful Creatures: the lightning-fast Stenus beetles
(01/10/2014) Rove beetles are among the most diverse animals on the planet, with around 56,000 species currently described. Amongst this multitude of species is a dazzling array of adaptations perhaps best illustrated by the genus Stenus. These beetles, with their bulbous eyes and slender bodies are often found near water running swiftly over the wet ground and clambering among the vegetation.
In precedent-setting case, palm oil company fined $30M for destroying orangutan forest
(01/09/2014) In a precedent-setting case, an Indonesian court has found a palm oil company guilty of violating environmental laws and ordered it to pay $30 million in fines and reparations for clearing an area of protected peat forest that is a stronghold for endangered orangutans in Indonesia's Aceh Province. In a ruling handed down Wednesday, the Meulaboh district court concluded that PT Kallista Alam illegally cleared and burned forest within the the protected Tripa peat swamp in northwestern Sumatra.
Over 75 percent of large predators declining
(01/09/2014) The world's top carnivores are in big trouble: this is the take-away message from a new review paper published today in Science. Looking at 31 large-bodied carnivore species (i.e those over 15 kilograms or 33 pounds), the researchers found that 77 percent are in decline and more than half have seen their historical ranges decline by over 50 percent. In fact, the major study comes just days after new research found that the genetically-unique West African lion is down to just 250 breeding adults.
Tree islands more effective way to replant the world's forests
(01/09/2014) Worldwide, large swaths of land lay barren in the wake of agricultural expansion, and as global forest cover continues to decline, carbon and water cycles, biodiversity, and human health are impacted. But efforts to restore abandoned pastures and agricultural plots back into functioning forest ecosystems are often hindered by high costs and time requirements. Fortunately, scientists have developed a new method for a more cost effective solution to forest restoration, the establishment of 'tree islands.'
Lions face extinction in West Africa: less than 250 survive
(01/08/2014) The lions of West Africa, which may represent a distinct subspecies, are on the precipice of extinction. A sober new study in PLOS ONE reports that less than 250 mature lions survive in the region. Scientists have long known that West Africa's lions were in trouble, but no one expected the situation to be as dire as it was. In fact, in 2012 scientists estimated the population at over 500. But looking at 21 parks, scientists were shocked to find lions persisted in just four with only one population containing more than 50 individuals.
Requiem or recovery?: the Sumatran rhino 200 years after its description
(01/08/2014) In 1893, William Bell, a surgeon in the service of the Dutch East India Company stationed in Bencoolen, Sumatra, examined the body of a dead rhinoceros. The animal, a male, was relatively small as rhinoceroses go, measuring only four feet four inches at the shoulder and eight feet five inches from its nose to the tip of its tail. Dr. Bell noted that the animal resembled a large hog and judged it to be a young individual based upon the condition of the bones and teeth.
Company accused of logging endangered rainforest trees in breach of timber legality certificate
(01/07/2014) An Indonesian wood supplier that was recently certified under the country's legal timber verification scheme has been clearing natural forests – including stands of endangered ramin trees – and draining peat swamps on its concession, alleges a local environmental watchdog. The company, the group says, is also implicated in corruption linked to its concession permit. The organization is calling for the company's legal timber certification to be revoked and urging auditors not to issue legality certificates to companies involved in corruption.
Environmental degradation leads to public health crises
(01/07/2014) A 'systematic and comprehensive' approach is needed to understand the impact of human behavior on the world's public health, according to a new report. Written by the Heal (Health & Ecosystems Analysis of Linkages) consortium, the study highlights multiple examples of the impact on human health from environmental degradation, including sickness, death and even childhood reductions in IQ.
Scientists uncover new crocodile in Africa
(01/07/2014) Scientists working in Africa have uncovered a new crocodile species hiding in plain site, according to a paper published in the Proceedings of the Royal Society B. Looking at the molecular data of the slender-snouted crocodile, the researchers discovered two distinct species: one in West Africa and another in Central Africa. Although mostly lumped together as one species (Mecistops cataphractus) for over a hundred and fifty years, the scientists found that the two species have actually been split for at least seven million years, well before the evolution of hominins.
Japanese whale hunt stopped, for now

(01/06/2014) Anti-whaling group Sea Shepherd said its fleet of ships has successfully disrupted the annual Japanese whale hunt in the waters off Antarctica.
Activists urge Southwest to drop SeaWorld over whale concerns
(01/06/2014) More than 27,000 people have signed a petition calling on Southwest Airlines Co. (LUV) to drop its partnership with SeaWorld Entertainment, Inc. (NYSE:SEAS), over the theme park's treatment of its marine mammals, reports Change.org, the site that is hosting the petition.
Down Under scorching: Australia experiences warmest year on record

(01/06/2014) Australia had its warmest year on record, with annual temperatures 1.2 degrees Celsius (2.16 degrees Fahrenheit) above the 1961-1990 average, according to a new analysis from Australia's Bureau of Meteorology (BOM). This is 0.5 degrees Celsius higher than the previous warmest year on record—2005—for Australia. Global warming due to burning fossil fuels is increasing temperatures worldwide.
Brazil begins evicting illegal settlers from hugely-imperiled indigenous reserve

(01/06/2014) Months after closing sawmills on the fringes of an indigenous reserve for the hugely-imperiled Awá people, the Brazil government has now moved into the reserve itself to evict illegal settlers in the eastern Amazon. According to the NGO Survival International, Brazil has sent in the military and other government agents to deal with massive illegal settlements on Awá land for logging or cattle.
Rewilding Chile's savanna with guanacos could increase biodiversity and livestock
(01/06/2014) Local extinctions have occurred across a variety of habitats on every continent, affecting a gamut of species from large predators such as the wolves of North America, to tiny amphibians like the Kihansi spray toad of Tanzania. The long trek toward reversing such extinctions has begun, but it is not without its challenges, both ethical and logistical.
China to destroy ivory stockpile

(01/03/2014) The Chinese government plans to destroy a stockpile of contraband elephant ivory and other seized wildlife products next week during a public ceremony in Guangzhou, reports the Wildlife Conservation Society (WCS).
Global warming could upset Antarctic food chain
(01/02/2014) Resting near the bottom of the foodchain, Antarctic krill (Euphausia superba) underpin much of the Southern Ocean's ecosystem. But in a rapidly warming world, these hugely-abundant crustaceans could see their habitat shrink considerably. In a recent paper in PLOS ONE, scientists predict that Antarctic krill could lose 20 percent of their growth habitat, or 1.2 million square kilometers.
Most popular eco news articles of 2013

(01/01/2014) The most popular environmental news article on mongabay.com during 2013 was a story about the recovery of the endangered Huemul deer (Hippocamelus bisulcus) in Chile. The story, written by Alexander Holmgren, was visited 308,000 times, due largely to Reddit.
Climate change drives Florida mangroves northward

(12/30/2013) A decline in the frequency of extreme cold weather in Florida has allowed coastal mangrove forests to expand northward, finds a study published this week in Proceedings of the National Academy of Sciences.
The year in wildlife stories
(12/30/2013) Like every year, wildlife conservation had its ups and downs in 2013. Elephant and rhino poaching hit levels unseen since the 1970's, but there were nascent signs of growing awareness in China on the impacts of wildlife trade, including official bans on the serving of wildlife products at official state affairs. Meanwhile there were major developments in endangered species reintroduction programs, the controversial de-extinction (resurrection biology) movement, and efforts to apply household technologies like model airplanes (e.g. conservation drones), mobile phones, and digital cameras (e.g. camera traps) to conservation.
Rainforest news review for 2013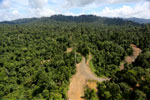 (12/26/2013) 2013 was full of major developments in efforts to understand and protect the world's tropical rainforests. The following is a review of some of the major tropical forest-related news stories for the year. As a review, this post will not cover everything that transpired during 2013 in the world of tropical forests. Please feel free to highlight anything this post missed via the comments section at the bottom. Also please note that this review focuses only on tropical forests.
Curious bears take 'selfies' with camera traps
(12/26/2013) 'Selfies' are all the rage this year, and even bears have jumped on the trend. Especially the shaggy-coated, termite-loving sloth bears (Melursus ursinus), who seem particularly fascinated by the cameras that scientists have put up in forests to secretly capture their stealthy moves.
Our favorite nature pictures from 2013
(12/24/2013) With 2013 drawing to a close, here are 100 nature pictures taken during my various Mongabay reporting trips in 2013, including Indonesia, the Pacific Northwest, Costa Rica, Namibia, and South Africa. Overall I added more than 15,000 new images — spanning rainforests, deserts and oceans — to the photo section of the site during the year.
Jaguars in Argentine Chaco on verge of local extinction
(12/23/2013) The majestic jaguar (Panthera onca), the largest of the New World cats, is found as far north as the southern states of the US, and as far south as northern Argentina. In the past jaguars ranged 1,500 kilometers (930 miles) further south, but their range has shrunk as habitat loss and human disturbance have increased. Overall, jaguars are classified as Near Threatened by the IUCN, but the level of risk facing jaguars varies by region. Populations in Argentina, at the present-day southern range limit, have previously been identified as some of the most threatened of them all.
Bee-harming pesticides may impact human nervous system

(12/23/2013) Neonicotinoid pesticides, which have been increasingly blamed for the collapse of bee populations, may also impact human's developing nervous system, according to a review of research by the European Food Safety Authority (EFSA). The EFSA says that current safety guidelines for two pesticides—acetamiprid and imidacloprid—may be too lax to protect humans, especially the developing brains of unborn children
World first: Russia begins pumping oil from Arctic seabed

(12/23/2013) Oil has begun to be pumped from the Arctic seabed, according to Russian oil giant, Gazprom. The company announced on Friday that it has begun exploiting oil reserves at the offshore field of Prirazlomnoye. The project, which is several years behind schedule, is hugely controversial and made international headlines in September after Russian military arrested 28 Greenpeace activists protesting the operation along with a British journalist and Russian videographer.
Biggest new animal discoveries of 2013 (photos)
(12/23/2013) Thousands of species were scientifically described for the first time in 2013. Many of these were 'cryptic species' that were identified after genetic analysis distinguished them from closely-related species, while others were totally novel. Below are some of the most interesting "new species" discoveries that took place or were formally announced in 2013.






Page 1 | Page 2 | Page 3 | Page 4 | Page 5 | Page 6 | Page 7 | Page 8 | Page 9 | Page 10 | Page 11 | Page 12 | Page 13 | Page 14 | Page 15 | Page 16 | Page 17 | Page 18 | Page 19 | Page 20 | Page 21 | Page 22 | Page 23 | Page 24 | Page 25 | Page 26 | Page 27 | Page 28 | Page 29 | Page 30 | Page 31 | Page 32 | Page 33 | Page 34 | Page 35 | Page 36 | Page 37 | Page 38 | Page 39 | Page 40 | Page 41 | Page 42 | Page 43 | Page 44 | Page 45 | Page 46 | Page 47 | Page 48 | Page 49 | Page 50 | Page 51 | Page 52 | Page 53 | Page 54 | Page 55 | Page 56 | Page 57 | Page 58 | Page 59 | Page 60 | Page 61 | Page 62 | Page 63 | Page 64 | Page 65 | Page 66 | Page 67 | Page 68 | Page 69 | Page 70 | Page 71 | Page 72 | Page 73 | Page 74 | Page 75 | Page 76 | Page 77 | Page 78 | Page 79 | Page 80 | Page 81 | Page 82 | Page 83 | Page 84 | Page 85 | Page 86 | Page 87 | Page 88 | Page 89 | Page 90 | Page 91 | Page 92 | Page 93 | Page 94 | Page 95 | Page 96 | Page 97 | Page 98 | Page 99 | Page 100 | Page 101 | Page 102 | Page 103 | Page 104 | Page 105 | Page 106 | Page 107 | Page 108 | Page 109 | Page 110 | Page 111 | Page 112 | Page 113 | Page 114 | Page 115 | Page 116 | Page 117 | Page 118 | Page 119 | Page 120 | Page 121 | Page 122 | Page 123 | Page 124 | Page 125 | Page 126 | Page 127 | Page 128 | Page 129 | Page 130 | Page 131 | Page 132 | Page 133 | Page 134 | Page 135 | Page 136 | Page 137 | Page 138 | Page 139 | Page 140 | Page 141 | Page 142 | Page 143 | Page 144 | Page 145 | Page 146 | Page 147 | Page 148 | Page 149 | Page 150 | Page 151 | Page 152 | Page 153 | Page 154 | Page 155 | Page 156 | Page 157 | Page 158 | Page 159 | Page 160 | Page 161 | Page 162 | Page 163 | Page 164 | Page 165 | Page 166 | Page 167 | Page 168 | Page 169 | Page 170 | Page 171 | Page 172 | Page 173 | Page 174 | Page 175 | Page 176 | Page 177 | Page 178 | Page 179 | Page 180 | Page 181 | Page 182 | Page 183 | Page 184 | Page 185 | Page 186 | Page 187 | Page 188 | Page 189 | Page 190 | Page 191 | Page 192 | Page 193 | Page 194 | Page 195 | Page 196 | Page 197 | Page 198 | Page 199 | Page 200 | Page 201 | Page 202 | Page 203 | Page 204 | Page 205 | Page 206 | Page 207 | Page 208 | Page 209 | Page 210 | Page 211 | Page 212