News articles on green

---
Mongabay.com news articles on green in blog format. Updated regularly.






Alien trees use logging roads to invade Borneo forests
(03/25/2014) The spiked pepper tree (Piper aduncum) is native to the American tropics, but has made itself at home in a variety of other locales where it can crowd out local vegetation and interfere with forest recovery. Although it's been slow to spread through Borneo since its introduction to Indonesia in 1952, new logging roads appear to be driving the species farther afield. A study in mongabay.com's open access journal Tropical Conservation Science raises concerns that these roads may bring unintended plant colonists to new areas – putting the biodiversity of forests at risk.
Long lost mammal photographed on camera trap in Vietnam
(03/25/2014) In 1929, two sons of Theodore Roosevelt (Teddy Junior and Kermit) led an expedition that killed a barking deer, or muntjac, in present-day Laos, which has left scientists puzzled for over 80 years. At first scientists believed it to be a distinct species of muntjac and named it Roosevelts' muntjac (Muntiacus rooseveltorum), however that designation was soon cast into doubt with some scientists claiming it was a specimen of an already-known muntjac or a subspecies. The problem was compounded by the fact that the animal simply disappeared in the wild. No one ever documented a living Roosevelts' muntjac again—until now.
Indigenous communities demand forest rights, blame land grabs for failure to curb deforestation
(03/25/2014) Indigenous and forest-dependent peoples from Asia, Africa and Latin America have called for increased recognition of customary land rights in order to curb deforestation and ensure the survival of their communities. The Palangkaraya Declaration on Deforestation and the Rights of Forest Peoples calls on governments to uphold forest peoples' rights to control and manage their customary lands and to halt rights-violating development projects being carried out without consent from local communities.
Over 9,000 primates killed for single bushmeat market in West Africa every year
(03/24/2014) Over the past 25 years, West Africa's primates have been put at risk due to an escalating bushmeat trade compounded with forest loss from expanding human populations. In fact, many endemic primates in the Upper Guinea forests of Liberia and Ivory Coast have been pushed to the verge of extinction. To better understand what's happening, a recent study in mongabay.com's open-access journal Tropical Conservation Science investigated the bushmeat exchange between these neighboring countries.
Bizarre, endangered bird discovered in high densities

(03/24/2014) The turkey-sized, noisy, fruit-feasting guans are arguably one of the strangest wildlife sightings in the tropical forests of Central and South America. Ancient animals, these birds are members of the Cracidae family—which also include equally-odd currasows and chachalacas—and are actually distantly related to megapode, or mound-building, birds of Australiasia. A new study in mongabay.com's open-access journal Tropical Conservation Science looks at a particularly endangered guan: the Cauca gaun (Penelope perspicax).
General Mills, Colgate-Palmolive announce deforestation-free policies for palm oil sourcing
(03/24/2014) Two consumer products giants have joined the wave of companies committing to deforestation-free palm oil. On Monday General Mills and Colgate-Palmolive both announced palm oil policies that go beyond standards set by the Roundtable on Sustainable Palm Oil (RSPO), the industry's main certification body. The policies include provisions to protect wildlife-rich rainforests and carbon-dense peatlands, while respecting the rights of local communities.
Indonesia's orangutan action plan failing to save great red apes
(03/24/2014) In December 2007, President Susilo Bambang Yudhoyono launched Indonesia's Strategy and Action Plan for National Conservation of Orangutans. Quoting the president from his speech, 'this will serve as a blueprint for our efforts to save some of our most exotic but endangered wildlife.' Furthermore, the president said that 'the Orangutan action plan formally endorses Indonesia's commitment to orangutan conservation as expressed in 2005 when Indonesia signed the Kinshasa Declaration on the Protection of Great Apes in the Democratic Republic of Congo.'
Meet Iman: the Sumatran rhino's newest hope for survival
(03/24/2014) Hopes for one of the world's most imperiled megafauna rose this month when wildlife conservationists succeeded in catching a female Sumatran rhino named Iman in the Malaysian state of Sabah. The female, which experts believe to be fertile, has since been successfully transferred via helicopter to the Borneo Rhino Sanctuary where experts plan to mate her with the local male, Tam. Located in Tabin Wildlife Reserve, the Borneo Rhino Sanctuary is an uncompleted semi-wild enclosure and home to one of several last-ditch efforts to save the vanishing species from extinction.
Sloths, moths and algae: a surprising partnership sheds light on a mystery
(03/22/2014) While it spends the majority of its time in the safety of tree canopies, the three-toed sloth regularly places itself in mortal danger by descending to the forest floor to defecate. For years, scientists have been trying to figure out what is driving this peculiar and risky behavior. Now, Jonathan Pauli from the University of Wisconsin-Madison believes his team of researchers has found an important clue to this mystery involving an unusual and beneficial relationship among sloths, moths and algae.
Howard G. Buffett puts $24M toward saving rhinos

(03/21/2014) Howard G. Buffett, the son of Berkshire Hathaway chairman Warren Buffett, has pledged $23.7 million to South African National Parks to help fight rhino poaching in Kruger National Park, reports Reuters.
U.N.: We can save world's forests at a fraction of cost of fossil fuels subsidies
(03/21/2014) Investing $30 billion a year in forest conservation — less than seven percent of the $480 billion spent annually on fossil fuels subsidies — could help stop deforestation while accelerating a transition toward a greener global economy, asserts a new report published by the International Resource Panel (IRP) and the UN REDD Programme.
Scientists urge ban on roads in intact wilderness areas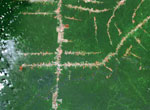 (03/21/2014) A group of prominent scientists chose to mark the second International Day of Forests by urging the world to support an initiative that aims keep wild areas free of roads. Roadfree, an initiative led by Member of the European Parliament Kriton Arsenis, has been growing in prominence over the past year, gaining supporters ranging from indigenous rights leaders to deep ecologists. Now the Alliance of Leading Environmental Researchers and Thinkers (ALERT) has thrown its weight behind the concept.
The power of connections: India to establish Asia's largest protected forest
(03/21/2014) India has stepped up forest conservation efforts in recent years, with a major project underway to establish a large swath of uninterrupted habitat through the designation of additional protected areas and expanding those already under protection. If realized, these areas would converge to become Asia's largest unbroken forest, encompassing approximately 15,000 square kilometers (5,790 square miles) over three states.
Next big idea in forest conservation? Offer health care for forest protection
(03/21/2014) Dr. Kinari Webb has a superpower: the ability to provide high-quality health care in a remote and rural landscape. And she uses her power not only to save lives, but also to protect the remaining Bornean rainforests. Twenty-one years ago, Kinari Webb traveled to Borneo to work with orangutans. She witnessed the faltering health of both the people and the environment and saw that the two issues were inseparable. When families must choose between the health of their children and the health of the forest that supports them, everyone loses. But in the region of Gunung Palung National Park — where an estimated 10 percent of the world's orangutans live — illegal logging and slash and burn farming methods paid the bills and locals saw few alternatives. Kinari vowed to study medicine and return with more to offer.
Indigenous people witness climate change in the Congo Rainforest
(03/20/2014) Indigenous communities in the Republic of Congo are observing climate change even though they have no knowledge of the science, according to a unique collaboration between the Rainforest Foundation UK (RFUK) and local communities. The environmental changes witnessed by the locals in the Congo rainforest include increased temperature, less rainfall and alterations to the seasons, much as expected under global climate change.
Panda lemur making a comeback
(03/20/2014) One of the world's biggest populations of greater bamboo lemurs (Prolemur simus)—sometimes known as the panda lemur—has doubled in just three years, giving conservationists new hope that the species can be kept from extinction. With the recent arrival of twenty babies, a community conservation project run by the Aspinall Foundation has boosted the local population to over 100 individuals in Andriantantely, one of Madagascar's only surviving lowland rainforests. Greater bamboo lemurs are currently categorized as Critically Endangered, though they were once believed extinct until hidden populations were uncovered in the 1980s.
Community's push to clear forest for plantation challenges efforts to conserve in Indonesia
(03/20/2014) In the swampy peatlands of Basilam Baru in Sumatra's Riau Province a conflict between a community and a woodpulp company is illustrating some of the intractable challenges of conserving forests and addressing deforestation in Indonesia. On first glance the story seems depressingly familiar. One actor wants to preserve the forest, which serves as critical habitat for endangered Sumatran tigers and clouded leopards. The other wants to clear it for a plantation.
Photos: Forests, peatlands, plantations, and deforestation in Riau
(03/19/2014) Indonesia's Riau Province on the island of Sumatra has experienced rapid deforestation since the early 1990's, with primary forest cover plummeting by 85 percent in twenty years. Most of this forest loss has been driven by plantation development for timber, woodpulp, and palm oil production.
Scientist discovers a plethora of new praying mantises (pictures)
(03/19/2014) Despite their pacific name, praying mantises are ferocious top predators with powerful, grasping forelimbs; spiked legs; and mechanistic jaws. In fact, imagine a tiger that can rotate its head 180 degrees or a great white that blends into the waves and you'll have a sense of why praying mantises have developed a reputation. Yet, many praying mantis species remain little known to scientists, according to a new paper in ZooKeys that identifies an astounding 19 new species from the tropical forests of Central and South America.
3 environmental reporting prize winners to explore drivers of deforestation, community forestry, and sustainable seafood in China
(03/19/2014) Mongabay.org, the non-profit arm of environmental science web site Mongabay.com, has selected winners of three environmental reporting prizes under its Special Reporting Initiatives (SRI) program. The three prizes, which were launched in January, explore the impacts of rising human consumption on forest and marine ecosystems. The winners, selected from more than 150 applicants by a panel of issue-area experts, include Robert S. Eshelman, Ruxandra Guidi and Bear Guerra, and Dominic Bracco II and Erik Vance.
Leftover trees enhance the biodiversity of new forests
(03/18/2014) Trees left standing after deforestation have a discernible impact on the composition of local biodiversity in secondary growth forests, according to a new study published in PLOS ONE. Researchers working on the Osa Peninsula in Costa Rica discovered that remnant trees could affect species composition of regenerated forests up to 20 years after being logged.
Several Amazonian tree frog species discovered, where only two existed before
(03/18/2014) We have always been intrigued by the Amazon rainforest with its abundant species richness and untraversed expanses. Despite our extended study of its wildlife, new species such as the olinguito (Bassaricyon neblina), a bear-like carnivore hiding out in the Ecuadorian rainforest, are being identified as recently as last year. In fact, the advent of efficient DNA sequencing and genomic analysis has revolutionized how we think about species diversity. Today, scientists can examine known diversity in a different way, revealing multiple 'cryptic' species that have evaded discovery by being mistakenly classified as a single species based on external appearance alone.
APP pledges to restore forests, if given the opportunity
(03/18/2014) Over the past 20 years, Sumatra's lowland rainforests have been destroyed at a virtually unmatched rate and scale. Since 1990, the island's primary forests shrank by 40 percent while its overall forest cover declined by 36 percent, mostly the result of logging, agricultural expansion, and conversion for oil palm and timber plantations. What little forest does survive is often degraded — today less than 8 percent of Sumatra retains primary forest.
Blame humans: new research proves people killed off New Zealand's giant birds
(03/17/2014) Moas were a diverse group of flightless birds that ruled over New Zealand up to the arrival of humans, the biggest of these mega-birds stood around 3.5 meters (12 feet) with outstretched neck. While the whole moa family—comprised of nine species—vanished shortly after the arrival of people on New Zealand in the 13th Century, scientists have long debated why the big birds went extinct. Some theories contend that the birds were already in decline due to environmental changes or volcanic activity before humans first stepped on New Zealand's beaches. But a study released today in the Proceedings of the National Academy of Sciences (PNAS) finds no evidence of said decline, instead pointing the finger squarely at us.
Will zero deforestation commitments save Indonesia's forests?
(03/17/2014) Skirting the Malacca Strait near the Indonesian city of Dumai the air is thick with haze from peat fires burning below. As the sky clears, a landscape of sharply-cut geometric shapes becomes apparent. What was once carbon-dense peat forests and rainforests are today massive oil palm and wood pulp plantations.
Mother of God: meet the 26 year old Indiana Jones of the Amazon, Paul Rosolie
(03/17/2014) Not yet 30, Paul Rosolie has already lived a life that most would only dare dream of—or have nightmares over, depending on one's constitution. With the Western Amazon as his panorama, Rosolie has faced off jaguars, wrestled anacondas, explored a floating forest, mentored with indigenous people, been stricken by tropical disease, traveled with poachers, and hand-reared a baby anteater. It's no wonder that at the ripe age of 26, Rosolie was already written a memoir: Mother of God.
Controversial Amazon dams may have exacerbated biblical flooding
(03/16/2014) Environmentalists and scientists raised howls of protest when the Santo Antônio and Jirau Dams were proposed for the Western Amazon in Brazil, claiming among other issues that the dams would raise water levels on the Madeira River, potentially leading to catastrophic flooding. It turns out they may have been right: last week a federal Brazilian court ordered a new environmental impact study on the dams given suspicion that they have worsened recent flooding in Brazil and across the border in Bolivia.
Logging giant suspends operations to fend off plantations from fires
(03/15/2014) Indonesian Pulp & paper giant Asia Pacific Resources International Limited (APRIL) says it has suspended operations at a concession in Riau Province in order to shift staff toward fighting back fires that threaten its plantations. In a statement issued Friday, APRIL said its plantations on Pulau Padang, a peat island off the coast of Sumatra, are at risk due to fires illegally set outside its concessions.
Indonesian sugar company poised to destroy half of island paradise's forests
(03/14/2014) An Indonesian plantation company may be preparing to destroy up to half of the natural forests on Indonesia's remote Aru Islands, reports Forest Watch Indonesia. Analyzing land use plans for Aru, Forest Watch Indonesia found that local government officials have turned over 480,000 hectares (1.2 million acres) to 28 companies held by PT. Menara Group, a plantation conglomerate. 76 percent of the area is currently natural forest. Converting the area to sugar plantations would cut Aru's forest cover by half, from 730,000 ha to 365,000 ha.
Frog creates chemical invisibility cloak to confuse aggressive ants
(03/14/2014) The African stink ant creates large underground colonies that are home to anywhere from hundreds to thousands of ants, and occasionally a frog or two. The West African rubber frog hides in the humid nests to survive the long dry season of southern and central Africa. However, the ant colonies are armed with highly aggressive ant militias that fight off intruders with powerful, venomous jaws. So how do these frogs escape attack?
A Turtle's Tale: researchers discover baby turtles' kindergarten (photos)
(03/14/2014) Kate Mansfield, at her lab in the University of Central Florida, is holding a baby loggerhead turtle, smaller than her palm, painting manicure acrylic on its shell. When the base coat dries out, she glues on top a neoprene patch from an old wetsuit with hair extensions adhesive. Finally, she attaches a satellite tracker on top, the size of a two "party cheese" cubes, with flexible aquarium silicone, powered by a tiny solar battery. Now the little turtle is ready to be released back into the ocean.
Sumatra on fire: burning spikes in Indonesia

(03/13/2014) Fires in Sumatra's Riau province have spiked to levels unseen since last June, finds new analysis from the World Resources Institute (WRI) that reveals widespread burning within concessions managed by pulpwood, palm oil, and logging companies.
Europe votes for an Arctic Sanctuary

(03/13/2014) Yesterday, the European Parliament passed a resolution supporting the creation of an Arctic Sanctuary covering the vast high Arctic around the North Pole, giving official status to an idea that has been pushed by activists for years. Still, the sanctuary has a long road to go before becoming a reality: as Arctic sea ice rapidly declines due to climate change, there has been rising interest from governments and industries to exploit the once inaccessible wilderness for fish and fossil fuels.
Indonesia politician gets 14 years in jail for illegal permits, forest corruption
(03/13/2014) The former governor of Indonesia's Riau province has been sentenced to 14 years in prison and ordered to pay almost $90,000 in fines for illegally issuing logging permits in Riau and bribes linked to construction projects for sports facilities. On Wednesday, the anti-corruption court in Pekanbaru found former Riau Governor Rusli Zainal guilty of embezzlement relating to the illegal issuance of logging permits in the central Sumatran province, which has seen huge areas of forest lost to palm oil and pulp and paper companies in recent years.
Conservationists catch wild Sumatran rhino, raising hope for world's most endangered rhinoceros
(03/12/2014) Conservationists have succeeded in catching a wild Sumatran rhino in the Malaysia state of Sabah in Borneo, according to local media reports. Officials are currently transferring the rhino, an unnamed female, to a rhino sanctuary in Tabin National Park where experts will attempt to mate it with the resident male, Tam. The Sumatran rhino (Dicerorhinus sumatrensis) is one of the world's most imperiled species with less than 100 individuals left.
New web tool aims to help indigenous groups protect forests and navigate REDD+

(03/12/2014) A new online tool, dubbed ForestDefender, aims to help indigenous people understand and implement their rights in regard to forests. The database, developed by the Center for International Environmental Law (CIEL), brings together vast amounts of legal information—both national and international—on over 50 countries.
The fungus among us: scientists discover a big player in the global carbon cycle
(03/12/2014) Carbon counters trying to keep tabs on the rising concentration of carbon dioxide in our atmosphere may have missed an important factor for their estimates: fungus. It turns out that when plants partner up with certain types of fungi, they can store up to 70 percent more carbon in the soil according to a paper published last month in Nature by Colin Averill and scientists at the Smithsonian Tropical Research Institute.
Scientists spy on whales from space

(03/11/2014) Although whales are the biggest animals on the planet, scientists have found in difficult to count them. But a new study in PLOS ONE may change this: researchers tested the idea of counting whales using high resolution satellite imagery. Employing a single image from the WorldView2 satellite, scientists went about counting a pod of southern right whales in the Golfo Nuevo off the coast of Argentina.
Cocaine: the new face of deforestation in Central America
(03/11/2014) In 2006, Mexico intensified its security strategy, forming an inhospitable environment for drug trafficking organizations (also known as DTOs) within the nation. The drug cartels responded by creating new trade routes along the border of Guatemala and Honduras. Soon shipments of cocaine from South America began to flow through the Mesoamerican Biological Corridor (MBC). This multi-national swathe of forest, encompassing several national parks and protected areas, was originally created to protect endangered species, such as Baird's Tapir (Tapirus bairdii) and jaguar (Panthera onca), as well as the world's second largest coral reef. Today, its future hinges on the world's drug producers and consumers.
Photos: Greenpeace stages protest in rainforest destroyed for palm oil
(03/10/2014) On Monday, Greenpeace activists in Indonesia staged a dramatic protest in an area of rainforest freshly cleared for a new oil palm plantation in Central Kalimantan. The demonstration came under the group's campaign to push consumer products giant Proctor & Gamble (P&G) to strengthen its palm oil sourcing policy to include a zero deforestation commitment like those signed recently by Nestle, Neste Oil, and Kellogg's, among others.




Page 1 | Page 2 | Page 3 | Page 4 | Page 5 | Page 6 | Page 7 | Page 8 | Page 9 | Page 10 | Page 11 | Page 12 | Page 13 | Page 14 | Page 15 | Page 16 | Page 17 | Page 18 | Page 19 | Page 20 | Page 21 | Page 22 | Page 23 | Page 24 | Page 25 | Page 26 | Page 27 | Page 28 | Page 29 | Page 30 | Page 31 | Page 32 | Page 33 | Page 34 | Page 35 | Page 36 | Page 37 | Page 38 | Page 39 | Page 40 | Page 41 | Page 42 | Page 43 | Page 44 | Page 45 | Page 46 | Page 47 | Page 48 | Page 49 | Page 50 | Page 51 | Page 52 | Page 53 | Page 54 | Page 55 | Page 56 | Page 57 | Page 58 | Page 59 | Page 60 | Page 61 | Page 62 | Page 63 | Page 64 | Page 65 | Page 66 | Page 67 | Page 68 | Page 69 | Page 70 | Page 71 | Page 72 | Page 73 | Page 74 | Page 75 | Page 76 | Page 77 | Page 78 | Page 79 | Page 80 | Page 81 | Page 82 | Page 83 | Page 84 | Page 85 | Page 86 | Page 87 | Page 88 | Page 89 | Page 90 | Page 91 | Page 92 | Page 93 | Page 94 | Page 95 | Page 96 | Page 97 | Page 98 | Page 99 | Page 100 | Page 101 | Page 102 | Page 103 | Page 104 | Page 105 | Page 106 | Page 107 | Page 108 | Page 109 | Page 110 | Page 111 | Page 112 | Page 113 | Page 114 | Page 115 | Page 116 | Page 117 | Page 118 | Page 119 | Page 120 | Page 121 | Page 122 | Page 123 | Page 124 | Page 125 | Page 126 | Page 127 | Page 128 | Page 129 | Page 130 | Page 131 | Page 132 | Page 133 | Page 134 | Page 135 | Page 136 | Page 137 | Page 138 | Page 139 | Page 140 | Page 141 | Page 142 | Page 143 | Page 144 | Page 145 | Page 146 | Page 147 | Page 148 | Page 149 | Page 150 | Page 151 | Page 152 | Page 153 | Page 154 | Page 155 | Page 156 | Page 157 | Page 158 | Page 159 | Page 160 | Page 161 | Page 162 | Page 163 | Page 164 | Page 165 | Page 166 | Page 167 | Page 168 | Page 169 | Page 170 | Page 171 | Page 172 | Page 173 | Page 174 | Page 175 | Page 176 | Page 177 | Page 178 | Page 179 | Page 180 | Page 181 | Page 182 | Page 183 | Page 184 | Page 185 | Page 186 | Page 187 | Page 188 | Page 189 | Page 190 | Page 191 | Page 192 | Page 193 | Page 194 | Page 195 | Page 196 | Page 197 | Page 198 | Page 199 | Page 200 | Page 201 | Page 202 | Page 203 | Page 204 | Page 205 | Page 206 | Page 207 | Page 208 | Page 209 | Page 210 | Page 211 | Page 212 | Page 213 | Page 214