News articles on green

---
Mongabay.com news articles on green in blog format. Updated regularly.








Plantations used as cover for destruction of old-growth forests in Myanmar

(12/02/2013) As Wild Burma: Nature's Lost Kingdom airs on the BBC, the forests documented in the series are increasingly being cut down, according to a new report by U.S. NGO Forest Trends. The report alleges that wide swathes of forest are being cleared in ethnic minority areas of Myanmar (also known as Burma), ostensibly for palm oil and rubber plantations. However after the lucrative timber is extracted, the report finds little evidence that the companies involved are serious about establishing plantations.
Reversing local extinction: scientists bring the northern bald ibis back to Europe after 300 years
(12/02/2013) The northern bald ibis (Geronticus eremita), also called the hermit ibis or waldrapp, is a migratory bird. Once, the bald ibis lived in the Middle East, northern Africa and southern and central Europe, but due to hunting, loss of habitat and pesticide-use, the birds disappeared from most of these areas and is currently considered Critically Endangered. It became extinct in Europe 300 years ago; the bird is almost gone in Syria, with only a single individual recorded at the country's lone breeding site in 2013; and the only stronghold left is a small population of around 500 birds in Morocco. But now, a team of scientists from Austria is working to reestablish a self-sustaining, migratory population of bald ibis in Europe.
22,000 elephants slaughtered for their ivory in 2012

(12/02/2013) As the African Elephant Summit open in Botswana today, conservationists released a new estimate of the number of African elephants lost to the guns of poachers last year: 22,000. Some 15,000 elephants killed in 42 sites across 27 countries on the continent, according to newly released data from the CITES program, Monitoring the Illegal Killing of Elephants (MIKE). But conservationists estimate another 7,000 went unreported. The number killed is a slight decrease over 2011 numbers of 25,000.
Little dude takes the prize: rare dormouse wins BBC camera trap contest (photos)
(12/02/2013) The image of a rare dormouse has won the fourth annual BBC Wildlife Camera-Trap Photo of the Year award. Photographed in Turkey, the Roach's mouse-tailed dormouse (Myomimus roachi) is listed as Vulnerable by the IUCN Red List with its habitat rapidly disappearing for agriculture. The photo took the grand prize out of 850 entries from around world in a contest that takes into account the scientific importance of submitted photos.
New project works to raise the profile of the world's littlest bear
(12/02/2013) The world's least-known bear also happens to be the smallest: sun bears (Helarctos malayanus), so called for the yellowish horseshoe mark on its chest, are found across Southeast Asia. But despite their telltale markings, super-long tongues, and endearing cuteness, sun bears remain little-studied and little-known compared to many of the region's other large mammals. Now, a new project is working to raise the profile of the sun bears of Borneo—Survival of the Sun Bears—which are a smaller subspecies of the mainland animals.
Hedge fund downgrades stock over company's links to illegal logging in Russian Far East
(12/02/2013) A hedge fund manager has downgraded Lumber Liquidators' stock over the company's alleged links to illegal logging in the Russian Far East, reports The Wall Street Journal. Speaking at the Robin Hood Investors Conference on November 22, Whitney Tilson, the founder of Kase Capital Management, said Lumber Liquidators' stock price may be inflated due to purchases of illegally sourced timber from Russia.
Palm oil company Bumitama under fire for clearing rainforest, endangering orangutans
(12/02/2013) Bumitama Agri, an Indonesian palm oil producer, is breaking the law by clearing forests and developing plantations without the proper licenses, a coalition of NGOs said in a report released on Nov. 21. The groups have called on financiers to either force Bumitama to shape up or cut ties with the company and with global palm oil traders such as Wilmar and IOI that do business with Bumitama.
Journalism prizes explore community forestry, commodity supply chains, China's seafood consumption
(12/01/2013) Mongabay.org announces three new $20,000 environmental reporting prizes under its Special Reporting Initiatives program. Three new environmental journalism prizes will enable journalists to do in-depth reporting on three important environmental topics: the role of community forest management in addressing climate change, cleaning up commodity supply chains, and the market for more sustainable seafood in China. The prizes come under Mongabay.org's Special Reporting Initiatives(SRI), a program that provides funding for environmental reporting. Mongabay.org will commit up to $20,000 to fund the top proposal.
Video: the conservation drone revolution

(11/29/2013) The use of small autonomous flying vehicles — model airplanes to hobbyists — is revolutionizing the field of conservation, enabling researchers to track wildlife, monitor for poachers, and survey inaccessible forests and reefs.
Scientists discover new cat species roaming Brazil
(11/27/2013) As a family, cats are some of the most well-studied animals on Earth, but that doesn't mean these adept carnivores don't continue to surprise us. Scientists have announced today the stunning discovery of a new species of cat, long-confused with another. Looking at the molecular data of small cats in Brazil, researchers found that the tigrina—also known as the oncilla in Central America—is actually two separate species. The new species has been dubbed Leopardus guttulus and is found in the Atlantic Forest of southern Brazil, while the other Leopardus tigrinus is found in the cerrado and Caatinga ecosystems in northeastern Brazil.
28 percent of potential bonobo habitat remains suitable
(11/27/2013) Only 27.5 percent of potential bonobo habitat is still suitable for the African great ape, according to the most comprehensive study of species' range yet appearing in Biodiversity Conservation. 'Bonobos are only found in lowland rainforest south of the sweeping arch of the Congo River, west of the Lualaba River, and north of the Kasai River,' lead author Jena Hickey with Cornell told mongabay.com. 'Our model identified 28 percent of that range as suitable for bonobos. This species of ape could use much more of its range if it weren't for the habitat loss and forest fragmentation that gives poachers easier access to illegally hunt bonobos.'
Mangrove ecosystems being obliterated in Myanmar
(11/27/2013) Mangrove cover in Myanmar's Ayeyarwady Delta declined by nearly two-thirds between 1978 and 2011, leaving coastal areas more vulnerable to disasters like Cyclone Nargis, which killed 138,000 people in 2008, finds a new study published in the journal Global Environmental Change. The research, led by a team of scientists from the National University of Singapore and Mangrove and Environmental Rehabilitation Network in Yangon, is based on remote sensing and field data.
Controversial palm oil project approved in Cameroon rainforest
(11/26/2013) A controversial palm oil project set in the West African rainforest in Cameroon has won a three-year provisional lease to convert 20,000 hectares of land for plantations. The project, which is run by U.S.-based Herakles Farms, has been heavily opposed by environmental groups who say it will destroy blocks of wildlife-rich forest.
Camera traps reveal Amur leopards are breeding in China (photos)
(11/26/2013) Good news today about one of the world's rarest mammals: camera traps in China's Wangqing Nature Reserve have captured the first proof of breeding Amur leopards in the country, according to the Wildlife Conservation Society (WCS). The photos show a mother Amur leopard with two cubs. A recent survey by WWF-Russia estimated the total wild population of Amur leopards at just 50 individuals, but that's a population on the rise (from a possible nadir of 25) and expanding into long-unused territory.
Not all mangroves are created equal: new map reveals carbon storage hot-spots
(11/26/2013) Mangrove forests are one of the most important weapons in the fight against climate change. Not only do they directly store huge amounts of carbon, but they actively capture additional carbon dioxide from the atmosphere and sequester it in their soils. When mangroves are destroyed, huge quantities of carbon are released into the atmosphere, significantly contributing to greenhouse gas emissions.
Consumer report uncovers why people buy rhino horn
(11/26/2013) The rhinoceros is one of the largest and most iconic animals to roam the earth. However, poaching for their horn, erroneously believed to have medicinal value, has led the IUCN Red List to classify three of the world's five species as Critically Endangered. But, a new consumer report by the wildlife trade monitoring network, TRAFFIC, finds that rhino horn consumers in Vietnam buy the illegal product as much to raise their social status as to attempt to treat a fever or hangover.
Over 350 species added to the IUCN Red List's threatened categories in the last six months
(11/26/2013) The number of threatened species on the IUCN Red List has grown by 352 since this summer, according to an update released today. Currently, 21,286 species are now listed as threatened with extinction out of the 71,576 that have been evaluated. The new update comes with both good and bad news for a number of high-profile imperiled species, but only covers about 4 percent of the world's described species.
Video: Incredible technology maps rainforest biodiversity in 3D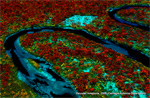 (11/26/2013) Technology that enables scientists to catalogue a rainforest's biodiversity in stunning detail by airplane was highlighted in a recent TED talk. Speaking at TED Global in Edinburgh, Scotland this past June, researcher Greg Asner explained the science behind his ground-breaking forest mapping platform: the Carnegie Airborne Observatory (CAO), an airplane packed with advanced chemical and optical sensors.
Leatherback sea turtle no longer Critically Endangered
(11/26/2013) The leatherback sea turtle—the world's largest turtle and the only member of the genus Dermochelys—received good news today. In an update of the IUCN Red List, the leatherback sea turtle (Dermochelys coriacea) has been moved from Critically Endangered to Vulnerable. However, conservationists warn that the species still remains hugely endangered—and in rapid decline—in many parts of its range.
Elusive giraffe-relative - the okapi - now listed as Endangered
(11/26/2013) The discovery of the okapi shocked the world in 1901. African explorer, Henry Stanley, called it 'donkey-like,' while others thought it a new species of zebra, given the stripes. However, this notoriously-secretive rainforest ungulate proved to be the world's only living relative of the giraffe, making it one of most incredible taxonomic discoveries of the Twentieth Century as well as one of the last large-bodied mammals to be uncovered by scientists. But the future of the okapi (Okapia johnstoni) is increasingly in doubt: a new update of the IUCN Red List released today has raised the threatened level for the okapi from Vulnerable to Endangered.
Scientists' beef with land use decisions
(11/25/2013) When food goes to the garbage can instead of someone's stomach, it is easy to see a wasted opportunity. The resources used to grow and transport that apple or hamburger went to the landfill. The Union of Concerned Scientists (UCS) is bringing another, less visible, form of food waste to the table, the waste created by eating foods that are inefficient to produce, like beef.
Microhabitats could buffer some rainforest animals against climate change

(11/25/2013) As temperatures increase worldwide due to anthropogenic climate change, scientists are scrambling to figure out if species will be able to survive rapidly warming ecosystems. A new study in Global Change Biology offers a little hope. Studying reptiles and amphibians in the Philippines, scientists say some of these species may be able to seek refuge in cooler microhabitats, such as tree holes or under the soil, in order to stay alive during intensifying heatwaves. But, the scientists' stress, the shelter from microhabitats can only protect so far.
New children's book celebrates the rich wildlife of Kibale National Park
(11/25/2013) There are many ways in which people practice conservation. The most well-known are working to save species in the field or setting up protected areas. But just as important—arguably more important for long-term conservation success—is conservation education, especially with children. Anyone who grew up watching David Attenborough documentaries, reading Gerald Durrell books, or simply exploring ecosystems on their own can tell you how important it is to encounter the wonders of wildlife at a young age. And for many of us most of our first encounters with wild animals are in illustrated books. Eric Losh's new book, The Chorus of Kibale, not only provides an educational opportunity for children to become acquainted with the many animals in Kibale National park in Uganda—through wonderful pictures and sounds—but proceed also go directly to two conservation groups working in the region, U.N.I.T.E. for the environment and the Primate Education Network (PEN).
Indonesia's national airline carrier bans shark fins
(11/23/2013) Indonesia's national carrier Garuda Indonesia has joined a growing number of airlines looking to curb the international shark fin trade by banning the transport of shark fins and other shark products on their aircraft. The airline had previously transported 36 tons of shark fin products a year, the conservation group said in a media release on Nov. 15.
Greenpeace photos expose palm oil giant's deforestation in Indonesia
(11/22/2013) A series of photos released this week by Greenpeace shows that an Indonesian palm oil company is continuing to clear orangutan habitat in Borneo despite a pledge to stop destroying the forest. Flyovers of a concession owned by PT Andalan Sukses Makmur, a subsidiary of Bumitama Agri Ltd, show excavators clearing peat forests and digging drainage canals just outside Tanjung Puting National Park in Central Kalimantan. Tanjung Puting is famous for its population of orangutans that have been intensely studied by Birute Galdikas, a noted researcher and conservationist.
REDD+ program to cut deforestation gets final approval in Warsaw
(11/22/2013) Negotiators in Warsaw have reached formal agreement on Reducing Emissions from Deforestation and Degradation (REDD+), a program that aims to compensate tropical countries for protecting their forests. After seven years of discussions, countries approved the final REDD+ text on Friday at the COP17.
Satellites reveal browning mountain forests
(11/22/2013) In a dramatic response to global warming, tropical forests in the high elevation areas of five continents have been "browning" since the 1990s. They have been steadily losing foliage, and showing less photosynthetic activity. Scientists analyzed the forest cover by using satellites to measure sunlight bouncing off the surface of the earth, then determining the different surface types via reflection patterns.
Asia's most precious wood is soaked in blood
(11/21/2013) Deep in the tropical forests of Southeast Asia grows a rare and beautiful tree whose wood is so highly prized that men will kill to possess it. Wild rosewood, famous since antiquity in China and Japan for its unique, blood-hued luster and intricate grain, was once only used for the finest religious statues and princely ornaments. Now, China's nouveau riche lust for decorative baubles and furniture made of rosewood as a sign of status leading to a massive surge in demand for this precious timber that shows no signs of abating. In just a few short years the price has skyrocketed from just a hundred dollars a cubic meter to over $50,000 today.
Citizen groups walk out of UN Climate Summit to protest lack of ambition

(11/21/2013) Thirteen citizen groups—including Oxfam, Greenpeace, and WWF—have walked out of ongoing climate talks in Warsaw to protest what they view as a lack of ambition and long-stalled progress on combating global climate change. Nearly 200 governments are currently meeting in Warsaw, Poland at the the 19th Conference of the Parties (COP) for the UN Framework Convention on Climate Change (UNFCCC), which is meant to prepare the way for a new agreement in 2015.
Canopy crusade: world's highest network of camera traps keeps an eye on animals impacted by gas project
(11/21/2013) Oil, gas, timber, gold: the Amazon rainforest is rich in resources, and their exploitation is booming. As resource extraction increases, so does the development of access roads and pipelines. These carve their way through previously intact forest, thereby interrupting the myriad pathways of the species that live there. For species that depend on the rainforest canopy, this can be particularly problematic.
Strange mouth-brooding frog driven to extinction by disease
(11/21/2013) An unusual species of mouth-brooding frog was likely driven to extinction by the fungus Batrachochytrium dendrobatidis (Bd), making an unusual example of 'extinction by infection', argue scientists writing in the open-access journal PLOS ONE. Rhinoderma rufum has not been seen in the wild since 1980.
Govts pledge $280M to slow deforestation for agriculture
(11/21/2013) The governments of Norway, Britain and the United States pledged $280 million toward a new initiative that aims to reduce emissions associated with forest conversion for agriculture, reports Reuters. The money will come out of previously committed funds for climate change. The initiative, called the BioCarbon Fund Initiative for Sustainable Forest Landscapes and administered by the World Bank, focuses on the 80 percent of deforestation that is driven by agriculture.
Gulf of Mexico deep sea may need decades to recover from oil spill
(11/20/2013) The catastrophic explosion that spewed some five million barrels of oil deep into the Gulf of Mexico in April 2010 will take a heavy toll in the ocean's lowest layers for years to come. That's the stark conclusion of seafloor research conducted six months after the Deepwater Horizon oil spill. The study, published on August 7 in PLoS ONE, examined life in the Gulf's deepest waters near the blowout, about 1.6 kilometers below the surface. Here, the researchers found that the damages will take decades to reverse.
Remote sensor captures sound of ivory poacher shooting an elephant

(11/20/2013) A sensor used by researchers to capture low-frequency communication between elephants inadvertently recorded the audio of an elephant being gunned down by a poacher in Gabon, reports the Wildlife Conservation Society, which used the sound byte in a video highlighting the carnage of the ivory trade.
The emissions gap and the forest contribution (commentary)
(11/20/2013) Shortly before the Warsaw climate talks, the United Nations Environmental Programme (UNEP) released its Emissions Gap report, highlighting the growing gap between the emissions reductions that are needed to stay below 2 degrees and the trajectory the world is on at the moment. The report clearly identifies forests as one of the most important options to reduce emissions which can be delivered in the short term. While parties urgently need to start phasing out fossil fuels and stop emissions from fossil fuels no later than 2050, protecting forests now can help significantly to keep a realistic chance of staying below 2 degrees.
The quicksilver demon: rogue gold-mining is the world's largest source of mercury pollution
(11/20/2013) In 1956, in the quiet seaside town of Minamata on the southwestern coast of Japan's Kyushu Island, cats began to behave very strangely. They convulsed, displayed excessive salivation, and gradually lost the ability to walk. Then, dead birds began to fall out of the sky. Shellfish opened and decomposed. Fish also displayed abnormal behaviors, eventually floating up to the surface of the Shiranui Sea. Many of the ailing cats wandered into the sea and drowned. Soon, there were no more cats alive in the area.
The swan song of India's dancing bears
(11/20/2013) India's last dancing bear has retired. As the stars of their cruel little roadshows, sloth bears danced to the piercing sounds of the damru for hundreds of years. Orphaned by poachers and trained by the Qalandars, a nomadic Muslim community, these bears trudged through towns and villages to earn their masters a meager livelihood.
Mining the Heart of Borneo: coal production in Indonesia
(11/20/2013) Indonesia is the world's top exporter of coal – supplying energy to China, India, and elsewhere. Indonesia is also ranked the fourth top emitter of greenhouse gases in the world (after China, the USA, and the European Union), largely due to high deforestation rates and peatland fires. This ranking does not take into consideration the carbon emissions that Indonesia 'exports' in the form of coal.
UN talks tough to global coal industry
(11/19/2013) Yesterday, at the International Coal and Climate Summit—just a couple miles from the ongoing UN Climate Summit—Christiana Figueres delivered a speech unlike anything ever heard at a coal industry meeting before. Figueres, the Executive Director of the UN Framework Convention on Climate Change (UNFCCC), took time off from wrangling world leaders and officials toward a climate agreement to talk tough to an industry currently worth around $3 trillion.
Carbon emissions set to hit new record high in 2013
(11/19/2013) The amount of carbon dioxide emitted into the atmosphere in 2013 is expected to hit a new high of 36 billion tonnes, according to a Carbon Budget released today by the Global Carbon Project (GCP). This is a 2.1 percent rise from 2012 based on data from the same group. 'We have exhausted about 70 per cent of the cumulative emissions that keep global climate change likely below two degrees,' said GCP member, Pierre Friedlingstein, with the University of Exeter. 'In terms of CO2 emissions, we are following the highest climate change scenario of the Intergovernmental Panel on Climate Change released in September.'
Timber smuggling continues in Madagascar

(11/18/2013) Stocks of rosewood illegally harvested during in the aftermath of Madagascar's 2009 coup are being steadily smuggled off the Indian Ocean island, reports a paper published in the journal MADAGASCAR CONSERVATION & DEVELOPMENT.
Greener palm oil on the horizon?

(11/18/2013) A group of environmental activists, conservation groups, and palm oil producers officially announced a new initiative that aims to showcase best practices in the palm oil industry, demonstrating that palm oil can be produced without social conflict, conversion of peatlands, or destruction of wildlife-rich forests.
Equitable efforts to save the world's forests: Don't put the burden on the poor (commentary)
(11/18/2013) That President Yudhoyono's green legacy may be in peril has been put in the spotlight by the recent visit to Indonesia of Harrison Ford, a Hollywood megastar-turned-environmentalist. Ford was in Indonesia last month filming 'Years of Living Dangerously', a series about climate change. His trip to Central Kalimantan and Riau, was described by Michael Bachelard of Sydney Morning Herald as bearing witness to the devastation of Indonesia's tropical forests.
Fracking: the good, the bad and the ugly
(11/18/2013) The last few years have ushered in a new national and global awareness of fracking, the 150-year-old technology for extracting natural gas and oil from rock. Fracking, short for hydraulic fracturing, uses ultra-high-pressure slurries to create hairline fractures throughout solid rock. Oil, and more frequently gas, comes rushing out while sand from the mixture holds the fractures open in this nearly alchemical process. As many readers are aware, there are two very divisive schools of thought on fracking. One side touts it as the future of energy. The other derides fracking as inherently toxic and demands its immediate and permanent cessation. Like so many aspects of life, the truth lies somewhere in between.





60,000 protest in Australia to keep carbon price

(11/18/2013) Around 60,000 Australians marched yesterday across the country calling on their government not to go backwards on climate action, according to organizers. Australia has taken a sudden U-turn on climate policy with the election of Prime Minister Tony Abbott in September, including legislation to end its carbon pricing, cutting funding to renewable energies, and obstructing progress at the ongoing UN Climate Summit in Warsaw.




Page 1 | Page 2 | Page 3 | Page 4 | Page 5 | Page 6 | Page 7 | Page 8 | Page 9 | Page 10 | Page 11 | Page 12 | Page 13 | Page 14 | Page 15 | Page 16 | Page 17 | Page 18 | Page 19 | Page 20 | Page 21 | Page 22 | Page 23 | Page 24 | Page 25 | Page 26 | Page 27 | Page 28 | Page 29 | Page 30 | Page 31 | Page 32 | Page 33 | Page 34 | Page 35 | Page 36 | Page 37 | Page 38 | Page 39 | Page 40 | Page 41 | Page 42 | Page 43 | Page 44 | Page 45 | Page 46 | Page 47 | Page 48 | Page 49 | Page 50 | Page 51 | Page 52 | Page 53 | Page 54 | Page 55 | Page 56 | Page 57 | Page 58 | Page 59 | Page 60 | Page 61 | Page 62 | Page 63 | Page 64 | Page 65 | Page 66 | Page 67 | Page 68 | Page 69 | Page 70 | Page 71 | Page 72 | Page 73 | Page 74 | Page 75 | Page 76 | Page 77 | Page 78 | Page 79 | Page 80 | Page 81 | Page 82 | Page 83 | Page 84 | Page 85 | Page 86 | Page 87 | Page 88 | Page 89 | Page 90 | Page 91 | Page 92 | Page 93 | Page 94 | Page 95 | Page 96 | Page 97 | Page 98 | Page 99 | Page 100 | Page 101 | Page 102 | Page 103 | Page 104 | Page 105 | Page 106 | Page 107 | Page 108 | Page 109 | Page 110 | Page 111 | Page 112 | Page 113 | Page 114 | Page 115 | Page 116 | Page 117 | Page 118 | Page 119 | Page 120 | Page 121 | Page 122 | Page 123 | Page 124 | Page 125 | Page 126 | Page 127 | Page 128 | Page 129 | Page 130 | Page 131 | Page 132 | Page 133 | Page 134 | Page 135 | Page 136 | Page 137 | Page 138 | Page 139 | Page 140 | Page 141 | Page 142 | Page 143 | Page 144 | Page 145 | Page 146 | Page 147 | Page 148 | Page 149 | Page 150 | Page 151 | Page 152 | Page 153 | Page 154 | Page 155 | Page 156 | Page 157 | Page 158 | Page 159 | Page 160 | Page 161 | Page 162 | Page 163 | Page 164 | Page 165 | Page 166 | Page 167 | Page 168 | Page 169 | Page 170 | Page 171 | Page 172 | Page 173 | Page 174 | Page 175 | Page 176 | Page 177 | Page 178 | Page 179 | Page 180 | Page 181 | Page 182 | Page 183 | Page 184 | Page 185 | Page 186 | Page 187 | Page 188 | Page 189 | Page 190 | Page 191 | Page 192 | Page 193 | Page 194 | Page 195 | Page 196 | Page 197 | Page 198 | Page 199 | Page 200 | Page 201 | Page 202 | Page 203 | Page 204 | Page 205 | Page 206 | Page 207