News articles on green

---
Mongabay.com news articles on green in blog format. Updated regularly.






Ultraviolet nets significantly reduce sea turtle bycatch
(11/11/2013) Bycatch, a side-effect of commercial fishing in which non-target species are accidentally caught, is linked to severe population declines in several species. Sea turtles are particularly impacted by small-scale coastal gillnetting practices, in which large nets are deployed and indiscriminately snag anything of a certain size that attempts to swim through them. However, that may soon change.
Bangladesh plans massive coal plant in world's biggest mangrove forest
(11/11/2013) On October 22nd Bangladeshi and Indian officials were supposed to hold a ceremony laying the foundation stone for the Rampal power plant, a massive new coal-fired plant that will sit on the edge of the Sundarbans, the world's largest mangrove forest. However, the governments suddenly cancelled the ceremony, instead announcing that the project had already been inaugurated in early October by the countries' heads of state via a less-ornate Skype call. While the governments say the change was made because of busy schedules, activists contend the sudden scuttling of the ceremony was more likely due to rising pressure against the coal plant, including a five-day march in September that attracted thousands.
Bay Area pledges to slash greenhouse gas emissions by 80 percent by 2050

(11/11/2013) While many of the world's national governments move tepidly (if at all) to combat climate change, cities are showing increasing leadership. The San Francisco Bay Area's Air District Board signed off last week on a measure to cut greenhouse gas emissions by 80 percent within less than 40 years time as based on 1990 levels. The measure follows the same goal as an executive order made by California governor, Arnold Schwarzenegger, in 2005.
Fishermen get crafty to circumvent shark fin ban
(11/10/2013) Authorities in Costa Rica have identified a new method used by fishermen to circumvent a ban on killing sharks for their fins. According to an INTERPOL alert, fishermen are now leaving a band of skin to keep the fin attached to the spine when they kill sharks. This approach takes advantage of an apparent loophole in regulations governing the shark fin trade.
Amazon deforestation could cause droughts in California
(11/08/2013) Complete deforestation of the Amazon rainforest could reduce rainfall in the Pacific Northwest by up to 20 percent and snowpack in the Sierra Nevada by up to 50 percent, suggests new research published in the Journal of Climate. The study is based on high resolution computer modeling that stripped the Amazon of its forest cover and assessed the potential impact on wind and precipitation patterns. While the scenario is implausible, it reveals the global nature of the ecological services afforded by the world's largest rainforest.
Seahorses on your iPad: new app allows anyone to track and document seahorses
(11/08/2013) Annually, approximately 13 million seahorses—live and dead—are traded around the globe. At this scale, the seahorse trade is potentially very destructive to a group of animals comprised of 48 species, 11 of which are listed by the International Union for Conservation and Nature (IUCN) as threatened with extinction.
Dolphins, bats and the evolution of echolocation
(11/08/2013) A dolphin swimming through the world's oceans after fish, and a bat flying through the air with its membranous wings to catch insects or eat fruit: at first glance, it looks like no two creatures could be more different. But it turns out they share a superpower - they hunt prey by emitting high-pitched sounds and listening for a returning echo. A recent study published in the journal Nature Letters has shown that the regions of the genome responsible for this ability are strikingly similar between these very different mammals.
Critically Endangered Jamaican iguana imperiled by port development
(11/08/2013) The story of the Jamaican iguana (Cyclura collie) is one of adversity and resurgence. Once believed extinct, the species has made a remarkable comeback over the last two decades. However, according to concerned scientists, a new plan to build a massive port in the iguana's habitat could push the species back to the edge of extinction.
8 tribesmen arrested in Borneo dam protest

(11/07/2013) Malaysian authorities arrested eight indigenous protestors on Thursday in a crackdown on a long-running demonstration against a dam the tribesmen say will flood their homeland in Malaysian Borneo.
Beetles in the spotlight: a new species of burying beetle from the Solomon Islands Archipelago
(11/07/2013) If you thought of the little beetle that you saw the other day as just a 'regular one' then this might interest you. Scientists from the University of Alaska discovered Nicrophorus efferens, a new species of burying beetle from Solomon Islands. Studying six adult specimens borrowed from the Bernice Pauahi Bishop Museum of Hawaii (BPBM), Dr Sikes and Tonya Mousseau describe the new species in a detailed taxonomic assessment published in the journal Zookeys, and how it differs from two closely related species of the Solomon Islands.
Could camera trap videos galvanize the world to protect Yasuni from oil drilling?
(11/07/2013) Even ten years ago it would have been impossible to imagine: clear-as-day footage of a jaguar plodding through the impenetrable Amazon, or a bicolored-spined porcupine balancing on a branch, or a troop of spider monkeys feeding at a clay lick, or a band of little coatis racing one-by-one from the dense foliage. These are things that even researchers who have spent a lifetime in the Amazon may never see. Now anyone can: scientists at the Tiputini Biodiversity Station in Ecuador's Yasuní National Park have recently begun using camera trap videos to take movies of animals few will ever view in their lifetimes. The videos—following years of photo camera trapping—provide an intimate view of a world increasingly threatened by the oil industry.
Palm oil companies ignoring community rights, new study shows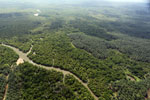 (11/07/2013) Some of the largest palm oil companies are clearing forests and peatlands without seeking consent of local communities, leading to a spate of unresolved conflicts in plantation concessions around the world, warns a coalition of NGOs and researchers. Members of the Roundtable on Sustainable Palm Oil (RSPO) are violating the rights of local communities in tropical forests and failing to live up to social and environmental commitments, the coalition said in a report released on Thursday.
Palm oil giant to forgo development of New Guinea rainforest
(11/06/2013) Palm oil giant Golden-Agri Resources (GAR) will forgo development of an oil palm plantation in an area of rainforest in Indonesian New Guinea in order to comply with its forest conservation policy. The decision by GAR — which is the parent company for PT SMART, one of Indonesia's largest private palm oil companies — was disclosed in a report on its high carbon stock pilot project, which is a key component of the company's forest conservation policy (FCP).
CO2 concentrations hit new high last year

(11/06/2013) The concentrations of carbon dioxide in the atmosphere hit a record high last year, according to a new report by the World Meteorological Organization (WMO). While this was not a surprise given still-rising global emissions, the concentration rose significantly more than the average this decade. According to the WMO's annual greenhouse gas bulletin, CO2 concentrations hit 393.1 parts per million (ppm) in 2012.
Like humans, marmosets are polite communicators
(11/06/2013) Common marmoset monkeys have been described as having human-like conversations according to a team of researchers from the Princeton Neuroscience Institute. Native to Brazil, marmosets are highly social animals, using simple vocalizations in a multitude of situations: during courtship, keeping groups together and defending themselves. They also, according to the study published in Current Biology, exchange cooperative conversations with anyone and everyone - not just with their mates.
Indigenous groups expel workers, blockade another dam in Sarawak
(11/05/2013) Hundreds of tribal people in Sarawak have started blockading a second big hydroelectric dam project being built by a government, which critics accuse of nepotism and corruption. Late last month around 200 native Kenyah, Kayan and Penan people chased away workers and set up a blockade on a road leading to the site of the proposed 1200 megawatt Baram dam.
Featured video: trailer for James Cameron's new global warming series

(11/05/2013) Showtime has recently released its first trailer for the network's new series on the impacts of global warming worldwide, entitled Years of Living Dangerously. The series, which will debut in April 2014, had employed some of America's most well-regarded politicians, journalists, intellectuals, and actors to tell how climate change is already impacting communities around the world.
Zoos join fossil fuel divestment movement

(11/05/2013) Last month, over a hundred representatives from zoos and aquariums around the world joined climate activism group, 350.org, pledging that their institutions would take action against global warming, including the possibility of divesting from fossil fuel companies. The effort, dubbed Zoos and Aquariums for 350, was launched during the annual meeting of the Conservation Breeding Specialist Group (CBSG).
World's most cryptic feline photographed in logging concession
(11/04/2013) The bay cat is arguably the world's least-known member of the cat family (Felidae). Although first described by scientists in 1874, no photo existed of a living specimen until 1998 and a wild cat in its rainforest habitat wasn't photographed until five years later. Given this, scientists with Zoological Society of London (ZSL) and Imperial College London were taken aback when their remote camera traps captured numerous photos of these elusive cats hanging out in a commercial logging concession in Sabah, a state in Malaysian Borneo.
Deforestation may hurt U.S. agriculture, affect monsoon cycle
(11/04/2013) Unchecked deforestation will have far-reaching impacts on temperature, rainfall, and monsoon cycles in regions well outside the tropics, affecting agriculture and water availability, warns a new report published by Greenpeace International. The report is a synthesis of dozens of recent scientific papers that assess the effects of forest cover loss on weather patterns, local climate, and agricultural productivity.
Giant turtle-devouring duck-billed platypus discovered
(11/04/2013) Based on a single tooth from Australia, scientists believe they have discovered a giant, meter-long (3.3 feet) duck-billed platypus that likely fed on fish, frogs, and even turtles, according to a new study in Journal of Vertebrate Paleontology. At least twice the size of a modern duckbilled platypus, the scientists say the extinct giant likely lived between 15 and 5 million years ago.
Thought-to-be-extinct 'halloween' frog rediscovered in Costa Rica
(11/04/2013) A breeding population of a critically endangered harlequin toad thought to be extinct in Costa Rica has been discovered in a tract of highland forest in the Central American country, reports a paper published in Amphibia-Reptilia. Atelopus varius, an orange-and-black harlequin toad, was once relatively common from central Costa Rica to western Panama. But beginning in the 1980's the species experienced a rapid population collapse across most of its range.
New corruption allegations in Sarawak energy project

(11/04/2013) An infrastructure company with ties to Sarawak's chief minister has just landed a $196 million contract to build transmission lines, sparking new complaints about cronyism and corruption in the Malaysian Borneo state.
Scientists: to save the Malayan tiger, save its prey
(10/31/2013) A major premise of biology, as any high-schooler can tell you, is the study of the connections between organisms. Perhaps nowhere is there a better example of this than in Malaysia, where the population of Endangered Malayan tigers (Panthera tigris jacksoni) is being undercut by dwindling prey. A recent study by MYCAT, the Malaysian Conservation Alliance for Tigers, highlights this connection by presenting a distinct correlation between prey and tiger population.
'Remarkable year': could 2012 mark the beginning of a carbon emissions slowdown?

(10/31/2013) Global carbon dioxide emissions hit another new record of 34.5 billion tons last year, according to a new report by the Netherlands Environment Assessment Agency and the European Commission's Joint Research Centre, but there may be a silver lining. Dubbing 2012 a "remarkable year," the report found that the rate of carbon emission's rise slowed considerably even as economic growth continued upward.
DNA tests reveal new dolphin species (photos)
(10/30/2013) With the help of DNA tests, scientists have declared a new dolphin species that dwells off the coast of northern Australia. The discovery was made after a team of researchers looked at the world's humpback dolphins (in the genus Sousa), which sport telltale humps just behind their dorsal fins. While long-known to science, the new, as-yet-unnamed species was previously lumped with other humpback dolphins in the Indo-Pacific region.
New species of beetle discovered in megacity
(10/30/2013) When imagining the discovery of a new species, most people conjure thoughts of intrepid explorers, battling the odds in remote rainforests. But this needn't be the case, at least according to a new study published in Zookeys. The study reports the discovery of a new species of water beetle in the heart of the 10th largest megacity in the world: Manila, Philippines.
Renewable energy revolution will require better management of metals

(10/30/2013) If we are to avoid catastrophic climate change, scientists say global society will need a rapid and aggressive replacement of fossil fuel energy for renewable, such as solar, wind, geo-thermal, and tidal. While experts say a renewable revolution would not only mitigate climate change but also likely invigorate economies and cut life-threatening pollution, such a revolution would not come without challenges. According to a new commentary piece in Nature Geoscience one of the largest challenges of the renewable revolution will be rising demand for metals, both rare and common.
The mystery of the disappearing elephant tusk
(10/30/2013) Give it a few thousand years, and tusks could completely disappear from the Asian elephant (Elephas maximus). The beautifully smooth, elongated ivory incisors neatly bordering a long trunk are iconic in the public mind. The reigning hypothesis is that tusks evolved to help male elephants fight one another, as demonstrated when males compete over females in estrus. However, a recent study published in the journal Animal Behaviour has shown that tusks may not be key factors in tussles, at least as far as elephants are concerned.
Belo Monte dam suspended

(10/29/2013) Construction on Belo Monte, Brazil's largest dam, was again halted by a federal court due to concerns over its license, reports Amazon Watch, an NGO that is mobilizing opposition to the project.
Scientists identify individual lizards by their irises
(10/29/2013) Institutions and governments have been scanning human irises for years to verify one's identity—Google has been using this method since 2011—but could iris-scanning be employed on other species as well? According to a new study in Amphibia-Reptila, the answer is 'yes.' Scientists have recently employed iris scanning to visually distinguish individuals of an imperiled gecko subspecies (Tarentola boettgeri bischoffi) found on Portugal's Savage Islands off the coast of Western Sahara.
Greenpeace: APP making 'encouraging' progress on zero deforestation commitment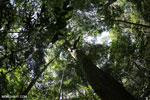 (10/29/2013) Asia Pulp & Paper (APP), an Indonesian forestry giant once notorious for destroying rainforests and peatlands, is making 'encouraging' progress in phasing forest destruction out of its supply chain, reports a new assessment from Greenpeace, which until recently was one of APP's fiercest critics. The review, released today, evaluates APP's progress on its Forest Conservation Policy, which commits the company to exclude fiber sourced from logging of natural forests and conversion of peatlands, and requires it to obtain Free, Prior Informed Consent from local communities in developing new plantations.
Mining Road Plan Threatens Forest Restoration Project in Indonesia

(10/29/2013) A plan for a coal transport road continues to threaten a project to restore one of the last remaining lowland forests in Sumatra. The status of the permit for the road, which would run through the Hutan Harapan (Forest of Hope) ecosystem restoration project, remains in limbo, despite multiple objections by the forest's concession holders. However, a representative from Indonesia's Ministry of Forestry has promised to convene a meeting with stakeholders to discuss the issue.
50,000 km of roads built across Brazilian Amazon in 3 years

(10/29/2013) Roads are rapidly expanding across the Brazilian Amazon opening up once remote rainforests to loggers, miners, ranchers, farmers, and land speculators, finds a new study published in the journal Regional Environmental Change.
New campaign: hey China, stop killing the 'pandas of Africa'
(10/29/2013) A new public-service campaign in China will ask potential ivory and rhino horn buyers to see the victims of these illicit trades in a new light: as the "pandas of Africa." The posters are a part of WildAid's 'Say No to Ivory and Rhino Horn' campaign, which was launched earlier in the year.
'Lost' bird rediscovered in New Caledonia along with 16 potentially new species (photos)
(10/29/2013) In early 2011, Conservation International (CI) dubbed the forests of New Caledonia the second-most imperiled in the world after those on mainland Southeast Asia. Today, CI has released the results of a biodiversity survey under the group's Rapid Assessment Program (RAP) to New Caledonia's tallest mountain, Mount Panié. During the survey researchers rediscovered the 'lost' crow honeyeater and possibly sixteen new or recently-described species. Over 20 percent larger than Connecticut, New Caledonia is a French island east of Australia in the Pacific Ocean.
America's growing inequality helped scuttle the global climate change initiative
(10/28/2013) The link between good economic policy and climate change mitigation is instigated by policies such as the triple-bottom line, carbon limitations, and pro-environmental legislation. However, economic inequality is a little explored piece of the successful fight against climate change. For climate change mitigation and good economic policy to work, economic growth must be broad-based. Indeed, the inability for the United States to make a coherent and progressive stance on climate change has effectively stymied the global initiative—and is in part due to growing inequality. Due to the nation's market size and political power, U.S. policy is often a decisive factor for many global issues.
Gold mining in the Amazon rainforest surges 400%
(10/28/2013) The extent of gold mining in the Peruvian Amazon has surged 400 percent since 1999 due to rocketing gold prices, wreaking havoc on forests and devastating local rivers, finds a new study published in the Proceedings of the National Academy of Sciences (PNAS). The assessment, led by Greg Asner of the Carnegie Institution for Science, is based on a combination of satellite imagery, on-the-ground field surveys, and an advanced airplane-based sensor that can accurately measure the rainforest canopy and sub-canopy vegetation at a resolution of 1.1 meters (42 inches).
Shanghai to ban coal by 2017

(10/28/2013) China's largest city and one of the world's biggest, Shanghai, is set to ban coal burning in just four years, according to a new Clean Air Action Plan. The city-wide ban on coal burning is one effort among many to get Shanghai's infamous smog under control as well as another sign that China has begun to take its pollution problems more seriously.
Stuffed tigers send two soldiers to jail in Indonesia

(10/28/2013) A military court in Indonesia's Aceh province has jailed two soldiers for illegally possessing two stuffed Sumatran tigers (Pathera tigris sumatrae) and a stuffed sun bear (Helarctos malayanus), a rare verdict in the Sumatran province where crimes involving wildlife are seldom prosecuted.
First study of little-known mammal reveals climate change threat
(10/28/2013) One of the world's least-known flying foxes could face extinction by rising seas and changing precipitation patterns due to global warming, according to a new study in Zookeys. The research, headed by Donald Buden with the College of Micronesia, is the first in-depth study of the resident bats of the remote Mortlock Islands, a part of the Federated States of Micronesia.






Page 1 | Page 2 | Page 3 | Page 4 | Page 5 | Page 6 | Page 7 | Page 8 | Page 9 | Page 10 | Page 11 | Page 12 | Page 13 | Page 14 | Page 15 | Page 16 | Page 17 | Page 18 | Page 19 | Page 20 | Page 21 | Page 22 | Page 23 | Page 24 | Page 25 | Page 26 | Page 27 | Page 28 | Page 29 | Page 30 | Page 31 | Page 32 | Page 33 | Page 34 | Page 35 | Page 36 | Page 37 | Page 38 | Page 39 | Page 40 | Page 41 | Page 42 | Page 43 | Page 44 | Page 45 | Page 46 | Page 47 | Page 48 | Page 49 | Page 50 | Page 51 | Page 52 | Page 53 | Page 54 | Page 55 | Page 56 | Page 57 | Page 58 | Page 59 | Page 60 | Page 61 | Page 62 | Page 63 | Page 64 | Page 65 | Page 66 | Page 67 | Page 68 | Page 69 | Page 70 | Page 71 | Page 72 | Page 73 | Page 74 | Page 75 | Page 76 | Page 77 | Page 78 | Page 79 | Page 80 | Page 81 | Page 82 | Page 83 | Page 84 | Page 85 | Page 86 | Page 87 | Page 88 | Page 89 | Page 90 | Page 91 | Page 92 | Page 93 | Page 94 | Page 95 | Page 96 | Page 97 | Page 98 | Page 99 | Page 100 | Page 101 | Page 102 | Page 103 | Page 104 | Page 105 | Page 106 | Page 107 | Page 108 | Page 109 | Page 110 | Page 111 | Page 112 | Page 113 | Page 114 | Page 115 | Page 116 | Page 117 | Page 118 | Page 119 | Page 120 | Page 121 | Page 122 | Page 123 | Page 124 | Page 125 | Page 126 | Page 127 | Page 128 | Page 129 | Page 130 | Page 131 | Page 132 | Page 133 | Page 134 | Page 135 | Page 136 | Page 137 | Page 138 | Page 139 | Page 140 | Page 141 | Page 142 | Page 143 | Page 144 | Page 145 | Page 146 | Page 147 | Page 148 | Page 149 | Page 150 | Page 151 | Page 152 | Page 153 | Page 154 | Page 155 | Page 156 | Page 157 | Page 158 | Page 159 | Page 160 | Page 161 | Page 162 | Page 163 | Page 164 | Page 165 | Page 166 | Page 167 | Page 168 | Page 169 | Page 170 | Page 171 | Page 172 | Page 173 | Page 174 | Page 175 | Page 176 | Page 177 | Page 178 | Page 179 | Page 180 | Page 181 | Page 182 | Page 183 | Page 184 | Page 185 | Page 186 | Page 187 | Page 188 | Page 189 | Page 190 | Page 191 | Page 192 | Page 193 | Page 194 | Page 195 | Page 196 | Page 197 | Page 198 | Page 199 | Page 200 | Page 201 | Page 202 | Page 203 | Page 204 | Page 205 | Page 206