News articles on green

---
Mongabay.com news articles on green in blog format. Updated regularly.






Monarch butterfly population rises a little, but still perilously low
(01/28/2015) The world's migrating monarch butterfly population has bounced back slightly from its record low last year, but the new numbers are still the second smallest on record. According to WWF-Mexico and the Mexican government, butterflies covered 2.79 acres (1.13 hectares) in nine colonies this year in the Mexican forests where the insects overwinter.
China tries out logging ban in northeastern province
(01/28/2015) China's Heilongjiang province, which borders Russia to its north and east, contains 18.5 million hectares of state forest - more natural forest than any other province in the country. However, since the mid-twentieth century, Heilongjiang has had over 600 million cubic meters of timber extracted from its woodlands. Now, China is trying out a complete ban on commercial logging in the province's state-owned forests.
Adorbs: scientists capture first photos of African golden cat kittens
(01/28/2015) The African golden cat is arguably the continent's least known feline, inhabiting dense tropical forests, almost never seen, and, of course, long-upstaged by Africa's famous felines. But a few intrepid scientists are beginning to uncover the long-unknown lives of these wild cats. Researchers working in Uganda's Kibale National Park have captured remarkable photos of African golden cats...with kittens.
With local help, hawksbill sea turtles make a comeback in Nicaragua
(01/28/2015) Hawksbill sea turtles, a reptile listed as the highest threat level by the IUCN Red List of Endangered Species, are making a momentous local comeback in Nicaragua's Pearl Cays. This Critically Endangered turtle, although reduced to 85 percent of their historical numbers, has shown a nesting increase of over 200 percent from just 154 nests to 468 nests in the last 14 years.
China's recent forest tenure reforms threaten panda habitat
(01/27/2015) Since the 1950s, plantations and second-growth forests in China have been locally managed by village communities as collective forests, which today account for 58 percent of China's forestland. Many of these collective forests lie within mountainous rural areas, some of which are also home to the 1,600 or so wild giant pandas (Ailuropoda melanoleuca) that survive today.
Suspects acquitted in shocking murder of sea turtle conservationist

(01/27/2015) Yesterday, the seven men accused of brutally murdering Jairo Mora Sandoval on a beach in Costa Rica two years ago were acquitted of the crime. Sandoval's murder shocked the Central American country—long known for the progressive protection of its lush rainforests and sweeping beaches—but the judge who acquitted the accused cited reasonable doubt and a investigation marred by mistakes.
Deforestation may be ramping up in Papua, West Papua
(01/27/2015) Despite being covered in commodity concessions and becoming a focal point for the Indonesian government's palm oil development in the country's eastern half, the provinces of Papua and West Papua have, rather mysteriously, recorded very low deforestation rates compared to the rest of the archipelago. However, emerging data, reports, and photos suggest the region's forest loss may be escalating.
Rogue cop missing from jail

(01/27/2015) An Indonesian police official busted for illegal logging in West Papua has been missing from jail for nearly a year after being granted permission to seek medication treatment, reports the The Jakarta Post.
Financial pledges for REDD+ slow to be disbursed, finds report
(01/27/2015) Only a small fraction of the $7.3 billion pledged under the Reducing Emissions from Deforestation and Degradation (REDD+) program has actually been disbursed, find a new report that tracked REDD+ finance in seven countries. The report, published by Forest Trends, analyzed REDD+ financial flows between 2009 and 2012 in Brazil, Colombia, Ecuador, Ghana, Liberia, Tanzania and Vietnam
Accounting for natural capital on financial exchanges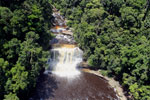 (01/26/2015) Last month, Norway's stock exchange, the Oslo Børs, introduced a way for investors to use their money to promote sustainability. A new list by the stock exchange highlights green bonds, financial products issued by companies to raise capital for environmentally friendly projects. Notably, the list requires that issuing companies obtain and publicize outside opinions on the projects' environmental features.
Brazil's soy moratorium dramatically reduced Amazon deforestation
(01/23/2015) The moratorium on forest conversion established by Brazilian soy giants in 2006 dramatically reduce deforestation for soy expansion in the Amazon, and have been more effective in cutting forest destruction than the government's land use policy in the region, finds a study published today in the journal Science.
Sumatran community grows crops, aids conservation through 'village forests'
(01/23/2015) The rolling green hills covered in rice paddies and coffee plantations give Semende in the Muara Enim regency of South Sumatra a welcome and hospitable feeling. However, behind the peaceful pastoral veil, is a history of rampant forest encroachment and land conflict in the Barisan mountains.
Conservationists ask, 'Is nuclear the way to go?'
(01/23/2015) Nuclear power at times faces antagonism from the environmental community, with opponents arguing that it produces harmful radioactive waste, leads to the proliferation of nuclear arms, and brings forth lethal disasters. Scientists from Australia say it's time to get past myths about nuclear; they suggest that implementing nuclear power at a larger scale is a positive compromise for fulfilling both energy supply and conservation needs.
Half of Borneo's mammals could lose a third of their habitat by 2080
(01/22/2015) Borneo consistently makes the list of the world's "biodiversity hotspots" – areas full of a wide variety of forms of life found nowhere else, but which are also under threat. To better understand the hazards, a study published today in the journal Current Biology examines the effects of climate change and deforestation in the coming decades on mammals living on the island.
1,215 rhinos butchered in South Africa in 2014
(01/22/2015) 1,215: that's the total number of rhinos butchered last year in South Africa for their horns. The number represents another annual record—the seventh in a row—topping last year's total by 195 rhinos. South Africa houses the bulk of the world's rhinos (around 80 percent), but has also become the center of the illegal poaching trade.
Indigenous territories play dual role as homelands and protected areas
(01/22/2015) Indigenous communities claim—and scientific evidence increasingly shows—that indigenous forested territories are as well protected as, or better protected than, government-designated parks. In areas under pressure from roads or development projects, deforestation rates are sometimes even lower in indigenous territories than in official protected areas.
Sundarbans still reeling from effects of December oil spill
(01/21/2015) Last month, an estimated 350,000 liters of fuel oil spilled into the Sundarbans delta on the Bay of Bengal. An oil tanker that had collided with a cargo vessel on December 9th sank into the Shela River, spilling its oil into a protected sanctuary for the rare and endangered Irrawaddy dolphins (Orcaella brevirostris) and the Ganges river dolphins (Platanista gangetica).
Sumatran village protects environment through agroforestry
(01/21/2015) The forest behind Indudur village clings to the steep hillside. The topography itself is enough to protect it from most common threats of development. However, the area is under attack by a more pernicious force: a lack of interest by the younger generation in earning their living here. The difficulty of life compels many to migrate out, leaving the village dominated by older people.
Environmental wisdom: keeping indigenous stories alive
(01/21/2015) Enchanted lakes and magic hills: how traditional stories support conservation and abundance. 'Long ago, when animals were gente...' Those words, uttered countless times by indigenous Amazonian storytellers, blur the boundary between humans and other creatures in the forests and rivers, revealing a different view of the way human and non-human worlds intertwine.
Video: clouded leopards and elephants grace drowned forest in Thailand

(01/21/2015) Camera trap video from Khlong Saeng Wildlife Sanctuary in southern Thailand has revealed an impressive array of wildlife, including scent-marking clouded leopards and a whole herd of Asian elephant. The camera traps were set by HabitatID, an organization devoted to using remote camera traps to prove to government officials that wildlife still flourishes in forgotten places.
A model forest? Regional park balances local needs and conservation
(01/21/2015) Regional conservation area safeguards subsistence and spirituality in the Peruvian Amazon. For Alfredo Rojas, the history of the remote villages along the Ampiyacu River is one of enslavement. Growing up here, Rojas listened to his parents tell stories of the rubber barons who beat and killed the Indians who failed to meet their latex quota.
Changing California forests may help us prepare for the future
(01/21/2015) A new study published by the Proceedings of the National Academy of Sciences examines how California's forests have changed since the 1930s--and, according to its authors, can help us understand how forests will respond to the changing global climate in the future.
Company chops down rainforest to produce 'sustainable' chocolate
(01/20/2015) A cacao grower with roots in Southeast Asia's palm oil industry has set up shop in the Peruvian Amazon. The CEO of United Cacao has told the international press that he wants to change the industry for the better, but a cadre of scientists and conservation groups charge that United Cacao has quietly cut down more than 2,000 hectares of rainforest.
India's tiger population up by more than 500 animals in four years

(01/20/2015) The tiger is in major trouble. In 1900, the global population was over 100,000 animals; today, it is on the precipice of extinction, hovering around just 3,000. In response, tiger range countries have pledged to double to the population by 2022. But there has been little evidence of success until now: India has announced that its tiger population has jumped a remarkable 29 percent in the last four years.
Scandal and intrigue overshadow environment at the Simandou mine in Guinea
(01/20/2015) Critically Endangered chimpanzees stand to lose their home over giant iron mine in West Africa. When I was a Peace Corps Volunteer in West Africa decades ago well-laid plans often crumbled to dust in the unpredictable confusion of life there. We just muttered with resignation, 'WAWA' – West Africa wins again. The Simandou iron ore mine in Guinea could be one of the biggest WAWAs the region has ever produced.
Indonesia's moratorium not enough to achieve emissions reduction target
(01/20/2015) When Indonesia's former president Susilo Bambang Yudhoyono declared a moratorium in May 2012 on the issuance of new permits for logging in primary forests and on peat lands, it was widely hailed as an important, albeit far too limited, step in clamping down on the country's levels of deforestation.
High deforestation rates in Malaysian states hit by flooding
(01/19/2015) Five states hard hit by flooding last month in Malaysia had high rates of forest loss in recent years, bolstering assertions that environmental degradation may have worsened the disaster. According to satellite data from researchers led by the University of Maryland's Matt Hansen and displayed on Global Forest Watch, the states of Johor, Kelantan, Pahang, Perak, and Terengganu each lost more than 10 percent of their forest cover between 2001 and 2012. Loss was greatest in areas with dense tree cover.
Fake Doritos ad pressures Pepsi over palm oil policy
(01/18/2015) A dispute between environmentalists and PepsiCo over the food company's palm oil sourcing policy is escalating after activists released a video spoofing the Doritos Super Bowl campaign. Earlier this month SumofUs.org posted a clip stating that PepsiCo's current palm oil policy fails to exclude deforestation from its supply chain, meaning that Pepsi products like Doritos could be contributing to the destruction of rainforests in Malaysia and Indonesia.
Even with no El Nino, 2014 was the warmest year on record
(01/18/2015) On Friday both NASA and NOAA announced that last year—2014—was the warmest on record. The year bested out both previous record holders, 2005 and 2010. According to NOAA, 2014 was 0.69 degrees Celsius (1.24 degrees Fahrenheit) above the 20th century average. The Earth is warming rapidly due to greenhouse gas emissions, mostly from burning fossil fuels such as coal, oil, and gas.
Tree climbing as a tool to build respect for forests
(01/16/2015) The bulk of life in the rainforest is found the leafy layers of the canopy. But little was known about this world until relatively recently, when hobbyists, naturalists, and researchers began devising ways to access the upper levels of the forest. These efforts accelerated in the 1970s when scientists started to use mountaineering techniques and ropes to climb towering rainforest trees for long-term study and observation.
Sulawesi village seeks protection for sacred forest threatened by development
(01/16/2015) Home to some 400 fishermen, Manurung village appears unremarkable at first glance: quiet houses along a winding river lined with boats. However, behind the village lies something remarkable: a tract of old-growth forest nearly untouched by human exploitation. Pensimoni Hill stands as a rare outpost of towering trees rising above freshwater springs that provide clean water and life for the villages below.
Fishing industry could lose up to $41 billion due to climate change
(01/16/2015) Climate change is already having a severe impact on the atmosphere and oceans around the world. These changes are also impacting specific economic sectors including the fishing and aquaculture industries. According to a recent report by the European Climate Foundation, the Sustainable Fisheries Partnership and the University of Cambridge, the fishing industry is projected to lose tens-of-billions as the world continues to heat up.
Amazon tribe attacks oilfield in Ecuador

(01/15/2015) Indigenous leaders are calling for the release of six tribesmen implicated in a raid on an oilfield in Eastern Ecuador that left six soldiers injured, reports Andina and El Comercio.
Ocean's 15: meet the species that have vanished forever from our seas
(01/15/2015) In the last 500 years, the oceans have suffered far fewer extinctions than on land—at least that we know of. According to a recent study in Science, 15 animals are known to have vanished forever from the oceans while terrestrial ecosystems have seen 514 extinctions. The researchers, however, warn that the number of marine extinctions could rise rapidly as the oceans are industrialized.
Empty seas? Scientists warn of an industrialized ocean
(01/15/2015) This is obvious, but still important: humans are not a marine species. Even as we have colonized most of our planet's terrestrial landscapes, we have not yet colonized the oceans. And for most of our history, we have impacted them only on the periphery. A new review in Science finds that this has saved marine species and ecosystems from large-scale damage—that is, until the last couple centuries.
No experience necessary: how studying tamarins led to an innovative research organization in the Amazon
(01/15/2015) While conducting doctoral research on tamarin reproductive biology in the Peruvian Amazon, Mrinalini Watsa realized she needed help in the field. Rather than hiring seasonal assistance she, along with Gideon Erkenswick, decided to create a life-changing non-profit organization, PrimatesPeru. The new NGO would allow students to conduct field research in one of the most biodiverse, yet threatened, places on Earth.
Farmers help restore degraded forests in Sulawesi
(01/15/2015) Irda tends to his two-hectare timber plantation in Pamulukkang Forest at the base of Tanete Kindo Mountain in West Sulawesi. Unlike some other farmers in Indonesia, he does so without fear of harassment by forest rangers or police. Since 2008, he has been involved in the Community Plantation Forest (HTR) program—an initiative by the Indonesian government to restore degraded lands by encouraging locals to plant and manage commercially sustainable forests.
Amazon gold rush destroying huge swaths of rainforest
(01/14/2015) The rainforests of South America face many threats. The deforestation occurring on the continent is among the highest in the world and results in losses of habitat, biodiversity and massive amounts of sequestered carbon. While the usual culprits such as farming, ranching and logging are well known, gold mining is fast extending its destructive reach into some of the world's most untouched landscapes, according to new research.
Did palm oil expansion play a role in the Ebola crisis?
(01/14/2015) The Ebola outbreak in West Africa may have been the result of complex economic and agricultural policies developed by authorities in Guinea and Liberia, according to a new commentary in Environment and Planning A. Looking at the economic activities around villages where Ebola first emerged, the investigators analyzed a shift in land-use activities in Guinea's forested region, particularly an increase in oil palm.
Road building spree hurts Amazon birds
(01/14/2015) A city-dwelling crow in Japan strategically drops a nut near a crosswalk into moving traffic. The bird then waits patiently for the light to turn before dropping down to the road and collecting the cracked nut in safety. While this type of animal behavior is fascinating, such adaptation to the human world is not possible for most bird species.
Deforestation climbing - along with fears - in the Amazon
(01/13/2015) Deforestation in the Brazil Amazon continues to pace well ahead of last year's rate, shows data released today by Imazon. According to the Brazilian NGO's analysis of satellite data, 1,373 square kilometers of rainforest was chopped down between August 2014 and December 2014, a 224 percent increase relative to the prior corresponding period a year before.




Page 1 | Page 2 | Page 3 | Page 4 | Page 5 | Page 6 | Page 7 | Page 8 | Page 9 | Page 10 | Page 11 | Page 12 | Page 13 | Page 14 | Page 15 | Page 16 | Page 17 | Page 18 | Page 19 | Page 20 | Page 21 | Page 22 | Page 23 | Page 24 | Page 25 | Page 26 | Page 27 | Page 28 | Page 29 | Page 30 | Page 31 | Page 32 | Page 33 | Page 34 | Page 35 | Page 36 | Page 37 | Page 38 | Page 39 | Page 40 | Page 41 | Page 42 | Page 43 | Page 44 | Page 45 | Page 46 | Page 47 | Page 48 | Page 49 | Page 50 | Page 51 | Page 52 | Page 53 | Page 54 | Page 55 | Page 56 | Page 57 | Page 58 | Page 59 | Page 60 | Page 61 | Page 62 | Page 63 | Page 64 | Page 65 | Page 66 | Page 67 | Page 68 | Page 69 | Page 70 | Page 71 | Page 72 | Page 73 | Page 74 | Page 75 | Page 76 | Page 77 | Page 78 | Page 79 | Page 80 | Page 81 | Page 82 | Page 83 | Page 84 | Page 85 | Page 86 | Page 87 | Page 88 | Page 89 | Page 90 | Page 91 | Page 92 | Page 93 | Page 94 | Page 95 | Page 96 | Page 97 | Page 98 | Page 99 | Page 100 | Page 101 | Page 102 | Page 103 | Page 104 | Page 105 | Page 106 | Page 107 | Page 108 | Page 109 | Page 110 | Page 111 | Page 112 | Page 113 | Page 114 | Page 115 | Page 116 | Page 117 | Page 118 | Page 119 | Page 120 | Page 121 | Page 122 | Page 123 | Page 124 | Page 125 | Page 126 | Page 127 | Page 128 | Page 129 | Page 130 | Page 131 | Page 132 | Page 133 | Page 134 | Page 135 | Page 136 | Page 137 | Page 138 | Page 139 | Page 140 | Page 141 | Page 142 | Page 143 | Page 144 | Page 145 | Page 146 | Page 147 | Page 148 | Page 149 | Page 150 | Page 151 | Page 152 | Page 153 | Page 154 | Page 155 | Page 156 | Page 157 | Page 158 | Page 159 | Page 160 | Page 161 | Page 162 | Page 163 | Page 164 | Page 165 | Page 166 | Page 167 | Page 168 | Page 169 | Page 170 | Page 171 | Page 172 | Page 173 | Page 174 | Page 175 | Page 176 | Page 177 | Page 178 | Page 179 | Page 180 | Page 181 | Page 182 | Page 183 | Page 184 | Page 185 | Page 186 | Page 187 | Page 188 | Page 189 | Page 190 | Page 191 | Page 192 | Page 193 | Page 194 | Page 195 | Page 196 | Page 197 | Page 198 | Page 199 | Page 200 | Page 201 | Page 202 | Page 203 | Page 204 | Page 205 | Page 206