News articles on green

---
Mongabay.com news articles on green in blog format. Updated regularly.






Satellite data shows how deforestation is impacting our weather and our food
(05/12/2015) The conversion of forests to cropland can drive local temperatures up or down by as much as a few degrees, according to a new report. Ironically, the authors write that these temperature fluctuations can lead to less productivity from the very same agricultural operations the forests were cleared to make way for.
Scientists reconstruct what was in the Harapan Rainforest of Sumatra
(05/12/2015) A new study published in mongabay.com's open-access journal Tropical Conservation Science describes how the Harapan Rainforest was prior to extensive logging and compares it to its current condition. The authors call for the Harapan's conservation because it is still very rich in species and holds rare habitats and many endemic plants.
New study finds the brilliant-thighed poison frog can learn its way home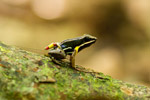 (05/12/2015) Poison dart frogs (Dendropatidae), named for their poisonous secretions used by indigenous tribes to coat blow gun darts, may possess another less deadly talent. According to a recent study, published in the journal Biology Letters, the curiously named brilliant-thighed poison frog (Allobatis femoralis) can use its memory to find its way home through the rainforest.
Wilmar, Musim Mas supplier caught clearing elephant habitat for palm oil in Aceh
(05/12/2015) A new report provides evidence that a supplier of palm oil giants Wilmar and Musim Mas is bulldozing valuable forests in Indonesia's Leuser Ecosystem in violation of the companies' zero-deforestation policies as well as the Indonesia Palm Oil Pledge (IPOP), a high-profile, joint sustainability pact that also includes Golden Agri-Resources, Asian Agri, Musim Mas and the Indonesian Chamber of Commerce and Industry (Kadin).
Videos reveal rare birds, wild monkeys, and jaguar family in oil-exploited park
(05/11/2015) A compilation of new camera trap videos from Yasuni National Park shows off rarely seen species like the rufuos-vented ground cuckoo and the short-eared dog as well as odd behavior, like sloths licking salt from the ground. The compilation is produced by Diego Mosquera, manager and head of the camera trap program at Tiputini Biodiversity Station.
Brazilian firm's mega-dam plans in Peru spark major social conflict
(05/11/2015) 'I don't want to sell my land because I've lived here since I was 17,' declared 82 year old María Araujo Silva. 'This was where my children were born. I want to die here. That's why I'm not in agreement. I'm not in agreement with the dam.' Araujo Silva is outraged at plans by Peru's government and Brazilian company Odebrecht to build a hydroelectric dam just downriver from her village, Huarac, on the Marañón River.
Indonesian forestry giant calls for stronger forest moratorium
(05/11/2015) Asia Pulp & Paper (APP), an Indonesian forestry giant once targeted by environmentalists for its logging practices, has joined a growing chorus of voices calling for a stronger moratorium on deforestation and policies that enable companies to support conservation efforts. In a letter released Monday, Aida Greenbury, APP's Managing Director of Sustainability, asked Indonesian President Joko Widodo to extend the country's moratorium on new logging and plantation concessions.
Twitter campaign prompts Indonesians to free captive cockatoos in droves
(05/11/2015) Days after police at a port in Indonesia's second-largest city arrested a passenger with 24 rare birds stuffed in plastic water bottles, a public outcry has prompted the government to set up shelters to accommodate people who wish to return more of the creatures, which have up to now been highly sought after by collectors and breeders.
Peru considers fate of Amazon wildlife paradise
(05/08/2015) The fate of La Sierra del Divisor, a 1.5 million hectare reserve lauded for its megadiversity of wildlife, will soon to be decided. According to El Comercio, next week the Peruvian government is expected to rule whether Divisor will be declared a national park. The designation, which was requested by local groups nearly a decade ago, would strengthen legal protection of the area, which faces logging, mining, coca cultivation, and agricultural encroachment. It would also establish rules for the buffer zone around the potential protected area.
World's critical habitats lost Connecticut-size area of forest in a decade
(05/08/2015) Many of the world's endangered animals live in only one place, making them hugely susceptible to environmental upset. One fell swoop, and entire species could disappear from existence forever. New analysis shows that possibility may be edging closer and closer to reality in some areas, with forests known to harbor high-risk species losing an area of tree cover the size of Connecticut in a little over a decade.
Energy Sprawl: Comparing biodiversity impacts of oil, gas and wind production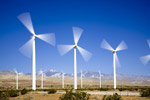 (05/08/2015) Energy has become a contentious and politicized topic, spurring activism, whether it be the fossil fuel divestment campaign, Keystone pipeline protests, or concern over wind turbine harm to birds. But whatever energy future we choose, two things are clear: an expanding human population will need more energy, and no matter what energy source we pick, it will have landscape-scale impacts on biodiversity and ecosystem services.
Fisheries in developing countries stall on the path to sustainability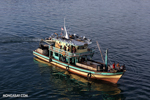 (05/08/2015) Fishery improvement projects are intended to help unsustainable fisheries improve their practices by dangling the carrot of access to lucrative markets. Many seafood retailers happily sell fish from these projects as a way to make good on their sustainability promises. But a recent paper says that many of these projects, particularly in the developing world, are failing to deliver improvements.
Golden Agri's wings clipped by RSPO in West Kalimantan
(05/08/2015) The Roundtable on Sustainable Palm Oil has prohibited Golden Agri-Resources, one of its most prominent members, from "acquiring or developing any new areas" pending the resolution of a formal complaint against the palm oil giant in Indonesia's West Kalimantan province. The decision is a stern directive from an organization that has been criticized for failing to take action against companies that flout its standards.
Indian fabric giant adopts forest policy
(05/08/2015) One of the world's largest fabric makers for the fashion industry today announced a policy to exclude fiber produced at the expense of endangered forests, reports Canopy, an environmental group that helped broker the commitment.
Palm oil certification body to establish stronger voluntary standard
(05/08/2015) Due to its widening impact on tropical forests yet high profit margins, palm oil is one of the most polarizing crops in the tropics. Scientists and environmentalists warn of the high ecological costs caused by converting peatlands and rainforests for oil palm plantation, but growers and food producers argue that as the highest-yielding oilseed, palm oil is a critical part of the solution to feeding a growing human population as well as a profitable form of land use in otherwise poor areas.
CO2 levels hit monthly average not seen for 2 million years

(05/07/2015) For the first time in human history, carbon dioxide concentrations averaged out at 400 parts per million (ppm) worldwide in March, according to NOAA. Carbon dioxide concentrations have likely not hit such levels in two million years—long before Homo sapiens evolved.
Ranger killed by poachers in park known for grisly elephant slaughters
(05/07/2015) On April 25th, poachers shot and killed wildlife ranger, Agoyo Mbikoyo, in Garamba National Park in the Democratic Republic of the Congo (DRC), according to the organization African Parks. On the frontline of the illegal wildlife trade, Garamba Naitonal Park is known as a hotspot for elephant poaching.
Bribery a matter of course for illegal Thai fishing ships in Indonesia
(05/06/2015) A convoy of blue Thai fishing boats slowly entered the mouth of the Kapuas River near Pontianak, the capital of Indonesia's West Kalimantan province, escorted by an Indonesian warship. The boats were directed to moor at the local Navy base, about 62 nautical miles from the site of their capture. The crew were transferred to the warship. There they sat on the deck. A naval personnel pointed to a fisherman in a rumpled blue shirt. His name was Sam Phong, 28. He could speak a bit of Indonesian, though not fluently. Still, his speech shed a bit of light on why he had so diligently been fishing illegally in Indonesian waters.
Aru, Mentawai peoples hit the big screen in Oslo

(05/06/2015) A pair of documentaries about small-island indigenous peoples in Indonesia were screened in Oslo on Tuesday as part of a global roadshow leading up to the UN Climate Change Conference to be held in Paris in December. The shorts, "Oil Palm Free Islands" and "The Warden of Jagarian Forest," are part of the If Not Us Than Who series, an initiative of UK-based Handcrafted Films.
West Papua 'oil palm atlas' portrays industry's explosion in region
(05/06/2015) There's a saying in the Indonesian palm oil industry: Sumatra is yesterday, Kalimantan is today, and Papua is tomorrow. Tomorrow might well have arrived. A new report sheds light on the industry's rapid expansion in Indonesia's Papua and West Papua provinces – and on the companies behind the plantation drive. The result is a portrayal of a frontier region's early encounters with a crop that has come to dominate the Sumatran and Bornean landscapes – a portrait made that much starker by the central government's foreign media blackout in the territory.
Facing Future Storms: Poor Honduran Communities Unite to Protect Watersheds and Nature
(05/05/2015) There hasn't been much good news out of Honduras recently. One of the poorest Latin American nations, it has been afflicted by a series of natural and political calamities. There is, however, another Honduras, a place where -- despite adversity -- small, rural communities are getting on with the business of living sustainably and dealing effectively with the vagaries of extreme weather, all on a shoestring budget.
Scientists identify frog through DNA without leaving forest
(05/05/2015) Yesterday, a team of Italian scientists caught a frog in a montane forest in Tanzania. And then they made history: using a small blood sample the team were able to extract, purify, and amplify the amphibian's DNA—all in the forest—through a new, battery-powered device called the Expedition Genomics Lab.
30 illegal orangutan pets seized in West Kalimantan
(05/05/2015) Thirty orangutans being kept as household pets in Indonesia's West Kalimantan province have been seized and placed in a rehabilitation center, where they are learning to fend for themselves so they can be released into their natural habitats, local conservation authorities report.
Orangutan rescued amid sea of palm oil
(05/04/2015) The rescue, which took place in early April, was conducted by the Orangutan Information Centre (OIC) in response to a report of an adult male orangutan isolated in an fragment forest surrounded by oil palm plantations. The orangutan was found to be in poor health, according to Krisna, OIC's Human Orangutan Conflict Response Unit field coordinator.
Borneo's rainforest may get high-tech 3D scan to boost conservation
(05/04/2015) Conservation efforts in Borneo's embattled rainforest may get a boost with the launch of the newest version of an advanced airplane-based monitoring and assessment system. On Friday, the Carnegie Institution officially unveiled the latest upgrade of the Carnegie Airborne Observatory, an airplane equipped with technologies that enable scientists to conduct extremely high resolution scans of forest structure, biomass, and biological diversity. The platform has generated a wealth of information in places where it has been flown before.
Photos: new zoo exhibit dramatically displays real threat to Asian turtle

(05/04/2015) Usually animal pens in zoos are designed to resemble a species' native habitat: lions in sprawling savanna, pandas in bamboo forests, and crocodiles in mangroves. But a new pen at the Zoological Society of London (ZSL)'s London Zoo is meant to dramatically highlight not a species' habitat, but it's biggest threat.
Riau forum asks Jokowi to help business save forests

(05/04/2015) A sustainable-business forum in Indonesia's Riau province urged the government to support companies' zero-deforestation commitments, which remain hampered by policies that prevent firms from preserving forests in their concessions. Under the current legal regime, if a plantation company decides to set aside land for conservation, the government reserves the right to take it back and give it to a firm that will develop it.
94 trafficked pangolins released into Sumatran wilds after massive bust
(05/04/2015) Following a major seizure of illegal wildlife goods in North Sumatra, the Indonesian authorities released 94 critically endangered pangolins into the wild last week, including a newborn whose mother died shortly after the authorities caught up with the traffickers. Five tons of pangolin meat were burned in the wake of the bust.
Ongoing overkill: loss of big herbivores leading to 'empty landscapes'
(05/01/2015) Ten thousand years from now, human historians—or alien ones—may view the current wave of biodiversity loss and extinctions as concurrent with the Pleistocene extinction. At that time, peaking around 11,000 years ago, many scientists argue that human hunters killed off the majority of the world's big species. According to a paper today in history may be repeating itself.
Sarawak increases fines for illegal logging

(05/01/2015) After decades of intense logging that has left its rainforests degraded, fragmented, and stripped of valuable timber in many areas, the Malaysian state of Sarawak has passed a new forestry bill that could boost penalties for illegal logging.
Giant Amazonian catfish threatened by dams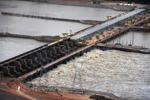 (05/01/2015) Giant catfish are among the most important commercial fishes in the Amazon Basin. A new study suggests that their sensitive life cycle may be interrupted by dams in their last remaining refuge on the Madeira River.
Palm giants ask Indonesian gov't to clear path toward sustainability
(05/01/2015) Executives from palm oil giants Wilmar, Cargill and Golden Agri Resources appeared at a green investment summit in Jakarta this week, providing a window into the nature of a high-profile, joint sustainability pact the companies have entered into together with Asian Agri, Musim Mas and the Indonesian Chamber of Commerce and Industry. The agreement, known as the Indonesia Palm Oil Pledge, has been lauded in some quarters for its potential to transform the sector and dismissed in others as mere lip service to protecting the environment.
Tapping into evolutionary responses to guard crops against elephants
(04/30/2015) The search for effective measures to reduce human-elephant conflict is a top priority for wildlife managers and a significant challenge. Ongoing conflict incidents exacerbate anti-wildlife sentiments among rural populations, as conflict events can lead to the deaths of both people and elephants. The continued expansion of development and agriculture into traditional wildlife grazing lands pushes elephants into more frequent contact with people and crop fields.
Indonesia to zone its seas in bid to become 'global maritime axis'
(04/30/2015) The Indonesian government is preparing a spatial plan for its marine territory, the beginning of a blueprint to transform the archipelagic country into a "global maritime axis" in line with new President Joko "Jokowi" Widodo's platform. Mapping the nation's seas will support the alignment different programs and the integration of various marine sources of economic growth.
Featured video: the Uncharted Amazon trailer
(04/29/2015) The up-coming documentary, Uncharted Amazon, promises to highlight both the little-seen wildlife and the people of the Las Piedras River system in the Peruvian Amazon, one of the most remote wildernesses on the planet.
Gov't officials permitted deforestation in Dominican Republic national park
(04/29/2015) In late 2014, an irregularity in the issuance of permits for agriculture-related deforestation was brought to light by an environmental conservation association working to curb deforestation within the park. On July 30, the Pedernales office of the Ministry of the Environment and Natural Resources granted permission to local landowners to deforest an area within the National Park, close to an area that was being assessed for hutia and solenodon presence by a team of researchers.
Kenya's Karura Forest, symbol of GreenBelt Movement, suffering death by 1,000 cuts
(04/29/2015) The founder of Kenya's GreenBelt Movement, Wangari Maathai, won the Nobel Peace Prize in 2004 because she talked environmental truth to power. She also walked the walk. Especially on a January morning in 1999 when she strode into the Karura Forest, Nairobi's flagship preserve, to plant trees to protest government approved plans to build a private golf course on protected land there.




Page 1 | Page 2 | Page 3 | Page 4 | Page 5 | Page 6 | Page 7 | Page 8 | Page 9 | Page 10 | Page 11 | Page 12 | Page 13 | Page 14 | Page 15 | Page 16 | Page 17 | Page 18 | Page 19 | Page 20 | Page 21 | Page 22 | Page 23 | Page 24 | Page 25 | Page 26 | Page 27 | Page 28 | Page 29 | Page 30 | Page 31 | Page 32 | Page 33 | Page 34 | Page 35 | Page 36 | Page 37 | Page 38 | Page 39 | Page 40 | Page 41 | Page 42 | Page 43 | Page 44 | Page 45 | Page 46 | Page 47 | Page 48 | Page 49 | Page 50 | Page 51 | Page 52 | Page 53 | Page 54 | Page 55 | Page 56 | Page 57 | Page 58 | Page 59 | Page 60 | Page 61 | Page 62 | Page 63 | Page 64 | Page 65 | Page 66 | Page 67 | Page 68 | Page 69 | Page 70 | Page 71 | Page 72 | Page 73 | Page 74 | Page 75 | Page 76 | Page 77 | Page 78 | Page 79 | Page 80 | Page 81 | Page 82 | Page 83 | Page 84 | Page 85 | Page 86 | Page 87 | Page 88 | Page 89 | Page 90 | Page 91 | Page 92 | Page 93 | Page 94 | Page 95 | Page 96 | Page 97 | Page 98 | Page 99 | Page 100 | Page 101 | Page 102 | Page 103 | Page 104 | Page 105 | Page 106 | Page 107 | Page 108 | Page 109 | Page 110 | Page 111 | Page 112 | Page 113 | Page 114 | Page 115 | Page 116 | Page 117 | Page 118 | Page 119 | Page 120 | Page 121 | Page 122 | Page 123 | Page 124 | Page 125 | Page 126 | Page 127 | Page 128 | Page 129 | Page 130 | Page 131 | Page 132 | Page 133 | Page 134 | Page 135 | Page 136 | Page 137 | Page 138 | Page 139 | Page 140 | Page 141 | Page 142 | Page 143 | Page 144 | Page 145 | Page 146 | Page 147 | Page 148 | Page 149 | Page 150 | Page 151 | Page 152 | Page 153 | Page 154 | Page 155 | Page 156 | Page 157 | Page 158 | Page 159 | Page 160 | Page 161 | Page 162 | Page 163 | Page 164 | Page 165 | Page 166 | Page 167 | Page 168 | Page 169 | Page 170 | Page 171 | Page 172 | Page 173 | Page 174 | Page 175 | Page 176 | Page 177 | Page 178 | Page 179 | Page 180 | Page 181 | Page 182 | Page 183 | Page 184 | Page 185 | Page 186 | Page 187 | Page 188 | Page 189 | Page 190 | Page 191 | Page 192 | Page 193 | Page 194 | Page 195 | Page 196 | Page 197 | Page 198 | Page 199 | Page 200 | Page 201 | Page 202 | Page 203 | Page 204 | Page 205 | Page 206 | Page 207 | Page 208 | Page 209 | Page 210 | Page 211