News articles on green

---
Mongabay.com news articles on green in blog format. Updated regularly.





Google Earth adds endangered species info

(10/24/2007) Google Earth users can now learn about 100 of the world's most endangered species through a new KML developed by the Zoological Society of London's EDGE of Existence program.


North Atlantic carbon sinks absorbing less CO2

(10/23/2007) The capacity of the North Atlantic ocean to absorb atmospheric carbon dioxide (CO2) has declined significantly since in the mid 1990s, report researchers from the University of East Anglia. The findings raise concerns that oceans may be slowing their uptake of CO2, potentially worsening the climate impact of greenhouse gas emissions.


Honda sees no future for plug-in hybrid vehicles

(10/23/2007) Honda Motor Co. Chief Executive Takeo Fukui said plug-in hybrid gasoline-electric vehicles offered too few environmental benefits to be worth pursing for the Japanese car company, according to the Wall Street Journal. Instead Fukui suggested that improved batteries would be better used for electric vehicles.


Does palm oil alleviate rural poverty in Malaysia?



(10/23/2007) While it is often argued that the economic benefits of oil palm plantations outweigh the environmental costs of converting biodiverse ecosystems to monocultures, new analysis suggests that the role of plantations in reducing rural poverty may be overstated.


2007 Amazon fires among worst ever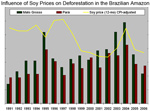 (10/22/2007) By some measures, forest fires in the Amazon are at near-record levels, according to analysis Brazilian satellite data by mongabay.com. A surge in soy and cattle prices may be contributing to an increase in deforestation since last year. Last year environmentalists and the Brazilian government heralded a sharp fall in deforestation rates, the third consecutive annual decline after a peak in 2004. Forest loss in the 2006-2007 season was the lowest since record-keeping began in the late in 1970s. While the government tried to claim credit for the drop, analysts at the time said that commodity prices were a more likely driver of slow down: both cattle and soy prices had declined significantly over the previous months.


Carbon sinks failing to keep up with emissions

(10/22/2007) Atmospheric carbon dioxide (CO2) growth has increased 35 percent faster than expected since 2000, report scientists writing in Proceedings of the National Academy of Sciences. Worryingly, more than half the increase came from a decreased efficiency of natural land and ocean sinks to absorb CO2 from the atmosphere. The reminder came from a slowing in the efficiency of use of fossil fuels.


Amazon plant diversity still a mystery

(10/21/2007) The Amazon is one of the few places on the earth that still evokes an accurate sense of mystery. While the Taiga, Antarctica, and Sahara may compare to the Amazon in wilderness size, none hold the same mystique of unknown species. It is believed that one third of the world's species inhabits this tropical rainforest. The only region comparable in mystery (though not in species) may be the world's oceans.


Brazil to search for oil in the Amazon

(10/21/2007) Brazil's plan to seek oil in the Western Amazon has upset environmentalists, reports the Associated Press (AP). The National Petroleum Agency, or ANP, plans to put US$36 million toward oil and gas exploration in Acre, a state bordering Bolivia, according to Brazilian state media Agencia Brasil, but environmental officials say no impact study has been done to assess how the plan could affect the Amazon.


Uncontacted Amazon tribe spotted by plane in Peru

(10/21/2007) A group of uncontacted indigenous tribesmen were spotted by plane in a remote part of the Peruvian Amazon last month, according to Survival International. The region is threatened by illegal mahogany loggers.


Uganda cancels controversial rainforest logging plan

(10/18/2007) Uganda's government abandoned a controversial plan to grant protected rainforest land to a sugar company, reports Reuters.


Costa Rica gets $26M debt-for-nature swap

(10/18/2007) Under an agreement signed Wednesday by the governments of the United States and environmental groups, $26 million of Costa Rican debt will be forgiven in exchange for tropical forest conservation. The debt-for-nature swap comes under the Tropical Forest conservation Act of 1998, legislation intended to allow eligible developing countries to forego paying back debt owed to the U.S. in exchange for supporting local tropical forest conservation activities.


Elephants use smell to distinguish hunters from farmers

(10/18/2007) Elephants can determine whether a human is a friend or foe by their scent, reports new research published in Current Biology.


Black jellyfish, strange marine species discovered in deep ocean

(10/17/2007) An expedition to an unexplored deep ocean basin south of the Philippine Islands has turned up a trove of previous undiscovered species including a black jellyfish, a transparent sea cucumber, and a tentacled worm that resembles a squid.


Mexican fishing villages work to change practices to preserve loggerhead turtles

(10/17/2007) Industrial fishing operations take plenty of blame for both depleting fish stocks and inadvertently catching innocent bystanders such as dolphins, sharks, seabirds, and sea turtles--a phenomenon known as "bycatch.".


Scientists find fish that literally lives in trees

(10/17/2007) Scientists have found a fish that literally lives in trees, according to research published in The American Naturalist and highlighted in New Scientist Magazine.


Congo pygmies to meet World Bank President Zoellick over forest destruction

(10/17/2007) A delegation of 'Pygmies' from Democratic Republic of Congo are visiting Washington this week to discuss World Bank-sanctioned logging of their rainforest home. The 'Pygmies' are scheduled to meet with bank President Robert Zoellick, according to the Rainforest Foundation, a lobby group that sponsored the trip.


Snake uses trick to avoid poisoning from toxic frogs

(10/16/2007) An Australian snake employs a special feeding behvaior to avoid poisoning by toxic frogs, reports The American Naturalist.


Amazon rainforest burning "worst" in memory



(10/16/2007) Fires continue to rage in the Amazon, according to local reports. John Cain Carter, a rancher who runs Alianca da Terra, an environmental accountability group for agricultural operators, says that the fires are the worst he has ever seen in the region. "I have never seen fires this bad," he told mongabay.com. "The fires are even worse than in 1998's El Nino event." NASA satellite images released at the end of September confirm widespread burning in the Amazon state of Mato Grosso.


Climate change will impact U.S. economy

(10/16/2007) Climate change will have a significant economic impact on the United States, reports a new study published by researchers from the University of Maryland. The report, The U.S. Economic Impacts of Climate Change and the Costs of Inaction, aggregates and analyzes previous economic research in order to develop a better estimate of the costs of climate change.


Arctic sea ice extent hits record low in September

(10/16/2007) Arctic sea ice reached a record low in September 2007, well below the previous record set in 2005 and substantially below the long-term average, according to an image released by NASA.


Photo: baby flamingo at the Bronx Zoo

(10/16/2007) For these Bronx Zoo flamingos, the mantra "you are what you eat" really rings true.


Photo: brown and white pelicans at the Bronx Zoo

(10/16/2007) Colorful autumn leaves are starting to fall but they don't dampen the sunny disposition of these brown and white pelicans at the Bronx Zoo.


World Bank offers $300M for forest conservation, emissions reductions

(10/15/2007) Tropical forest countries will be eligible for payments for preventing deforestation under a program unveiled last week by the World Bank.


First photos of a wild South China Tiger in 34 years

(10/14/2007) Truckloads of illegal timber cross the Myanmar border to sawmills in China, while markets along the Thai border openly sell bear paws, tiger skins and elephant tusks.


First photos of a wild South China Tiger in 34 years

(10/14/2007) While there has been proof that the South China Tiger still lives in the Shaanxi province--sightings by locals, findings of footprints, hair, and teeth--there has been no photographic evidence of this species since 1964. But on October 3rd a local farmer, Zhou Zhenglong, took a total of 71 pictures of a South China Tiger in the wild. For his efforts the farmer received a payment of 20,000 yuan.


Al Gore shares Nobel Peace Prize with climate body

(10/12/2007) Former U.S. Vice President Al Gore and the United Nations Intergovernmental Panel on Climate Change (IPCC) won the 2007 Nobel Peace Prize for their efforts to build awareness about human-induced climate change. Gore and the IPCC, a body of climate scientists, will each receive about $1.5 million.


South American development plan could destroy the Amazon

(10/04/2007) A plan to link South America's economies through a series of infrastructure projects, could destroy much of the Amazon rainforest, warns a new study by conservationists.


Rainforest tribe establishes massive sustainable-use reserve

(10/04/2007) An indigenous group in Guyana has established one of the world's largest sustainable forest reserves, reports conservation International.


Forests reduce flooding

(10/04/2007) While conventional wisdom holds that forests help buffer against catastrophic flooding, there has been little evidence to support such notions. A 2005 report by the Food and Agricultural Organization of the United Nations (FAO) and the Center for International Forestry Research (CIFOR) cited this lack of evidence and argued that flood mitigation efforts though forest preservation could not be justified on economic grounds. Now, a new study, published in the journal Global Change Biology, suggests that forests do impact the occurrence and severity of destructive flooding. A prominent researcher is already calling the new work a "landmark study" in support of forest conservation.


Biodiesel demand could destroy world's forests

(10/04/2007) Growing demand for biodiesel could drive large-scale forest conversion for energy crops, warns a study published in conservation Biology.


Fires rage in Amazon rainforest park

(10/04/2007) Forest fires are raging in Xingu National Park in the Amazon rainforest, according to a pioneering cattle rancher-turned-conservationist in the Brazilian state of Mato Grosso.


Dams can pose security risk to Africa

(10/04/2007) Floods are the most destructive, most frequent and most costly natural disasters on earth. And they are getting worse. In recent weeks, 14 African nations have seen their worst floods in decades. More than a million people have been affected, over 200 drowned, and countless others made homeless across the continent. At least some of this suffering was preventable.


11 new species discovered in Vietnam's Green Corridor

(09/29/2007) On September 26th, scientists from World Wildlife Fund announced the discovery of eleven new species: one snake, two butterflies, five orchids, and three other plants in Vietnam's biologically rich Green Corridor. The discoveries were made between 2005 and 2006.


Successful relocation of villagers from wildlife sanctuary

(09/29/2007) The Bhadra Wildlife Sanctuary is located in India's Western Ghats mountain range. The sanctuary contains some of India's most celebrated and endangered wildlife, including the Bengal Tiger and Asian Elephant. Other mammals include the Guar, Sambar, Slender Loris, Chital, and Leopard. The sanctuary is also rich in bird species (nearly 300 have been recorded) and butterflies. As well, the Bhadra Wildlife Sanctuary is one of twenty-seven reserves that are apart of Project Tiger: a program to save's India's last tigers and their habitats. In addition to containing some of India's richest biodiversity (recently India has applied for the Western Ghats to gain World Heritage status), the sanctuary was at one time home to thirteen villages that increasingly affected, and were affected by, their protected surroundings. In 2002 eleven of these thirteen villages were relocated to two towns outside of the sanctuary.


Environmentalists and palm oil producers should work together

(09/25/2007) Environmentalists and palm-oil producers are increasingly at odds. Greens groups say palm oil is driving the conversion of tens of thousands of hectares of peatlands and lowland forest in Indonesia, putting wildlife at risk, increasing the vulnerability of forests to fires, and triggering large emissions of greenhouse gases.


CO2 emissions cause ocean acidification, threaten sea life

(09/21/2007) Human-induced carbon dioxide (CO2) emissions could alter ocean chemistry to the point where it will violate U.S. Environmental Protection Agency Quality Criteria by mid-century if emissions are not significantly reduce, reports a team of scientists writing in the September 25, 2007 issue of Geophysical Research Letters. The commentary is the first to warn that atmospheric CO2 emissions will cause ocean waters to violate EPA water quality criteria.


Carbon for forests will help Aceh recover from war, tsunami

(09/18/2007) Carbon credits through forest conservation will play an important role in Aceh's recovery from decades of civil war and the devastating 2004 tsunami, which left more than 167,000 people dead and 500,000 homeless in the Indonesia province, said Aceh governor Irwandi Jusuf in meeting in San Francisco.


Do Costa Rica's payments for environmental services work?

(09/17/2007) While Costa Rica is now known as a world leader for conservation policies and ecotourism, the Central American country had some of the world's highest deforestation rates prior to establishing its reputation. Clearing for cattle pasture and agriculture destroyed much of the country's biodiverse rainforests in the 1960s and 1970s.


Northwest Passage now open for business

(09/15/2007) Melting sea ice has opened the Northwest Passage in the Arctic to navigation, reports the European Space Agency. The clearing allows direct access between the North Pacific and North Atlantic and could eventually be a cheaper shipping route that the Panama Canal.


38 key global environmental indicators worsen - report

(09/14/2007) Consumption of energy and many other critical resources is consistently breaking records, disrupting the climate and undermining life on the planet, according to the latest Worldwatch Institute report, Vital Signs 2007-2008.


Environmentalists announce support for carbon trading

(09/14/2007) A coalition of environmental groups announced it will support the development of carbon trading policies that help protect tropical rainforests and other important ecosystems, noting that "conservation alone has proven no match for commerce."


Bush aides say mankind responsible for global warming

(09/14/2007) Dr. John Marburger, President George W. Bush's chief scientific advisor, said it is more than 90 percent certain that greenhouse gas emissions to blame for rising global temperatures, according to BBC News.


Arctic sea ice thickness only half of 2001 level

(09/14/2007) Arctic sea is thinning and disappearing, report German researchers. An Alfred-Wegener-Institute for Polar and Marine Research expedition to the North Polar Sea found that large areas of the Arctic sea-ice are only one meter thick this year -- half the thickness found in 2001. The findings support concerns that large expanses of polar ice could soon disppaear from the Arctic during summer months.


Apology for Whale Shooting given by Tribe

(09/13/2007) The ninth of September saw a gray whale shot and killed by members of the Makah Tribe, off the coast of the Washington Coast, in the Strait of Juan de Fuca.


Rainforest countries form pact to push global warming solutions

(09/13/2007) Eight tropical countries containing 80 percent of the world's remaining tropical forest cover have formed an alliance to have forest conservation included in a post-Kyoto agreement on climate change, reports the Financial Times. The "Forestry Eight", as the group is called, includes Brazil, Malaysia, Papua New Guinea, Gabon, Cameroon, Costa Rica, Congo and Indonesia.


8.2 magnitude earthquake hits Indonesia, minor tsunami reported

(09/12/2007) An 8.2 magnitude earthquake struck Indonesia Wednesday at 6:10 pm local time. The epicenter was located 130 km (80 miles) southwest of Bengkulu, Sumatra and 620 km (385 miles) west-northwest of Jakarta at a depth of 30 km (18.6 miles). There were no immediate reports of damage or casualties.


Ebola outbreak in Congo kills 166

(09/12/2007) An Ebola outbreak has been confirmed in the Democratic Republic of Congo, reported the World Health Organization (WHO) on Tuesday.


16,306 species threatened with extinction

(09/12/2007) 16,306 of 41,415 species on the IUCN Red List are threatened with extinction, reports the World conservation Union (IUCN). The total number of known extinct species now stands at 785, while a further 65 are only found in captivity or in cultivation. One in four mammals, one in eight birds, one third of all amphibians and 70% of the world's assessed plants on the 2007 IUCN Red List are considered at risk.


Climate change did not cause extinction of Neanderthals

(09/12/2007) Researchers in Europe have found evidence that rules out a "single climatic event" as factor in the extinction of Neanderthals.


Global warming is killing trees in California parks

(09/12/2007) A new study ties a 22 percent increase in mortality among trees in the California Sierra Nevadas to a temperature-driven increase in drought.



Page 1 | Page 2 | Page 3 | Page 4 | Page 5 | Page 6 | Page 7 | Page 8 | Page 9 | Page 10 | Page 11 | Page 12 | Page 13 | Page 14 | Page 15 | Page 16 | Page 17 | Page 18 | Page 19 | Page 20 | Page 21 | Page 22 | Page 23 | Page 24 | Page 25 | Page 26 | Page 27 | Page 28 | Page 29 | Page 30 | Page 31 | Page 32 | Page 33 | Page 34 | Page 35 | Page 36 | Page 37 | Page 38 | Page 39 | Page 40 | Page 41 | Page 42 | Page 43 | Page 44 | Page 45 | Page 46 | Page 47 | Page 48 | Page 49 | Page 50 | Page 51 | Page 52 | Page 53 | Page 54 | Page 55 | Page 56 | Page 57 | Page 58 | Page 59 | Page 60 | Page 61 | Page 62 | Page 63 | Page 64 | Page 65 | Page 66 | Page 67 | Page 68 | Page 69 | Page 70 | Page 71 | Page 72 | Page 73 | Page 74 | Page 75 | Page 76 | Page 77 | Page 78 | Page 79 | Page 80 | Page 81 | Page 82 | Page 83 | Page 84 | Page 85 | Page 86 | Page 87 | Page 88 | Page 89 | Page 90 | Page 91 | Page 92 | Page 93 | Page 94 | Page 95 | Page 96 | Page 97 | Page 98 | Page 99 | Page 100 | Page 101 | Page 102 | Page 103 | Page 104 | Page 105 | Page 106 | Page 107 | Page 108 | Page 109 | Page 110 | Page 111 | Page 112 | Page 113 | Page 114 | Page 115 | Page 116 | Page 117 | Page 118 | Page 119 | Page 120 | Page 121 | Page 122 | Page 123 | Page 124 | Page 125 | Page 126 | Page 127 | Page 128 | Page 129 | Page 130 | Page 131 | Page 132 | Page 133 | Page 134 | Page 135 | Page 136 | Page 137 | Page 138 | Page 139 | Page 140 | Page 141 | Page 142 | Page 143 | Page 144 | Page 145 | Page 146 | Page 147 | Page 148 | Page 149 | Page 150 | Page 151 | Page 152 | Page 153 | Page 154 | Page 155 | Page 156 | Page 157 | Page 158 | Page 159 | Page 160 | Page 161 | Page 162 | Page 163 | Page 164 | Page 165 | Page 166 | Page 167 | Page 168 | Page 169 | Page 170 | Page 171 | Page 172 | Page 173 | Page 174 | Page 175 | Page 176 | Page 177 | Page 178 | Page 179 | Page 180 | Page 181 | Page 182 | Page 183 | Page 184 | Page 185 | Page 186 | Page 187 | Page 188 | Page 189 | Page 190 | Page 191 | Page 192 | Page 193 | Page 194 | Page 195 | Page 196 | Page 197 | Page 198 | Page 199 | Page 200 | Page 201