News articles on green

---
Mongabay.com news articles on green in blog format. Updated regularly.





Deforestation causes species extinction in Madagascar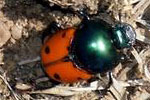 (03/07/2007) Deforestation has already caused the extinction of a large number of endemic insect species on the island of Madagascar, according to new research published in the March edition of the journal Biology Letters. The work suggests that only half the species confined to these forest areas will survive.


Ecuadorian brothers show conservation-based microentrepreneurship possible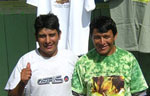 (03/07/2007) Tropical rainforests are declining across most of the world. Since the close of the 1990s deforestation rates have only accelerated as growing levels of consumption and consistent population growth paint an increasingly bleak future for the world's forests and their resident biodiversity. These trends make it easy to lose hope. As such, stories that show local people earning a livelihood from biodiversity conservation are an inspiration.


World's only blue lizard heads toward extinction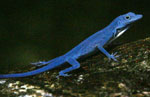 (03/07/2007) High above the forest floor on the remote Colombian island of Gorgona lives a lizard with brilliant blue skin, rivaling the color of the sky. Anolis gorgonae, or the blue anole, is a species so elusive and rare, that scientists have been unable to give even an estimate of its population. Due to the lizard&spod;s isolated habitat and reclusive habits, researchers know little about the blue anole, but are captivated by its stunning coloration.


Panama Canal port projects threaten mangroves


(03/06/2007) Port development and land speculation in Panama is turning some of the Caribbean's most productive mangrove forests into landfill. The landfill would be used for container storage near the city of Colon, at the mouth of the Panama Canal. But local scientists say the transformation could have unintended environmental consequences.


Termites can make ethanol

(03/06/2007) Achim Steiner, Executive Director of the UN Environment Programme (UNEP), says that termites can be used to make eco-friendly ethanol. He cites U.S. government backed research showing that "microbes living in the guts of termites have potent enzymes able to efficiently and cost effectively transform woody wastes into sugars for ethanol production."


Billion Tree Campaign gets pledges totaling 562M trees since January

(03/06/2007) The UN Environment Programme (UNEP) announced that its 'Billion Tree Campaign' has so-far achieved commitments to plant 562,769,095 trees, following a pledge of 250 million trees by the Ministry of Environment and Natural Resources of Mexico.


GM plans electric car for 2010

(03/06/2007) Underperforming U.S. automaker General Motors said it has set a 2010 target for production of an-electric car according to a statement from Vice Chairman Bob Lutz, as reported by Reuters.


Bird species rediscovered after 139 years

(03/06/2007) A wetland bird that has been 'lost' for nearly 140 years was rediscovered at a wastewater treatment plant in Thailand according to bird conservation group BirdLife International.


Pre-Colombian Amazon rainforest not heavily populated


(03/06/2007) Much of the Amazon rainforest was not heavily populated by pre-Colombian indigenous cultures argues a new paper published in the journal Philosophical Transactions of the Royal Society B: Biological Sciences. The work challenges an increasingly accepted theory -- popularized in Charles C. Mann's 1491: 'New Revelations of the Americas Before Columbus' -- the Amazon supported dense, sedentary populations prior to the arrival of Europeans.


Gold mining in Guyana damages environment, threatens Amerindians



(03/06/2007) Informal gold mining is causing environmental harm and human rights abuses in Guyana says a new report from the International Human Rights Clinic (IHRC) of Harvard Law School's Human Rights Program. Wildcat gold mining has been a serious problem in the Guiana shield countries of Brazil, Venezuela, Guyana, Suriname and French Guiana. Rising gold prices in recent years have only worsened the problem, as illegal miners have flooded the region clearing forest, polluting rivers, and making threats against indigenous people.


Two new species of eyeless albino millipede found in Arizona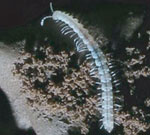 (03/05/2007) A newly discovered genus of millipede may shed light on the poorly understood cave ecosystems of the desert southwest. J. Judson Wynne, with the Department of Biological Sciences at Northern Arizona University (NAU) and cave research scientist with the U.S. Geological Survey's Southwest Biological Center, and Kyle Voyles, Arizona State Cave Coordinator for the Bureau of Land Management (BLM), collected the two previously unknown millipede species in caves on opposite sides of the Grand Canyon.


Asian pollution causes stronger thunderstorms, may worsen global warming

(03/05/2007) Growing levels of pollution in Asia are altering the chemistry of the atmosphere and causing a change in Pacific storm patterns according to researchers writing in the online early edition of PNAS


Birds exhibit thuggish mafia-like behvaior as nest enforcers

(03/05/2007) Parasitic birds engage in mafia-like reprisals to encourage host acceptance of their eggs according to researchers writing in the online early edition of PNAS.


Ozone ban has been more effective in fighting global warming than Kyoto Protocol

(03/05/2007) The 1987 Montreal Protocol, which restricted the use of ozone-depleting substances, has helped slow the rate of global warming in addition to protecting the ozone layer, report scientists writing in a paper published online in the early edition of PNAS.


Farming in the rainforest can preserve biodiversity, ecological services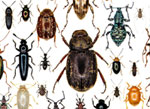 (03/05/2007) While conversion of tropical forest for agriculture results in significant declines in biodiversity and carbon storage, an analysis of Indonesian rainforests shows that farming cacao under the partial shade of high canopy trees can provide a way to balance economic gain with environmental considerations.


Global warming causing disappearance of tundra in Canada

(03/05/2007) Tundra in northern Canada is being replaced at a rapid rate by boreal forests according to a new study published in the Journal of Ecology. Researchers say global warming is to blame.


Coral species may help fight global warming impact

(03/04/2007) While many coral species appear to be potentially doomed by global warming, some species may help fight the impact of climate change, in effect helping protect coral reef ecosystems, argues a Cornell University biologist.


Fish extinctions alter critical nutrients in water, study shows

(03/03/2007) Ecosystems are such intricate webs of connections that few studies have been able to explore exactly what happens when a species dies out. Now, a Cornell study using computer simulations has teased out how the disappearance of a freshwater fish can affect the availability of certain nutrients that other species rely on.


U.S. GHG emissions to rise 20% by 2020

(03/03/2007) The United States expects to emit 19 percent more greenhouse gases in 2020 than it did in 2020 according to a report from the Associated Press. The draft report, which is still in progress and is more than a year late, projects 9.2 billion tons of greenhouse gas emissions in 2020, a 19 percent increase from 7.7 billion tons in 2000, if the Bush Administration climate policy proceeds as planned.


Tradable biodiversity rights can help to conserve species richness

(03/02/2007) The decline in biodiversity compels us to look at the sustainable use of living resources in a different manner. To conserve biodiversity, the social and economic aspects of the use of biodiversity must be taken into account, in addition to the ecological aspects. From this perspective it then becomes clear, for example, that the portion of the world population that lives in poverty is incapable of contributing to the conservation of biodiversity. In their daily search for food, energy and shelter, they simply cannot pay attention to this aspect. Professor Steven De Bie made this point during his acceptance of the endowed chair in the Sustainable Use of Living Resources on 1 March at Wageningen University. To compensate for this decline in biodiversity in the poorer regions, De Bie proposes establishing tradable 'biodiversity rights'.


African penguin population drops 40% - cause unknown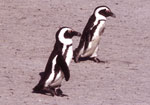 (03/02/2007) African penguin populations have fallen by 40 percent in the past few years according to an article published in the March 2, 2006 issue of Science. Biologists are puzzled by the decline.


Prehistoric spiky freakshow discovered in rock

(03/02/2007) Scientists have discovered a bizarre, half-billion-year old creature with long, curved spines, armored plates, and a hard shell that protected it from predators.


Environmental controversy brews over TXU deal

(03/02/2007) Initially hailed as a victory for the environment, the private equity deal to acquire Texas-energy company TXU Corp is now facing criticism from some green groups reports the Saturday issue of The Wall Street Journal.


Global warming is causing stronger Atlantic hurricanes finds new study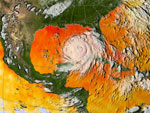 (03/01/2007) Global warming is fueling stronger hurricanes according to a new Geophysical Research Letters study that revises that database of historic hurricanes. Previously the hurricane database was considered inconsistent for measuring the record of tropical storms since there have been significant improvements in the technology to measure storms since recording-keeping began. Before the development of weather satellites, scientists relied on ship reports and sailor logs to record storms. The advent of weather satellites in the 1960s improved monitoring, but records from newer technology have never been squared with older data. The new study normalizes the hurricane record since 1983.


Cheetah in Iran?

(03/01/2007) Biologists from the Wildlife conservation Society (WCS) have fitted critically endangered cheetahs in Iran with Global Positioning System (GPS) collars. This marks the first time this population of Asiatic cheetah can be tracked remotely.


2006 Indonesian forest fires worst since 1998

(03/01/2007) NASA has linked el Nino to the worst fires in Indonesia since the 1997-1998 conflagration that burned nearly 25 million acres (10 million hectares) of land across the country.


Role of global warming in extinction may be overestimated


(03/01/2007) Extinction is a hotly debated, but poorly understood topic in science. The same goes for climate change. When you bring the two together to forecast the impact of global change on biodiversity, chaos reigns. While many ecologists argue that climate change could well doom many more species to extinction, others say that the threat is overstated.


Archeologists find oldest solar observatory in the Americas

(03/01/2007) Archeologists from Yale and the University of Leicester have identified an ancient solar observatory at Chankillo, Peru as the oldest in the Americas with alignments covering the entire solar year, according to an article in the March 2 issue of Science.


Why do birds migrate? Seasonal food scarcity finds study

(03/01/2007) A new paper attempts to argue the age old question of why birds migrate. The authors, Dr. Alice Boyle and Dr. Courtney J. Conway of the University of Arizona, argue that birds are driven to fly long distances due to seasonal food scarcity.


4.2 earthquake hits San Francisco Bay Area

(03/01/2007) A magnitude 4.2 earthquake hit the San Francisco Bay Area around 8:40 p.m. Thursday evening. The quake's epicenter was located about a mile from Lafayette, California, or about 20 miles from San Francisco.


New shark species discovered in Indonesia

(02/28/2007) Scientists discovered at least 20 previously unknown species in the first comprehensive survey of Indonesia's sharks and rays in nearly 150 years. Six of their discoveries have now been formally described, while the others will be documented in forthcoming scientific papers.


The Scoop on Penguins - Feathered Fish or Bodacious Bird?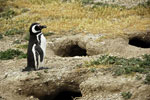 (02/28/2007) Penguins are birds that can toboggan on ice using their webbed feet to propel them. The fastest penguin, the gentoo, can swim about 15 miles per hour, faster than long-distance runners. Penguins can also dive very deep, some to depths of about 1,750 feet. They use their wings (which are really like flippers) to propel themselves in the water. It looks as if they are "flying" underwater, something they cannot do in the air.


Photos: Orangutans and tigers become playmates

(02/28/2007) A pair of month-old Sumatran tiger twins have befriended a pair of young orangutans reports the Associated Press (AP). The animals share a room in the nursery at Taman Safari zoo in Sumatra. The AP reports that the animals, which were orphaned, 'cuddle' and play together.


Global warming could trigger 8-degree temperature rise in Amazon rainforest


(02/28/2007) Tuesday the Brazilian government announced the release of a series of scientific studies, including one by the national space agency (INPE) that projects a 4 to 8 degree-Celcius rise in temperatures in the Amazon Basin by 2100 if nothing is done to combat global climate change.


New park in French Guiana creates largest Amazon protected area

(02/28/2007) Environmental group WWF has applauded the creation of a new national park in French Guiana, a department of France located in northeaster South America. WWF says the 2 million-hectare Guyana Amazonian Park will link to protected areas in neighboring Brazil, including the Tumucumaque National Park, Grao-Para Station and Maicuru Reserve. In total, the protected areas network will encompass 12 million hectares of tropical forest, making it the world's largest rainforest park.


Climate change will worsen species extinction in South America

(02/28/2007) The combination of rising levels of carbon dioxide and increasing deforestation could reduce biodiversity in the tropical forests of Northern South America, reports a study published in the current edition of the journal Global Ecology and Biogeography.


Indigenous populations deforested New World rainforests before European contact


(02/28/2007) Indigenous populations used fire to clear large areas of tropical forest well before the arrival of Europeans reports a new study published in Annals of the Missouri Botanical Garden. The research has important implications for understanding the impact of present forest development on biodiversity and forest regeneration in the tropics.


Philosophical shift in conservation reintegrates humans in nature



(02/28/2007) Humans are among the most successful of Earth's organisms. Living in every habitable, and sometimes uninhabitable, space, humans dominate the planet's surface and have become a global force that alters natural ecosystems, species distribution, and climate. Virtually no wilderness areas have escaped man's influence. While past conservation efforts have focused on preserving "pristine" wilderness, it is increasingly apparent that few such areas exist. Recognizing this, present conservation efforts are increasingly looking at how human use fits into protected areas management. A new paper published in Biodiversity conservation traces this shift in conservation philosophy since the 19th century. Reviewing the history of four main conservation approaches, Michelle Kalamandeen, a biologist at the University of Guyana, and Lindsey Gillson, a botanist at the University of Cape Town, conclude that current conservation efforts are integrating elements of each philosophy, resulting in a new conservation ethic that uses alternative criteria for designating and managing protected areas, and recognizes the importance of man's influence in wilderness areas.


21 Americans donated more than $100M each in 2006

(02/27/2007) Elite-level philanthropy hit record in 2006, with 21 individual donations exceeding $100 million in the United States, according to The Chronicle of Philanthropy, which compiles a yearly list of the most generous givers. In total the 21 donors pledged some $48.5 billion to charitable causes.


Sea turtles use Earth's magnetic field to return to nesting beaches

(02/27/2007) New research suggests that sea turtles use a 'relatively simple navigation system' involving the Earth's magnetic field to return to the same beaches to lay their eggs, even after venturing across thousands of miles of open ocean without visible landmarks.


Alien water weed re-invades Lake Victoria

(02/27/2007) Water hyacinth has re-invaded Lake Victoria, choking thousands of acres (hectares) of the lake's surface in Kenya, according to satellite pictures released by NASA.


Biologists record call of rare Sumatran ground cuckoo for first time

(02/26/2007) A team of biologists with the New York-based Wildlife conservation Society (WCS) have recorded for the first time the call of the extremely rare Sumatran ground cuckoo, found only on the island of Sumatra in Indonesia.


Melting ice reveals unknown species in Antarctica

(02/26/2007) An expedition to an area of seabed recently exposed by melting ice in Antarctica has discovered several previously unknown species of marine life, including deep sea lilies, gelatinous sea squirts, glass sponges, amphipod crustaceans, and orange starfish. The findings were announced Sunday by the Census of Antarctic Marine Life, a 10-year effort to map the biodiversity of the world's oceans.


Elephant poaching for ivory accelerates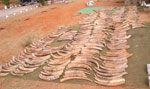 (02/26/2007) Thousands of African elephants are being killed for their ivory tusks, according to a new study led by a biologist from the University of Washington. In a paper published in the online edition of the Proceedings of the National Academy of Sciences, Dr. Samuel Wasser, director of the University of Washington Center for conservation Biology, shows that elephants are being slaughtered at the highest rate since the international ban on the ivory trade took effect in 1989.


Pakistani snow leopard settles in at Bronx Zoo

(02/26/2007) An orphaned snow leopard cub from northern Pakistan in enjoying its first winter at the Bronx Zoo in New York, according to the Wildlife conservation Society (WCS). The cub, named Leo, was moved to an open-air exhibit at the zoo last fall.


Al Gore wins Oscar but does not announce presidential bid

(02/25/2007) Al Gore won an Oscar for his global warming documentary but did not announce a bid for the 2008 presidential election. Speculation had been rife that he might use the Academy Awards platform -- with more than one billion people said to be watching -- to launch his candidacy for president.


Sharks increasingly endangered as finning, overfishing take toll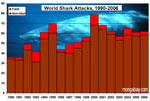 (02/23/2007) Scientists added several species of pelagic sharks to IUCN Red List of Threatened Species after research found them to be more endangered than previously thought. Three species of thresher sharks were listed as Vulnerable globally, while the shortfin mako was upgraded (or downgraded depending on one's perspective) from Near Threatened in 2000 to Vulnerable and the scalloped hammerhead shark was moved from Near Threatened to Endangered. The decisions are based on work by the IUCN SSC Shark Specialist Group (SSG).


Beaver returns to New York

(02/23/2007) Beavers have returned to New York City for the first time since colonial days when the animals were hunted to extinction for the pelts. Bronx Zoo-based Wildlife conservation Society (WCS) discovered a beaver in the Bronx River. The animal was photographed and filmed.


Giant squid use bioluminescence to hunt prey, communicate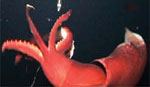 (02/23/2007) The giant squid uses bioluminescence to hunt its prey, according to new deap-sea observations using a high definition underwater video camera system. The findings are published in the online edition of the roceedings of the Royal Society B.


Chimps and humans split 4 million years ago

(02/23/2007) New research using DNA analysis suggests that chimpanzees and humans split from a common ancestor just 4 million years ago -- much earlier than the 5-7 million years currently accepted by biologists. The study is published in Public Library of Science journal PLoS Genetics



Page 1 | Page 2 | Page 3 | Page 4 | Page 5 | Page 6 | Page 7 | Page 8 | Page 9 | Page 10 | Page 11 | Page 12 | Page 13 | Page 14 | Page 15 | Page 16 | Page 17 | Page 18 | Page 19 | Page 20 | Page 21 | Page 22 | Page 23 | Page 24 | Page 25 | Page 26 | Page 27 | Page 28 | Page 29 | Page 30 | Page 31 | Page 32 | Page 33 | Page 34 | Page 35 | Page 36 | Page 37 | Page 38 | Page 39 | Page 40 | Page 41 | Page 42 | Page 43 | Page 44 | Page 45 | Page 46 | Page 47 | Page 48 | Page 49 | Page 50 | Page 51 | Page 52 | Page 53 | Page 54 | Page 55 | Page 56 | Page 57 | Page 58 | Page 59 | Page 60 | Page 61 | Page 62 | Page 63 | Page 64 | Page 65 | Page 66 | Page 67 | Page 68 | Page 69 | Page 70 | Page 71 | Page 72 | Page 73 | Page 74 | Page 75 | Page 76 | Page 77 | Page 78 | Page 79 | Page 80 | Page 81 | Page 82 | Page 83 | Page 84 | Page 85 | Page 86 | Page 87 | Page 88 | Page 89 | Page 90 | Page 91 | Page 92 | Page 93 | Page 94 | Page 95 | Page 96 | Page 97 | Page 98 | Page 99 | Page 100 | Page 101 | Page 102 | Page 103 | Page 104 | Page 105 | Page 106 | Page 107 | Page 108 | Page 109 | Page 110 | Page 111 | Page 112 | Page 113 | Page 114 | Page 115 | Page 116 | Page 117 | Page 118 | Page 119 | Page 120 | Page 121 | Page 122 | Page 123 | Page 124 | Page 125 | Page 126 | Page 127 | Page 128 | Page 129 | Page 130 | Page 131 | Page 132 | Page 133 | Page 134 | Page 135 | Page 136 | Page 137 | Page 138 | Page 139 | Page 140 | Page 141 | Page 142 | Page 143 | Page 144 | Page 145 | Page 146 | Page 147 | Page 148 | Page 149 | Page 150 | Page 151 | Page 152 | Page 153 | Page 154 | Page 155 | Page 156 | Page 157 | Page 158 | Page 159 | Page 160 | Page 161 | Page 162 | Page 163 | Page 164 | Page 165 | Page 166 | Page 167 | Page 168 | Page 169 | Page 170 | Page 171 | Page 172 | Page 173 | Page 174 | Page 175 | Page 176 | Page 177 | Page 178 | Page 179 | Page 180 | Page 181 | Page 182 | Page 183 | Page 184 | Page 185 | Page 186