News articles on green

---
Mongabay.com news articles on green in blog format. Updated regularly.






Researchers devise new comparison of mass extinction events

(09/02/2008) Researchers have created a new way to compare historical mass extinction events. The scoring system, presented in the early online edition of the journal Proceedings of the National Academy of Sciences, works by multiplying the number of taxa — species, genera, and families — that went extinct by the inverse of the time it took to produce a measure dubbed "greatness", which represents the magnitude of the event. Using the system, Celal Sengor and colleagues from Istanbul Teknik Universitesi of Turkey rank the Cretaceous-Tertiary (K-T) event — when the dinosaurs were extinguished in a flash by an asteroid strike or mass oceanic poisoning by a spasm of volcanic activity — as the greatest mass extinction in history. The Permian, which featured a greater loss of species (90-95 percent of marine species and 70 percent of land species) but played out over a longer period to time some 250 million years ago, ranks third after the Silurian, which occurred around 440 million years ago.
Melting permafrost will be major driver of global warming

(09/01/2008) The thawing of permafrost in northern latitudes will become a major source of greenhouse gas emissions, according to a new study that more than doubles previous estimates of the amount of carbon stored in the frozen soils of Alaska and Siberia.
Carbon market may fund dam in Panama that threatens natural reserve

(09/01/2008) The UN's Clean Development Mechanism (CDM) — a scheme that provides funds to projects that reduce emissions in developing nations — may be used to finance a hydroelectric dam in Panama which, according to environmentalists, threatens a biologically rich World Heritage site and an indigenous tribe, the Ngobe.
Past decade is warmest in at least 1300 years

(09/01/2008) A reconstruction of surface temperatures over the past two thousand years provides further evidence that the northern hemisphere is now warmer than at any time in at least 1300 years. The research, published in the online edition of the Proceedings of the National Academy of Sciences, in the Northern Hemisphere are higher than those of the Medieval warm period.
Could hurricane Gustav be stopped or diverted?

(08/31/2008) With Gustav threatening to become the second major hurricane to hit New Orleans in three years, the question emerges, is there something that could be done to redirect or at least diminish storms from major population areas? In short, the answer is no, although someday there may be ways to reduce the intensity of these tropical storms. In the meantime, the best option is to avoid new construction in hurricane-prone regions.
Amazon deforestation jumps 69% in 2008

(08/31/2008) Deforestation in the Brazilian Amazon increased 69 percent in the past 12 months as high commodity prices have driven forest conversion for ranches and cropland, according to preliminary figures released by Brazil's National Institute for Space Research (INPE). The increase comes after three consecutive years of declining deforestation in Brazil.
Indian protesters win land rights battle against Peru's President Garcia

(08/31/2008) Peru's Congress rejected two decrees by President Alan García that made it easier for foreign developers to buy Amazon rainforest land. The repeal came just two days after lawmakers struck a deal with indigenous rights groups whose protests over the law had shut down oil and gas operations. The groups were worried that the laws weakened their land rights in favor of loggers, miners, and drillers.
Two large populations of endangered monkeys discovered in Cambodia

(08/28/2008) Conservationists have discovered "surprisingly large populations" of two globally threatened primates in a protected area in Cambodia. Surveys by scientists with the Bronx Zoo-based Wildlife Conservation Society (WCS) and the Cambodian government counted 42,000 black-shanked douc langurs and 2,500 yellow-cheeked crested gibbons in Cambodia's Seima Biodiversity Conservation Area.
Pre-Colombian Amazonians lived in sustainable 'urban' society

(08/28/2008) Researchers have uncovered new evidence to support the controversial theory that parts of the Amazon were home to dense 'urban' settlements prior to the arrival of Europeans in the 15th century. The study is published this Friday in the journal Science. Conducting archeological excavations and aerial imagery across a number of sites in the Upper Xingu region of the Brazilian Amazon, a team of researchers led by Michael Heckenberger found evidence of a grid-like pattern of 150-acre towns and smaller villages, connected by complex road networks and arranged around large plazas where public rituals would take place.
40% of Australia is undisturbed wilderness

(08/27/2008) More than 40 percent of Australia—three million square kilometers—is undisturbed wilderness, reports a new study by Pew Environment Group and Nature Conservancy. The extent of Australia's wildlands ranks with the Amazon rainforest, Antarctica, Canada's boreal forest, and the Sahara as the largest on the planet.
Scientists condemn Bush plan for endangered species

(08/27/2008) The Ecological Society of America has come down handily against the Bush Administration's proposed changes to the Endangered Species Act (ESA). The changes would eliminate the requirement for independent scientific review of federal projects, such as roads, dams, and mines, instead allowing federal agencies to conduct internal evaluations and then proceed as they see fit.
Biofuels 200 times more expensive than forest conservation for global warming mitigation

(08/27/2008) The British government should end subsidies for biofuels and instead use the funds to slow destruction of rainforests and tropical peatlands argues a new report issued by a U.K.-based think tank. The study, titled "The Root of the Matter" and published by Policy Exchange, says that "avoided deforestation" would be a more cost-effective way to address climate change, since land use change generates more emissions than the entire global transport sector and offers ancillary benefits including important ecosystem services.
Baltic cod are shrinking due to overfishing

(08/26/2008) By comparing Neolithic cod with contemporary cod, researchers have discovered that the species has evolved over a relatively short period due to overexploitation by humans. According to a paper published in Proceedings of the Royal Society B, contemporary cod attain adulthood earlier and are generally smaller than their ancestors.
The extinction of the baiji a 'wake-up call' to conserve vaquita and other cetaceans

(08/25/2008) In December of 2006 an expedition spent six weeks surveying the Yangtze River in China for one of the world's rarest cetaceans, the baiji. Also known as 'The Goddess of the Yangtze' the shy river-dolphin had roamed the river for millions of years locating fish with echolocation. The survey came back empty-handed without a spotting a single dolphin. Dr. Jay Barlow, a member of the surveying team, described his emotions on the expedition's findings in an interview with Mongabay.com: "I was stunned. I knew the species was in trouble, but I did not think they were already gone. We really had not seen the extinction of a large mammal species in 50 years, so we grew complacent."
Climate change may increase global conflict

(08/25/2008) The signs of a warming world are everywhere: birds are migrating with changing temperatures; coral reefs are dying out due to bleaching; warmer winters are allowing beetles to devour Canadian forests; and the Northwest Passage has opened for the second year in a row. While scientists work to understand how climate change is affecting the worldÕs ecosystems, others are attempting to predict how societies may respond. Jurgen Scheffran, a scientist with the Program in Arms Control, Disarmament and International Security at the University of Illinois, believes a warmer world will lead to an increase in armed conflicts. He concludes that societies stressed by increased competition for natural resources are more likely to engage in warfare.
How do wind turbines kill bats?

(08/25/2008) Numerous studies have shown that migratory bats are undergoing large fatalities due to wind turbines. Far more bats die due to wind turbines than birds, though they generally receive less attention. Now, researchers writing in Current Biology believe they know why bats are more susceptible to wind turbine fatalities.
Google Earth reveals cattle have a built-in compass

(08/25/2008) Cattle, along with grazing deer, tend to align themselves with the Earth's magnetic field lines, in a north-south direction, report researchers writing in the early online edition of the journal Proceedings of the National Academy of Sciences (PNAS). The finding suggests that cows seem to have a built-in magnetic compass.
Malaysian logging scandal may delay trade negotiations with the E.U.

(08/25/2008) Sarawak's Chief Minister, Taib Mahmud, has been linked to a timber trade scheme involving illegal imports of Indonesian logs and which were then re-exported as Malaysian timber to other countries, including China, Taiwan, and Japan, reports the Indonesian newspaper Tribun Pontianak. An environmental group is using the scandal as the basis for a request for the E.U. to delay timber trade talks with Malaysia.
Presidential candidate John McCain's love-hate relationship with bears

(08/21/2008) Senator John McCain has frequently cited an earmark to a bill proving funds for a study of grizzly bears in Montana as an example of the worst pork-and-barrel spending in Washington. The study was included in an ad for McCain entitled "Outrageous" during the primaries. However, according to FactCheck.org, Senator McCain voted for the earmark he now derides.
French birds on the move due to climate change—just not fast enough

(08/21/2008) French ornithologists have discovered, year by year, that French birds are moving north due to the affects of climate change. A recent study of such movements in the Royal Society journal Proceedings B concludes that the birds are not moving fast enough, leading to concern among conservationists.
There is enough water for everyone provided it is well-managed and distributed

(08/21/2008) An increasingly-popular view of our future is an exponentially thirsty world where billions lack access to fresh water, leading to widespread famine and wars over water instead of oil. If this sounds like science fiction, the UN has predicted that by 2050 seven billion people will suffer from water scarcity. Putting that number in perspective: today's entire global population is not yet seven billion people.
When the magpie looks in a mirror, it sees itself

(08/20/2008) Unlike Narcissus of Greek mythology--who upon seeing his reflection in water jumped in thinking it was another--magpies have proven they can recognize their own reflections. Until now, only a small number of primates (chimpanzees, pygmy chimps, and orangutans) have displayed this ability, making the magpie the first bird shown to recognize itself.
Mangrove species flourishes in the United Arab Emirates after a century of local extinction

(08/20/2008) A long-absent mangrove species is flowering again in the United Arab Emirates a hundred years since its disappearance. Seeds of the rhizophora mucronata were brought from Pakistan and planted along the coast. The project was a joint venture between the United Arab Emirate's (UAE) Department of President's Affairs and the Environment Agency-Abu Dhabi.
Bigfoot "discovery" looks to be a hoax

(08/18/2008) A much-hyped press conference claiming to present evidence of the existence of Bigfoot offered little in the way of proof but a lot of shameless self-promotion by the "discoverers".
Coal burning may make food supplies toxic

(08/18/2008) Coal burning is contaminating the Arctic, and may be affecting human health and polar ecosystems, warn scientists writing in the online early edition of the Proceedings of the National Academy of Sciences.
The long-ignored ocean emergency and what can be done to address it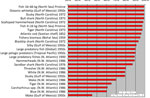 (08/18/2008) This year has been full of bad news regarding marine ecosystems: one-third of coral species threatened with extinction, dead-zones spread to 415 sites, half of U.S. reefs in fair or bad condition, increase in ocean acidification, tuna and shark populations collapsing, and only four percent of ocean considered pristine. Jeremy Jackson, director of the Scripps Center for Marine Biodiversity and Conservation at the University of California, San Diego, synthesizes such reports and others into a new paper, published in the journal Proceedings of the National Academy of Sciences, that boldly lays out the scope of the oceanic emergency and what urgently needs to be done.
New tree species discovered in Amazon biodiversity hotspot

(08/17/2008) I was walking down the Anaconda Trail at the Madre Selva Biological Station with botanist Rodolfo Vasquez when he suddenly stopped, stared at the bark of a 120-foot tree, and started searching the ground. Odd behavior? Perhaps, but when you're with Peru's top field botanist, odd behavior is forgivable, since it means that something interesting is probably afoot.
Markets could save rainforests: an interview with Andrew Mitchell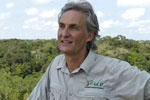 (08/17/2008) Markets may soon value rainforests as living entities rather than for just the commodities produced when they are cut down, said a tropical forest researcher speaking in June at a conservation biology conference in the South American country of Suriname. Andrew Mitchell, founder and director of the London-based Global Canopy Program (GCP), said he is encouraged by signs that investors are beginning to look at the value of services afforded by healthy forests.





Deforestation in the Brazilian Amazon won't increase significantly for 2008

(08/15/2008) Brazilian Environment Minister Carlos Minc said Thursday that Amazon deforestation for the 2007-2008 year will likely be comparable to the prior year. The announcement marks an abrupt turn-around for the Brazilian government which in April said that forest destruction was expected to increase for the first time since 2004.









PG&E will build the world's largest solar power plant

(08/15/2008) California electricity producer PG&E Thursday announced a plan to build two giant solar photovoltaic power plants that will cover 12.5 square miles and have a peak generating capacity of 800 megawatts.




Page 1 | Page 2 | Page 3 | Page 4 | Page 5 | Page 6 | Page 7 | Page 8 | Page 9 | Page 10 | Page 11 | Page 12 | Page 13 | Page 14 | Page 15 | Page 16 | Page 17 | Page 18 | Page 19 | Page 20 | Page 21 | Page 22 | Page 23 | Page 24 | Page 25 | Page 26 | Page 27 | Page 28 | Page 29 | Page 30 | Page 31 | Page 32 | Page 33 | Page 34 | Page 35 | Page 36 | Page 37 | Page 38 | Page 39 | Page 40 | Page 41 | Page 42 | Page 43 | Page 44 | Page 45 | Page 46 | Page 47 | Page 48 | Page 49 | Page 50 | Page 51 | Page 52 | Page 53 | Page 54 | Page 55 | Page 56 | Page 57 | Page 58 | Page 59 | Page 60 | Page 61 | Page 62 | Page 63 | Page 64 | Page 65 | Page 66 | Page 67 | Page 68 | Page 69 | Page 70 | Page 71 | Page 72 | Page 73 | Page 74 | Page 75 | Page 76 | Page 77 | Page 78 | Page 79 | Page 80 | Page 81 | Page 82 | Page 83 | Page 84 | Page 85 | Page 86 | Page 87 | Page 88 | Page 89 | Page 90 | Page 91 | Page 92 | Page 93 | Page 94 | Page 95 | Page 96 | Page 97 | Page 98 | Page 99 | Page 100 | Page 101 | Page 102 | Page 103 | Page 104 | Page 105 | Page 106 | Page 107 | Page 108 | Page 109 | Page 110 | Page 111 | Page 112 | Page 113 | Page 114 | Page 115 | Page 116 | Page 117 | Page 118 | Page 119 | Page 120 | Page 121 | Page 122 | Page 123 | Page 124 | Page 125 | Page 126 | Page 127 | Page 128 | Page 129 | Page 130 | Page 131 | Page 132 | Page 133 | Page 134 | Page 135 | Page 136 | Page 137 | Page 138 | Page 139 | Page 140 | Page 141 | Page 142 | Page 143 | Page 144 | Page 145 | Page 146 | Page 147 | Page 148 | Page 149 | Page 150 | Page 151 | Page 152 | Page 153 | Page 154 | Page 155 | Page 156 | Page 157 | Page 158 | Page 159 | Page 160 | Page 161 | Page 162 | Page 163 | Page 164 | Page 165 | Page 166 | Page 167 | Page 168 | Page 169 | Page 170 | Page 171 | Page 172 | Page 173 | Page 174 | Page 175 | Page 176 | Page 177 | Page 178 | Page 179 | Page 180 | Page 181 | Page 182 | Page 183 | Page 184 | Page 185 | Page 186 | Page 187 | Page 188 | Page 189 | Page 190 | Page 191 | Page 192 | Page 193 | Page 194 | Page 195 | Page 196 | Page 197 | Page 198 | Page 199 | Page 200 | Page 201 | Page 202 | Page 203 | Page 204 | Page 205 | Page 206 | Page 207 | Page 208 | Page 209 | Page 210 | Page 211 | Page 212 | Page 213 | Page 214