News articles on green

---
Mongabay.com news articles on green in blog format. Updated regularly.






Developing the world's most sophisticated program for mapping endangered species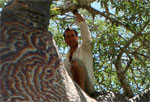 (08/04/2008) It was big news in April when a comprehensive map of Madagascar's rich and unique biodiversity was unveiled. The project managed to map ranges of 2,315 species across an island larger than France. Such detailed mapping could not have happened without the aid of Steve Phillips. A researcher at AT&T, Phillips developed the software that made such detailed and expansive mapping possible.
New Costa Rica guide offers insight on responsible tourism

(08/04/2008) Costa Rica is the world's most popular destination for rainforest tourism thanks to its spectacular biodiversity, relative ease-of-access and safety, and many natural attractions. In 2007 nearly 2 million tourists visited the country, generating almost 2 billion in revenue -- more than the combined income from bananas and coffee.
Scientists discover world's smallest snake species

(08/03/2008) If one wanted to overcome their fear of snakes, they may want to start with the newly discovered Leptotyphlops carlae. Measuring less than four inches long, even stretched out this new species of threadsnake can't compete with the average pen or pencil.
Brazil asks rich countries to fund Amazon conservation

(08/02/2008) Brazilian President Luis Inacio Lula da Silva officially unveiled plans to raise a $21 billion fund for protecting the Amazon rainforest. The plan, which was originally announced several months ago, aims to be funded by foreign donations. Contributors will not be eligible for carbon credits that may be generated by reductions in deforestation.
Photos of surgery on an injured red-tailed hawk

(08/01/2008) Dr. Paul Calle, Director of Wildlife Health Center at the Wildlife Conservation Society's Bronx Zoo headquarters, and Cornell University resident Dr. Maren Connolly examine a red-tailed hawk found unable to fly by a park ranger in Rockland County.
Future threats to the Amazon rainforest

(07/31/2008) Between June 2000 and June 2008, more than 150,000 square kilometers of rainforest were cleared in the Brazilian Amazon. While deforestation rates have slowed since 2004, forest loss is expected to continue for the foreseeable future. This is a look at past, current and potential future drivers of deforestation in the Brazilian Amazon.
Rock star or marine biologist? Hans Walters chose both

(07/31/2008) There aren't many who swim with sharks by day and rock out on a stage at night, but Hans Walters does just that! A man with two distinctly different passions, music and marine biology, Walters is a supervisor for the animals at the New York Aquarium, and then after hours, grabs a microphone as lead singer (playing just enough guitar to be dangerous) for the New York-based hard rock band, 61/49.
Ontario to preserve area of forest the size of Uganda

(07/31/2008) The government of Ontario has announced it will preserve 56 million acres of boreal forest from all types of development. The reasons for such a large conservation plan are numerous: preservation of the forest will benefit the world as a massive carbon storehouse; the area is a major source of freshwater; and home to over 200 species, many of which are threatened, such as polar bears, wolverines, and caribou. The area will be open to eco-tourism, but will be closed to mining, logging, and gas exploration.
U.N. raises thermostats to cut emissions, save money

(07/31/2008) In a bid lead by example on climate change, United Nations Secretary-General Ban Ki-moon unveiled "Cool UN," an initiative which seeks to limit the use of air conditioning, slash greenhouse gas emissions and save money.
Bush Administration moves to weaken endangered speices protection

(07/31/2008) The Bush administration's handling of the Endangered Species Act has put the cactus ferruginous pygmy owl in danger of extinction, according to the Centre for Biological Diversity. Even though less than 30 individuals exist in the United States—all in Arizona—the species was removed from the Endangered Species Act in 2006, after nine years of protection.
Logging company Danzer accused of tax fraud in the Congo

(07/31/2008) A major European logging company is using an elaborate profit-laundering system to smuggle timber revenue out of Africa and avoid paying taxes to the governments of the Democratic Republic of Congo (DRC) and the Republic of the Congo, alleges a new report published by Greenpeace.
Cane toads are killing crocodiles in Australia

(07/30/2008) The cane toad has been a scourge to Australian wildlife for decades. An invasive species, the cane toad competes with local endemic frog species and due to its high toxicity kills any predator who preys on it, including snakes, raptors, lizards, and the carnivorous marsupial, northern quoll. New research has uncovered another victim of the toad. The freshwater crocodile has suffered massive population declines due to consuming the irascible toad.
Ocean acidification may hurt reproduction in marine life

(07/30/2008) Ocean acidification due to rising carbon dioxide levels in the atmosphere may be putting the reproductive capabilities of some marine species at risk, reports a new study published in Current Biology by Swedish and Australian scientists.
Deepest-ever lake dive searches for new energy sources

(07/29/2008) Russian scientists have reached the bottom of Lake Baikal, the world's deepest lake, to take samples of gas hydrate deposits. Russia hopes the methane-rich deposits could someday be exploited as an energy source.
Researchers discover "artistic" moth in Panama

(07/29/2008) Researchers have discovered a new species of Bagworm Moth that wraps its eggs individually in "beautiful cases" fashioned from its golden abdominal hairs, according to a new paper published in the Annals of the Entomology Society of America. The behavior is unique among insects.
Adaptation to climate change will be difficult for Madagascar

(07/29/2008) Madagascar's high levels of endemism coupled with its extensive loss and degradation of ecosystems leave its species particularly vulnerable to climate change. A new paper evaluates these risks and sets forth conservation priorities to best maintain the ecological resilience of the island nation.
Island biogeography theory doesn't explain biodiversity changes in forest fragments

(07/28/2008) Island biogeography theory, the idea that fragmented ecosystems have lower species richness per unit of area compared with contiguous habitats, has served as a useful conceptual model to understand the effects of habitat fragmentation but fails to explain the complexities of change in isolated forest fragments, according to a synthesis published last month in the journal Biological Conservation.
An interview a shaman in the Amazon rainforest

(07/28/2008) Deep in the Suriname rainforest, an innovative conservation group is working with indigenous tribes to protect their forest home and culture using traditional knowledge combined with cutting-edge technology. The Amazon Conservation Team (ACT) is partnering with the Trio, an Amerindian group that lives in the remote Suriname-Brazil border area of South America, to develop programs to protect their forest home from illegal gold miners and encroachment, improve village health, and strengthen cultural ties between indigenous youths and elders at a time when such cultures are disappearing even faster than rainforests. In June 2008 mongabay.com visited the community of Kwamalasamutu in Suriname to see ACT's programs in action. During the visit, Amasina, a Trio shaman who works with ACT, answered some questions about his role as a traditional healer in the village.







Climate change will increase the erosion of coral reefs

(07/28/2008) Coral reefs are particularly susceptible to climate change. Warming waters have been shown to bleach coral, killing off symbiotic algae that provide them with sustenance, and often leading to the death of the coral itself. Much attention has been placed on bleaching coral, but now scientists have discovered an additional danger to coral reefs in a warming world: erosion.





Unlike humans, tree shrews don't get drunk

(07/28/2008) The pentailed treeshrew, sporting a mouse-like body and feathery tail, seems an unlikely drinker. Yet, new research shows that this one-and-half ounce creature's main food source, the nectar of the bertam palm, is highly fermented. The nectar can contain a peak alcohol concentration of 3.8 percent. This is a little less than a Bud Light.





The end of migrations: wildlife's greatest spectacle is critically endangered

(07/28/2008) If we could turn back the clock about 200 years, one could watch as millions of whales swam along their migration routes. Around 150 years ago, one could witness bison filling the vast America prairie or a billion passenger pigeons blotting out the sky for days. Only a few decades back and a million saiga antelope could be seen crossing the plains of Asia.





Monster manta ray species discovered

(07/25/2008) Researchers have discovered a previously unknown species of manta ray. Previously there was believed to be only a single species of ray but genetic analysis now shows there are at least two, and possibly three, species.





Facing criticism, biofuels industry forms new lobby group to influence lawmakers

(07/25/2008) Under attack by politicians, aid groups, and environmentalists for driving up food prices and fueling destruction of ecologically sensitive habitats, some of the world's largest agroindustrial firms have formed a lobby group to influence consumers and lawmakers to support continued subsidies for biofuel production, reports Reuters.











New plan would pay tropical countries for saving forests, regardless of level of threat

(07/24/2008) Deforestation and forest degradation account for around a fifth of global carbon emissions from human activities, but new policy measures are focusing reducing such emissions as a cost-effective way to fight global warming. While the concept — known as REDD for "Reducing Emissions from Deforestation and Degradation" — has found wide support from politicians, scientists, and environmentalists, there are lingering concerns over how to compensate countries that have extensive forest cover and low rates of annual forest loss, since payments are based on historical deforestation rates. A new proposal seeks to get around this issue by factoring in all the terrestrial carbon in a tropical landscape — regardless of level of threat it faces — and packaging it as a tradable commodity.











Leaf-cutter ants test theories about the Amazon's biodiversity

(07/23/2008) No one knows for certain how many insect species reside in the Amazon. One oft-quoted estimate is 30 million, but the actual number could be significantly lower or higher than this. Either way, biologists have long wondered why the richness of insect diversity in the Americas' tropical forests is exponentially higher than temperate forests. Three popular hypotheses have emerged—the theory of refugia, the marine incursion hypothesis, and the riverine barrier hypothesis. To test these theories a group of scientists, headed by Dr. Scott Solomon, studied three species of leaf-cutter ant species from the Amazon.





How to replant a mangrove forest: local, low-cost initiatives prove most successful

(07/23/2008) Mangrove replanting and rehabilitation has become a widespread and important environmental initiative worldwide. Mangrove forests play key ecological roles, including sustaining fish populations and other wildlife, preventing erosion along coastlines, and acting as an overall carbon sink. Furthermore, mangroves have received attention lately for their role in providing an effective buffer against typhoons. In light of the many replanting initiatives now occurring, researchers J.H. Primavera and J.M.A. Esteban conducted a study of the overall effectiveness of different mangrove rehabilitation schemes. Their findings show that small, local, and generally cheaper initiatives have a higher success rate over large costly government and international programs.





Biofuels can reduce emissions, but not when grown in place of rainforests

(07/22/2008) Biofuels meant to help alleviate greenhouse gas emissions may be in fact contributing to climate change when grown on converted tropical forest lands, warns a comprehensive study published earlier this month in the journal Environmental Research Letters. Analyzing the carbon debt for biofuel crops grown in ecosystems around the world, Holly Gibbs and colleagues report that "while expansion of biofuels into productive tropical ecosystems will always lead to net carbon emissions for decades to centuries... [expansion] into degraded or already cultivated land will provide almost immediate carbon savings." The results suggest that under the right conditions, biofuels could be part of the effort to reduce humanity's carbon footprint.









Coral susceptibility to bleaching due to small differences in symbiotic relationship

(07/22/2008) Coral reefs are now considered the second most threatened group of animals in the world, with nearly one-third of corals listed as endangered (amphibians retain the dubious honor of being number one). Although corals face many threats, the greatest is bleaching caused by warming oceans due to climate change. However, some coral populations are more susceptible to bleaching than others, even including corals of the same species. New research has uncovered that the reason lies in small differences in the symbiotic relationship between corals and their symbionts, small marine animals and protozoa. Such differences, however minuscule, have a huge impact on the likelihood of a coral's ability to survive warming oceans.







600 species of mushrooms discovered in Guyana

(07/21/2008) In six plots of Guyanese rainforest, measuring only a hundred square meters each, scientists have discovered an astounding 1200 species of macrofungi, commonly known as mushrooms. Even more surprising: they believe over 600 of these are new to science — that's equivalent to a new species every square meter.





Mangroves are key to healthy fisheries, finds study

(07/21/2008) Mangroves serve as a critical nursery for young marine life and therefore play an important role in the health of fisheries and the economic well-being of fishermen, report researchers writing in the early online edition of the Proceedings of the National Academy of Sciences.





Implementing a butterfly farm: Iwokrama reserve's latest sustainable initiative

(07/20/2008) Iwokrama, which lies in the heart of Guyana's rainforest, is known worldwide for its innovative approach to preserving tropical rainforests and creating livelihoods for local communities. Their focus has been to create programs that utilize the forest sustainably, allowing for a mutual benefit between the people and the forest itself. Currently, Iwokrama has a number of initiatives under its umbrella, including eco-tourism, sustainable forestry, on-going research projects, and training programs. Amid these bustling projects, a new one has emerged: butterfly farming.





Destruction of wetlands worsens global warming

(07/20/2008) Destruction of wetland ecosystems will generate massive greenhouse gas emissions in coming years, warn experts convening at an international wetlands conference in Brazil.









Moving species may be only way to save them from climate change

(07/17/2008) Desperate times call for desperate measures, according to a new paper in Science. conservation scientists from the US, the UK, and Australia are calling for the consideration of a highly controversial conservation technique: assisted migration. According to the policy piece, species would be relocated to sites "where they do not currently occur or have not been known to occur in recent history".




Page 1 | Page 2 | Page 3 | Page 4 | Page 5 | Page 6 | Page 7 | Page 8 | Page 9 | Page 10 | Page 11 | Page 12 | Page 13 | Page 14 | Page 15 | Page 16 | Page 17 | Page 18 | Page 19 | Page 20 | Page 21 | Page 22 | Page 23 | Page 24 | Page 25 | Page 26 | Page 27 | Page 28 | Page 29 | Page 30 | Page 31 | Page 32 | Page 33 | Page 34 | Page 35 | Page 36 | Page 37 | Page 38 | Page 39 | Page 40 | Page 41 | Page 42 | Page 43 | Page 44 | Page 45 | Page 46 | Page 47 | Page 48 | Page 49 | Page 50 | Page 51 | Page 52 | Page 53 | Page 54 | Page 55 | Page 56 | Page 57 | Page 58 | Page 59 | Page 60 | Page 61 | Page 62 | Page 63 | Page 64 | Page 65 | Page 66 | Page 67 | Page 68 | Page 69 | Page 70 | Page 71 | Page 72 | Page 73 | Page 74 | Page 75 | Page 76 | Page 77 | Page 78 | Page 79 | Page 80 | Page 81 | Page 82 | Page 83 | Page 84 | Page 85 | Page 86 | Page 87 | Page 88 | Page 89 | Page 90 | Page 91 | Page 92 | Page 93 | Page 94 | Page 95 | Page 96 | Page 97 | Page 98 | Page 99 | Page 100 | Page 101 | Page 102 | Page 103 | Page 104 | Page 105 | Page 106 | Page 107 | Page 108 | Page 109 | Page 110 | Page 111 | Page 112 | Page 113 | Page 114 | Page 115 | Page 116 | Page 117 | Page 118 | Page 119 | Page 120 | Page 121 | Page 122 | Page 123 | Page 124 | Page 125 | Page 126 | Page 127 | Page 128 | Page 129 | Page 130 | Page 131 | Page 132 | Page 133 | Page 134 | Page 135 | Page 136 | Page 137 | Page 138 | Page 139 | Page 140 | Page 141 | Page 142 | Page 143 | Page 144 | Page 145 | Page 146 | Page 147 | Page 148 | Page 149 | Page 150 | Page 151 | Page 152 | Page 153 | Page 154 | Page 155 | Page 156 | Page 157 | Page 158 | Page 159 | Page 160 | Page 161 | Page 162 | Page 163 | Page 164 | Page 165 | Page 166 | Page 167 | Page 168 | Page 169 | Page 170 | Page 171 | Page 172 | Page 173 | Page 174 | Page 175 | Page 176 | Page 177 | Page 178 | Page 179 | Page 180 | Page 181 | Page 182 | Page 183 | Page 184 | Page 185 | Page 186 | Page 187 | Page 188 | Page 189 | Page 190 | Page 191 | Page 192 | Page 193 | Page 194 | Page 195 | Page 196 | Page 197 | Page 198 | Page 199 | Page 200 | Page 201 | Page 202 | Page 203 | Page 204 | Page 205 | Page 206 | Page 207 | Page 208 | Page 209