News articles on green

---
Mongabay.com news articles on green in blog format. Updated regularly.








Leaf-cutter ants test theories about the Amazon's biodiversity

(07/23/2008) No one knows for certain how many insect species reside in the Amazon. One oft-quoted estimate is 30 million, but the actual number could be significantly lower or higher than this. Either way, biologists have long wondered why the richness of insect diversity in the Americas' tropical forests is exponentially higher than temperate forests. Three popular hypotheses have emerged—the theory of refugia, the marine incursion hypothesis, and the riverine barrier hypothesis. To test these theories a group of scientists, headed by Dr. Scott Solomon, studied three species of leaf-cutter ant species from the Amazon.
How to replant a mangrove forest: local, low-cost initiatives prove most successful

(07/23/2008) Mangrove replanting and rehabilitation has become a widespread and important environmental initiative worldwide. Mangrove forests play key ecological roles, including sustaining fish populations and other wildlife, preventing erosion along coastlines, and acting as an overall carbon sink. Furthermore, mangroves have received attention lately for their role in providing an effective buffer against typhoons. In light of the many replanting initiatives now occurring, researchers J.H. Primavera and J.M.A. Esteban conducted a study of the overall effectiveness of different mangrove rehabilitation schemes. Their findings show that small, local, and generally cheaper initiatives have a higher success rate over large costly government and international programs.
Biofuels can reduce emissions, but not when grown in place of rainforests

(07/22/2008) Biofuels meant to help alleviate greenhouse gas emissions may be in fact contributing to climate change when grown on converted tropical forest lands, warns a comprehensive study published earlier this month in the journal Environmental Research Letters. Analyzing the carbon debt for biofuel crops grown in ecosystems around the world, Holly Gibbs and colleagues report that "while expansion of biofuels into productive tropical ecosystems will always lead to net carbon emissions for decades to centuries... [expansion] into degraded or already cultivated land will provide almost immediate carbon savings." The results suggest that under the right conditions, biofuels could be part of the effort to reduce humanity's carbon footprint.
Coral susceptibility to bleaching due to small differences in symbiotic relationship

(07/22/2008) Coral reefs are now considered the second most threatened group of animals in the world, with nearly one-third of corals listed as endangered (amphibians retain the dubious honor of being number one). Although corals face many threats, the greatest is bleaching caused by warming oceans due to climate change. However, some coral populations are more susceptible to bleaching than others, even including corals of the same species. New research has uncovered that the reason lies in small differences in the symbiotic relationship between corals and their symbionts, small marine animals and protozoa. Such differences, however minuscule, have a huge impact on the likelihood of a coral's ability to survive warming oceans.
600 species of mushrooms discovered in Guyana

(07/21/2008) In six plots of Guyanese rainforest, measuring only a hundred square meters each, scientists have discovered an astounding 1200 species of macrofungi, commonly known as mushrooms. Even more surprising: they believe over 600 of these are new to science — that's equivalent to a new species every square meter.
Mangroves are key to healthy fisheries, finds study

(07/21/2008) Mangroves serve as a critical nursery for young marine life and therefore play an important role in the health of fisheries and the economic well-being of fishermen, report researchers writing in the early online edition of the Proceedings of the National Academy of Sciences.
Implementing a butterfly farm: Iwokrama reserve's latest sustainable initiative

(07/20/2008) Iwokrama, which lies in the heart of Guyana's rainforest, is known worldwide for its innovative approach to preserving tropical rainforests and creating livelihoods for local communities. Their focus has been to create programs that utilize the forest sustainably, allowing for a mutual benefit between the people and the forest itself. Currently, Iwokrama has a number of initiatives under its umbrella, including eco-tourism, sustainable forestry, on-going research projects, and training programs. Amid these bustling projects, a new one has emerged: butterfly farming.
Destruction of wetlands worsens global warming

(07/20/2008) Destruction of wetland ecosystems will generate massive greenhouse gas emissions in coming years, warn experts convening at an international wetlands conference in Brazil.
Moving species may be only way to save them from climate change

(07/17/2008) Desperate times call for desperate measures, according to a new paper in Science. conservation scientists from the US, the UK, and Australia are calling for the consideration of a highly controversial conservation technique: assisted migration. According to the policy piece, species would be relocated to sites "where they do not currently occur or have not been known to occur in recent history".
Amazon deforestation forecast for 2008 revised downward

(07/17/2008) Deforestation in the Brazilian Amazon fell sharply in the month of May (1,096 square kilometers) compared to May a year-ago (1,222 square kilometers), according to preliminary satellite data announced by the country's environment minister on Tuesday. Brazilian Environment Minister Carlos Minc said a preliminary analysis by the government's National Space Research Institute (INPE) showed 1,096 square kilometers (423 square miles) of rain forest were cut down in May, down from 1,123 square kilometers (434 square miles) in April.
Orangutans persist in islands amid a sea of oil palm plantations

(07/17/2008) Orangutan are surviving in forest islands in a sea of oil palm plantations in Malaysia, reports a new survey by a government-backed conservation initiative. The finding underscores the need to protect critical forest areas for the endangered primates as forest continues to fall in southeast Asia at a rate that is the highest of any of the world's tropical forest regions.
Gore launches second campaign... for Earth

(07/17/2008) In a speech Thursday, Al Gore challenged the U.S. to generate 100 percent of its electricity from zero carbon emission sources within 10 years. Speaking at Washington's Constitution Hall, Gore said America's security, environmental and economic crises are all related, and that measures to rein in greenhouse gas emissions will make the U.S. stronger, safer, and cleaner. "The survival of the United States of America as we know it is at risk," Gore said. "I don't remember a time in our country when so many things seemed to be going so wrong simultaneously."
Forests cover 1/3 of U.S. but are responsible for 2/3 of its water supply

(07/16/2008) The single most important function of U.S. forests is their role in securing the country's freshwater supply at a time when water demand is surging but climate risks to forests are also increasing, say the authors of a new federal report released by the National Research Council.
U.S. dead zones may reach record levels this summer

(07/15/2008) "Dead zones" in the Gulf of Mexico and Chesapeake Bay will likely expand to record levels this summer due to rising rising agricultural runoff in part triggered by large-scale flooding in the Midwest, according to a forecast by a researcher from the University of Michigan.
Using farm waste for ethanol may hurt crop yields in some areas

(07/15/2008) Cellulosic ethanol proponents have pushed the idea of using farm waste as a way to boost biofuel production without impacting food crops, but such conversion may carry a hidden cost in areas with insufficient rainfall or lacking irrigation, warns a soil scientist from Washington State University.
First carbon map of America released by NASA

(07/15/2008) For the first time, one can have a whole view of America's carbon output: region by region, city by city. The Vulcan Project has undertaken a holistic inventory—including electricity, heat, transportation, and industry—of local carbon emissions across the nation to create the first carbon map of America. Texas leads the fifty states, and the county of Harris, Texas (encompassing Houston) records the nation's largest emissions by county. Although Texas is second in population after California, its massive industry puts it over the top.
Birds face higher risk of extinction than conventionally thought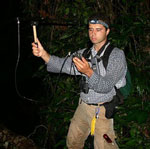 (07/14/2008) Birds may face higher risk of extinction than conventionally thought, says a bird ecology and conservation expert from Stanford University. Dr. Cagan H. Sekercioglu, a senior research scientist at Stanford and head of the world's largest tropical bird radio tracking project, estimates that 15 percent of world's 10,000 bird species will go extinct or be committed to extinction by 2100 if necessary conservation measures are not taken. While birds are one of the least threatened of any major group of organisms, Sekercioglu believes that worst-case climate change, habitat loss, and other factors could conspire to double this proportion by the end of the century. As dire as this sounds, Sekercioglu says that many threatened birds are rarer than we think and nearly 80 percent of land birds predicted to go extinct from climate change are not currently considered threatened with extinction, suggesting that species loss may be far worse than previously imagined. At particular risk are marine species and specialists in mountain habitats.







Tasmanian devil reproduction adapts to devastating, contagious cancer

(07/14/2008) Tragic circumstances have led to some astounding behvaioral changes in Tasmanian devils. A contagious form of face cancer has engulfed the population, causing the species to be listed as endangered in May. The cancer, which is characterized by large facial tumors, often leads to death by starvation. Casualty rates for infected areas are nearly 90 percent. However, a new study shows that the Tasmanian devils are not taking the disease lying down. The devils, which usually wait until two years for sexual maturity, have begun to breed within their first year of life.











$4 gas translates to fewer driving deaths

(07/11/2008) Rising gas prices have trigger a drop in traffic deaths as motorists drive less and slow down, reports a researcher at the University of Alabama at Birmingham.









1/3 of corals face extinction

(07/10/2008) Nearly one-third of reef-building corals are vulnerable to extinction, according to an assessment of 845 species of coral. Rising temperatures, increased incidence of disease, and human disturbance are driving the trend.





Pine beetles attack Canada, boosting GHG emissions

(07/10/2008) The mountain pine beetle, a small tree-devouring insect, has deforested an area of British Columbia the size of Louisiana — over 130,000 square kilometers. The 5 millimeter insect is a perfect tree-destroying machine. The beetles bore through the tree's bark to reach the phloem of the tree, which contains the tree's organic nutrients. The beetles then feed on these nutrients and lay their eggs. The trees defend themselves by secreting extra resin, but the beetles are often able to combat this by releasing a blue fungi. In about two weeks time, the tree turns a tell-tale red and essentially starves to death. The mountain pine beetles move on.





The global rich are eating the poor's fish: new report shows tropical fish catch gravely under-estimated

(07/10/2008) After a week of bad news regarding marine life — it was reported that half of U.S. coral reefs are in fair to poor condition and one-third of all coral species are threatened globally — there is still more: a study of twenty tropical islands showed that recreational and subsistence fishing has gone almost completely unreported from 1950 to 2004. In fifteen of twenty cases the fish take was at least doubled when local fish catches were added, and in the most extreme case, American Samoa, the amount of fish collected was 17 times what was previously recorded.





Palm oil industry moves into the Amazon rainforest

(07/09/2008) Malaysia's Land Development Authority FELDA has announced plans to immediately establish 100,000 hectares (250,000) of oil palm plantations in the Brazilian Amazon. The agency will partner with Braspalma, a local company, to form Felda Global Ventures Brazil Sdn Bhd. FELDA will have a 70 percent stake in the venture. The announcement had been expected. Last month Najib said Malaysia would seek to expand its booming palm oil industry overseas. The country is facing land constraints at home.





Oceans hold vast potential for wind power

(07/09/2008) The North Pacific, Tasmania, New Zealand, Tierra del Fuego in South America, and the mid-latitudes of the Atlantic and Pacific oceans are potential locations for wind power generation, according to new satellite data from NASA.





Volunteering with Leatherback Sea Turtles in Galibi, Suriname

(07/08/2008) The northern coast of Suriname is one of the best places in the world to view the largest turtle, the marine Leatherback. Watching the turtle rise out of the tides onto the beach gives one the sense of meeting something ancient, rare, and more sea-monster than marine turtle. Yet, if I call it a sea-monster, I do not mean that it is frightening or ugly: far from it. But it is mysterious, terrible, and wondrous.







New math shows that threat of extinction is underestimated globally

(07/07/2008) For some species the odds of survival may have changed. According to a new study current extinction models have underestimated the threat of extinction by not factoring in differences among individuals in a population. Such differences include the ratio of males to females, size and health of animals, and individual behvaioral patterns. A study conducted by Brett Melbourne of University of Colorado, Boulder and Alan Hastings of the University of California, Davis, shows that the new model speeds the extinction time for some species up to 100 times what was previously thought.





Some grasslands resilient against climate change, according to 13 year study

(07/07/2008) In Buxton, England--a spa town lying in the county of Derbyshire--scientists have spent 13 years subjecting grasslands to temperature increases and precipitation shifts consistent with climate change predictions. Considered one of the longest studies of climate change on natural ecosystems, the grasslands of Buxton proved surprisingly resilient to most of the effects of climate change.







Colorful insects help search for anti-cancer drugs

(07/07/2008) Brightly-colored beetles or caterpillars feeding on a tropical plant may signal the presence of chemical compounds active against cancer and parasitic diseases, report researchers writing in the journal Frontiers in Ecology and the Environment. The discovery could help speed drug discovery.







Whale biomimicry inspires better wind turbines

(07/07/2008) By studying and mimicking the characteristics of the flippers, fins and tails of whales and dolphins, engineers have devised more a efficient way to generate wind power, reports a researcher presenting at the Society for Experimental Biology's Annual Meeting in Marseille, France.





Carbon payments may not protect biodiversity

(07/07/2008) Paying rural landowners in Oregon's Willamette Basin to protect at-risk animals won't necessarily mean that their newly conserved trees and plants will absorb more carbon from the atmosphere and vice versa, a new study has found.




Page 1 | Page 2 | Page 3 | Page 4 | Page 5 | Page 6 | Page 7 | Page 8 | Page 9 | Page 10 | Page 11 | Page 12 | Page 13 | Page 14 | Page 15 | Page 16 | Page 17 | Page 18 | Page 19 | Page 20 | Page 21 | Page 22 | Page 23 | Page 24 | Page 25 | Page 26 | Page 27 | Page 28 | Page 29 | Page 30 | Page 31 | Page 32 | Page 33 | Page 34 | Page 35 | Page 36 | Page 37 | Page 38 | Page 39 | Page 40 | Page 41 | Page 42 | Page 43 | Page 44 | Page 45 | Page 46 | Page 47 | Page 48 | Page 49 | Page 50 | Page 51 | Page 52 | Page 53 | Page 54 | Page 55 | Page 56 | Page 57 | Page 58 | Page 59 | Page 60 | Page 61 | Page 62 | Page 63 | Page 64 | Page 65 | Page 66 | Page 67 | Page 68 | Page 69 | Page 70 | Page 71 | Page 72 | Page 73 | Page 74 | Page 75 | Page 76 | Page 77 | Page 78 | Page 79 | Page 80 | Page 81 | Page 82 | Page 83 | Page 84 | Page 85 | Page 86 | Page 87 | Page 88 | Page 89 | Page 90 | Page 91 | Page 92 | Page 93 | Page 94 | Page 95 | Page 96 | Page 97 | Page 98 | Page 99 | Page 100 | Page 101 | Page 102 | Page 103 | Page 104 | Page 105 | Page 106 | Page 107 | Page 108 | Page 109 | Page 110 | Page 111 | Page 112 | Page 113 | Page 114 | Page 115 | Page 116 | Page 117 | Page 118 | Page 119 | Page 120 | Page 121 | Page 122 | Page 123 | Page 124 | Page 125 | Page 126 | Page 127 | Page 128 | Page 129 | Page 130 | Page 131 | Page 132 | Page 133 | Page 134 | Page 135 | Page 136 | Page 137 | Page 138 | Page 139 | Page 140 | Page 141 | Page 142 | Page 143 | Page 144 | Page 145 | Page 146 | Page 147 | Page 148 | Page 149 | Page 150 | Page 151 | Page 152 | Page 153 | Page 154 | Page 155 | Page 156 | Page 157 | Page 158 | Page 159 | Page 160 | Page 161 | Page 162 | Page 163 | Page 164 | Page 165 | Page 166 | Page 167 | Page 168 | Page 169 | Page 170 | Page 171 | Page 172 | Page 173 | Page 174 | Page 175 | Page 176 | Page 177 | Page 178 | Page 179 | Page 180 | Page 181 | Page 182 | Page 183 | Page 184 | Page 185 | Page 186 | Page 187 | Page 188 | Page 189 | Page 190 | Page 191 | Page 192 | Page 193 | Page 194 | Page 195 | Page 196 | Page 197 | Page 198 | Page 199 | Page 200 | Page 201 | Page 202 | Page 203 | Page 204 | Page 205 | Page 206 | Page 207