News articles on green

---
Mongabay.com news articles on green in blog format. Updated regularly.






Deal on forests falls short

(12/11/2008) A deal reached Wednesday in Poznan to include forests in future climate treaties is a positive step but falls short of the progress needed to get the REDD (reducing emissions from deforestation and degradation) mechanism on track for incorporation into the framework that will succeed the Kyoto Protocol, say environmentalists speaking from the talks.
Elephants die significantly earlier in zoos than in wild

(12/11/2008) A new study from Science provides disturbing evidence that one of the zoos' most popular animals, the elephant, faces a far shorter lifespan in captivity than in the wild. The findings raise new ethical and scientific questions regarding the rightness of keeping elephants in captivity and the causes of their shorter life-spans.
Why do different species of bird lay different numbers of eggs?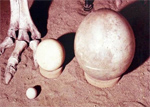 (12/10/2008) Clutch size varies greatly between bird species. Researchers now have a better idea why. Analyzing data on clutch size, biology, and habitat for 5,290 species of birds, a team of biologists — Walter Jetz (UC San Diego), Cagan H. Sekercioglu (Stanford University), and Katrin Böhning-Gaese (Johannes Gutenberg-Universität) — developed a model to predict variations in the number of eggs a species lays. They found clutch sizes are consistently largest in cavity nesters and in species occupying seasonal environments. The findings add depth and complexity to previous research that has shown short-lived species — ones that face high predation or have low survival rates among offspring — tend to lay more eggs than longer-lived species, which invest more resources in raising their offspring.







Tropical species face high extinction risk

(12/10/2008) Tropical plant species face an inherently high extinction risk due to small populations and restricted ranges relative to temperate species, reports research published in PLoS ONE. These traits leave them vulnerable to habitat disturbance and climate change.





Fear and conservation

(12/10/2008) How does fear shape the behavior and conservation of deer, moose and antelope, not to mention carnivores such as wolves, bears, and even tigers? What is the natural state of wildlife, and how do animals know or learn which species to ignore or fear? Should we reintroduce predators to former habitats, even though the prey animals may be unprepared for their return?





Indigenous people win voice in climate negotiations

(12/10/2008) Negotiators at U.N. climate conference have struck a deal to give forest-dependent people a voice in determining the role forest conservation will play future agreements to reduce greenhouse gas emissions, reports the Associated Press (AP). The agreement clears a key obstacle that had been blocking progress on reducing emissions from deforestation and degradation (REDD), a mechanism that would compensate tropical countries for protecting their forest cover.





Macedonians plant six million trees—in one day

(12/10/2008) While the world meets in Poznan, Poland to discuss actions related to global warming, the small Republic of Macedonia has already achieved an impressive goal. On November 19th, thousands of Macedonians took part in planting trees in a massive reforestation effort. Altogether they planted six million trees: three trees for every citizen of the country.







Wildlife banking gets a marketplace

(12/09/2008) Ecosystem Marketplace, a site that provides information on markets and payment schemes for ecosystem services, has launched what it is calling the "first information clearinghouse" for the species credit trading industry.





Drought and deforestation in southeast Asia linked to climate change

(12/09/2008) Researchers have linked drought and deforestation in southeast Asia to climate change. Analyzing six years of climate and fire data from satellites, Guido van der Werf and colleagues report that burning of rainforests and peatlands in Indonesia, Malaysia, and Papua New Guinea released an average of 128 million tons of carbon (470 million tons of carbon dioxide - CO2) per year between 2000 and 2006. Fire emissions showed highly variability during the period, but were greatest in dry years, such as those that occur during El Niño events. Borneo was the largest source of fire emissions during the period, averaging 74 million tons per year, followed by Sumatra, which showed a doubling in emissions between 2000 and 2006.





In Poznan, France pushes initiative to save rainforests

(12/08/2008) As talks for incorporating forest conservation into an international climate treaty stall in Poznan, Poland due to technical debates, France has proposed an aggressive effort to address deforestation and forest degradation through the establishment of a Global Forest Carbon Mechanism (GFCM) and potential inclusion of forestry projects in the E.U.'s emissions trading scheme (ETS) beginning in 2013.









Madagascar hit by deadly vanilla-killing fungus

(12/08/2008) Madagascar, the world's largest producer and exporter of vanilla, has been hit by a deadly, incurable fungus that can kill vanilla plants before their pods reach maturity, reports The Associated Press. The development could have dire impacts for the country's vanilla industry which generates hundreds of millions of dollars per year for the impoverished Indian Ocean island nation.







REDD faces challenges but can succeed, says report

(12/05/2008) The Center for International Forestry Research (CIFOR), a forest policy think tank, today released its assessment on the proposed REDD (reducing emissions from deforestation and degradation) mechanism for slowing climate change.





Saline agriculture may be the future of farming

(12/04/2008) Accessible and unpolluted freshwater is a necessity for every nation's stability and well-being. Yet, while the demand for freshwater continues to rise, its sources face increasing threats from salinization, a process whereby the salt content of fresh water rises until the water becomes undrinkable and unusable in agriculture: the more salt in the soil, the lower the crop yield.





Bank of America will no longer finance mountaintop removal coal mining

(12/04/2008) Bank of America will phase out financing for companies that practice mountaintop removal coal mining, a destructive and controversial method of coal extraction, according to a statement from the banking giant. The policy comes the day after the Environmental Protection Agency — at the behest of the Bush administration — approved a rule that will make it easier for coal companies to dump waste from mountaintop removal mining operations into streams and valleys.





WWF criticizes Brazil's plan to cut Amazon deforestation

(12/04/2008) WWF criticized Brazil's plan to reduce Amazon deforestation to 5,740 square kilometers per year as being "short on ambition and detail". In a statement issued Wednesday, WWF said that Brazil's proposed fund for conserving the Amazon would still result in the annual loss of an area forest the size of Rhode Island.





REDD may harm forest people, alleges report

(12/02/2008) A new report finds that the World Bank is not doing enough to protect indigenous rights under its mechanism to reduce emissions from deforestation and forest degradation (REDD).





Agricultural firms cut incentives for Amazon deforestation

(12/02/2008) As grain prices plummet and concerns over cash mount, agricultural giants are cutting loans to Brazilian farmers, reports the Wall Street Journal. Tighter farm credit may be contributing to a recent slowing in deforestation in the Brazilian Amazon, where agriculture is an increasingly important driver of forest clearing.







Tropical dry forest fragments important to conserving reptile biodiversity in Colombia

(12/01/2008) An important task in tropical conservation is to understand which species are particularly vulnerable to extinction, and identify the characteristics that put them at risk. Because habitat loss and fragmentation are at the root of the global extinction crisis, an extensive collection of literature has developed around profiling species assemblages in fragmented landscapes. It is also clear that species may respond differently to fragmentation, but many species experience direct or indirect negative effects, sometimes resulting in local extirpation in habitat patches.





Lack of information may slow conservation response to amphibian crisis

(12/01/2008) The Neotropics harbor between 30-50% of the world's reptiles and amphibians, but dramatic declines in both groups have been observed over recent decades. While a number of factors have been cited, many of the causes of reptile and amphibian declines are still poorly understood. The situation is paralleled by a lack of information of the natural history, ecology, and behavior of many species.





The number of endangered amphibians in Peru may be underestimated

(12/01/2008) The number of threatened amphibian species in Peru may be significantly underestimated, increasing the risk that conservation decisions will fail to account for their needs, report researchers writing in the December issue of Tropical Conservation Science.







Rural depopulation to have biodiversity impacts

(12/01/2008) Urbanization -- and accompanying rural abandonment -- may have profound implications for global biodiversity and therefore should factor into conservation planning, argue researchers writing in the December issue of Tropical Conservation Science.





Co-management of conservation areas offers multiple benefits

(12/01/2008) The Serengeti (Tanzania, East Africa)—one of the flagship conservation areas of the world—is the focus of a new paper published in the December issue of Tropical Conservation Science by Jafari R Kideghesho and Paul E Mtoni. The authors argue that conservation in the Serengeti needs to be approached as co-management involving sharing of power, responsibilities, and rights and duties between the government and local resource users. They advocate for intensive community involvement and reactivation of local traditional institutions in co-management approaches.





Rangers return to Virunga and begin gorilla census

(12/01/2008) After fifteen months rangers have been allowed to return to Virunga National Park in the Democratic Republic of Congo (DRC). A deal was worked out between insurgents and the government to allow rangers to return and begin overseeing the park's operations and monitoring its wildlife once again. Virunga is famous as one of the world's last stands for the mountain gorilla.







Living up to the Pope's words: the Vatican turns to solar power

(11/28/2008) In his three years since being inaugurated, Pope Benedict XVI has made the environment one of his central issues, proclaiming that "God entrusted man with the responsibility of creation". He has described the need to confront climate change as a "moral obligation" and spoken eloquently on the destruction of arable soil, forests and marine life.





Japanese scientists clone embryo of vanishing 'living fossil'

(11/28/2008) With less than 5,000 Amami rabbits left in Japan, scientists have implanted a cloned embryo of the species into a common rabbit according to a recent entry in the EDGE blog. The scientists hope that the Amami will come to full-term, but warned that the possibility of pregnancy was only 10 percent—not uncommon with other cloned animals.





New hope of curing amphibian plague

(11/28/2008) Amphibians worldwide are in trouble. One of the most endangered animal groups, amphibians are increasingly threatened by habitat loss, pollution, and climate change. However the largest threat is chytridiomycosis, a devastating disease caused by a parasitic chytrid fungus known as Batrachochytrium dendrobatidis, otherwise known as Bd.









A new reason to ban whaling: your health

(11/28/2008) Health officials have recommended a ban on the eating of pilot whales, a traditional food source, in the Faroe Islands, reports New Scientist. The build-up of toxins — which bioaccumulate up the food chain as predators feed on tainted organisms — have rendered whale meat harmful to humans.











Guide to reducing emissions through forest conservation released

(11/26/2008) Ahead of next week's climate meeting in Poznań, Poland, the Global Canopy Programme — an alliance of 37 scientific institutions in 19 countries — has launched a layman's guide to a proposed mechanism for cutting greenhouse gas emissions by reducing deforestation. Deforestation and land use change accounts for roughly 20 percent of global greenhouse gas emissions — a larger share than all the world's cars, trucks, ships, and airplanes combined.







Cameroon moves to protect rarest gorilla

(11/26/2008) The government of Cameroon has created a national park to help protect the world's most endangered great ape: the Cross River gorilla, reports the Wildlife Conservation Society (WCS), a group that provided scientific and technical support for the initiative.







Madagascar denies 'land grab' by South Korean conglomerate

(11/22/2008) Officials from Madagascar are denying they have reached an agreement to turn over half the island nation's arable land to a South Korean corporation for food production, reports Reuters. The controversial deal — which would have paid Madagascar nothing and turned over 1.3 million hectares to produce corn and palm oil for export at a time when one-third of country's children are malnourished — was reported last week by the Financial Times.





A cure for the Tasmanian devil's strange and fatal cancer?

(11/21/2008) Researchers have announced that two Tasmanian devils have survived a cancer devastating their species after receiving inoculations of dead tumor cells, according to the International Herald. However, the inoculations have not worked on every devil – despite being inoculated four devils died from the cancer during the work.










Page 1 | Page 2 | Page 3 | Page 4 | Page 5 | Page 6 | Page 7 | Page 8 | Page 9 | Page 10 | Page 11 | Page 12 | Page 13 | Page 14 | Page 15 | Page 16 | Page 17 | Page 18 | Page 19 | Page 20 | Page 21 | Page 22 | Page 23 | Page 24 | Page 25 | Page 26 | Page 27 | Page 28 | Page 29 | Page 30 | Page 31 | Page 32 | Page 33 | Page 34 | Page 35 | Page 36 | Page 37 | Page 38 | Page 39 | Page 40 | Page 41 | Page 42 | Page 43 | Page 44 | Page 45 | Page 46 | Page 47 | Page 48 | Page 49 | Page 50 | Page 51 | Page 52 | Page 53 | Page 54 | Page 55 | Page 56 | Page 57 | Page 58 | Page 59 | Page 60 | Page 61 | Page 62 | Page 63 | Page 64 | Page 65 | Page 66 | Page 67 | Page 68 | Page 69 | Page 70 | Page 71 | Page 72 | Page 73 | Page 74 | Page 75 | Page 76 | Page 77 | Page 78 | Page 79 | Page 80 | Page 81 | Page 82 | Page 83 | Page 84 | Page 85 | Page 86 | Page 87 | Page 88 | Page 89 | Page 90 | Page 91 | Page 92 | Page 93 | Page 94 | Page 95 | Page 96 | Page 97 | Page 98 | Page 99 | Page 100 | Page 101 | Page 102 | Page 103 | Page 104 | Page 105 | Page 106 | Page 107 | Page 108 | Page 109 | Page 110 | Page 111 | Page 112 | Page 113 | Page 114 | Page 115 | Page 116 | Page 117 | Page 118 | Page 119 | Page 120 | Page 121 | Page 122 | Page 123 | Page 124 | Page 125 | Page 126 | Page 127 | Page 128 | Page 129 | Page 130 | Page 131 | Page 132 | Page 133 | Page 134 | Page 135 | Page 136 | Page 137 | Page 138 | Page 139 | Page 140 | Page 141 | Page 142 | Page 143 | Page 144 | Page 145 | Page 146 | Page 147 | Page 148 | Page 149 | Page 150 | Page 151 | Page 152 | Page 153 | Page 154 | Page 155 | Page 156 | Page 157 | Page 158 | Page 159 | Page 160 | Page 161 | Page 162 | Page 163 | Page 164 | Page 165 | Page 166 | Page 167 | Page 168 | Page 169 | Page 170 | Page 171 | Page 172 | Page 173 | Page 174 | Page 175 | Page 176 | Page 177 | Page 178 | Page 179 | Page 180 | Page 181 | Page 182 | Page 183 | Page 184 | Page 185 | Page 186 | Page 187 | Page 188 | Page 189 | Page 190 | Page 191 | Page 192 | Page 193 | Page 194 | Page 195 | Page 196 | Page 197 | Page 198 | Page 199 | Page 200 | Page 201 | Page 202 | Page 203 | Page 204 | Page 205 | Page 206 | Page 207 | Page 208 | Page 209 | Page 210 | Page 211 | Page 212 | Page 213 | Page 214