News articles on green

---
Mongabay.com news articles on green in blog format. Updated regularly.








Brazil triples endangered species list

(11/05/2008) Brazil has nearly tripled the number of species on its endangered list due to development, overfishing, pollution, wildlife trafficking and deforestation, reports the Associated Press.
Palm oil companies propose satellite monitoring of their plantations to ensure sustainability

(11/05/2008) The Roundtable on Sustainable Palm Oil (RSPO) is considering a proposal to use satellite imagery to enforce criteria that high value conservation areas are not converted to oil palm plantations, reports Ian Wood of the Telegraph. The move would boost RSPO's credibility at a time when the industry-lead sustainability initiative is under fire from environmentalists who say its performance to date suggests it is merely an exercise in greenwashing.
Forests for Climate initiative launches in Indonesia

(11/04/2008) Greenpeace has officially launched its Forests for Climate initiative (FFC), a non-market avoided deforestation scheme that aims to reduce greenhouse gas emissions by slowing forest destruction.
Rainforest fungus generates biodiesel, may drive energy of the future

(11/04/2008) A fungus recently discovered in the Patagonian rainforest has shocked biologists and environmentalists: the fungus produces gas almost identical to diesel. In a paper announcing the discovery in Microbiology, scientists state that they believe the fungus, called Gliocladium roseum, could become an incredibly efficient green energy source.
Rainforest agriculture preserves bird biodiversity in India

(11/04/2008) Conservation of biodiversity and agriculture have long been considered conflicting interests. Numerous studies have shown that when agricultural replaces a forest, biodiversity greatly suffers. However a new study finds it doesn't have to be that way.
Review of the indoor rainforest at San Francisco's new Academy of Sciences

(11/04/2008) As a longtime resident of San Francisco's Inner Sunset district, I am quite familiar with the Academy of Sciences which is a short walk from my domicile. While I had visited it many times in its previous incarnation, the old (now demolished) museum was a far cry from the new high-tech building that opened this Fall. Both as someone who has traveled extensively in the tropics, and as the author of a number of travel guides which cover tropical rainforests and their ecosystems as well, I was looking forward to one of its most highly touted new features: the "rainforest dome."
Forest certification system needs reform to ensure sustainability - report

(11/04/2008) Demand for wood products is ultimately one of the largest drivers of global deforestation through both direct clear-cutting and selective logging, which increases a forest's vulnerability to fire and subsequent clearing and disturbance by other actors, including hunters, subsistence farmers, land speculators, ranchers and agro-industrial firms. Reducing the detrimental environmental impacts of meeting wood demand is critical to protecting the world's forests as healthy, productive and resilient ecosystems.
Rise of industrial chicken farming imperils genetic stock of the industry

(11/03/2008) Industrial poultry farming is reducing the genetic diversity of chickens, putting them at greater risk of disease, report researchers writing in Proceedings of the National Academy of Sciences. The authors propose interbreeding commercial chickens with indigenous stocks to restore greater diversity within the industry.
Researchers catch, then release, world's rarest big cat in Russia

(10/30/2008) The world's rarest big cat is alive and well. At least one of them, that is, according to researchers from the Wildlife Conservation Society (WCS) who captured and released a female Far Eastern leopard in Russia last week. The capture was made in Primorsky Krai along the Russian-Chinese border by a team of scientists from WCS and the Russian Academy of Sciences Institute of Biology and Soils (IBS). The team is evaluating the health and potential effects of inbreeding for this tiny population, which experts believe contains no more than 10-15 females.
One-third of global marine catch used as livestock feed

(10/30/2008) Despite continuous warnings of emptying oceans due to overfishing, a new report finds that one-third of the world's total marine catch is not feeding humans, but livestock. The fish are ground-up into meal and fed to pigs, poultry, and even farm-raised fish.
39 rangers missing in Virunga Park after headquarters overtaken by rebels

(10/30/2008) Five days after rebels occupied Virunga Park's headquarters, thirty-nine wildlife rangers are still unaccounted in the Democratic Republic of Congo (DRC). During the takeover, which included fighting between the Congolese army and the rebels, many of the rangers fled into the forest.
Coca-Cola announces water conservation goal

(10/30/2008) Coca-Cola Company has pledged to a 20 percent improvement in water efficiency over 2004 levels in its worldwide operations by 2012, saving some 50 billion liters of fresh water over projected use that year, reports WWF, which negotiated the agreement.
World military leaders meet in Paris to discuss role in fighting climate change

(10/30/2008) Acknowledging the security threats posed by global warming as well as past successes in controlling emissions of ozone-depleting compounds, military leaders from around the world will convene next week in Paris, France for "The Importance of Military Organizations in Protecting the Climate: 2008. The officials will be joined by a panel of climate experts.
U.S. Fish and Wildlife Service program restores bird habitat on farms and ranches

(10/28/2008) Matt Filsinger is driving his white pickup headed northeast from Sterling to look at two of his projects. This self-described introvert speaks enthusiastically about his job. "Ducks, ducks, ducks – that's what I love!" says Filsinger, grinning broadly. Filsinger is a wildlife biologist with the Partners for Fish and Wildlife Program of the U.S. Fish and Wildlife Service. He works with private landowners to set aside land and create attractive habitat for imperiled species. Specifically, he designs wetlands to attract waterfowl. Partners for Fish and Wildlife is a successful program that has been around since 1987. Landowners, including farmers and ranchers, form partnerships with the program because they reap a variety of benefits from it. Nonprofit organizations such as Ducks Unlimited, Audubon and the Rocky Mountain Bird Observatory are also partners. Collaboration between the federal government and private landowners is essential to preserving habitat and species, as 73 percent of the country's land is privately owned, and most wildlife lives on that land.
How to Save Snow Leopards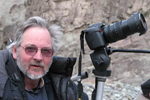 (10/28/2008) The snow leopard (Panthera uncia) is one of the rarest and most elusive big cat species with a population of 4,500 to 7,500 spread across a range of 1.2 to 1.6 million kilometers in some of the world's harshest and most desolate landscapes. Found in arid environments and at elevations sometimes reaching 18,000 feet (5,500 meters), the species faces great threats despite its extreme habitat. These threats vary across its range, but in all countries where it is found — Afghanistan, Bhutan, China, India, Kyrgyzstan, Kazakhstan, Nepal, Mongolia, Pakistan, Russia, Tajikistan, Uzbekistan and possibly Myanmar — the species is at risk. In some countries snow leopard are directly hunted for their pelt, in others they are imperiled by depletion of prey, loss of habitat, and killing as a predator of livestock. These threats, combined with the cat's large habitat requirements, means conservation through the establishment of protected areas alone may not be enough save it from extinction in the wild in many of the countries in which it lives. Working to stave off this fate in half a dozen of its range countries is the Snow Leopard Conservancy. Founded by Dr. Rodney Jackson, a biologist who has been studying snow leopard in the wild for 30 years, the Conservancy seeks to conserve the species by "promoting innovative grassroots measures that lead local people to become better stewards of endangered snow leopards, their prey, and habitat."





Yellowstone amphibians in decline due to climate change

(10/27/2008) Climate change appears to be responsible for a "marked drop" in the population of three of four species of amphibian once common to Yellowstone National Park, report researchers writing in Proceedings of the National Academy of Sciences.





Forest elephants learn to avoid roads, behavior may lead to population decline

(10/27/2008) Forest elephants in the Congo Basin have developed a new behavior: they are avoiding roads at all costs. A study published in PLoS One concludes that the behavior, which includes an unwillingness to cross roads, is further endangering the rare animals which are already threatened by poaching, development, and habitat loss. By avoiding roads, the elephants are increasingly confining themselves to smaller areas lacking enough habitat and resources.









Geoengineering schemes need ranking system to avoid wasting money, destroying the planet

(10/26/2008) Schemes to alter Earth's climate on a planetary scale should be ranked according to their efficacy, cost, risks and their rate of mitigation, argues a new editorial published in Nature Geoscience. With so-called geoengineering proposals proliferating as concerns over climate change mount, Philip Boyd of New Zealand's NIWA warns that "no geo-engineering proposal has been tested or even subjected to preliminary trials". He says that despite widespread media attention, scientists have yet to even come up with a way to rank geoegineering schemes for their efficacy, cost, associated risk, and timeframe. Thus is it unclear whether ideas like carbon burial, geochemical carbon capture, atmospheric carbon capture, ocean fertilization, cloud manipulation, "space sunshades", or strategically-placed pollution can be effective on a time-scale relevant to humankind, economical, or even safe.





Clean Development Mechanism - An Important Tool to Reduce GHG Emissions

(10/26/2008) The Clean Development Mechanism (CDM), is a mechanism under the Kyoto Protocol for promoting technology transfer and investment from industrialized countries to the developing world for projects focussed on mitigating emissions of greenhouse gases. It provides for industrialized countries to invest in emission-reducing projects in developing countries and to use the resulting Certified Emissions Reductions (CER) credits towards their own compliance with the emission limitation targets set forth by the Kyoto Protocol.





Gorilla refuge falls into rebel hands in Congo; Park HQ seized

(10/26/2008) Rebels in Democratic Republic of Congo seized the headquarters of Virunga National Park — a refuge home to 200 of the world's 700 remaining endangered mountain gorillas — according to a statement by park officials. Some 50 rangers fled into the forests and abandoned the park station after intense fighting between the Congolese army and the rebels loyal to dissident General Laurent Nkunda.







Despite financial crunch, donors pledge $100M for rainforest conservation

(10/23/2008) Donors meeting this week in Washington D.C. pledged more than $100 million to the World Bank's new initiative for conserving tropical forests. In addition to the $100 million in donations, the World Bank announced that more than forty developing countries have asked to join the Forest Carbon Partnership Facility — the Bank's foray into the emerging market for forest carbon credits. 25 countries have so far been selected to participate in the initiative, which builds capacity for countries to earn compensation through the carbon markets for reducing greenhouse gas emissions by reducing deforestation and forest degradation (REDD). Experts say the mechanism could eventually lead to the transfer of billions of dollars per year to fund conservation and rural development in tropical countries, while at the same time helping fight climate change. Deforestation and land use change presently accounts for around a fifth of anthropogenic emissions.





Rare bird rediscovered on 'most pristine' island in southeast Asia

(10/23/2008) Scientist have rediscovered the endangered Wetar Ground-dove (Gallicolumba hoedtii), one of the world's least known birds, 100 years after it was last seen on the remote Indonesian island of Wetar, reports Columbidae Conservation, a UK-based conservation group.





Solar cells, flat-panel screens are source of potent greenhouse gas

(10/23/2008) Atmospheric concentrations of nitrogen trifluoride — a gas used in the manufacture of liquid crystal flat-panel displays, thin-film photovoltaic cells and microcircuits — are at least four times higher than previously estimated, reports a new study published in the journal Geophysical Research Letters.





Green New Deal will spark global economy, create jobs

(10/22/2008) A "Global Green New Deal" that focuses the world economy "towards investments in clean technologies and 'natural' infrastructure such as forests and soils is the best bet for real growth, combating climate change and triggering an employment boom," according to a new initiative led by the United Nations Environment Programme (UNEP).





Peru's uncontacted Amazon tribes under attack

(10/22/2008) Illegal logging in the Peruvian Amazon is driving uncontacted tribes into Brazil where they are in conflict over food and resources with other uncontacted groups, according to a Reuters interview with a leading expert on indigenous tribes.











Rich countries driving pollution in poor countries

(10/22/2008) Rich countries are driving pollution in poor countries through mining of raw materials and outsourcing of industrial manufacturing, reports a new report from environmental NGOs Blacksmith and Green Cross Switzerland.








Page 1 | Page 2 | Page 3 | Page 4 | Page 5 | Page 6 | Page 7 | Page 8 | Page 9 | Page 10 | Page 11 | Page 12 | Page 13 | Page 14 | Page 15 | Page 16 | Page 17 | Page 18 | Page 19 | Page 20 | Page 21 | Page 22 | Page 23 | Page 24 | Page 25 | Page 26 | Page 27 | Page 28 | Page 29 | Page 30 | Page 31 | Page 32 | Page 33 | Page 34 | Page 35 | Page 36 | Page 37 | Page 38 | Page 39 | Page 40 | Page 41 | Page 42 | Page 43 | Page 44 | Page 45 | Page 46 | Page 47 | Page 48 | Page 49 | Page 50 | Page 51 | Page 52 | Page 53 | Page 54 | Page 55 | Page 56 | Page 57 | Page 58 | Page 59 | Page 60 | Page 61 | Page 62 | Page 63 | Page 64 | Page 65 | Page 66 | Page 67 | Page 68 | Page 69 | Page 70 | Page 71 | Page 72 | Page 73 | Page 74 | Page 75 | Page 76 | Page 77 | Page 78 | Page 79 | Page 80 | Page 81 | Page 82 | Page 83 | Page 84 | Page 85 | Page 86 | Page 87 | Page 88 | Page 89 | Page 90 | Page 91 | Page 92 | Page 93 | Page 94 | Page 95 | Page 96 | Page 97 | Page 98 | Page 99 | Page 100 | Page 101 | Page 102 | Page 103 | Page 104 | Page 105 | Page 106 | Page 107 | Page 108 | Page 109 | Page 110 | Page 111 | Page 112 | Page 113 | Page 114 | Page 115 | Page 116 | Page 117 | Page 118 | Page 119 | Page 120 | Page 121 | Page 122 | Page 123 | Page 124 | Page 125 | Page 126 | Page 127 | Page 128 | Page 129 | Page 130 | Page 131 | Page 132 | Page 133 | Page 134 | Page 135 | Page 136 | Page 137 | Page 138 | Page 139 | Page 140 | Page 141 | Page 142 | Page 143 | Page 144 | Page 145 | Page 146 | Page 147 | Page 148 | Page 149 | Page 150 | Page 151 | Page 152 | Page 153 | Page 154 | Page 155 | Page 156 | Page 157 | Page 158 | Page 159 | Page 160 | Page 161 | Page 162 | Page 163 | Page 164 | Page 165 | Page 166 | Page 167 | Page 168 | Page 169 | Page 170 | Page 171 | Page 172 | Page 173 | Page 174 | Page 175 | Page 176 | Page 177 | Page 178 | Page 179 | Page 180 | Page 181 | Page 182 | Page 183 | Page 184 | Page 185 | Page 186 | Page 187 | Page 188 | Page 189 | Page 190 | Page 191 | Page 192 | Page 193 | Page 194 | Page 195 | Page 196 | Page 197 | Page 198 | Page 199 | Page 200 | Page 201 | Page 202 | Page 203 | Page 204 | Page 205 | Page 206 | Page 207 | Page 208 | Page 209 | Page 210 | Page 211