News articles on green

---
Mongabay.com news articles on green in blog format. Updated regularly.






Shortsighted recommendations to eat more fish ignore large-scale environmental impact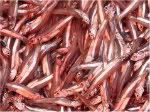 (03/16/2009) Recommendations by international health agencies, doctors, nutritionists, and the media to consume more fish for better health ignore the fact that fish stock are collapsing worldwide, reports a new study published in the Canadian Medical Association Journal. "Even at current levels of fish consumption, fisheries globally have reached a state of severe crisis. Already, the demand from affluent and developing economies, particularly newly affluent China, cannot be met by the world's fisheries," states the new report.
Rise in sea levels due to global warming could imperil New York City

(03/16/2009) A new study shows that sea levels along the United States' northeastern coast will rise nearly twice as fast during this century than previous predictions. By 2100 the waters around New York city could rise as much as 18 inches, leaving Manhattan particularly vulnerable to flooding from hurricanes and winter storm surges.
Fastest evolving bird family produces new species

(03/16/2009) Discovered in the Solomon Island of Vanikoro, a new species of bird from the white-eye family leads credence to the belief that white-eyes are the world's fastest evolving family of birds.
Shells thinning due to ocean acidification

(03/13/2009) By soaking up excess CO2 from the atmosphere oceans are undergoing a rise in acidity which is having ramifications across their ecosystems, most frequently highlighted in the plight of coral reefs around the world. However, a new study in Nature Geoscience shows that the acidification is affecting another type of marine life. Foraminifera, a tiny amoeba-like entity numbering in the billions, have experienced a 30 to 35 percent drop in their shell-weight due to the high acidity of the oceans.
New greenhouse gas '4,800 times more potent' than carbon

(03/12/2009) Scientists from MIT and Scripps Institution of Oceanography have announced the discovery of an exceptionally potent new greenhouse gas. Sulfuryl fluoride is an up-and-coming fumigant against insects, but scientists have discovered that if the new gas becomes widely used it could contribute significantly to climate change.
Historic US law now extends to illegal logging

(03/11/2009) Enacted in 1900 by William F. McKinley the Lacey Act is the oldest wildlife protection law in the US; for a over a century it has protected animals from being illegally hunted and trafficked. An amendment made last year has now extended the law to protect plants for the first time, making it possible for the US to support efforts abroad and at home to combat illegal logging.
Dedicated rock-throwing chimp proves longterm planning

(03/10/2009) Biologists have suspected for a long time that animals other than humans are capable of making plans for future events, but it has proven difficult to show conclusively. However, a new study in Current Biology claims the first unambiguous evidence of an animal premeditating. Mathias Osvath of Lund University in Sweden has spent a decade observing a male chimpanzee in a zoo collecting stones, making them into concrete discs, and then throwing them at zoo visitors.
Poison frog diversity linked to the Andes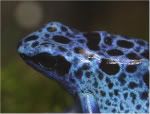 (03/10/2009) Electric colors, wild markings, and toxic skin have made poison frogs well-known inhabitants of the Amazon rainforest. With 353 recognized species, and probably more awaiting discovery, poison frogs are an incredibly diverse group of amphibians. While it has long been believed that the Amazon basin, itself, was the source of their diversity, a new study published in PLoS Biology has uncovered that the Andes mountain chain has served as an oven of evolutionary biodiversity for poison frogs over several million years.
Seven new species of deep sea coral discovered

(03/09/2009) In the depths of the Papahānaumokuākea Marine National Monument, which surrounds ten Hawaiian islands, scientists discovered seven new species of bamboo coral. Supported by the National Ocean and Atmospheric Administration (NOAA), the discoveries are even more surprising in that six of the seven species may represent entirely new genus of coral.
All about giraffes: an interview with a giraffe expert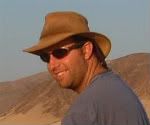 (03/09/2009) Dr. Julian Fennessy probably knows the giraffe better than anyone. Trekking across savannah, forest, and the deserts of Africa, Fennessy is collecting genetic samples of distinct giraffe populations and overturning common wisdom regarding their taxonomies. It had long been accepted knowledge that the giraffe was made up of one species and several subspecies, however with Fennessy's work it now appears that several of the subspecies may in fact be distinct species. Such discoveries could have large conservation impacts, since conservation funds and efforts are largely devoted to species. The giraffe has suffered significant declines in the past decade with the total population dropping some 30 percent across Africa.
Rarest rhino caught on film wallowing in mud with calf

(03/06/2009) In a scene that appears out of an old jungle movie, The World Wildlife Fund (WWF) has caught the world's rarest rhino on film. With less than 60 Javan rhinos estimated to exist in the wild, it is one of the world's most imperiled species.
Infant blue whale filmed underwater

(03/06/2009) Off the waters of Costa Rica in January 2008 scientists and photographers with National Geographic filmed an infant blue whale swimming near its mother. They believe this is the first time a baby blue whale has been filmed underwater.
In exchange for marriage certificate Indonesians must donate trees

(03/05/2009) An Indonesian district in West Java, Garut, has started a unique program to support reforestation. As reported by Reuters, any couple planning to get married must give ten trees to local authorities for reforestation efforts before marriage will be legally sanctioned.
Drought threatens the Amazon rainforest as a carbon sink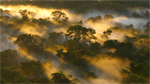 (03/05/2009) Drought in the Amazon is imperiling the rainforest ecosystem and global climate, reports new research published in Science. Analyzing the impact of the severe Amazon drought of 2005, a team of 68 researchers across 13 countries found evidence that rainfall-starved tropical forests lose massive amounts of carbon due to reduced plant growth and dying trees. The 2005 drought — triggered by warming in the tropical North Atlantic rather than el Niño — resulted in a net flux of 5 billion tons of carbon dioxide (CO2) into the atmosphere — more than the combined annual emissions of Japan and Europe — relative to normal years when the Amazon is a net sink for 2 billion tons of CO2.
'Stopgap' to preserve US bats from devastating fungus
(03/05/2009) Half a million bats have succumbed to a mysterious fungal disease known as white-nose syndrome in two years. Found in seven states in the northeastern US, this syndrome has left biologists baffled since first discovered in 2006. While researchers are still trying to uncover the relationship of the syndrome to the bats, a recent study published in Frontiers in Ecology and the Environment e-View suggests a way to mitigate the syndrome devastating affect. Employing a mathematical simulation the researchers found that using localized heat sources on hibernating bats may preserve populations while a long-term solution is found.
When science hijacks conservation funding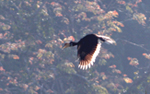 (03/04/2009) A scientist's job is to create new knowledge. Thus it is not surprising that scientists are most interested in their own research. Scientists use many methods to raise funds to support their research agendas and build their reputations. Scientists collect information, publish their results, and seek out new opportunities. Because science is a tool that can be used for conservation, scientists often seek donations from conservation organizations to support their research projects.
Only one out of 91 antelope species is on the rise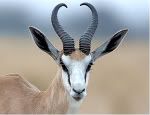 (03/04/2009) The springbok is the only antelope species whose population is on the rise, according to a new review by the Red List for the International Union for Conservation of Nature (IUCN). In addition, over a quarter of the antelopes, 25 species out of 91, are considered threatened with extinction. "Unsustainable harvesting, whether for food or traditional medicine, and human encroachment on their habitat are the main threats facing antelopes," says Dr Philippe Chardonnet, Co-Chair of the IUCN Antelope Specialist Group.
Indonesia applies for REDD partnership to protect forests

(03/04/2009) Indonesia has applied to join the World Bank's Forest Carbon Partnership Facility, becoming the largest developing country to apply to a program that seeks to reduce greenhouse gas emissions by saving tropical forests, reports Reuters.
Amazon deforestation drops 70% for Nov 2008-Jan 2009 period

(03/04/2009) Deforestation in the Brazilian Amazon fell to 291 square miles (754 square kilometers) in the November 2008-January 2009 window, a drop of 70 percent compared to the year earlier period when 976 sq mi (2,527 sq km), said Environment Minister Carlos Minc.
Climate change could devastate lizards in the tropics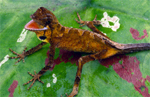 (03/04/2009) With help from data collected thirty years ago, scientists have discovered that tropical lizards may be particularly sensitive to a warming world. Researchers found that lizards in the tropics are more sensitive to higher temperatures than their relatives in cooler, yet more variable climates. "The least heat-tolerant lizards in the world are found at the lowest latitudes, in the tropical forests. I find that amazing," said Raymond Huey, lead author of a paper appearing in the March 4 Proceedings of the Royal Society B.
Papua New Guinea creates first nature reserve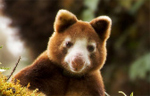 (03/03/2009) Home to numerous endemic species and some of the Asia's last intact tropical forests, Papua New Guinea has created its first national conservation area. Unique in structure, the park is owned by 35 surrounding indigenous villages which have agreed unanimously to prohibit hunting, logging, mining, and other development within the park. The villages have also created a community organization that will oversee management of the park. The 10,000 villagers found partners in Woodland Park Zoo in Seattle, Conservation International, and National Geographic. The conservation organizations spent twelve years working with locals and the Papua New Guinea government to establish the YUS Conservation Area.
Economic crisis hits conservation but may offer opportunities, says TNC president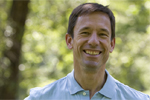 (03/03/2009) In 2008 The Nature Conservancy (TNC) surprised the conservation world when it selected Mark Tercek, an investment banker from Goldman Sachs, as its new president and CEO. But for people who have worked with Tercek, the move made strategic sense – Tercek was a leading figure in the Goldman's effort to improve its environmental record. In 2005 Tercek was appointed to head up the firm's Environmental Strategy Group, which develops and implements its environmental policy, and its Center for Environmental Markets, an initiative that examines market-based solutions to environmental challenges. In that role Tercek worked with pioneers in ecosystem services science, including Gretchen Daily of Stanford University; John Holdren, the former director of the Woods Hole Research Center and currently President Obama's chief scientific adviser; and Peter Kareiva, chief scientist at TNC.
Cameroon may liquidate rainforest reserve if conservationists don't step forward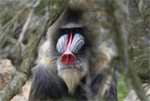 (03/02/2009) The opportunity to conserve a one million hectare tract rainforest in Cameroon is fast dwindling due financial pressures in the Central African country, reports a bulletin from the Ngoyla Mintom Foundation. In 2002 the government of Cameroon suspended logging rights and extended an offer to protect Ngoyla Mintom — a forest reserve that houses 4,000 lowland gorillas, 1,500 endangered chimpanzees, 3,000 forest elephants and an important population of vulnerable Mandrills — provided someone step forward to pay for it. To date there have been no takers. Now facing a mounting economic crisis, the government of Cameroon says it will soon concession Ngoyla Mintom for logging.
Aquatic animals emit powerful greenhouse gas

(03/02/2009) A number of water-dwelling species emit the greenhouse gas nitrous oxide, researchers announced today in the journal Proceedings of the National Academy of Sciences . Although nitrous oxide is low in concentration globally, it is considered the fourth largest contributor to climate change. This is due to its potency: in a hundred year period nitrous oxide by weight packs 310 times more punch as a greenhouse gas than carbon dioxide.
Time to give up on Tasmanian tiger, says DNA expert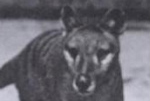 (03/02/2009) Money and energy spent on finding the Tasmanian tiger should be used for other conservation purposes, according to Dr. Jeremy Austin from the University of Adelaide's Centre for Ancient DNA. The Tasmanian tiger, or Thylacine, has captured the imagination of cryptozoologists ever since the last known individual died in the 1936 in the Hobart Zoo, which closed the next year. There have been several unreported sightings throughout the island since the 1930s, including inconclusive photos taken by German tourists.
Massive freshwater stingray takes 13 men to pull it ashore in Thailand

(02/27/2009) It took ninety minutes and thirteen men to reel in an astounding specimen of giant freshwater stingray on the Ban Pakong River in Thailand. At seven feet wide and weighing an estimated 580-770 pounds (265-350 kilograms), the monstrous fish is thought to be the largest freshwater fish ever caught with a rod and line, according to Fishsiam, a company that provides fishing tours in Thailand.
China's emissions rise 45%, but Western demand accounts for 30% of increase

(02/26/2009) Thirteen-and-a-half percent of China's 45 percent rise in greenhouse gas emissions between 2002 and 2005 can be attributed to export production for Western countries, reports a new study published in Geophysical Research Letters. In other words, outsourcing of manufacturing by American and European firms accounted for larger share of carbon dioxide emission growth than rising domestic consumption in China (which made of 7 percent of the figure). The results, which indicate that Western companies are effectively outsourcing emissions along with manufacturing, have implications for future climate treaties, says one of the authors.
Could America's 700 billion stimulus have saved life on earth?
(02/26/2009) In a January op-ed in Science, ecologist Jaboury Ghazoul wistfully and wittily ponders how far the 789 billion stimulus bill recently passed by the US Congress could go toward saving our planet's embattled life-forms. In his essay, Ghazoul suggests we put the 700 billion "in the context of the species extinction crisis". According to various scientific analyses the extinction rate is currently 100 to 1,000 times the average. Such a catastrophic loss of species—while making the world a lonelier and less interesting place—will unpredictably reshape ecosystems we depend on, causing social, political, and economic upheaval.
Illegal fishing estimated at $10-24B per year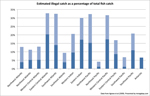 (02/26/2009) Global losses from illegal and unreported fishing are estimated at $10-23.5 billion per year, according to a new study published in PLoS One. Analyzing fishing data from 54 countries, David J. Agnew of Imperial College London and colleagues estimate the "Illegal, Unreported and Unregulated" (IUU) fish catch at 11 to 26 million tons per each year. The authors found a strong link between governance and illegal fishing — illicit practices were most widespread in developing countries with poor monitoring and law enforcement. Estimated catches in West Africa were 40 percent higher than reported catches.
Ecstasy threatens rainforests in Cambodia

(02/25/2009) Authorities, working with conservationists, have raided and closed several 'ecstasy oil' distilleries in Cambodia's Cardamom Mountains. The distilleries posed a threat to the region's rich biological diversity, reports Fauna & Flora International (FFI), the conservation group involved in the operation.
Whole Foods bans unsustainable palm oil from its products
(02/24/2009) America's largest organic grocer has announced its products will no longer use palm oil sourced from unsustainable producers, reports the Rainforest Action Network (RAN), an activist group that has led a campaign against destructive palm oil production. The move adds pressure on the palm oil industry to develop an effective and credible certification system for palm oil.
Carbon dioxide monitoring satellite crashes immediately after launch

(02/24/2009) The Orbiting Carbon Observatory, a $273 million satellite that would have collected measurements of carbon dioxide (CO2) in Earth's atmosphere to help better forecast the climate impacts of changes in CO2 levels, crashed about three minutes after launch, reports NASA. Researchers say the accident is a major setback for science.
YouTube videos may be imperiling cuddly primate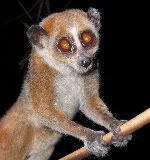 (02/24/2009) Many "cute" and "cuddly" species have gained attention and funds from conservation groups, since the public gravitates toward such attractive species. In fact, cuteness can sometimes mean the difference between conservation attention and extinction. However, for slow lorises being cute may be their downfall. Despite the fact that owning a slow loris as a pet or trading it is illegal in all range countries and "all countries where primates as pets are illegal," the species is still heavily trafficked, says Dr. Anna Nekaris, an anthropologist who specializes in slow-loris research at Oxford Brookes University. During the past few years videos of pet slow lorises have begun to appear on YouTube. Such videos often include comments from users who push misinformation about the slow loris's legality and aptitude as pets, raising concerns among conservationists that the videos encourage people to actively pursue the slow loris as a pet.
Photos: Rarest cheetah photographed for the first time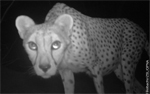 (02/23/2009) With only 250 individuals left the Saharan Cheetah is on the brink of extinction. Little-studied, this imperiled subspecies has been photographed for the fist time by scientists from by the Zoological Society of London (ZSL) and Office du Parc National de l'Ahaggar (OPNA) using camera traps. "The Saharan cheetah is critically endangered, yet virtually nothing is known about the population, so this new evidence, and the ongoing research work, is hugely significant," said Dr Sarah Durant, a Senior Research Fellow with ZSL.
Box turtles in Asia imperiled by massive trade

(02/23/2009) Massive international trade in Southeast Asian Box Turtles has driven the species to near-extinction in parts of Indonesia, according to a new report by TRAFFIC, the wildlife trade monitoring network.
ACCOR hotel chain linked to destructive logging in Borneo?

(02/23/2009) ACCOR, one of Europe's leading hotel groups, is cooperating with a Malaysian logging company blamed for destructive logging and attacks on Penan indigenous communities in Sarawak, claims an environmental group that has long campaigned on behalf of Borneo's forest people. The Switzerland-based Bruno Manser Fund reports that NOVOTEL is jointly building a 4.5-star hotel in the Sarawak capital of Kuching with the Malaysian tropical timber company, Interhill.
New fire record for Borneo, Sumatra shows dramatic increase in rainforest destruction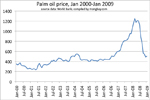 (02/22/2009) Destruction of rainforests and peatlands is making Indonesia more susceptible to devastating forest fires, especially in dry el Niño years, report researchers writing in the journal Nature Geoscience. Constructing a record of fires dating back to 1960 for Sumatra and Kalimantan (on the island of Borneo) using airport visibility records to measure aerosols or "haze" prior to the availability of satellite data, Robert Field of the University of Toronto and colleagues found that the intensity and scale of fires has increased substantially in Indonesia since the early 1990s, coinciding with rapid expansion of oil palm plantations and industrial logging.
Clinton, Obama botch opportunity on climate, forest conservation
(02/20/2009) The Obama administration squandered a chance this week to show U.S. leadership on climate and forest conservation issues, when Secretary of State Hillary Clinton, during a visit to Jakarta, failed to bring up a new Indonesian government decree allowing conversion of carbon-rich peat forests to oil-palm plantations.
Wild jaguar outfitted with radio-collar in U.S. for first time

(02/20/2009) The Department of Fish and Game in Arizona captured a jaguar south Of Tucson, Arizona and fitted it with a GPS radio collar. The jaguar, a well-documented male named 'Macho', is the first in the US to be fitted with such a collar, providing frequent updates on its movements.
Iceland reaffirms whaling targets for 2009

(02/19/2009) Iceland's interim government will allow whaling to continue through 2009 but left in question whether it would be permitted in the future, reports Reuters.
Rainforests absorb 20% of emissions annually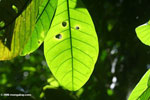 (02/19/2009) Undisturbed tropical forests are absorbing nearly a fifth of carbon dioxide released annually by the burning of fossil fuels, according to an analysis of 40 years of data from rainforests in the Central African country of Gabon. Writing in the journal Nature, Simon Lewis and colleagues report that natural forests are an immense carbon sink, helping slow the rise in atmospheric CO2 levels.
Amazon rainforest in big trouble, says UN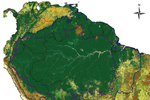 (02/19/2009) Economic development could doom the Amazon warns a comprehensive new report from the United Nations Environment Programme (UNEP). The report — titled GEO Amazonia [PDF-21.3MB] — is largely a synthesis of previously published research, drawing upon studies by more than 150 experts in the eight countries that share the Amazon.




Page 1 | Page 2 | Page 3 | Page 4 | Page 5 | Page 6 | Page 7 | Page 8 | Page 9 | Page 10 | Page 11 | Page 12 | Page 13 | Page 14 | Page 15 | Page 16 | Page 17 | Page 18 | Page 19 | Page 20 | Page 21 | Page 22 | Page 23 | Page 24 | Page 25 | Page 26 | Page 27 | Page 28 | Page 29 | Page 30 | Page 31 | Page 32 | Page 33 | Page 34 | Page 35 | Page 36 | Page 37 | Page 38 | Page 39 | Page 40 | Page 41 | Page 42 | Page 43 | Page 44 | Page 45 | Page 46 | Page 47 | Page 48 | Page 49 | Page 50 | Page 51 | Page 52 | Page 53 | Page 54 | Page 55 | Page 56 | Page 57 | Page 58 | Page 59 | Page 60 | Page 61 | Page 62 | Page 63 | Page 64 | Page 65 | Page 66 | Page 67 | Page 68 | Page 69 | Page 70 | Page 71 | Page 72 | Page 73 | Page 74 | Page 75 | Page 76 | Page 77 | Page 78 | Page 79 | Page 80 | Page 81 | Page 82 | Page 83 | Page 84 | Page 85 | Page 86 | Page 87 | Page 88 | Page 89 | Page 90 | Page 91 | Page 92 | Page 93 | Page 94 | Page 95 | Page 96 | Page 97 | Page 98 | Page 99 | Page 100 | Page 101 | Page 102 | Page 103 | Page 104 | Page 105 | Page 106 | Page 107 | Page 108 | Page 109 | Page 110 | Page 111 | Page 112 | Page 113 | Page 114 | Page 115 | Page 116 | Page 117 | Page 118 | Page 119 | Page 120 | Page 121 | Page 122 | Page 123 | Page 124 | Page 125 | Page 126 | Page 127 | Page 128 | Page 129 | Page 130 | Page 131 | Page 132 | Page 133 | Page 134 | Page 135 | Page 136 | Page 137 | Page 138 | Page 139 | Page 140 | Page 141 | Page 142 | Page 143 | Page 144 | Page 145 | Page 146 | Page 147 | Page 148 | Page 149 | Page 150 | Page 151 | Page 152 | Page 153 | Page 154 | Page 155 | Page 156 | Page 157 | Page 158 | Page 159 | Page 160 | Page 161 | Page 162 | Page 163 | Page 164 | Page 165 | Page 166 | Page 167 | Page 168 | Page 169 | Page 170 | Page 171 | Page 172 | Page 173 | Page 174 | Page 175 | Page 176 | Page 177 | Page 178 | Page 179 | Page 180 | Page 181 | Page 182 | Page 183 | Page 184 | Page 185 | Page 186 | Page 187 | Page 188 | Page 189 | Page 190 | Page 191 | Page 192 | Page 193 | Page 194 | Page 195 | Page 196 | Page 197 | Page 198 | Page 199 | Page 200 | Page 201 | Page 202 | Page 203 | Page 204 | Page 205 | Page 206 | Page 207 | Page 208 | Page 209 | Page 210 | Page 211 | Page 212 | Page 213 | Page 214