News articles on green

---
Mongabay.com news articles on green in blog format. Updated regularly.






408 mammal species discovered since 1993

(02/09/2009) The discovery of 408 species of mammals — the planet's best-known group of animals 𔃐 since 1993 demonstrates our poor understanding of global biodiversity, argue scientists writing in Proceedings of the National Academy of Sciences.
Global warming to strengthen Arctic storms

(02/05/2009) Arctic storms could worsen due to climate change, putting fisheries, oil and gas exploration, and sea lanes at risk, warn researchers writing in the journal Climate Dynamics.
Sustainable farming is the only way to feed the planet going forward
(02/05/2009) Embracing more sustainable farming methods is the only way for the world's farmers to grow enough food to meet the demands of a growing population and respond to climate change, the top crop expert with the United Nations Food and Agriculture Organization (FAO) said today.
Google Earth now allows ocean exploration, tracking of sharks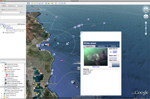 (02/05/2009) Google Earth now allows users to dive beneath the surface of the world's oceans to see coral reefs, trenches, and other marine wonders. The new version, Google Earth 5, includes layers showing locations of shipwrecks and surf spots; routes for ocean expeditions; the movements of GPS-tracked sea animals; and information (including videos and images) about the ocean environment from sources including National Geographic, the Cousteau Society, the International Union for Conservation of Nature (IUCN), the Monterey Bay Aquarium, and the National Oceanic and Atmospheric Administration (NOAA).
12 new species of frogs discovered in India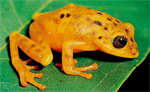 (02/03/2009) A dozen previously unknown species of frogs have been discovered in the forests of Western Ghats according to a paper published in latest issue of Zoological Journal of Linnean Society, London. The 12 species have been identified following a revision of the Philautus genus and are the result of ten years of field study in Kerala, Tamil Nadu, Karnataka. Goa, Maharashtra, and part of Gujarat, in the Western Ghats. The Western Ghats are considered a global biodiversity hotspot for their species richness and the threats the mountain range faces.
Amazon scientists awarded 'Nobel Prize' of conservation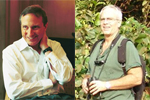 (02/01/2009) Thomas Lovejoy of the H. John Heinz III Center for Science, Economics and the Environment and William F. Laurance of the Smithsonian Tropical Research Institute (STRI) have been awarded one of ecology's most coveted prizes for their work to understand and conserve the Amazon rainforest. The €400,000 BBVA Foundation Frontiers of Knowledge Award in Ecology and Conservation Biology is given annually to "honor contributions which significantly advance the stock of knowledge in this area for reasons of their importance and originality."
Giant population of lions could live war-torn region
(01/30/2009) The war-torn frontier between Uganda and the Democratic Republic of the Congo has prey to support more than 900 lions, but conservationists must act soon to protect the big cats from poaching and poisoning by livestock herders, report researchers writing in the journal Oryx. The study, which was conducted by Adrian Treves of the University of Wisconsin-Madison and colleagues from Wildlife Conservation Society and the Panthera Foundation, relied on aerial surveys of lion prey — buffalo, warthog, waterbuck and other ungulates — which were then used to estimate the region's potential lion population.
Glaciers decline in ice mass for 18th straight year

(01/30/2009) Glaciers worldwide lost ice mass for the 18th consecutive year due to warming temperatures and reduce snowfall, reports the University of Zurich's World Glacier Monitoring Service. Alpine glaciers lost on average 1.3 meters of thickness in 2006 and 0.7 meters in 2007, extending an 11.3-meter (36-foot) retreat since 1980.
California faces severe drought

(01/30/2009) California appears to be on track for its worst drought since the early 1990s, warned the state's Department of Water Resources (DWR) following its survey of snowpack and other water resources.
Gore pushes for avoided deforestation to save rainforests during testimony

(01/29/2009) In testimony before the Senate Foreign Relations Committee on Wednesday, former Vice President Al Gore urged lawmakers to move swiftly on a cap-and-trade climate bill as well as the economic stimulus package. Among many recommendations, Gore repeatedly emphasized the importance of forest conservation in fighting climate change, mentioning "deforestation" more than a dozen times.
Beef drives 80% of Amazon deforestation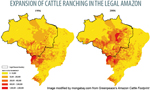 (01/29/2009) Nearly 80 percent of land deforested in the Amazon from 1996-2006 is now used for cattle pasture, according to new maps released today in a report by Greenpeace at the World Social Forum in Belem, Brazil. The report, Amazon Cattle Footprint: Mato Grosso: State of Destruction, confirms that cattle ranching is the primary driver of deforestation in Earth's largest rainforest: the Brazilian Amazon.
Many global warming impacts may be irreversible in next 1000 years

(01/27/2009) Even if greenhouse gas emissions were to cease today, many of the forecast impacts of climate change are already irreversible for at least the next 1000 years, report researchers writing in the journal Proceedings of the National Academy of Sciences.
Mountain gorilla population in DR Congo increases 12.5%

(01/27/2009) The population of critically endangered mountain gorillas in Democratic Republic of Congo's Virunga National Park increased 12.5 percent in the past 16 months according to a census conducted by the Congolese Wildlife Authority (ICCN). 81 gorillas now live permanently in the park, up from 72 in August 2007.
How to make forest fragments more hospitable to wildlife

(01/27/2009) While deforestation garners more attention from environmentalists, fragmentation of forest habitats is of significant concern to ecologists. As forest is fragmented into islands by logging, roads, agriculture, and other disturbances, edge effects alter the structure, microclimate and species composition of the forest patches, usually reducing the overall number of species. Forest specialists are most likely to suffer, losing out to "weedier" generalists and species that can tolerate forest "edge" conditions. A new study, conducted in the Brazilian Amazon, takes a detailed look at the types of birds that are likely to persist, and even thrive, in forest fragments.
Obama pushes for better mileage standards

(01/27/2009) President Obama has moved to allow states set automobile emission rules, opening the door for more fuel efficient vehicles. Monday Obama signed a memorandum requiring the Environmental Protection Agency (EPA) to reconsider California's application to set tighter auto emissions and fuel efficiency standards than required under federal law. Should the waiver be granted, automakers would be forced to sell more fuel efficient vehicles if they want to do business in the state.
What does slowing economy mean for rainforest conservation?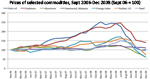 (01/26/2009) Plunging commodity prices may offer a reprieve for the world's beleaguered tropical forests. The global economic downturn has caused demand for many commodities to plummet. The resulting decline in the prices of timber, energy, minerals and agricultural products may do what conservationists have largely failed to achieve in recent years: slow deforestation. Fueled by surging demand from China and other emerging economies, and boosted by the convergence of food and energy markets in response to American and European incentives for biofuels, the worldwide commodity boom over the past few years helped trigger a land rush that precipitated the conversion of natural forests for farms, plantations, and ranches. At the same time, high prices for metals, fossil fuels, and other industrial resources drove a global search for exploitable reserves, many of which lie in tropical forest countries. Now that the bonanza is unwinding, with prices for everything from palm oil to bauxite to crude oil cratering, the incentives to clear forests are retreating. Developers large and small are abandoning projects and forgoing planned expansion around the world.
Guidelines on how to establish an avoided deforestation project

(01/22/2009) Deforestation presently accounts for nearly 20 percent of anthropogenic greenhouse gas emissions — a share larger than that from the global transportation sector. Given this contribution, reducing deforestation is widely seen as a key component in plans to slow climate change and a number of proposals to include forestry in a post-Kyoto climate agreement are presently on the table. Anticipating the emergence of a market for forest carbon as a result of this framework, 'avoided deforestation' projects are already sprouting up in tropical countries around the world. Supporters say these initiatives offer the potential to protect forests and biodiversity while simultaneously delivering benefits to rural communities that have so far been lost out while their natural resources have been plundered by developers. While avoided deforestation seems to offers great promise, developing a project that meets still emerging standards is a complex and costly endeavor. A new book, published in five languages, seeks to untangle the forest carbon market and thereby facilitate new avoided deforestation projects.
High coffee prices spurred deforestation in Sumatra but effective law enforcement slowed forest loss

(01/22/2009) Law enforcement efforts can significantly deter deforestation in protected areas despite high pressure from agricultural expansion, reports a new study that assessed the effectiveness of conservation in Bukit Barisan Selatan National Park in southern Sumatra, Indonesia. However the research suggests that conservation needs extend beyond law enforcement to be effective in the long-run.
Climate change killing forests in the western U.S.

(01/22/2009) Tree death rates in old-growth forests of the western United States have more more than doubled in recent decades likely because of regional climate warming, report researchers writing in the journal Science.
Antarctica shows net warming over past 50 years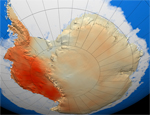 (01/22/2009) Despite a cooling trend in the East Antarctic Ice Sheet, Antarctica has experienced net warming over the past 50 years, report researchers writing in the January 22 edition of Nature. Analyzing data from satellites and weather stations authors led by Eric Steig of the University of Washington (UW) found that "warming in West Antarctica exceeded one-tenth of a degree Celsius per decade for the last 50 years and more than offset the cooling in East Antarctica", according to a statement from UW.
One billion frogs harvested as food per year

(01/21/2009) The consumption of up to one billion frogs per year to satisfy human appetite for frog flesh is adding to the litany of pressures on global amphibian populations, write researchers in the upcoming issue of Conservation Biology.
Congo cancels logging contracts covering 13M hectares

(01/21/2009) Democratic Republic of Congo (DRC) canceled nearly 60 percent of the country's timber contracts following a review of 156 logging concessions granted in recent years, reports Reuters. The anti-corruption probe found that 91 deals covering nearly 13 million of hectares of forest were granted under questionable circumstances or during a moratorium on logging contracts following the 1998-2003 civil war.
Nickel mine in Madagascar may threaten lemurs, undermine conservation efforts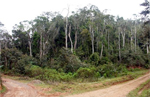 (01/21/2009) One of the world's largest nickel mines will have adverse impacts on a threatened and biologically-rich forest in Madagascar, say conservationists. The $3.8 billion mining project, operated by Canada's Sherritt, will tear up 1,300 to 1,700 hectares of primary rainforest that houses nearly 1,400 species of flowering plants, 14 species of lemurs, and more than 100 types of frogs. Many of the species are endemic to the forest. While Sherritt says on its web site that is working to minimize its environmental impact, including moving endangered wildlife, replanting trees, and establishing buffer zones near protected areas, conservationists say that efforts are falling short.
Fish may help fight ocean acidification

(01/19/2009) Fish are a major source of calcium carbonate production in marine ecosystems, a finding that has implications for ocean acidification, report scientists writing in the journal Science.
Population of Asian elephants discovered in Malaysian park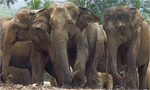 (01/15/2009) A population of 631 Asian elephants has been documented in Malaysia's Taman Negara National Park, reports the Wildlife Conservation Society (WCS). The population may be the largest in Southeast Asia. Scientists from WCS and Malaysia's Department of Wildlife and National Parks (DWNP) counted elephant dung piles to estimate the protected area's population size. There were no previous scientific population surveys for elephants in the park.
NY governor to cut zoo and aquarium budgets 55%

(01/13/2009) New York state's botanical gardens, aquariums, and zoos — including the renowned Bronx Zoo — are facing "devastating" budget cuts unless the public takes immediate action to voice support for the institutions, reports a coalition of the state's "living museums".
17 new reptile and amphibian species discovered in Tanzania
(01/04/2009) 17 previously unknown species of reptiles and amphibians have been discovered in the rainforests of eastern Tanzania, report Italian and Tanzanian scientists. Conducting surveys of the 'virtually unexplored' forests of the South Nguru Mountains between 2004 and 2006, Michele Menegon of the Natural Science Museum of Trento in Italy and colleagues recorded 92 species of 'herps', of which 17 had never before been documented. The new species — which include chameleons, tree frogs, and snakes, among others — are believed to be endemic to the region.
How to save the Amazon rainforest
(01/04/2009) Environmentalists have long voiced concern over the vanishing Amazon rainforest, but they haven't been particularly effective at slowing forest loss. In fact, despite the hundreds of millions of dollars in donor funds that have flowed into the region since 2000 and the establishment of more than 100 million hectares of protected areas since 2002, average annual deforestation rates have increased since the 1990s, peaking at 73,785 square kilometers (28,488 square miles) of forest loss between 2002 and 2004. With land prices fast appreciating, cattle ranching and industrial soy farms expanding, and billions of dollars' worth of new infrastructure projects in the works, development pressure on the Amazon is expected to accelerate. Given these trends, it is apparent that conservation efforts alone will not determine the fate of the Amazon or other rainforests. Some argue that market measures, which value forests for the ecosystem services they provide as well as reward developers for environmental performance, will be the key to saving the Amazon from large-scale destruction. In the end it may be the very markets currently driving deforestation that save forests.
Ocean acidification is killing the Great Barrier Reef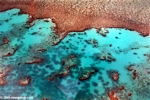 (01/01/2009) Since 1990 the growth of coral in Australia's Great Barrier Reef has slowed its lowest rate in at least 400 years as a result of warming waters and ocean acidification, report researchers writing in Science. The finding portends a bleak near-term future for the giant reef ecosystem as well as calcifying marine organisms around the world.








Page 1 | Page 2 | Page 3 | Page 4 | Page 5 | Page 6 | Page 7 | Page 8 | Page 9 | Page 10 | Page 11 | Page 12 | Page 13 | Page 14 | Page 15 | Page 16 | Page 17 | Page 18 | Page 19 | Page 20 | Page 21 | Page 22 | Page 23 | Page 24 | Page 25 | Page 26 | Page 27 | Page 28 | Page 29 | Page 30 | Page 31 | Page 32 | Page 33 | Page 34 | Page 35 | Page 36 | Page 37 | Page 38 | Page 39 | Page 40 | Page 41 | Page 42 | Page 43 | Page 44 | Page 45 | Page 46 | Page 47 | Page 48 | Page 49 | Page 50 | Page 51 | Page 52 | Page 53 | Page 54 | Page 55 | Page 56 | Page 57 | Page 58 | Page 59 | Page 60 | Page 61 | Page 62 | Page 63 | Page 64 | Page 65 | Page 66 | Page 67 | Page 68 | Page 69 | Page 70 | Page 71 | Page 72 | Page 73 | Page 74 | Page 75 | Page 76 | Page 77 | Page 78 | Page 79 | Page 80 | Page 81 | Page 82 | Page 83 | Page 84 | Page 85 | Page 86 | Page 87 | Page 88 | Page 89 | Page 90 | Page 91 | Page 92 | Page 93 | Page 94 | Page 95 | Page 96 | Page 97 | Page 98 | Page 99 | Page 100 | Page 101 | Page 102 | Page 103 | Page 104 | Page 105 | Page 106 | Page 107 | Page 108 | Page 109 | Page 110 | Page 111 | Page 112 | Page 113 | Page 114 | Page 115 | Page 116 | Page 117 | Page 118 | Page 119 | Page 120 | Page 121 | Page 122 | Page 123 | Page 124 | Page 125 | Page 126 | Page 127 | Page 128 | Page 129 | Page 130 | Page 131 | Page 132 | Page 133 | Page 134 | Page 135 | Page 136 | Page 137 | Page 138 | Page 139 | Page 140 | Page 141 | Page 142 | Page 143 | Page 144 | Page 145 | Page 146 | Page 147 | Page 148 | Page 149 | Page 150 | Page 151 | Page 152 | Page 153 | Page 154 | Page 155 | Page 156 | Page 157 | Page 158 | Page 159 | Page 160 | Page 161 | Page 162 | Page 163 | Page 164 | Page 165 | Page 166 | Page 167 | Page 168 | Page 169 | Page 170 | Page 171 | Page 172 | Page 173 | Page 174 | Page 175 | Page 176 | Page 177 | Page 178 | Page 179 | Page 180 | Page 181 | Page 182 | Page 183 | Page 184 | Page 185 | Page 186 | Page 187 | Page 188 | Page 189 | Page 190 | Page 191 | Page 192 | Page 193 | Page 194 | Page 195 | Page 196 | Page 197 | Page 198 | Page 199 | Page 200 | Page 201 | Page 202 | Page 203 | Page 204 | Page 205 | Page 206