News articles on green

---
Mongabay.com news articles on green in blog format. Updated regularly.






Not only do fish feel pain, it changes their behavior

(05/06/2009) Just months after a study made a splash in the media that proved crabs experience pain, a new study of goldfish shows that not only do these fish also feel pain, but it changes their future behavior. Published in Applied Animal Behaviour Science the study tested goldfish by slowly raising the temperature in their tank. In the warming tank, researchers administered one group of fish morphine and the other saline.
First-ever photo of jaguar on Barro Colorado Island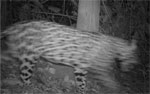 (05/04/2009) Researchers have captured the first-ever photo of a jaguar on Barro Colorado Island, a key tropical forest research site in Panama, reports the Smithsonian Tropical Research Institute (STRI). The picture was snapped by a camera trap set up by Montclair State University zoologist Jackie Willis and her husband Greg. The pair have been using the traps — which use infrared to detect and photograph passing wildlife — for animal surveys on Barro Colorado since 1994.
U.S. imports 1 billion pet animals from the wild between 2000 and 2006
(04/30/2009) Poor regulation of the international wildlife trade has increased the vulnerability of the U.S. to outbreaks of disease and alien invasive species, report researchers writing in Science. Analyzing Law Enforcement Management Information System (LEMIS) data gathered by the U.S. Fish and Wildlife Service from 2000 through 2006, Katherine Smith of Brown University and colleagues found that of the more than 1.5 billion live wildlife animals legally imported to the United States during the period, only 14 percent were classified to the level of species despite federal mandates for such labeling. The lack of accurate reporting makes it impossible to "accurately assess the diversity of wildlife imported or the risk they pose as invasive species or hosts of harmful pathogens," they write.
Coral reef loss in Caribbean leads to ongoing fish declines
(04/30/2009) Analyzing 48 surveys of Caribbean fish populations over fifty years, from 1955-2007, a new meta-study has found that fish populations in the famously clear waters began to drop in the mid-90s, leading to a consistent decline that hasn't stopped. The study published in Current Biology discovered a region-wide decline of about 3-6 percent per year in three out of six trophic groups of fish, i.e. groupings of species categorized by their place on the food chain. The declines didn't show major differences between species targeted by fishermen and those that are not, implying that overfishing isn't the only cause of the decline in the Caribbean.
Birds can dance, proving humans aren't the only ones with rhythm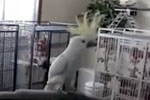 (04/30/2009) Another ability long-thought to belong solely to humans, like tool-use or counting, does in fact occur in other species, according to two new studies. In this case, it is the capacity to move rhythmically with music. Studying two different birds the research groups found that the birds weren't just moving randomly or mimicking owners, but actually changing the tempo of their movement to match the music—in other words, dancing.
Canada and Britain abandon conventional coal

(04/29/2009) In an effort to curb climate change, both Britain and Canada have announced plans to stop building new conventional coal power plants, a move long-advocated by environmentalists. Both nations have turned their sights to the possibility of clean coal, a controversial and still unproven method that has divided environmentalists, scientists, and policy makers.
Huge cache of smuggled ivory represents up to 40 elephants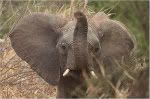 (04/29/2009) On April 25th two men were pursued by wildlife rangers from the Amboseli-Tsavo Game Scouts Association in Tanzania. The men escaped across the border to southern Kenya where they were caught by police, who had been tipped off by the wildlife scouts. The two men's SUV contained 1,550 lbs (703 kilograms) of elephant tusks, representing a total of up to forty individuals according to the Kenyan Wildlife Service. This is considered the largest seizure in the region since the ivory smuggling boom of the late 1970s and early 1980s. The ivory is estimated at a value of $750,000 (or 60 million Kenyan shillings).
Obama administration overturns rule that weakened Endangered Species Act

(04/28/2009) Interior Secretary Ken Salazar announced today that the Obama administration will reverse an Endangered Species Act (ESA) regulation that allowed federal agencies to go ahead with actions that may impact endangered species without consulting with experts, essentially circumventing the role of conservation scientists in such decisions.
New park in United Arab Emirates to protect rare mammals

(04/28/2009) With only 2,500 individuals in the wild, the Arabian tahr is certainly in need of the sanctuary just established by the United Arab Emirates. The country's first mountain reserve, Wadi Wurayah Fujairah covers 129 square kilometers (80 square miles).
Tropical storms affect carbon sinks by knocking down forests

(04/27/2009) Studying nearly a hundred and fifty years of tropical storm landfalls in the United States, researchers have discovered that the storm systems have a sizable impact on forest carbon sinks due to the large-scale destruction of trees.
New protections for coral reefs and dwindling fish species in Belize

(04/27/2009) Coral reefs in Belize, considered to be some of the most pristine in the west, have secured additional protections. Rene Montero, the Minister of Agriculture and Fisheries, signed a set of new laws this month to protect Belize's coral reefs and the fish that inhabit them. The additional laws protect increasingly overfished species, ban spearfishing in marine reserves, and create no-take zones, according to a press release from the Wildlife Conservation Society (WCS).
Starving vultures in Europe allowed to feast again

(04/26/2009) European vultures have been thrown a lifeline. Last week, Members of the European Parliament voted to change a law that had banned farmers across the continent from leaving dead livestock in the field, a major source of food for vultures.
The story of 'Save the Frogs Day', April 28th, An Interview with Kerry Kriger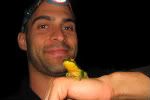 (04/26/2009) Founder and director of SAVE THE FROGS!, Dr. Kerry Kriger is responsible for the first annual Save The Frogs Day on Tuesday, April 28th with events planned worldwide from the United States to Nepal, and Australia to China. "I'm continually amazed at the positive response it's gotten. I thought of Save The Frogs Day one night last December when I was the only full-time SAVE THE FROGS! employee and I only had a couple part-time volunteers," Kriger explains.
Fire contributes 20% of global warming emissions

(04/23/2009) Fire accounts for roughly half of greenhouse gas emissions from deforestation and about twenty percent of total emissions from human activities, report researchers writing in the journal Science. The estimates — based on analysis of fire's impact on emissions of carbon dioxide, nitrous oxide, and methane; albedo or the reflectivity of Earth's surface; and release of aerosols and other particulates — suggest fire plays a major large role in climate than conventionally believed.
Antarctica's sea ice increasing due to ozone hole, but scientists predict global warming will catch-up

(04/23/2009) Increasing ice in Antarctica is not a sign that the earth is actually cooling instead of warming as some climate change-skeptics have attested. A new study finds that the growth in Antarctic ice during the last 30 years is actually due to shifting weather patterns caused by the hole in the ozone layer. The researchers predict that eventually global warming will catch up to Antarctica leading to overall melting as it has in the Arctic.
After disease engulfs island, rare mountain chicken frogs airlifted to safety

(04/23/2009) In a rescue operation that sounds straight out of an action film, 50 mountain chicken frogs were airlifted from the Caribbean island Montserrat after the discovery of Chytridomycosis, a fungal disease that has wiped out amphibian populations worldwide. Already, hundreds of the critically-endangered mountain chicken frogs succumbed to the disease, which is thought to have made its way to the island in late 2008 or early 2009.
Howler monkeys poisoned because of misinformed link to yellow fever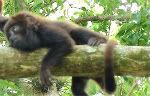 (04/22/2009) There have been numerous reports of howler monkeys poisoned in the southernmost Brazilian state of Rio Grande do Sul due to misinformation regarding the monkeys and the yellow fever virus. Some locals believed that the monkeys, which also suffer from yellow fever, were in fact the disease-carriers, but yellow fever is carried by mosquitoes not monkeys. A new campaign headed by Dr. Julio Cesar Bicca Marques wants to set the record straight. The campaign, entitled 'Save Our Guardian Angels', is working to inform the public of the actual and important role of howler monkeys in yellow fever outbreaks.
River systems worldwide are losing water due to global warming

(04/22/2009) Many rivers around the world are losing water due to global climate change, according to a new study from the American Meteorological Society's Journal of Climate. Large populations depend on some of the rivers for everything from agriculture to clean drinking resources, including the Yellow River, the Ganges, the Niger, and the Colorado, which have all shown significant declines.
Afghanistan announces first national park on Earth Day
(04/22/2009) War-wearied Afghanis received uplifting news on Earth Day this year. Their nation has announced the creation of the nation's first national park, Band-e-Amir, protecting a one-of-a-kind landscape encompassing six sky-blue lakes separated by natural dams. Announced by Afghanistan's National Environmental Protection Agency (NEPA) at a ceremony in the FAO Building at the Ministry of Agriculture, Irrigation, and Livestock in Kabul this morning, key funding for the park was provided by The United States Agency for International Development (USAID).
100 nature images for Earth Day
(04/22/2009) Biodiversity - from tigers in Bhutan to gila monsters in the United States to Horned beetles in Africa to tube worms in hydrothermal vents in the deep ocean to sea cucumbers living on the coral reefs of Madagascar to the mites on your cheese - is makes life on Earth livable for our species. By extinguishing hotbeds of biodiversity - rainforests, wetlands, coral reefs, and grasslands - we are destroying a part of ourselves. Biodiversity will recover after humanity is gone, but in the meantime, the continuing loss of our fellow species will make Earth an awfully crowded, but lonely place.
Earth Day photos reflecting our world's beauty
(04/22/2009) With Earth Day fast becoming just another commercial holiday — albeit one where most people still have to go to the work — mongabay is taking a visual approach to capture the beauty that surrounds us. Here are around 120 photos I've taken at sites around the world, most of which were snapped in the past five years. The animals pictured are in their natural settings — no zoo or aquarium specimen are included. I've done my best to name most of the creatures pictured, although I haven't been able to identify many of the insects.
New legislation in Brazil opens up road-paving across country, threatening Amazon

(04/21/2009) Brazil's Chamber of Deputies has approved a measure that would speed up paving roads across the country, including paving a road that environmentalists have long-fought, BR-319. Environmental groups across the nation have warned of widespread deforestation if the measure passes the Senate and is signed by the president.
Expedition in Philippines uncovers one of the world's rarest mammals along with possible new species

(04/21/2009) A two week expedition into the North Negros Natural Park (NNNP) in the Philippines has led to several discoveries. In the 80,454 hectare park (nearly 200,000 acres), the expedition found what may be new species of insects and plants, in addition to a frog likely unknown to science. They also discovered evidence of the Visayan spotted deer, considered to be the world's rarest deer and one of the rarest mammals. The team discovered droppings from the deer, which will be analyzed for food content.
New chameleon species named after carbon conservation pioneer

(04/21/2009) A newly discovered species of chameleon from Tanzania has been named after Dorjee Sun, CEO of Carbon Conservation, an outfit which seeks to make rainforest conservation profitable through a carbon market mechanism known as REDD for Reducing Emissions from Deforestation and Degradation.
Colorado River unlikely to meet current water demands in warmer, drier world

(04/20/2009) Feeding the water habits of such major cities as Los Angeles, Las Vegas, and Phoenix, in addition to providing irrigation waters for the entire Southwestern United States, has stretched the Colorado River thin. The river no longer consistently reaches the sea as it once did. Now a new study warns that the Colorado River system, which has proven dependable for human use throughout the 20th Century, may soon experience shortages due to global warming.
Gabonese environmental activist receives prize for standing up to government, Chinese company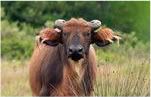 (04/20/2009) Marc Ona Essangui is a beloved environmental leader in his native Gabon, however by winning the prestigious Goldman Environmental Prize he is now being introduced to a larger audience: the world. Essangui received the prize for exposing unsavory truths about a deal between the Gabon government and a Chinese company, CMEC, to mine for iron ore in the Congo rainforest, the world's second largest tropical forest. The Belinga mine is a $3.5 billion project that also includes a hydroelectric dam, which will flood traditional lands and destroy what is considered the most beautiful waterfall in the forests of equatorial Africa. The Kongou Falls is located in the Ivindo National Park.
Mysterious decline of small mammals in Bolivia may be linked to burning Amazon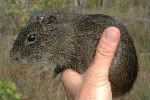 (04/19/2009) During ten years surveying small mammal populations in Bolivia's cerrado, Dr. Louise Emmons with the Smithsonian Institute found that the mammals were suffering precipitous declines, even local extinctions. After ruling out the usual suspects—local fires, rainfall, and flooding—Emmons formed a novel hypothesis regarding the decline. Could a sudden lack of nighttime dew caused by the burning of the Amazon be the cause of the mammal decline?
EPA finds CO2 a danger to public health

(04/17/2009) The U.S. Environmental Protection Agency on Friday ruled that carbon dioxide and other greenhouse gases "may endanger public health or welfare", a finding that opens to door to future regulation of such emissions under the the Clean Air Act.
Droughts lasting centuries in West Africa are commonplace
(04/16/2009) New evidence shows that sub-Saharan West Africa has experienced megadroughts in recent history lasting hundreds of years, far worse than the Sahel drought of the 1970s and 80s which left 100,000 dead. To uncover West Africa's past drought patterns, researchers compiled a year-by-year record of the last 3,000 years of climate in West Africa by looking at annually-occurring layers of sediment in Lake Bosumtwi in Ghana.
New lichen named after Obama

(04/15/2009) A California researcher has named a new species of lichen after President Barack Obama. Kerry Knudsen of the University of California-Riverside (UCR) named the lichen Caloplaca obamae.
Bird migrations lengthen due to global warming, threatening species
(04/15/2009) Global warming is likely to increase the length of bird migrations, some of which already extend thousands of miles. The increased distance could imperil certain species, as it would require more energy reserves than may be available. The new study, published in the Journal of Biogeography, studied the migration patterns of European Sylvia warblers from Africa to breeding grounds in Europe every spring. They discovered that climate change would likely push the breeding ranges of birds north, causing migrations to lengthen, in some cases by a total of 250 miles.
Mangroves save lives by softening cyclone's blow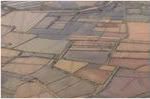 (04/15/2009) In 1999 a super cyclone struck the eastern coast of India, leaving 10,000 people dead. At the time the Orissa cyclone, named after the Indian state which it battered, was the deadliest storm in India in over a quarter century. However, according to a new study published in The Proceedings of the National Academy of Sciences the death toll would have been significantly higher if the mangrove forests buffeting the Indian villagers from the sea had not softened the cyclone's blow.
Cutting greenhouse gases now would save world from worst global warming scenarios
(04/14/2009) If nations worked together to produce large cuts in greenhouse gases, the world would be saved from global warming's worst-case-scenarios, according to a new study from the National Center for Atmospheric Research (NCAR). The study found that, although temperatures are set to rise this century, cutting greenhouse gases by 70 percent the globe could avoid the most dangerous aspects of climate change, including a drastic rise in sea level, melting of the Arctic sea ice, and large-scale changes in precipitation. In addition such cuts would eventually allow the climate to stabilize by the end of the century rather than a continuous rise in temperatures.
Mediterranean bluefin tuna has only three years left unless fishery closes

(04/14/2009) If the Mediterranean bluefin tuna fishery is not closed, the bluefin will be functionally extinct by 2012 according to a new analysis from World Wildlife Fund (WWF). While the population has undergone steep declines for over a decade, fishery managers and policy-makers have continually ignored calls from scientists that fishing must stop if the Mediterranean bluefin tuna is to survive.
Rainforest conservation gains in U.S. and U.N. climate proposals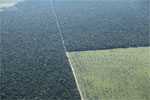 (04/14/2009) A proposed mechanism for reducing emissions from deforestation and degradation (REDD) figures prominently in the draft climate bill released last month by Congressmen Henry Waxman and Ed Markey as well as a U.N. document posted last week following a climate meeting in Bonn, Germany. Deforestation is the source of roughly 20 percent of greenhouse gas emissions from human activities.





Trees in trouble: massive die-offs predicted with global warming

(04/13/2009) An experimental study of pinon pines at Biosphere 2 in Arizona shows that an increase in temperature makes the species more susceptible to die-off during drought. When temperatures were increased by 4 degrees Celsius (7.2 degrees Fahrenheit), the piñon pines died 28 percent faster than trees which experienced drought-conditions at current temperatures, according to a new study published in Proceedings of the National Academy of Sciences (PNAS).







New Australian dolphin spits at food

(04/13/2009) Only recognized as a new species in 2005, the snubfin dolphin has been observed spitting jet streams of water at schools of fish. Spitting at the fish helps the dolphins round them up into groups where they are easier to catch.





Global warming will hit corn yields, costing US over a billion dollars annually

(04/10/2009) Corn is the staple crop of the US. Its annual yield is more than twice that of any other American crop, covering an astounding 125,000 square miles. However, this behemoth crop is currently threatened. A new analysis by Environment America, shows that lower yields of corn due to global warming will cost farmers 1.4 billion every year.






Page 1 | Page 2 | Page 3 | Page 4 | Page 5 | Page 6 | Page 7 | Page 8 | Page 9 | Page 10 | Page 11 | Page 12 | Page 13 | Page 14 | Page 15 | Page 16 | Page 17 | Page 18 | Page 19 | Page 20 | Page 21 | Page 22 | Page 23 | Page 24 | Page 25 | Page 26 | Page 27 | Page 28 | Page 29 | Page 30 | Page 31 | Page 32 | Page 33 | Page 34 | Page 35 | Page 36 | Page 37 | Page 38 | Page 39 | Page 40 | Page 41 | Page 42 | Page 43 | Page 44 | Page 45 | Page 46 | Page 47 | Page 48 | Page 49 | Page 50 | Page 51 | Page 52 | Page 53 | Page 54 | Page 55 | Page 56 | Page 57 | Page 58 | Page 59 | Page 60 | Page 61 | Page 62 | Page 63 | Page 64 | Page 65 | Page 66 | Page 67 | Page 68 | Page 69 | Page 70 | Page 71 | Page 72 | Page 73 | Page 74 | Page 75 | Page 76 | Page 77 | Page 78 | Page 79 | Page 80 | Page 81 | Page 82 | Page 83 | Page 84 | Page 85 | Page 86 | Page 87 | Page 88 | Page 89 | Page 90 | Page 91 | Page 92 | Page 93 | Page 94 | Page 95 | Page 96 | Page 97 | Page 98 | Page 99 | Page 100 | Page 101 | Page 102 | Page 103 | Page 104 | Page 105 | Page 106 | Page 107 | Page 108 | Page 109 | Page 110 | Page 111 | Page 112 | Page 113 | Page 114 | Page 115 | Page 116 | Page 117 | Page 118 | Page 119 | Page 120 | Page 121 | Page 122 | Page 123 | Page 124 | Page 125 | Page 126 | Page 127 | Page 128 | Page 129 | Page 130 | Page 131 | Page 132 | Page 133 | Page 134 | Page 135 | Page 136 | Page 137 | Page 138 | Page 139 | Page 140 | Page 141 | Page 142 | Page 143 | Page 144 | Page 145 | Page 146 | Page 147 | Page 148 | Page 149 | Page 150 | Page 151 | Page 152 | Page 153 | Page 154 | Page 155 | Page 156 | Page 157 | Page 158 | Page 159 | Page 160 | Page 161 | Page 162 | Page 163 | Page 164 | Page 165 | Page 166 | Page 167 | Page 168 | Page 169 | Page 170 | Page 171 | Page 172 | Page 173 | Page 174 | Page 175 | Page 176 | Page 177 | Page 178 | Page 179 | Page 180 | Page 181 | Page 182 | Page 183 | Page 184 | Page 185 | Page 186 | Page 187 | Page 188 | Page 189 | Page 190 | Page 191 | Page 192 | Page 193 | Page 194 | Page 195 | Page 196 | Page 197 | Page 198 | Page 199 | Page 200 | Page 201 | Page 202 | Page 203